Today being Valentine's Day, it's time we talked about what you would do or have done #InTheNameOfLove?
Have you bunked classes to catch a movie?
Have you traveled thousands of miles just to spend birthdays together?
Or have you jumped over security area in airport immigration?
Most of our love stories tend to be a little mischievous, a little daring with a dash of adventure and loads of cute moments mixed in. But not every love story goes that way. Some end in broken hearts and scarred faces.
Every year close to 300 women in India fall victim to acid attacks all #InTheNameOfLove.
And the number of victims haven't shown any sign of slowing down. In fact, the attacks seem to have increased by 300% between 2012 and 2014. The jilted lovers resort to throwing acid to the faces of the women they so desperately want to be with. These misguided, one-sided lovers fail to accept the rejection and go to every possible extent to defend themselves. They even go on to justify their heinous acts as something they did #InTheNameOfLove.
One such story is of Pramodini Raul, also called Rani by her friends and family. A 16-year-old Rani was subject to an acid attack in the year 2009. She was being stalked by an official from a nearby Army camp. The man (much older than Rani) persistently kept proposing Rani marry him. But she denied his advances. The rejection didn't go down well with the perpetrator. A few days later, as Rani was on her way home after taking her board exams, the man ambushed her and threw acid on her face. Rani lost her eyesight to the accident and had to undergo 5 years of rehabilitation to recover from her traumatic experience. Thanks to the latest round of surgery and treatment at Sankara Nethralaya Eye Hospital, Chennai, Rani has started seeing things with her own eyes. During her stay at the hospital, Rani met the love of her life and the man who taught Rani to love again – Saroj Sahoo. Saroj was from her native state and felt for her immediately. With Saroj's care and love, Rani has been nursed back to health. Together with Saroj, Rani now finds other acid attack survivors like herself and helps them get aid, support and rehabilitation facilities from the people who helped her.
Rani and Saroj's tale is one that speaks volumes about true love without saying a word. It's something that needs to be celebrated and it very well is: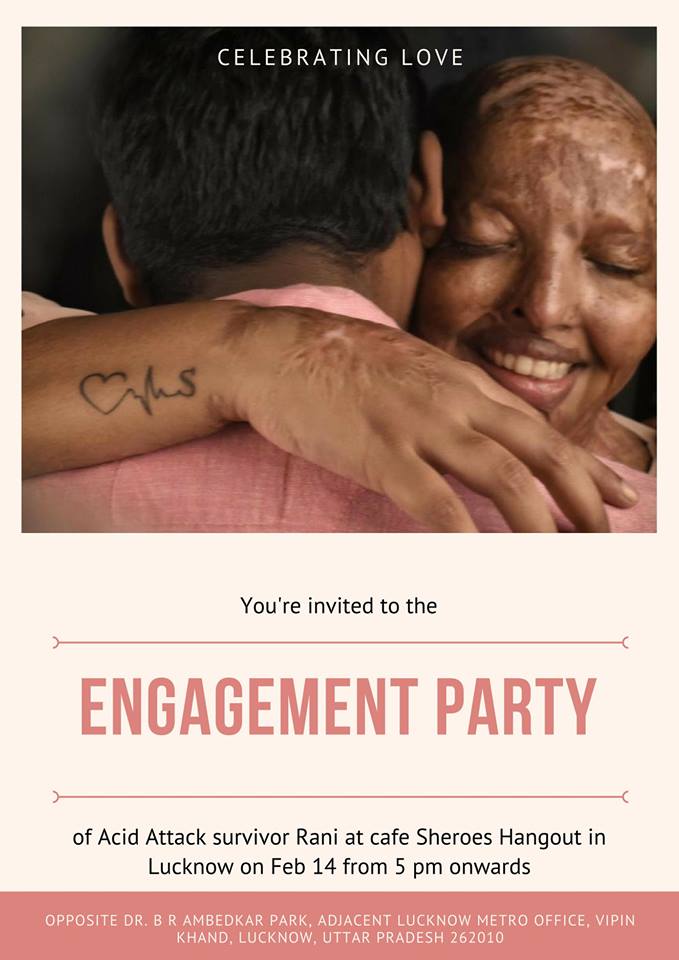 In a celebration of love over jilt, Rani and Saroj have decided to celebrate their engagement ceremony with their family and friends at café Sheroes Hangout. This will also serve as a source of motivation for the other survivors who are fighting a battle. It will help them continue to chase their dreams and someday achieve them.
Rani's story is not the only one.
There are other women who have had the misfortune of facing such adversities but are trying their very best at striking back. 

We at GrabOn stand with #StopAcidAttacks. In an effort to educate the masses we have created a video in association with Chhanv Foundation and Cafe Sheroes, about the things people do in the name of love. Check out the full video here: