Amazon Fashion Wardrobe Refresh Sale is their 'Biggest Fashion Sale Of The Year'. It is time to refresh your wardrobe without having to worry about toppling your financial plans. So, what to expect this sale season from Amazon, which will start on 22nd December 2017 and will go on until 25th December 2017?

What's special about Amazon Fashion Wardrobe Refresh Sale?
There are a few MEGA OFFERS this time on Amazon Fashion Wardrobe Refresh Sale. You can win Rs. 5000 worth of Amazon Pay Balance as you shop during the Happy Hours i.e. during 2 PM -5 PM.
You can also avail the Rush Hour Deals with minimum discounts of 50% OFF i.e. during 8 AM-11 AM.
When you shop at Amazon's Fashion Wardrobe Refresh Sale during the wee hours of 22nd December i.e. during 12 AM to 3 AM and avail minimum 50% OFF with a 10% price drop!
You can get a huge minimum 50% OFF on top brands using the Brand Hours i.e. during 6 PM to 9 PM.Great news if you're a Prime member:
You'll also get notified as soon as the sale starts.
There are big discounts on top brands like 50% OFF on United Colors of Benetton, 50% OFF on Biba, 60% on Adidas and 70% OFF on Puma and much more. So, hurry up!
So, start making a list of the products you would like to buy from today because, as they say, if you fail to plan, you're planning to fail! And you seriously don't want to miss out on this sale. Create your wishlist by adding all your favorite products covered in the sale, and if you're lucky enough, you can also win Rs 250 in your Amazon Pay wallet!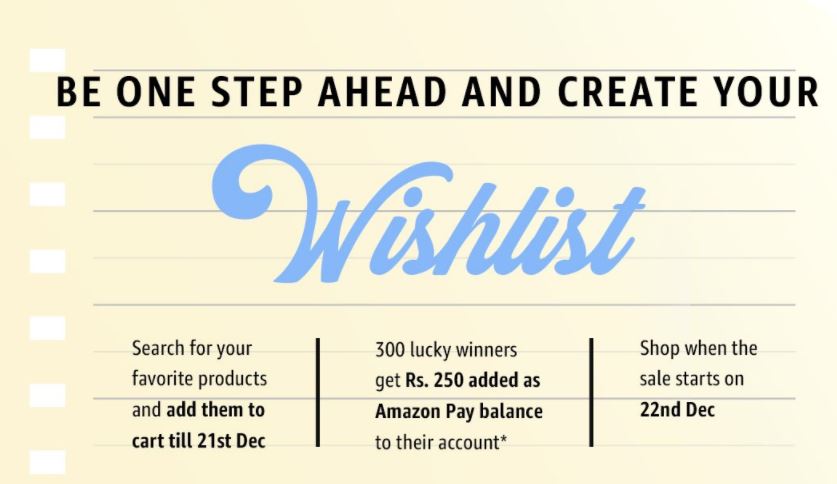 Get upto 80% OFF on clothing and 90% OFF on Jewelry and much more! You can also share your wishlist with friends using #WardrobeRefreshSale on Twitter.
Have fun shopping at the Amazon Fashion Wardrobe Refresh Sale.
Are you excited about the Amazon Fashion Wardrobe Sale? Which products or categories are you most looking forward to? Sound off in the comments below :)