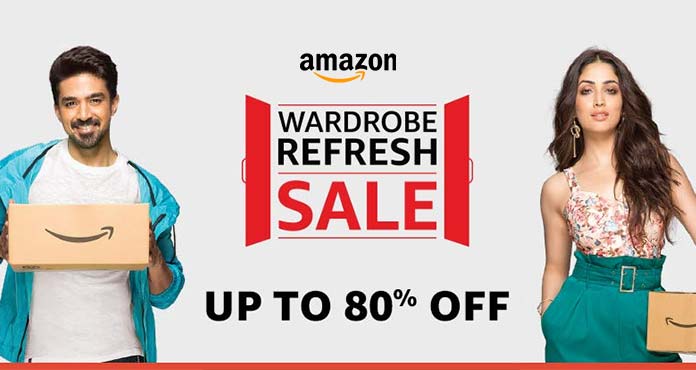 Amazon's Fashion Wardrobe Refresh Sale is their 'Biggest Fashion Sale Of The Year'. It is time to refresh your wardrobe without having to worry about toppling your financial plans. Clothes from your favourite apparel brands like Puma, UCB, Adidas, etc. are waiting for you. A week in June is all you need to update your Summer wardrobe and throw away those old, torn clothes. Plenty of festivals are also coming your way. Traditional clothes for Eid-ul-Adha and Janmashtami, patriotic tri-coloured clothes for Independence Day, if you think about it, there's a lot of fashion shopping coming your way. And Amazon Fashion Wardrobe Refresh Sale is that, exactly.
But if you can't wait that long and need new clothes in your wardrobe now, we have some offers on Amazon Fashion to cover you. Get up to 60% off on clothes from top brands on Amazon. Get flat 70% off on Women's fashion, 60% off on men's fashion, and 80% off on kids' fashion.
What's special about Amazon Fashion Wardrobe Refresh Sale?
There are a few MEGA OFFERS this time on Amazon Fashion Wardrobe Refresh Sale.
The Amazon Fashion Wardrobe Refresh Sale will take place from 19th-25th June 2021.
A long range of clothes to pick from. Amazon recognizes that every person has different fashion senses. You will find all the latest fashion trends in this sale.
We all want branded clothes. We like to show off our fashion sense as well as our expensive, branded clothes. But at Amazon, branded clothes don't come expensive. There are big discounts on top brands like 50% OFF on United Colors of Benetton, 50% OFF on Biba, 60% on Adidas and 70% OFF on Puma and much more. So, hurry up!
Get up to 80% discount on Men's & Women's fashion.
Shop for Rs. 3,000 or more during the sale, pay using a HDFC bank card and avail a flat 10% discount up to Rs. 1,000 on your sale shopping
So, start making a list of the products you would like to buy from today because, as they say, if you fail to plan, you're planning to fail! And you seriously don't want to miss out on this sale.
Get upto 80% OFF on clothing and 90% OFF on Jewelry and much more! You can also share your wishlist with friends using #WardrobeRefreshSale on Twitter.
Have fun shopping at the Amazon Fashion Wardrobe Refresh Sale.
Go big and refresh your wardrobe this summer with clothes from best brands. Be it the office look or the party clothes or something casual for a walk in the sun, the Amazon Fashion Wardrobe Sale will have everything for you and all at discounted prices. Don't miss this chance!
Are you excited about the Amazon Fashion Wardrobe Sale? Which products or categories are you most looking forward to? Sound off in the comments below :)