It's time to shop like crazy because it's festival time. Amazing sales and discounts are coming your way. Yes, both Amazon and Flipkart are set to roll out exciting Dusshera and Diwali sales. It's tyohaar time once again, so get ready to shop till you drop. And why not when two of the biggest names in the online space are hosting such big sales. Here's how to save big during the sales, aka the Amazon Great Indian Festival and Flipkart Big Billion Days.
Amazon Great Indian Festival
The Amazon Great Indian Festival start from 3rd October 2021. For the Amazon Prime account holders however, the sale will be live 24 hours earlier, i.e., from October 2nd 2021. Read on to find out what you can expect from the sale.
| | |
| --- | --- |
| Product Categories | Offers |
| Clothing | Up to 80% off |
| Footwear | Up to 80% off |
| Watches and Jewelry | Up to 80% off |
| Beauty | Up to 70% off |
| Daily Essentials | Up to 60% off |
Amazon Great Indian Festival- Products to look out for
The sale will span across all major categories that the e-commerce giant deals with. Fashion, electronics, home & kitchen, and food & gourmet will be at the forefront of the sale.
Electronics
When it comes to Electronics, there is a lot to look forward to. The iPhone 11 prices are especially going to surprise you, with the Rs.68,000-worth mobile phone falling under the Rs.50,000 bracket. There's more. As per the website, the biggest offers will be on OnePlus 8 5G series, Samsung Galaxy M51, as well as the most desired Redmi Note series.
Fashion
As for Fashion, all of the biggest brands will be on sale. From Puma to Michael Kors, UCB, Fossil, and Maybelline, the sale will feature up to 1000+ top brands, and 50 lakh+ styles. Here's the bonus. Amazon Fashion products can be bought at bigger discounts using Amazon Fashion Coupons, which have gone live even before the sale.
Home & Kitchen Appliances
Coming to Home & Kitchen products, there are deals you have never seen before. A previously Rs.6,149 costing gas stove will now be available to you under 2,000. Similar discounts can be seen on SleepX mattresses, Cockatoo treadmills, and Havells appliances, with the entire Home-and-Kitchen category featuring a sale of up to 80%. Additionally, there will be specially curated pages for budget buying. These will feature Under-299 Store, Under 499-Store, Under-999 Store, as well as an Half-Price Store.
How to make most of Amazon Great Indian Festival Sale
1) The exciting Amazon Great Indian Festival deals will go live from midnight on 3rd October 2021, but you can grab the offers a day before. How? Become an Amazon Prime member. Amazon Prime members will get early access to the sale, and can place their orders before the best goes out of stock.
2) Extract the Amazon Pay benefits. If you're an Amazon Pay user, you'll get daily shopping reward benefits of up to Rs.500 per day.
3) Grab the Golden Hour Deals before others only on the Amazon app. Be a night owl this time because the Golden Hour Deals will run between 8 PM to 12 AM, every night during the sale.
4) Use your HDFC Debit or Credit card to get an instant 10% discount on each purchase. Got a Bajaj Finserv card? That's great too. Bajaj Finserv customers are being offered a credit limit of up to Rs.1,00,000 and no-cost EMI throughout the duration of the sale.
Oh, and before we move on to the Flipkart sale, remember, there'll be new deals ushering in every hour, so keep an eye on your wishlist.
Flipkart Big Billion Days 2021 – Happy days are back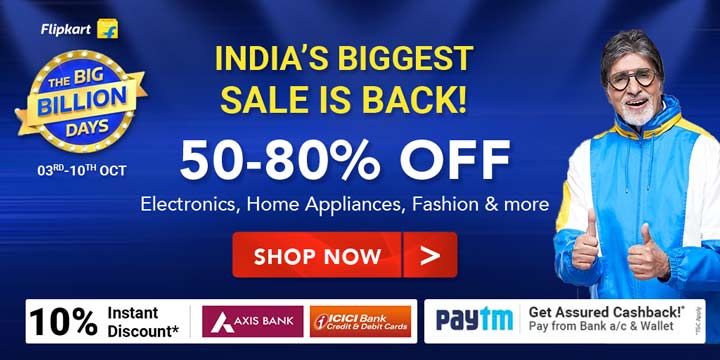 One of the most significant online sales is back again, and it is none other than Flipkart's The Big Billion Days 2021. What better way to shop for the festivities other than ordering during these Big Billion Days? This time, the sale is on for 6 days, from 3rd October to 10th October 2021. So gear up, because this holiday season, you shop till you drop.
Flipkart Big Billion Sale- Products to look out for
The Big Billion Day Sale will kick off with a bang. Starting one day prior to the Amazon Great Indian Sale, there's great hype about all the products that the Walmart-owned giant will be offering. The highlight of the sale would be the 80% discounts on electronics and appliances, along with big price-slashes on home appliance, furniture, and clothing products.
The Electronics page will proudly feature big discounts on best-selling laptops, along with no-cost EMI and interesting exchange offers.
In Clothing, you can expect 60-80% offs, with an additional 10% off on the first day of the sale.
Home appliances and Furniture will be up for grabs at a discount of 50-80%
How to make most of Flipkart Big Billion Days Sale
1) Get early access to the sale. Flipkart Plus customers will be able to access the sale a few hours before it opens to everyone else. They can log in at 8PM on 15th October and start shopping.
2) Save alarms on your phone. Flipkart will be introducing crazier deals every 8 hours! At every 12AM, 8AM, and 4PM, there will be new deals on mobiles & electronics, and beauty & clothing.
3) Flipkart will also be offering SuperCoins in the form of rewards and deals. You can use these to shop at greater-than-existing discounts, and save more.
4) No-cost EMI will be enabled for the users of Bajaj Finserv, SBI, HDFC, ICICI, and other leading banks.
5) You will also get an instant 10% discount upon using your SBI card to make the payment.