It's time to shop like crazy because it's festival time. Amazing sales and discounts are coming your way. Yes, both Amazon and Flipkart are set to roll out exciting Dusshera and Diwali sales. It's tyohaar time once again, so get ready to shop till you drop. And why not when two of the biggest names in the online space are hosting such big sales. Here's how to save big during the sales, via the Amazon Great Indian Festival and Flipkart Big Billion Days.
The Amazon Great Indian Festival
The Amazon Great Indian Festival is going to run from 29th September 2019 to 4th October 2019. For the Amazon Prime account holders, the sale will be on from 28th October at noon. Getting to know details of the Amazon deals from now can help you gain a lot during the sale. Here's what you should know:

1)The exciting Amazon Great Indian Festival deals will go live from midnight on 29th September 2019, but you can grab the offers a day before. How? Let's read point 2!
2)Become an Amazon Prime Member now to gain early access to the sale. Yes, although the sale is going to start from the 29th September, it will be open to the Prime members from 28th September.
3)Grab the Golden Hour Deals before others only on the Amazon app. Be a night owl this time because the Golden Hour Deals will run between 8 PM to 12 AM, every night during the sale.
4)You will get app-only exclusive deals. So, download the app today and start creating your wishlist to make the shopping process smoother. Who knows, you may get the best deal ever!
1. Use your SBI bank cards to earn additional cashback on and above the sale!
2. Every hour will usher in new deals, so keep a watch.
3. The sale will be on for all the categories – mobiles, electronics, home and kitchen, and Amazon fashion.
Flipkart Big Billion Days 2019 – Happy days are back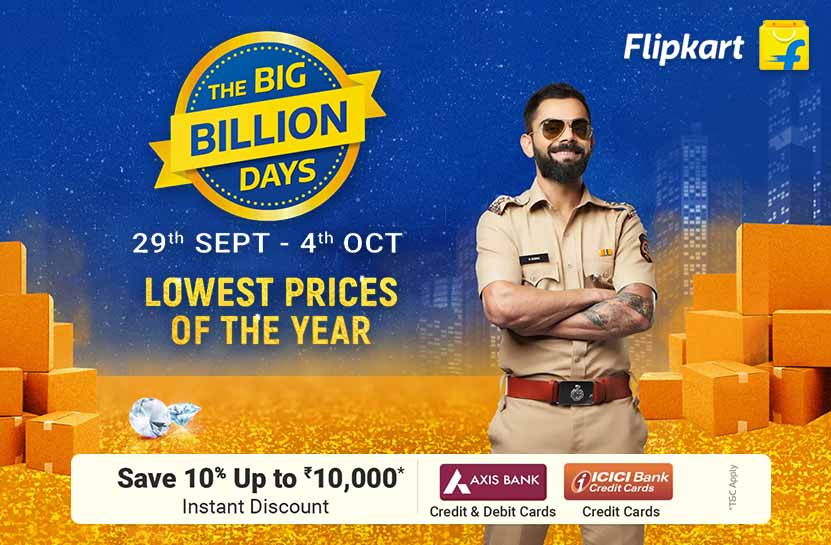 One of the most significant online sales is back again, and it is none other than Flipkart's The Big Billion Days 2019. What better way to shop for the festivities other than ordering during these Big Billion Days? This sale will run for five days, starting from 29th September 2019 to 4th October 2019. Gear up so that you can shop to your heart's content till 4th September 2019. To make it easier on the customer's pocket, Flipkart is all set to run this sale.
Reasons to shop during The Big Billion Days
There will be Crazy Deals where you can enjoy 80 to 90 % off
You can take part in a lucky draw contest. Simply activate your PhonePe wallet!
First time ever offer- Up to 90% buyback value.
10% cashback on payment via mobile wallets and no-cost EMI on Bajaj Finserv and credit cards.
So, you have five big days and five big reasons to shop during The Big Billion Days at Flipkart.
Be ready for The Big Billion Days
Wanna make the most of the sales at Flipkart? Follow these simple steps to make it easier for you to shop more during the sale days.
1. Add products to your wishlist from now on so that you can move these to your cart in no time at all during the sale
2. Save credit and debit card details to make sure that it doesn't take much time for you to check out, or else in the meantime, your most wished products can get sold.
3. Keep your delivery address updated so that there is no confusion regarding the order.
What will be on sale?
The answer to this is everything possible, be it the Just Launched products, the Exclusives, or the Big Selection Showcase. In the fashion category, you can get amazing offers on men's, women's, and kid's clothing, beauty and grooming products, footwear, and other essentials. In the case of electronics, you can grab huge discounts on large appliances such as refrigerators, washing machines, ACs, TVs, and so on and also on all other kinds of home and kitchen appliances. High-end smartphones, too, will be on sale during these five days. So, make sure to add your favorite phone model or the latest launches to your wishlist, if you are planning to buy one now. Do not forget to check out the crazy deals on all other kinds of products such as furniture, decor, accessories, and much more. Save the dates now and make the most of the sales so that you gain more than you think you can!