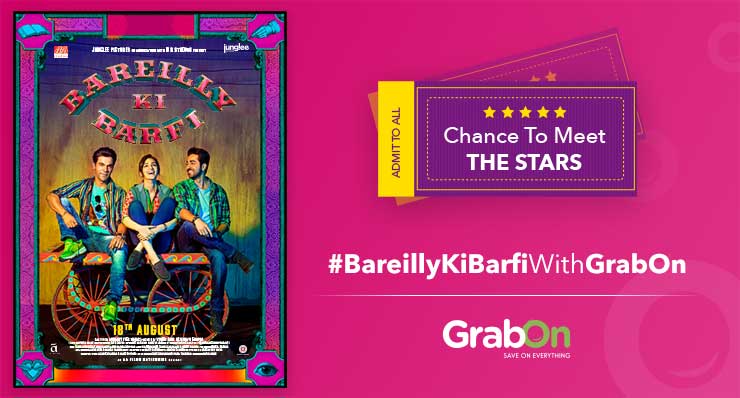 As the country prepares itself for a romantic comedy starring Rajkummar Rao, Ayushmann Khurrana, and Kriti Sanon, we are proud to be associated with Bareilly Ki Barfi. We are happy to announce that in partnering up with Bareilly Ki Barfi, we bring you a chance to meet Ayushmann and Kriti!
The plot follows Bitti (Kriti Sanon), a carefree, rebel from Bareilly, UP. She comes across this book called 'Bareilly Ki Barfi' and finds herself in the protagonist of the book who just like her lives in Bareilly, loves to break dance and watches English movies.
She tries to escape from the monotony of the small town life and the pressure of getting married and find the writer of Bareilly Ki Barfi, Pritam Vidrohi (Rajkummar Rao). She chances upon Chirag Dubey (Ayushmann Khurrana), who promises to help her find Pritam.
We ran #BareillyKiBarfiWithGrabOn contest on Facebook and Twitter. In the contest we asked the participants to do the following:
Answer 3 simple (you'll be given 3 chances to get the answer right) questions
Follow us on Twitter and Retweet the pinned & contest posts
Like us on Facebook and share the pinned & contest posts
Follows us on Instagram
Here are the lucky winners who will get to meet Ayushmann and Kriti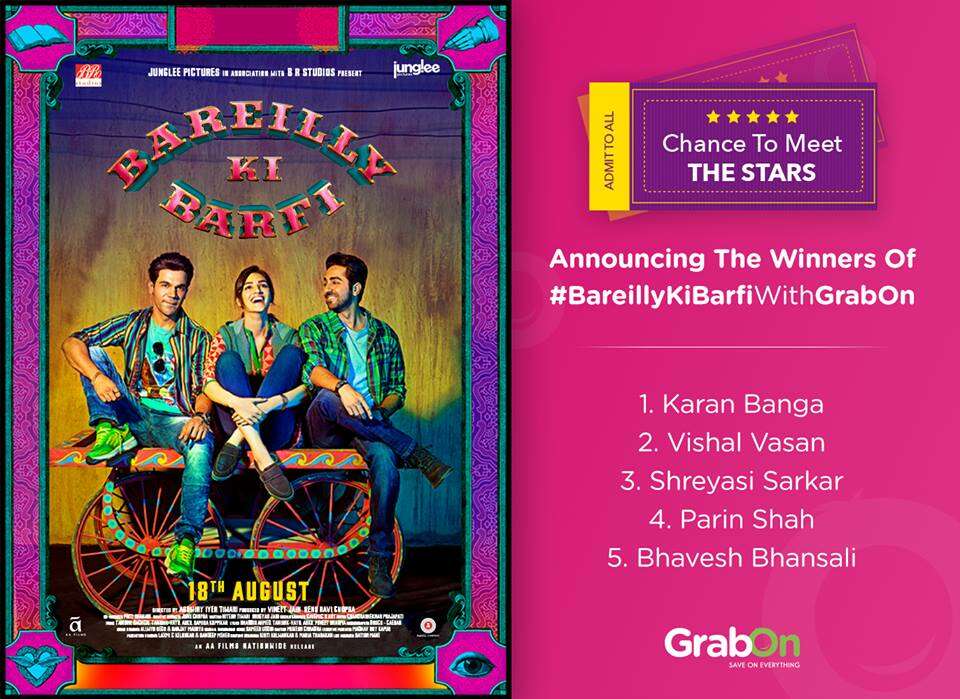 Congratulations to all the winners of #BareillyKiBarfiWithGrabOn. You too can win the chance to meet your favorite Bollywood stars. Stay tuned for contests like these.
Bitti from Bareilly bachchat bhi karti hai. You can too! Shop more and do the badi bachchat with GrabOn. 
Catch Bareilly Ki Barfi at theaters near you this Friday, 18th August 2017. 
Let us know in the comments below and share with us any Bareilly Ki Barfi moments that you can relate to :)