Black Friday has become synonymous with big savings on virtually everything you can think of – including web hosting plans.
Black Friday marked the start of the Christmas shopping season after Thanksgiving in the US. It has since become a worldwide shopping extravaganza, beginning on the last Friday of November and often running for an entire week.
Depending on the web hosting provider, you can expect to save over 70% and get additional services, like free site migration, SSL certificate, and a free domain name, if you know where to look.
To get the most out of a Black Friday hosting deal, you must know what kind of web hosting you need and what other services you want to get for a discounted price.
We've shortlisted the best Black Friday web hosting deals out there to save you time and money. The best providers offer great value for money while also coming with various web hosting solutions, specialist customer support, and excellent opportunities for growth.
Table of contents
Black Friday Hosting Deals 2023: Comparison Table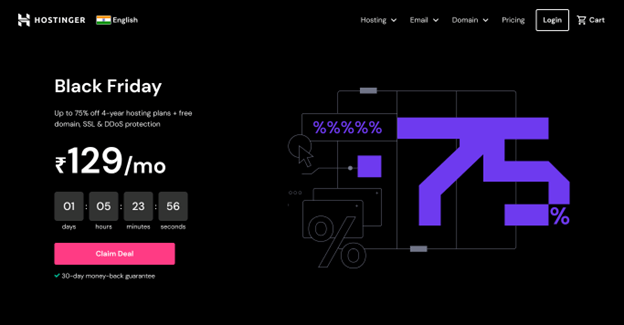 Hostinger is one of the most popular web hosting companies around, and for a good reason. Priding itself on top-notch customer service and quality hosting packages, it's easy to see why users around the world love Hostinger.
Black Friday Web Hosting Deals – Hostinger
Rating: 5/5
Looking for Black Friday web hosting deals that truly pack a punch? Hostinger has your back. This year, the hosting giant offers web hosting plans up to 75% off standard prices.
But that's not all: all hosting plans come with a free SSL certificate, DDoS protection, and a free domain. If you're looking for affordable web hosting services, Hostinger is your hosting company.
Key Features
Intuitive user interface
24/7 live customer support
One-click WordPress installation
Unlimited bandwidth and storage
Get 100 SSD GB Storage, Free domain and Free unlimited SSL certificates for just ₹129/month with Hostinger Black Friday offer
Get an extra 10% off with coupon code BLACKFRIDAY
2. HostGator– 75% Off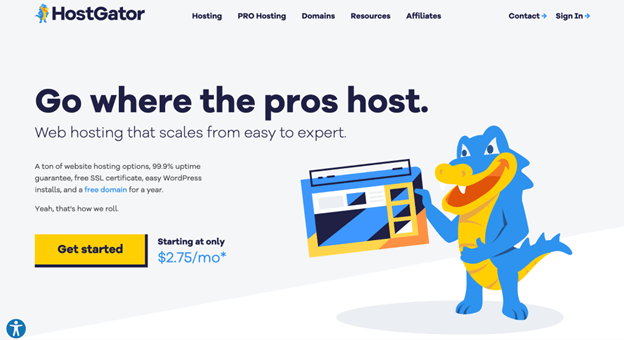 Looking for a reliable and trusted web hosting provider? HostGator is a household name on the website hosting front, scaling and growing as your website and skillset grow.
Black Friday Web Hosting Deals – HostGator
Rating: 4/5
HostGator takes Cyber Week seriously, offering new users 75% off shared hosting plans, as well as a free domain for a whole year.
And since even the first tier plan comes with unlimited bandwidth and storage, users don't have to worry about limitations. Instead, you can focus on growing your website in style.
Key Features
Unlimited bandwidth
Free SSL certificate
45-day money-back guarantee
Customer support
3. Bluehost – Up To 75% Off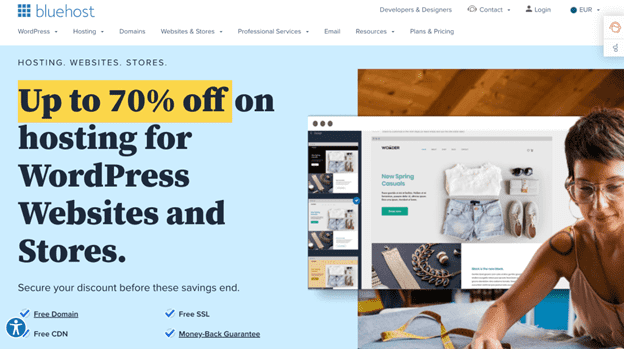 Bluehost is almost guaranteed to come up in conversations about web hosting companies. And no wonder: branding itself as secure, fast, and easy, it's a great alternative to various other hosting services.
Black Friday Web Hosting Deals – Bluehost
Rating: 4/5
When it comes to Cyber Week deals, Bluehost offers users up to 75% off web hosting, as well as a free domain for 1 year. For anyone interested in a WordPress website, you can save up to 50% on WordPress hosting.
And for those interested in running an online store, the WooCommerce plans are also discounted at 40% off normal prices.
Key Features
Affiliate network
Officially recommended by WordPress
30-day money-back guarantee
Scalable web hosting services
4. HostPapa – Over 80% Off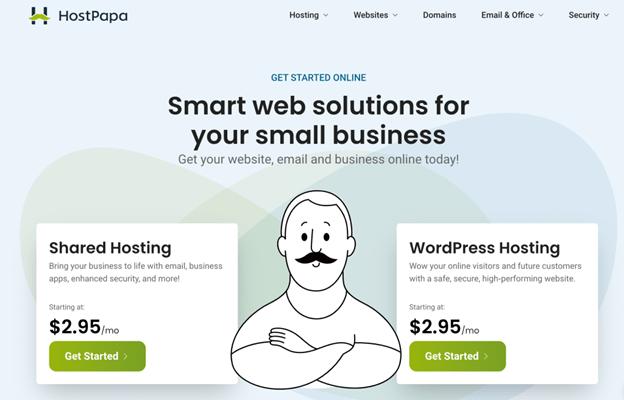 Known for being a green and eco-friendly web hosting company, this Canadian web hosting provider comes with everything you need to set up a small business. From domains and a free site builder to hosting plans and email solutions, you get everything under one roof.
Black Friday Hosting Deals – HostPapa
Rating: 4/5
HostPapa has quite a few impressive web hosting offers saved for the Black Friday sale.
You save over 80% when you choose from the affordable hosting plans aimed at personal websites and small businesses, and get a free domain, SSL, and access to the starter-level website builder, among other things.
Key Features
Free content delivery network
Free website transfer
Phone, email, and live chat support
5. InMotion – Save 60%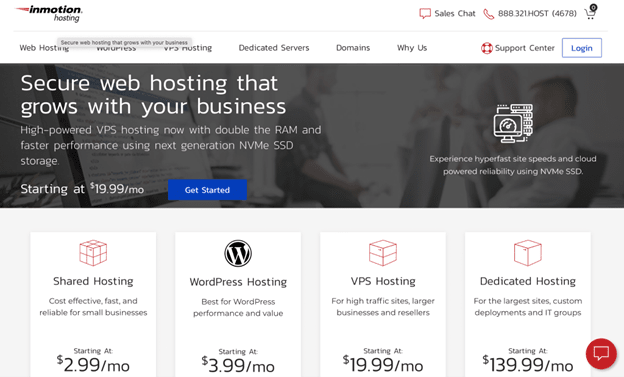 InMotion offers web hosting aimed at bigger and more complex businesses and projects. Covering hosting deals from shared hosting to WordPress hosting, VPS, and dedicated hosting plans, it's no surprise that this web hosting company is often dubbed one of the industry leaders.
Black Friday Hosting Discounts – InMotion
Rating: 3/5
As Black Friday deals go, InMotion's web hosting offer selection focuses around discounts on shared hosting, managed WordPress hosting, reseller hosting, managed VPS hosting, and discounts on dedicated servers.
With these Black Friday deals, you can, in most cases, upgrade to a better plan while paying a significantly lower monthly fee.
Key Features
90-day money-back guarantee
Open source community
Flexible billing
6. A2 Hosting – Over 80% Off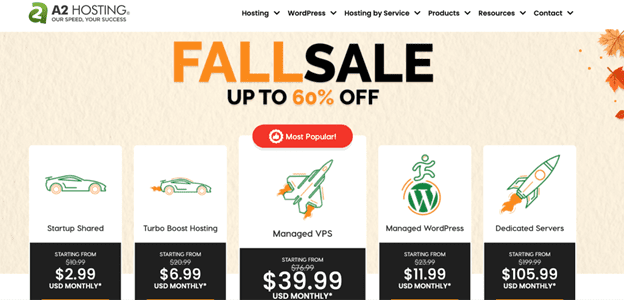 A2 Hosting has cemented itself on the web hosting scene as one of the fastest and most affordable service providers on the market. Whether you need managed WordPress hosting solutions or are looking for something more powerful to run your online shop with, A2 Hosting has something for everyone.
Cyber Week Hosting Deals – A2 Hosting
Rating: 3/5
As Cyber Week deals go, A2 Hosting is offering up to 80% off all their hosting deals. This is especially good news for anyone in search of shared hosting plans, as the web hosting platform offers options for various projects.
If you're a reseller, you can also save over 50% on reseller plans. And for anyone looking to upgrade to VPS and have a dedicated server, A2 Hosting has deals for you, too.
Key Features
Free SSL
SSD storage with all plans
Free CDN
7. GreenGeeks – Save Up To 75%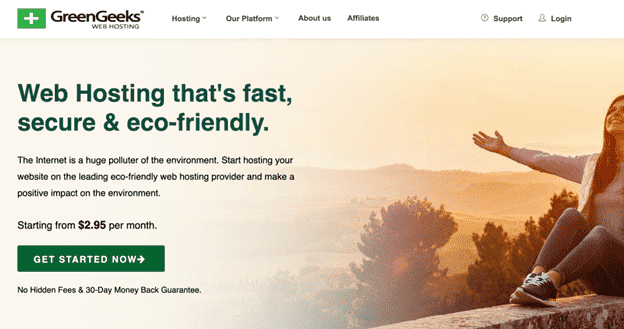 Looking for the best web hosting deals for WordPress sites? GreenGeeks is a web host specialising in WordPress hosting plans and other eco-friendly dedicated and managed hosting packages.
Black Friday Hosting Deals – GreenGeeks
Rating: 3/5
GreenGreeks' web hosting Cyber Week deals focus on promoting mainly shared hosting plans and WordPress hosting services.
Users can save up to 75% on 36-month hosting packages, making these dedicated hosting deals perfect for anyone setting up personal sites, portfolios, or WordPress websites.
Key Features
Free 1-year domain
Eco-friendly hosting
Affiliate network
8. Liquid Web – 85% Off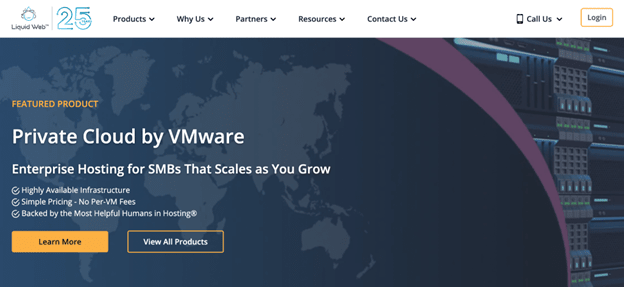 Liquid Web is all about growing your business in style. With web hosting deals from VPS to dedicated cloud and private cloud hosting, this website host is set on powering your online business.
Black Friday Deals – Liquid Web
Rating: 4/5
If you're looking for a VPS deal, Liquid Web has your back. You save up to 85% on VPS plans, and 50%-60% on dedicated hosting plans.
These Cyber Week discounts are ideal for those who are looking to upgrade their web hosting service and have the technical know-how on how to manage their own web hosting plan.
Key Features
10+ global data centers
24/7 technical customer support
100% power and network uptime guarantee
9. FastComet – Save 75%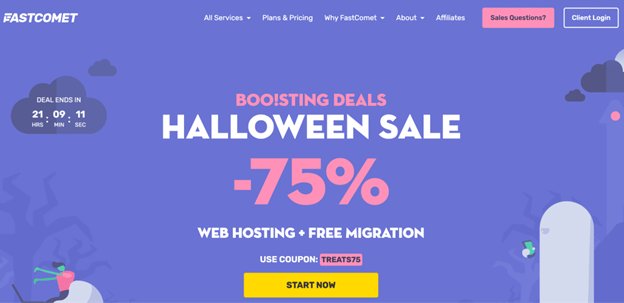 Known for its advanced cloud hosting platform, FastComet has taken cloud VPS web hosting to another level. If you're looking for a web host known for its bundled service packages, consider trying FastComet out.
Black Friday Web Hosting Deals – FastComet
Rating: 4/5
FastComet's Black Friday hosting offers fall no short of impressive. Users can save anywhere between 65% and 75% from a vast selection of annual web hosting plans.
If you need shared hosting, cloud VPS hosting, or dedicated CPU servers, check out FastComet's deals.
Key Features
Host unlimited websites
Free migration
Daily and weekly backups
10. WP Engine – 5 Months Free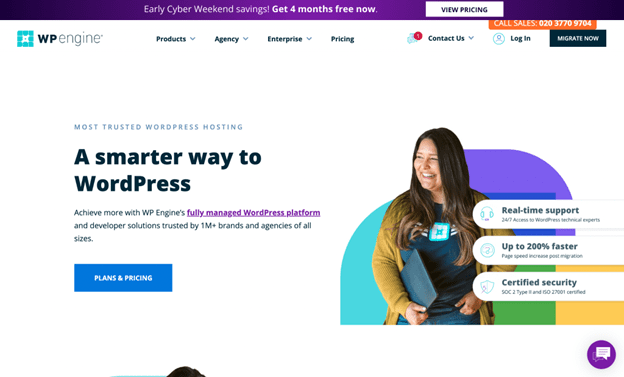 As the name suggests, WP Engine knows all about managed WordPress hosting services. As all their hosting plans focus on various WordPress-related hosting matters, this website host is the go-to destination for anyone looking for great WordPress hosting deals.
Black Friday Deals – 5 Months Free
Rating: 3/5
Compared to other Black Friday and Cyber Monday hosting deals, WP Engine truly stands out with their offer for 5 free months on any annual shared plans. For managed hosting solutions, this means $120 savings annually and an impressive $300 for eCommerce plans. With plenty of options to choose from, this provider is definitely worth checking out if you have a WordPress or WooCommerce website.
Key Features
WordPress specialist
Certified security
Real-time support
High page speeds
Frequently Asked Questions (FAQ)
Find answers to some of the most common questions about Black Friday web hosting deals.
1. Why is it called Black Friday?
It's believed that the term "Black Friday" dates to Philadelphia in the 1960s. Bus drivers and police used the term to refer to the heavy traffic caused by the suburban crowds visiting the city and beginning their holiday shopping.
2. Are there Black Friday sales in India?
While Black Friday is originally an American holiday, it has become a popular shopping event worldwide. In India, some companies offer Black Friday deals both in-store and online.
3. What is a Black Friday sale in India?
A Black Friday offer in India refers to the discounts and deals available for shoppers during the last weekend of November.
4. What to do if I miss Black  Friday offers this year?
Many companies have different sale campaigns running for the whole week after Black Friday (often referred to as Cyber Monday or Cyber Week). You can probably benefit from Cyber Week sales if you miss Black Friday offers.
5. What is the Back Friday date in 2023?
In 2023, Black Friday takes place on Friday, 24th November.
6. What are Cyber Monday and Small Business Saturday?
Cyber Monday has been around since 2005 as the online version of Black Friday, taking place on the Monday after Thanksgiving. Small Business Saturday began 5 years later in 2010 and focuses on promoting local small businesses on the Saturday after Thanksgiving.