Ceilings fans have been a constant relief in the sweltering heat. One of the most common appliances in every household that we can certainly not live without is a ceiling fan. Be it any weather, they are more like a necessity than a luxury. But fans aren't just an appliance, they are the main element that highlights the decor of any house.
With so many variations of ceiling fans in the market, it becomes difficult to choose the best one for your house. Wondering what to keep in mind while buying a ceiling fan? Well, you really need to know the requirements, the size of your room, fan's warranty, and blade size among other things. Having said that, here's our pick of best ceiling fans in India in 2022 that you can get at a great discount using coupons and offers from Amazon !
Top 10 Ceiling Fans in India
1. Crompton Uranus 1200mm Ceiling Fan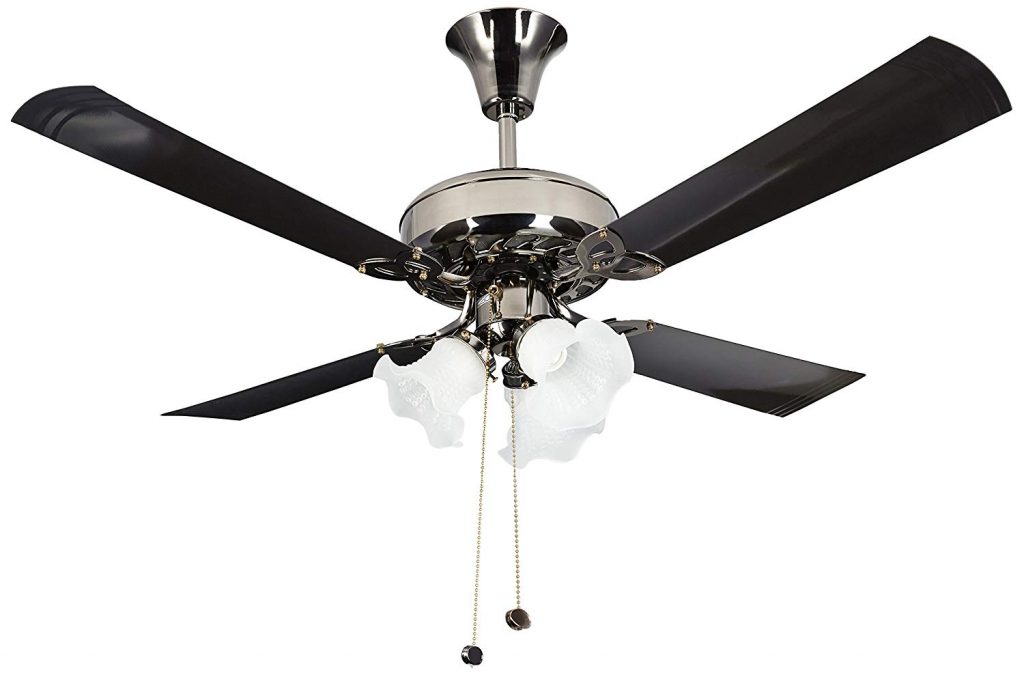 A little from your common fan, Crompton Uranus 1200mm is a fancy ceiling fan to add the right amount of royalty to your living room. The fan has a beautiful design in ivory gold that gives the look of a chandelier and compliments the decor of the house very well if it's not bohemian. This one is a 4 blades fan with a motor speed of 320 RPM and silent operation. The fan comes with a 2 years warranty.
Price: Rs 6,300/
Pros: Handy installation, Proper air delivery
Cons: no remote, bulbs aren't included, slightly
2. Crompton HS 48 inch 53W Power Saver Ceiling Fan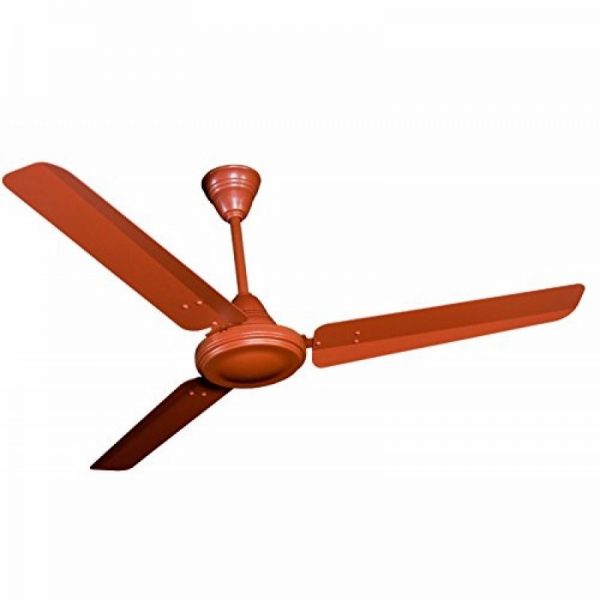 A basic yet amazing product. Crompton never fails to amaze us and this time, it's this basic ceiling fan from the brand that people cannot stop talking about. This BEE 5 rated model of Crompton is a simple-looking fan but its 1200mm blades let the air reach every corner of the room. This model of Crompton blends well with all kinds of decor in the room. This design compliments mostly everything and the best thing is that the fan comes with a 2 years warranty on the product.
Crompton Power Saving Ceiling Fan Price: Rs 2,280/-
Pros: Less power consumption, Double ball bearing
Cons: Vexing sound after using for long
3. Bajaj Regal Gold NXG 1200mm Ceiling Fan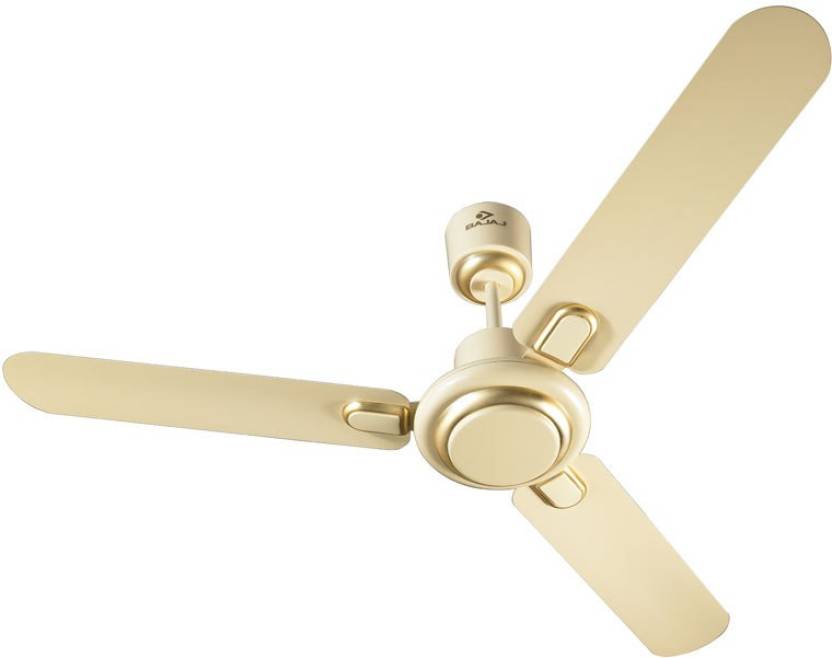 Even kids know how amazing Bajaj appliances are! Bajaj Regal is synonymous to its name – strong and dependable. This fan has a strong 14-poles motor that provides consistent and excellent performance. The metal rings add slight bling to this otherwise simple design of this fan. The product has a warranty of 2 years by the company.
Price: Rs 2,600
Pros: Easy installation, light body
Cons: Price high for the specifications
4. Orient Electric Apex-FX 1200mm Ceiling Fan

This standard fan is one of the most common ceiling fans in India. The fan consumes 78W of power and can be one of the best budget buys. The copper motor of this fan is a reliable machine and comes with a double ball bearing. The electricity consumption of this fan is minimum which makes it inverter compatible and it comes with a 2 years warranty for the customers.
Price: Rs 1,639/-
Pros: High-quality product, Great air delivery
Cons: Motos heats up quickly
5. Havell's ES-50 Five Star 1200mm Ceiling Fan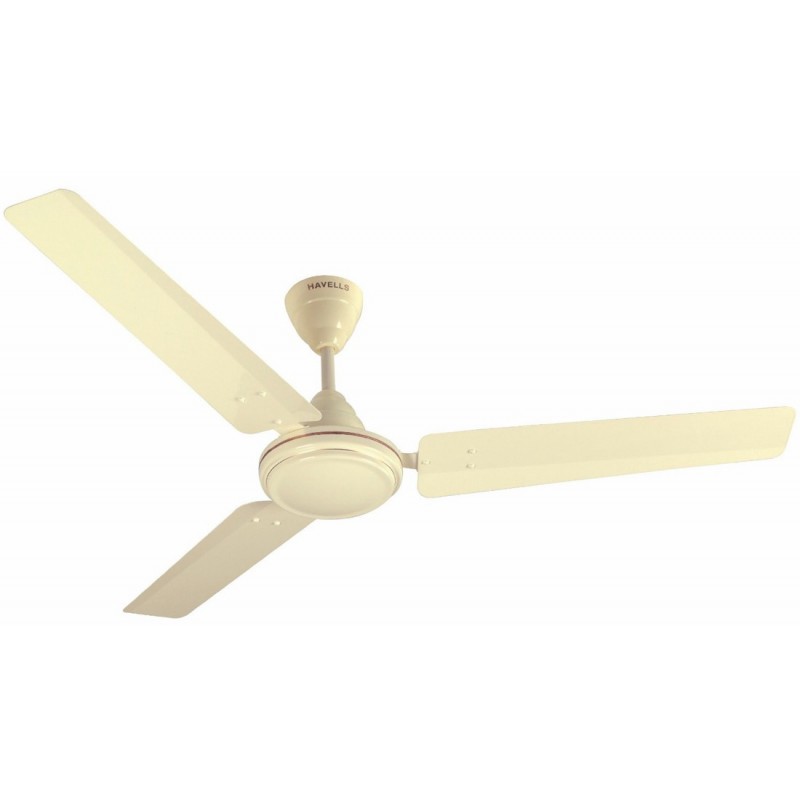 Havell's ES-50 is a five-star rated product that's known for its energy-saving features and high air delivery. Havell's ES-50 has been a customer favorite model for a really long time due to its unmatched features for a ceiling fan under 2500. The fan comes with 2 years warranty and is quite durable so you don't need to worry about its maintenance.
Price: Rs 2,300/-
Pros: budget buy, high air delivery
Cons: No regulator
6. Usha Striker Galaxy 1200mm 80W Goodbye Dust Ceiling Fan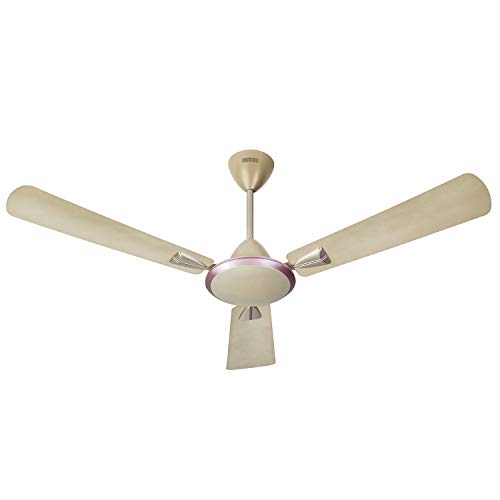 Usha's Striker Galaxy 1200mm Goodbye Dust Ceiling Fan is suitable for everyone who has dust allergies. This fan attracts less dust and is extremely easy to clean. The fan comes with a V2 blade bearing that helps in reducing friction and operating noise. The fan is manufactured with high-quality metal.
Price: Rs 2,999/-
Pros: Dust resistant, Works on Low Voltage
Cons: The product doesn't have a warranty
7. Orient Electric Wendy Ceiling Fan Azure Blue 48″ 1200mm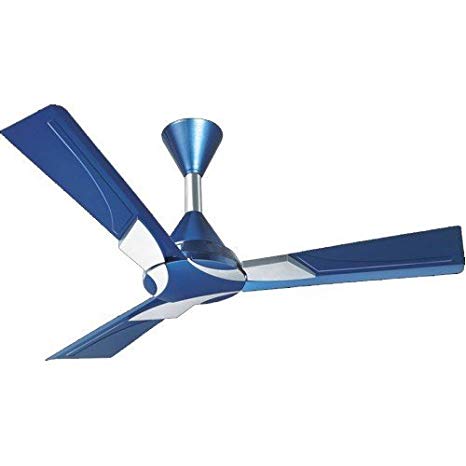 Though the fan is a killer product, I am not very impressed with its design and color. Otherwise, it's an extraordinary model ceiling fan. The fan has great RMP and good air delivery so every part of the room gets the air. The metallic finish makes it look stylish but features like silent operation and durability make it popular among buyers.
Price: Rs 2,860/-
Pros: Low power consumption, high air circulation
Cons: Less warranty on the product
8. Usha Swift 600mm Ceiling Fan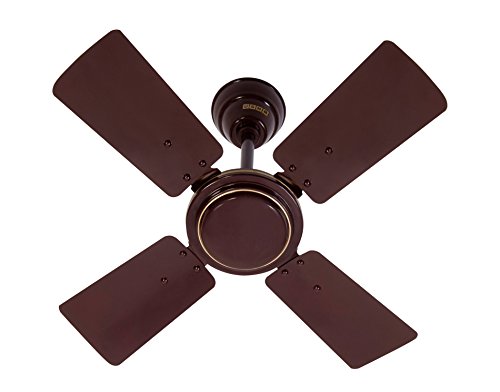 A budget fan for small rooms, this one gives a retro look to the setting. Usha is a durable brand that has been winning hearts since forever. Usha Swift 600mm Ceiling Fan is a low voltage consuming, a glossy finished ceiling fan that will definitely take care of your electricity bills even if you use it 24/7. Though the blades offer even distribution of air, this fan is small in size and might not be perfect for large rooms. Like most Usha products, this one also comes with 2 years warranty.
Price: Rs 1,710/-
Pros: Durable Product, Low Voltage Fan
Cons: Not suitable for large rooms
9. Orient Electric Aeroslim 1200mm Smart Premium Ceiling Fan with Underlight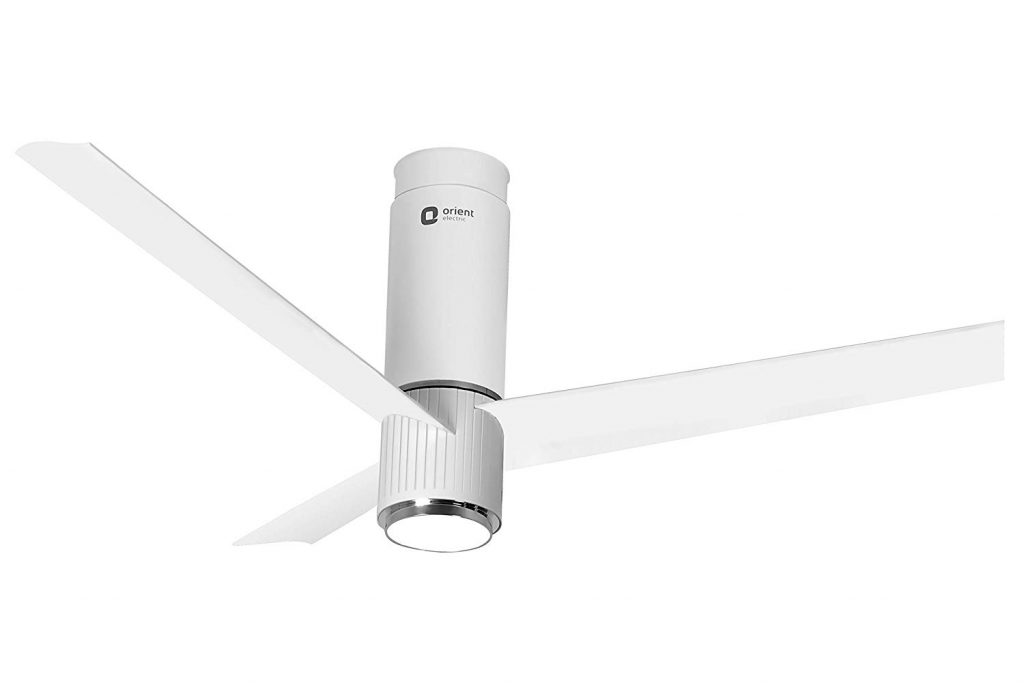 This next-generation, slim ceiling fan in the market is one smart device that you need to install in your home. The fan comes with a remote and mobile operator technology that has fan scheduling, temperature control, fan timer, sleep mode and can be connected to Alexa and Google Assistant. The fan also has reverse rotation options for balanced air circulation in the room.
Price: Rs 7,790
Pros: IoT enabled fan, Smart fan
Cons: Expensive, Requires professional installation
10. SuperFAN Super X1 Ceiling Fan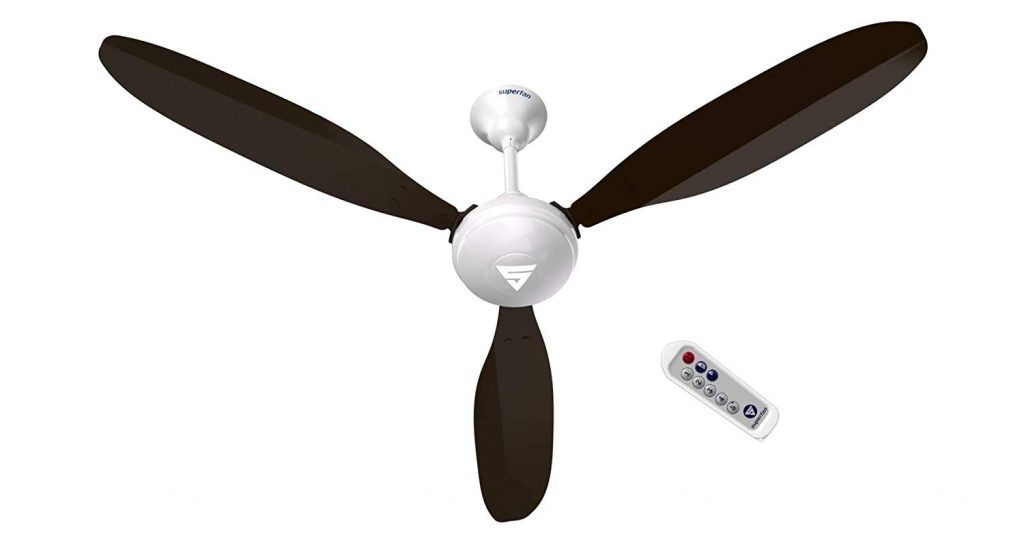 Remember the times when you have to get up from the bed to switch on the ceiling fan when you really don't want to move even an inch? For all the times like that, SuperFAN Super X1 Ceiling Fan has come to your rescue. This remote-controlled ceiling fan is everything that you need in your room. The fan comes with adjustable speed control and time operation.
Price: Rs 3,690/-
Pros: Remote Controlled Fan, Power Saving features
Cons: Less Popular brand
We rolled out myriads of options to pick from, use GrabOn coupons and offers to buy the best ceiling fans and save most on your purchase. You can also use our Gift Cards to give your loved ones what they need, it can be a ceiling fan too!
How to Determine the Right Ceiling Fan Size
Before buying a ceiling fan, you must look at its size. This is the only criteria that really matters, and also the only one that people miss.
Have you ever stepped into a room that felt like it was in a tornado? That is what happens when someone buys a fan that's tad too big. Or if you've stepped into a room with too little airflow, that is when the fan is too small (case in point- Indian Railway). So, how do you determine what is the right fan size for your room?
We have made a size guide that will help you find out. First, you have to measure the size of your room. Multiply the length of the room (in feet) with the width of the room (in feet). What you have now is your room's area.
| | | |
| --- | --- | --- |
| Room Area (In Sq. Feet) | Room Type |  Blade Span Size |
| Under 75 | Bathroom, Store rooms, Porches, Kitchens | 29 to 36 inches |
| 76 – 144 | Porches, Kitchens, Small bedrooms | 36 to 44 inches |
| 144 – 225 | Dining rooms, Medium-size bedrooms | 44 to 50 inches |
| 225-400 | Master bedrooms, Halls, Drawing rooms, Small garages | 50 to 72 inches |