You might have heard the quote, "Keep your head, heels, and standards high" by Lola Stark. This famous quote defines how important it is for women to stay confident in every possible way. And for centuries till today, it's the high heels that make sure to put a pep in your step and give you the power to rule the world.
If high heels are your wardrobe staple, then you might have heard about stilettos, wedges, pumps, and block heels, as these are the most common ones. But apart from them, there are many more different types of heels to accentuate your legs in the best way. So, taking you forward, we have curated a list of popular heel names to help you up your footwear game by adding them to your recent heels collection.
43 Popular Heel Types for Women
Season by season, a new heel type steps into the fashion game and steals the show. So, if you want to get some insight into the classic heel types as per design and style, keep scrolling!
1. Stilettos & Scarpin Heels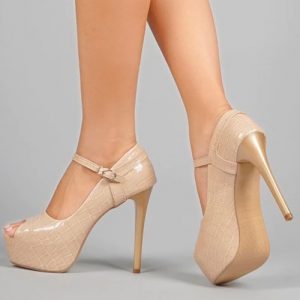 Most of you might not know this, but stilettos have been in the fashion game for a long time and were discovered in Old Egypt. Named after the stiletto dagger; these are high-defined heels found on boots or pumps. If you can walk in the thinnest heels, then stilettos are for you. And after doing some honest research, it's observed that millennial girls are mostly crazy for stilettos because they feel their walk gets more attractive wearing these.
Other than stilettos, there's another sleeker variant called scarpin heels. If you can walk in the thinnest heels like a pro, these are definitely for you. So, pick any of these pairs to shine like a diva.
What We Like:
Helps alter your posture in the best way possible.
Stilettos heels help accent those calf muscles.
Styling Tip:  You can rock your cocktail attire or a casual denim look with the eye-catchy stilettos or a scarpin heel. And there are many online stores like Myntra, where you will find a variety of heel collections. Using the coupon codes from Myntra, you can bag huge offers, and great savings on a variety of stilettos from top-rated brands.
2. Wedges & Flip-Flop Heels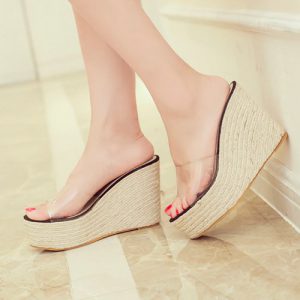 When you search for comfortable types of heels, Wedges will definitely top the list. Wedges are mostly tapered towards the toe and elevated at the heel. This pair is perfect for the ones who feel stilettos are challenging to walk in. Not only comfortable, but wedges make a perfect style statement too. So, if you wish to step out in style for a casual brunch date, wedges can be your ideal choice.
And just like wedges, you have flip-flops with almost the same design, but the only difference is that the flip-flop heels are much light in weight and puts minimal pressure on the feet.
What We Like:
Offers better cushion coverage as compared to stilettos.
Made from rubber or wood soles that make them absolutely slip-resistant.
Style Tip: Wedges can be worn with your everyday attire. Be it shorts or jumpsuits, or any types of sarees, these high heels can be your wise pick. Similarly, you could wear flip-flop heels every day to your college.
3. Ankle Strap Heels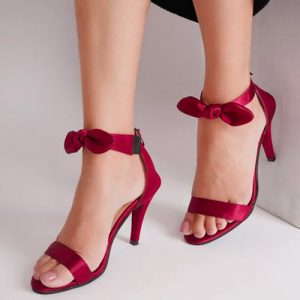 The highlighting feature of an ankle-strap heel is its adjustable strap that wraps around the ankle. These types of heels are available in moderate to high-heel lengths. Ankle-strap heels are flexible to wear as these can be fastened by a buckle or a clasp.
Even though these heels are versatile in design, but they can make your legs look shorter because of the strap that divides your leg and feet. This is why ankle strap heels are best recommended to tall height women.
What We Like:
Straps around the ankle helps to hold the feet firmly without swinging too much.
Ultra-stylish heels to be worn in any sartorial situation.
Style Tip: Any short or medium length outfit that shows your legs will look great if paired with slimming ankle-strap heels to make a statement.
4. T-Strap Heels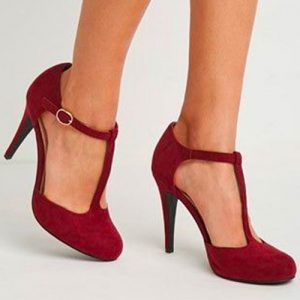 As the name suggests, T-strap heels are designed in a manner which covers the heel and toes, but otherwise lets you flaunt your foot by revealing decent amount of skin.
T-strap heels have a pointed toe that is accompanied by a trap reaching toward the ankle from the center of the toe. And mostly, these heel types are one to two inches high to let you walk comfortably for hours.
What We Like:
Gives a secure feeling and can instantly transform your walk.
Available in many cute and trendy designs.
 Style Tip: T-Strap heels are perfect to elevate your everyday jeans and crop top look or any mid-length skirt or dress.
5. Pole Dancing Heels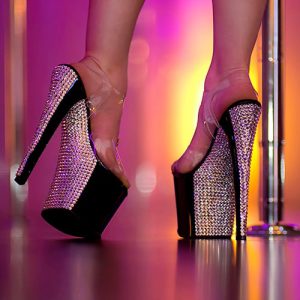 Have you just begun your pole dancing sessions? Then girl you must know what important role does pole dancing heels play. And for the ones who have not heard about these types of heels, just to give you a gist, pole dancing heel is more like a tool to any pole dancer.
These heels come with platforms that are great for maintaining a strong grip. So, if you want to give a sensual appeal to your performance, high and shimmer pole dancing heels are a must-buy.
What We Like:
Sensually appealing to the next level.
Helps in swiveling the legs easily by providing great grip.
Style Tip: To add an exclusive touch, pair your desirable outfit with a set of pole-dancing heels.
6. Pumps Heels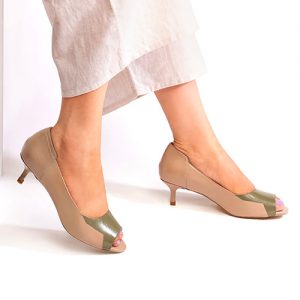 Willing to add a timeless collection to your wardrobe? If yes, then pumps will do great. Unlike stilettos, these are low-heeled and more comfortable because their heel inches usually range between 1 to 2 inches. And you will find pumps usually in tan colors.
Pumps can be worn with skirts, pantsuits, and dresses – anything you want to look your best! If you're looking for a powerful yet glamorous impact on your wardrobe choices, then pump types of heels should definitely be at the top of your list!
What We Like:
Pumps have low heels that make them comfortable to walk in.
Even with those extra inches, pumps will help you maintain great agility.
Style Tip: For your everyday office outfit, pumps are perfect to add that luxury touch and give you an effortless look all day long.
7. Platform and Flatform Heels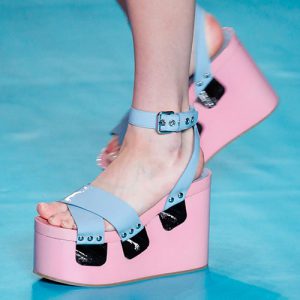 It's true that nothing can match the style essence of pencil heels, but when it comes to comfort, Platform heels will always have that upper hand. Their uniqueness lies in the thickness of the base or you can say the extra cushion that it provides to the ball of your feet which makes it easy to carry.
Then comes Flatform heels which are just like Platform heels but without that incline feature. With a more even height, these heels can be worn even during travel.
What We Like:
Tends to keep the feet at a more comfortable angle as compared to other heels.
Provides perfect sturdiness to the shoe structure to walk firmly
Styling Tip: Platform heels can go with any outfit but if you want to get into specifics, then, a minimalist fit or a pretty floral dress will be great to go with.
8. Block Heels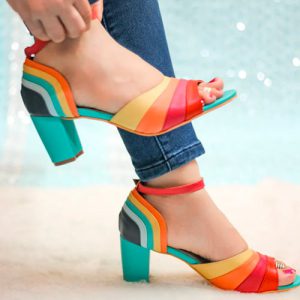 With lots of variations and versatility, Block heels have become a go-to for many women. Whether you are skinny or overweight, these heels are always a win-win to meet your comfort and style. So, if you are searching for trendy types of block heels at reasonable rates, go use the Amazon discount codes and have a happy purchase.
Talking about the benefits of Block heels is that they provide greater ankle stability than traditional high heel shoes. This makes them perfect for those who experience foot pain or discomfort from wearing high-heeled shoes all the time.
What We Like:
Minimal strain on feet because of the larger surface area of the heel.
Maintains optimal balance to walk anywhere without discomfort.
Styling Tip: You can pair that casual jeans top outfit with a solid color Block heel that can perfectly adorn your overall look.
9. Flare Heels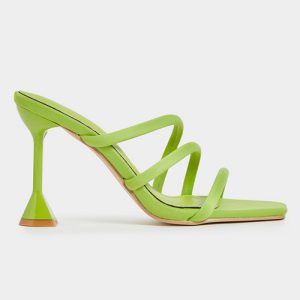 Somewhat similar to platform heels, Flare heels too have that thickness and a stable bottom. A unique feature of this pair is that the heels are narrow on the top and broader at the bottom. Perfect to wear that confidence with a pinch of style, these practical heels are great enough to keep your feet cheerful.
In addition, because they have a stable bottom, Flare heels can be worn with any type of dress without fear of sliding around or becoming unsteady.
What We Like:
Displays the shape of calf muscles dramatically.
The curved design is great for extra support.
Styling Tip: To get that bang-on sassy look for your bachelorette, Flare heels with a corset dress or a mini frock will be the night stealer.
10. Lace-up Heels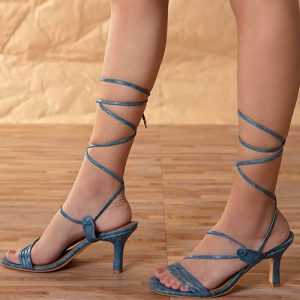 When your outfit is grabbing all the attention, you need a pair of Lace-up heels to make all the talking without any noise. These are one of the classics that have been inspired by ballerina shoes.
Apart from that finest fit, your leg too will get a voluptuous appearance because of the laces. And the best thing is, whether you need a block or a stiletto lace-up heel, there are plenty of options to meet your requirements.
What We Like:
Easy to adjust the length of lace as per the dress.
They can elevate any outfit to another level and make you look more confident.
Styling Tip: Lace-up heels will be a great finisher if paired with a long skirt or a blazer dress to give you a chic look.
11. Mule Heels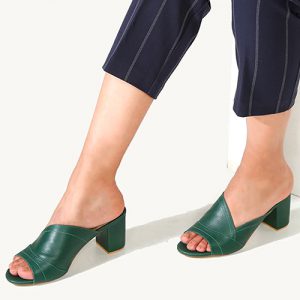 Inspired by Turkish and Egyptian culture, Mules were meant to be indoor footwear. But over the passing years and innovation in footwear designs, we got to see a lot of variations in the Mule heels as well.
One of the unique features of mule heels is their backless design without any constraint which makes them easy to slide off without much hassle. From peep-toe to closed-toe, these types of heels can be found in numerous shades, inches, and varieties. So, girls, what are you even waiting for? Just wear your mules and forget the rules.
What We Like:
Their availability in different materials including suede, velvet, leather, etc.
Keeps your feet relaxed even after long hours of walking.
Styling Tip: For the sassiest denim look, you can pair your mule heels to gain those extra inches.
12. Cut-out Heels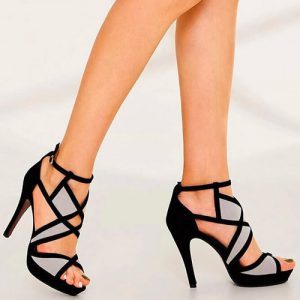 Out of a variety of different types of heels, cut-out heels are somewhat unique because they come with creative cuts to make your feet look no less than an art. Say if you have any last-minute party planned, and your toes are not painted, you can simply put on your cut-out heels which will be the talk of the evening, and not your unpainted toes.
Another upside is that they can be dressed up or down depending on your mood or outfit choice. Moreover, you can use them as an everyday shoe if you're short on space or want extra height without having to wear high boots all the time. Your feet will thank you afterwards!
What We Like:
The cuts make these heels absolutely breathable and comfortable to wear.
Stylish cuts in distinctive shapes and colors turn feet into a work of art.
Styling Tip: Cut-out heels can be a perfect addition to glam up your bodycon outfit for clubbing or for spicing up that simple crop top & jeans outfit.
13. Loafer Heels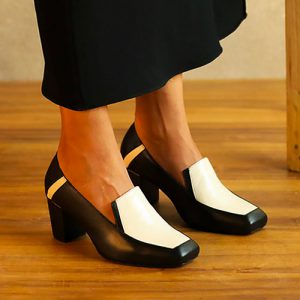 Loafer heels can anytime be your go-to footwear for maintaining a proper style statement with ultimate comfort. Enclosed from both front and back, this classiest pair of heels can be your perfect fit.
So, if you want to walk ahead making all heads turn, there's nothing more fabulous than owning a pair of smart loafer heels.        
What We Like:
Comes with the finest fit perfect for your everyday wear.
Offers the best stability and comfort while walking.
Styling Tip: Whether you want to rock that chic streetwear look or a professional work meet-up, wearing an elegant loafer heel will be absolutely worth it.
14. Slim Heels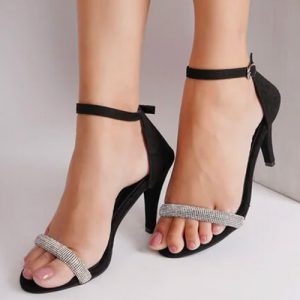 If you love being the center of attraction, slim heels can be your ultimate companion and a head-turner every time you enter a room full of people. These are just like every other pencil heel but their low inches are what makes them different. With any heavy weight dress, it's better to wear a low-inch slim heel.
Let's say you are soon getting married and you already have some best engagement dress options ready but no clue what footwear will be the best to with. So, this is where you can opt for the slime heels because the low inches of these heels can let you walk in that heavy lehenga very comfortably.
What We Like:
Desirable enough to lengthen your legs.
Easy to team with any outfit.
Styling Tip: Pairing your exclusive bridal attire with slim heels will make your outfit complete and give you an all-over divine look that every bride craves. You can also pull these off with a western outfit of your choice.
15. Strap Heels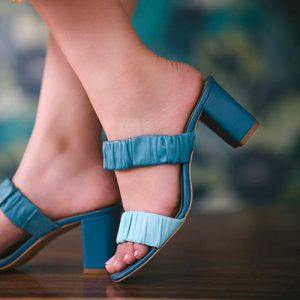 Absolutely flattering to walk in, the straps are designed to add that intricacy to your heels. There are particularly two types of Strap heels. One is an ankle strap and the other is T-strap.
Ankle strap heels have straps to wrap around the ankle whereas T-strap heels have that additional vertical strap to keep your feet intact. And the best thing is that you can put on these strap heels for any vestiary occasion as they come in a varied range of colors and textures to go with any outfit.
What We Like:
Perfect for occasional users of heels, as the strap gives adequate support to ankles.
The straps make wearability and walkability way easier than pumps.
Styling Tip: To add that alluring touch to your shimmer dress, or your casual summer day brunch look, ankle-strap is the right pair of heels to give you an effortless look.
16. Kitten Heels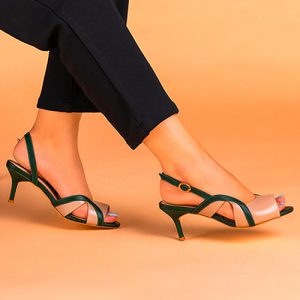 Introduced as a formal fashion footwear for young girls, kitten heels were referred to as "trainer heels" in the late 50s. But soon after when stilettos came into the picture, the kitten heels got revamped and became a go-to for middle-aged women who avoided wearing high heels.
These short stiletto heels have made their place straight into the hearts of women including some popular celebrities like Michelle Obama, Hillary Clinton, and others. So, if you are looking for a more comfortable alternative to other high heels, there's no better option than kitten heels.
What We Like:
Low-impact heels available in different designs and colors.
They are versatile and can be dressed up or down for any occasion.
Styling Tip: The best outfit to go with kitten heels is any day a minimalist white top and blue jeans. Or otherwise, you can also pair them with a pretty floral dress and yes you are good to go girl.
17. Slingbacks Heels
Just like Ankle-strap heels mentioned above, Slingbacks also have straps around the ankle but no back support as such. Considered to be a type of heel sandal, slingback heels are an absolute love for elevating a casual look.
You can find a variety of slingback heels that can be as thin as a stiletto and as wide as a wedge. And be it open or closed-toe, you have too many options when it comes to slingback heels.
What We Like:
Quite easy to adjust the heel height as per the situation.
Gives great grip without allowing the foot to slip out.
Styling Tip: To add an element of sophistication to your co-ord set or a blazer look, slingback heels will be an ideal pair.
18. Cone Heels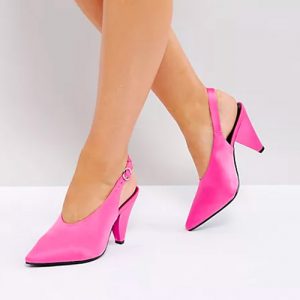 Just as the name suggests, cone-shaped heels are just like an ice-cream cone, broader at the sole, and narrow at the front. Available in different lengths and textures, this timeless pair of heels will make you feel as if the world is under your feet.
While they may not be suitable for all outfits, they definitely deserve a place in every fashion enthusiast's shoe collection! Importantly, these are most preferred with formals and are good for extended wear as well.
What We Like:
Available in amazing styles from pumps to cutouts and more.
Wider than a stiletto and very easy to manage.
Style Tip: To elongate your legs in a short skirt or hot pants, cone heels can be the best fit to steal the show.
19. Peep-toe Heels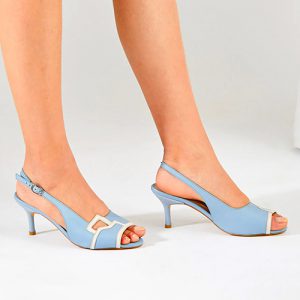 Unlike every other classic heel, Peep-toe does not cover your entire foot but let's your toes peek out. Say, if you are in the mood to display your toe paint or manicure, this pair of heels can definitely be a flirty choice.
Also, the elegance that's missing in every other heel, can be met easily with the peep-toe ones. From slingback and block to ankle boot heels, peep-toe is available in many variations.
What We Like:
More breathable if compared to closed-toe heels.
They flatter every body type and are available in a range of colors and styles.
Style Tip: Whether you want to rock your alluring club look, or a gorgeous date look, peep-toe heels are always a win-win.
20. Cork High-heels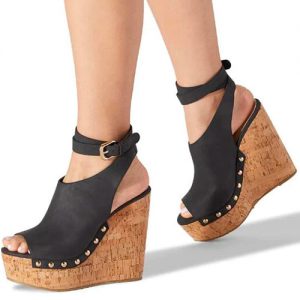 Looking for warm-weather footwear? Go with the Cork heels that have a natural sole to make your feet feel light and comfy. From thin-heeled stilettos to thick-heeled wedges, you can find this cork material in a variety of heels.
Cork heels also offer great comfort and come in a variety of beautiful designs. Some of them have high-quality elastic straps so they can be worn comfortably for extended periods of time. Other features include flexible rubber soles for easy walking, etc. So, if you want a footwear with better performance and comfort, go with the cork high-heels.
What We Like:
The cork soles are perfect to complement any outfit.
Tolerable to walk for a long period of time.
Style Tip: To complete your boho look, you can mismatch your floral dress with a cork high heel and make your spring look a head-turner.
21. High-Heeled Boots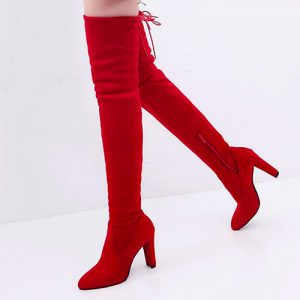 For a more refined fashion taste, High-heeled boots have made it into the footwear closet of many women. These heels are absolutely leg-hugging and perfect for the fall and winter days.
For any reason, if you are finding it difficult to find an exclusive pair of high-heeled boots at inexpensive rates, you can once check out the ZARA coupon store section for great options.
What We Like:
Way more comfortable to stand in compared to other high-heels.
Gives added arch support to the ankles.
Styling Tip: To maintain that style statement on winter nights, you can pair your turtle neck sweater and short skirt with high-heeled boots to keep your feet warm.
22. Spool Heels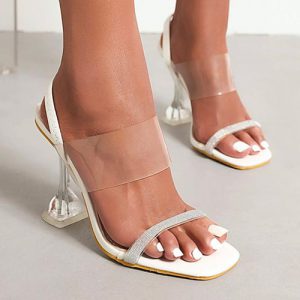 Originated long back in Europe, Spool heels have gained huge popularity amongst Gen Z girls. The hourglass design of these heels has what got their major attention. And if you see, these are quite similar to flared heels, as they too have a little flare at the bottom of the heel.
Let's just say, you are going to a reception party where you have to stand for long, stilettos can never be the best choice right? But when you have spool heels, why not wear them and enjoy the whole night without torturing your feet?
What We Like:
The low inches make it easier to walk for a considerable amount of time.
Comes in a varied number of designs and colors to choose from.
Styling Tip: Going for a casual outing with your girl gang? Just accessorize your chic denim outfit with a classy spool heel, and voila! You are all ready to go.
23. Corset Heels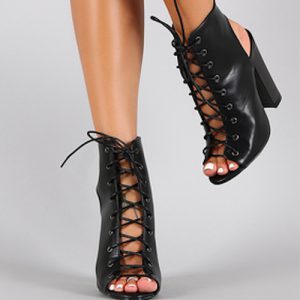 I am sure you have heard about sensual Corset outfits, but for a surprise, there are corset heels too. Just like a corset dress, the two symmetrical sides of the heels meet in between to lace together.
Apart from this, Corset heels elongate your calf muscles which can give you the toned look that you desire. They also come in various styles and materials, to help you spice up your everyday attire. So, if you want to unzip your step sensually, corset heels will be your perfect companion.
What We Like:
The soft-lined insole is great for absolute comfort and fit.
Dresses the feet in the appealing way.
Styling Tip: Not sure which footwear will rock your sensual date outfit? No need to put more thought into it. Just accessorize your feet with an intriguing black corset heel. For example, you can try it on your little black dress.
24. French Heels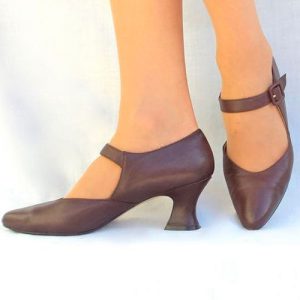 Did you read about the Spool heels above? If yes, then you can make out the similarity here. To explain briefly, French heels are just the short version of Spool heels.
Curved in the end and high-pitched towards the front, the French heels look very much like the shoes of Cinderella. And everybody knows Cinderella's story of how her life changed after a new pair of shoes. Following the same, you too should think of buying French heels. Like what if, something magical too happens to you?
What We Like:
Low-level walkable heels to give that feminine allure.
Adorable heels to make your leg look cute.
Style Tip: If you are wearing something vintage, or something long, French heels will be great to complete that look.
25. Oxford Heels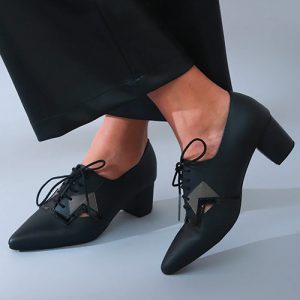 Inspired by the lace-up footwear of men, oxford heels are sharp-looking shoes that are the perfect addition to casual and smart dressing. These traditional heels come with closed laces and have a sophisticated look to them. So, if you want to pull off that exquisite look, a pair of oxford heels can work like a charm, which can be found at any online shopping site.
What We Like:
Classier and easy to wear than high-heeled platforms.
Easy to pair with anything from informal to formal outfits.
Style Tip: Whether you want to dress up formally or casually, oxford heels work. You can either pair them with your boyfriend's jeans or formal office pants.
26. Comma Heels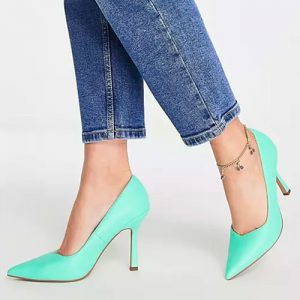 Just as the name signifies, Comma heels have the shape of a comma. Strange right? Till now, we have been using a comma to divide sentences, and now we have a heel named after it.
Thanks to the French. The uniqueness of comma heels is that they can face both front and back. And even with different types of high heels on demand, comma heels have gained huge popularity because of their unique shape. You can mostly see the runway models wearing comma heels.
What We Like:  
Makes your walk extremely eye-catchy and attractive.
Not much complicated to walk those steps.
Style Tip: Comma heels will look amazing with a shimmer top and an A-line skirt or any other party dress you wish to don.
27. Espadrille Heels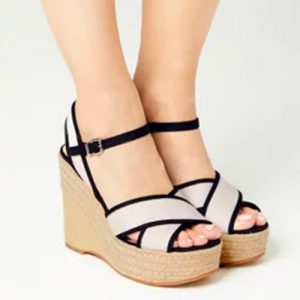 Derived from the French word "esperdaniya" meaning tough grass for making ropes, the espadrille heels have become a staple summer footwear for many.
From celebrities to style-conscious girls, espadrille heels have made a huge comeback in the fashion game. And because these are made from tough rope material and canvas, you can say that espadrille can be trusted in terms of durability and versatility as compared to other types of heels.
What We Like:
Adds extra inches without letting your feet feel a thing.
Does not make any noise while you walk.
Style Tip: For your picnic outing, you can pair your summery floral dress with espadrille heels. Or these can also go well with that polka-dot frock that is still inside your closet.
28. Fantasy/Decorative Heels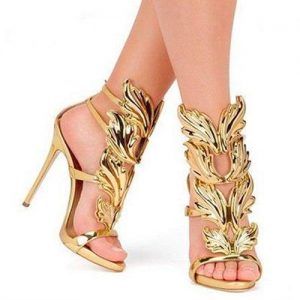 If you love experimenting with fashion, then girl, you should definitely search for fantasy heels. Also called decorative heels, these are designed by putting great imagination and quirkiness.
Some embellished designs that you will find in fantasy heels are butterflies, leaves, snakes, etc. And especially, inspired artists like Taylor Swift, Lady Gaga, and other fashionistas are seen donning these extravagant heels to red carpets and stage shows.
What We Like:
End number of designs to explore.
Design customization as per your taste and preference.
Style Tip: It's best to miss match your lowkey outfit say denim jeans and crop top with a fantasy heel so that all eyes are on them. Or you can also style this beautiful pair of heels with your bridal attire.
29. Stacked Heels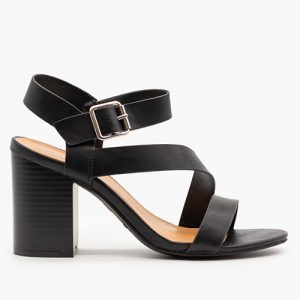 Even if your footwear closet is stacked with slinky stilettos, you must surely own a pair of stacked heels that offers elegance along with comfort.
Just like chunky heels, these too have a broader surface area in the heel which is stacked with materials like wood, leather, or plastic. Out of different kinds of heels, stacked heels should be your preferred choice if you want to hype your "girl next door" look.
What We Like:
Thick surface of the heel makes it easy to walk on uneven surfaces.
Gives your feet more surface area to walk with ease.
Styling Tip: You can pair stacked heels with your bootcut jeans, to flaunt your chic look.
30. Lucite Heels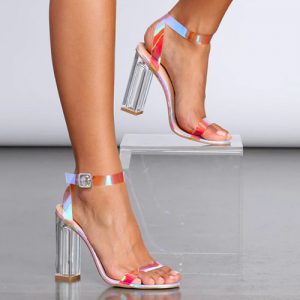 Made from a transparent material, Lucite heels were earlier referred to as stripper heels. But just to break the stereotype, every other trend-setter is seen rocking this stylish pair like a boss lady.
There's no better heel than these that will let you flip-flop your way for a Sunday brunch date. Importantly, Lucite stands up fairly well to wear and tear, making it a durable option for those who take pride in their appearance.
What We Like:
Available in many designs including kitten heels, platforms, and others.
Completely suitable for your everyday look.
Style Tip: The much-adored lucite heels will look flawless either with your hot cocktail dress or a summertime midi dress. But the best part is that you can pair them with any color attire.
31. Lobster Claw Heels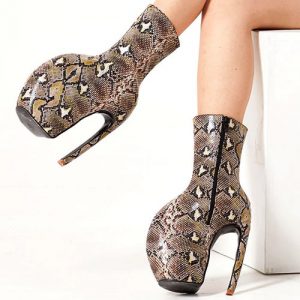 I am sure most if you wouldn't have a clue as to what on earth is this. But yes, to your surprise, there are heels named Lobster claws. Only if you are a Lady Gaga fan, you might have seen one of these that she wore to an event.
Lobster claw heels are arched towards the front and also have a platform to let you walk easily.  So, if you too are quirky enough to experiment with your footwear fashion, you should pick one of these to get noticed.
What We Like:
The uniqueness of their design is just incomparable to other heel types.
Available for different foot sizes.
Style Tip: Even though you might feel it a little awkward to wear this rare type of heel with your normal outfit, you can surely don it for a Halloween party or a fun event.
32. Mary Jane Heels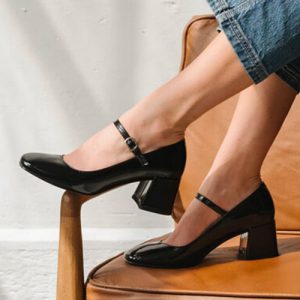 Do you remember the shoes with buckles that we used to wear with socks? Guess what, this time they are back with a touch of style and elegance. The strap fastened by a buckle is still that contrast feature that you will find in these heels.
This traditional footwear is currently ruling the hearts of every trendsetter today.  From pumps and loafers to blocks, Mary Jane heels are available in many types.
What We Like:
Unlike mules, the straps make them more stable on the feet.
Wearable for a long period of time.
Style Tip: To create a goth look, you can try black color block Mary Jane heels with long white socks. Or else, you can wear it with a cute little pink frock as well.
33. D'Orsay Heels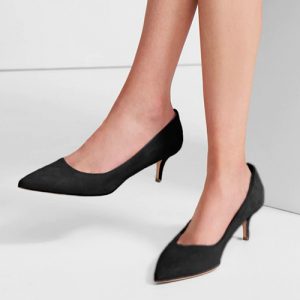 Introduced by Alfred Gabriel Comte d'Orsay, the D'Orsay heels were considered court shoes in the early days. But as we know, what's gone, returns anyways, and when it comes to fashion, the long-gone style has always seen a comeback.
Similarly, the D'Orsay heels too saw that makeover. To beautifully expose the arch of your foot, these pointed-toe D'Orsay heels have side cutouts which you can say is one of the designs only found in these types of heels.
What We Like:
Sleek in appearance with comfortable lining and sole.
They are easy to walk in and are perfect for formal occasions.
Style Tip: Those skinny jeans with a corset top will look quite attractive if paired with the sleek D'Orsay heels.
34. Ankle-Booties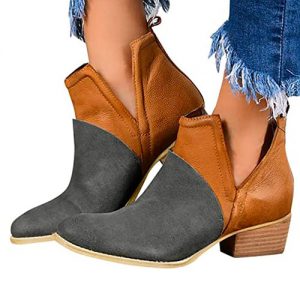 Usually, the heel types like ankle boots and ankle booties are used interchangeably. But there lies a little difference between the two. Ankle booties are generally loose around the ankle, whereas ankle boots are usually fitted.
And even though you will get plenty of closed footwear options online, but there's nothing that can match the elegant style of ankle booties that can go with dresses through all seasons.
What We Like:
Keeps your feet covered and warm during winter.
Offers great ankle support while walking.
Style Tip: You can pair ankle booties with your long boho skirt or with rugged jeans for that true style indulgence.
35. Ballroom Dancing Heels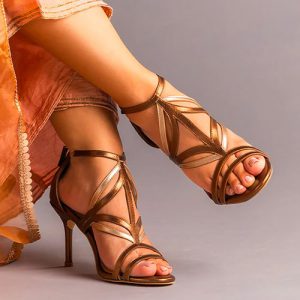 It's a small piece of advice to every Danseuse, that if you want your spins and turns to be perfect on the dance floor, you will have to be a little choosy while purchasing your dancing shoes.
If you are new and do not know much about ballroom dancing heels, just to make you understand that this pair has a suede sole that helps in reducing friction on the dance floor. Wearing these pretty shoes,
What We Like:
These dancing heels are extremely durable than the normal ones.
Helps in improving your dancing technique to the max.
Styling Tip: You can style your pretty ballroom gown with the ballroom dancing heels to look absolutely divine.
36. Sculptural Heels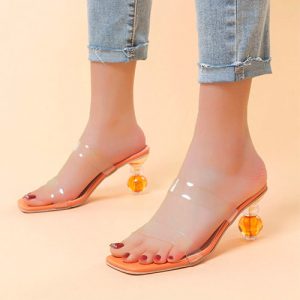 If you are very artsy, the sculptural heels will surely catch your attention. The asymmetrical shapes of these statement heels are what makes them unique. From disproportional geometric shapes to crazy patterns, these heels come in different and exclusive designs.
And while these heels may be more expensive than some other types of shoes, their unique design and high-quality materials justify the price tag. If the above-mentioned heels aren't your thing or you just don't think they'll flatter your figure, then sculptural heels could be the perfect one!!!
What We Like:
Comes in amazing abstract designs to choose from.
They can be perfect for adding some fierce glamour to any outfit and making a strong fashion statement.
Style Tip: Most runway models are seen adorning these sculptural heels, but if you feel like experimenting with your party looks, you can wear one of these.
37. Perspex Heels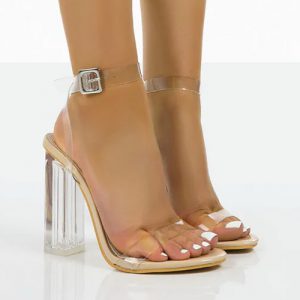 Perspex heels are translucent forms of heels that may be a fun addition to your footwear collection because they can work with any outfit. These heels have a translucent strap and heel. And the best thing is, wearing the perspex heels you can confidently show off your pedicured feet.
These types of heels come in a variety of styles, from wedges to mules, to give you plenty of options to choose from. With transparent heels becoming a wardrobe staple, you will find many celebrities like Victoria Justice, Kim Kardashian, and others rocking the clear heels in their best outfit.
What we like:
Absolutely versatile heel to match any outfit.
Makes your legs appear longer by creating an optical illusion.
Style Tip: If you want a casual look, you can style the perspex heels with denim jeans and a cute crop top. And if you want a desirable look, you can pair the clear heels with a mini dress.
38. Knot heels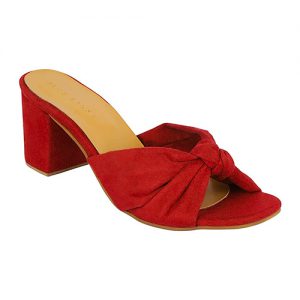 Women's knot heels are an excellent way to add a feminine and fashionable touch to any ensemble. An exquisite knot accent on the front of these shoes adds texture and intrigue to otherwise basic footwear. Depending on the kind of shoe, the knot feature can be subtle or dramatic, making shoes adaptable enough to wear with anything from jeans and a t-shirt to fancy evening attire.
Knot heels are available in a range of materials, including leather, imitation leather, suede, etc., making it simple to pick the ideal pair for any outfit. If you want to enhance your heel game, grab yourself a pair of knot heels today.
What we like:
Stunning pair of heels carrying ultimate comfort for all day long.
The chic knot details on the heels enhances any outfit.
Style with: You can wear your knot heels with anything from a cool graphic tee and jeans to a pretty floral dress for a brunch date.
39. Velvet Heels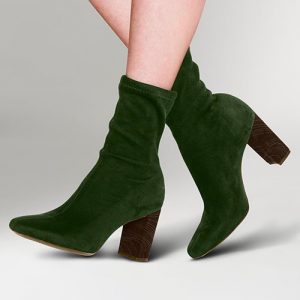 Velvet heels are a type of women's footwear characterized by their soft and plush texture, which is achieved through the use of velvet fabric. The velvet material adds a touch of luxury and elegance to the heels, making them ideal for special occasions such as weddings, parties, and other formal events.
These heels are available in a variety of styles, including stilettos, pumps, sandals, and more. Also, you will find velvet heels in a range of colors, from classic black and neutral shades to bold hues like red and emerald green. Some velvet heels may be adorned with embellishments such as rhinestones, bows, or cut-out designs to add even more visual interest.
 What we like: 
The soft and pliant material of the heel makes it comfortable to be worn for long hours.
The velvety texture of these heels adds a touch of luxury to the footwear.
 Style with: Velvet heels can be paired with a different range of styles, from traditional wear to anything casual.
40. Ruffle Heels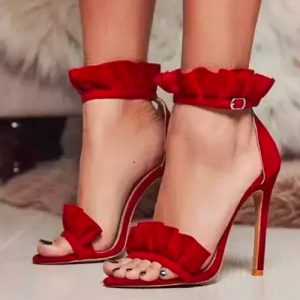 Ruffle heels are the most feminine footwear, distinguished by their distinctive, flouncy ruffles that give a bit of fun and drama to any outfit you wear. Whether you're looking for a pair of shoes to wear to a big occasion or simply want to add some spice to your usual wardrobe, ruffle heels can be a great option.
These heels, come in a range of designs ranging from strappy sandals to closed-toe pumps and offer a whimsical touch to your overall look.  The size and shape of the ruffles can range from tiny frills to dramatic, huge ruffles that create a statement.
What we like:
Ruffle heels are cute and comfortable at the same time.
The elastic touch of the ruffle gives a comfortable fit.
 Style with: Ruffle heels will look extremely cute with slim fit jeans and crop top, or a co-ord floral set.
41. Chain Heels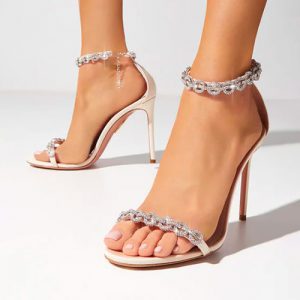 Chain heels are a style of heel that makes a fashion statement like no other. Featuring metal ornaments arranged in a chain-like pattern, these heels add an instant edge to any footwear. Chain heels come in a variety of heights, from mid-heel to stilettos, so you can choose the one that complements your outfit perfectly. Not only do they look great but their unique construction offers extra comfort and support as well.
These days, chain heels are available in a number of different materials like suede, patent leather, faux leather, velvet, and more. This allows for endless possibilities when it comes to finding the perfect pair for any occasion.
What we like:
Chain heels offer plenty of looks and options that go beyond traditional black pumps or stilettos.
These heels are quite durable compared to other types of heels due to their construction materials and sturdy build quality.
Style with: Chain heels are a great way to give your outfit an extra touch of attitude, whether you're looking to dress up a little black dress or add some edge to a tailored suit.
42. Feather Heels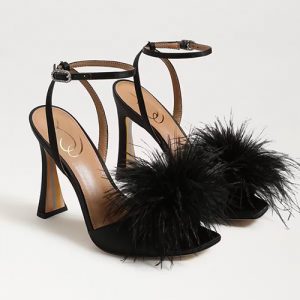 If you're looking to make a statement, then feather heels are the perfect choice. These types of heels are designed to add an effortless glamour and flair as they bring a touch of vintage elegance to any look. From classic silhouettes updated for modern style connoisseurs, or simply wanting something unique that will set you apart from the crowd, you can choose your favorite pair of feather-adorned beauties.
Feather Heels can come in a variety of styles and materials, including leather, suede, satin and even velvet. Also, they can be found in both open-toe and closed-toe varieties with various color options. So why not try something new and add some feathers to your feet today? You won't regret it.
What we like:
Because feather heels are typically lightweight, they don't cause too much strain on your feet.
Feathers add a touch of whimsy to any outfit, creating an eye-catching look.
 Style with: You can pair your beautiful feather heels with a pretty mid-length floral dress or tight leather pants to turn all heads around.
43. Canvas Heels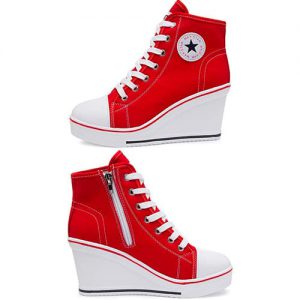 Canvas heels are a stylish and unique type of footwear that provides a casual, yet fashionable look. These shoes feature a canvas upper with an adjustable ankle strap for secure closure, as well as a heel counter for added heel stability and support. Whether you're going out on the town or just running errands around town, these shoes will make sure you look stylish and sharp no matter where you go.
If you value comfort without compromising on style then you will definitely like the versatility of canvas heels. With their classic appeal and modern touches these shoes offer the perfect balance between fashion-forward design and practicality.
 What we like:
The canvas material makes them breathable and comfortable to wear all day long.
The sturdy construction of these heels ensures they last longer than other types.
Style With: If you are going out for a brunch then you can pair a classic wrap dress with canvas heels. Else, if you want to keep things lowkey, you can simply put on a casual t-shirt with ripped jeans and pair it with your canvas heels.
Tips To Enjoy Wearing Heels For A Longer Time
Invest in Quality Heels: Ensure that you are buying quality heels made from breathable materials that can prevent your feet from getting sweaty or sore.
Buy Lower Heels: You must pick heels as per the size of your foot. To elaborate a bit, say if you have wider toes or flat feet, walking in high heels can nearly be a challenge for you. And with plenty of lower heels in fashion, you do not have to invest in those painful high heels.
Use Heel Grips or Silicone Inserts: If you have narrow feet, you can use heel grips that will prevent your feet from sliding forward inside the shoes. You are advised to use these grips especially when you are wearing a heel without the strap.
Tape Your Toes: This is an interesting method where you are supposed to tape your third and fourth toes with nude tape to help reduce the pain in the ball of your feet. It's because there's this nerve that causes foot pain which can get alleviated if one of the toes gets supported by the other. Try this tip, it will help you dance all night long even in those high heels.
Final Words
Reading this above article, you might have come to know that there is a different type of heel for different occasion and varied preferences. But at least now, you will be more particular about your footwear choice depending upon your outfit and especially your mood. So, rather than hoarding the very common stiletto heels, you now have plenty of other options to hoard too.
FAQs
1. Which type of heel is the most comfortable to walk in?
After going through some honest reviews and research, we have concluded that women find it more comfortable to walk in Wedges because it gives more stability and maintains balance properly.
2. What are some popular heels brands in India?
Some of the well-recognized brands to shop for a variety of heels are Mochi, Metro, Clarks, Liberty, etc.
3. Are there any drawbacks to wearing heels every day?
Yes of course. If you are stepping out wearing high heels of more than 2 or 3 inches daily, you can face serious lower back issues. It happens because the shoe heel pushes the human heel, which causes changes in the shape of the calf muscles.
4. What is the best way to keep my heels last longer?
See, even if your heels are branded ones, they need proper care. And the best way to prevent your heels from wearing off is by storing them in cotton bags away from moisture.
5. Which type of heels will look good with a mid-length dress?
You can try wedges, kitten heels, or an ankle strap with your A-line skirt or a below-the-knee skirt.