It was a spell-bounding day for Flipkart yesterday and for sure they are looking forward to more online sales today. With the "Electronics Sale" still on, gadgets and gizmos freaks are either pretty busy shopping online or are busy giving free advice on what to buy. This sale is definitely going to be something like "Oscar winning" strategy for their business. Even with the Snapdeal sale happening on the same day, Flipkart is not affected in the least.
Flipkart Electronics Sale
Many factors are contributing for this sale to be so popular, in-demand and successful. The best one is positioning the sale on every electronic item unlike Snapdeal sale. The Flipkart sale is targeting every type of consumers, be it gadget freaks or couples planning to buy new electronics or users thirsty for online deals. Let us go through few valuable highlights of this sale:
Buy Mobile Phones through Exchange Offers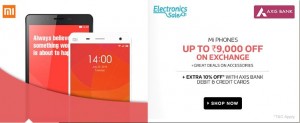 The star attraction of this sale is here – exchange any of your old mobiles and get upto Rs. 2000-9000 off on the actual price. This offer includes MI phones, Motorola G series, E series and X series. What more could a consumer want when you can buy good phones at Rs.15000 or less, right? Plus you can also find low-cost mobile accessories. Visit the site and buy a new phone now, is all I can say.
Summer got Cheaper with Affordable ACs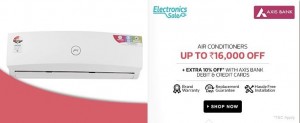 Summer is getting hotter by the day and now everyone needs an air conditioning at any cost. Guess what, ACs got really affordable on this on-going sale. Find upto Rs. 16000 (or 16%) off on all ACs, in addition to this, all Axis card holders get extra 10% off (on limited brands only).
Ever Heard about upto 47% off on TVs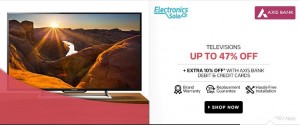 Yes, on Flipkart sale you can find umpteen branded TVs and all of them have discounts depending on the brand and product. The basic discount starts from 10% and can go upto 47%. Stop waiting and start buying.
Hot Cakes: Huawai's Honor Smartphones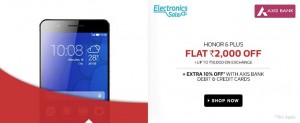 Everyone knows that Huawai gave Flipkart the sales of Honor series and it used this sale to showcase this phone. It provided catchy offers and deals on these mobiles. Most of the Honor series was sold out yesterday but if you are in luck you might find few.
This does not end here, there are more on-going offers on Flipkart right now. So stop doing whatever that you are doing and fire up this website now. And if this does not satisfy you hunger for online deals then find more flipkart coupons on GrabOn.
Articles You May Like
Healthy School Lunches that Won't Break Your Budgetline
How Coupon Sites Broke India's Online Shopping Inertia
How to Buy in Bulk and Save Money
How to Use Less Electricity and Save Money