With busy schedules, traffic congestion, and on-the-go lifestyle many are finding it very convenient to order food online today.  Days of driving down to a restaurant are becoming grim by the day as online food ordering is quietly racking up the number chart and rightly so.  What was once hospitable a few years ago, sitting near a poolside or listening to live music in a peaceful ambiance has now turned into a crowded, time-taking painful experience in most cases.
With over 40 lakh office goers, lakhs of meetings and conferences each day; a tough lifestyle, and the need for tasty and healthy food, a whole new market opportunity has opened up.  Even those romantic candle-light dinners are now preferred at the security and comfort of a home balcony than a restaurant poolside. It has become important to avoid all the pain of driving to a restaurant, parking, walking, waiting, and worse getting distracted on important meetings, gatherings, or a date.
How is online Food ordering as an industry-changing?
According to the National Restaurant Association of India (NRAI), the market size of the Indian Restaurant sector is around INR 247,680 Crore (USD 48 Billion). This is 24 times bigger than the glamorous, star-studded Bollywood movie industry itself.
Food is a super large market that has umpteen potential, and experts feel that when it comes to technology it is only partially tapped. The initial drift in the market happened with fast-paced industrialization, later on when KFC and McDonald took over they raised the bar to another level of innovation. Then came the drive-n-order, take-away style of ordering that attracted and to an extent it still does a lot of buyers. Everything from a Dosa to Biryani, ice-creams to desserts, can be purchased on the go.
What is new in 2018?
Come 2018, we are talking a whole new language when it comes to ordering food. Food is no more a bare necessity, it's a lifestyle, it is in some cases a fashion statement and an important aspect of one's meal. Health-conscious customers are making smart choices, of course, the taste is still important, new ala carte garnering interest and the need for customer loyalty is at an all-time high.
Many restaurants have built their reputation for specific delicacies. One way there is reputation and the other challenge is to scale and keep customers coming back. It is not just limited to only the taste of food and quality of service alone. This has grown to far more beyond that. From a customer standpoint, personalized food, new menu, health-oriented, having lunch tailored to one's taste, or delivered right after a business meeting or at the convenience of a home on a weekend has taken precedence over self-cooking and packing for a busy day.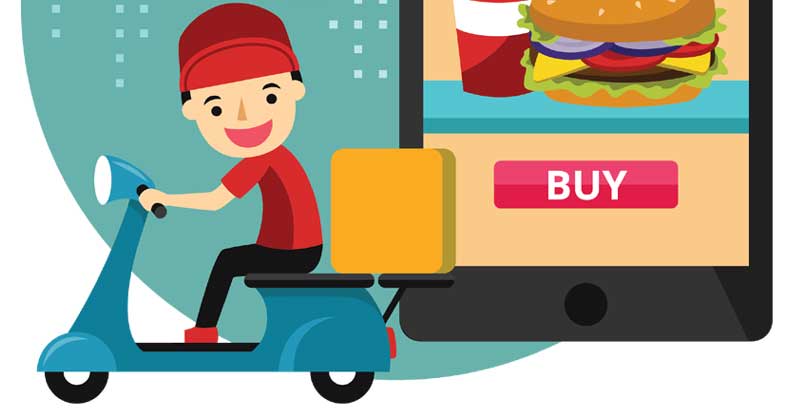 Online Food Ordering in India
One could order food online with the top restaurants that have their website and App. On the other hand, there are food delivery apps that could be used to order food from different restaurants. We suggest you to use Swiggy which offers huge discounts on foods.
Make savings with the coupons available at Grabon for Dominos, Pizza Hut, McDonald, and many more. Have a new cinch of comfort, personification, innovation, luxury and service to add. Ordering food is now as easy as touching a button on your cell phone or over the Internet. One can now customize the order, find coupons for the best deal at a restaurant, ask for delayed delivery, or tailor it for a particular occasion, and best of all is negotiate a price, even deliver it at 3 AM at times!
Varieties of Food to Choose
How we eat in terms of taste and cuisine and what we eat in terms of quality and consciousness has extraordinarily evolved over an extensive scale of factors. You can order Biryani from hotel 1, Burger from hotel 2, continental from hotel 3, and desserts from hotel 4 combine it into one super dinner menu for that perfect occasion.
How will ordering food online be in a couple of years from now?
Call that DJ home, arrange a grand party in your hall, order food online; customize the food, source from favorite hotels your guests love – even if it's from all over the city, no hole in the pocket, but pure savings, yet, go on and have a blast in the party at the comfort of your home!
That's how we think ordering food online is going to be and expect it would completely change the way we eat.