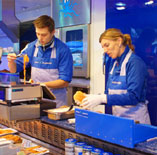 As per a recent survey, it is seen that shoppers who use online coupons spend 13% more than the typical online customers who do not use any kind of discount vouchers.
Tips To Retain your Digital Customers
This is certainly good news for the online retail stores. It's always easy to hit the bull's eye, provided you are able to see it. The retailers should now gear up to target this clientele group through the online coupon services.
The survey also shows that these people are expect to spend even more in the next 12 months i.e. there will be an increase of atleast 3% more on online purchasing through coupon sites.
And if not the exact number, experts believe that Indian e-commerce will also likely get a boost because of the rising popularity of such marketing know-hows.
However, there is still a large group of online shoppers, who do not make use of such advantages. The reason being they are either still unaware about such aids or they are naive about their advent in Indian online market.
It will take some time to convince these people about the benefits associated with the digital vouchers. While it's easy to influence them through various promotional codes, there is still a long way to achieve in convincing the typical shoppers who simply browse their favored web stores, add items to their cart and simply check-out paying the exact money displayed on their screen.
Meanwhile, the retail web stores can target shoppers, who are acquainted with the art of couponing by collaborating with popular coupon sites. If they are able to retain the online coupon users, who have shopped from their web stores then they are surely going to soar high in their businesses.
As we have already highlighted on the fact that such users spend more than the average online customers. You can blame it on the alluring discount codes, which enable them to save significant money while shopping. Such promo codes provoke them to even end up in buying stuff which are their wants and not requirements in reality.
For instance, when a coupon user goes online to buy a T-shirt and meanwhile comes across a promo code for a footwear, he/she ends up buying both the items.
The retailers, therefore should be aware of the 3W's (when why and what) and not to mention the know-how skills. They should push their technical savvy team to be able to drag this targeted group of audience to their store, if they are determined to make some serious money.
While there is no denying of the fact that the digital vouchers give enormous benefits to customers by helping them save huge money, creating awareness about their usefulness is a matter of concern.
Retailers as well as coupon sites should join to educate those typical shoppers on the genuine benefits associated with online couponing. This trend, which sets a symbiotic relationship, can help all the three parties involved in e-commerce dealings.
For better customer service and retention you could look into kayako
Articles You May Like:
6 Easy Tips to Save Money on Your Kids Uniforms
6 Golden Rules for Smart Online Shopping
Different Types Of Online Coupons You Did Not Know Existed
Hobbies that pay off: Enjoy & Earn