It was your last year's new resolution that you must shed those irritating extra pounds and achieve high fitness levels. But, somehow the resolution gets tossed into the bin, extra pounds are piled further and then the worry kicks in! Isn't it a never-ending circle? But if you were to know that losing weight would save you money, would you be up for it?
Weight Loss
Yes, its official! Losing weight and saving money go hand-in-hand. As the inches off the waist disappear, the thickness of your wallet increases magically. If you are wondering how, then read further to know, save money and kick off extra flab: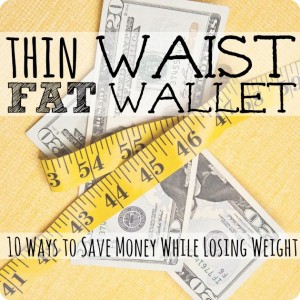 Lesser Visits to Doctor: When you work-out regularly and maintain a healthy schedule, you will be surprised to know that you are hardly ever affected by fever, blood pressure remains normal and cholesterol levels are healthy! Also, you can say goodbye to those bottles, pills and tonics for curing acidity, acid-reflux and digestion problems. Your overall health improves and frequent visits to doctors become a thing of past!
Smart eating habits: For starters, you could cut down on the number of helpings at meals time. Eating smaller portions will help you cut down on the grocery budget as well! This will kick start the way to weight loss and helps regulate your appetite. After all you will be saving by not spending money on those in-between-the-meal, fattening snacks like chips, calorie laden cookies, candy and chocolates.
Cutting out soda: Imagine how much money you could save per month if you cut down on the cartons of soda, sugary juices and calorie-laden energy drinks. How about relying on water and home-made sherbets, lemonades to get you through hot, summer days and quench your thirst?
At the restaurant – The tempting array of dishes on the menu is definitely mouth watering! But at the same time you are worried about how to eat sensibly and minimize calories. Here you can order reasonably priced dishes from the menu. Also, instead of going the whole three-course way, you can order the main course directly!
If there are any leftovers from the meal, do not ask the waiter to take it away. Instead, get it parceled, re-heat and enjoy next morning!
Hanging out with friends – Now, this is really a fun way of saving money, losing weight and having a gala time! Replace the coffee-and-snack session with a quick jog in the park or meet your friends for playing an indoor game. It could just be a pleasant stroll in the park, but it is so much better than consuming calorie laden coffees and snacks at the deli!
Spice it up – Browse the internet filled with scores of low-calorie recipes which require simple ingredients and small preparation time. Try out a recipe every night to keep boredom from kicking into your daily healthy meal routine. Try out variations of salad recipes, make fat-free snacks, use fresh veggies for making curries and add spices to flavor your rice.
You can also come up with fun ways to lose weight and increase your bank balance! A healthy lifestyle, quality account balance and a fit body – What could get better than this?
Read More:
Eating Healthy on a Budget Without Spending Lots of Money
Why is Saving Money So Tough?
Don't Burn Up a Hole in Your Wallet this Diwali
Eating Healthy on a Budget Without Spending Lots of Money
For the Travel Buff: The Best Apps to Install Now