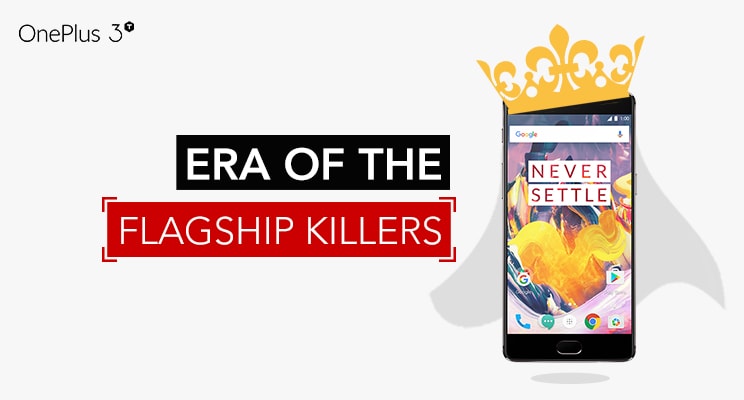 Flagship killer, hmm sounds cool right? Well, not so much for the mobile phone manufacturers who have ruled this scene for a long long time. But with OnePlus stepping into the highly competitive smartphone market, a massive paradigm shift happened. Flagship phones from the likes of Samsung and Apple faced a new kind of threat when OnePlus rolled out the OnePlus One back in 2014. Offering the same if not better, user experience at prices far lesser than the mainstream manufacturers OnePlus took the entire industry by storm. From the same powerhouse comes yet another contender in the mid-price range to premium mid-price range segment, the OnePlus 3T. Are you in love with the newest OnePlus produce? Well, then make the all new OnePlus 3T your own, at best price from Amazon .
When it comes to OnePlus 3T review, The Verge gave its verdict,
OnePlus makes its best phone even better
And this summarizes CNET's review,
The OnePlus 3T was rated 9/10 by CNET and named their Editor's Choice of November 2016
With the debut of OnePlus 3T Midnight Black, there are 3 variants available in the market. The other two being Gunmetal and Soft Gold. From 2013 to now, One Plus has changed quite a lot over the course of 4 years. What began with a dream of providing a better phone and a better way of doing things, has culminated with the successful launch of smartphones that Never Settle! When you won't settle for a lesser phone why settle for more expenditure? Grab the best and the most sought after OnePlus 3T Offers here.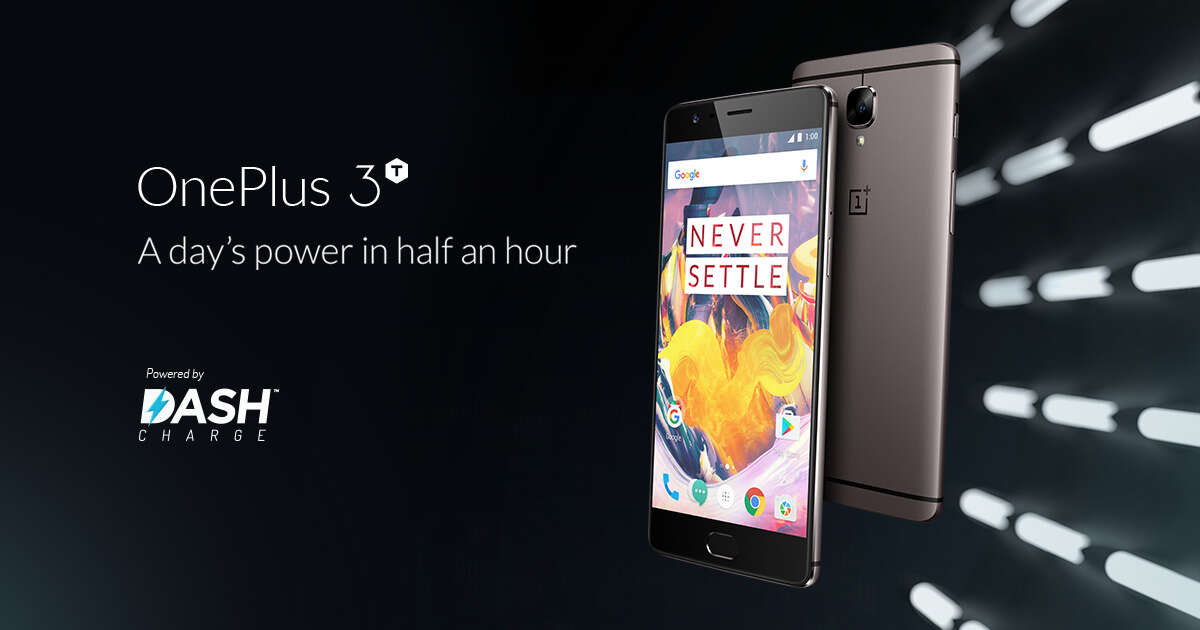 Staying true to the brand mantra, the One Plus 3T doesn't settle for specifications that are meant for showboating alone, instead, it offers practical and functional features that enhance your experience. One of the prime examples is the front shooter and the Smile Capture feature, that automatically shoots the photo when the user smiles. One of the other feature or specification that deserves special mention is: Dash Charge for OnePlus devices. While quick or fast charging itself isn't a new concept but the way OnePlus improved on the already existing concept is commendable. Rather than using increased pressure like most quick charging solution, Dash Charge uses the larger current to achieve a faster, more stable, and consistent charging speed. Also the fact that the power managing unit and the heat dissipating elements are located inside the Dash Charge adapter thus preventing device heat up which results in poor performance. So, the next time you're in the middle of a high-intensity graphic-heavy game, don't run towards the socket because a 30-minute charge can help your One Plus 3T operate throughout the entire day!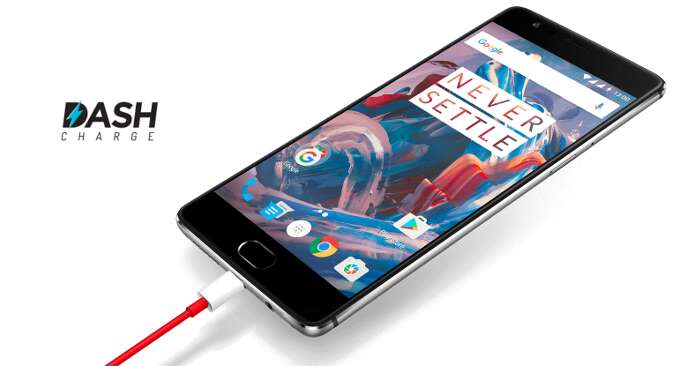 Evolution Of OnePlus Over The Years
How did OnePlus grow from being just another Chinese smartphone maker to one of the most formidable contenders in the mid-price range premium phone segment? Well, let's have a look at the evolution of One Plus phones over the years.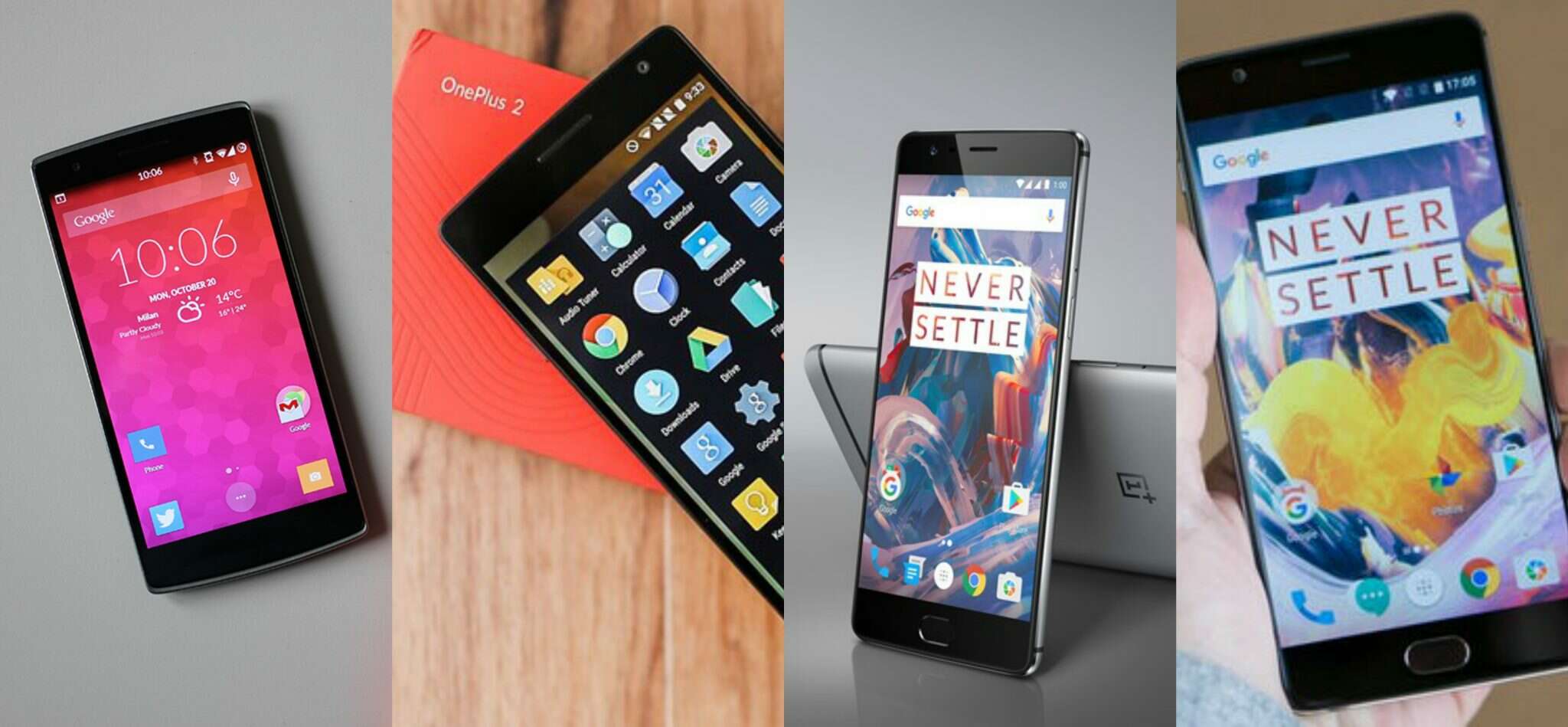 OnePlus One:
Dubbed as the original flagship killer, OnePlus One was unveiled in April 2014. Touted as faster, smoother and more powerful than most other phones in the market, OnePlus One was powered by Snapdragon 801 with 3 GB RAM and internal memory of 16 or 64 GB. Available in Silk White and Sandstone Black, this sleek mobile phone ran on a 3100 mAh battery with energy efficient features built into it. Sporting a 5.5″ full HD screen, OnePlus One featured the TOL (Touch On Lens) technology that enabled quicker response to slightest touch; Made possible by reducing the distance between the sensor and the display panel. 178 degrees vision meant you could enjoy the view from any angle. The 6 lens camera made sure you click detailed photos along with a 5 MP front shooter with 80 degrees wide viewing angle and 13 MP Sony Exmor sensor that enabled clicking sharp images even in low light conditions.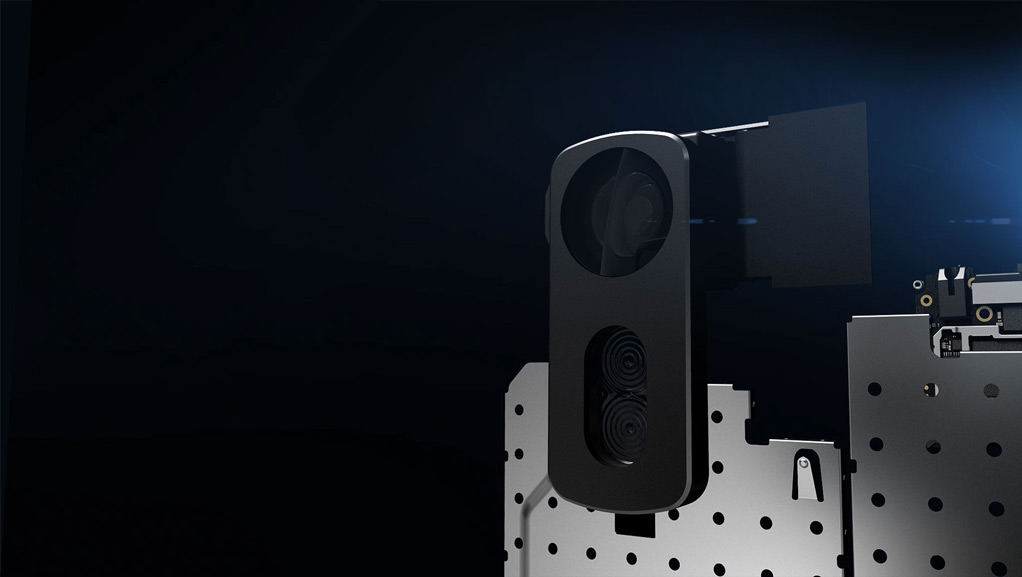 OnePlus One was powered by the Android-based, Cyanogen OS 12.
OnePlus 2:
Made out of an alloy of Aluminum and Magnesium, this smartphone was a bold move aimed at sharing great things instead of relying exclusively on marketing campaigns! Running on Snapdragon 810 processor, OnePlus 2 had storage space of 64 GB and is great at multitasking courtesy the 4 GB RAM. The 3300 mAh battery guaranteed operation throughout the entire day. The 5.5″ 1080p display comes with a contrast ratio of 1500:1 which yields stunning images. StyleSwap system allowed you to try different textures and covers like Bamboo, Rosewood, Black Apricot apart from the Sandstone Black.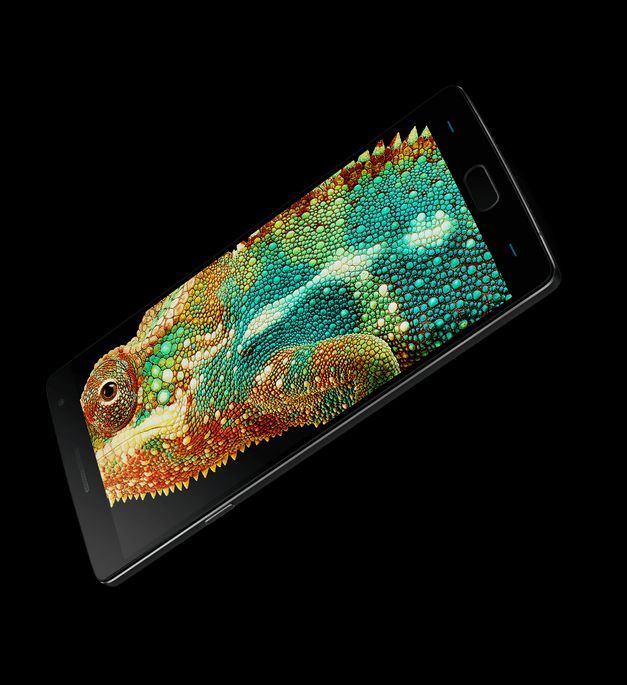 OnePlus X:
If exquisite design speaks of the balance between expert craftsmanship and technology, then OnePlus X is the ultimate example. The zirconia ceramic lends this OnePlus offering that special look and feel it's known for. The OnePlus X camera is known to capture detailed, high-quality photos owing to the state of the art sensors and lighting fast and snappy autofocus. It comes with a 13 MP primary camera and a 8 MP front shooter. Running on Oxygen OS, OnePlus X is powered by Snapdragon 801 with 3 GB RAM and 16 GB of storage (expandable up to 128 GB).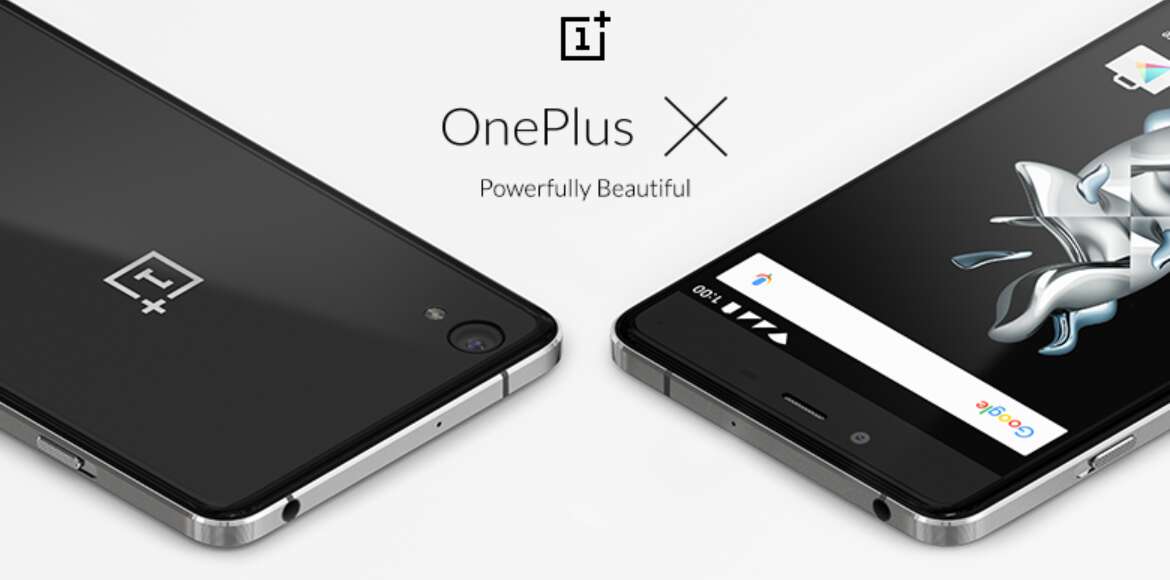 OnePlus 3:
While reviewing the OnePlus 3, an article on Wired mentions,
The OnePlus 3 won't disappoint you. And if horsepower and customizability are you top priorities, you should get one, regardless of your budget.
OnePLus 3 with its uncompromising attitude embraces the 'Never Settle' slogan more than others. Designed from a single slab of Aluminum this OnePlus offering, gives you faster and safer charging, thanks to the Dash Charge. Sporting a 16 MP camera with fast shutter speed and a snappy autofocus, sharper and detailed images are easier to click. The image stabilization makes sure blurred photos are avoided. With 6 GB RAM and running on Snapdragon 820 processor, OnePlus X offers a lighter and more powerful operating system in the form of Oxygen OS, developed keeping Android Marshmallow as a base. Worry not, you can experience pure Android without having to compromise with a skin like most other mainstream flagship phones.
OnePlus 3T:
Offering a better battery capacity, better front camera and an advanced/faster processor in the form of Snapdragon 821, OnePlus 3T wins in a OnePlus 3 vs OnePlus 3T matchup. The Oxygen OS is almost as customizable as stock android. It comes with 6 GB RAM and internal storage of upto 128 GB. OnePlus recently launched the Android Nougat beta build  for OnePlus 3 and OnePlus 3T that will bring them upto speed with the latest Android version of operating system.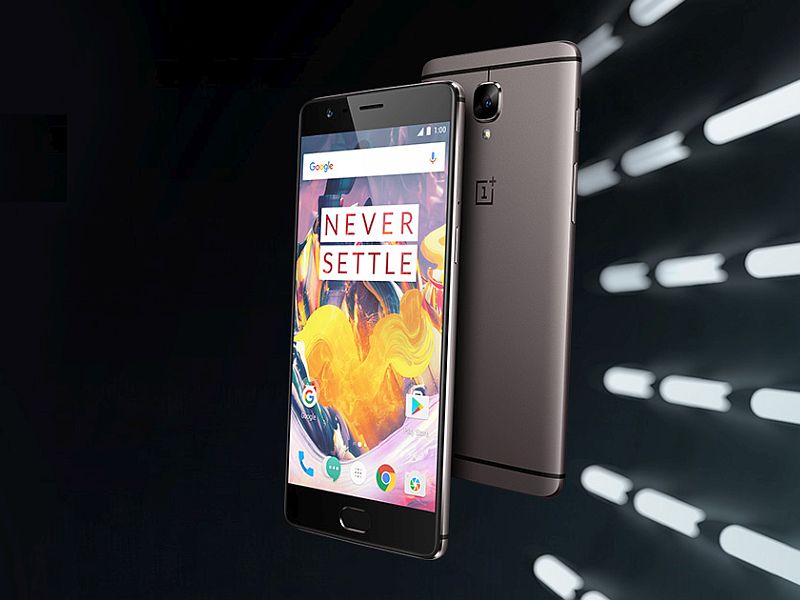 Now, that we are done discussing the evolution of OnePlus phones over the years, let's see how the latest entry into the family of OnePlus fares against premium flagship phones and against the similar flagship killers.
How Does OnePlus 3T Perform When Compared To The Premium Flagship Phones?
When it comes to mainstream premium flagship mobile phones there are quite a lot of options from the likes of Apple, LG, Samsung and more that pose a threat to the mid-range flagship killers like the OnePlus 3T.
OnePlus 3T vs Apple iPhone 7:
In terms of the design, the One Plus 3T and iPhone 7 share quite a lot of similarities like minimal bezels, fingerprint scanner in the home button and last but not the least, the USB type C connection and the lightning port. But the one area where OnePlus 3T edges ahead is the fact that they've still retained the headphone jack, unlike Apple. The 5.5″ AMOLED display provides deeper blacks which is not the case for the LCD panel backlit iPhone 7.  Also, the whites tend to have a slight pinkish tint to them. In the hardware department, OnePlus 3T quite easily outmatches the Apple flagship with 6 GB of RAM compared to iPhone 7 and 7 Plus' 2 and 3 GB respectively. They're evenly matched in the processor department although iPhone 7's 1,960mAh and 7 Plus' 2,900mAh battery dwarf in front of 3T's 3,400mAh battery capacity. Not to mention the Dash Charge that keeps One Plus 3T operational throughout the day with just 30 minutes of charging!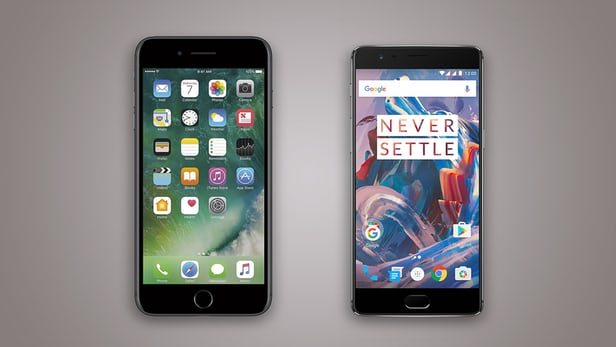 Both the smartphones offer pretty awesome user experience and it is hard to pick a clear winner because when it comes down to the operating system, it's really a question about who prefers what. Apple's flagship wins the camera round by a mile. OnePlus 3T comes with pretty good shooters just not as good as iPhone's. In terms of price One Plus 3T takes the cake and eats it too! This round goes to the flagship killer which has once again proved itself to be a value for money.
Next up we pit One Plus 3T with Google Pixel XL and Samsung Galaxy S8 and see how it matches up:
In terms of camera, battery life and charging, design, and performance, OnePlus 3T hits the home run but when it comes to the display, Google Pixel XL has the better resolution out of the two 5.5″ AMOLED screens. Owing to a stock Android minus the tweaks that OnePlus makes before releasing it, Google Pixel XL wins the software round as it is guaranteed that with Pixel XL you will get the future versions of Android. So, overall OnePlus 3T emerges out as the clear winner, with some areas that it lacks in but more than makes up for it by being a value for money mid-range and a must have smartphone!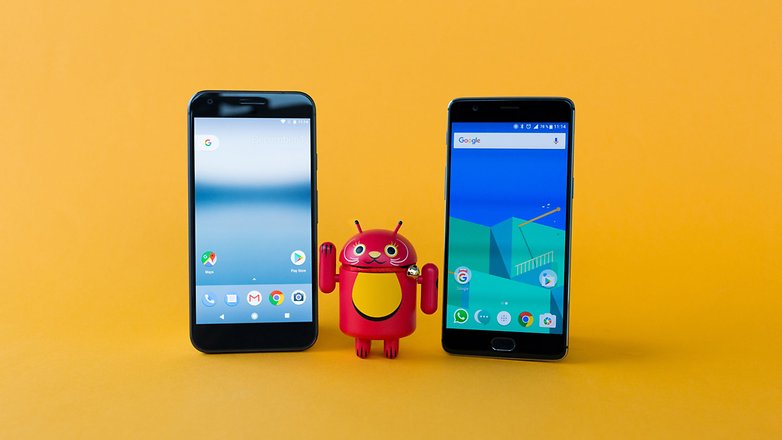 The versus match against Samsung Galaxy S8 is pretty one sided. Be it design, display or camera, Samsung Galaxy S8 seems to be the better device. However given the more than reasonable price difference, OnePlus 3T is the better value for money phone.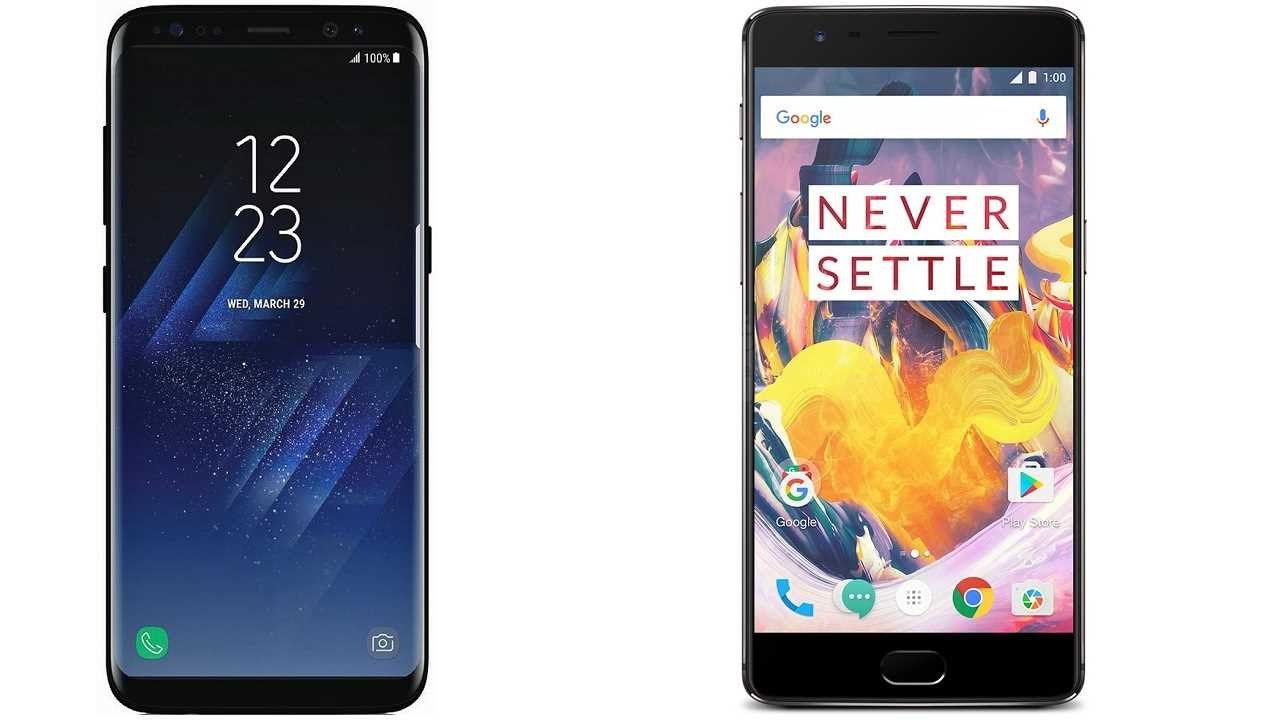 How Does OnePlus 3T Perform When Compared To Other Flagship Killers?
One of the most prominent competitors for OnePlus 3T in the flagship killer segment, for now, is Xiaomi Mi 6. With the OnePlus 5 expected to be unveiled soon, the OnePlus 3T is due some updates. This is where Xiaomi takes the lead, with a better processor and a better GPU. While both the phones are incredibly sleek and stunning, there is something about Mi 6's four-sided curved 3D glass that 3T's metal finish can't quite match up to. The software department is where OnePlus 3T makes its comeback in full glory with a minimal skin in the form of Oxygen OS over the stock Android instead of a full-fledged MIUI. Mi 6 has a smaller screen when compared to One Plus 3T. Mi 6 again takes the cake with water proof and splash resistant ports and openings compared to no such certification from OnePlus. The round for the better camera goes to Mi 6 with a superior rear camera. However, one fact that might upset the fans is the absence of headphone jack from Mi 6, where One Plus 3T scores a valuable point. So, overall Xiaomi Mi 6 seems to have the edge over 3T, at least on pen and paper.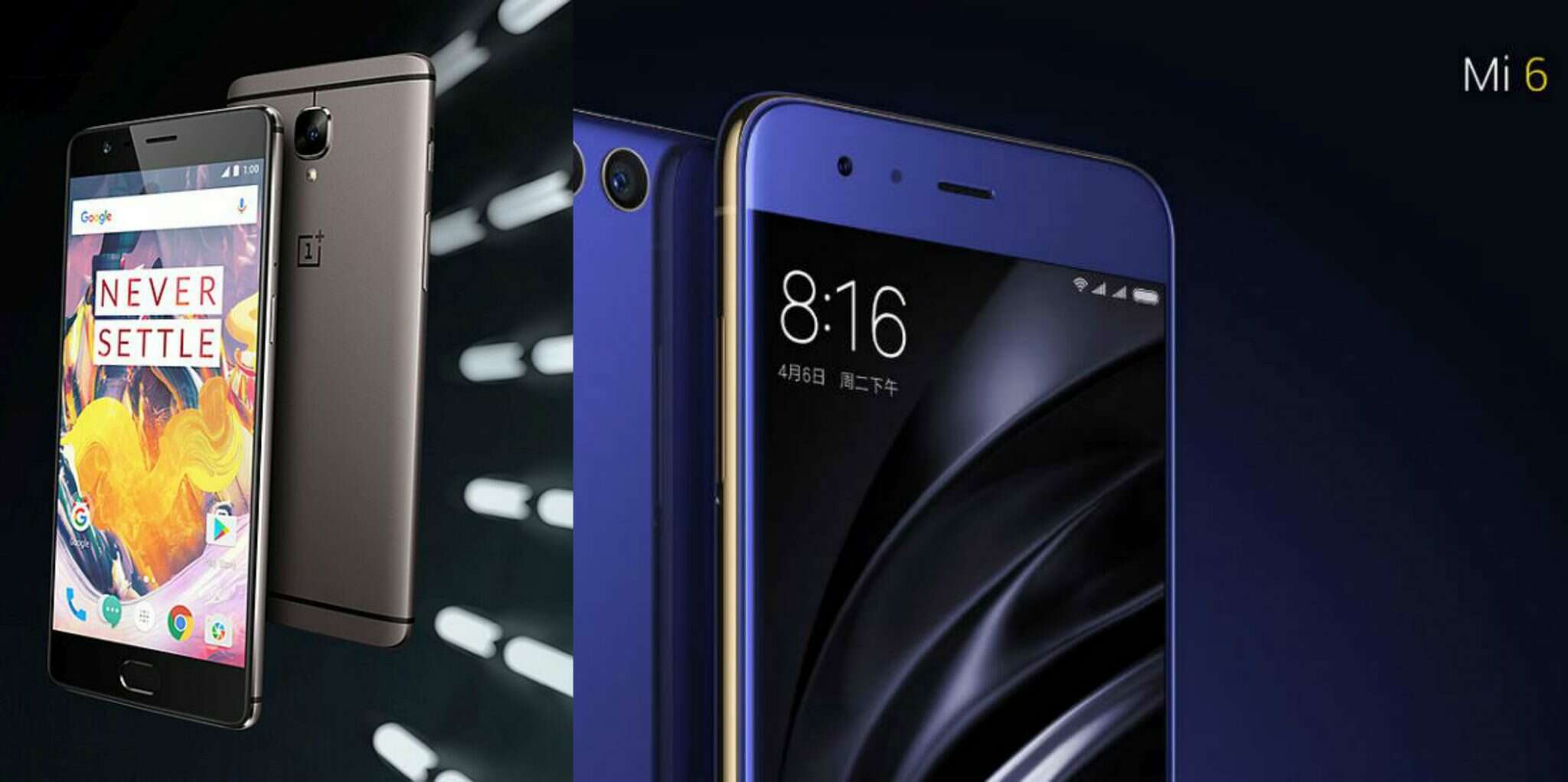 Are you excited about the OnePlus 3T? Do you want to buy it? Sound off in the comments below :)
Image Courtesy:
OnePlus
Techno9
Pinterest
NDTV Gadgets
Neurogadget
AndroidPIT
TechSpace