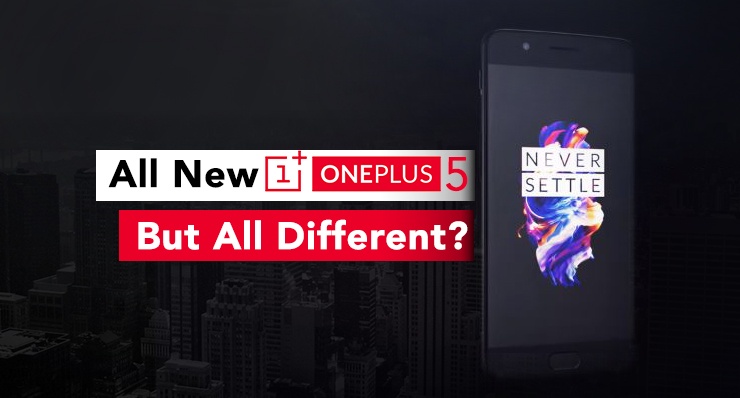 OnePlus is a brand that has redefined the meaning of smartphone usage. Touted to be the best Android phone ever, given the specs and the price, each and every model from this brand has been a flagship killer. Be it for the look, the performance, the features or the price, it has won hearts of one and all, wherever it went. No doubt, this brand have always been considered to be at par with or even more popular than Apple. That OnePlus phones have always been different than the lot and the fact that they never duped iPhone models, which some of the other brands did, helped them earn that NAME! But wait, has the iPhone fever caught up with them too? What about OnePlus 5?
Is OnePlus 5 an iPhone dupe?
Dupe or not, it is obvious that the recently launched OnePlus phone (OnePlus 5 release date being 22nd June, 2017) has quite a few specifications similar to that of the iPhone; hence the question. There has been lots of speculations regarding the look, feel and price of OnePlus 5, but till date, its design had been a well-kept secret. No details regarding its setup were ever leaked, nor was there any dependable information about the OnePlus 5 launch date in India. Well, all speculations have now been put to rest with the launch of its design, and lo! Doesn't it look like an iPhone? But, did they actually borrow heavily from Apple?
1.The dual camera setup of OnePlus 5 mobile is what iPhone 7 has as well.
2.This one has curved antenna lines just like that of iPhone 7!
3.The rounded edges are oh so similar to iPhone 7.
Till date, OnePlus has mainly been a crowd pleaser not only because it used to perform too well and because of its Turbo Charge feature, but also because it had its own classy design. Besides, the price at which the previous ones were available was more than affordable when compared to the features that the previous OnePlus models used to come packed with. This time, it is going to cost you a whopping 40,000 in Indian currency.
Here are the OnePlus 5 specs:
1)Dual rear camera of 20+16 MP and a front camera of 8 MP
2)It comes powered by a Qualcomm Snapdragon processor of upto 2.45 GHz
3)It has a RAM of 6 or 8 GB LPDDR4X
4)The OnePlus 5 phone has a storage of 64, 128, 256 GB, with UFS 2.1 2-LANE
5)A huge 5.5-inch optic AMOLED/DCI-P3 display of 1080p is what it offers
6)It has its usual and most powerful Dash Charge, which is 3300 mAH
7)It would be available in three beautiful colors, which are Soft Gold, Gunmetal and Midnight Black
The OnePlus 5 launch on the 23rd of June, 2017 has taken the world by a storm, irrespective of its design. Whether you are going to own the latest addition in the OnePlus family or not is for you to decide!