Friendship Goals
You would be lying through your teeth if you say you never had the thought of drawing up to a party in a limo with your posse of miscreants…Ok maybe not miscreants!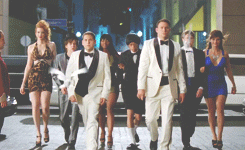 Anyhow, the idea of rolling out with the squad dates long back, before Legen-wait for it-dary Barney and the gang,
or the 6 friends from central perk.
But 'Squad  Goals' is what the cool kids are on about these days, with all the hashtags and the social media frenzy.  So we figured what better time to revel in the glory of your squad than friendship day.
The cherry on the top is the worldwide release of the anticipated summer blockbuster "Suicide Squad".
A bunch of bad guys looking to do some good is an interesting premise but what you can relate to is the camaraderie, friendship and how well these folks get along.
Here's a look at them and see if they resemble your very own squad members:

Rick Flag – The natural born leader
The squad leader, the alpha of the wolf pack, however, you want to put it, this person gets the group together and at tough times acts as the binding agent.
[Also Read: TEN TIMES KOHLI PROVED HE IS THE BOSS BOTH ON AND OFF FIELD]
Katana – The silent one
Is the stark contrast to the crazy chatter box, doesn't have a nifty back up of wisecracks like the funny one or leadership credits like the alpha. Although generally silent but often is the voice of reason and an essential part of the team.
Slipknot – The socially handicapped one
Doesn't go out all that much, not a people person and is generally awkward around a crowd. Excessively comfortable and amicable with the squad!
Harley Quinn – The crazy one
You never know what ideas are going to be put on the table when this person is around. Be it impromptu Goa plans or backpacking through Leh, this one has very few marbles left when it comes to leading a normal life, but you'll never get bored of the shenanigans.
[Also Read: 4 FUNNY WAYS INDIANS WOULD REACT TO TORRENTZ SHUTDOWN]
Deadshot – The calm & composed one
"Cool as cucumber" is very real! This guy is all about maintaining calm, composure and thinking logically under dire stressful situations. Everyone in the squad aspires to be him.
[Also Read: 5 REASONS WHY YOU SHOULD PLAY FANTASY CRICKET]
Enchantress – The weird one
How can any squad be complete without a weird person a la Phoebe Buffay!
This friend can be weird and fun at the same time, Ok more weird than funny. But what's life without a little weirdness?

[Also Read: ROSE DAY'S HERE: FUNNY "ROSY" THINGS GOING AROUND]
El Diablo – The hot tempered one
The in house hot head. No one wants to mess with this person and invite further trouble. In fact trouble is his/her middle name! owing to all the fights and verbal brawls he/she gets into. Always there when you need back up or support.
[Also Read: 20 THINGS WOMEN ARE TIRED OF HEARING]
Boomerang – The funny one
Every group has a Chandler Bing (Yeah I know, Joey too!). This guy can cheer you up even after a long hard day at college or work. Things aren't going your way and life is harsh? How about a few quips and a pun or two, eh?
Killer Croc – The perpetually hungry one
Hobbits have 7 meals a day, this is a person after Pippin's own heart.
Hungry dude: Got something to eat?
You: But you just had breakfast!
Hungry dude: So, what it's time for a second breakfast
So which one are you?
The squad leader, the crazy one, the funny one or the foodie?
Comment below and tag your squad members. See if you're correct about who's who!
This friendship day take your squad on a ride with exciting offers and discounts with Paytm Movies on "Suicide Squad" the movie, exclusively from GrabOn.
GIF source: GIPHY