There are a range of different types of jeans for men, catering to a wide variety of preferences and needs. From skinny jeans to relaxed jeans, there is a style of jeans for everyone. In this blog post, we will explore the different types of jeans, styling tips for each one mentioned, and all those brands that offer them. We're sure you will love reading through this blog post. So, take a look at what we call the best list of different types of jeans for men.
13 Types of Jeans for Men
We have compiled this of types of jeans for men to help you make the right decision when purchasing, and styling them for the right occasion. Read further.
1. Straight Leg Jeans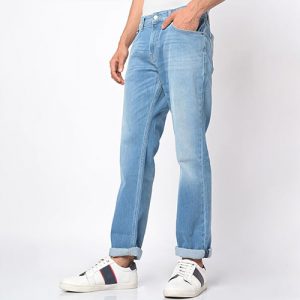 Straight Leg Jeans are the most common type of jeans and they're designed to be worn straight from the waistband down. They often have a slightly higher rise than baggy or other styles, so they will fit more tightly around your behind.
These jeans also tend to be less forgiving when it comes to distorting during movement – this is because there's less stretch in the fabric at that point. This type of jeans also fits well on most body types and goes with almost any outfit.
Style Tip:
Wear them loose – not too tight nor too baggy, but just enough where they fit comfortably on your body without constricting or stretching out over time. This will give you the most timeless and professional appearance possible!
Opt for dark colors – this will help to create that lived-in look and achieve that signature look that's so popular right now. Black or navy work particularly well in this category too.
Popular Brands Offering Straight Leg Jeans:
H&M, Levis, Roadster, and Mast & Harbour.
2. Slim Fit Jeans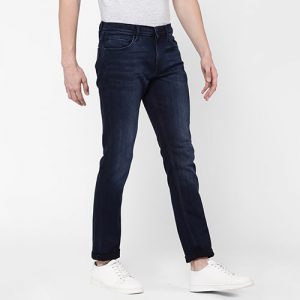 Slim Fit Jeans are a kind of denim that is meant to be snug around the hip and thigh. They are straight-legged in design. Jeans of this sort are tighter but not skin-tight, and they fall somewhere between the skinnies and bootcut shapes in terms of width. The best-in-quality slim-fit jeans can be purchased from Tommy Hilfiger.
In comparison to conventional jeans, slim-fit jeans are more snug around the waist and thighs; as a result, they may seem narrower on others. It may be a good idea to pick a different kind of denim if this is a worry for you.
Style Tips:
Coming to who is it the best fit for, this type of jeans is generally recommended for skinny people for both comfort and style. It can be styled with tees as well as slim-fit shirts.
For a casual look, wear these jeans with a t-shirt, and well-fitting boots. And for office wear, then plain jeans with a formal shirt, and a perfect-fit blazer will do.
Popular Brands Offering Slim Fit Jeans:
Hubberholme, JADE BLUE, and Flying Machine.
3. Relaxed Fit Jeans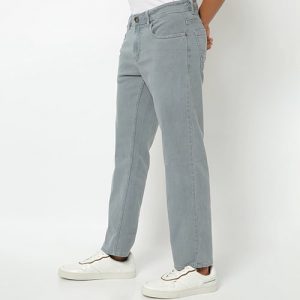 If you're looking for something that is both fashionable and comfortable, Relaxed Fit jeans are a fantastic option. Because of the looser fit across the body, these jeans offer excellent mobility even when you're wearing them casually.
These jeans also include a drawstring waistband to ensure they stay put no matter what you do. Relaxed Fit Jeans are comfortable to the touch and can withstand multiple washings because they are constructed of high-quality cotton and others. Furthermore, their flattering cut will offer you a complete look that matches your figure or style.
Style Tips:
Choose a style that is both comfortable and stylish. For example, relaxed-fit jeans can be dressed up or down depending on the occasion. The best way to look stylish is by gazing your ankles, and ensuring your shoes are on point.
Don't oversize your jeans – instead, go with a slightly looser fit that will still provide enough comfort while you're wearing them. This ensures they won't feel tight or uncomfortable when you wear them throughout the day.
Popular Brands Offering Relaxed Fit Jeans:
Dragaon, Par Excellence, Marks & Spencer, and Numero.
4. Bootcut Jeans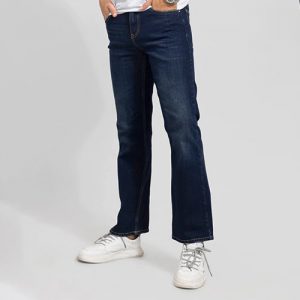 Bootcut Jeans are a popular style of denim that is characterized by its wide legs and tapered waist. They're designed to hug your body curves without having too much slack or tightness in the fabric, which can be problematic for people with larger hips or wider shoulders.
Bootcut jeans have been seen as a more flattering option than standard straight leg jeans because they flatter most bodies and have an updated, stylish appeal. When it comes to suitable body types, bootcut jeans fit almost all body shapes but are recommended for circle shape and rectangle bodies.
Style Tips:
You may want to try bootcut jeans if you feel like classic light blue jean styles aren't cutting it anymore – trust us, they'll make you look tall and slender instead of curvier all around!
Keep your denim color simple and neutral, in order to easily mix and match with other accessories or outfits. This will prevent your outfit from looking too "matchy-matchy."
Popular Brands Offering Bootcut Jeans:
Levi's, Wrangler, and Diesel.
5. Distressed Jeans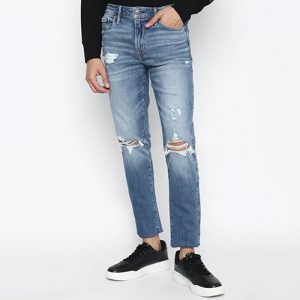 Distressed Jeans can be a great addition to any style wardrobe. They add an element of individuality and trendiness that is often lacking in more conventional styles. The cuts and the incisions all over the jeans are what make them popular among many. This type of jeans became a political moment years ago when people wore them as a mark of protest. Today, its become more of a fashion trend.
They are also very versatile, so you can wear them with almost anything – from a casual top and sneakers to a dressy outfit and heels. Additionally, they can be dressed up or down depending on your mood and the occasion. So if you're feeling like breaking out of your everyday routine, distressed jeans may just be the solution!
Style Tips:
When it comes to distressed jeans, the key is to find a pair that fit your style and body well. You want them to be baggy enough that you can comfortably wear a heavy shirt or sweater underneath, but not so loose that they fall off of your body.
Make sure the jean material is sturdy and doesn't rip easily—this will help keep dirt and grime at bay. To add an extra level of distressiness, try wearing darker colors or patterns on top (rather than just white). And a metallic buckle, and a few accessories too, please.
Popular Brands Offering Distressed Jeans:
Roadster, Highlander, Ed Hardy, and U.S. Polo Assn.
 6. Loose Fit Jeans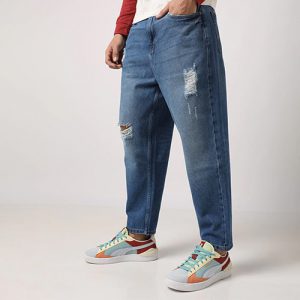 Loose Fit Jeans are made from thicker fabric than regular denim so they don't stretch out as quickly. This means that they will stay fit throughout the day, no matter what you do. They also have a looser waistband which gives them a more relaxed look and feel.
If you participate in vigorous sports such as hiking or running, this type of jeans will allow your skin to breathe and move freely. In addition, these jeans may help you avoid strain on your back and spine. It's suggested that you try on a few different pairs until you find the right one if you're unsure of what size to purchase. Because they will be difficult to pull in (and perhaps might become too big overall), avoid purchasing a size that is too big.
Style Tips:
It's a good idea to stay fashionable by mixing up your style. You can achieve a more sophisticated look with a turtleneck and overcoat combination, or by wearing high tops and cuffing your jeans.
The jeans you pick must hug your contours smoothly. They should also be roomy enough so you can move and breathe freely, but not too baggy. For an updated take on the classic Wrangler jean look, team them with loafers or chukka boots for a contemporary edge. And finally, don't forget about your accessories.
Popular Brands Offering Loose Fit Jeans:
Levi's, Diverse, Wrangler, and FORGIVE.
7. Carpenter Jeans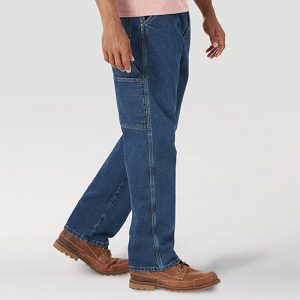 Carpenter Jeans should be at the top of your shopping list if you're looking for a kind of jeans that will enhance your figure. These jeans feature a sleek silhouette that is ideal for anyone looking to look their best. They are made of high-quality materials and are attractive and versatile.
What makes this type of jeans unique from others is that it comes with many pockets and loops, mostly designed for those working in the construction and carpentry industry. It helps carry objects or tools. However, over the years, this gained popularity and is being worn by many, especially millennials. If this type of jeans is something you are considering buying, then Wrangler has some of the best ones available for you.
Style Tips:
For a vintage and relaxed look, team your jeans with a checked shirt or chambray shirt. For an everyday go-to, match them with any color T-shirt.
To dress them up for special occasions, opt for a blazer or cardigan. And finally, to keep everything in place add rugged shoes like boots or cowboy boots.
Popular Brands Offering Carpenter Jeans:
Wrangler, Levi's, Dickie's, and Lee.
8. Wide Leg Jeans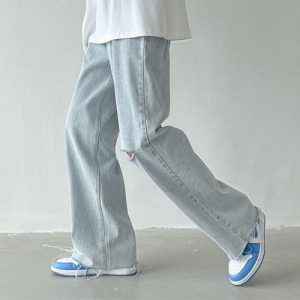 Wide Leg Jeans are a great choice for you if you have a rectangular or triangle-shaped body type. They accentuate your curves in all the right ways, not only giving your figure an impeccable hourglass shape.
They are perfect for men who want a bold and fashion-forward look and are great for making a statement. They're also versatile enough to wear during summertime weather events when shorts may be too hot. And for the best-polished look, pair it with a button-shirt and dress shoes. So go ahead and indulge yourself with a good old pair of Wide Leg Jeans!!!
Style Tips:
Choose a color that suits your personality and style – neutrals like black or brown are versatile enough to wear with practically any outfit, while brighter colors can add a pop of brightness to your look.
Wear shoes that match the jeans – dark shoes will look inappropriate with light denim and vice versa.
Popular Brands Offering Wide Leg Jeans:
Emre Fashions and Kunt StreetWear.
9. Relaxed Bootcut Jeans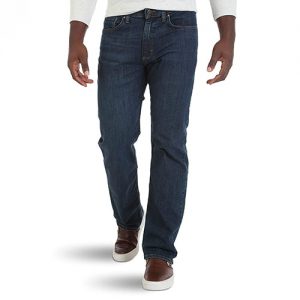 Relaxed Bootcut Jeans are a trendy and stylish choice for those who want to look fashionable and modern. They can be worn with Pointy-Toe Boots or Platform Sneakers to add an extra layer of sophistication and edge to your look.
They feature a slightly flared leg that is cropped at the ankle, giving them an updated look while keeping the comfort level high. In addition to being flattering on all body types, relaxed bootcut jeans also have a slightly looser fit so they won't feel too constricting or tight when you wear them.
Style Tips:
Relaxed Bootcut Jeans create a classic look and are good to dress up or down. You can wear them with light color shoes, and a white t-shirt for a dapper look.
You can try wearing light colors with dark jeans for a more relaxed look.
Popular Brands Offering Relaxed Bootcut Jeans:
Levi's, Wrangler, and AG Graduate.
10. Baggy Jeans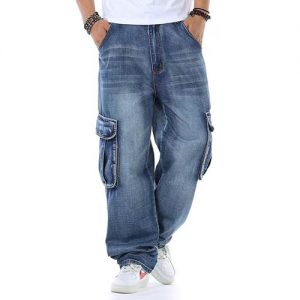 Baggy jeans are a popular style that is still in vogue today. They're comfortable and stylish and can be dressed up or down depending on the occasion. If you're looking for an updated look that's sure to turn heads, baggy jeans may just be what you're searching for.
Moreover, some people swear by the fact that baggy jeans help enhance your physique because they give an illusion of being larger than your actual size. This is due to their generous silhouette which draws attention away from slimmer areas on the body and helps create a more proportional look overall. So if big is beautiful (to you), then snag yourself some fittingly baggy denim!
Stype Tips:
For the best look, mix it with different styles, probably a turtle plus overcoat combo will do the job.
For a funky look, do add chains, and put on a graphic tee, and sneakers.
Popular Brands Offering Baggy Jeans:
United Colors of Benetton, Flags, and Jack & Jones.
11. Cropped Jeans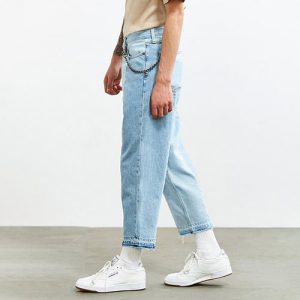 Cropped jeans are a great option for a modern and trendy look. If you want to add a little spice to your outfit without going overboard, these are perfect. They will flatter most body types and can be worn with any shirt type.
These jeans are just above the ankle, meaning they are a bit longer than the regular shorts out there. They highlight the most narrowest part of the leg.
Stype Tips:
Sneakers or boots can be used to give these pants a sleek and comfortable look. Depending on the season or events taking place in your life at the time, cropped jeans are also versatile enough to mix and match different colors.
You can also wear a basic t-shirt and pair it with sneakers for a stunning look.
Popular Brands Offering Cropped Jeans:
Flying Machine, Roadster, and Jack & Jones.
12. Utility Jeans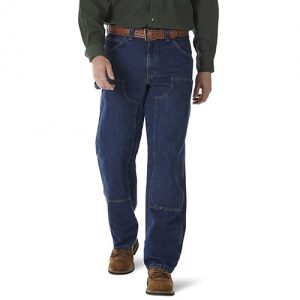 Utility jeans also known as the cargos are a must-have in any man's wardrobe. They're versatile and can be dressed up or down, making them an ideal choice for any occasion. What's more, they always look good with sneakers or loafers – no matter what the weather is like outside!
These jeans were originally designed for people working in rough outdoor environments, and just has extra pockets to carry tools. It was also very much popular as a military workwears years ago, but today, they have become a trend. There are many different brands of utility jeans available these days, so it's important to find ones that fit your style and body type perfectly.
Style Tips:
Any color looks best when paired with dark colored tees and shirts. If you are opting for a tee, then a jacket is a must. However, make sure to select the right color that matches your skin tone and wash regularly to keep them looking their best.
Don't forget about pocket styling – add some personality by choosing contrasting colors or patterns on either side of your pockets.
Popular Brands Offering Utility Jeans:
Wrangler, and Blue Brew.
13. Jogger Jeans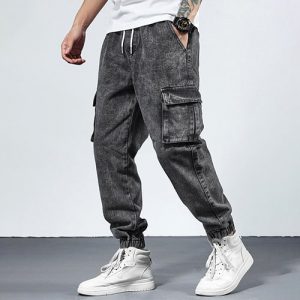 Are jogger jeans the latest fashion craze? Yes, they are! What are jogger jeans, and why are they so popular? Jogger jeans are a type of jeans that have a high waistband and slim fit. They were originally designed for runners or people who want to stay active outdoors, but now anyone can rock these trendy pants.
And last but not least, their high-waisted design gives them an hourglass figure (just like those celebs on TV!). So if you're looking for stylish yet practical workout clothes that will accentuate your curves instead of hiding them, then check out jogger jeans today. Joggers jeans tend to be more comfortable than other types of denim because they're made from sweat-wicking fabric that helps keep you cool in hot weather conditions. Plus, their stretchy texture makes them easy to move in while you exercise.
Style Tips:
Elevate your look, and style this type of jeans with a tucked-in shirt. And ankle shoe is a must.
And for a casual look, or an athletic appearance, a t-shirt, and dark-colored jeans will do the magic.
Popular Brands Offering Jogger Jeans:
Pepe Jeans, Spykar, and John Pride.
Frequently Asked Questions
 1. What are the most popular types of men's jeans available right now?
Skinny jeans is one of the most popular jeans type available on the market today. Apart from this, straight-leg jeans and slim-fit are also widely preferred for daily wear.
2. What is the average price range for a pair of men's jeans?
The average price range for a pair of jeans for men could be somewhere around Rs 900 to Rs 1200. However, if you are willing to shell out more for better quality, and better fabrics there are brands that offer jeans up to Rs 6000. When it comes to some popular jeans brands, then Levi's and Calvin Klien are something you should opt for.
3. What impact do the materials used in men's jeans have on their durability and comfort?
Men's jeans are designed to be worn over and over again, which means that they need to be durable enough to withstand repeated wear and tear. However, the materials used in these jeans can also have a significant impact on their comfort. Jeans made from denim that is treated with flame retardants or other chemicals may feel stiffer and less comfortable than those made from non-toxic fabrics. To be more specific, you need to opt for jeans that are made with 100% cotton. If you're looking for the best in both durability and comfort, it's important to choose pants that are manufactured using natural methods. These types of jeans will typically last longer without deteriorating in quality, making them a better option environmentally speaking as well.
4. What are the most popular colors for men's jeans?
Jeans come in a variety of colors, but the most popular colors vary depending on the region and demographic. The most popular jeans colors for men tend to be darker colors, such as black, dark brown, and navy blue. It does suit a range of skin tones, and very widely worn by men, and women.
5. In terms of quality and craftsmanship, how do men's jeans compare to other kinds of pants?
Jeans are one of the most popular types of pants on earth and for good reason. They offer timeless styles that can be dressed up or down, they're comfortable to wear all day, and they don't wrinkle easily. And while there are other types of pants that may provide similar benefits, Jeans arguably have the best combination of quality and craftsmanship. Jeans are made from cotton denim which is extremely sturdy yet soft to the touch. This combination makes jeans resistant to tears, rips, stains and fading.
6. What are the most popular men's denim brands and why?
While there are many great men's denim brands, Levi's is often considered the best. It has a loyal following because of its fair pricing, quality products, and consistent delivery of these same qualities over time. The brand does not hike up its prices arbitrarily, but rather invests in new technologies and improvements to ensure the quality of its products. For many men, Levi's are the perfect jeans – classic yet stylish enough for any occasion, with fair pricing that won't break the bank.
7. What are the most popular jean designs for the upcoming season?
There's no doubt that denim is one of the most popular wardrobe pieces for men. And with every new season, there are always new and exciting jean trends to look out for. Some of the most popular trends this year include distressed jeans, bootcut jeans, and wide-leg jeans. Don't be afraid to experiment with different styles; you never know what may become a hit in your wardrobe.