Jeans are essential when if comes to women's fashion, and one cannot deny this fact.
They're versatile and comfortable yet burst with style.
Although there is no shortage of different types of jeans in the marketplace today, navigating your options can be overwhelming.
Do you opt for skinny or straight-leg denim?
How about a high waisted or flared fit?
Each of them comes packed with its unique characteristics, thus making it important to know what to look for before one starts shopping around.
That's why, in this blog post, we'll be taking a closer look at all the various types of jeans for women available out there.
We'll equip you with the knowledge and skill set needed to find lingerie that tickles your style bud and helps bring any outfit up notch.
If you're longing for a timeless and classic denim look, then we have just the perfect jeans for things.
But if you're looking for something trendier…fret not!
We've got plenty of fashionable pieces as well!
So, wait no more, join us as we explore the fascinating world that lies beyond our portfolio of ladies' denim!
Types of Jeans for Women
Jeans come in a multitude of various lengths, styles, and sizes! Do you find yourself oftentimes facing multiple different styles in the same pair? Feeling a bit unfamiliar with them? Don't worry; becoming an expert isn't too hard. You just have to take some time out, get yourself familiarize with the many options available online.
Learn about all kinds of denim lengths like cigarette pants, bell bottoms, cuffed jeans, and more. Dig into stylish designs that come in boot-cut models or naturally distressed pieces for much-needed edginess. Not forgetting a selection of countless sizes ranging from regular lengths to cropped lengths  Perusing the land of quality denim could be enough for those entertaining an aspiration for number one go-to fashion item.
Rest assured that there's many resources to refer to such as this list on different types of jeans cited here. Reading up on it can get you more than a step closer to being a bona fide denim authority, so go ahead and delve in, who knows what treasures await the connoisseur.
Rise
1. Super High-Waisted Jeans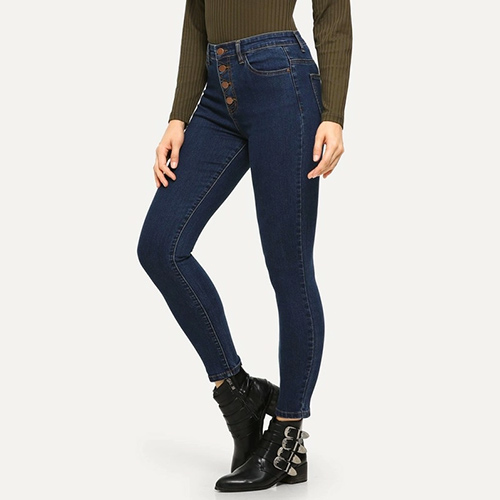 Super high-waisted jeans are the trendiest option for fashion-forward women right now.
These jeans rise above the navel and provide the ultimate in comfort and style.
The super high-waisted jeans are available in different washes and styles, from wide-leg to skinny.
Style Tips:
Pair with a crop top or bodysuit for a sleek and sophisticated look.
2. Low-Rise Bootcut Jeans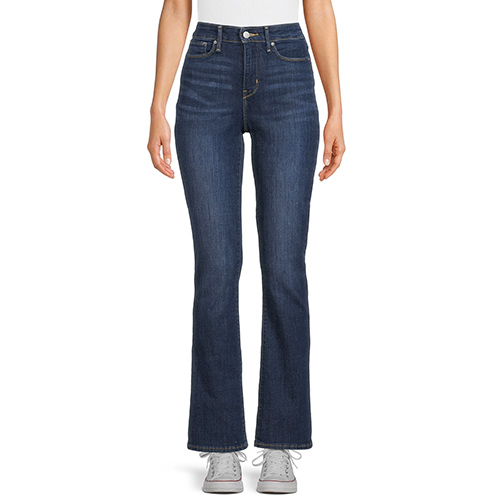 Low-rise bootcut jeans come with a minimalistic waistband and when worn correctly, can elongate the legs.
They sit just below the hip, highlighting the curves of the body.
Fashion icons like Jennifer Aniston and Gigi Hadid have been seen rocking low-rise bootcut jeans.
Style Tips:
For a casual look, pair light-wash low-rise bootcut jeans with a white T-shirt and sneakers.
To create a dressier vibe, choose dark-wash low-rise bootcut jeans and pair them with heels and a blouse for a night out.
3. High-Waisted Wide Leg Jeans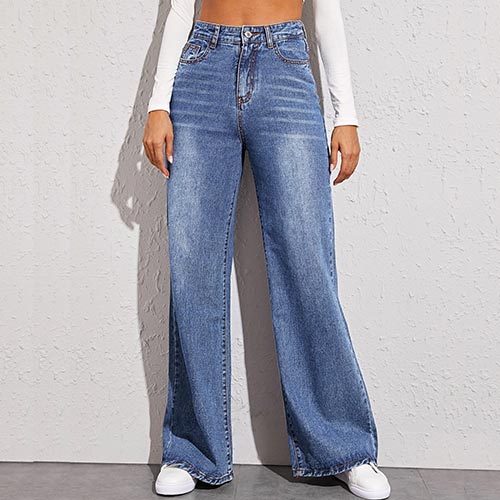 High-waisted wide leg jeans are a style that has been trending in recent years, bringing back a retro vibe with a modern twist.
Fashion experts consider them a timeless style that flatters all body types.
The wide leg style allows for movement and comfort, making them a versatile option for any occasion.
Style Tips:
When pairing high-waisted wide leg jeans, tuck in your top to emphasize the waistline and play up the vintage-inspired style.
Add a pair of heels to elongate the legs even further and complete the dapper look.
 4. Low-Rise Straight Leg Jeans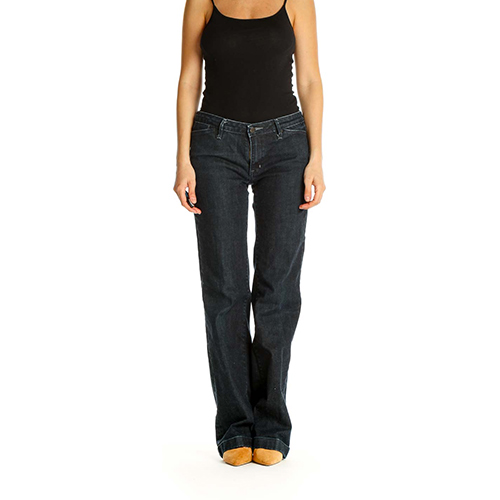 Low-rise straight leg jeans come in a variety of materials, ranging from classic denim to stretchy cotton blends.
Pull off a sexy look with a pair of these as they snuggle you from hip to thigh.
A wearer of these is bound to look modern as well as trendy, making it a versatile choice for a casual day-out or a night-out with friends.
Style Tips:
To accentuate the waist, tuck in a fitted blouse or top and add a statement belt.
Build a laid-back bohemian vibe, and pair your low-rise straight leg jeans with a flowy, off-the-shoulder top and some chunky or fringed accessories.
Hem
5. Raw Hem Jeans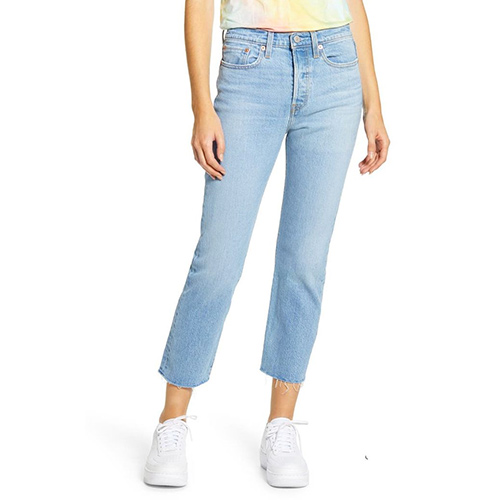 Raw hem jeans have a frayed, unfinished hemline which gives them a unique and edgy look.
This style of jeans can be found in a variety of denim washes and fits.
With their unique style and effortless cool, they are sure to turn heads wherever you go.
Style Tips:
Opt for a slim or skinny fit to balance out the relaxed hemline.
During cooler weather, layer with a chunky sweater or jacket. Elevate the look with heels and statement accessories.
6. High-Low Hem Jeans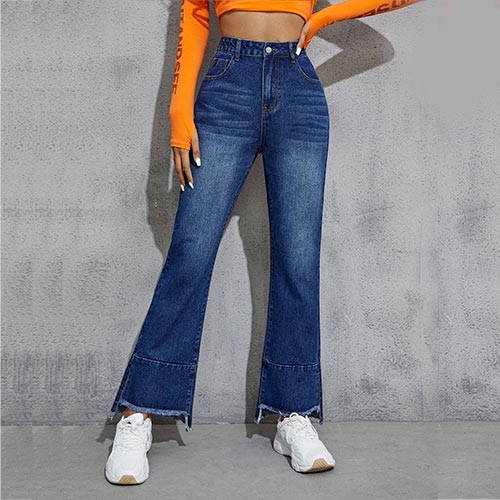 High low hem jeans, also known as asymmetrical jeans, feature a longer back hemline and a shorter front hemline, giving them a unique and edgy look.
A trendy and unique option for those looking to switch up their denim game.
You can also find a fun and easy way to customise your apparel collection by DIYing your own high-low hem jeans.
Style Tips:
To add some edge to your style, wear your high low hem jeans with a leather jacket and ankle boots.
Wear your jeans with a graphic tee to slay a street style look.
7. Split-Hem Jeans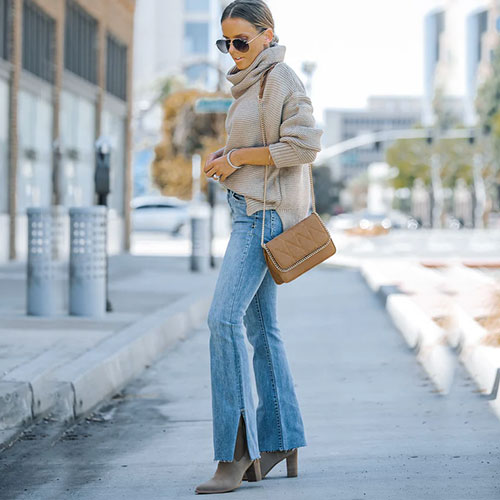 This style features a slit or a cut at the hem, adding a touch of edge and personality to the jeans.
Victoria Beckham kicked off this trend during her own label's runway show.
Since then, this style has made its way to the runways and into the closets of fashion enthusiasts worldwide.
Style tips:
Layer a denim jacket over a chambray shirt, then pair it with your split hem jeans for a high fashion double-denim outfit.
Pair the jeans with a black blouse, high-heels, and statement jewelry for a night-time event.
Length
8. Capri Jeans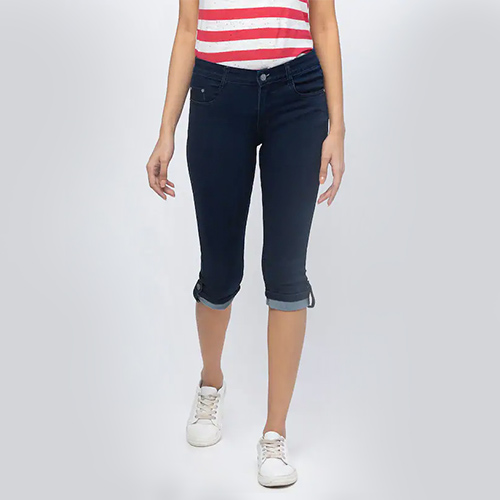 Despite the ups and downs of fashion trends over the years, capri jeans have managed to maintain their popularity.
You can find them at any major departmen store or online retailer.
If you are on the shorter side, be sure to choose a pair that hits just above your ankle to avoid looking disproportionate.
Style Tips:
Pair capri jeans with ankle boots or strappy sandals to show off your footwear.
Avoid wearing capri jeans with baggy tops or jackets, as this can overwhelm your frame.
9. Ankle Length Jeans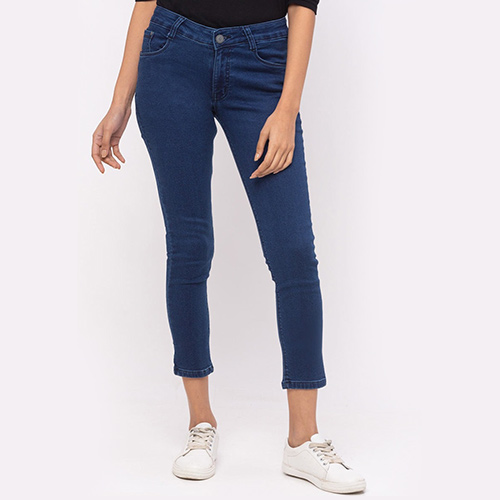 A typical denim that ends just above the ankle is a perfect fit for all body types. These jeans are available in a variety of styles.
Shop ankle length skinny fit, slim fit, mom fit and style them with your favourite pair of heels.
They are perfect for any occasion, festival, concert, or just for a chill weekend with a friend.
Style Tips:
Pair ankle-length jeans with high heels to elongate your legs and create a more elegant look.
For a more casual outfit, style ankle-length jeans with sneakers or flats and a loose-fitting top.
Pattern
10. Whisker Jeans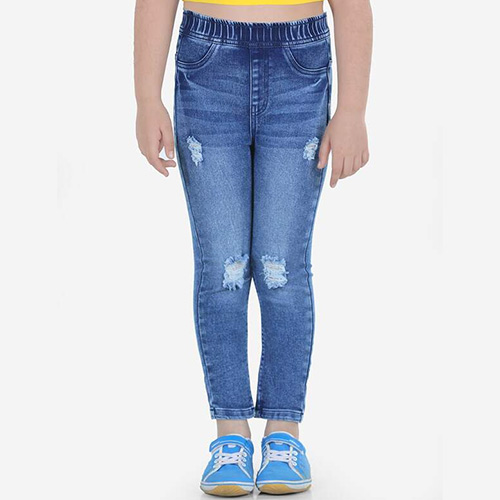 Denim with whiskers on the thighs can give you a unique and distinctive look. This style has been a trend for years now.
The patterns on the thighs are formed from natural wear and tear over time.
Get your hands on this proven great day wear and flaunt it over a brunch with friends or during a shopping trip
Style Tips:
Whisker jeans look great when they are well-fitting. Choose a pair that fits comfortably in the waist, hips, and legs.
Avoid pairing whisker jeans with any other distressed pieces, as it can be overkill. Keep the rest of your outfit subtle and let the jeans stand out on their own.
11. Printed Jeans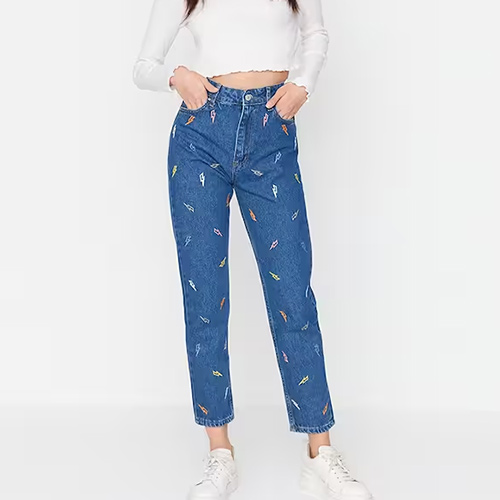 Initially seen as a rebellious fashion trend, printed jeans have been an on-and-off fashion trend for a long time.
You can buy a variety of prints such as floral, animal, geometric and abstract.
With the right pairing of tops and accessories, printed jeans can make a stylish and bold statement in any women's dressing.
Style Tips:
Keep the rest of your outfit simple so that the jeans stand out – pair them with a basic white T-shirt or a neutral-coloured blouse.
Choose prints that are subtle but still eye-catching. A monochromatic print or small-scale pattern will look more refined than a loud, bold print.
12. Ombre Jeans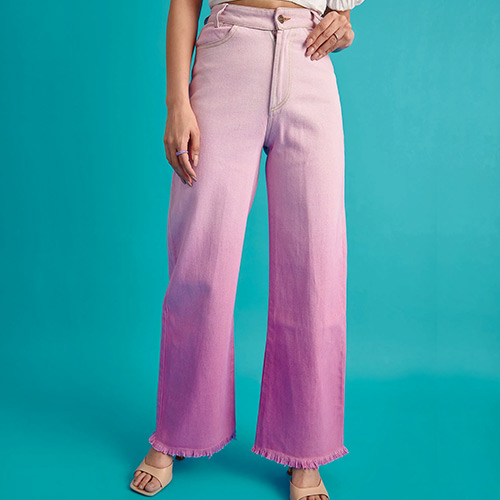 Ombre jeans have gained immense popularity in recent years due to their sleek and modern look.
They show a gradual colour shift, usually from darker shades to lighter ones.
They are a modern twist on traditional denim jeans, featuring a gradient colour pattern.
Style Tips:
Opt for ombré jeans with a gradient fade extending from the thigh to ankle. Accessorise with gold or silver jewelry for a touch of glam.
Style with nude pumps or ankle boots for a fashionable look.
13. Cargo Pocket Jeans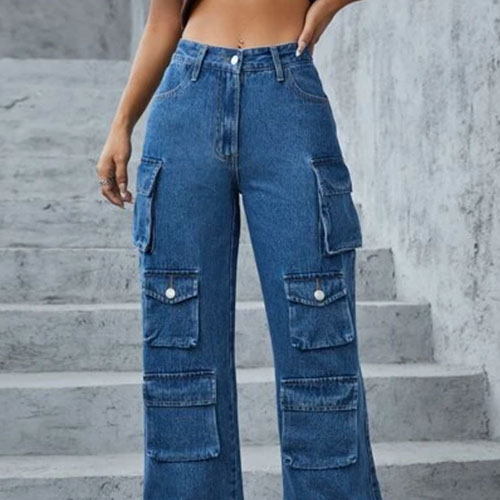 Cargo pocket jeans are a fusion of cargo pants and denim jeans. These jeans come with multiple large utility pockets that add functionality and style to the garment.
At first, they were intended for men's wear only.
However, with the rise of the athleisure trend, fashion-conscious women embraced this functional style as well.
Style Tips:
The cargo style colour of the moment is olive green, which pairs well with earthy tones such as beige and tan.
Combat boots are a perfect fit for cargo jeans. They add an edgy touch to your look while complementing the ruggedness of the garment.
These are denim pants are treated with a lighter shade of blue or white, giving them a washed-out appearance.
14. Light Wash Jeans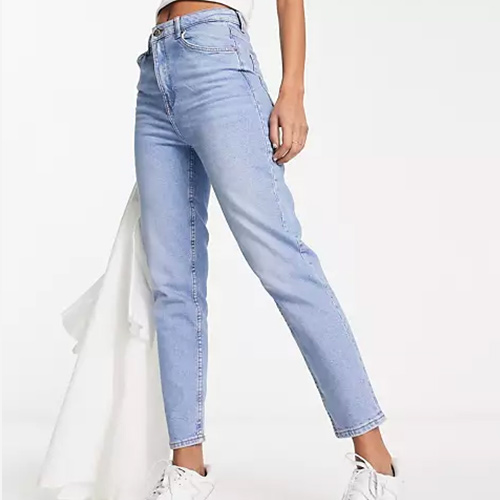 They are perfect for warmer weather and casual occasions.
What makes them comfortable and easy to wear is their soft and light weight denim fabric.
Style Tips:
Add a pop of colour with a bright top, such as a red or yellow blouse, with your light wash denim.
Dress up your light wash jeans with heels and a blazer for a business casual outfit.
15. Two Tone Jeans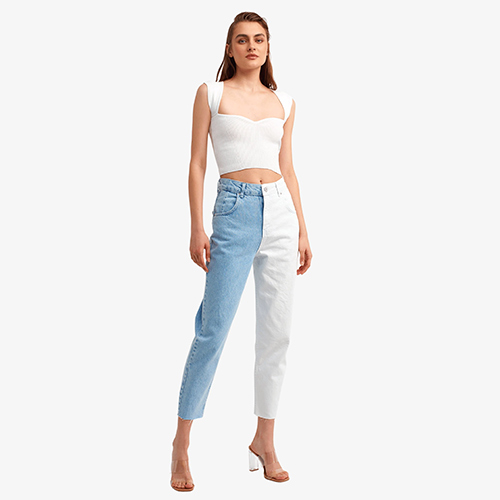 Colour block jeans or two-tone jeans feature two different shades of denim on one pair of jeans.
The contrasting colours are usually divided at or below the knee, either horizontally or diagonally.
Celebrities and influencers have been spotted wearing them, and they've been featured in numerous fashion magazines.
Style Tips:  
Try black and white two-tone jeans with a black turtleneck and ankle boots for an attractive monochromatic outfit.
Experiment with coloured denim by choosing two shades of the same colour, like light pink and hot pink, and pair with a neutral top.
16. Overalls
Featuring suspenders and a bib that covers the chest and sometimes the back, overalls, aka dungarees, are in fashion to stay.
They come in a range of styles, from loose and baggy to slim-fitting and cropped.
Go ahead and find the perfect look that makes you feel confident and stylish, no matter where life takes you
Style Tips:
Pair them with a fitted T-shirt or crop top to balance out the volume and create a more feminine silhouette.
Add a belt to cinch in the waist and give a more defined shape to the outfit.
17. Distressed Jeans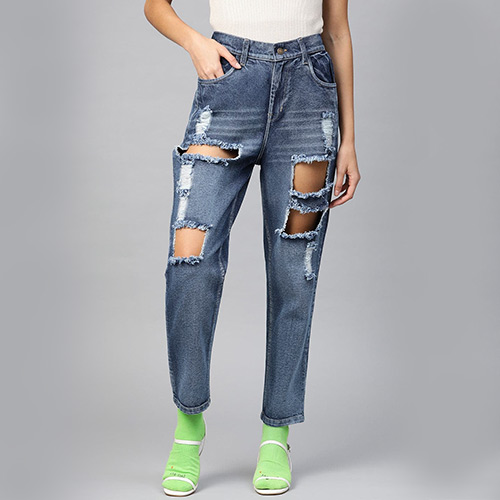 Distressed jeans are a popular style of jeans that have intentionally been made to look worn-out and faded.
Contrary to popular belief, distressed jeans aren't just for casual occasions.
With the right styling, they can be worn to more formal events as well. Don't hesitate to experiment and follow our styling tips to get it right.
Style Tips:
Try a crisp white blouse for a sassy and effortless look.
Opt for a cropped top or a tank for a casual and laid-back vibe.
Relaxed fit
18. Mom-Fit Jeans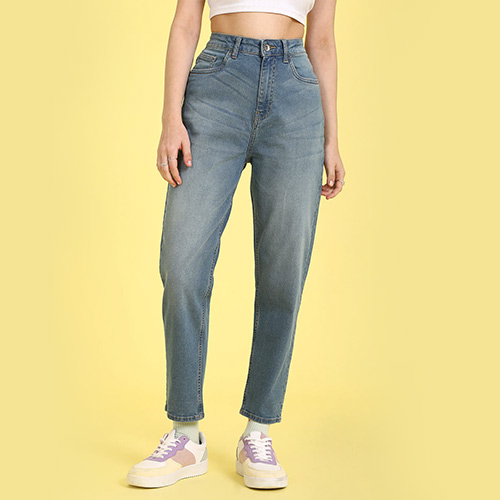 A high-waisted gender-neutral denim. These are typically characterised by a loose fit around the waist and hips, tapering down towards the ankle for a flattering silhouette.
Mom-fit jeans have made a resurgence in fashion over the past few years.
With the right styling, you can easily incorporate this classic denim look into your own personal style.
 Style Tips:
Dress up your mom-fit jeans by wearing them with a fitted blazer and heels.
When it comes to tops, opt for fitted or tucked-in styles to create a balanced silhouette.
19. Boyfriend Jeans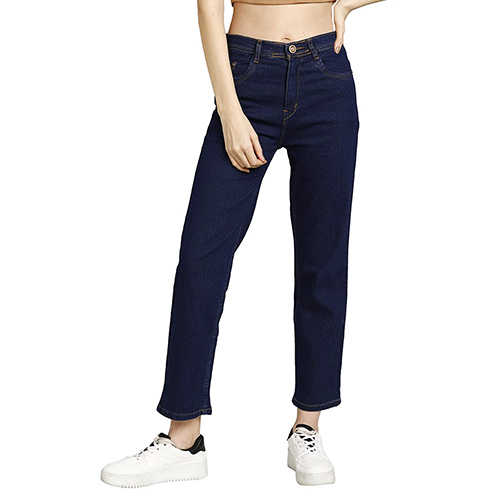 If you want to incorporate a relaxed, easygoing look, then boyfriend jeans should be your go-to choice.
These types of jeans are characterized by a loose fit throughout the thighs.
While traditionally worn rolled up at the ankles, some of the latest iterations of the boyfriend jean fashion feature a more relaxed fit.
Style Tips:
A classic pair of trendy sunglasses, something like the aviator and a leather watch can add the perfect finishing touch to your ensemble.
Dress up in boyfriend jeans with a classy blazer and a pair of heels for a sophisticated look that's perfect for the office.
20. Baggy Jeans
Baggy jeans are typically worn low on the waist and have a wider leg opening. They came into fashion with the hip hop and rap communities.
The style was a reflection of the social and economic struggles.
Today, baggy jeans are still popular, especially in streetwear fashion as they offer a comfortable and stylish option.
Style Tips:
When wearing baggy jeans, it is important to balance the volume of the pants with a more fitted top.
Wear a pair of oversized sneakers to complement the baggy silhouette.
21. Palazzo Jeans
Often the kind of pair that our moms love the most, palazzo jeans gained popularity only in recent years.
These jeans are known for their wide-legged and flowy shape.
They come in various fabric types ranging from denim to cotton and can be worn in different seasons.
Style Tips:
Due to their oversized and flowy design, palazzo jeans pair well with fitted tops.
High-waisted palazzo jeans can be paired with a crop top or a tucked-in blouse for an elegant look.
22. Pleated Jeans
Pleated jeans, popularized in the 1980s, feature pleats that start at the front belt loops and run down the legs, providing ample space for ease of movement.
These jeans are a good option for those who prefer a loose and relaxed fit.
Besides, the pleats also help to create a classic and timeless look that never goes out of style.
Style Tips:
Opt for a high-waisted style to elongate your figure and show off your curves. Pair this with a tucked-in blouse or shirt for a polished look.
To balance out the extra fabric around the waist area, go for a cropped or fitted top to create a more proportionate silhouette. You can also add a belt to cinch in your waist and highlight your curves.
Flare
23. Wide Leg Cropped Flare Jeans
Wide leg cropped flare jeans feature a flare at the bottom of the leg, adding a touch of drama to any outfit.
This cut is ideal for showcasing a bold shoe choice.
The cropped length can also visually elongate the legs, making them a popular choice for shorter individuals.
Style Tips:
Pair with chunky heels or platform shoes to further accentuate the flare on the jeans
Keep the top simple and streamlined, such as a fitted tank or tucked-in blouse, to allow the unique cut of the jeans to stand out.
24. Wide Leg Flare Jeans
Wide leg flare is a go-to choice for those with an hourglass or pear-shaped figure, as they help to balance the body's proportions.
It makes one seem to have elongated legs, thus giving the wearer a taller look.
They can be styled in different ways to suit different occasions, from casual to formal events.
Style Tips:
Don it with a chunky knit sweater or a blazer in plaid or windowpane print.
During the summer months, wear your wide leg flare jeans with a breezy cotton top. Accessorise with a straw hat, a woven tote, and a pair of flat sandals.
Material
25. Corduroy Jeans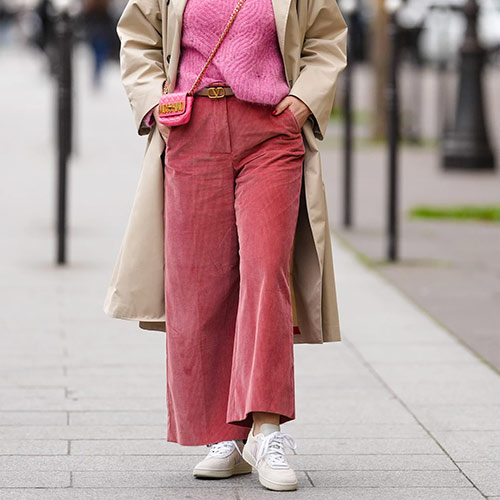 Corduroy jeans are a popular option for those who want to add some texture to their outfits.
The most distinguishing feature of corduroy is the vertical ridges or "cords" that run down the fabric.
Corduroy is a durable and breathable material, making it a comfortable choice. The texture of corduroy also adds warmth, making it ideal for cooler months.
Style Tips:
Avoid wearing heavy items with corduroy as it can add unnecessary bulk to your outfit. Instead, opt for sleek and fitted tops.
Choose shoes wisely, as corduroy can clash with some materials. Boots, loafers or sneakers can all work depending on the style.
26. Coated Jeans
Typically made from a blend of cotton, polyester, and elastane, these jeans are finished with a waxy coating that gives them the appearance and shininess of leather.
They're an innovative twist on the classic denim look.
While coated jeans can come in different colours and textures, black is the most widespread, and it also goes with everything.
Style Tips:
Leather jackets, cardigans and denim jackets all go well with coated jeans.
Find the best handbag, and purse brands that suit your style. Something from brands like Cathy London, Calvin Klein, etc.
27. Velvet Jeans
Velvet jeans are certainly not your everyday denim. They possess a unique, glamorous look, that can elevate any outfit.
Its mixed fabric gives a soft feel and stretches for a comfortable fit.
Velvet jeans first made an appearance in the 70s and 80s and have since made a comeback in recent years.
Style Tips:
Pair it with a simple white button-up shirt for a classic look or try a cropped sweater to show off the high waist of the jeans.
Leather boots can add an edgier feel to the outfit.
Unique Styles
28. Drawstring Waist Jeans
With these jeans you'll find an elastic or drawstring waistband in place of a conventional button and zip closure, allowing for a more customised fit.
This trend has become popular in recent years due to its comfort and versatility.
Their relaxed fit and lightweight material make them ideal for layering with different clothing items.
Style Tips:
Opt for a slightly oversized top to balance out the relaxed fit of the jeans.
Accessorise with a belt or statement jewelry for added flair.
29. Reversible Jeans
Reversible jeans are a trendy option with inventive design that takes versatility to a new level. These jeans can be worn twice before washing and offer a unique reversible feature.
One pair has two colours or prints, which means 'double options' for you.
The design innovation emerged as a response to the demand for sustainable clothing options, with brands offering durable, long-lasting pieces.
Style tips
Wear with layered tops and accessories, emphasizing the contrasting colours, and mixing up casual and formal aesthetics.
Experiment with different looks by cuffing the bottom hem, adding statement jewelry or wearing with high boots.
30. Crochet Jeans
Crafted with crocheted patches or embellishments, these jeans have a vintage appeal to them.
Some designers have even hit headlines for creating fully crocheted jeans.
Be it any occasion, these jeans are bound to add a unique touch to any outfit, making them a great conversation starter.
Style Tips:
Style them with floral prints to add a sense of delicacy to your outfit.
You can also choose to carry a round basket bag with your crochet jeans on a bright sunny picnic day.
31. Embroidered Jeans
A cool denim trend characterised by intricate and playful designs made out of thread, yarn, or other materials that are carefully stitched onto the fabric.
They are a popular way for people to express their individuality and creativity.
The embroidery can be found all over the jeans, but it's often concentrated on specific areas such as the pockets, legs, or waistband.
Style Tips:
Create a flimsy look by dressing them up with a flowy blouse and heels for a night out.
Contrast the detailed embroidery with a simple denim jacket or vest.
32. Paperbag Waist Jeans
Paperbag waist jeans are the latest trend in town and one of the most stylish options for a fashionable-casual look.
These jeans have a cinched waist that creates a gathered, paper-bag-like appearance.
Some people may think that paperbag waist jeans are challenging to style, but the truth is that they can elevate your outfit with minimal effort.
Style Tips:
As paperbag waist jeans have a voluminous silhouette, it is better to balance the look with a fitted top.
These jeans are perfect to show off your shoes, especially if you wear ankle boots or statement heels.
Colour
33. Black Jeans
To create a slimming and sleek silhouette, opt for black jeans as they suit all shapes and sizes.
Go for a jet-black shade to get the best slimming effect.
Beware of washed-out or faded-looking blacks, as they can be unflattering and look less sophisticated.
 Style Tips
Experiment with DIY ideas such as ripping or distressing your black jeans for a more edgy and personalised look.
When shopping for black jeans look for high-quality denim or a blend with spandex for comfort and durability.
34. White Jeans
Once shunned, white is now an elegant colour choice that adds grace and poise to your attire.
Forget hesitating about stains and shop this shade now.
They make a perfect daytime wear and if styled correctly can even be a good choice for your clubbing nights.
Style Tips:
Stick to light-coloured fabrics and avoid wearing black or dark-coloured tops to keep the focus on your white jeans.
Don a more relaxed and casual look with a white boyfriend or wide-leg fit.
35. Blue Jeans
Blue jeans are a timeless fashion staple that deserves a permanent spot in every woman's wardrobe.
Their durability and comfortability makes them the perfect go-to item.
Effortless to style, these come in countless variations making them the most popular choice among women of all ages.
Style Tips:
Pair with a silk camisole and a leather jacket to get the perfect look for a movie date.
Style your straight-cut, skinny, bootcut, high-waisted or boyfriend blue jeans with your favourite kurtas and dupattas to create a fusion look.
36. Smoky Jeans
Smokey jeans, now highly favoured by women, have gained widespread fashion appeal due to the coolness that they add to any outfit.
A stylish choice for work, grocery shopping or even party nights.
Make a statement with these pairs that are bound to leave a lasting impression on anyone who sees them.
Style Tips:
Carry a bold and edgy look by styling your smokey jeans with a leather jacket and boots.
Keep it casual by pairing your smokey jeans with a white T-shirt and sneakers.
37. Bleached Jeans
Bleached jeans became a style statement when punk rockers and grunge musicians embraced the look.
Today, they are in vogue for their bad-ass vibe.
With a little imagination and some simple accessories, they can give you a unique gangster look.
Style Tips:
A dark coloured tank top along with some street style accessories can help create a Lara Croft look with your bleached jeans.
Add some studs or patches to create a custom look.
38. Khaki Jeans
Khaki Jeans were initially designed for men who preferred trousers as casual wear but soon became a popular choice for women as well.
They are dyed in the same hue as the military uniform, giving them a rugged vibe.
People mostly prefer wearing Khaki Jeans on casual outings or even adventurous mountain hikes.
Style Tips:
Wear loose fitting tapered Khaki Jeans for a smart look and skinny fit for a casual yet stylish look.
For a more edgy look, pair the Khaki Jeans with a graphic T-shirt and sneakers.
39. Metallic Jeans
A touch of glamour to the standard denim look is what metallic jeans are all about. The metallic sheen on them catches the light and creates a visually striking effect.
Metallic jeans incorporate different styles that cater to various fashion preferences.
They come in various shades and finishes, from the traditional gold and silver to metallic washes in hues like pink, blue, and green.
Style Tips:
Style it with a plain white T-shirt or a neutral coloured blouse to keep it simple on top.
Play with texture by wearing a sequined or lace top.
40. Colourblock Jeans
As the world was being taken up by quirky trends, colourblock jeans came to make waves in the fashion industry.
They are one of the most sought-after trends.
With its bold and eye-catching design, it's no wonder why many fashion enthusiasts are gravitating towards this trend.
Style Tips:
A simple white T-shirt or a black leather jacket can easily complement the colourful design of the jeans.
Accessorise with bold earrings or a statement bag to complete the look.
41. Tie-dye Jeans
Tie-dye jeans come in different styles, from flare to skinny jeans, giving enough room for experimentation.
Hippies and bohemians were the first to wear these colourful, psychedelic jeans.
With these pairs you can pull off a funky statement just like our favourite Phoebe Buffay.
Style Tips:
Create harmony by pairing Tie-dye jeans with solid-coloured tops and accessories.
It is advisable to wear Tie-dye jeans in a slim or skinny fit in white shades as they accentuate the pattern.
Conclusion
After examining this list of jeans for women, we hope you now have your favorite style in mind. You can be a classic high-rise fan, edgy ripped jeans addict or mom jean enthusiast, you'll always find a perfect pair out there in these different styles.  Rush to your favourite denim stores to get the right fit for yourself.
Happy Shopping!
FAQs
1. How do I choose the right type of jeans for my body type?
The only way to know the right jeans for you is by trying them on. Jeans come in a variety of styles. You must try a blend of styles to know which jeans would go best with your figure.
2. What are the best brands of jeans for women?
There are ample jeans brands to choose from, both at online and offline retail stores. Our best advice would be to explore your options from online stores and get the jeans from the most popular brands at the lowest cost from the comfort of your home.
3. How do I care for my jeans?
Jeans are very low maintenance. Unless your jeans have some delicate designs or embroidery on them there are no specific precautions that you need to take while washing your jeans. You can always dip them in fabric conditioners post washing to keep them fresh.
4. Do I need to wash my jeans often?
The frequency of your wash will entirely depend on the usage of the jeans. People often get careless and do not wash jeans, especially black jeans, as they do not start looking dirty easily. You need to wash your jeans at least once a week. Being made from tough fabric, most jeans can easily be machine washed.
5. Which is better boyfriend jeans or mom jeans?
Both boyfriend and mom jeans are a relaxed fit. They are suitable for all body types, especially pear-shaped body types. Both give a cool and comfortable look, but to understand which suits you the best you should try them on in different styles.