Who said men's fashion is only restricted to shirts and pants? Men's clothing nowadays has advanced to the point that many new styles have been introduced that are not only fashionable but trendy. Be it sweatshirts, jeans, t-shirts, jackets, or blazers but amongst all, shirts play a major role and are undoubtedly an important fashion element and a must-have in every men's wardrobe. The specialty of shirts is, it is quite versatile in nature that can be paired up with jeans, formal pants, trousers, bell bottoms, etc.
But choosing the right kind of shirt that suits your personality is a bit challenging. Hence for your guidance, here we come up with a precise list of types of shirts that will help you find the perfect shirt that suits your personality.
Top 33 Different Types of Shirts for Men
We've covered the full range of the best types of shirts one may ever find online, from button-down shirts to casual to office wear and more. Take a look:
Types Of Casual Shirts
1. Chambray shirts
Because of their identical feel and pattern to denim, chambray shirts are commonly mistaken for denim. Because chambray shirts are made of a particularly smooth fabric, they are often considered as a perfect light wear summer clothing. Because it will keep you cool in dry heat and humidity. As it usually comes in cotton fabric, maintenance of Chambray is hustle free, and can be paired with anything.
How to style your chambray shirt
You can wear half or full sleeve chambray with jeans or khakis.
It is more considered semi-formal wear, but if you want to wear anything from the beach to the office, go for a plain button-down chambray without pockets and pair it up with loafers or formal shoes.
2. Denim shirt
One of the most commonly worn fabrics in the world today is Denim. Denim is nothing but a sturdy twilled cotton fabric that is popularly known for its durability. Denim shirts are worn more by youngsters and millennials.
All the Demin shirts you will find in the market are plain without patterns. But usually have a dual chest pocket with a fine detail, stitching all across the shirt giving it a smarter look.
How to style your denim shirt
It is usually warm so it can be worn in winter and can be paired up with boots with torned jeans or trousers.
People also wear denim shirts over a white or black t-shirt or jacket with white funky sneakers.
3. Flannel shirt
Incredibly soft and unbrushed texture is what makes the Flannel shirts different from other shirts in the market. It is a supple, woven fabric that is often composed of wool or cotton which is slightly elevated and milled.
Mostly flannel shirts come with checks and block patterns but you can even find plain Flannel with both button-down and button-up types. You may even see people wearing Flannel over t-shirts because of their long sleeves make it look like a thin jacket suitable to wear in winter.
How to style your Flannel shirt
It is recommended to pair up with jeans, joggers for a trendy vibe. In warmer weather, you can also consider rolling up the sleeves or choosing a short-sleeved style.
For a more professional look, wear it tucked with dark Demin jeans or chinos with a belt complementing the look by adding loafers, and sneakers.
4. Military Shirts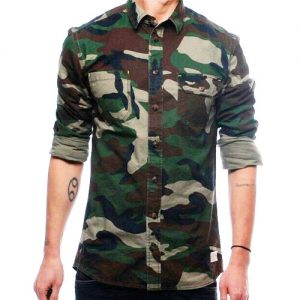 As the term says Military shirts literally means a shirt with a camouflage pattern. This shirt boasts a bold yet minimal style and is made from more structured fabrics such as poplin or cotton. The stand-out elements of this shirt that you can notice are its shoulder epaulets, detail stitching, and two chest pockets with proper button alignment.
Military shirts are usually rugged well-built feature professional-looking shirts, made with breathable fabrics, and you can choose from long sleeves to short sleeves and usually have convertible collars with built-in stays for an extra classy look.
Another advantage of owning an army shirt is its perfect fit, and summer-friendly material, and is available in a variety of prints, cuts, colors, and designs. They can be worn in all seasons and can be paired up with denim, khakis, or casual pants.
How To Style Your Military Shirt
For an iconic look, wear your military shirt, paired with jeans or cargo trousers tucked in and you can even add a pair of combat boots to finish your overall look.
Wear it with a pair of joggers untucked add a pair of sneakers to create a classy informal funky look.
5. Cuban Collar Shirt
Cuban Collar shirts are also called camp collar shirts. In essence, it is a shirt with an open neck, a straight, boxy hem, and commonly come in short sleeves. The collar is what truly differentiates it from other types of shirts available today.
In a Cuban collar shirt, you wouldn't find a top button and the shirts are flattering to most body shapes. The fabric is usually available in polyester and synthetic. The broad collar gives a broadening effect to the upper body giving a very unique look to your overall outfit.
You can find Cuban collar shirts in wide color options with various patterns like stripes, checks, solid, heavy floral, and more that make it flexible so that you can pair it up with anything.
How to style your Cuban collar shirt
Cuban collar shirts are informal and more of a casual wear that can be paired up with trousers, torned or skinny jeans, shorts, under a jacket, and can also be worn over a T-shirt.
It is usually worn untucked. You can even wear a Cuban collar shirt with jeans and a denim overshirt for a universal causal look.
6. Casual shirts
Casual shirts are a go-to shirt for almost all men around the world. This type of shirt distinguishes itself from others by having fewer rigid collars with wide patterns or printings and heavy designs.
You can even find two chest pockets just like denim shirts. It is a kind of shirt that every man should have. Causal shirts are perfect to wear in events like weddings and parties or any informal events. They are the ideal clothing to play around with your appearance by adding layers to your combination.
How to style your casual shirts
Try wearing light blue ripped jeans with a cool navy-blue shirt with slip on sneakers.
You can even try your casual shirt with plain brown trousers with cool leather shoes.
7. Roll Tab Shirts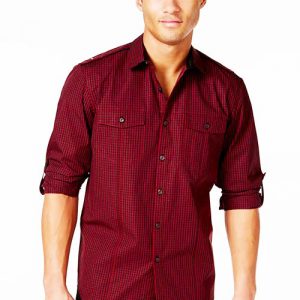 Roll tab shirts are a type of casual shirt just like button-up shirts that features asymmetrical sleeves. That allows the weaver to adjust the length by rolling or unrolling the fabric. These shirts are typically made from lightweight materials like cotton, linen, chambray, and silk fabrics in a variety of solids and prints.
With the ability to adjust sleeve length, these shirts provide extra versatility and help create a personalized look. Roll tab shirts come in many different styles including button-down, button-up, office, and even casual.
No matter if you're looking for something basic for everyday wear or something for a night out, roll tab fits all situations or occasions. Moreover, they can be worn depending on styling, making it a perfect wear for casual days out or for formal occasions.
How To Style Your Roll Tab Shirt
For a formal look wear it with chinos and compliment it with a pair of formal shoes to complete your look.
Leaving your shirt untucked, pair it with a black denim jean with your favorite loafers or sneakers to create a trendy look.
8. Overshirt
As the word itself says overshirt, it is a shirt cum jacket. It can be worn as shirt and as well as a jacket hence it is commonly called a "Shacket". The flexibility of this shirt is what makes it so beautiful and unique.
When the temperature is warmer, it serves as an excellent light jacket. On colder days, you can layer up and even wear a coat over the top. Moreover, overshirts are not tailored and are typically worn looser and bigger. It can be worn in both professional and causal events.
How to style your overshirt
The versatile nature of this shirt can be easily paired up with any outfit. For example, you may complete the look by adding some funky denim and a pair of lace-up work boots.
An unbuttoned overshirt can be worn over a t-shirt or you can even wear a sweater underneath.
9. Linen shirts
It is considered one of the most comfortable and lightweight shirts because of their low thread counts and highly breathable texture. It is one such fabric that is undoubtedly best for summer. It is available in all sorts of colors with long and short sleeves that you can choose as per your taste. The popularity of linen shirts is due to its straightforward, natural appearance, which also combines comfort and style.
How to style your linen shirt
Wear it with dark blue denim jeans, chinos, or even shorts to keep it casual, and can even be worn as an under jacket and blazer shirt.
You can even wear Linen shirts as beach wear with slip-on shoes, shorts, or khakis.
10. Stain Proof shirt
This shirt, as the name implies, is stain and mark resistant. The fabric of a stain-resistant shirt is frequently coated with a substance that makes it simpler to remove stains from the cloth.
The stain prevention compound essentially forms a barrier between the stain and the substance, preventing the stain from penetrating the fabric weave in the first place. By taking some minor precautions these shirts are a great invention. Stain-proof shirts usually come in plain colors without much designs and patterns.
How to style stain proof shirts
Because of its simplicity, it can be paired up with anything from formal trousers to torned jeans with a nice metal watch.
11. Reversible Shirts
By turning the shirt inside out, reversible shirts can be worn in two different ways. They typically feature two collars, buttons on both sides, and are thicker due to the joining of two fabrics. Reversible clothing is nothing new. They used to have a heated and a cold side and were typically worn as winter clothing.
Unlike any other shirts, you will find a wide range of color options and patterns. Mostly you will find the combination of plain and checked, stripes and columns, blocks and prints.
How to style your reversible shirts
Reversible shirts often taken as versatile shirt that is suitable for wearing both formal and informal events.
Jeans, formal trousers with shoes and boots are some of the common to pair up with reversible shirts.
12. Work Shirt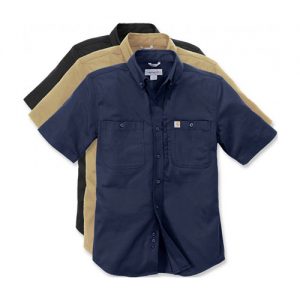 As the term says, it is specifically made for people who are involved in heavy-duty, physical, or industrial work environments. Work shirts are often used as uniform dresses for workers that come in a variety of styles and colors and fabrics. You will usually find Work shirts in cotton or a cotton polyester blend. And it is always a good choice for the labor category of people because of its durability and easy-to-care functionality.
Work shirts often feature a two-front button chest pocket and are often large and made of thicker material essential to stand up to the challenges of line on-site. These shirts come with a variety of features that would protect the individual at his work site such as these shirts are usually wrinkled resistant and moisture wicking. Along with great durability, some Work shirts also include safety features such as being flame resistant.
Usually, Work shirts are loose-fit garments that are comfortable and allow you to move freely and come in both short or long sleeves. Moreover, the collar type, cuff style, and pocket design are made absolute care and with detail to look more polished and professional, and easy to handle.
How To Style Your Work Shirt
Nowadays there are modern work shirts are available that can be worn by anyone irrespective of your profession and can be worn untucked with jeans complementing a pair of heavy boots to create a rugged look.
For an executive look, you can wear the Work shorts tucked in and add a pair of cargo or chinos, and to complete the look add polished formal shoes.
13. Twill shirt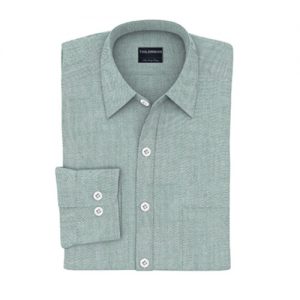 Add a hint of class to your wardrobe with twill shirts. Constructed from soft cotton, these stylish and sophisticated pieces boast interesting herringbone or houndstooth patterns created by their distinctive diagonal weft. Whether you're at the office or out for dinner, twill shirts are sure to make a statement.
There is always a luxurious, elegant look to a fine Twill shirt with its silky diagonal texture, lustrous shine, and with gentle drape. Moreover, Twill shirts are usually thicker and sturdier since it comes with an extremely high thread count which also makes them durable. And also, has very tight weaves that make it ideal for winter wear.
Twill shirts are adored because of their extreme versatility, be it for a party night or for the office you can wear Twill shirts on any occasion. Furthermore, these shirts are available in various color options that make them easy to style and wear all year long. Let's look at how you can style your Twill shirt.
How To Style Your Twill Shirt
For a casual weekend vibe wear, a full sleeve Twill shirt with rolled arms with basic jeans too do the job. You can also add your favorite casual jacket for an extra layer for a shaper look.
To create a semi-formal look wear it with a pair of cargo or chinos with a pair of sneakers.
14. Short Sleeve Shirt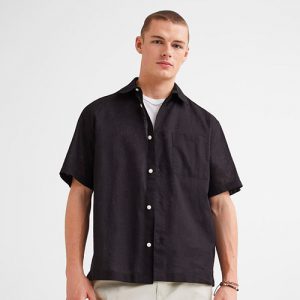 Short sleeves are nothing but a type of shirt that has sleeves at the end at or above the elbow, leaving the lower arm exposed. Undeniably this type of shirt is one of the most commonly worn garments and can easily be found in every man's wardrobe. The versatility of this shirt makes it suitable to be worn on any occasion be it a formal or informal event.
Short sleeves usually come in a wide range of material fabrics, colors, patterns, and designs. You will have a vast range of options to choose from, which helps you find one that fits your personal taste and the occasion. They are often made from lightweight materials like cotton, or polyester and also come in a variety of styles, including button up, Henley shirts, polo shirts, etc.
Hence, Short Sleeve shirts are perfect for summer days as the breathable fabric provides comfort while still looking sharp. They are works as a great layering piece in cooler weather when paired with sweaters or jackets.
How To Style Your Short-Sleeve Shirt
For a smart casual look, pair a short sleeve with jeans and chinos and sneakers or loafers. You can even add a watch or a bracelet to add an extra layer of style.
For winter vibes, you can also wear a short sleeve as a base layer and can add a jacket or a sweater on top of it. For a more polished look, you can even add a belt.
15. Utility Shirt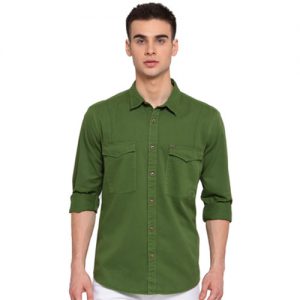 This may not be commonly worn but this is a type of shirt that is designed to be functional and practical. Utility shirts often feature two chest pockets with thread detailing and buttons that are prominent and usually gives a sturdy look. The shirt provides coverage while allowing ample movement around the arm and shoulders due to its cuts making it one of the most comfortable garments.
As the term says Utility shirts are typically used for outdoor or manual labor activities. But nowadays this type of shirt can be worn by anyone all thanks to the advancement in the fashion industry. These types of shirts are usually made from durable fabrics like cotton or denim and can come in a variety of styles such as button-downs, pullovers, etc. And often available in subtle earthy colors.
How To Style Your Utility Shirt
To create a casual look, you can wear this shirt with a pair of jeans or chinos and add a pair of boots to complete the look.
For a smart casual outfit, you can layer it over a t-shirt or Henley that you can match up with tailored trousers with formal shoes.
16. Knitted Shirt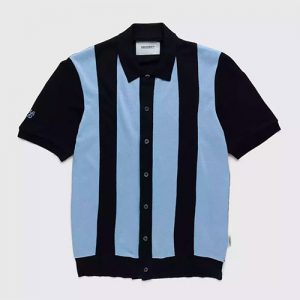 Knitted shirt is a type of clothing made from Knitted fabric. The fabric is made of interlocking loops of yarn, creating a stretchy and flexible material. Usually, knitted shirts are made from a variety of yarns, including cotton, wool, silk, and synthetic fibers.
These shirts come in various styles and designs, from simple solid colors to intricate patterns and textures. They can be short-sleeved or long-sleeved and may have a collar or be collarless. Some knitted shirts have buttons or zippers, while others pull on over the head.
Knitted shirts are known for their ability to retain heat better than other materials, so you can stay extra warm during winter months with a knitted shirt. They are also highly breathable, meaning that they won't cause you to overheat even if you're wearing them indoors. A knitted shirt can be found in a variety of colors and patterns, giving you endless possibilities when putting together an outfit.
How To Style Your Knitted Shirt
Pair a solid-colored knitted shirt with dress pants and dress shoes for a sophisticated look. You can also layer a blazer or sport coat over the shirt to add an extra layer of elegance.
Wear a knitted shirt with jeans and sneakers for a casual, comfortable look. You can also roll up the sleeves for a more relaxed vibe.
Types of Formal Shirts
1. Button-down Shirt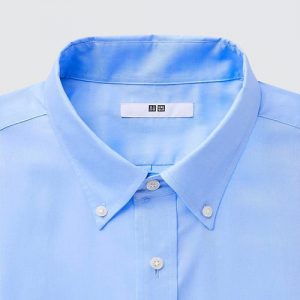 As the name itself says button down. Button-down shirts are the regular kind of shirts with standard buttons on the front as you get in button-up shirts. But the difference with a button-down is, it will have two more buttons on each side at the bottom of the collars. Which gives the unique look to the men's outfit.
Button-down shirts come in various quality materials be it cotton, synthetic, mixed polyester, polycotton, and many more. Additionally, there are colour choices and pattern choices, such as stripes and checks, that will always have you looking your finest.
These button-down shirts can be purchased in some cases through online retailers like Amazon, Flipkart, Myntra, and others. To get some spectacular savings from the above brands, one may also look at the most recent men's shirt coupons.
How to style your button-down shirt
Button-down shirts look great when worn with causal jackets, formal blazers, and chinos with boots to complete your whole look.
A button-down shirt can be worn over a t-shirt with open buttons to get that sporty look.
2. Button-up Shirt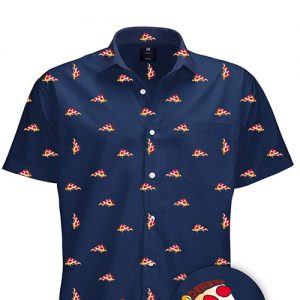 When compared to button-down shirts, button-up shirts are very similar and have a very subtle difference. This shirt is distinguished by the fact that it has buttons running up the front and does not have extra buttons on the collar.
Just like any other shirt, you can find numerous color options and fabric types that you can shop from some famous e-commerce platforms like Limeroad, Myntra, Ajio, and Amazon. You can even find this type of shirt from the local store retailer.
Button-up shirts are available in both short and long sleeves and you may even find a pocket. Moreover, these shirts come with/without a collar that you can choose as per your choice. Usually, button-up shirts are available for all ages and come in various forms like checks, blocks, mixed colors, etc.
Choosing the right shirt from a good brand is a tricky job since there are numerous brands available in the market. So, for your better assistance, you can check out the best shirt brands for men that will surely help you to find your suitable brand.
How to style your button-up shirt
You can style it with studs, and brooches along with a decent watch to complete your look.
You can even try wearing button-up shirt, with jeans or formal trousers that can be tucked or untucked.
3. Oxford Shirt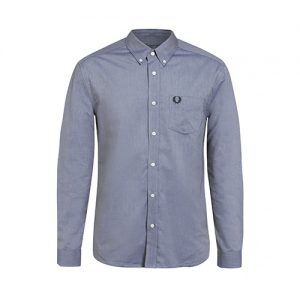 The Oxford shirt is a beautiful piece of versatile clothing that can be worn for any occasion. These shirts convey a sense of comfort and ease at the same time giving your entire outfit a neater and sleeker look. You will find Oxford shirts in many styles but they are popular for their button-down collars with full or half sleeves which adds a more casual look to this shirt.
The one thing that makes Oxford shirts different from others is their fabric. These shirts get their name from their distinct material made from a specific weave of the fabric called Oxford which is made from basket weave. This weave combines two yarns woven lengthwise against a heavier yarn crosswise or vice versa. Hence, thanks to the material that makes the shirt ideal for casual or business attire.
The main reason why one should own an Oxford shirt is because of its versatile look and its breathable fabric, perfect for summer wear. These shirts can fit in with any dress code. Whether you are going to the pub or a formal dinner or to the office the Oxford shirt will suit the occasion.
How To Style Your Oxford Shirt
For a professional look wear slim-fitting trousers with your Oxford shirt tucked in and to complete the look add a jacket with a pair of loafers.
For a sporty casual look, you can wear your favorite Oxford shirt with skinny dark denim jeans untucked and to complete your look you can wear a pair of boots.
4. Dress Shirt
Dress shirts often have long sleeves, a stiff collar, and button-up fronts. This is the typical shirt that is readily available in every man's closet. This shirt comes in various color options to choose from and in different fabrics like cotton, polyester, etc. But ideally most dress shirts you will find in cotton with a soft smooth texture.
The plain and fewer patterns make it ideal for office wear and any formal events. This shirt is widely accessible and may be bought online as well as in local shops. The best dress shirt brands that offer dress shirts with top-notch material include Arrow, Allen Solly, Raymond, Louis Philippe, and many more.
How to style your dress shirt
This shirt is ideal to wear with a jacket, blazer with chinos that you can complement with tie.
It is best to avoid folding the sleeves and wear it open-necked with a tuck.
5. Office Shirts
Office shirts, as the name suggests, are regular formal shirts that are most appropriate for office wear. Typically, it is plain with a selection of colours and soft fabric. It's best to choose if you are wearing a blazer and tie. To complete the look pair it up with formal shoes and a perfectly ironed office shirt with formal trousers with a tuck.
How to style your office shirts
It is a typical formal shirt that you can put on with tailored business pants and formal shoes.
The ideal way to wear it is with a blazer.
6. French Cuff Shirt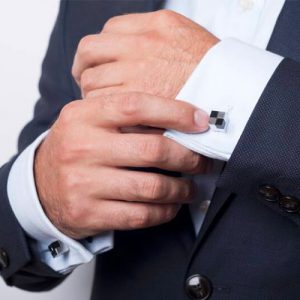 French cuff shirts are also commonly known as double cuff shirt. The design consists of two pieces of fabric separated by a seam. This type of shirt features long cuffs that are fastened together with links or buttons. The cuffs will have two folds which are connect together by either cufflinks or buttons. The unique fold in the fabric gives them a distinguished look that stands out amongst other types of shirts.
Depending on the design and pattern of your shirt you can even add embellishments as decorative stitching or contrast piping. French Cuff shirts often come in plain color bold colors such as white, black, or navy blue and seldom you can also find few intricate patterns like stripes, or checks, which enhances the overall look.
How To Style Your French Cuff Shirt
This type of shirt is usually meant to be worn with suit jackets and ties, making it an ideal choice for formal occasions such as weddings, parties, or business meetings.
If you are going for a more casual look, you can even pair up your French cuff shirt with khakis or jeans. You add a few accessories like pocket squares would do the job.
7. Epaulette Shirt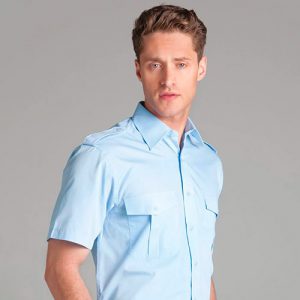 Epaulette shirts are a great addition to men's fashion, this shirt adds a touch of military-inspired style to both dress and casual shirts. Epaulette shirt is a type of shirt that features shoulder straps or epaulette sewn onto both shoulders. Some epaulettes may be purely decorative, while others may have functional uses, such as holding the straps of a backpack in place or providing additional grip for carrying a heavy load.
Epaulette shirts can come in a variety of styles, from classic button-down dress shirts to more casual short-sleeve shirts, and are made from a variety of fabrics, including cotton, linen, and synthetic blends. Epaulette shirts can be worn both casually and formally depending on the occasion.
How To Style Your Epaulette Shirt
For a more relaxed look, choose a short-sleeved or long-sleeved epaulette shirt and pair it with jeans, khakis, or shorts, and opt for fabric or metal epaulettes that are more casual in style.
Epaulette shirts also work well as a layering piece. Wear a long-sleeved shirt under a sweater or blazer, and allow the epaulettes to peek out from under the sleeves for a sophisticated look.
Types of Shirts for PartyWear
1. Baseball shirt
Baseball shirts are short sleeve, button-up shirts made of breathable polyester material that come in limited colors option and styles. It is even called a jersey that represents baseball sports. It is completely informal, sporty wear.
Usually, the back of the baseball shirts is blank, while the chest of the jerseys is embroidered with logos, designs, and patterns. These shirts typically come in white color with dark red stripes or blue stripes and some designs usually have buttons at the front along the length of the garment.
How to style your baseball shirt
You can wear a baseball jersey in a variety of ways, whether you choose denim shorts and sneakers with jeans, or biker shorts with flats.
2. Henley shirt
Henley shirts are collarless and a kind of t-shirt with few buttons at the front side. It is available in long and short sleeves. The long-sleeved versions resemble a sweater with a narrow buttoning V-neck, while the short-sleeved ones resemble a polo shirt without the turndown collar.
Henley's are typically made of cotton or a cotton/synthetic blend, which makes them both affordable and low-maintenance. The colour options and material combinations add to the overall versatility of your wardrobe without breaking the bank.
How to style your Henley shirt
It can be worn with a black leather jacket with a charcoal Henley.
Layer a sportscoat over a sleek black Henley if you want to look more formal. By using this excellent substitute, you can achieve the same business-casual vibe as a button-down collared shirt.
3. Tuxedo shirt
Here is the dress shirt for an elite look that is known for its comfy, soft, luxury fabrics, with distinct collar styles and studs that are carefully placed. The shirt's placket is a fabric strip with buttonholes and buttons running down the center of the Tuxedo is the main element of this shirt.
The majority of Tuxedo shirt designs feature an easily-removable button strip. Consequently, the top four buttons may be removed and replaced with studs. The studs enhance the overall aesthetic and aid in achieving a polished, formal appearance, much like cuff links.
Tuxedo shirts are the ones that are specifically meant to be worn with a tux. It is predominantly worn at weddings by grooms but it can also be worn at high-rise parties, exclusive business meetings, and more such events.
Tuxedo's collar is the key differentiator that makes it special compared to other shirts in the market. It is recommended to choose a classy semi-spread for the collar of your tuxedo shirt.
How to style your Tuxedo shirt
Tuxedo shirts can be worn with blazers with tailored trousers.
Since this shirt majorly comes in two colors, white and black, you can even wear a bow or a tie that enhances your overall look.
4. Mandarin collar shirt
Originated in Asia, the collar of a Mandarin is what differentiates it from other ordinary shirts in the market. The Mandarin collar rises a few millimeters above the neckline and is an unfurled, stand-up collar. At the front center, the collar's borders either barely touch or slightly overlap.
It is perfect summer wear shirt because of its breathable cotton material and lower thread count. It is available in various color to choose from and usually comes full sleeve.
How to style your Mandarin Collar Shirt
You can wear this shirt with a jacket or a blazer. Though it can't be worn with a tie; you can pair it up with dressy trousers.
It can even work with chinos, jeans with a matching pair of derby shoes underneath a jumper, and worn with shorts on beaches and resorts.
5. Aloha shirt
Considering a trip to the beach or a resort getaway? Then you must have Aloha shirts in your collection. Aloha shirts typically come in a variety of patterns with bold floral or leaf patterns, and each one is distinctive in its own way.
These shirts were originally worn by the people of Hawaii and were popularly called Hawaiian shirts. These shirts were previously made of cotton and silk, and they usually had short sleeves. But in the present, one can select from a vast array of textile possibilities, including cotton, synthetic fabrics, silk, and much more, depending on their preferences.
How to style your aloha shirt
Most often, the Aloha shirt is worn untucked, especially when paired with shorts, casual pants, or a bathing suit.
It goes exceptionally well with classic denim and linen. Aloha shirts can be worn tucked in for a more polished summer appearance, ideally with linen, cotton, or casual suiting.
6. Tunic shirt
Generally, the tunic is a loose-fitting shirt that has the appearance of a long shirt. The tunic often has a V-neck and is made of fabrics like wool and linen. Tunic shirts comes in various forms like tunic long shirt, tunic t-shirt, traditional tunic which resembles a kurta, kaftan tunic with embroidery work, suit jacket style tunic, and boho look tunic with heavy embroidery on the neck and sleeve edges.
How to style your tunic shirt
The specialty of a tunic lies in its versatility and functionality. Tunics are usually worn untucked with a Tailored Track Pant or jeans.
You can even pair up a tunic with shoes and biker shorts for casual look.
7. Grandad shirt
Grandad or Grandfather shirt is a long sleeve brushed cotton band collared shirt. These shirts are usually collarless and available in various colors with different patterns, usually worn as pajamas or nightshirts. Besides that, you'll also notice the front buttons are organized in a row unlike any other shirts.
Granddad shirts contain a lot of buttons one shirt may have up to 15 of them. Typically, these shirts don't have pockets and can be found in various fabrics like linen, cotton, wool, flannel, etc.
How to style your grandad shirt
For a pleasant, casual look, try wearing your grandad's shirt with black jeans and a blazer.
Pair the shirt with a suit and smart oxford shoes for a formal look. This will give you a clean, formal look.
8. Western shirt
What differentiates western shirts from normal shirts is the signature pointed yokes on the front and back, and long tails. It usually features with dual chest pocket with pointed flaps, pearl snap closure down the front placket, and pearl snapped cuffs. It even has multiple snap button closure and the sleeve placket are the other few thighs that make the western shirt different.
Typically, western shirts were usually available in denim fabric with a plain texture with soft collars. Over time, there have been more material alternatives to choose from like, cotton, linen, polyester, and cotton blends.
How to style your western shirt
Usually, western shirts are worn with jeans paired with boots.
9. Checkered Shirt
This is the one common shirt type that you can find in all men's closet irrespective of age and size. You can find various checkered shirts such as gingham checks, madras checks, tartan plaid checks, shepherd's checks, and a lot more. These types differ in terms of the size and style of the checks including big window-pane checks and small, detailed checks, etc.
You can find checkered shits in various color options with different fabrics and sleeve types. The checkered patterns can be found in various types of shirts such as, formal, causal, flannel, linen, business.
How to style your checkered shirts
Wearing jeans with a checked shirt is the most classic look. Instead of tuck in, wear your shirt outside of your jeans and combine it with slim, light, or dark denim jeans.
If you want to go for an extra-casual style, you may add a cap to this outfit. It looks great with shoes or boots.
Another way to wear a checkered shirt is, you can wear it under a jacket, ensure that the shirt is not tucked in and that the coat is just partially buttoned.
10. Silk Shirt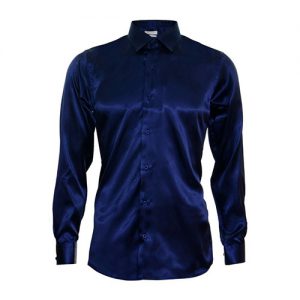 Silk Shirts are considered one of the most comfortable and breathable garments and generally feature point collars and deep button cuffs. Moreover, silk shirts are like any other button-up shirt but the only difference is the distinct fabric which is smooth to the touch, with soft and waxy feelings that makes it stand out from other Silk shirts. It can be worn on any occasion, and come in both short and long sleeves.
The natural temperature-regulating properties make silk shirts suitable for all climates and for all seasons. It keeps you warm and cozy in winter and gives a comfortably cooling effect if you wear it during summer. The thing that makes silk shirts special and adorned by others is their natural lustrous shine, strength, and durability.
Usually, these shirts fall under luxury due to their cost to produce, the materials that offer a soft feel, and elegance of appearance. They come in various color options to choose from and are available in different sizes to suit all age groups. You can get your hands on your favorite color Silk shirt from multiple e-commerce platforms like Amazon, Flipkart, Myntra, Limeroad, etc.
How To Style Your Silk Shirt
The best way to wear your silk shirt is to tuck it into a pair of tailored trousers with a pair of formal shoes to create an elegant, classy look.
The shiny texture levels up any outfit, which means you can wear it in shorts, denim, or even track pants for an easy go-to summer look.
Shirt Latest Trends
In the world of fashion, new trends are constantly emerging. You can often locate the newest fashion trend on the market. Hence, if you are a fashion freak, it's cool to keep up with the latest trends.
Typically, the market for women's clothing is larger than that for men's clothing. Men's fashion is rather delicate because of the limited resources and options available. In order to avoid messing it up, you need to know what fits your physique well and what doesn't. Therefore, here we have brought new, up-to-date shirt trends for your guidance and better understanding. These trends will enable you to keep up with the most recent trends in clothing. A quick read, please?
Denim double-down – The full denim outfit for both top wear and bottom wear is the dominating trend in the market. Denim double-down trends come with Denim bucket hats, frayed hems, oversized shirts, and baggy jeans.
Classic tie– Tie has been the most important part of men's fashion. Whether for a formal or informal event, with or without a blazer tie goes well with every outfit. The classic tie trend actually wearing a tie with a more casual outfit like jeans and a leather jacket
Sheer tops – The fabric used to make sheer tops is transparent, allowing people to view some skin but not the entirety. Sheer tops have long been a fashion favorite. They are able to be modest and alluring at the same time, which makes them seem to never go out of style. Hence it has reentered the market as the latest trend. To style your sheer top you can wear it over a white tank with joggers and sneakers to complete the look. You can even be paired up with blazer and formal trousers.
Patterned sets – Patterns are such designs that help to achieve a significant distinct look with minimal effort. Patterns come in various forms and types. And its versatile nature makes it suitable for both formal and informal wear. It looks great when worn with tight jeans with boots or sneakers.
Anti-fit –Something that doesn't fit! In other words, baggy oversized and comfy outfits for a more relaxed feeling.
Androgynous fashion –This is something that can be worn by both males and females making it a genderless and unisex outfit. You might have seen girls wearing men's t-shirts so now no disappointment for men, hence the arrival of androgynous fashion will let both men and women wear the same outfit.
Conclusion
Men's fashion field may be limited but there is a lot more to explore and to experiment with. Especially in shirts, mentioned above there are ample variables that one can try and choose the best fit. We are expecting that, you will find this content useful and we hope that it helps you to find your favorite shirt. We always appreciate your thoughts and feedback, so feel free to write your opinion about this content.
FAQs
1. What type of shirts are formal?
Among the shirts that are regarded as formal include button-downs, button-ups, dress shirts, Flannel, office, chambray, and grandad shirts.
2. What are the different types of shirt fits?
There are a wide variety of shirts that are available that suit and fit differently to each body type some of the shirt fits are, skinny fit, slim fit, modern fit, classic fit, and tailored fit, etc.
3. What is the difference between casual and formal shirts?
The basic difference you can find Casual shirts are shorter and trimmed to provide a little more space, while formal shirts are typically quite fitted and have long tails. Moreover, casual shirts are everyday wear, but formal shirts are office wear and suitable for formal events.
4. Do checkered shirts come in formal?
Yes! Check shirts comes in various forms such as window-pane checks, small, detailed checks, graph checks, and more. Hence these shirts are formal wear. You can wear them under a blazer paired with formal shoes or loafers to complete your formal look.