Ask a couple of women what is their underwear preference, and you will get multiple answers. Say, if a G-string is one's go-to, it can be mere torture to another.  But with underthings being one of the essential items in your top drawer, it's okay to be a bit picky regarding style, comfort, and fabric.
And we know with too many options available, it might get exhausting to choose the perfect one. But why just pick one? You have this article below, where we have talked about different types of women's underwear just to keep your options open. And with many leading underwear brands, you can make more smart choices in terms of your preference. So, go ahead, girl, and get some great insights into various bootylicious underwear you are still clueless about.
25 Types Underwear for Women
To help you make the right choice, we have made a list of different types of women's panties for comfort and style. So, keep scrolling to learn more about undies.
1. Boyshorts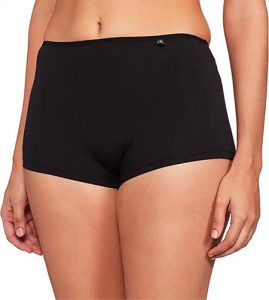 Inspired by men's boxing ring shorts, Boyshorts are nothing but a variation of boxers. Whether you are looking for a full-coverage panty or something for your regular workout session, Boyshorts are a must-have garment in your underwear collection.
These are extremely comfortable and cover more of your butt as compared to other types of ladies' underwear. And when it comes to underwear that can give you a new lift, Clovia's collection is just unmatchable. So, if you want to purchase colorful and bright boyshorts, you can use Clovia's coupon codes for a budget-friendly purchase.
Key Features:
Offers full coverage and keeps you cozy.
Perfectly fits around the hips.
Goes Best With – It could be worn under trousers or just as loungewear paired with a camisole.
2. G-string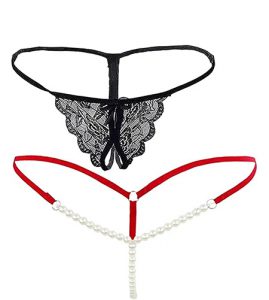 Light as a feather, G-strings have become everyday wear for many women. These panties are found flossing the buttcheeks of women who are finding ways to avoid those panty lines. This delicate piece of panty covers the front in a triangle shape and narrows to a thin strip at the back.
If you compare G-strings with thongs, the former is stringier and makes you feel like you are going commando. So, if you want to feel sexy and powerful in your little black dress, the G-string has to be in your staple underwear collection.
Key Features:
The little fabric in a G-string prevents causing wedgies.
Displays the natural shape of the buttocks in a sexy way.
Goes Best With – Less exposing underwear, G-string can be worn with a low-rise bottom or a mini dress made from a light fabric.
3. Shaping/Control Brief Panties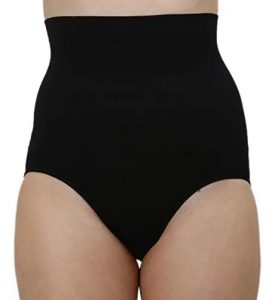 Made from stretchy materials, shaping panties are specially designed to let you wear your sexy bodycon dress by flattening your waist and hips.
The most popular shaping underwear are control briefs. These types of ladies' underwear are mostly found in nude, black, and white colors. And you will find these panties in various sizes because not only does a plus size lady need body figuration but there are slim girls too who feel their body is not quite proportionate.
Key Features:
Available in different styles and control levels.
Perfect underwear to sculpt your figure by a few inches.
Goes Best With – You can wear the absolutely comfortable shaping panties under a fitting gown or a bodycon dress.
4. Brazilian Back Panty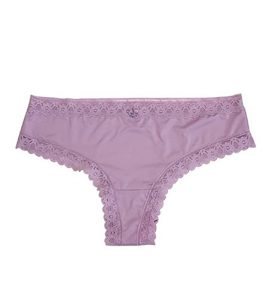 If sexy and comfortable is your underwear choice, then Brazilian Back panties are for you. Also known as cheeksters, these types of briefs for ladies are the mixed version of thongs and regular panties.
A Brazilian panty will keep your groin and hip completely covered while exposing the lower part of your cheeks. This underwear is great if you are looking for something that can be invisible under any fitted clothing.
Key Features:
Absolutely invisible under fitted clothing.
Offers medium coverage and is perfect for all-day comfort.
Goes Best With – Made from light fabric, Brazilian back panties can be worn under tight A-line skirts or jeggings.
5. Flutter Panty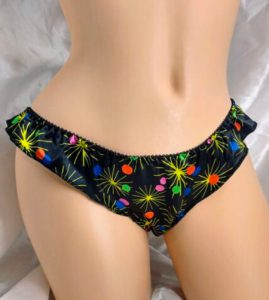 The ruffle design of flutter panty sets it out from other types of female underwear. These high-waist panties with flirty cuts on the side and cheeky coverage can be your not-so-secret weapon on the bed. When it comes to fun colors and prints, then these high-waist panties should be your ideal pick.
Also, flutter panties can give you the best feeling if you are looking for something on the ultra-comfy side. And if you want to make a complete look with your pretty flutter panty, you can pick some stylish bras and bralettes from renowned bra brands available online.
Key Features:
Comes with adjustable straps that are comfortable on the waist.
Flutter panties are mostly available in satin material.
Goes Best With – Flutter panties can be your most comfortable loungewear.
6. French Cut Panties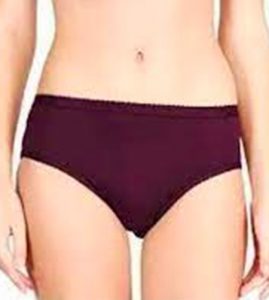 Inspired by the 80s style, the French cut panties are incredibly comfortable and offer maximum coverage. These are also called high-cut panties as they come with a high cut on the leg holes.
And the best thing about these panties is that they come up on the hips in a sexy way with those high-leg openings. So, if you want to feel that eternal touch, you can make the right choice by purchasing a French cut panty.
Key Features:
Perfect underwear that won't show a panty line.
Extremely comfortable and attractive to look at.
Goes Best With: Absolutely perfect to go with your high-waist jeans or a skirt.
7. Seamless Panties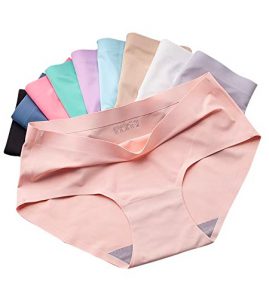 If you are worried about those panty lines under the fitted bottoms, then, girl, you need to take a chill pill. Because out of plenty of underwear choices, there's something called seamless panties.
These lightweight panties come with invisible stitches and stay close to your skin, letting you wear any outfit of your choice. But before finalizing your purchase, please make sure to look for high-quality seamless panties that would remain chafe-free. And if you want to get quality with affordability, then you can use Shyaway coupon codes and get some of the best options for seamless panties.
Key Features:
Makes sure to wick sweat from your skin.
Made from synthetic fabrics such as nylon or spandex.
Goes Best With – The lightweight seamless panties can go best with white jeans, culottes, or any light-color dresses.
8. Crotchless Panties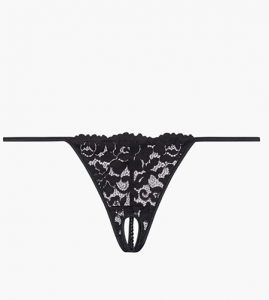 It was the 1990s when crotchless panties became extremely popular from the well-liked show, "SATD." And from then, these panties have become a desirable choice for ladies to add that extra spice for a hot intimate session with their boo.
A crotchless panty has a small opening in the middle of the crotch area, which makes it the best item for sexual relish. You may come across different types of crotchless panties, such as an open crotch, crotch zipper, lace crotchless panties, etc.
Key Features:
A popular choice to feel hot and confident.
Absolutely breathable and easy to access.
Goes Best With – This open-crotch lingerie is perfect to go with a lace bralette during your bedroom romance.
9. Maternity Panties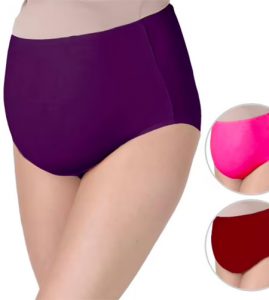 Pregnancy comes with mixed emotions of happiness and physical discomfort. And with your body going through different changes, there's one thing you need to be very particular about, which is a breathable maternity panty.
By keeping a pregnant body in mind, maternity panties are designed to fit a grown belly and to allow comfortable movement and stretching. So, if you want to enjoy your pregnancy days with great comfort, maternity panties must be in your closet.
Key Features:
Helps reduce too much pressure on the pelvic muscles.
Could be stretched easily to give you supreme comfort.
Goes Best With – You can wear your maternity panty under any fashionable outfit to walk with sheer comfort.
10. Sheer Panties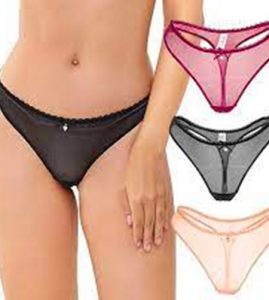 Hey, did you see Kate Moss rocking a sheer black panty with that backless transparent gown? Oh boy! The model literally bought a different look to that see-through dress.
Taking this confidence ahead, if you too wish to get a little wild with your underwear choice, you can try a sheer lacy panty with your see-through gown that's still inside the closet. And that attractive look of these smooth textured panties is ruling every woman's underwear closet.
Key Features:
Made from soft material that hardly feels like anything to the skin.
Usually found in fabrics like silk, satin, net, or nylon.
Goes Best With – Sheer panties are the best to go with a transparent one-piece or a thin fabric bottom.
11. Strapless/Stick-on Panties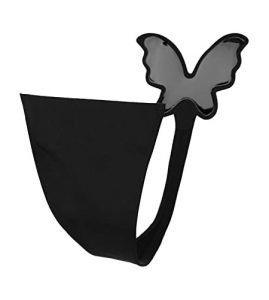 Are you still wearing those G-strings to avoid bulges in your bodycon dress? If this is so, then, girl, you still need to catch up to the trend. So, just to make your life easier, there's something more practical and easy-going than a G-string or a seamless panty, and it's nothing but our very favorite, strapless panty. And you will mostly find strapless panties in cat or heart shapes.
This stick-on panty is self-adhesive and washable with a soft silicone gel applied on the top and back of the panty to stay for a long time without any discomfort.
Key Features:
Absolutely self-adhesive in nature.
Made from a human-safe polymer that can stay all day long.
Goes Best With – You can wear a strapless panty with tight slacks or a transparent gown from the sides.
12. Slip Shorts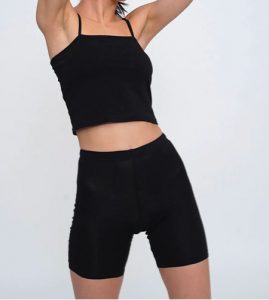 If you are looking for underwear on a more versatile side, then slip shorts can work as a charm for you. Made from nylon material, this underwear is stretchy and smooth enough to give you feather-touch comfort.
Usually, slips shorts are available in colors like beige, black, or white that would be invisible under your dress. And the best time to wear this moisture-wrecking underwear is when your thighs feel sticky during those hot summer days.
Key Features:
Everyday underwear with a comfy feel.
Invisible enough to smooth those panty lines.
Goes Best With – The slip shorts are perfect to be worn under your flowy or an A-line skirt.
13. Cheeky Panties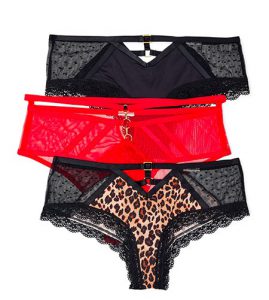 There's no better place than a beach to flaunt your tushies in hot underwear. And when we say hot, cheeky panties are what we are hinting at.
Unlike your normal underwear, cheekies are designed to expose more of the lower butt but anyways give maximum coverage on the front. Be it sheer or lacy, you can get cheekies in different fabrics as per your taste. So, if you have a great ass, then why not show it off with cheekies.
Key Features:
Keeps your bum exposed with optimum front coverage.
Certainly, flattering for any body shape.
Goes Best With – You can pair a pretty bralette swimsuit top with a cheeky panty for a perfect beach look.
14. Hipster

With G-strings and thongs coming into the picture, hipsters are seen losing their charm from women's lingerie collections. But there are many young girls who still prefer hipster panties over other types because of their full coverage and high-waist design.
Not only this, but with the ever-rising competition in the underwear variety, the traditional high-waist hipster has also evolved into different styles like panty-line-free and low-rise ones. Still, if you need more variations in these panties, you can pick a French-cut hipster, full briefs, or control briefs as per your outfit.
Key Features:
They are designed to enhance your curves and make you look slimmer.
They are made from breathable and moisture-wicking fabric.
Goes Best With – Whether you are wearing low-rise jeans, shorts, or a saree, hipsters are perfect for giving you that utmost comfort.
15. Thong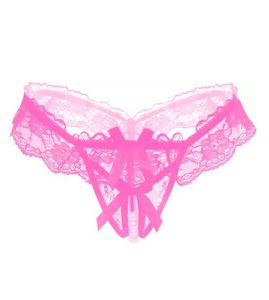 Out of different types of women's panties, a thong is one such undergarment that's currently ruling the lingerie collection of most women.
Thongs give little to no coverage to your cheeks but have more material for the front. Made from soft fabrics, thongs are lightweight underwear specially designed to make those panty lines invisible. Thanks to thongs!! Wearing fitted outfits with super confidence has never been so stress-free.
Key Features:
Low-waist panties that can go with any type of bottoms.
Lightweight underwear made from breathable materials.
Goes Best With – Thong can be your ideal choice for wearing under your silk gown or a bodycon dress.
16. Briefs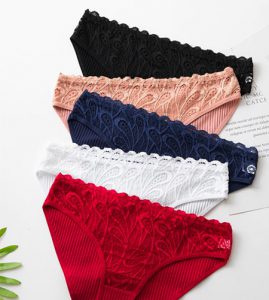 Briefs are the most classic underwear type that women have been using for ages. The kind of support and comfort these panties offer is just incomparable.
These panties are designed using a good amount of fabric to give full coverage to the front and back of your bottoms. You can choose from two types of briefs:
High-rise briefs – These types of briefs act just like tummy tuckers as they cover your navel. But the good thing is that these are lightweight and expose some of your lower buttocks.
Low-rise briefs – If you are looking for undies that won't suffocate your tummy, then low-rise briefs are the absolute best. These undies can be your go-to choose if you are planning to wear low-waist jeans. Because low-rise briefs are designed to sit perfectly below the waist.
Key Features:
A comfortable choice to give your bottom full coverage.
Helps to keep everything in place.
Goes Best With – Low-rise briefs are usually good to go with low-waist jeans, and if you want to wear a long skirt, or something casual, you can choose high-rise briefs.
17. Tanga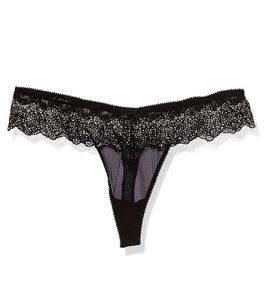 Inspired by the Brazilian style, Tanga panties are similar to thongs and briefs as well. If you look for high-cut tanga underwear, it will look similar to a thong, whereas one with maximum coverage looks more like a brief.
Also, these types of panties can underline your curvy bottoms very appropriately. So, if you want something modest yet alluring, you can go with minimal-coverage tanga underwear.
Key Features:
Usually made from cotton gusset fabric.
Generally, more revealing at the back.
Goes Best With – You can put on a Tanga panty with your skin-hugging yoga pants or jersey material shorts with no bulges on the sides.
18. Bikini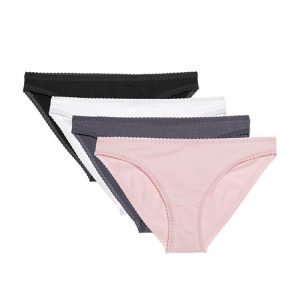 Bikinis are a popular type of women's underwear that look somewhat similar to casual briefs but offer slightly less coverage. Just like your most-loved two-piece swimsuit, the bikini panty is designed with a lower rise on the hip and shows a little bit of your abdomen.
If you are a fan of low-waist outfits and are looking for panties that could sit perfectly on the hip, your ultimate option can be nothing but bikini panties.
 Key Features:
Revealing panties, all about comfort and sensuality.
Absolutely perfect for A-shape butts.
Goes Best With: Bikini panties are perfect to wear with low-rise bottoms, jeans, skirts, or with any attire in your wardrobe.
19. High-Waisted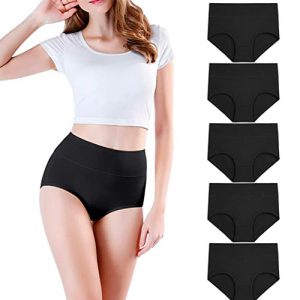 Also known as granny panties, high-waisted panties are the ones that provide generous coverage on the rear and help you avoid any kind of wedgie issue. These full-coverage panties are absolutely breathable and comes with a flattering fit.
These stretchy panties come in different curve-enhancing styles and offer the right amount of tummy control. Thus, if you are looking for high-rise underwear that could also work as a shapewear, do add high-waisted panties to your lingerie collection.
Key Features:
Ultimate panty choice to experience tummy-smoothening coverage whenever you feel bloated.
Keeps your tummy tucked in to give you a refined silhouette.
Goes Best With: High-waisted panties is good to go with your Body-hugging or fitted outfit as these are infinitely stylable.
20. C-String
The C-string is a kind of women's underwear consisting of a little strip of cloth covering the front part of the genitals and a thin band of fabric resting between the buttocks. C-string panties, a kind of thong, are ideal for ladies who want to wear tight attire without worrying about the panty line showing.
C-string panties come in a variety of styles, including lace, cotton, and invisible. You no longer need to be concerned about wearing a tight-fitting garment since the tiniest innerwear of all, the C-string panties, are here to save the day.
 Key Features:
Helps to eliminate the visibility of panty lines.
Ensures to give you an adequate covering without the panty line.
Goes best with: The no-show C-String underwear can be best to wear under a sheer or cutout dress.
21. Shapewear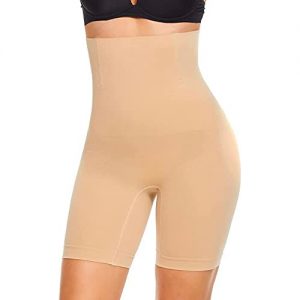 We all know that every woman's body is unique in terms of shape and size. And it's true that each of you wants to be in great form. There is a desirable innerwear that can cure this problem and make you seem in form. Yes, we are discussing shapewear. The shapewear is a type of ladies' innerwear that helps to make you look slim with ultimate comfort. There are different types of shapewears such as Camisole shapers, tummy tuckers, bodysuit, open-bust shaper, etc., to boost your body shape.
There are many online lingerie stores where you will find the best quality shapewear that can give an appealing look to your silhouette. And when the talk is about innerwear, how can you miss out on Zivame? This store has a variety of shapewear to best suit your taste and size. You can even use Zivame promotional codes to get the best discounts on your next purchase.
Key features:
Designed to improve the fit of your garments and raise your confidence.
A multifunctional innerwear that gives support to your thighs, tummy, hips, or bum.
Goes best with: A proper-fitting piece of shapewear can be paired with pretty much anything from a fitted bodycon dress to a mini skirt or shorts.
22. Gartini or Garter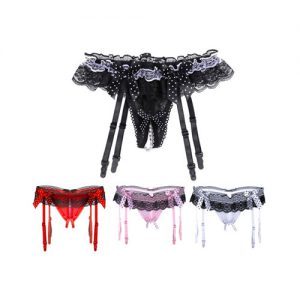 If you want to slip into a desirable caged number, the Gartini panties has to be in your lingerie collection. With multiple waistband straps and boning support, gartini panties sit higher on the hips, has lacy front and backside panels, and includes adjustable garter straps.
Garter or Gartini panties are especially designed to provide comfort, support, and a flattering fit. Made from breathable fabrics, these panties come in a wide range of sizes and colors, making them a versatile and essential item in every woman's lingerie collection.
Key features:
Ideal for woman of all sizes and ages.
Available in different styles to best fit the personal preferences of every woman.
Goes best with: Gartini panties are designed in such a way that you do not have to wear any extra clothing on top of it. These desirable panties can best be worn during your intimate night.
23. Post Pregnancy Panties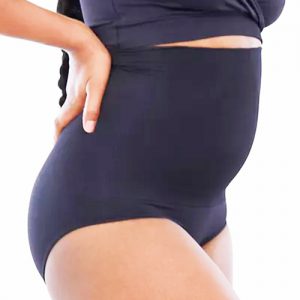 When it comes to purchasing underwear post pregnancy, comfort and security is the top priority for any woman. And when the talk is about comfortable underpants, post pregnancy panties are the best one can choose. These panties are stretchy and gives a perfect fit.
Say, for instance, you are a C-section mom and don't want to wear a bikini or thongs for some time. In this case, only post-pregnancy panties can be your big-time savior. From disposable briefs to light compression underwear, you will find plenty options in post-pregnancy underpants. And to your surprise, these underwear are available in different colors and designs as well.
 Key Features:
Highly absorbent pants to fit pads.
Extremely comfy and stretchy to give you the best feel.
Goes best with: A high-waist post-pregnancy panty can literally go best with any attire from a floral dress to denim jeans and crop top.
24. Mid-Rise Panties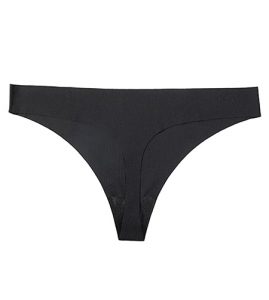 If you're looking for comfort and extra coverage, mid-rise panties are the ideal choice. These flattering undershorts provide more than just a stylish silhouette and can also shape your body with their elastic waistband. These undies will help flaunt those curves while giving additional support where it's needed most, I.e., around fuller hips or tummies.
Majority women are fond of mid-rise panties to be the most comfortable option as they are comfortable for both everyday wear and on special occasions. And the availability of these underwear in a variety of colors, fabrics, styles, and sizes is what makes them an excellent option for anyone.
Key Features:
Provides moderate coverage and support for a wide range of body types.
Designed with stretch fabrics that move with you throughout the day, still providing support and coverage.
Goes best with: You can pair your mid-size panty with an on-trend high-waisted skirt or pants that hug you in all the right places. In any case, make sure whatever you wear leaves a lasting impression of confidence along with comfort.
25. Strappy Crotchless Panty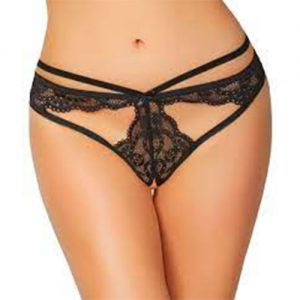 A strappy crotchless panty is a type of lingerie item designed to be both seductive and comfortable. Rather than being an all-in-one piece of underwear, this style features two separate pieces, a waistband, and a thong or G-string, connected through multiple straps. The crotchless feature of the panty provides easy access while still providing enough coverage.
If you are wanting to spice up your lingerie collection in an edgy yet classy way, then this type of women's underwear will be a perfect pick. It can also be used as part of fetish wear, allowing you to explore your wilder side in private with your partner. Whether you're looking for something comfortable and functional or something daring and seductive, strappy crotchless panties offer a little bit of everything.
Key Features:
The straps of this undie can be adjustable for perfect fit and can be embellished with eye-catching accents as well.
With clever cut-outs in strategic areas, they create a unique silhouette that can accentuate your body curves perfectly.
Goes Best With: To make the most of this daring wardrobe piece, it is essential to create a balanced outfit. To get a well-coordinated ensemble, you can put on your soft jersey midi dress in a classic black or grey hue and wear your strappy crotchless panty under it.
Rules To Follow When Underwear Shopping
Opt for the correct type:you are the best judge of your body. So, you must know which type of underwear suits your body shape because some options and styles suit different body types. And it's possible if a particular type suits your buttocks, it can look dissatisfying on someone else.
Choose the right material: Some underwear materials can irritate the skin, leading to serious discomfort the whole day. So, it's good to have in-depth knowledge of which material can suit your skin. But anyways, you are advised to buy underwear only from well-renowned brands.
Pick the right size: maximum discomfort is caused if you wear the wrong underwear or bra. And this size issue can also happen with a here and there of a little inch. So, before going underwear shopping, make sure to measure your bust, hips, and tummy.
Keenly examine the seams & stitching: you need to be very picky about the seams on your panty because if that's not done right, the chaffing issue can arrive. Say, if you pulled on your underwear, and the seam gets ripped, it means that the stitching was too tight. So, whenever you go underwear shopping, take your time to examine these little things that can make a big difference.
Conclusion
We live in an era where fashion is evolving quickly, including the essential piece of women's clothing, i.e., underwear. And with great innovation in the category of women's innerwear, you have plenty of options to choose from some of the top underwear brands. But again, being spoiled for choice doesn't mean you get carefree and pick anything without considering the key features and what the undies offer.
Also, we know picking a few from plenty of options can fill you with too much dread. So, we hope the article above helps you make the correct choice, as it covers a list of different types of women's underwear and some quick tips for choosing a particular outfit.
FAQs
1. What are some popular Indian underwear brands for women?
Some premium picks amongst the many women's underwear brands in India are Jockey, Clovia, Zivame, Enamor, and others.
2. Which type of underwear is mostly popular amongst ladies?
With some in-depth research, it is concluded that most women feel more comfortable in hipsters and briefs.
3. Is it healthy not to wear underwear at night?
Yes. When it comes to vaginal health, you are advised not to wear underwear during the night because your vagina is enclosed the whole day with your underwear, not allowing any air circulation. Because of this, the moisture collected in your genitals will give growth to bacteria and yeast, thereby leading to severe vaginal problems.
4. Which type of underwear can be best to swim in?
If you are going swimming, the swimsuit is any day a better option. But if you want something sensual, supportive, and an undie that could dry quickly, seamless underwear can be a perfect choice.
5. Is it fine to wear tight underwear?
No. When purchasing underwear, you have to be very particular about the fitting. If you are unbothered and keep wearing tight panties, you may go through severe nerve irritation, which will lead to vaginal pain.