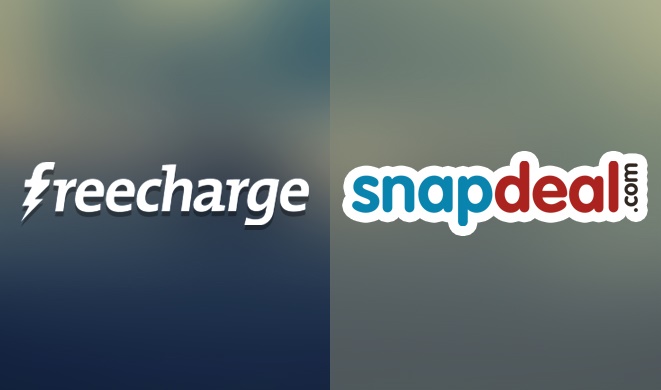 Snapdeal – Freecharge
E-commerce giant Snapdeal is in the process of finalizing the discussion to acquire online recharge and coupons site Freecharge, as per sources who have confirmed this to Media Nama.  The deal, that was initially published by the Economic Times is poised to be valued at about $450 million (Rs.2800 Crore). This will be the biggest deal in the Indian Consumer Internet Industry masking Flipkart and Myntra acquisition that happened at $330 Million.
Freecharge, a business unit of Accelyst Solutions Pvt Ltd has a large user base and have focused on customer satisfaction, retention, easy, hassle-free and safe instant recharging process for pre-paid Mobile and DTH services.
Although neither SnapDeal nor Freecharge have made an official announcement around this, we have noticed a lot of speculations and debates around this large deal.
But what can Snapdeal gain from purchasing Freecharge?
It all boils down to three things
Increase user acquisition
Beat competition
Benefit from the Cofounding Team
According to Wikipedia and a recent article on this on Huffingtonpost, there are about 20 million users on Freecharge and looking to scale to about 40 to 60 million users. In November 2012, they claimed to be doing online recharge of INR 6 million every day which adds upto INR 2.19 billion a year.  Series A funding of about $200 million from Sequoia Capital in 2011 and Series B from Sequoia, Sofina and Runet for about $33 Million in September last year was raised. And recently the company announced another round of funding of $80 Million from Valiant Capital Management – a San Francisco based hedge fund and Hong Kong based hedge fund Tybourne Capital Management, with participation from existing investors.
On the other hand Snapdeal serves 4000 cities and townships, they have over 6000 plus brands, 4 million products listed, 500 plus categories, 20 million registered users and the numbers are growing.  A new product gets added every 30 seconds, 1 Saree, 1 mobile and 4 foot-wear sold every 2 minutes on the ginormous marketplace.
The big wants to get bigger.
Freecharge too can can benefit  and beat competitor, Paytm, who also has a substantial user base and revenue to boast of.
Flipkart who is Snapdeal's biggest competitor recently bought Adiquity, who had built an interesting advertising platform.  This will be an expensive acquisition and it is rumored that Alibaba fund-raising may be used to finance the deal. An ET Report published recently claims Alibaba may invest up to $1 Billion (INR 6200 Crore). However, Financial Express  primes this to be between $500-$700 million.
Snapdeal themselves have raised $627 Million from Softbank Group and Alibaba too has made substantial investment for a stake of 32%. As this game-play treads on, Alibaba is also an investor in the competitor Paytm.
Large Geography that it is in India, a growing user base and economy has the startups and established giants in the e-commerce industry evenly poised to take a bite of the big market pie.
We will watch out for how this will turn out to be and time will answer everything else.  Here is us wishing good-luck to all of them.