This World Hello Day, we bring you a list of top 10 movie greetings. Sometimes hilarious, sometimes over the top and at times melodramatic but one thing you can't deny is the iconic status of these dialogues! So sit back, relax and enjoy 🙂
World Hello Day
1. Gunda: Mera naam hai Ibu Hatela, Maa meri chudail ki beti, Baap mera shaintan ka chela, Khayega kela?
Along with every other character introduction in the Gunda.
2. The Princess Bride: Hello. My name is Inigo Montoya. You killed my father. Prepare to die.
3. Every Other SRK Movie (Om Shanti Om/Rab Ne Bana Di Jodi & Dil Toh Pagal Hai…):  Rahul, naam toh suna hoga!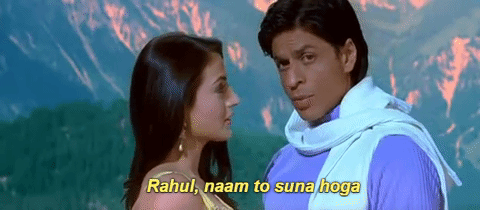 4. Scarface: Say Hello to my little friend.
5. Spaceballs: I am your father's brother's nephew's cousin's former roommate.
6. The Truman Show: Good morning, and in case I don't see ya, good afternoon, good evening, and good night!
7. Lage Raho Munna Bhai: Good morning Mumbai!
8. Big Lebowski: I am not "Mr. Lebowski". You're Mr. Lebowski. I'm the Dude. So that's what you call me. You know, that or, uh, His Dudeness, or uh, Duder, or El Duderino.
9. Shahenshah: Rishte mein toh hum tumhare baap hote hai aur naam hai Shahenshah!
and last but definitely not the least
10. Pretty Much Every James Bond Movies: The name's bond…James Bond.
Jokes aside here's to hoping all of the major world crisis can be sorted out by talking without resorting to action. Here's to a peaceful and prosperous future.
Do you agree with our top 10 movie greetings? Let us know in the comments below 🙂