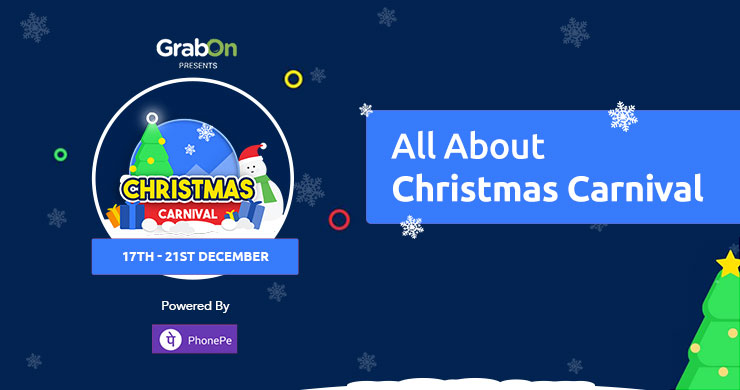 This time with Christmas around, GrabOn goes one-step further and has two major things in store for you. One, a Christmas Carnival, promising 5 days of fun loaded with fun games and prizes. Two, in the pursuit of helping the increased number of online shoppers shop better during the festive season, GrabOn has exciting prizes and exclusive cashback on Gift Cards purchased through PhonePe.
The Christmas Carnival will take place from 17th December and will run up to 21st December 2018. 
Join The Christmas Carnival And Win Interesting Prizes!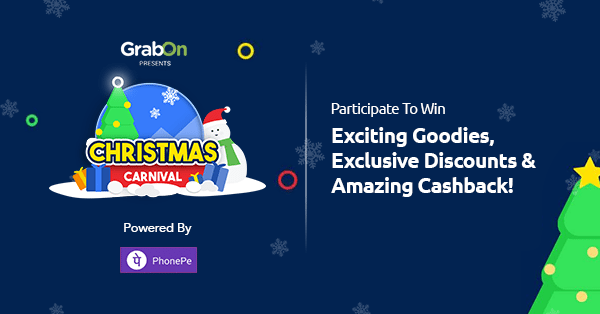 The Christmas season is here soon! To make this Christmas special and merrier, we have partnered with PhonePe, Witty Feed, Dunia Digest, Events High, and Health & Glow. Cinthol has come onboard as male grooming partners while Oye Happy is the gifting partner for the event. GrabOn is all set to offer you one of a kind gaming experience that is guaranteed to make your Christmas week joyful. In addition to that, they have exclusive PhonePe cashback on gift cards and exciting prizes to take back home.
So, What Are You Signing Up For? 
Games that will take you back to the arcade experience. Games that will fetch you prizes. Games that are absolutely fun.
So, the games lined up for the Christmas Carnival are:
Santa Mania: This is basically Whac-A-Mole where you have to tap on Santa's hat that pops up in a grid of 3×3. The more Santa hats you tap, the more points you win!
Christmas Casino: This game is all about luck. It's similar to the game 'Spin the wheel'. The machine has elements (like T-Shirt, Backpacks, etc.). You spin the wheel and if on all the three slots you get the same element, you win it.
Mega Lucky Draw: The aim is to collect as many points as you can from the Santa mania game. Top players ( high scorers) get picked on random ( on a daily basis) and are awarded with exclusive prizes and gift hampers.
What you need to do is play all these games and share the season greetings to earn points and top the leaderboard. You can play the games and engage with the interactive elements all 5 days during the Christmas Carnival to better your score and get a chance to win the grand prize.
What Is the Bounty On Offer?
We have got quite the bounty for you this Christmas.
Our partners:
Exclusive cashback from PhonePe on gift cards.
Special vouchers from Health & Glow.
Gift hampers from Oye Happy.
Male grooming hampers from Cinthol.
So, gear up for the Christmas Carnival!
Earn points, go up the leaderboard, and don't miss out this chance on bagging wonderful prizes. Already set your eyes on that 'one' prize? Play soon and take it home. :)