Jingle Bells Jingle Bells.. Jingle All Way… Oh What Fun…….Yes, Come Christmas and come all the fun that we await for the entire year. So, where are you partying this Christmas? Still looking for places?
Christmas Parties
Goa, the best Christmas-New Year Combo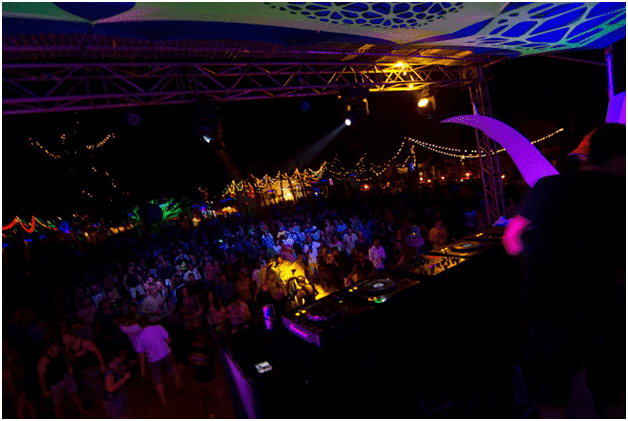 No place does Christmas and New Year better in India than Goa. It's widely referred to as the Party Capital of India and lives up to its name. But in 2020, even Goa's vibe suffered. Tourism has been low and the usually packed beaches have been graced by fewer feet. Despite that, Goa has a rocking Christmas 2020 and New Year 2021 planned for you.
You can start at Christmas Eve by attending the trance parties, techno parties or the rave parties at Goa's beaches like Vagator and Anjuna. Clubs like Café Mambo and UV Bar are particularly lively this time of the year. Places like Tito's and Thalassa are where you gorge yourself on delicious food.
You can welcome New Year by watching locals perform the 'Burning of the Old Man'. On New Year night, go to Calangute beach or Arambol beach to see fireworks colour the dark sky. When you come to Goa for Christmas or New Year, there are no restrictions on fun.
Pune, here's your Christmas Weekender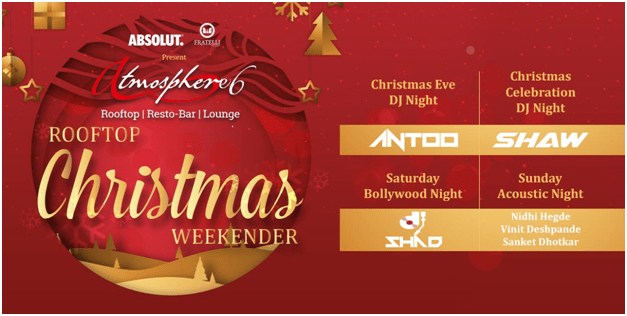 For all the Puneris, here's your Christmas weekend all packed. Atmosphere 6, a rooftop resto-bar/lounge in Pune has planned a set of events over the Christmas weekend for you to attend, all under the starry skies and over the urbane view of Pune.
Start on Christmas Eve with a DJ night, dancing to DJ Antoo's lively beats. Then, have a Christmas celebration night, with DJ Shaw on 25th December. Have a Bollywood night on Saturday the 26th with a host of Bollywood trivia and plenty of drinks. Square it all off with a soulful, acoustic Sunday night, listening to NidhiHegde, Vinit Deshpande and SanketDhotkar.
All the events start 8 pm onwards. Entry fee begins at Rs. 3,675. So, join in to Atmosphere 6's Christmas Weekender and have a blast of delicious food, a variety of music, chugs of drinks and an open, breezy view.
Delhiites, are you up for a Christmas Twist?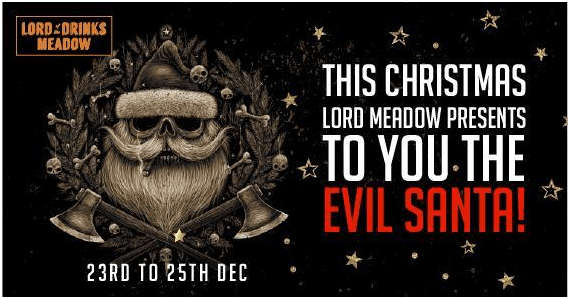 Delhi, it's time to add a Devilish twist to your Christmas. Where? At Lord Of The Drinks Meadows in HauzKhas at their Evil Santa Party. This party explores a badass theme, reflecting in the decorations of this famed bistro of New Delhi. Other than the floor-tapping beats and the scrumptious food, this party also offers fun activities for guests such as candy corner, best-dressed competition and much more. You can go inside their photobooth and frame this beautiful night for your entire life.
This Evil Santa Party can be attended from 23rd to 25th December, starting every night at 9 pm. Wearing masks is mandatory and fun is not compromised by social distancing. So, put on your party hats or evil santa masks and come for an exciting, refreshing party!
Kolkata, time to be jump on the Christmas Sleigh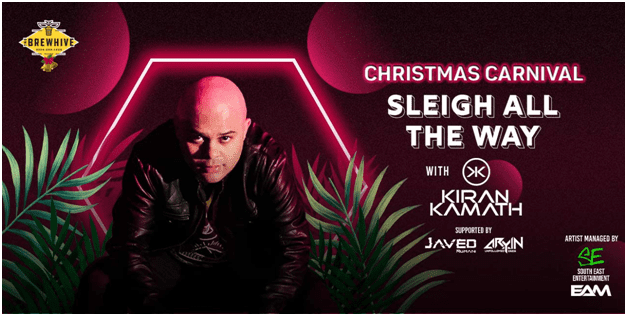 Since Christmas arrives on Friday this year, we have your whole Christmas weekend sorted. The Brewhive, one of the most popular breweries in Kolkata, is a good place to spend your Christmas partying.
Starting with Thursday the 24th, you can "Sleigh All The Way" with DJ Kiran Kamath. Dance on pumping beats and drink Christmas special cocktails, to have a memorable Christmas Eve. The next night, you amp up the party by attending "Merry Bash" by DJ Aryan, moving your feet to the happening setlist by the Unfollowed Ones. And wrap it up on Saturday the 26th with DJ Syrah at the Christmas After Party at the Brewhive. Her electrifying skills behind the console are set to put the rhythm in your moves.
All the three parties set rolling 3 pm onwards. Strict safety standards are being observed and no one is allowed to enter without a mask. Entry fee starts at Rs. 1,799. So, now that you know, mark your calendars for the biggest party weekend of the year! And then, you can take Sunday off to recover from 3 nights of mighty partying.
So, now that you know your party destinations, pack your bags (and here are some packing hacks to help you with that) and go and have the best Christmas weekend ever. Wear masks at all times and always have a hand-sanitizer with you. Travel safe, party safe, and have a merry Christmas!
RELATED BLOGS:
Top 6 Christmas Holiday Destinations in India for 2020
5 Best Travel Websites with Christmas and New Year offers!