Jingle Bells Jingle Bells.. Jingle All Way… Oh What Fun…….Yes, Come Christmas and come all the fun that we await for the entire year. So, where are you partying this Christmas? Still, looking for places?
With Omicron cases on the rise in the Indian subcontinent as well, party organizers are very concerned about lockdown impositions. However the party lineup is ready and many rooftop bars and pubs are rolling out great party adverts every day. If you decide to attend one of these, make sure that you follow the COVID protocol as the 'danger' is still out there.
Christmas Parties
Goa, the best Christmas-New Year Combo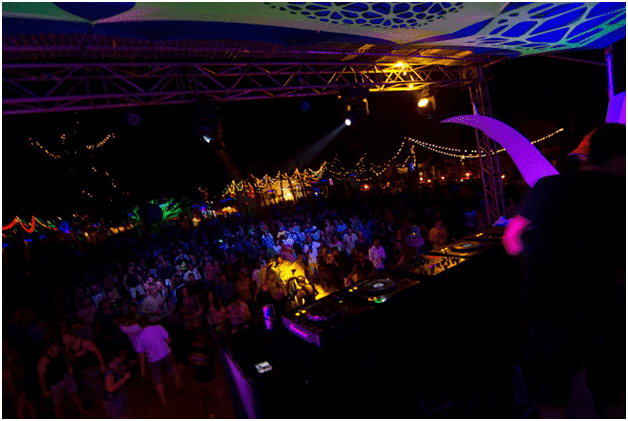 No place does Christmas and New Year better in India than Goa. It's widely referred to as the Party Capital of India and lives up to its name.
There are ample places where you can attend new year's and Christmas bashes. These include various types of trance parties, techno parties, or rave parties at Goa's beaches. Some of the popular destinations where you can get the larger-than-life experience are Vagator and Anjuna. Clubs like Café Mambo and UV Bar are particularly lively this time of the year too. Places like Tito's and Thalassa are where you gorge yourself on delicious food.
You can welcome the New Year by watching locals' performances. On New Year's night, go to a beach like Calangute beach or Arambol beach and witness fireworks colour the dark sky bright. When you come to Goa for Christmas or New Year, there are no restrictions on the fun. You can also meet up with people and go in groups to multiply the fun, and whatnot. Apart from parties, Goa also hosts some of the best musical shows in India during this season, and some local music festivals should be on your bucket list if you are looking for a refreshing time, and not a party animal.
Pune, here's your Christmas Weekender
For all the Puneris, here's your Christmas weekend all packed. Phoenix market city, one of the most happening places in Pune has planned a set of events over the Christmas weekend for you to attend, all under the starry skies of Pune.
Begin your Christmas celebrations with a DJ night and dance to the lively beats of an incredible lineup of world-class DJs. This year, Pune will host some of the best events, beginning with Saina Cathrine's popular DJ night, followed by musical performances by Kumar Sanu, Honey Singh, Zakir Hussian, Jasleen Royal, and many more.
Delhiites, are you up for a Christmas Twist?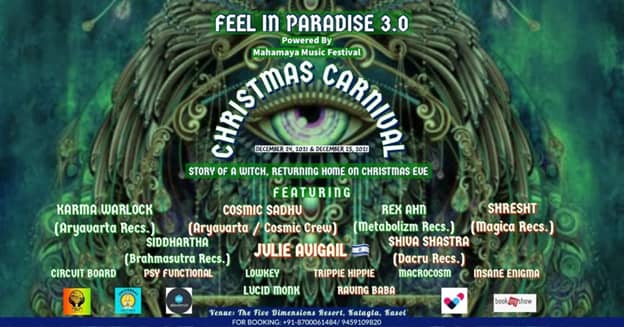 Delhi, it's time to add a Devilish twist to your Christmas.
This year, let the party begin with Hardwell's REBELS NEVER DIE, scheduled on the 11th of December in Delhi NCR. And then, Armaan Mallik is all set to steal the show on December 25th, 2022 with his charming voice. More to the list, King Rocco is said to perform live on December 18th…
Kolkata, time to be jump on the Christmas Sleigh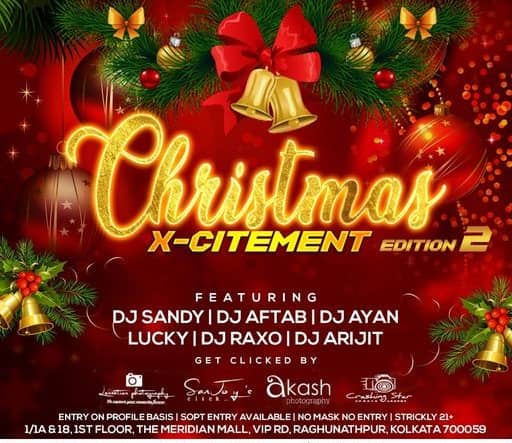 Since Christmas arrives on Sunday this year, we have your whole Christmas week sorted. The Club Barocks, one of the most popular breweries in Kolkata, is a good place to spend your Christmas partying if you want to start the celebration early. The Christmas Carnival is actually on 22nd Dec here. It's a great way to get into the Christmas mood. Starting with Saturday the 11th of December, you can have a night full of electronic music by STEVE AOKI, who'll be heading to Kolkata for the first time, bringing the much-needed TURBULENCE you need in your life, right now. Apart from this, the 'City of Joy' has a lot of other events planned for its people, including fun-filled Christmas Carols at famous churches, traditional-style parties by the Anglo-Indian communities, and much more. To be true, Kolkata must be on your list of amazing places to visit in India, especially when it comes to celebrating Christmas.
Hyderabad and Arijit this Christmas is love
When it comes to celebrating Christmas or New Year's Day, Hyderabad never fails to impress its people. Every year, many events are held with great fanfare, and the entire city is illuminated, which is a sight to behold. Arijit Singh, the King of Playback Singing, is set to perform live in the City of Pearls on December 17th, in addition to popular clubbing and pubbing activities. Aside from that, you can visit churches, attend midnight masses, and participate in festive Christmas carols.
Bangalore, when the entire city is up and dancing
If you've ever heard of Bangalore, this city does not sleep, but parties no matter what the occasion. And this Christmas, there are hundreds of events lined up to keep partying all week. You can visit this happening city to celebrate this Christmas, understand its rich cultural past, and legacy, and behold beautiful churches, with some prominent ones being The All Saints Church in Hosur, and St. Patrick's Church on Brigade Road. If you are looking for something soothing, apart from just DJing, Prateek Kuhaad is all set to entertain you like never before. Excited?
So, now that you know your party destinations, pack your bags (and here are some packing hacks to help you with that) and go and have the best Christmas weekend ever. Wear masks at all times and always have a hand-sanitizer with you. Travel safe, party safe, and have a merry Christmas!
RELATED BLOGS:
Top 6 Christmas Holiday Destinations in India for 2020
5 Best Travel Websites with Christmas and New Year offers!