We're thrilled to welcome you to the 9th edition of the much-loved Bachat Wali Diwali! This time, we're taking things up a notch with even more thrilling games and prizes that are bound to leave you in awe. Just imagine, you could walk away with giveaways worth a staggering Rs 15,00,000 – it's not a dream, it's your chance to make this Diwali truly exceptional.
But, what's the secret to winning these incredible prizes? Well, it all starts with understanding the games inside out. Before you dive in, take a moment to explore the rules and strategies. Knowledge is power, and it could be the key to your victory.
Yet, Bachat Wali Diwali is more than just winning. It's about creating cherished memories, connecting with fellow participants, and sharing the festive joy. So, join us in this extraordinary journey, play to win, and let the spirit of Diwali unite us all in celebration. This Diwali, it's not just about the prizes – it's about the shared experience that truly makes it special.
What are you waiting for? Play NOW to win big. Read up about the games, and how to play them before you begin :)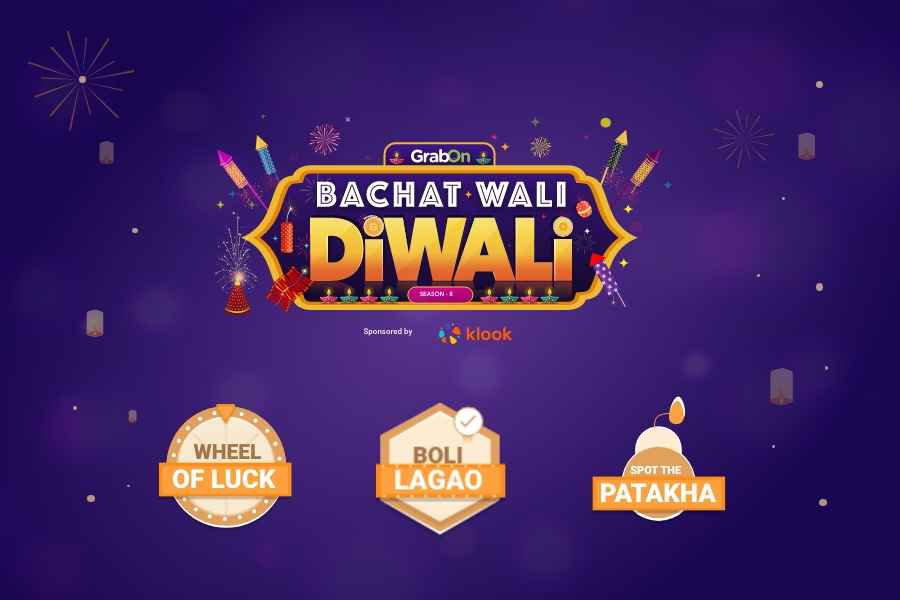 We are excited to announce our collaboration with Klook as our Bachat Wali Diwali 2023 title sponsor. Other companies that support our gifting programme include The Sleep Company, AbhiBus, Zoomin, Continental Coffee, Deconstruct, and EtchCraft. You can be rest assured to take home some of the coolest gifts, hampers, and goodies this season.
And now without further ado, let's jump directly into the Bachat Wali Diwali Season 9 games & prizes to be won.
Bachat Wali Diwali games & prizes.
This year, we've introduced some of the most addictive, and easy-to-play games that are sure to win you some rewards, prizes, and more. Do check them out, and see what's in store for you.
1. Wheel of Luck
The first of the three games is a throwback to the retro style of Spin The Wheel game. Simply hit the center button to spin the wheel and win vouchers or points. Test your luck!
How To Play
Click on the PLAY button in order to spin the wheel, and wait for the wheel to stop.
Once it stops spinning, the arrow points towards rewards, which decides your prize. It's that simple, and easy. And if the pointer stops at a Coupon, it will be shared via email.
But do make note that each player will get only three chances per day to spin the wheel, and there is no cap on the number of points a participant can score.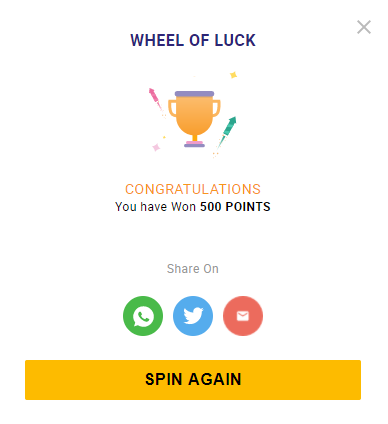 2. Spot The Pataka
A pataka will be available on the screen at stipulated times. All you have to do is spot it while it lasts and click on it for an explosion of points. The Pataka lasts for one hour twice every day through the campaign days.
Here's a hack! If you are wondering if you would be able to spot the pataka and click on it while it lasts and keep an eye on our social accounts. We post the timings of the Pataka there. Easy as a cake, but rewarding like a huge pennetta!
This season's most well-liked game, Boli Lagao, is comparable to online bidding. All you have to do is place a bid on a concealed gift, but the bid amount shouldn't exceed 2000. The contestants with the lowest bid values will be deemed the winners, and a list of the winners will be posted on our social media accounts.
The days listed below are when Boli Lagao bidding is available:
First Product: 21st October
Second Product: 22nd October
Third Product: 23rd October
So, are you excited about Bachat Wali Diwali Season 9 Games & Prizes?
Let us know in the comments below and start playing now!
You can also check out curated deals and offers that will make your Diwali a special one for you and your loved ones :)