India-Pakistan matches are captivating even for those who aren't cricket enthusiasts. Few things in life match the intensity of this cricket rivalry. Like most great rivalries, its origins lie in politics, turning each encounter into an all-out war on the field. As tensions grip these nations with a shared love for the sport, people brace themselves for innings that are guaranteed nail-biters. Let's take a retrospective glance at all the India vs Pakistan World Cup Matches thus far.
Context is crucial in understanding such rivalries. India and Pakistan haven't squared off directly since 2012, barring multi-team tournaments. During this period, Pakistan has transformed from a cricket powerhouse to a team that struggles to secure victories. India's journey has been quite the opposite, marking the golden age of Indian cricket over the past two decades. Yet, delving into the history of India-Pakistan cricket reveals iconic one-on-one clashes—Sachin Tendulkar against Shoaib Akhtar, Virender Sehwag versus Saqlain Mushtaq, and the unforgettable feat of Anil Kumble single-handedly dismantling the entire Pakistan team in 1999.
India Vs Pakistan In ICC Tournaments
India has gone up against Pakistan 7 times in the World Cup, winning all of them! In T20 World Cups, India faced Pakistan 7 times, beating them on 5 occasions, with Pakistan clinching one victory, while the other was a tie. In all these years, there have been some truly iconic matches in these World Cups.
| | | | | |
| --- | --- | --- | --- | --- |
| Tournament | Matches played | India won | Pakistan won | Draw/Tie/No result |
| World Cup | 7 | 7 | 0 | 0 |
| T20 World Cup | 7 | 5 | 1 | 1 |
| Champions Trophy | 5 | 2 | 3 | 0 |
| Total | 19 | 14 | 4 | 1 |
The RivalryÂ
| | | |
| --- | --- | --- |
| Meeting Type | First Meeting | Latest Meeting |
| Test | 16–19 October 1952 | 8–12 December 2007 |
| ODI | 1 October 1978 | 16 June 2019 |
| T20I | 14 September 2007 | 23 October 2022 |
Here are some of the most memorable matches between India and Pakistan (World Cup)
1996 WORLD CUP QUARTERFINAL
Stadium:Â M.Chinnaswamy Stadium, Bengaluru.
Result:Â India beat Pakistan by 39 runs.
India beat Pakistan in the second quarter-final of the 1996 world cup. The moment when Venkatesh Prasad took Aamer Sohail's wicket and gave him a strong send-off is still sealed in all cricket fans' minds. It was a dominating win for India but what happened a few days later, no one saw it coming.
Venkatesh Prasad and Anil Kumble took 3 wickets each while Navjot Singh Sidhu scored 115 runs off 93 balls. Ajay Jadeja's brisk 45 off 25 balls led India to victory.
2003 WORLD CUP GROUP STAGE
Stadium:Â Supersport Park, Centurion, South Africa.
Result:Â India won by 6 wickets.
Sachin Tendulkar was the Player of the Series in this World Cup, and if you remember this match, you already know why. Think about it- Wasim Akram and Shoaib Akhtar with the ball for Pakistan, Sachin and Sehwag opening for India- a battle that would have everyone licking their lips. Sachin's onslaught of Shoaib Akhtar's bowling is a treat to remember. It started right from the second over of India's chase. In the last three deliveries of that over, Tendulkar hit Akhtar for a 6,4,4. And who could forget that iconic upper-cut six that he hit off Akhtar's bowling. However, Akhtar managed to take Sachin's wicket when he was on 98.
2007 WORLD T20 FINAL
Stadium: New Wanderers Stadium, Johannesburg.
Result:Â India beat Pakistan by 5Â runs.
India became the champions in the first ever T20 World Cup tournament by beating arch-rivals Pakistan. Although India gave Pakistan a target of 158 with Gambhir scoring a crucial 75 runs off 54 balls. Despite not building any strong partnerships, Misbah-ul-Haq was keeping Pakistan's hopes alive till Indian skipper MS Dhoni did something unpredictable. Dhoni handed over the last over to Joginder Sharma who pretty much won India the cup. 6 runs to win and Misbah hits a paddle shot caught by Sreesanth and the celebrations begin!
2011 WORLD CUP SEMI-FINAL
Stadium: Punjab Cricket Association Stadium, Mohali, Chandigarh.
Result:Â India beat Pakistan by 29 runs.
Playing at home, India was one of the favourites going into ICC World Cup 2011. It was Sachin's last world cup and the pressure was on to win him the trophy. To add to that, facing Pakistan in the semi-final. India won the toss and elected to bat. The Master Blaster scored 85 runs thus securing a target of 261 for Pakistan. Wahab Riaz hurt India with his 5 wicket haul but the match was far from over. Starting out steadily with Mohammed Hafeez scoring 43 runs off 59 balls, the wickets tumbled. Despite Misbah's 56 runs, Pakistan lost the match.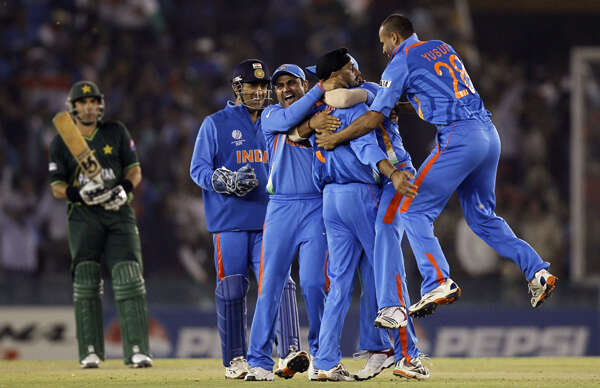 Zaheer Khan, Ashish Nehra, Munaf Patel, Harbhajan Singh and Yuvraj Singh picked up 2 wickets each demolishing the Pakistan batting line up.
2016 T20 WORLD CUP GROUP STAGE
Stadium: Eden Gardens, Kolkata
Result: India won by 6 wickets (DLS)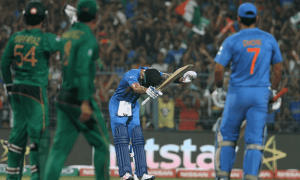 India and Pakistan yet again squared off for a nail-biting encounter when they played each other at Kolkata. There was immense pressure on India after a humiliating loss to New Zealand in the first game. Not just that, there were also many high-profile names in the stands, supporting India in a full-capacity Eden Gardens.
For a while, rain added to the anticipation as the game was shortened to 18 overs each. Pakistan batted first and put up a total of 118/5 which looked like an easy chase. But in reply, Mohammad Amir and Mohammad Sami broke the back of India's batting with 3 early wickets. Then, Virat Kohli took charge of the chase and scored a brisk half-century on a spicy pitch, to take India home. Kohli bowing to Sachin at the end (who was in the stands watching the game) was the one moment we'll never forget.
2022 T20 WORLD CUP (Super 12)
Stadium: Melbourne Cricket Ground
Result: India won by 4 wickets (0 balls left)
India and Pakistan crossed paths in the T20 World Cup on October 23, 2022, at the Melbourne Cricket Ground in Australia. This showdown was part of the Super 12 stage of the tournament.
In the game, India secured victory with 4 wickets to spare, pulling off the win with zero balls remaining. Pakistan set the stage by batting first, accumulating a total of 159/8 within their 20 overs. Shan Masood played a standout role with an unbeaten 52 runs, complemented by Iftikhar Ahmed's score of 51. India's bowling unit, led by Hardik Pandya and Arshdeep Singh, performed exceptionally, each taking 3 wickets.
India's response unfolded over 20 overs as they chased down the target. Virat Kohli took center stage with an unbeaten 82 runs off 53 balls, and Hardik Pandya contributed 40 runs from 37 balls.
Several pivotal moments marked this match:
Virat Kohli's remarkable batting made a decisive impact, with his 82 runs from just 53 balls, including 6 fours and 4 sixes. Hardik Pandya's impressive all-round display played a key role. He notched up 40 runs in his batting and clinched 3 wickets, conceding 30 runs.
The match was a roller-coaster of excitement and a fitting culmination of an exceptional tournament. The dueling teams of India and Pakistan consistently deliver nail-biting encounters, and this match lived up to that legacy.
<div class='toc'><ul><li><a href=#India-Vs-Pakistan-In-ICC-Tournaments><b>India Vs Pakistan In ICC Tournaments</b></li><li><a href=#><b></b></li><li><a href=#Here-are-some-of-the-most-memorable-matches-between-India-and-Pakistan-(World-Cup)><b>Here are some of the most memorable matches between India and Pakistan (World Cup)</b></li><p> <a href=#1996-WORLD-CUP-QUARTERFINAL>1996 WORLD CUP QUARTERFINAL</p><p> <a href=#2003-WORLD-CUP-GROUP-STAGE>2003 WORLD CUP GROUP STAGE</p><p> <a href=#2007-WORLD-T20-FINAL>2007 WORLD T20 FINAL</p><p> <a href=#2011-WORLD-CUP-SEMI-FINAL>2011 WORLD CUP SEMI-FINAL</p><p> <a href=#2016-T20-WORLD-CUP-GROUP-STAGE>2016 T20 WORLD CUP GROUP STAGE</p><p> <a href=#2022-T20-WORLD-CUP-(Super-12)>2022 T20 WORLD CUP (Super 12)</p><li><a href=#Several-pivotal-moments-marked-this-match:><b>Several pivotal moments marked this match:</b></li></ul></div>