The cricketing season is almost here and this year we have never before seen Cricketainment from 26th March to 29th May, 2022. And throughout the gaming season, GrabOn has taken it up to itself to shower you with discounts, gifts, goodies and exciting rewards. Just watch cricket, and play Cricket Fantasy League Season 8 to make all of the amazing prizes yours.
This time, the events are more engaging. We have only made it bigger by partnering with some really awesome brands to get you crazy discounts and crazier rewards. The last season saw the participation of millions of enthusiastic players, and this time we are expecting an even bigger audience, thanks to the love that we always receive from you, and the new thrilling additions that we've made to the league.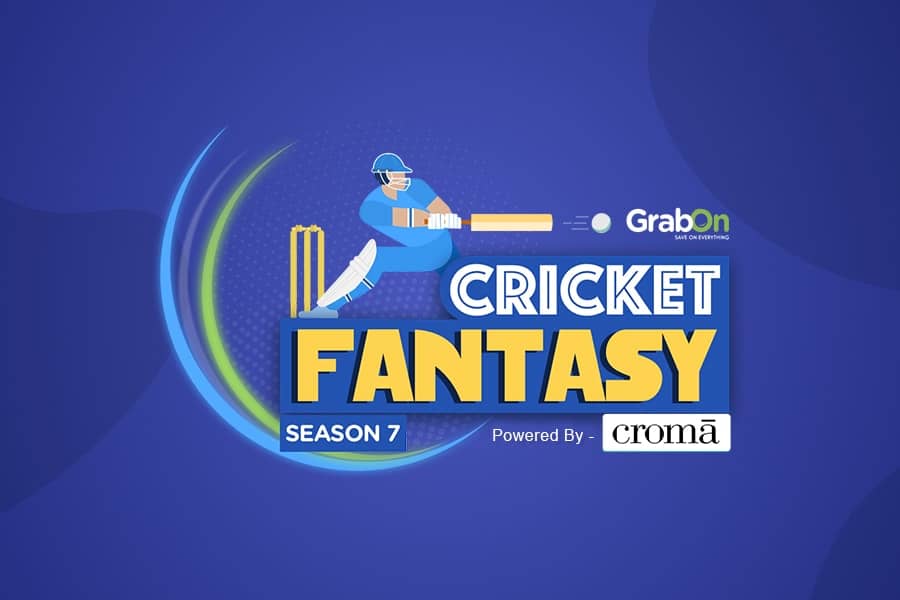 So let's see what's for CFL this year!
We all love to do things only when we get something in return. We get that! And this year, we have stocked prizes worth Rs. 35 lakhs for our players. We have joined hands with many to get you the gifts and help you get discounts on your favourite products from these brands with some cool vouchers and coupons.
Know The Basics To Play CFL
CFL is fun! and rewarding. And we understand that you want to brush up on your CFL skills once. So here are the ground rules that you must remember before starting the game.
1. Each game wins you points
2. Your points decide what gifts you get. So the more points you collect, you're in for bigger prizes.
3. You keep on winning bumper gifts as and when you play. Just keep an eye on your winnings.
4. All your gifts will be either sent to you post the campaign or delivered right to your inbox while you keep playing. So, don't forget to keep checking your inbox for the same.
5. All the daily, weekly and mega lucky draw winners are announced on the official social media handles of GrabOn, so make sure you follow us on Facebook, Twitter and Instagram and keep up-to-date to not miss a prize.
So, now that we have the basics laid out, let's check out the games. In order to start playing your first game, simply login at GrabOn's website and start playing. If you ever stumble while playing, read the instructions for each game and play even better.
Cricket Fantasy League – The Games
CFl-2022 is all about having fun. This year we have exciting games that you may not have played before. We wanted to make games that are fun, and yet rewarding to play. So, we have 5 bombastic games that you can play.
The games are so addictive that we must warn you beforehand ;)
1. Click Cricket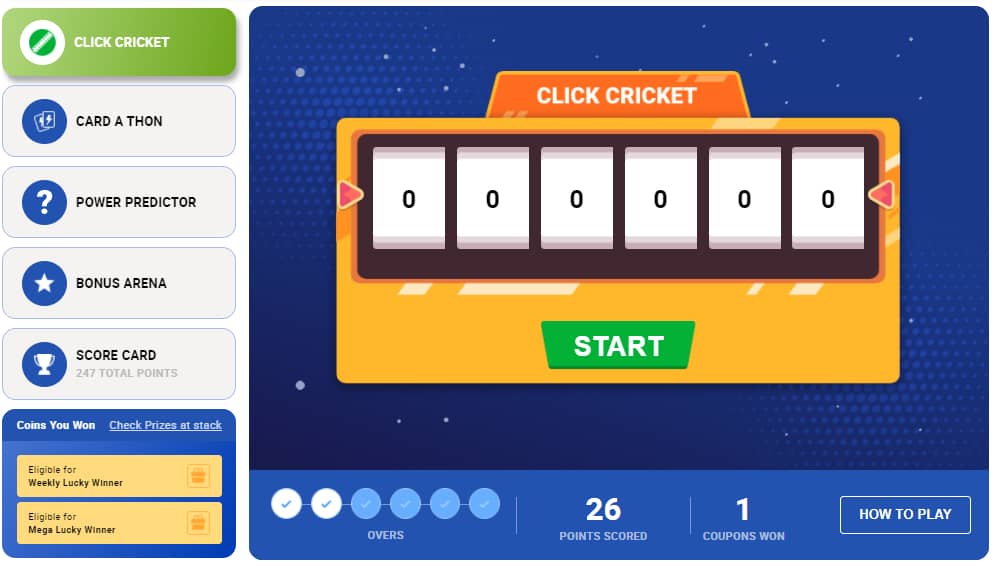 The CFL Click Cricket game is loved by people of all age groups, teenagers, adults, and elders. The interface is so cool that it makes it easy to understand and involve in the gaming.  Moreover, the players will get six chances to earn exciting rewards by playing 'Click Cricket'. Of all the six, two chances will be unlocked when the user plays 'Card-AThon', a fun card game. You should also understand that all the points collected after each chance will be considered as the final score, which determines who takes home the prize.
2. Power Predictor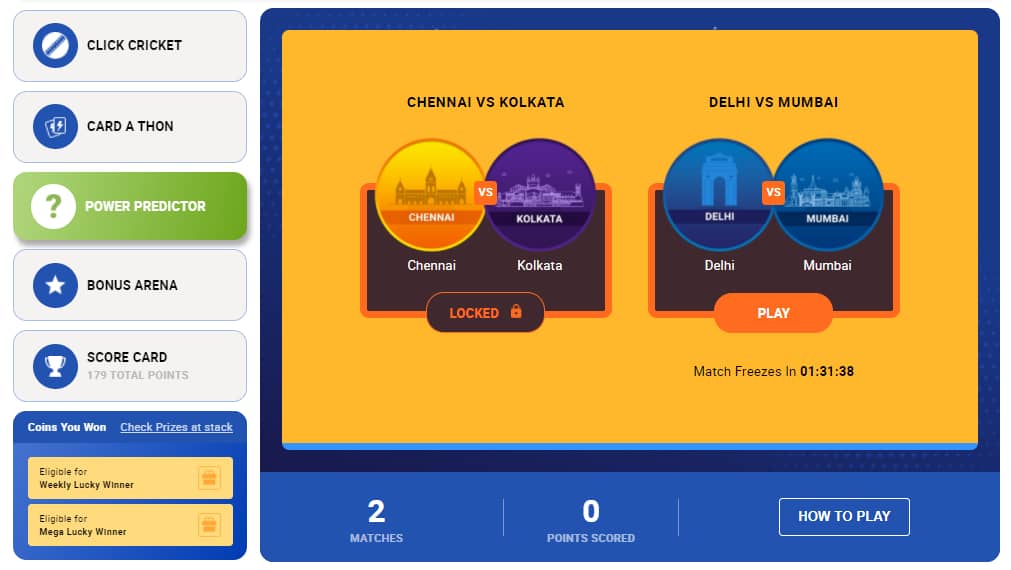 Do you think you can predict the outcome of the match? Put your predicting hats on and try your luck out. In this game, four questions are displayed for the user to make the right prediction. You can win easy points by answering match-related questions like 'Who will win the toss?', 'Who will win the match?' and so on. So get ready to test your cricket knowledge. You will win 50 points for every correct answer you get. More points will convert into bigger rewards for you which you can win in the weekly and mega lucky draws.
3. Card-A-Thon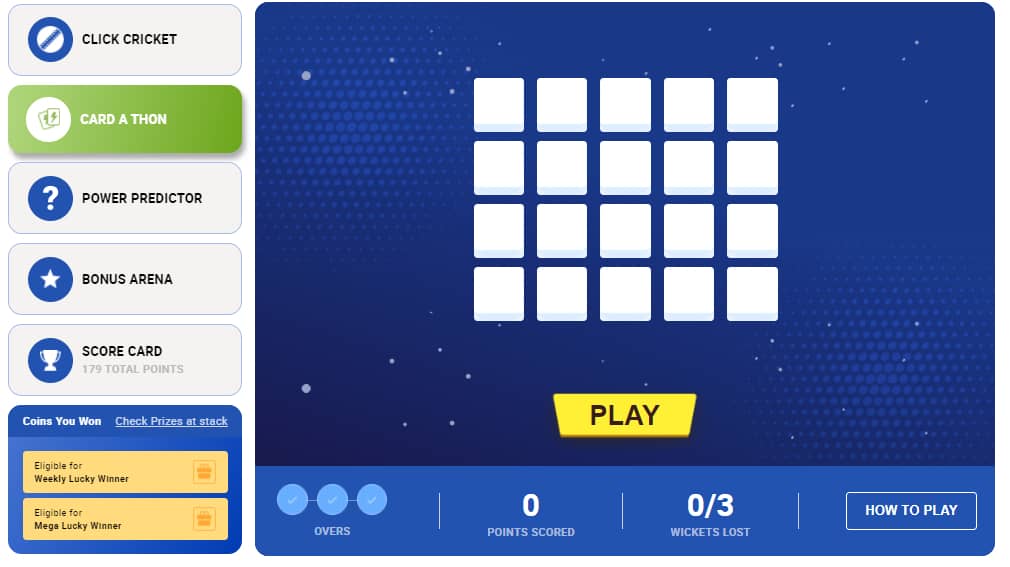 Who doesn't enjoy playing online games? It's much more enjoyable when you can win great prizes. Isn't it? In Card-A-Thon, you need to select cards on the screen. Once you select the cards, they flip and the moment you get 2 of the same cards, the reward bells ring. Each user gets three chances, and the one who gets the same number in succession, has more chances to win big.It's an awesome game of anticipation, and excitement which will get you hooked to the game. The game will be made live from 26th March, 2022. Play this every day to boost your mood, and to win free stuff.
Multiply your CFL winnings
There are 2 cool ways to get more from the points that you already earned through your sweat and blood in the CFL.
Mega Lucky Draws
Never settle for less when there's more at your disposal. Once you collect enough points, you can enter the Mega Lucky draws that happen during the campaign. And one thing's for sure. Your chances of winning quadruples in these draws. So what's the wait? Play hard and use the hacks to collect more points to bag exciting gifts.
Use points directly to buy exclusive vouchers
Won a lot of points and worried about where to spend them? This year we have an awesome option for you that will let you put any additional points you are left with. Visit the rewards store and redeem the points for exclusive GrabOn coupons. We've partnered with a bunch of partners just to get you the exciting deals for this CFL. So you can surely expect items that you would love here. Keep an eye on the campaign page to get more details about the store.
So get ready to #GrabTheCup and win prizes like audibles, vouchers, and tons of other exciting goodies while having fun. Score points and bag big prizes. Refer your friends and download the GrabOn chrome extension to earn bonus points. Start playing today!
The more points you score the greater your chances to take home amazing prizes.
When is GrabOn's CFL 2022?
This year, CFL Season 8 will begin from 26th March 2022.From then onwards, it will go on for nearly 65-days as you play and win. By the time it ends on the 29th May 2022, you'd have a room full of rewards or things bought with those rewards.
Play GrabOn Cricket and win BIG!
Now the wait for the 8th edition of the CFL is over as the schedule has been announced and the campaigns will begin from 26th March 2022. Millions of cricket fans have been waiting for the fun, exciting games to showcase their cricketing knowledge and earn some prizes and rewards.
This cricket season, you score points sitting at home from your smartphone. So, score points at the click of buttons and win prizes by participating in the hottest cricket fantasy contest- GrabOn Cricket Fantasy League Season 8. Spread the word and discuss with your friends (That would get you points too). Gear up for this cricket season where it will be raining prizes, not just sixes!