The cricketing season is almost here and this year we have never before seen Cricketainment from 16th October to 13th November 2022. And throughout the gaming season, GrabOn has taken it up to itself to shower you with discounts, gifts, goodies, and exciting rewards. Just watch cricket, and play Cricket Fantasy League Season 9 to make all of the amazing prizes yours.
This time, the events are more engaging. We have only made it bigger by partnering with some really awesome brands to get you crazy discounts and crazier rewards. The last season saw the participation of millions of enthusiastic players, and this time we are expecting an even bigger audience, thanks to the love that we always receive from you, and the new thrilling additions that we've made to the league.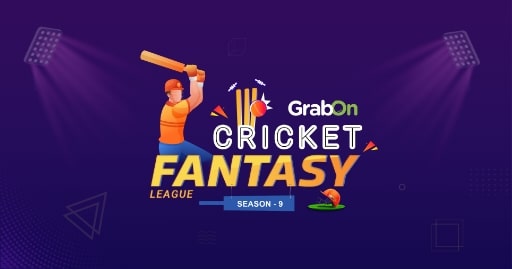 So let's see what's for CFL this year!
We all love to do things only when we get something in return. We get that! And this year, we have stocked prizes worth Rs. 35 lakhs for our players. We have joined hands with many to get you the gifts and help you get discounts on your favourite products from these brands with some cool vouchers and coupons.
Know The Basics To Play CFL
CFL is fun! and rewarding. And we understand that you want to brush up on your CFL skills once. So here are the ground rules that you must remember before starting the game.
1. Each game wins you points
2. Your points decide what gifts you get. So the more points you collect, you're in for bigger prizes.
3. You keep on winning bumper gifts as and when you play. Just keep an eye on your winnings.
4. All your gifts will be either sent to you post the campaign or delivered right to your inbox while you keep playing. So, don't forget to keep checking your inbox for the same.
5. All the daily, weekly and mega lucky draw winners are announced on the official social media handles of GrabOn, so make sure you follow us on Facebook, Twitter and Instagram and keep up-to-date to not miss a prize.
So, now that we have the basics laid out, let's check out the games. In order to start playing your first game, simply login at to GrabOn's website and start playing. If you ever stumble while playing, read the instructions for each game and play even better.
Cricket Fantasy League – The Games
CFL-2022 is all about having fun. This year we have exciting games that you may not have played before. We wanted to make games that are fun, and yet rewarding to play. So, we have 3 bombastic games that you can play.
The games are so addictive that we must warn you beforehand ;)
1. Whack A Ball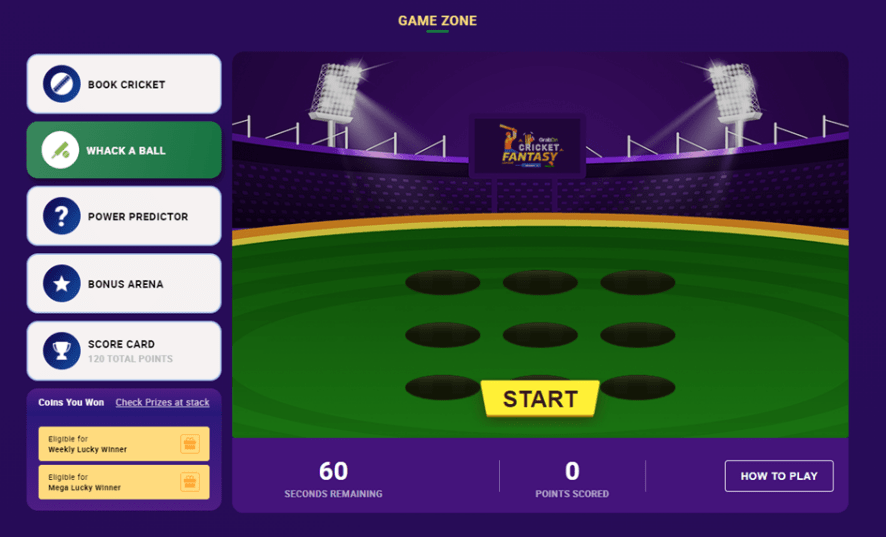 Whack A Ball is a straightforward game that is enjoyed by players of all ages. The game is compelling and provides players with some of the highest rewards. When the game begins, the players are given a maximum of 45 seconds, allowing them to smash as many balls as they can in the allotted time. A user receives 15 points for each ball they strike; however, if they strike the stumps, they lose 5 points. In this game, a player can score up to 450 points. The user's chances of winning the daily, weekly, and mega-lucky prizes increase the more they play and score.
2. Power Predictor
One of the most played games this year is this one. All you have to do is play, make a prediction, and win it big. That is all there is to it. Predict the correct responses to an upcoming match to earn 50 points for each accurate prediction.
So what's the procedure like? Each day all the scheduled matches on the ICC T20 World Cup 2022 will be displayed on the official CFL site. Once the particular day's match is displayed, a total of 5 questions will pop up, one by one. Each question will have either two or four options. The player has to make the prediction by clicking on any of the options. While the correct answer will win you 50 points, the wrong one will get you nothing. All the scores will be updated the next day, and a leaderboard will be displayed with the list of winners.
Note: Questions about any match will be locked two hours prior to the match's commencement. So be sure to play it prior to the game starting.
3. Book Cricket
One of the newest games on our list, Book Cricket, is a surefire prize-winner. All you need to do is tap the book while clicking the Play button. Each tap will be counted as one ball, demonstrating the record number of well-known cricket players in the world. The final digit of that record will be taken into account as the ball's score, just like when we used to play physical book cricket.
There will be a total of two overs in each game, which equals 12 chances in one day. Four runs will be added to your scorecard if the final digit is 4, and 0 is regarded as a dot ball. If it displays stumps, you are out and the over is complete. Fortunately, the game also offers thousands of coupons that players may use when they shop at well-known retailers. In other words, if you find a coupon on a specific page, congratulations! A reward has been won and will be delivered to you via email.
Multiply your CFL winnings
There are 2 cool ways to get more from the points that you already earned through your sweat and blood in the CFL.
Mega Lucky Draws
Never settle for less when there's more at your disposal. Once you collect enough points, you can enter the Mega Lucky draws that happen during the campaign. And one thing's for sure. Your chances of winning quadruples in these draws. So what's the wait? Play hard and use the hacks to collect more points to bag exciting gifts.
Use points directly to buy exclusive vouchers
Won a lot of points and worried about where to spend them? This year we have an awesome option for you that will let you put any additional points you are left with. Visit the rewards store and redeem the points for exclusive GrabOn coupons. We've partnered with a bunch of partners just to get you the exciting deals for this CFL. So you can surely expect items that you would love here. Keep an eye on the campaign page to get more details about the store.
So get ready to #GrabTheCup and win prizes like audibles, vouchers, and tons of other exciting goodies while having fun. Score points and bag big prizes. Refer your friends and download the GrabOn chrome extension to earn bonus points. Start playing today!
The more points you score the greater your chances to take home amazing prizes.
When is GrabOn's CFL 2022?
This year, CFL Season 9 will begin on October 16th, 2022. From then onwards, it will go on for nearly 28-days as you play and win. By the time it ends on the 13th of November, 2022. you'd have a room full of rewards or things bought with those rewards.
Play GrabOn Cricket and win BIG!
Now the wait for the 9th edition of the CFL is over as the schedule has been announced and the campaigns will begin on October 16th, 2022. Millions of cricket fans have been waiting for the fun, exciting games to showcase their cricketing knowledge and earn some prizes and rewards.
This cricket season, you score points sitting at home from your smartphone. So, score points at the click of buttons and win prizes by participating in the hottest cricket fantasy contest- GrabOn Cricket Fantasy League Season 8. Spread the word and discuss with your friends (That would get you points too). Gear up for this cricket season where it will be raining prizes, not just sixes!