Thalaivar turns 66 today. This man single handedly defined style and charisma to three generations of movie goers. With a fan following that spans the across the globe, Rajinikanth sir is the alpha and the omega when it comes to on-screen awesomeness and is an even better human being in real life.
There aren't enough words to describe how awesome and badass he really is but here are some moments we thought would sum it up. Get your Thundus and shades to try some of these awesome mannerisms and fail miserably.
The only boss – Rajinikanth
1. Magneto, who? Terminator, who? Kabali Da!
So Hollywood got Chuck Norris? Cute :P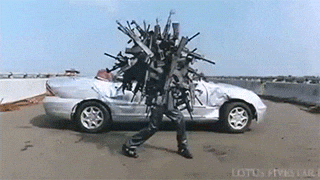 2. Lighter? pfft…I got a gun. Problem?
Don't mind him, just another day in the life of Rajini sir! 3. That one time Rajini sir stopped even the CM's entourage!
What do you do when the CM's motorcade blocks your way? Wait for hours in the traffic?
Not if you're Rajinikanth. You just step out of the vehicle and your hoards of fans make the CM wait instead. Well played Rajini sir, well played indeed. Quite literally the day the city stood still. 4. 51 tweets and 3.4 million followers?!
Only HE can do it! 5. Ambidexterity – Check. Epic Coin Toss – Check. Gun Swapping – Check.
Now if that's not the epitome of awesomeness, what is?! So, Thalaivar fans, there are so many moments to choose from that we're pretty sure all of them are not covered here. Don't be mad and let us know what we missed in the comments below :)