Onam is around the corner. This year (2021) Onam starts from on the 12th of August and ends on the 23rd of August. All the 10 days of Onam are power packed with fun. However, the last day 'Thiruvonam' is when the final celebratory spirit is at its peak. People indulge in feasting, playing games and dressing up. And this fun needs some beats to complete. So, we're bringing to you our selection of 8 songs for your Onam playlist.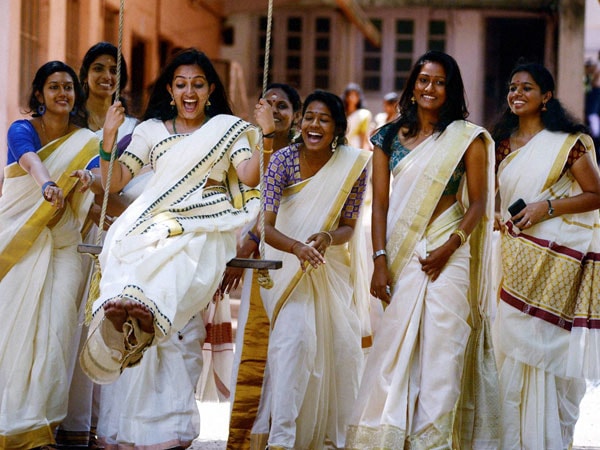 Onam is celebrated in Kerala since centuries in the remembrance of King Mahabali. The king is believed to visit the 'God's Own Country' every year this time. Malayalis welcome him with extreme grandeur and love. The extravaganza also attracts thousands of tourists across the globe.
The government is promoting the Onam festival on a national level to increase its tourist value. Tourists get to see the sense of spirituality of the people of Kerala among the grand celebrations.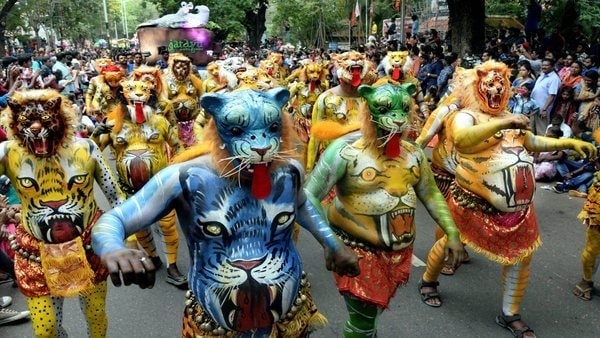 It's this time of the year when all schools, colleges and offices enjoy holidays (usually for three days). It's a time that's spent with family and friends indulging in the festive spirit. It's also a time for shopping when many stores and shops offer discounts on their products.
Onam celebrations are not complete without music! Not only to dance to the tunes and have a blast, but people also play songs once they are back from the temple. The tradition of Onam music is still observed in Kerala with enthusiasm and eagerness.
Onam Songs in Malayalam
There are several songs in the Malayalam language that are best fits for Onam. We've picked a few for you.
1. Onam Vanallo Ponnonam Vanallo
Give a perfect start to your day with this awesome tune. It signifies the start of the Onam season. And gives a glimpse of all the joy you are going to experience in the coming days. We couldn't have left out this track from our list. So go ahead, play and enjoy!
2. Onam Varavayi Keram Thingum Ulsava Naal
This song is a mix of the classical tunes and the latest beats that make your feet tap. It will give you a relaxing feel on a busy day. So, create a mood of enjoyment and revive your enthusiasm listening to the track. Although it's been a while this song came out, it never gets old. This is a must play in the Onam season for your friends and younger folks in the family. Play this song on speakers that have beat boosters. The vibe will be mesmerising.
3. Uthradapoovnilave Vaa
The powerful and melodious voice of Yasudas will cut deep in your heart.This song is a little different from the others on the list, as it rather reminds you of everyone out there who does not get to enjoy Onam like the others. The song is produced by Tharangini which is the first music company in Kerala. Listen to it here and pay your tribute to those who are away from their loved ones at the time of this joyful occasion.
Music: Raveendran
4. Paraniraye Ponnalakkum Pournami Ravayi
Enjoy the melodious tunes from Yesudas & Sujatha and rejoice the Onam spirit. This song reflects the Onam feeling and never gets too old to listen to. It expresses the happiness that children experience in this beautiful season. So hit the volume up and play Paraniraye Ponnalakkum Pournami Ravayi in your home after you come back from the temple to elevate the festive emotion.
Album: Thiruvona Kaineetam
Music: Vidyasagar
Movies have portrayed the Onam spirit in abundant ways. Malayalam movies have given us a list of melodious tracks for the Onam festival. Here are some of the songs related to Onam from films that you can download in mp3 format from the web or simply play them on YouTube.
5. Thiruvona Pularithan
This one from the Film Thiruvonam takes you down the memory lane so you relive the simplicity and elegance. Tap into this beautiful song and let your kids listen to the old tracks of Onam. Or you can have a nostalgic moment yourself. We couldn't help but include this song in the list because of its peaceful flute tunes and mesmerising voice by Vani Jairam. This song penned by Sreekumaran Thampi is going to be a hit forever when it comes to Onam songs. It's a classic Malayalam melody.
Lyrics: Sreekumaran Thampi
Music: MK Arjunan
6. Thiruvaavaniraavu
Want to indulge in some melodious beats for Onam? This is your song from Jacobinte Swargarajyam as it will give you a perfect sense of a family celebration mood. Nothing better than 'Thiruvaavaniraavu' for you to bring everyone together and have a blast. The song is sung by Unni Menon, Sithara and Meera Scharma and is so beautiful…
Lyrics: Manu Manjith
Music: Shaan Rahman
7. Omanathinkalin Onam
This lullaby should be heard at least once in ten days. Play it during serene evenings and enjoy it with your family. The song is sung by KJ Yesudas and P Susheela and belongs to the hit film Thulabharam. This evergreen song will add to the joyful feeling of Onam.
Music: G. Devarajan
Lyrics : Vayalar
Producer: Hari Pothan
8. Onam Onam
We'd like to end our list with a dance beat from the movie Ra Ra Krishnayya. It's a perfect South Indian fun song and will surely get the kids in your home on their feet as soon as the song starts. Why not have a blast all together? Forget your worries and simply shake a leg to the tunes of Onam Onam Onam Onam directed by P. Mahesh Babu with the energetic vocals of Chinmayee and Achu.
Lyrics: Shree Mani
So that was our list of the greatest Onam songs. Comment and let us know which ones you always play on Onam. Make the 10 days of Onam full of fun, laughter and joy – just like the Onam spirit. Play nostalgic and new tunes to commemorate the occasion.