Diwali is the Festival of Lights and is known by different names in India. This festival symbolizes the victory of righteousness and the lifting of spiritual darkness. In India, it is considered to be the most auspicious festival and we all love it! Practicing religious rituals, shopping for ourselves, gifting friends and families, distributing sweets, and everything else that makes a festival the best time of the year. (Psst! If you plan to shop, don't forget to use these Diwali offers to make shopping easy on the pocket.)
But let's get back to the main reason you are here for! You must have heard people calling it Diwali and Deepavali. So, the big question is, which one is correct?
Which is Correct – Diwali Or Deepavali?
Have you ever thought which is correct?
Well, both are. They both come from the same word! Let us take a look at what are the other names given to this festival of lights!
Meaning of Diwali
Diwali is derived from the Sanskrit word Dīpāvali, which is formed by two words, 'dipa' meaning light or lamp and 'avali' meaning series or row. Thus, the word means rows or series of lights. To mark the symbol of light every house is lit in Diwali with lamps, diyas, and different other types of bulbs.
Other Names of Diwali Festival
India being a country of diverse languages and cultures, Diwali is called by different names. The way of celebrating Deepavali varies from one region to another. Although it is the triumph of good over evil, the warm days turn to mild winter. A day before Diwali, people start cleaning every nook and corner of the house, decorating with lights, preparing sweets, shop for new clothes, and jewelry. As the festive days are fun-filled, celebrate with friends and family members with utmost happiness. Have a look at the table below to know the other popular names used during the Deepavali festival in India:
| | |
| --- | --- |
| States | Other Names of Diwali |
| Bengali | Kali Puja |
| Gujarat | Dhanteras |
| Sindhis | Diyari |
| Assam, Kerala | Deepavali |
| Sikhs | Bandi Chhor Divas |
| Andhra Pradesh | Naraka Chaturdashi |
| Nepal | Tihar (Yama Panchak or Swanti) |
| Orissa | Balipadyami |
Other names of the festival
India is a land of rich diversity, where various languages and cultures flourish. This diversity is beautifully reflected in the celebration of Diwali, which is known by different names across the country and even in neighboring Nepal.
In the eastern state of Orissa, Diwali goes by the name 'Deepabali.' Moving further east to West Bengal, Bengalis refer to it as 'Deepaboli' or 'Kali Pujo.' Heading towards the northeastern state of Assam, the festival is called 'Deepavali.'
As we travel westward to Gujarat, people there know it as 'Divali,' while Sindhis, hailing from the western regions, lovingly call it 'Diyari.' Finally, crossing the border into Nepal, Diwali is referred to as 'Tihar.'
This beautiful array of names showcases the diverse and inclusive nature of Diwali, as it brings together people of different linguistic and cultural backgrounds, all united in the spirit of light and celebration.
When does Diwali fall?
Diwali falls on the 15th day of Kartik, which is the holiest month in the Hindu lunar calendar. So, depending on the cycle of the month, Diwali falls either in October or November each year.
In 2023, Diwali will be held on the 12th of November. Refer to the table below for Diwali dates from 2023 to 2040 to plan your festive days accordingly.
| | |
| --- | --- |
| Year | Date |
| Diwali 2023 | Sunday, November 12 |
| Diwali 2024 | Friday, November 1 |
| Diwali 2025 | Tuesday, October 21 |
| Diwali 2026 | Sunday, November 8 |
| Diwali 2027 | Friday, October 29 |
| Diwali 2028 | Tuesday, October 17 |
| Diwali 2029 | Monday, November 5 |
| Diwali 2030 | Saturday, October 26 |
| Diwali 2031 | Friday, November 14 |
| Diwali 2032 | Tuesday, November 2 |
| Diwali 2033 | Saturday, October 22 |
| Diwali 2034 | Friday, November 10 |
| Diwali 2035 | Tuesday, October 30 |
| Diwali 2036 | Sunday, October 19 |
| Diwali 2037 | Saturday, November 7 |
| Diwali 2038 | Wednesday, October 27 |
| Diwali 2039 | Monday, October 17 |
| Diwali 2040 | Sunday, November 4 |
The above table provides the dates of Diwali for the years 2023 to 2040.
Significance of celebrating Diwali
Diwali, also known as Deepawali, is usually celebrated on the 15th day of Kartika, which falls in October or November. This special festival marks the joyous return of Lord Rama to his kingdom, Ayodhya, after spending 14 years in exile. It's a time when Ayodhya was beautifully illuminated, and happiness filled every nook and cranny.
During Diwali, we decorate our homes, light lamps, gather with relatives, prepare delicious meals, and offer prayers for prosperity. It's a time to come together and celebrate the triumph of light over darkness and the return of Lord Rama to his beloved kingdom.
The other story behind Diwali Celebration
There is another story behind the Diwali celebration, which goes like this:
As per Hindu Mythology, King Bali was a demon king who was so powerful that he became a threat to the Kingdom. Lord Vishnu came as a dwarf mendicant Vamana to cease the power of Bali. By diluting Bali's power Lord Vishnu brought back peace to the Kingdom. Vishnu gave him the lamp of knowledge to light the dark side of the world. Thus, today on Diwali millions of lamps are lit.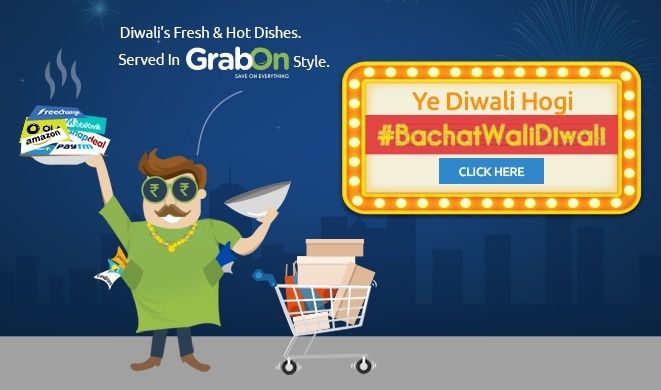 Bottom Line
Whatever be the story behind Diwali, we know that you love celebrating it with sweets! So, go ahead and celebrate the Festival of Lights with everyone and not just your loved ones. Get the best offers from GrabOn, and above all, don't forget to purchase cool gift cards for you and the entire family.
<div class='toc'><ul><li><a href=#Which-is-Correct-–-Diwali-Or-Deepavali?><b>Which is Correct – Diwali Or Deepavali?</b></li><p> <a href=#Have-you-ever-thought-which-is-correct?>Have you ever thought which is correct?</p><p> <a href=#Meaning-of-Diwali>Meaning of Diwali</p><p> <a href=#Other-Names-of-Diwali-Festival>Other Names of Diwali Festival</p><p> <a href=#Other-names-of-the-festival>Other names of the festival</p><p> <a href=#When-does-Diwali-fall?>When does Diwali fall?</p><p> <a href=#Significance-of-celebrating-Diwali>Significance of celebrating Diwali</p><p> <a href=#The-other-story-behind-Diwali-Celebration>The other story behind Diwali Celebration</p><li><a href=#Bottom-Line><b>Bottom Line</b></li></ul></div>