Mehendi is essential for every Indian affair, including festivals such as Diwali! And with all the festival offers available online, it is more obvious that you would love to shop even more. However, simply shopping will not do. You also need to dress up right for the occasion. And it goes without saying that Mehendi is an integral part of Diwali as well.
Lovely mehendi designs are what people are looking up in the days leading up to the big festival. But, you may not always feel like getting into all that complicated process of preparing a mehendi paste, putting it in a cone, applying it, and then drying it properly, especially after a stressful week. However, there are a few simple mehendi designs, that take only a few minutes of application. And once done, you are simply going to love it. So, all that hard work towards preparing the paste and application cone can be put up with. Today, we will be discussing how to go about doodling simple mehndi designs. Don't worry, we're keeping it to simple cone designs to make sure everybody can try them!
Here are the 11 Cool Types of Mehendi Designs
Here's how you can create some beautiful yet simple mehendi designs in a matter of few minutes:
1. Moroccan Mehendi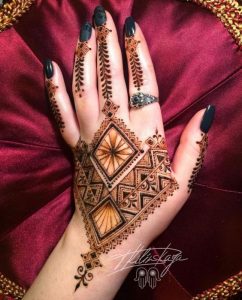 A contemporary take on the traditional mehndi art, the Moroccan Mehendi is characteristic of its geometric patterns. As one of the quirkiest types of Mehendi, Moroccan Mehendi makes simple cone designs look unique and trendy too. It gives a new definition to straight lines and a clean look. This is fairly easy for everyone to make. Give it a try this season.
2. The Wrist Cuff Style
One of the coolest mehendi designs, the wrist cuff has become very popular and goes well with all kinds of looks. Going offbeat is in trends this year. And if you are experimental enough, doodling a simple cone design such as this can be fun. Try this design and awe your friends this festival season. And if you are not sure where to get the mehendi, order it online from Amazon.
3. Rajhastani Style
Rajasthani mehendi designs are something that has always been evergreen. Whether it is a wedding or a festival, they are everyone's go-to mehendi design, and similarly for Diwali as well. You can flaunt one of these amazing mehendi artworks that would totally go with your attire. Intricate details and traditional design are the essence of this type of look. You may need a professional or someone who does mehendis to do it for you. Use a narrow cone for the best thickness.
4. Finger detail with a wrist-cuff
Wrist cuff with finger detailing is another style you can try while doodling simple mehendi designs. It is pretty easy to do and would take hardly 15 minutes of application. And then you are free to go, chit-chat with your friends or even go shopping. Just let the freshly applied mehendi dry for a few minutes. With this simple cone design, your mehendi can add an edgy look too.
5. White Mehendi
Glitter and color mehendi designs have been trending for quite some time now. But, why not try the completely white mehendi designs this season? White mehendi is yet not commonly seen. So, you can be the one to set the trend with this simple cone design!
6. Arabic Designs
Another design that's quite popular among the masses is the Arabic henna design. So this festival season, go the chic way by sporting some of the fabulous Arabic designs available online. They are characterised by bold lines and empty spaces. It originates from the Gulf countries and has an elegance to it. It takes less crucial hand movements. You can get one with a little practice.
7. Mehendi patterns on the feet
Yes, you can do some pretty and maybe a bit complex design such as this on your feet for the Diwali celebrations. Keep it simple on the hands and opt for traditional yet chic designs for the feet. Nobody will try this combination for sure!
8. The Chakra
A subtle play of traditional yet modern is what design is all about. This simple cone design is again really easy to apply and looks cute. Why not try this simple style, which can be done on your own? Go on, try it but don't blame me if you get mobbed by the crowd! There will be many who would ask you all the details on the design and may even ask you to do it for them. This type of design is also famous in the western regions in the form of tattoos. It gives a subtle and contemporary look.
9. The One with a Modern Twist
Give this mehndi design a try, and you'll stand out as the star of the show, whether it's among your friends or for that special someone in your life. This design draws inspiration from the traditional hathphool (hand jewelry), but it features simplified and modernized detailing.
What makes this design particularly eye-catching is how it effortlessly combines the timeless charm of hathphool with a contemporary twist. It's all about striking that perfect balance between classic and modern aesthetics.
10. Ink the fingers
This is a completely modern take on the process of traditional henna application. This design is inspired by the artwork that was used to adorn the walls of homes in the old days. It is extremely easy to doodle these simple cone designs and takes only a few minutes.
11. Fusion Mehndi

Fusion Mehndi combines various styles and patterns to create a unique and eclectic design. You can mix and match elements from different Mehndi traditions to express your individuality.
Certainly! Here are some easy and fun ways to create simple Mehndi designs this season. However, if you have any other design ideas in mind, please feel free to share them with us. We're genuinely interested in hearing your thoughts and ideas! Your creativity and input are important to us, and we welcome any suggestions you may have.
<div class='toc'><ul><li><a href=#Here-are-the-11-Cool-Types-of-Mehendi-Designs><b>Here are the 11 Cool Types of Mehendi Designs</b></li><p> <a href=#1.-Moroccan-Mehendi>1. Moroccan Mehendi</p><p> <a href=#2.-The-Wrist-Cuff-Style>2. The Wrist Cuff Style</p><p> <a href=#3.-Rajhastani-Style>3. Rajhastani Style</p><p> <a href=#4.-Finger-detail-with-a-wrist-cuff>4. Finger detail with a wrist-cuff</p><p> <a href=#5.-White-Mehendi>5. White Mehendi</p><p> <a href=#6.-Arabic-Designs>6. Arabic Designs</p><p> <a href=#7.-Mehendi-patterns-on-the-feet>7. Mehendi patterns on the feet</p><p> <a href=#8.-The-Chakra>8. The Chakra</p><p> <a href=#9.-The-One-with-a-Modern-Twist>9. The One with a Modern Twist</p><p> <a href=#10.-Ink-the-fingers>10. Ink the fingers</p><p> <a href=#11.-Fusion-Mehndi>11. Fusion Mehndi</p><p> <a href=#></p></ul></div>