Why pay and buy, when you can play and win?
You can thank us later- GrabOn
GrabOn – Bachat Wali Diwali
Diwali is right around the corner and we're sure you've saved up some funds by cutting down on the weekend fun, or by giving up on a few things from the Mega online sales that happened this month.
Here's your chance to win up to Rs 25 Lakhs worth of prizes by participating in #BachatWaliDiwali 2019! Why should you participate in this activity? To begin with, it's free. You won't be spending a penny and you stand a chance to win exclusive vouchers and coupons that will help you save a lot on the savings you've done for Diwali. It's savings within savings, let's call it Grabonception.
This season of GrabOn #BachatWaliDiwali is presented by Medlife. GrabOn has onboarded BonOrganik as their gifting partner for the second edition of the hugely successful festive season campaign.
Get updated and stay notified about GrabOn's Bachat Wali Diwali season 4!
Dar ke aage jeet hai; Jeet ke aage discount coupon hai:
#BachatWaliDiwali is a 4-day event held in November 2019. You have a chance to win on all the four days. Even if you loose on the Day 1 of the event, you stand a chance to win on the other 3 days. So, don't lose hope if you don't win with flying colors, there's always another chance. Unless, it's the 10th day of the event :P
Double The Value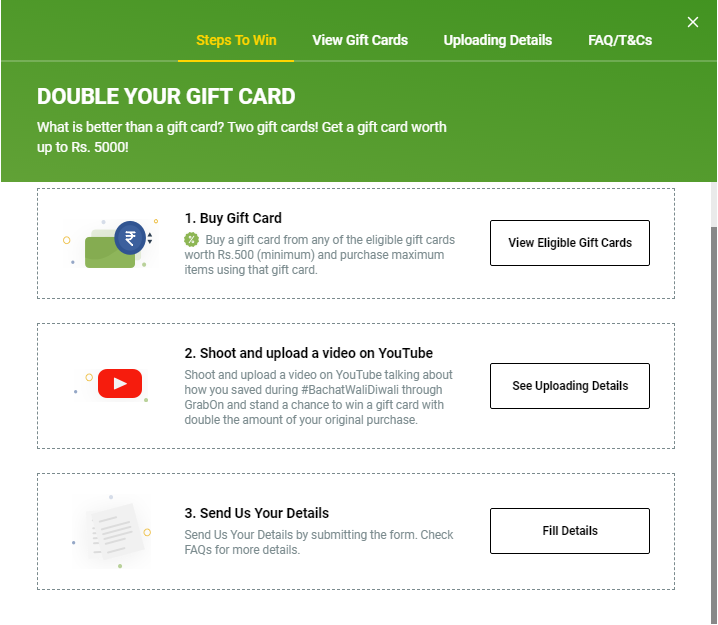 Too many cooks spoil the broth but 'two' many gift cards help you save more! This #BachatWaliDiwali, save more on all your gift card purchases, as we have an exclusive contest just for you! All you need to do is buy a gift card from GrabOn, use it to buy as many products as you can, shoot and upload a video on YouTube (following some strict guidelines) and submit your details. Once done, share and promote it as much as you can. The top 3 video entries (based on likes and views) will end up winning double the amount of gift card purchase. For example, if your initial gift card amount is Rs. 500, which is the minimum, you can end up winning Rs. 1000. The maximum gift card value you can end up with is Rs.5000! How is that for a surprise. Imagine this. You shop for Rs.7500 (5000+2500) but end up paying only Rs. 2500. How is that for a cracker! Participate in Double Your Gift Card right now!
Casino Dhamaka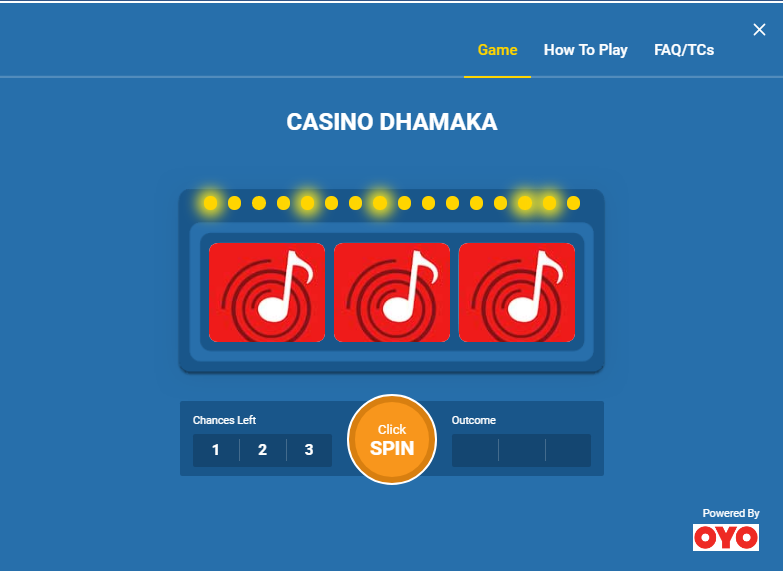 Okay, we got you lazy folks covered as well. If you want to earn cool and enviable vouchers by doing nothing, except test Lady Luck's patience, we have something for you. Take part in Casino Dhamaka and win the very best vouchers! All you have to do is click on "Click To Spin" and if you get three similar logos, you win! You can play this thrice a day during November 2019 and win a maximum of one voucher per day. If you win on your first or second attempt, come back the next day!
Refer/Share & Win Big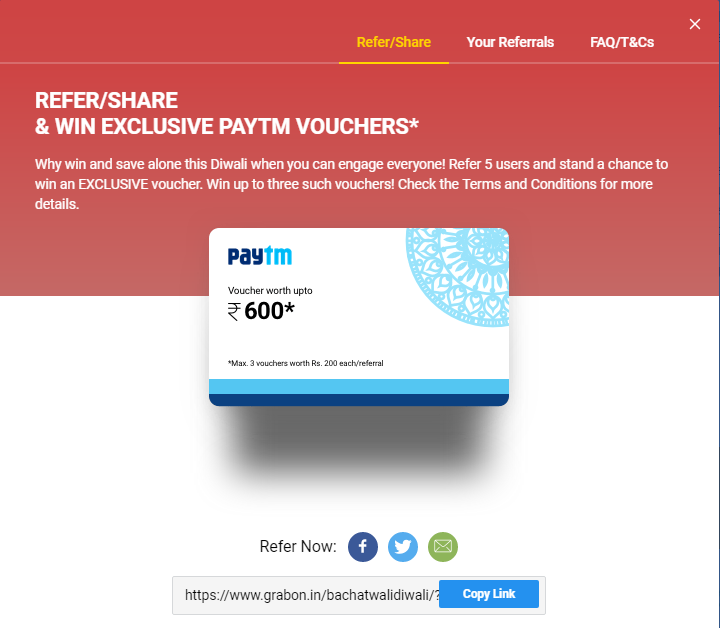 Sharing is caring (and in this case, winning!). This Diwali, save more and get exclusive access to different kinds of vouchers offers! Refer at least 5 of your friends/ family and end up winning a voucher. You can earn a maximum of 3 such vouchers  (15 new users). Please note that your referrals need to login to be considered as a legit referral!
Mega Lucky Draw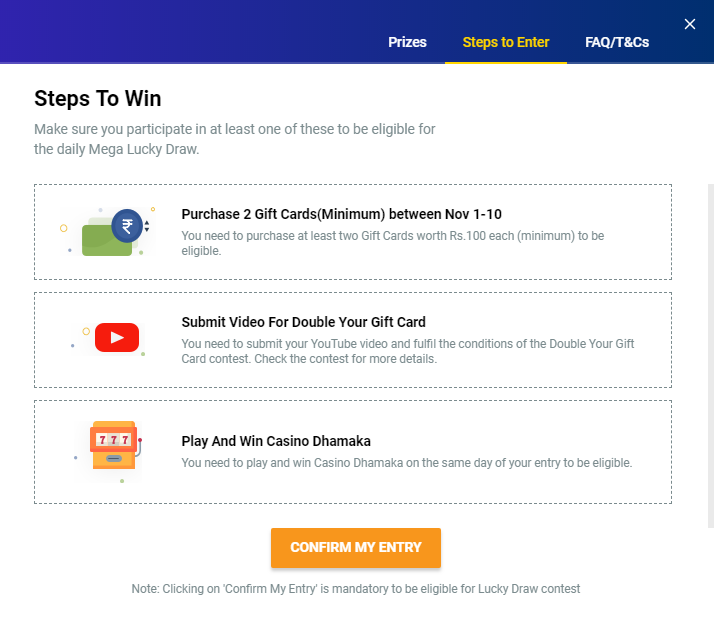 What's wrong with winning mega prizes daily? Oh yeah, that's right…..absolutely nothing! Participate in at least one of the above-mentioned contests/game and be eligible to win for the draw by confirming your entry. While the referral and gift card contest can be completed during the contest, if you want to enter through Casino Dhamaka, you need to win that particular day and then confirm your entry that day itself!
So, are you ready to celebrate this Diwali with a bang?*
For more information about Bachat Wali Diwali click here.
* You won't have to pay to play. This is conducted in public interest from GrabOn's save while you shop campaign- #BachatWaliDiwali
Image Courtesy: GIPHY