Diwali, also known as the festival of lights, is widely loved across the Indian subcontinent. It falls on the 15th day of the Hindi month Kartik. The main reason behind Diwali's celebration is to mark Lord Rama's return to Ayodhya after his victory over Ravana. To commemorate this joyful occasion, people light candles and adorn their homes. This tradition symbolizes the victory of good over evil and truth over dishonesty. Additionally, Diwali is a time when people look forward to prosperity and good fortune, making it a truly special and meaningful festival.
There are various tales associated with Diwali and people across India follow different fables. But no matter how many tales you spin, the spirit of this festival knits people around the country together. On Diwali, everyone comes forward to light a candle in the name of love, without discriminations based on religion, caste, class, or creed. Diwali marks the beginning of goodness and togetherness.
Before you indulge in Diwali shopping using our amazing Diwali offers online, let's take a moment to understand the significance of the festival and the tales behind it.
Significance of Diwali
Diwali is celebrated across Jains, Hindus, Sikhs, and Buddhists all. Although the meaning of Diwali may be different for each one of them, it lies around the same time and is celebrated with equal love and passion. And for all, the festival is symbolic of the victory that good has over the darkness. So let us see what significance Diwali holds for the different religions.
Diwali In Hinduism
Diwali is celebrated to commemorate the return home of Lord Rama after an exile of 14 years in the woods. Lord Rama defeated Ravana and rescued his wife, Sita with whom he returned to Ayodhya. In this memory, the people laid diyas and lit the whole town. As a result, Diwali is called the festival of lights and it is also the festival of happiness.
However, there are different beliefs for the celebration of Diwali In Hinduism. In Kerala, the festival is celebrated to celebrate the victory of Lord Krishna who kills the demon Narakasura. Similarly, it also marks the wedding day of Goddess Lakshmi with Lord Vishnu.
In Sikhism
Sikhs celebrate Diwali in remembrance of the release of the sixth Guru, Guru Hargobind and 52 other princes who were imprisoned by Emperor Jahangir in 1619. On Diwali, the Golden Temple in Punjab is lit up with lighting.
In Buddhism
Emperor Ashoka became a Buddhist on this day. Buddhists celebrate Buddha and Ashoka both on Diwali. The phenomenon occurred around 265 BCE and marked an important moment of celebration for all Buddhists that is celebrated with great love for the emperor and joy.
In Jainism
Diwali in Jainism holds a very special place as it marks the anniversary of Nirvana of the soul of Mahaveer Swami. Nirvana is the final release of the soul, also called liberation which is the ultimate step for followers of Mahaveer. Jains celebrate it by visiting the Jain temple. The occasion is also referred to as the Mahaveer Moksh Kalyanak.
Deepavali Celebration: North India Vs South India
Widely, the celebrations of Diwali go on for 5 days that start with Dhanteras and end with Bhai Dooj.
Diwali Days and How to Celebrate Them
Day 1. Dhanteras
The first day of Diwali is known as Dhanvantari Trayodasi, also Dhanteras. It is the thirteenth lunar day of Krishna Paksha (the dark fortnight) of the month of Kartika. It is believed that on this day, Lord Dhanvantari appeared on Earth to deliver Ayurvedic medicine for mankind. To welcome the Lord of Health, people thoroughly clean their houses and light lanterns outside their homes. Not just this, people also make small impressions of footprints throughout the house as a mark of the arrival of Lord Dhanvantari and Goddess Lakshmi.
This day also marks the beginning of the festival of light and buying metals like gold, silver, copper, steel, etc are considered auspicious according to Hindu traditions. People worship Goddess Lakshmi to bless them with prosperity and wealth.
Day 2: Choti Diwali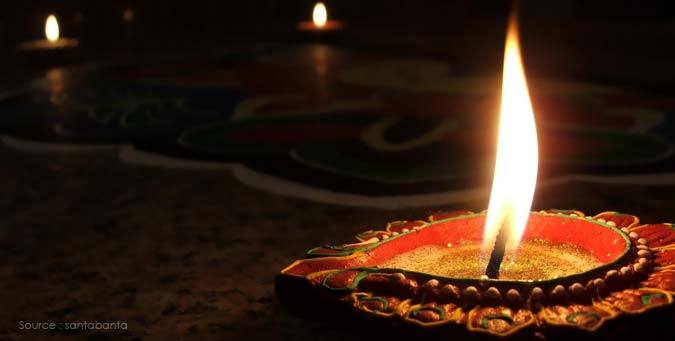 The second day of Diwali is known as Naraka Chaturdasi. It is the fourteenth lunar day of Krishna Paksha. It is said that on this day Lord Krishna killed the demon Narakasura who imprisoned 16,000 princesses. After getting released from the shackles of Narakasura, the girls were unsure about their acceptance by society. It is after this episode that Lord Krishna and his wife decided that all the 16,000 women would marry Krishna and will be recognized as his wives.
People take a holy dip in the sacred river Ganges to wash away all their sins and attain Moksha instead of Hell (Narak). Places like Varanasi (Kashi), Haridwar, Rishikesh, etc are frequented by people who travel from across the country to bathe and Ganga and get rid of all their sins. Post this holy bath, people relish lavish breakfast and begin their final preparation for Diwali.
Day 3: Deepavali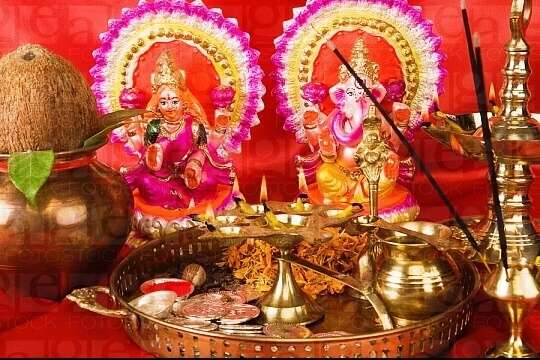 The main day of these 5 days of festive-streak is Diwali. On this day, people adorn themselves with new clothes, prepare an elaborate dinner, make rangoli designs to welcome Goddess Lakshmi, and light diyas in their houses. It's on this day when people pray to Lakshmi and Ganesh to ask for good health, wealth, peace, and prosperity. Children burst crackers but considering the amount of damage that has already been done to the planet, we request you to celebrate eco-friendly Diwali.
However, can you think of a festival without new clothes and loads of shopping? Diwali shopping can be very cheap and also highly expensive if you don't plan well in advance. Here are some of the best Diwali offers available online for you to consider. Get the best deals on fashion, groceries, home appliances, and even jewelry.
Day 4: Govardhan Puja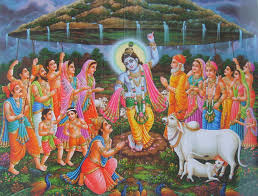 The day after Diwali is celebrated as Govardhan Puja or Bali Pratipada. Thousands of years ago, Lord Krishna asked the people of Vraj (Vrindavan) to worship nature in order to stop the heavy rains. The fact that people were worshipping Mother Nature to protect them instead of Lord Indra infuriated Indra who, in turn, cursed Gokul with heavy rains. In order to save the people, Lord Krishna lifted Govardhan Mountain on his little finger and saved people under its shelter.
Ever since then, people perform Govardhan Puja as an offering to Mother Nature and the mountains who guard the people in times of distress and need. This is the significance of Govardhan Puja that people perform throughout the country.
Day 5: Bhai Dooj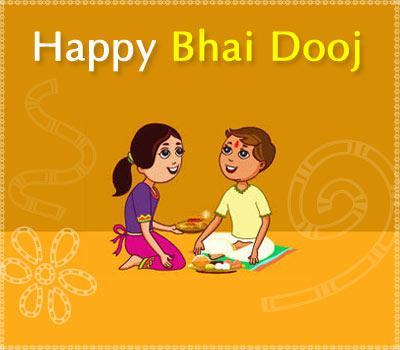 The last day of Diwali is marked with Bhai Duj, which is celebrated by putting tilak on the brother's forehead by their sisters. Many years ago, in the Vedic era, Yama (Yamraj, the Lord of death) had visited his sister Yami on this day and she welcomed him with love and affection. After his visit, he gave his sister a boon that whoever visits her on this day shall be liberated from all sins. They will achieve Moksha or final emancipation. Since then, brothers have visited their sisters on this day and sisters pray for their long and healthy life.
Here are some of the best gifts for sister this Bhai Dooj. Surprise her with something interesting and remind her how much she means to you.
These were the 5 days of Diwali that are celebrated in India in full swing. Do check out our blog on the best Diwali sweets to make at home this year and impress the guests with your culinary magic. Celebrate the festival with your family and stay safe! We wish you a very happy and prosperous Diwali!
<div class='toc'><ul><li><a href=#Significance-of-Diwali><b>Significance of Diwali</b></li><p> <a href=#Diwali-In-Hinduism>Diwali In Hinduism</p><p> <a href=#In-Sikhism>In Sikhism</p><p> <a href=#In-Buddhism>In Buddhism</p><p> <a href=#In-Jainism>In Jainism</p><li><a href=#Diwali-Days-and-How-to-Celebrate-Them><b>Diwali Days and How to Celebrate Them</b></li><p> <a href=#Day-1. Dhanteras>Day 1. Dhanteras</p><p> <a href=#Day-2:-Choti-Diwali>Day 2: Choti Diwali</p><p> <a href=#Day-3:-Deepavali>Day 3: Deepavali</p><p> <a href=#Day-4:-Govardhan-Puja>Day 4: Govardhan Puja</p><p> <a href=#Day-5:-Bhai-Dooj>Day 5: Bhai Dooj</p></ul></div>