Between the razzle-dazzle and commerce of the player auctioning, opening and closing ceremonies, controversies and the pure art of the game itself, it's easy to let the venue of the match go completely unnoticed. If you did take a moment to appreciate some of the best cricket stadium in India, you would know that many of these host stadiums have a history and have made some supremely iconic moments in cricket history possible.
Play GrabOn Cricket Fantasy and win prizes worth Rs 15 Lakhs!
The Best Cricket Stadium in India to catch lastest IPL action in 2020
1. Eden Gardens, Kolkata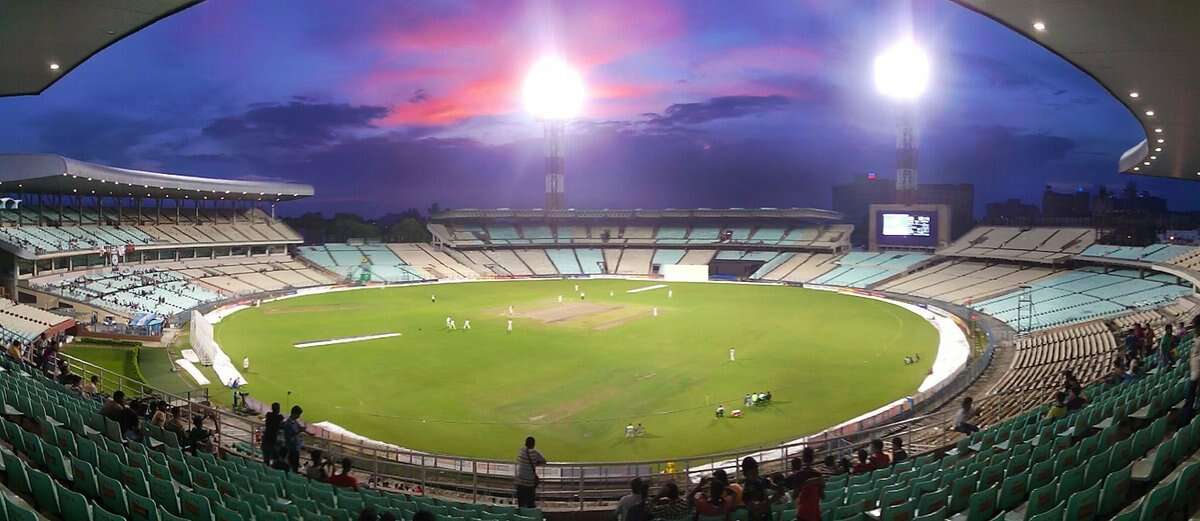 Built In: 1864
Highest Score Chased: 317/3 (48.1 Ov) by Ind vs SL
Lowest Score Defended: 195/10 (50 Ov) by Ind vs RSA
Highest Individual Score By A Batsman: VVS Laxman, 281 Runs, India v Australia,11 Mar 2001
Highest Wicket Taker: Harbhajan Singh (INDIA) 1999-2010 7 46
How To Reach: Metro (Nearest Station: Park Street), By Rail (Nearest: Howrah Station)
First Match: India v England – Jan 5-8, 1934
Capacity: 63000
Area's best cafes: Indian Coffee House, 3.5km Nawwarah Fine Dine & Lounge – 7.5km
India's oldest, biggest, most checkered stadium set in the midst the old-world charm of Kolkata, also happens to have hosted some of the most iconic moments for cricket fans. Built in 1864, India's first ever cricket stadium, with a hosting capacity of 80,000 people at a time remains irreplaceable in the history of India cricket for reasons far beyond its age and size. Bringing back the pain of the lost semifinal in 96 with Sri Lanka following the closely fought victory against Pakistan, AND the memories of triumph and pride thanks to V.V.S.Laxman's 281 against Australia, claimed to be the greatest Test performance of the last 50 years.
Fun Fact: The only cricketer to ever achieve a hattrick in an ODI on Eden Gardens, was the all-rounder Kapil Dev in a match against Sri Lanka in 1991.
2. Wankhede Stadium, Mumbai
Built In: 1974
Highest Score Chased: 284/4 (49 Ov) by NZ vs Ind
Lowest Score Defended: 192/9 (50 Ov) by WI vs Ind
Highest Individual Score By A Batsman: CH Lloyd, 242 Runs, West Indies v India, 23 Jan 1975
Highest Wicket Taker: Anil Kumble,1993-2006, 38 Wickets
How To Reach: By Rail – Churchgate Station
First Match: India v West Indies – Jan 23-29, 1975
Capacity: 44,000
Area's best cafes: The Beer Cafe – 2km, Tea Villa Cafe Churchgate- 1km
Though it lacks the historic charm or mystique of some the older stadiums, Wankhede stadium often considered as one of the best cricket stadium in India is an empire that has built its history through the quality moments produced in the stadium. Sunil Gavaskar's last appearance for India, India's chase for 256 against England in 2002, highest runs-per-over quotient in international cricket in 1987, and most media-covered event of all, Sachin's last test followed by his teary-eyed farewell speech, all took place over the green grass/blades of Wankhede. Located in a city that's always busy and densely celebrity-studded, is also arguably the most prolific producer of Indian cricketers. Home ground of Sunil Gavaskar, Sachin Tendulkar, Ravi Shastri, Kambli, and many more iconic players. A relatively new age stadium, built in 1975, held a capacity of 44,000 seaters when built and can host 38,000 audiences today. It covers a vast area of 35,000 square meters and is traditionally batsmen and spinner friendly.
Fun Fact: The Stadium stemmed as a result of a mundane yet long disagreement over seating capacity between the Bombay Cricket Association and the Cricket Club of India, following which a politician and then BCA secretary, SK Wankhede took upon himself to find a new construction venue.
3. Chidambaram Stadium, Chennai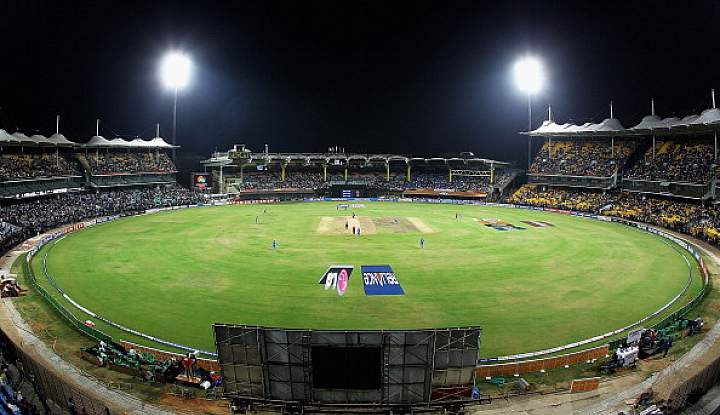 Built In: 1916
Highest Score Chased: 289/4 (47.5 Ov) by Aus vs NZ
Lowest Score Defended: 171/10 (45.4 Ov) by Eng vs RSA
Highest Individual Score By A Batsman: Sehwag, 319 Runs, India v South Africa, 26 Mar 2008
Highest Wicket Taker: A Kumble,1993-2008, 48 Wickets
How To Reach: Chepauk – Closest EMU Station
First Match: India v England – Feb 10-13, 1934
Capacity: 38,000
Area's best cafes: Amethyst Cafe – 3km, Writer's Cafe-4km
Established in 1916, and formerly known as the Madras Cricket Club Ground, it is the home ground to Chennai Super Kings in the Indian Premier League since 2008. If Kolkata has history and Mumbai has pride, Chennai has the most knowledgeable fans around. It might not be best Cricket Stadium in India, but who can forget Sachin's near perfect 136, an innings in which he battled not just a brilliant Pakistani attack but also his own body. And who can forget how the entire stadium put aside its disappointment to warmly applaud the victorious Pakistani team. For all the history that Chidambaram and India Pakistan cricket boasts of, this might still be the most beautiful sight they have given the cricketing world.
Fun Fact: The fastest triple century in test history was hit in 2008 by Sehwag in 278 balls against South Africa on the Chidambaram pitch. Sehwag was also just the third batsman to score two triple centuries in Test cricket after Donald Bradman and Brian Lara.
4. M. Chinnaswamy Stadium, Bangalore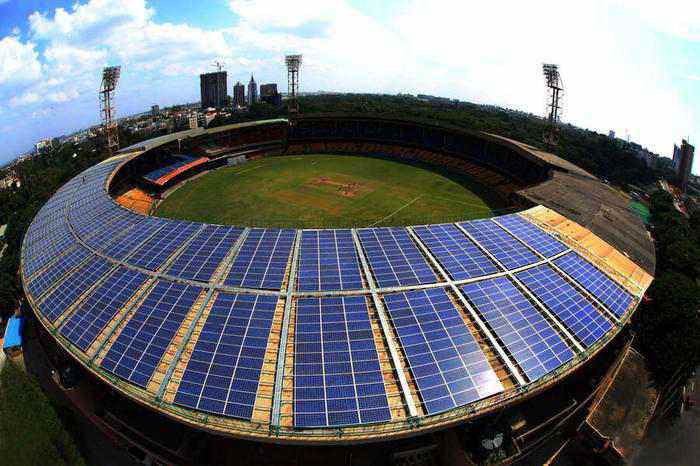 Built In: 1969
Highest Score Chased: 626/10 (150.2 Ov) by Ind vs Pak
Lowest Score Defended: 112/10 (35.4 Ov) by Aus vs Ind
Highest Individual Score By A Batsman: Younis Khan, 267 Runs, Pakistan V India, 24 Mar 2005
Highest Wicket Taker: Zaheer Khan, 2001- 2011, 14 Wickets
How To Reach: BMTC Buses
First Match: India v West Indies – Nov 22-27, 1974
Capacity: 40,000
Area's best cafes: Cafe Mozaic 3 km, Cafe Azzure 2 km
The ground formerly known as Karnataka State Cricket Association Stadium was renamed after the president of the Indian board from 1977 to 1980, who was also administering Karnataka cricket for about four decades, M Chinnaswamy. Established in the year 1969, it can hold 40,000 people at a time and is the proud home ground to theRoyal Challengers. It was fondly titled the country's first green stadium with an in-house solar rooftop, an effective rainwater harvesting system and unique and extremely efficient sewage treatment plan, making it best cricket stadium in India. The only rival to Chennai's crowd, Bangalore plays cricket everywhere. On the street, terrace tops, basements.. you get the flow. The city obviously takes pride in a ground that Anil Kumble and Rahul Dravid call home. And if you like a little emotion in your cricket check Anil Kumble and Srinath's scarcely believable rear guard against Australia that is memorable as much for the on-field class as it is for the mothers joyously hugging at the end.
Fun Fact: The highest number of runs scored on this pitch by a batsman is 534. Not particularly surprisingly, the record is held by Sachin Tendulkar, scored in a One Day International match.
Last but definitely not the least,
5. Feroz Shah Kotla Ground, Delhi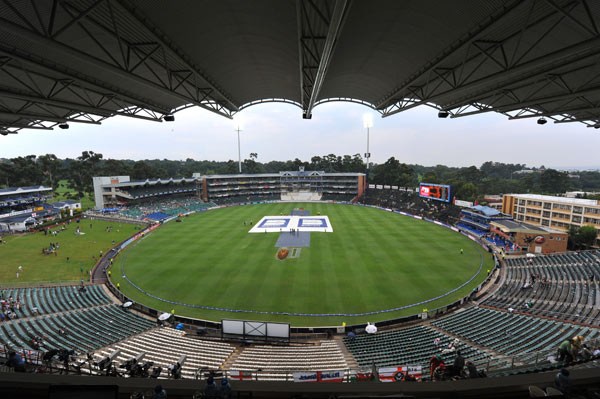 Built In: 1883
Highest Score Chased: 317/3 (48.1 Ov) by Ind vs SL
Lowest Score Defended: 195/10 (50 Ov) by Ind vs RSA
Highest Individual Score By A Batsman: Virat Kohli, 243 Runs, India V SriLanka, 2 Dec 2017
Highest Wicket Taker: Anil Kumble, 1994-2008, 9 matches,41Wickets
How To Reach: Delhi Metro (Nearest Metro Station – Delhi Gate Station)
First Match: India v West Indies – Nov 10 -14, 1948
Capacity: 48000
Area's best cafes: Junkyard cafe (4km), Aap Ki Pasand Sancha Tea Shop – 2.5km
Anil Kumble. 10-74. Enough said. Well, not really. There is this weird combination of effortless nonchalance and manic energy that only the Delhi crowd can manage,  making it one of the best Cricket Stadium in India, that also describes Sehwag. The Stadium has been in existence since 1883 and is the home venue to the Delhi Daredevils of the Indian Premier League. The second oldest international cricket stadium after the Eden Gardens has hosted its first test in 1948 (India v West Indies and the last test in 2017 (India vs Sri Lanka). It had to take a hit on its reputation as an International Venue when the ODI between India and Sri Lanka was canceled as the pitch was declared unfit to host the match in 2009 and was banned for 12 months by ICC. All has been well since it made its comeback as one of the hosting stadiums for the 2011 Cricket World Cup. But then, as I said, Kumble – 10 for 74. Go on, watch it again on Youtube. We know you will.
Fun Fact: As of 2016, this pitch has hosted the Indian national cricket team for over 28 years in Test matches and for over 10 years in ODI matches, and India came out victorious in every single one of those.
The list is placed in no particular order and is 5 most widely accepted pick for the Top 5 stadiums. So when you're watching the upcoming IPL season, and some interesting events unfold on the creases of these stadiums, hope you get to appreciate them a wee bit more in the context of the history of these legendary venues.
Which is the Best Cricket Stadium in India according to you?
Let us know in the comments below :)