The 2019 edition of the most celebrated ICC World Cup is about to begin in England and Wales, and the world cannot keep calm! The leaves have been approved, tickets booked and the teams are ready to shake the ground off with their thrilling performances. But amidst all this, every Indian is desperately missing the master strokes by Master Blaster Sachin Tendulkar. All the 90s kids have grown up worshipping Sachin Tendulkar and we know that the God's place is irreplaceable.
While we are all hearts with the present Indian cricket team, there's always a desire to see Tendulkar on the ground hitting the ball as only he can do. We know you're as nostalgic as we are and so, we have curated some of Tendulkar's best performances in his World Cup career from 1993 – 2011. And before reading further, order your favorite Sachin Tendulkar merchandise here just like a true fan would do!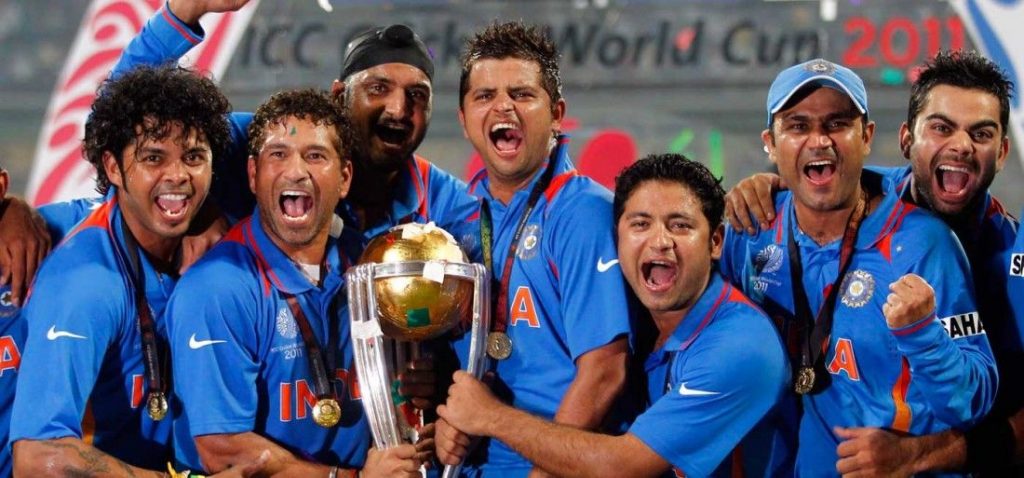 Best Tendulkar Moments in Cricket World Cup Matches
90 runs, India vs Australia, Mumbai, ICC World Cup 1996
If you're a 90s kid, you must have grown up watching Sachin Tendulkar blowing the ball like no one. Ind vs Aus cricket world cup 1996 was the beginning of the Tendulkar Era. The "Little Master" displayed an impeccable performance and his World Cup legacy found the perfect momentum. His career began to take form and he did not look back ever again.
Though India lost by 16 runs, Tendulkar's artistry with the bat was clear to the world. He displayed a striking 90 before he was knocked out by Waugh. In that tournament, Tendulkar averaged a score of 87.16 runs, hitting three half-centuries and two tons.
140* runs, Ind vs Kenya, Bristol, ICC World Cup 1999
Sachin Tendulkar stripped off the Kenyans with a blasting 140* in Bristol. Tendulkar's eyes were blazing with determination when he walked towards the pitch and displayed his brave and skillful techniques to hit on both sides of the wicket. This happened just a couple of days after Tendulkar's father passed away and the 25-year old cricketer said, "it was the most difficult time of my life".
Tendulkar was unstoppable during this match and on hitting a century, he nodded heavenwards and that moment is still etched in every cricket fan. His incredible performance on this day was enough to display his technical acumen and prodigy in cricket.
98 runs, India vs Pakistan, Centurion, ICC World Cup 2003
Ind vs Pak has an edge to it every time the two teams walk on the field together but 2003 was different. It was in this match that the master blaster scored a blazing 673 runs in the tournament, the highest score ever achieved. He gave a tough time to the Pakistani cricket team with a six high up in the air and 12 glistening fours.
Before he departed towards the pavilion in 28th over, Tendulkar had scored 98, just two short of a blasting 100 but it was enough for India to win the match. From Wakar Younis to Shahid Afridi, everyone in the opposition team was struggling to stop the God of cricket but he knew exactly what he wanted to do. Tendulkar was in his best form that day.
120 runs, India vs England, Bengaluru, ICC World Cup 2011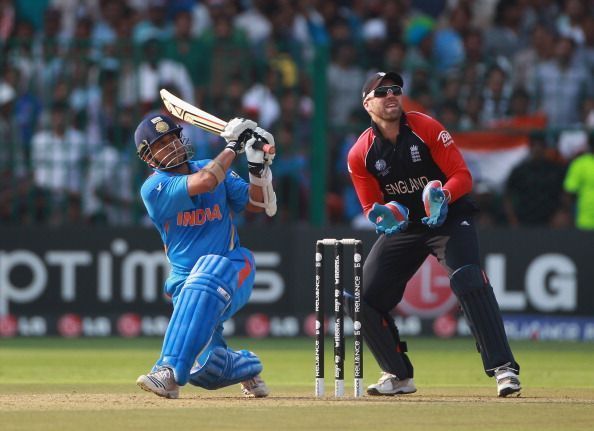 The crazy night on 2ns April 2011 saw the most scintillating moment ever! Wankhede Stadium in Mumbai experienced the loudest cheers in the history of cricket when the Indian team lifted the most coveted trophy for the second time. Tendulkar claims this moment to be "the best cricketing moment of my life" and there's no denying it. It's not just this win that the cricket world cup 2011 is famous for.
It was Ind vs Eng match in 2011 when Tendulkar stroked 10 fours and 5 smashing sixes on the ground of M. Chinnaswamy Stadium in Bengaluru. His impeccable performance instilled strength in the lower order batsmen and India managed to score 338. England chased the number and the match was a tie. India later defeated Sri Lanka and won the ICC World Cup 2011 trophy after 28 years. It was after the victory at Wankhede that Tendulkar took retirement and appeared as an ICC Ambassador during World Cup 2015.
Sachin Tendulkar World Cup Records
The 'Little Master' has never failed to mesmerize the entire world with his unmatched performances in the CWC. whether it's those sixes above the third man or balls touching the boundaries after a blasting shot, the God of cricket has all of that under his name. Here are Tendulkar's World Cup achievements and records for you to revise.
Most Runs scored – 2,278
Tendulkar's highest score in World Cup goes back to 2003 against Namibia when he scored a good 152 runs. His second best was recorded back in 2011 which led to India's victory in the tournament. Not to forget, India brought the World Cup Trophy home after 28 years.
Most Centuries – 6
Tendulkar gave Indians yet another reason to be proud of him by scoring the most number of centuries in the World Cup history. Sachin has a record of scoring 6 centuries in his World Cup career, highest so far.
Most Half Centuries – 15
Not just the tons but Sachin Tendulkar also has a record for scoring the maximum number of half-centuries in the history of ICC World Cup so far. His first three 50s were scored in his first World Cup tournament in 1992 and then there was no looking back.
Most Runs in a Series – 673
Tendulkar's devastating strokes in the World Cup 2003 resulted in a record-breaker 673 runs in a series. He became the highest scoring batsman in a particular series with a total of 673 runs. Honestly, it's only Sachin Tendulkar who can do things like these and we're going to truly miss him on the ground this time.
ICC World Cup 2019 Indian Team Players List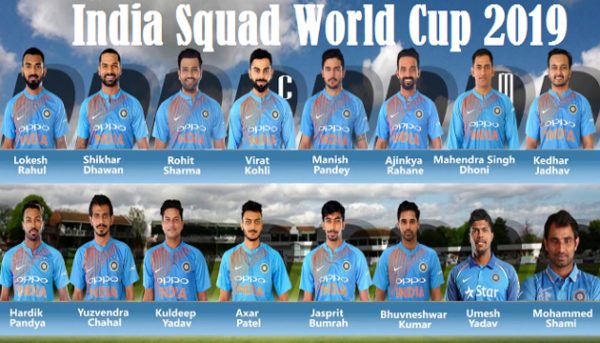 Virat Kohli – Captain
Rohit Sharma
Shikhar Dhawan
MS Dhoni
Kedar Jadhav
Hardik Pandya
Bhuvneshwar Kumar
Kuldeep Yadav
Yuzvendra Chahal
Jaspreet Bumrah
Mohammad Shami
Vijay Shankar
Dinesh Karthik
KL Rahul
Ravindra Jadeja