Feeling lost while searching for a new smartphone? Way too many options to choose from. Having trouble finding just the right capacity washing machines? Worry not, be it laptops, printers, laptops or LCD/LED TVs, we have you covered. We at GrabOn have designed the ultimate Price Comparison Portal for you!
Say hello to BestPriceOn: The industry first price comparison website that uses Artificial Intelligence, Machine Learning, and Natural Language Processing to help you choose the best in category gadget or electronic appliance that you're looking for. We have helped you save big on your online shopping, now it's time to help you choose better and that too with minimum effort :)
If you're super confused with all the jargons that I used, don't be. I'll explain why these jargons will make your search a lot easier and effortless!
How BestPriceOn Will Help You Compare Prices Easily
Now, you no longer need to run to your tech geek friends for help choosing a mobile phone. All you need to do is go online and look up for the best phones in your price range. Here, you can compare the phones with respect to the features, specifications, overall look & aesthetic and of course the price range! These portals not only offer the ease of choosing smartphones, you can look for all sorts of consumer electronic goods, be it a laptop, tablet, television, printer all the way to washing machines and refrigerators.
However, there a quite a few drawbacks to these readily available price comparison sites:
You get the best matches only when you're absolutely sure about what you want to buy
In case you're not entirely sure of what you want, you will face a lot of difficulty in getting the right recommendations
This happens because unless you stick to the exact search keywords or strings, the search engine won't show you useful results.
BestPriceOn addresses this problem of exact string match using the above jargons (remember I told you they'll come in handy :P ). Alright so, let's take a look at how BestPriceOn aims to solve these issues:
How BestPriceOn Is BETTER Than Most Price Comparison Engines
Our search engine relies on natural language input from users. Thus, making the experience more interactive and natural as it can be. Apart from the standard queries, you can also search in the way like "Laptops with 8GB RAM" and "mobile price between 10000 and 20000".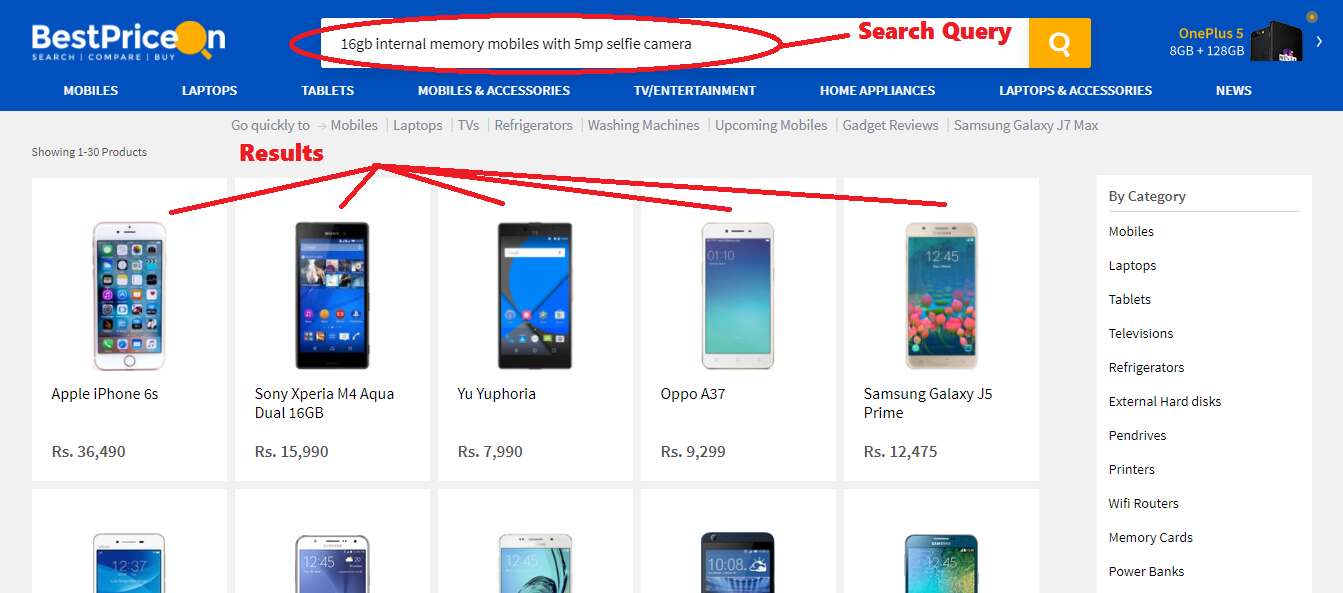 With a catalog of close to 10,000 products listed across 13 categories. With NLP and ML integrated into the roots of its code, BestPriceOn understands search queries that are used by their users i.e. you in everyday conversations. For example phrases like 'mobile phone with 4GB RAM under 9000 rupees'. So, go ahead and just search in your layman terms and find search results you wouldn't find on any other price comparison platform.
And if you know what you are looking for specifically, then you can input queries such as "pen drives with USB 3.0 interface". We have used artificial intelligence and machine learning techniques to learn the behavior of users. Taking in consideration at least 5000 different ways to search, we have taught our algorithm to yield relevant results.
Now tell us would you prefer to search, compare and buy products on a sophisticated website that can respond contextually with relevant results, and provide comparative and expert analysis report at your convenience or not?
Apart from getting you with the best-priced product, BestPriceOn also provides price drop alerts, notifications on upcoming products, expert product reviews, comparative analysis, and price graphs. These are just some of the features, there are tons more on board the website that will enhance your online shopping experience. Thus, helping you make an informed buying decision.
Byte, the official blog of BestPriceOn is at your service for providing the latest updates and everything tech!
So, what do you think about this price comparison portal from GrabOn? Sound off in the comments below :)