Cristiano Ronaldo, the boy from Madeira has now become Cristiano Ronaldo, the legend! He has come a long way from being a lanky teenager with a heart problem to becoming one of the greatest to have ever played football. Join us as we relive some of his major accomplishments. Cristiano Ronaldo is one part of the two-man act (Ronaldo and Messi) that have redefined how we view football today. One of the greatest footballers of the decade and arguably he is the greatest European player of all time.
Cristiano Ronaldo's Career Stats –
550 GOALS
REAl MADRID - 366
MAN UTD - 118
PORTUGAL - 61
SPORTING CP - 5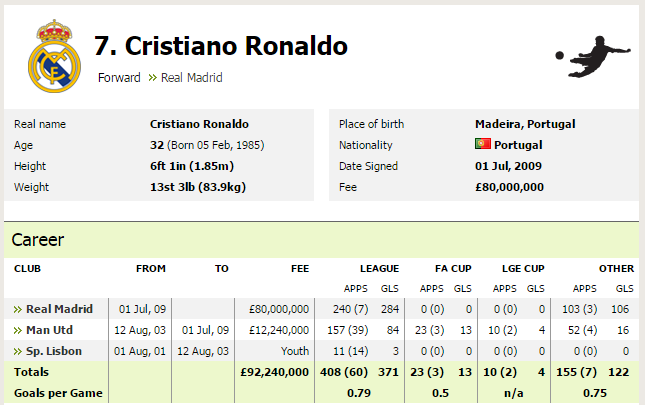 His career was born on the streets of Madeira that led him to the heart of Madrid – via a memorable 6 years in Manchester – to become the face of modern football. In this post, we are going to share some of this career-changing games that defined the player we adore and admire.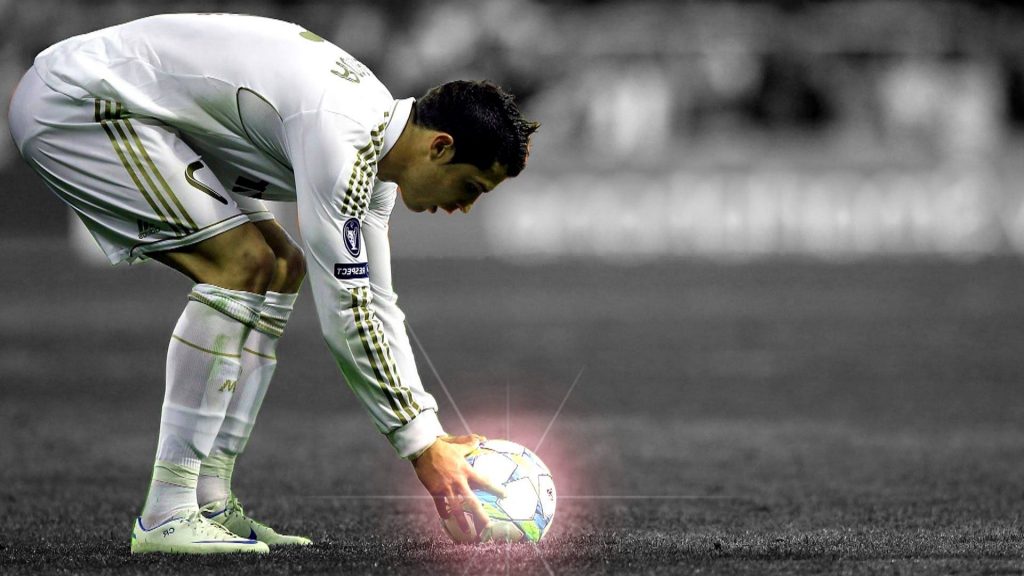 Cristiano Ronaldo's 6 best career moments that shaped his career
1. Debut with Manchester United (Aug. 16, 2003)
Cristiano Ronaldo the legend became Manchester United's first-ever Portuguese player following his £12m move from Sporting Lisbon. How different things might have been if the two other teams vying for his services – Arsenal and Barcelona – had been able to seal the deal.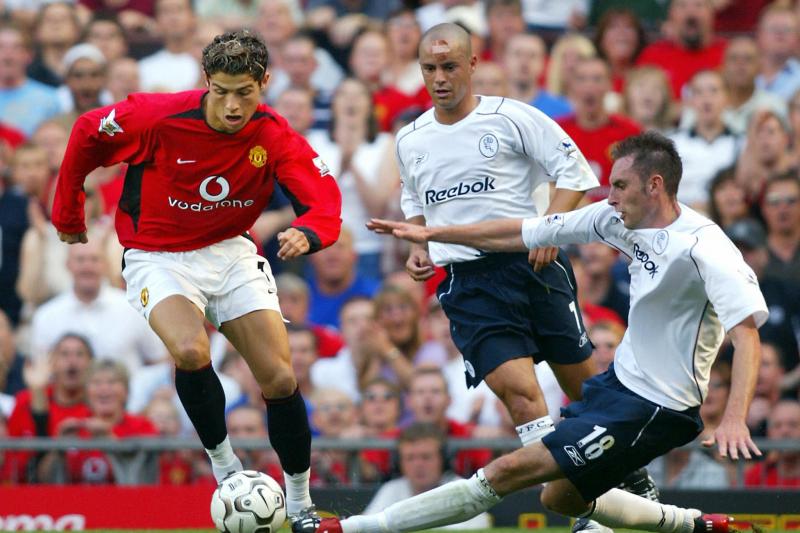 Ronaldo made his Manchester United debut as a 61st-minute substitute for Nicky Butt against Bolton on the opening day of the 2003-04 season and that was the moment when football experts knew this guy was going to be a huge deal.
2. Crying after losing the Euro final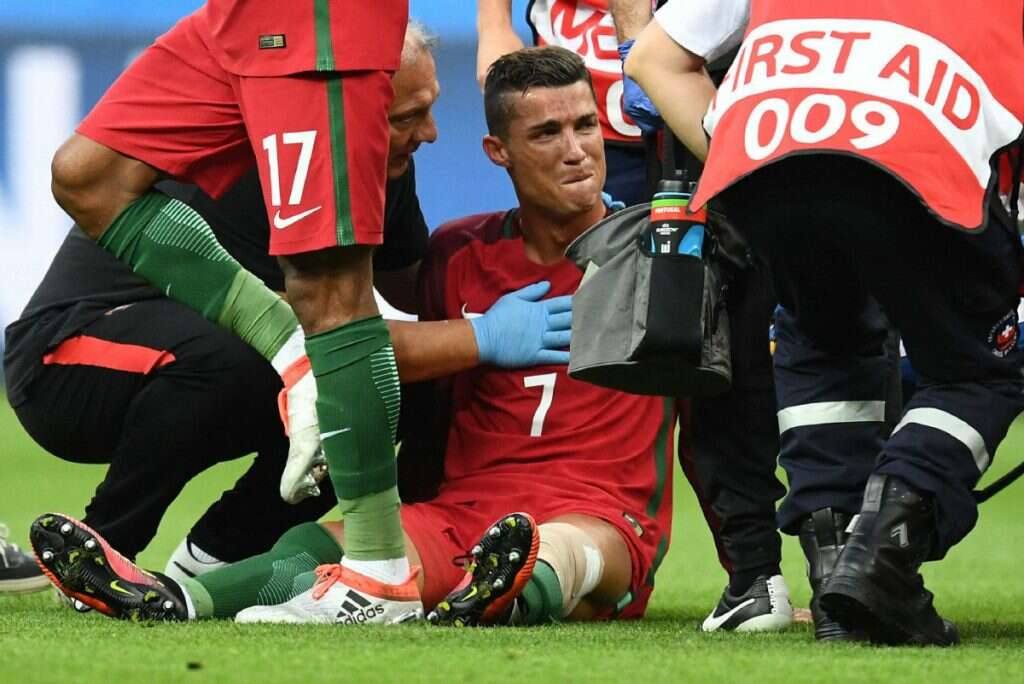 For many, this moment could seem to be the low point of Ronaldo, but for us, this was the exact moment that was truly the mark of his outpour to go on to become the best player in the world. After losing the Euro 2004 final against a sturdy Greece side, the 19-year old Cristiano Ronaldo burst into tears. This is indeed one of the memorable moments for his fans that truly depicted his passion for the game and his will to win every game. The loss had shattered him to the bones, his dream of winning a trophy with Portugal was crushed and his reaction on the pitch was pure and honest. Crying is a sign of strength that the Real Madrid man showed just that at that very moment. Since that instant, he gradually matured to the point where he became the best player in the world for a certain point of time.
It was this tournament that matured him as a player and he went on to become the legend. Playing alongside the great Golden Generation of Portugal, Luis Figo and Rui Costa, he epitomized Portugal's sheer passion for this game. The tournament was jazzy, captivating and undoubtedly brilliant – till they reached the final. Cristiano Ronaldo had scored his first international goal in the opener, a thumping header against Greece and maintained his standard throughout the game, as the hosts beat Netherlands 2-1 in a stunning semifinal.
3. Manchester United vs Arsenal – Semi-finals, UEFA Champions League 2009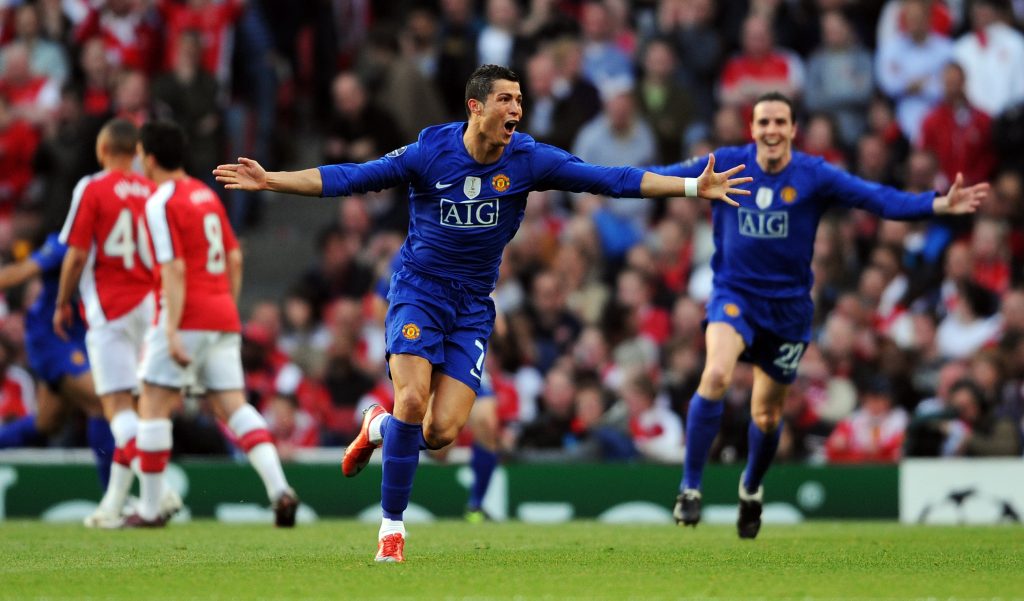 Ronaldo was at its peak in this match. This is what you get when you mix the sheer entertainment of his youth and the unparalleled efficiency the player showcases. In the Semi-Finals of the UEFA Champions League 2009, Cristiano Ronaldo the legend was unstoppable. Arsenal wasn't all that shabby a side, after all, they had also made it to the Semi-Finals, but they were devitalized at the Emirates that night by a man, who was often compared to Lionel Messi's caliber as the best player in the world. That night Ronaldo had led the ruthless United to Rome.
Cristiano Ronaldo's 5 Greatest Free Kicks of All Time
Arsenal's hopes gradually faded within the first eleven minutes after Ji-Sung Park capitalized on a slip by Kieran Gibbs, and then Cristiano Ronaldo, catching Manuel Almunia out with a free-kick, struck for United. Trailing 3-0 on aggregate there was no way back for the demoralized home side and Ronaldo salted their wounds with the evening's third goal just after the hour. Ronaldo had scored a 40-yard hammer-shot of a free kick from an impossible angle! Arsenal had not acquired a home goal for 514 minutes but shipped a second just three minutes later as Ronaldo did what he had done in Porto in the previous round – scoring from a position where few players would even contemplate shooting with an audacious free-kick from 40 meters out and to the right of the goal.
This came at the end of a season when the last three months of his time at United saw some of the best footballing displays England has ever seen. This was the zenith.
4. Ronaldo's 500th goal against Malmo in September 2015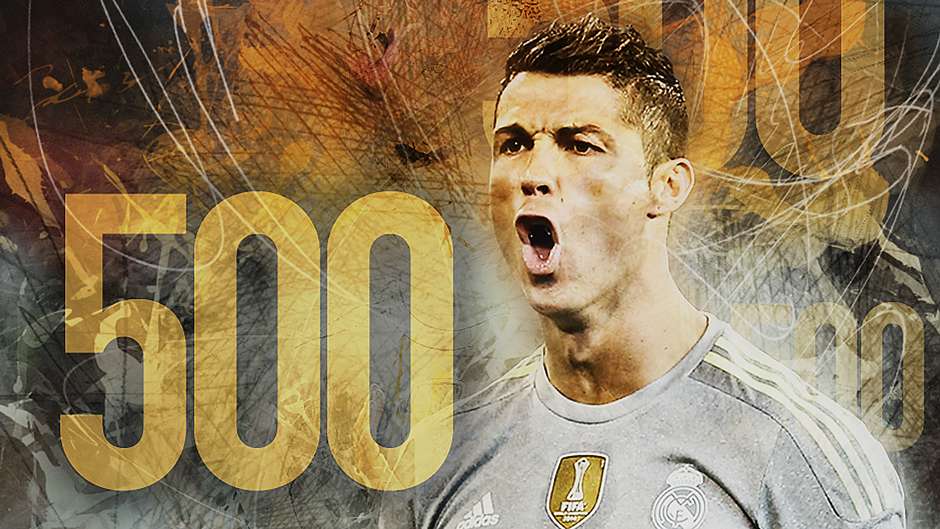 Cristiano Ronaldo the legend is fondly referred as goal machine. Real Madrid forward Cristiano Ronaldo scored his 500th club goal against America in the Club World Cup in September 2015. The Ballon d'Or winner seized the goal in the 93rd minute against America by shooting past Moises Munoz, thus joining Raul as Real Madrid's highest ever scorer. A delve into the legacy making halfway to a thousand goals reveals the extent of feats he has achieved over the course of the 15 years since he first scored as a bold, confident 17-year-old at Sporting Lisbon. In doing so he gave more than just a glimpse into the future.
Ronaldo's first goal
He had hit only five goals for the Portuguese side before Sir Alex Ferguson reserved him for Manchester United, where he found the net 118 times in 292 appearances. Since moving to Real Madrid for a world record fee, he has scored at a truly astonishing rate. In the 300 appearances Cristiano Ronaldo has for Madrid in official competitions, he has 313 goals, with the following breakdown:
225 goals in 200 La Liga games.
21 goals in 28 Copa Del Rey games.
64 goals in 64 European games.
3 goals in 8 other games (Supercopa de Espana, International Club Cup)
5. Real Madrid vs Wolfsburg – Quarter-finals, UEFA Champions League 2016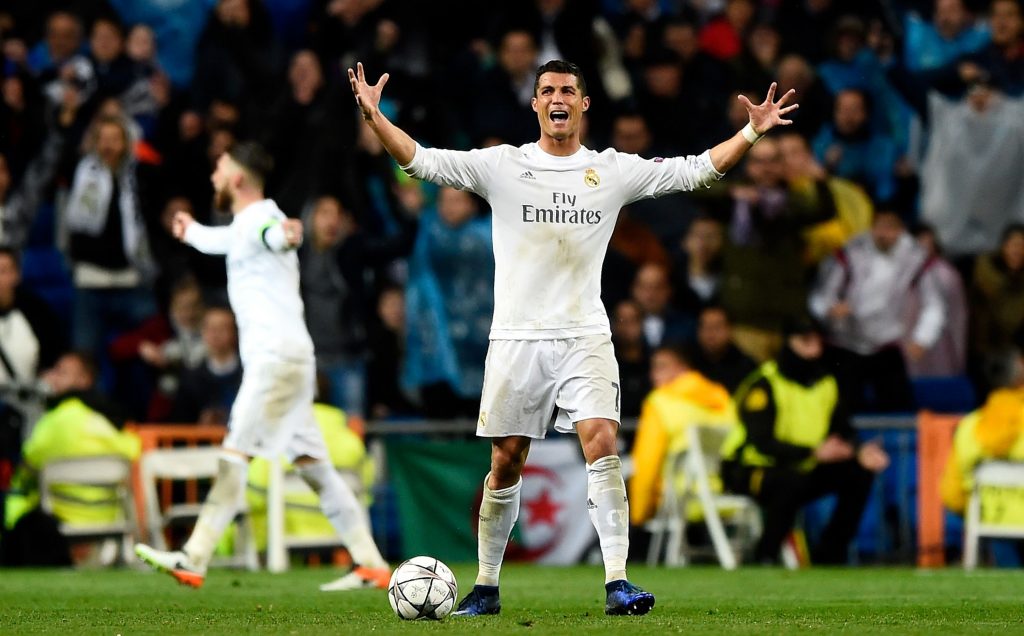 Cristiano Ronaldo the legend sealed a hat-trick to help Real Madrid reach the Champions League semi-finals for the 6th successive season. Cristiano Ronaldo managed to wipe out the first-leg deficit and scored two goals in two first-half minutes to level the tie before sealing it with a late free-kick. The Portugal international geared up to make a free-kick which Wolfsburg goalkeeper Diego Benaglio was unable to keep out.
Wolfsburg had already shocked Real Madrid with an all-inclusive 2-0 defeat at home during their quarterfinal clash. Volunteering a skyward task at the Bernabeu, Ronaldo went about displaying just what he could do on a football ground. Over the previous 7 years, Ronaldo had broken every record he could get his hands on. Even though there were many exhibits of his pure skills in previous matches, this one had it all. His off-the-ball movement saw him glide away at the far post from where he made a free tap-in. While he had been several times injured for the kind of goals he made, but those efforts have always worthwhile showing his sheer passion for the sports.
His second goal came with a header – the one thing that he does better than anybody else. An intelligent run and he eschewed his signature power header to glance one into the far post. His third, goal was the best of them all. With time running out, and Madrid in desperate need of a third goal to avoid extra-time, Ronaldo came to the rescue for a free kick just outside the box – and he curled it brilliantly into the bottom corner of the net.
6. Portugal vs France – Final, Euro 2016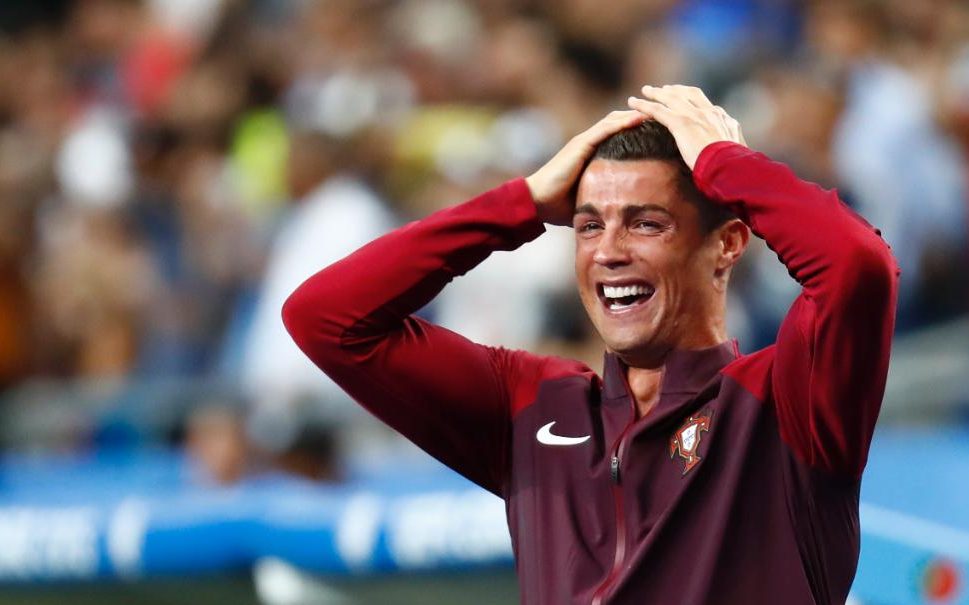 His second Euro final and he was in tears again. Captain and mentor of his national team now, Ronaldo had to be stretchered off just before the half-hour mark but by then he had already transmitted his pure passion into his teammates on the pitch. He had played well throughout the tournament, but fate had been cruel to him at the last second and he was ruled out following injury. Inspired by what Ronaldo had told him just before Extra-time, Eder made his brilliant winning shot thus allowing Portugal to win their first ever major international trophy. Even though Ronaldo hadn't played this match, but after 12 years those tears had finally turned. From sorrow to joy.Those things matter.
7. Portugal vs Spain – World Cup, 2018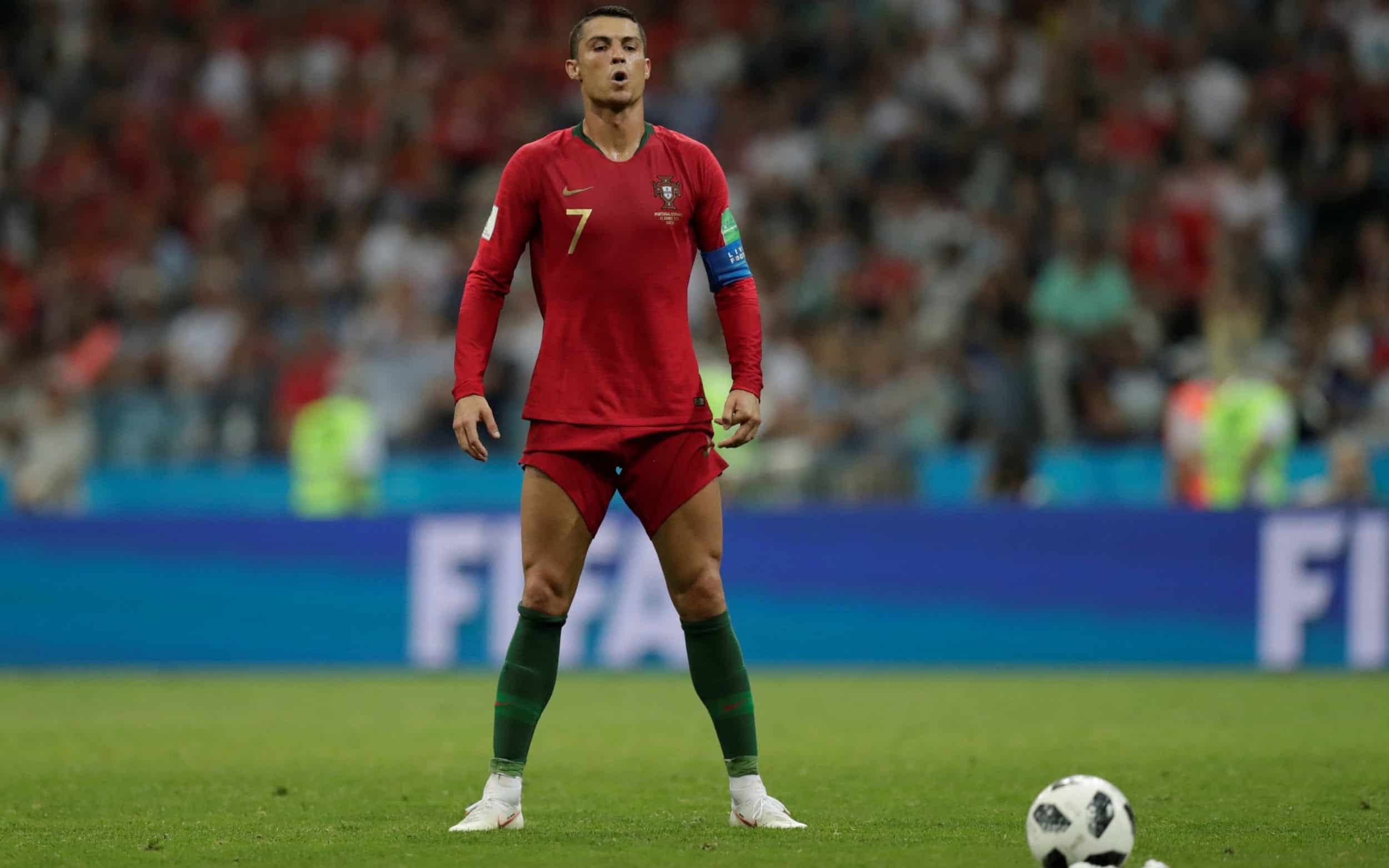 Ronaldo is quite notoriously known to turn a tie around all by himself. He has proven this on numerous occasions. His hattrick against the Spaniards on football's biggest stage is one such instance. Cristiano is known to not shy away from pressure, rather, he excels under it. When the world's eyes remained fixated on the man, he simply puffed his chest up and composed himself. As the world watched with bated breath, he let out a sigh characteristic of him before finding the back of the net for the 3rd time that night against a stellar defensive duo of Sergio Ramos and Gerard Pique. Even though the match ended in a stalemate, Ronaldo's heroics earned Portugal a valuable point against one of the giants in international football.
8. Ronaldo vs Atletico Madrid, 2019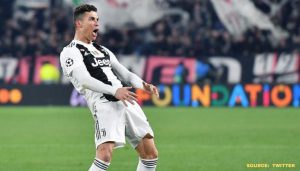 Ronaldo and Atletico Madrid have always had bad blood between them ever since his stint at Real Madrid, with the former usually getting the better of the latter. This fierce rivalry left the alleys of Madrid and followed Cristiano all the way to the UEFA Champions League Round of 16. The tie was to be played over 2 legs – The first one in the Wanda Metropolitano where Los Rojiblancos managed to inflict a seemingly insurmountable beating to Juventus by hammering them by 2 goals. Fast forward to the 2nd leg, the determination in Cristiano's eyes was apparent. He set out to reverse the fortunes of the Old Lady. What seemed impossible just 90 minutes ago turned into reality as Ronaldo scored all 3 goals against a supposed 'impervious' defence. His efforts turned out to be more than enough for Juventus' redemption who marched on to the next stage because of their main man!
So those were Cristiano Ronaldo's 6 best career moments that shaped his career. A footballer who never lets his team down, and a name so famous half the population of the world knows him, Cristiano Ronaldo the legend for you. With all his incredible tricks and goals on the field, Ronaldo perfectly exemplifies that nothing is impossible.
What are some of your favorite Cristiano moments? Do share with us in the comments below. Happy reading :)
Image Courtesy:
YouTube.com
independent.co.uk
thestar.com
zimbio.com
goal.com
sports.yahoo.com
thesportsquotient.com
deviantart.com
bleacherreport.net
<div class='toc'><ul><li><a href=#Cristiano-Ronaldo's-Career-Stats-–><b>Cristiano Ronaldo's Career Stats –</b></li><li><a href=#Cristiano-Ronaldo's-6-best-career-moments-that-shaped-his-career><b>Cristiano Ronaldo's 6 best career moments that shaped his career</b></li><p> <a href=#1.-Debut-with-Manchester-United-(Aug.-16,-2003)>1. Debut with Manchester United (Aug. 16, 2003)</p><p> <a href=#2.-Crying-after-losing-the-Euro-final>2. Crying after losing the Euro final</p><p> <a href=#3. Manchester-United-vs-Arsenal-–-Semi-finals,-UEFA-Champions-League-2009>3. Manchester United vs Arsenal – Semi-finals, UEFA Champions League 2009</p><p> <a href=#4.-Ronaldo's-500th-goal-against-Malmo-in-September-2015>4. Ronaldo's 500th goal against Malmo in September 2015</p><p> <a href=#5. Real-Madrid-vs-Wolfsburg-–-Quarter-finals,-UEFA-Champions-League-2016>5. Real Madrid vs Wolfsburg – Quarter-finals, UEFA Champions League 2016</p><p> <a href=#6.-Portugal-vs-France-–-Final,-Euro-2016>6. Portugal vs France – Final, Euro 2016</p><p> <a href=#7.-Portugal-vs-Spain-–-World-Cup,-2018>7. Portugal vs Spain – World Cup, 2018</p><p> <a href=#8.-Ronaldo-vs-Atletico-Madrid,-2019>8. Ronaldo vs Atletico Madrid, 2019</p></ul></div>