The hangover of Bahubali 2 will soon fade away, for the fans of the God of cricket will get to see the 'Master Blaster back in action, almost after three years, not on cricket field but on the silver screen. Sachin Tendulkar biopic is going to be released on May 26 and has been the much awaited movie for all the cricket lovers out there.
8 things media didn't tell you about Sachin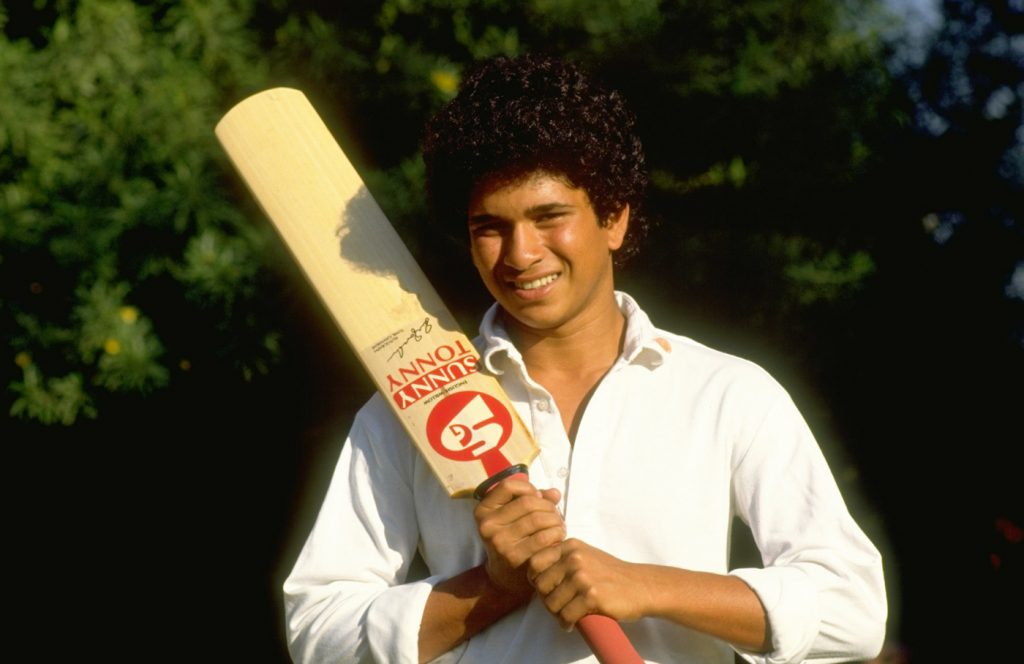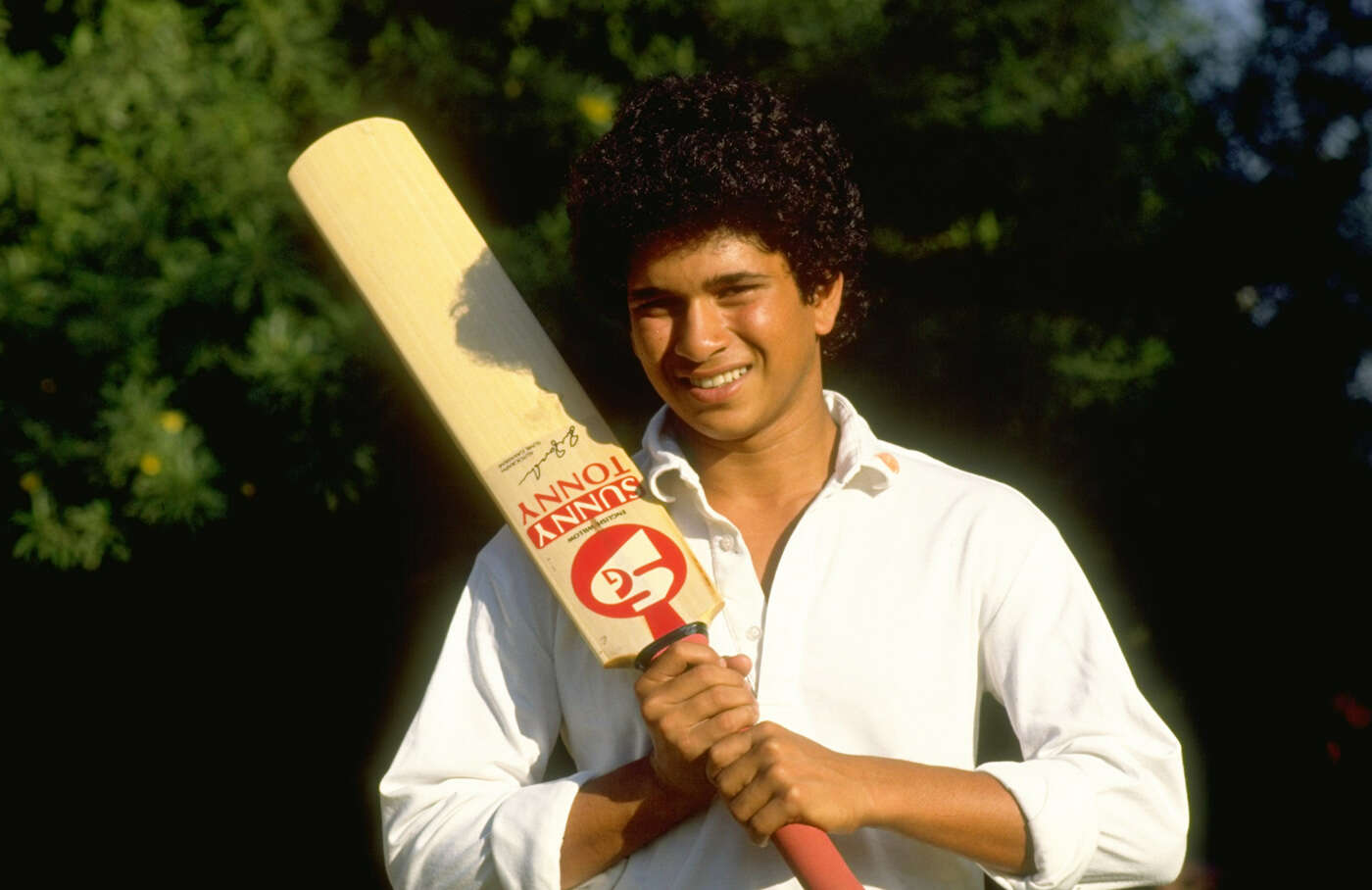 Sachin was ball boy in 1987 world cup: Tendulkar watched the Indian team playing from close quarters during the 1987 semi-final. The 14-year-old saw how the players prepared before the game. The great Sunil Gavaskar invited Tendulkar to the dressing room as well.
Achrekar had slapped Sachin: Sachin's childhood coach had slapped him for bunking his practice only to watch his senior team play. Achrekar had told him, "You should not be clapping for others. Others should clap for you." Didn't that happen for the next quarter of a century regularly?
Sachin had aspired to be a fast bowler: The God of cricket wanted to be a fast bowler, for which, he had also attended the MRF Pace Academy which was run by the Australian fast bowler Dennis Lillee. Lillee was rather impressed by his batting skills than bowling. In hindsight, we thank Lillee that Sachin was rejected as a fast bowler!
Sachin had sleepwalking disorder: Tendulkar was Ganguly's roommate at the MRF Pace Academy. Because of his disorder, Sachin used to walk in his sleep. Ganguly was so scared that he couldn't sleep at night.
Sachin was a big-time bully: He once bullied a guy who was much older than him and really hammered the fellow. At the end of the day, the guy was waiting at the school gate with all his friends, hoping to return the favour. But Sachin just disappeared.
Sachin's first car was a Maruti 800.
Sachin was named after S D Burman: His father was a huge fan of music director Sachin Dev Burman and so had named his son after him.
Sachin was gifted pair of pads by Gavaskar when in school: Sunil Gavaskar had gifted him a pair of pads, which he wore while making his Test debut for India against Pakistan at the age of 16 years in 1989.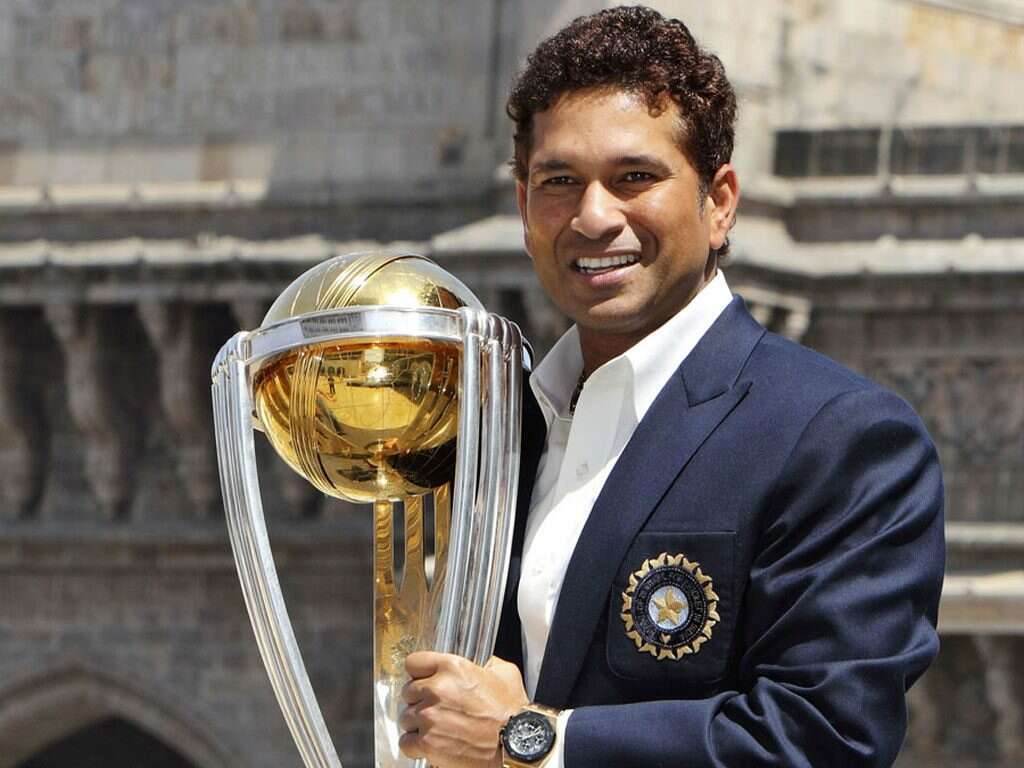 Earlier this year in February, the God of Cricket had taken it to twitter to announce Sachin Tendulkar Biopic movie, 'Sachin: A Billion Dreams' is slated to release on May 26. Sachin had tweeted,
"The answer to the question that everyone's asking me is here. Mark your calendars and save the date. @SachinTheFilm releases 26.05.17."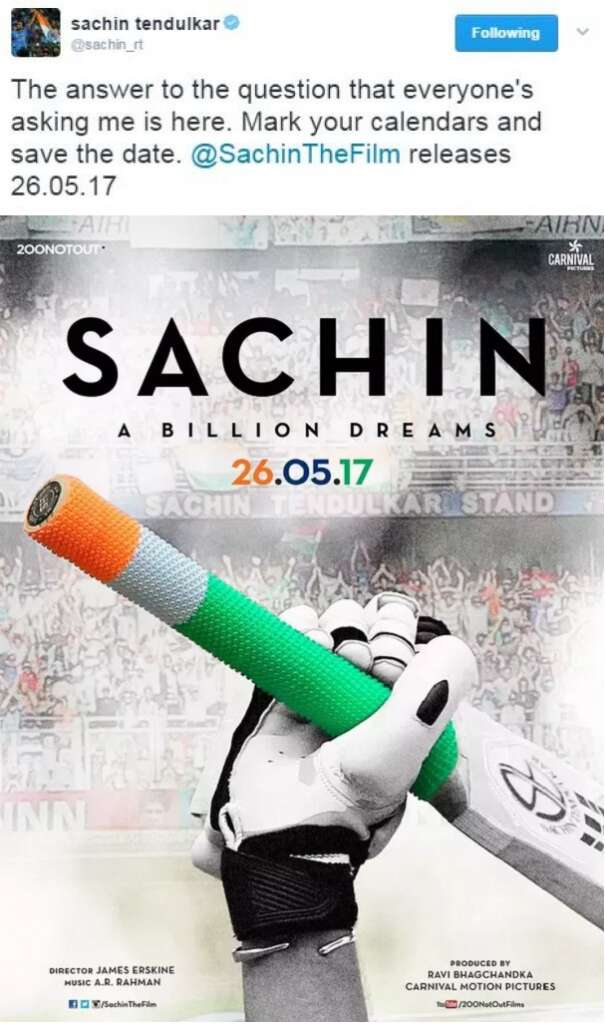 Coincidentally, on the same date he had announced his retirement from IPL in 2013. Moments after winning the trophy with Mumbai Indians, Sachin announced his retirement from IPL spending shock wave across the ground and nation alike.
This month i.e. on April 12, Sachin took to Twitter to announce the release of the trailer date as he tweeted:
"Come experience my journey on and off the 22 yards. #SachinTrailer releases tomorrow at 7 PM."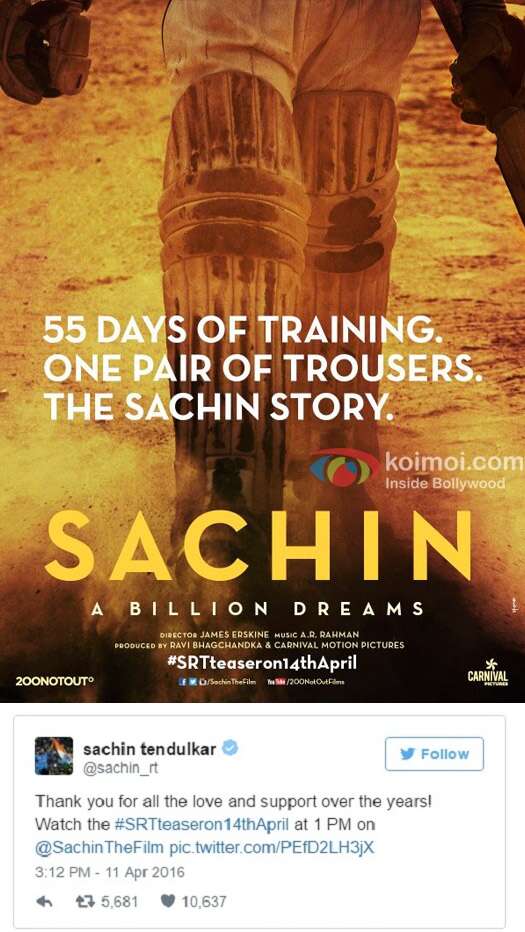 The trailer of 'Sachin: A Billion Dreams' begins with Sachin Tendulkar narrating his cricket journey in his voice by quoting his father, Ramesh Tendulkar's words that the most important thing is what kind of a person you are. Undoubtedly, this teaser will give you goose bumps and chills down your spine, urging you to scream "Sachin Sachin" as we all do while watching Sachin play a live match.
Soon after the trailer release, several celebrities and veteran players took to Twitter to congratulate Sachin on the movie, including Rohit Sharma, Suresh Raina and Virender Sehwag wishing him the best of luck.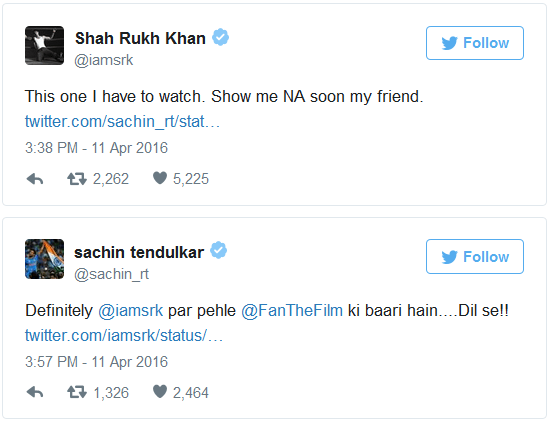 The best tweet, however was by none other than Bollywood superstar Shah Rukh Khan, who tweeted:
"This one I have to watch. Show me NA soon my friend." Sehwag said: "Walking in with Sachin was like walking with a lion in the forest."

Even Rajnikanth, who is also fondly called 'Thalaiva' (or 'the boss'), took to Twitter, to wish Tendulkar success with regards to his film. In reply, Tendulkar thanked the 'Thalaiva' for his wishes, and even sent him a trailer of 'Sachin: A Billion Dreams'.
Tendulkar's Sachin: A Billion Dreams will the third movie based on an Indian cricketer after 'Azhar' and 'MS Dhoni – the untold story'. However, unlike the other two movies, Sachin will be seen in this movie.
The movie is directed by James Erskine and produced by Ravi Bhagchandka and Carnival Motion Pictures. If Sachin's appearance was not enough, the music of this movie has been given by AR Rehman. Earlier, A R Rehman has given music for a sports biopic movie – Pelé: Birth of a Legend. And the 'Ginga' song had become a huge hit last year following the release of the movie. We can expect same kind of magic for Sachin Tendulkar biopic movie as well. We can already get the glimpse from the teaser video whose music has also been given by A R Rehman.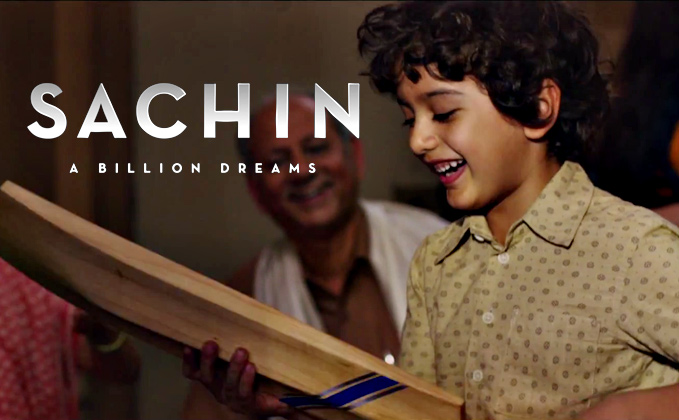 The poster of the Sachin biopic movie shows Sachin walking on the field carrying a bat and with his pads on with the caption reading: "55 Days of training. One pair of trousers. The Sachin story."
The name of the Sachin Tendulkar biopic movie was selected via a contest and Tendulkar had announced it on Twitter. Ever since the trailer was released, the video became viral and by now it has received 8,055,329 views. And we don't think if there is any single Indian out there who wouldn't have got goosebumps after watching this Sachin movie trailer. If you have missed out the trailer video, watch it here –
The story of Sachin biopic movie will feature his journey in cricket and personal life in length and the highest run-scorer in the history of the game will also chip in with his inputs for the film which will be released in 200 theaters across the world.
Who is James Erskine?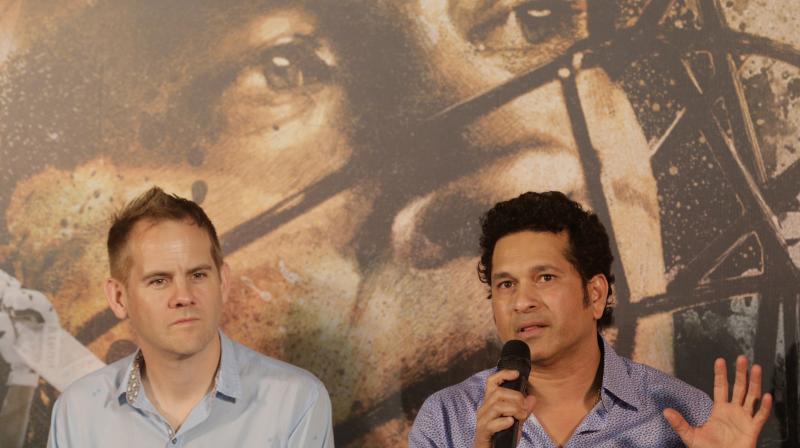 As we have already mentioned James Erskine will be directing this movie, not many people know about this award winning director from UK. Apart from directing Sachin biopic movie, James already has experience in making sports related biopic movies such as  EMR (2004), Pantani: The Accidental Death of a Cyclist (2014) and Shooting for Socrates (2014), which are among his notable works so far.
Apart from Sachin biopic movie, if we are not wrong around 4-5 biography books have been published so far, out of which Sachin Tendulkar: Playing It My Way, Sachin's autobiography is the most successful so far.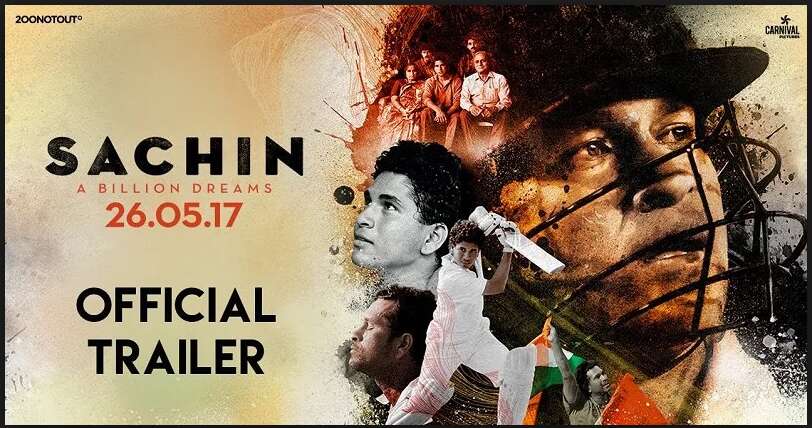 It had also entered the Limca Book of Records for being the best-selling adult hardback across both fiction and non-fiction categories. The book also holds the record in retail value terms having logged up Rs. 13.51 crore with its cover price being Rs. 899. If we consider his autobiography, his biopic could be a raging hit.
Arguably, Sachin Tendulkar is the greatest batsman of all-time. He had made his debut for India in 1989 against Pakistan at the age of 16. The "Little Master' retired in 2013 after a 24-year long illustrious career. Tendulkar is also the only batsman to score hundred 100s.
A star-studded special screening of Sachin: A Billion Dreams was held on 24th May 2017, which was attended by who's who of Bollywood and Indian Cricket fraternity. Some of the Bollywood biggies including Amitabh Bachchan along-with his son Abhishek Bachchan and daughter-in-law Aishwarya Rai Bachchan, Shahrukh Khan, Aamir Khan, Dhoni, Kohli along-with Anushka Sharma, Ranveer Singh, A R Rahman, the Raabta actors – Sushant Singh Rajput and Kirti Sanon, Anil Kappor, Anupam Kher, Asha Bhosle, Shreya Goshal and John Abraham to name a few had attended the premiere.
Amitabh later had tweeted,
"T 2435 – 'SACHIN a Billion dreams' movie last night ..filled with pride and emotion .. मैं उस देश का वासी हूँ जिस देश में Sachin बहता है !!!"
We all are looking forward to watch Sachin biopic movie – Sachin: A Billion Dreams. Save this date – 26th May. Stay tuned for further updates.
Happy reading!
Image Courtesy:
YouTube.com
quora.com
koimoi.com
rajnikantvscidjokes.in
mouthshut.com