What is the first thought that comes when you think about celebrating Holi? Yes, it's freedom and unlimited fun. While it's always amazing to unleash your inner child who loves to play with Holi colours and vibrant shades, it's also important to take care that you abide by certain rules to avoid the unwanted after effects. Exercise a little caution while you're splashing colors on yourself and your friends. Get ready and buy your holi colours, gulal, water balloons, water guns and pichkaris online Holi offers!
Not to forget, with the pandemic raging all around us, it is critical that we celebrate Holi in a controlled, safe manner without flouting any Covid-19 regulations. All celebrations will take a backstep this year as Holi 2022 will be all about praying for a safer, healthier world. A little celebrating, a little coloring here and there won't hurt, will it?
This year for 2022, Holika Dahan will be celebrated on March 17, Thursday and Holi on March 18, Friday.
If you're out of good ideas to celebrate Holi, check out this list of unique Holi party ideas that you can pick from for your Holi 2022 celebration.
Playing With Holi Colours While Being Safe:
As you add enthusiasm to that holi colors bucket, add in some useful tips as well, that will make it a totally "worth it" celebration for you.
1. Get Wise with Eco-Friendly Colors
Let caution be your best friend when you are selecting holi colours this season! Synthetic colours might look attractive and might also be available in a wide selection of shades, but it's harmful to the skin. Other than that, it's tiresome to get them off your clothes and skin once you're done playing with them and they also have a harsh effect on your skin. Therefore, say yes to organic quality and get natural colours this season.
Just in case both the online and offline stores have run out of natural colours, try to get colours that are of good quality so that there's no negative side effect on the skin, body, hair, and eyes. Or else, make natural colours on your own by mix-and-mashing various ingredients like turmeric, beetroot, flour, etc. in your kitchen. Doesn't that sound money-saving to you?
2. Get Easy with Your Clothing
Sometimes, packing for holi can be challenging because you may not be knowing how the weather in the area you wish to travel. Your dress is going to be a fun graffiti of colours on Holi. Hence, there's no need to buy a new white shirt or clothing to play Holi. Instead, use old cotton clothing that you probably were about to dispose of. Alternatively, don't wear extremely tight clothing because then it might have a chance of clogging colours which isn't healthy. Get dressed comfortably so that you can play with ease.
3. Save Water
Though it's a fun occasion where everyone wants to just go all out with their friends and family and have fun, it's important to know that water is costly and scarce and saving it is essential. So there's no need to play dry and evaporate all the fun. Use water to celebrate Holi with your loved ones but save it wherever possible.
For instance, it is advised to not indulge in that typical holi with water balloons and throw it on people. Similarly, cut down on mini holi water buckets to throw on people without their knowledge. Furthermore, measure up a quantity of water before you set to play and stick to that amount only. In addition to that, go for a bath only when you have finished playing.
Must Try Holi Special Recipes
After examining the process to create awesome craftalicious Holi recipes, you'll find it really fruitful to mix your colors in the form of making pretty coloured walls and making a festive splash with vibrant colors. Get prepared for a rainbow of color with the traditional Holi recipes.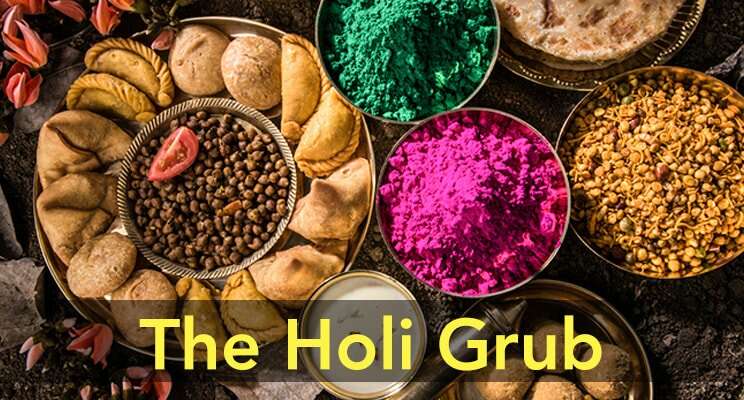 Sort Your Holi Lunch Menu With These Recipes
4. The Clean Up Act
Holi is fun when you don't have to witness the negative impacts of colours on your body! Therefore, cleaning up well post Holi is vital. Use proper soaps and body washes to bathe once you are done so that the colours in your body wash off completely. That's not all. Make sure that you shampoo your hair well and rinse off the colours from your hair else, your scalp might itch. With regards to nails, soak your hands and feet in warm water for an hour or so to let out the colour and dirt totally.
5. Don't invite Covid-19 virus to your party
Don't dampen your Holi party by being reckless. Follow all Covid-19 guidelines and social distancing rules strictly to avoid contracting the virus. Use hand sanitizer frequently and avoid going into crowded places. Wear a used mask that you can throw later and never take it off in public. Look after yourselves and your friends and family; there will always be another Holi.
6. Put Light Makeup

Especially for women, it is suggested to put on light makeup while playing with colors. Do prefer waterproof mascara, kajal, or eyeliner to prevent skin irritations and other allergies. Also, it is one of the best options if you want to look unique among your buddies.
7. Protect Your Hair
Whether it is for men or women, it is important to care for hair to prevent harmful chemicals entering into the hair roots and damaging it. It is highly recommended to apply coconut oil before playing the holi at home. Many studies have shown that coconut oil has benefits like moisturizing properties, to protect the scalp, cuticle, and also fight against dandruff.
8. Note Emergency Numbers
While playing holi, anyone from the family or friends get hurt due to the harsh chemicals used in preparing colors. You cannot predict what's going to happen. Hence, keep the contact numbers of specialist doctors like ENT, Dermatologist, and the nearby hospitals in case of emergency.
Final Thoughts
Holi is a festival of colors that is celebrated in many parts of the world. It is a time to get together with family and friends and enjoy the season of spring. While it is a fun festival, it is important to take precautions to ensure a safe and fun experience. Do check out the above-listed tips to help you have a safe and fun Holi celebration with friends and family members. :
Maintain a bit of caution and have fun at Holi :)
RELATED BLOGS:
4 Holi Gifts for your Girlfriend
Nykaa's The Happy Holi Sale: Get Amazing Discounts & Offers