Did you know there are over 15.27 lakh registered companies in India? Now listing out top 10 companies in India to work for is indeed a daunting task. Many journals have had their surveys and came up with their results after thousands of companies had applied to be assessed.
The Economic Times had surveyed over 155,119 employees, thus making it the largest survey of workplace cultures in corporate India. As a part of this survey, the companies were evaluated considering two major factors. In order to get listed in the top 10 companies in India to work for, the companies should fulfill the following criteria –
Firstly, those companies should have been able to establish an employee-centric environment that measures the work ethics based on the levels of confidence, dignity and camaraderie that are prevalent within the organisation.
Secondly, the employees should be able to answer a series of questionnaire, thus giving an understanding of their company culture and the people practices. The Economic Times along with Great Place To Work® Institute, recognized the 100 best workplaces across 16 industries, with employee strength varying from < 500 to > 10,000. Their list has certainly discarded the myth that only companies with huge manpower, size and of certain legacy are eligible to get listed among the best workplaces in India.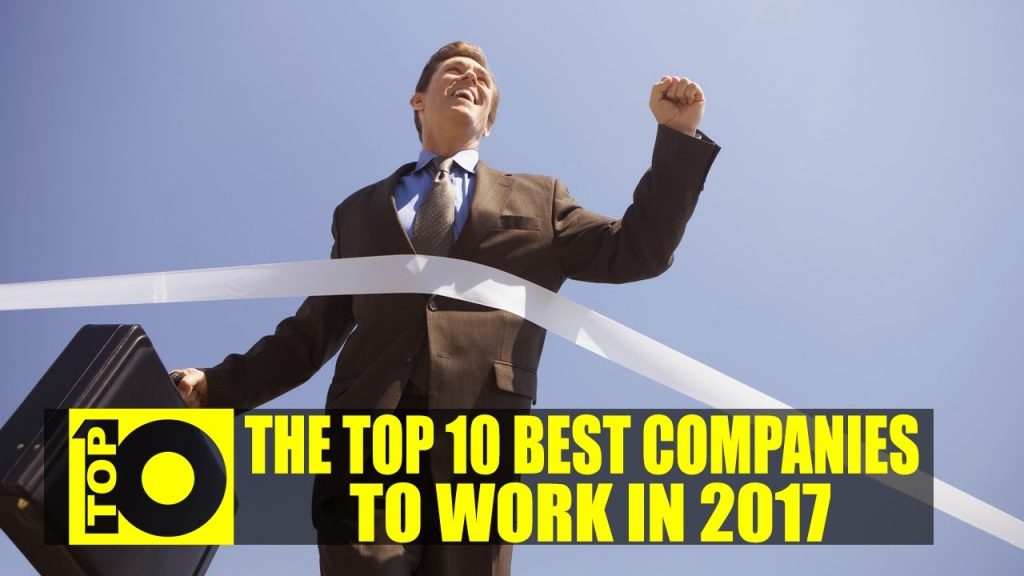 We, at GrabOn, couldn't agree more. Whilst striving to become one the best companies to work for, we took a dig on such surveys and several other factors and statistics. After sipping couple of coffees and going through hours of surveys and testimonials, we have finally come down with the list of top 10 companies in India to work for. Continue reading!
Gone are the days, when candidates only looked for high paying jobs. Present scenario is such that even high-paid employees agree that money does not matter after a certain point, instead it is job satisfaction and a friendly work environment that ultimately makes a difference. There are companies known to pay fancy salaries, but they literally turn their employees to slaves forcing them to work for more than 24 hours without a break. Then there are also companies, who keep a hawkish eye over their employees, banning access to social media channels and even the use of mobile phones in office, and there are others who mandate on somberly silence and colonial formalities in the office.
Typically, it's not difficult to guess who would have made the list. Some of the obvious names include Google, Microsoft, Facebook and Accenture to name a few that are safe baits. Case in point: Last year, Google had nabbed the top spot in the list released by Glassdoor. However, this year Glassdoor, which is one of the world's top most jobs and career sites, has moved Google to the second place in the world ranking. That being said, back home here are the dark horse candidates who have managed to grab a rank in the list of 100 best companies by ET. We have however focused on the top 10.
Top 10 companies in India to work for
1. Google India
Total strength: 1678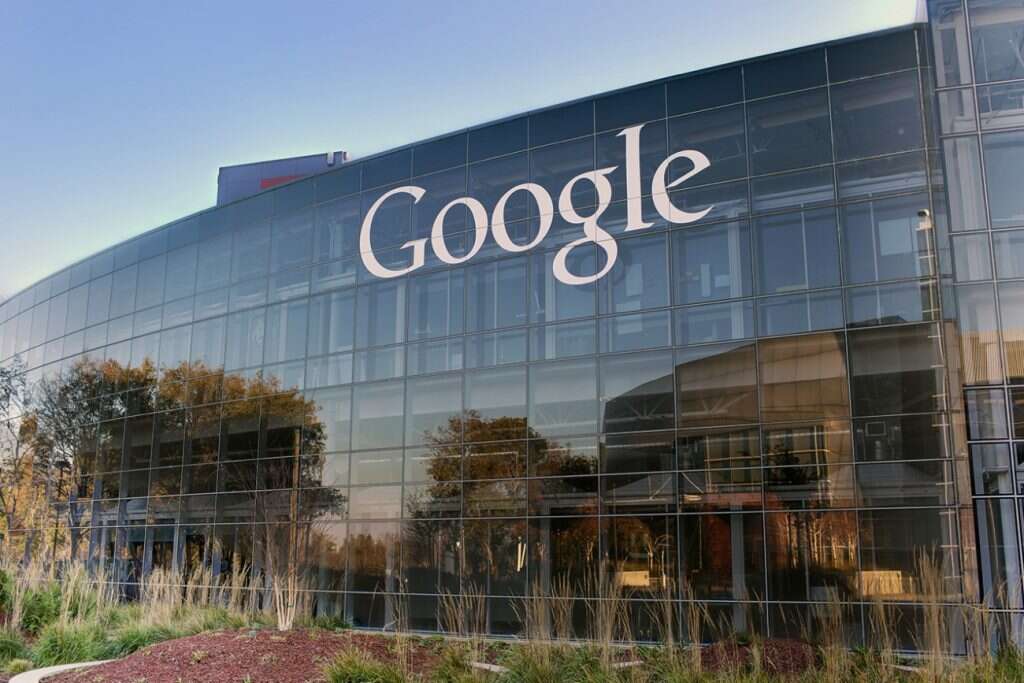 Is Google the world's most ethical company? Arguably yes.
In terms of company culture, it's a well known fact that how Google tries hard to induce a fun and motivating working environment. Thinking of the Google offices, images of comfortable infractstructure with games rooms, floor-to-ceiling whiteboards and helter-skelters between floors, instantly conjure up.
Access to best facilities
It's not only the workplace comfort that employees are rewarded with, but Google offers its employees much more than scooters and ping pong tables. And the benefits include healthcare services, travel insurance, childcare facilities and academic scholarships to name a few. Employees can also spend one day a week working on a personal project of their choice, giving them a chance to pursue their other passions, and the CEOs touch base with their employees by holding regular Q&A sessions.
The employees at Google are given access to the company's products to get their work done, especially the beta-test products which are yet to be available for the public yet.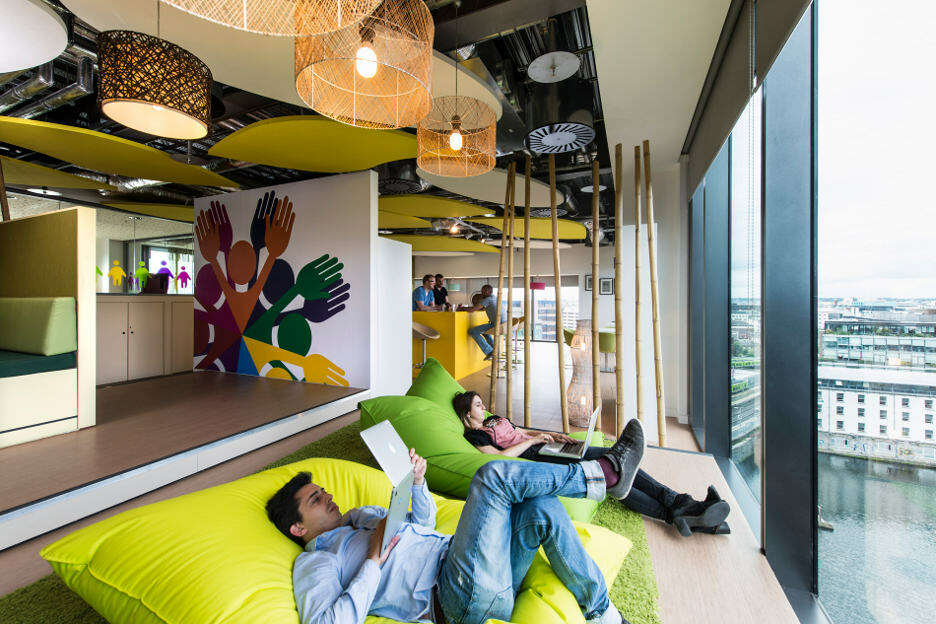 When it comes to fitness, employees have access to fully equipped gyms with trainers and customized health programs. Gaming zones include table tennis, pool, football, air hockey and they can avail one of the several sleep pods for a quick nap.
A Google employee had this to say,
We have numerous special facilities which helps our employees maintain a work-life balance. Every week on Friday, Google hosts TGIF (Thank God It's Friday) after 4 p.m. where everyone mingles and works together. This gives an open platform to employees to collaborate more. Furthermore, Google encourages its employees to pursue their passion, be it in music or drama or some other form of art.
Google is also planning to remove bureaucratic delays and any such policies that hinder quick decisions.
"Each year, the company organizes a 'bureaucracy buster' day where employees can suggest changes to minimize policies and reduce excessive guidelines," the employee adds.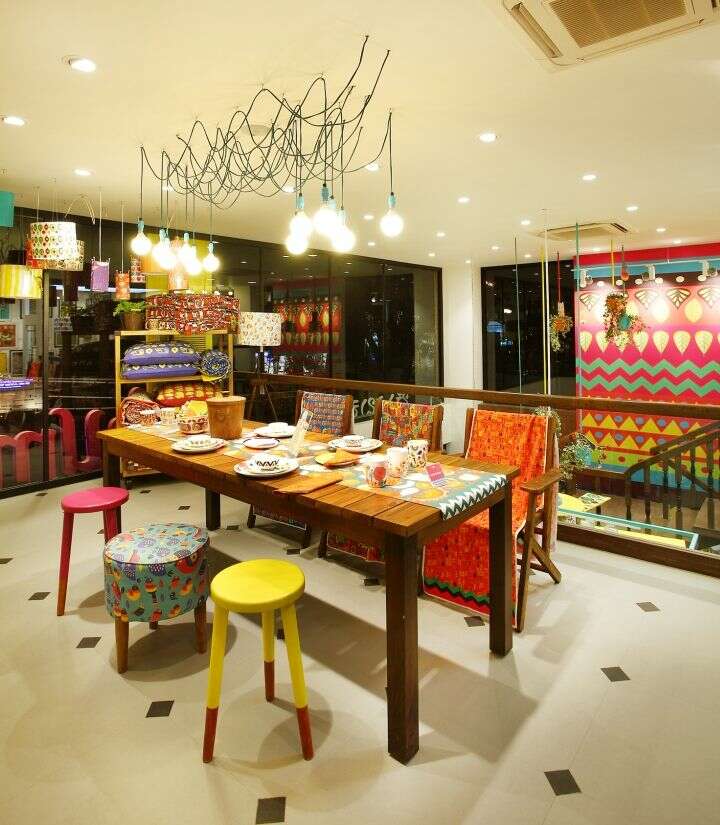 Women's empowerment is another factor that Google seriously considers. Google offers academic scholarships to its future female leaders in technology and supporting employee resource groups like [email protected]
Food at Google offices is another major highlight. Three meals with an elaborate menu and unlimited snacks are totally free of cost.
For families, Google hosts its annual 'bring your children to work' day. On this day, the company allows employees to bring their kids to office and the office organizes various fun activities for children. Additionally, new employees at Google can also bring their parents to work on a designated day.
2. RMSI
Total Strength – 842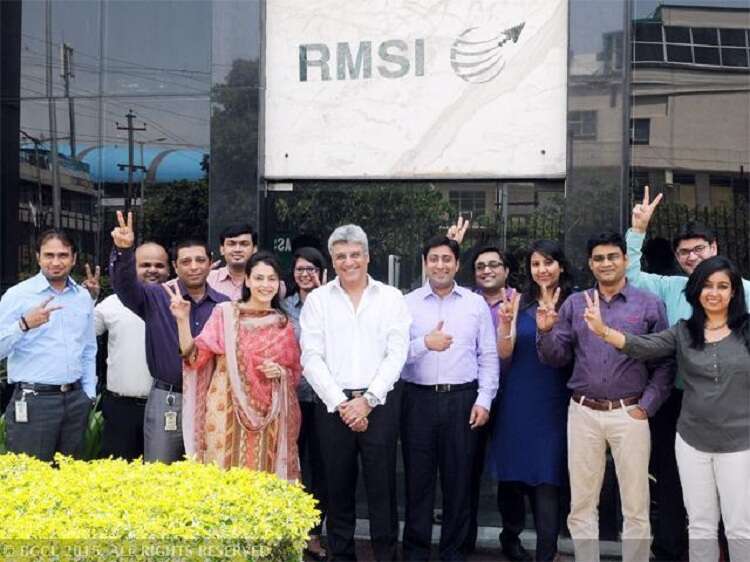 The motto of this company goes as this – 'People are respected and performance is nurtured'.
RMSI was ranked as number one company to work for in India by Great Place to Work® Institute in 2015. This US based company has three offices in India including Hyderabad, Noida and Dehradun. This company is into IT services offering geospatial (relating to or denoting data that is associated with a particular location) and software services to clients across the globe.
Vice President, Gagan Jyoti had this to say,
"People are respected and valued, performance is nurtured, creativity and excellence are encouraged, leadership and teamwork are rewarded. The management team is simple, honest and highly approachable, which makes it easy for people to work together as one team and focus on the business and clients."

Upon asked what makes RMSI in the top 10, Gagan further added,
"Various reward and recognition programs ensure that innovation, creativity, leadership and team work is rewarded along with individual contributions. Fast track growth paths are created for high performers. Parenting, relationship counseling, child psychology workshops help build a bond with families of employees."
RMSI's healthcare benefits include With lifestyle assessment checks, dental/medical/eye check ups, life-skill workshops, stress management through yoga, meditation, panic healing, check-up camps, physiotherapy etc.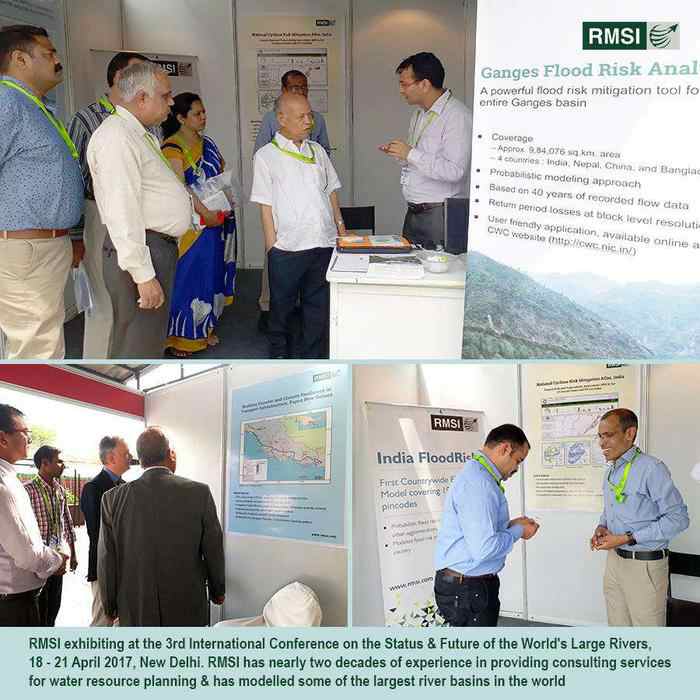 The company has made health initiatives for women for breast and cervix cancer, thyroid tests, gynecological problems.
Women also have access to extended maternity leave, part time/flexible working hours, work from home options and option to take a short-term break in careers.
RMSI's entertainment segment includes music band, photography club, painting, acting, movie making, guitar classes, zumba lessons, sports tournaments. All these facilities help employees hone their skills and develop an overall personality.
3. American Express India
Total Strength – 11,000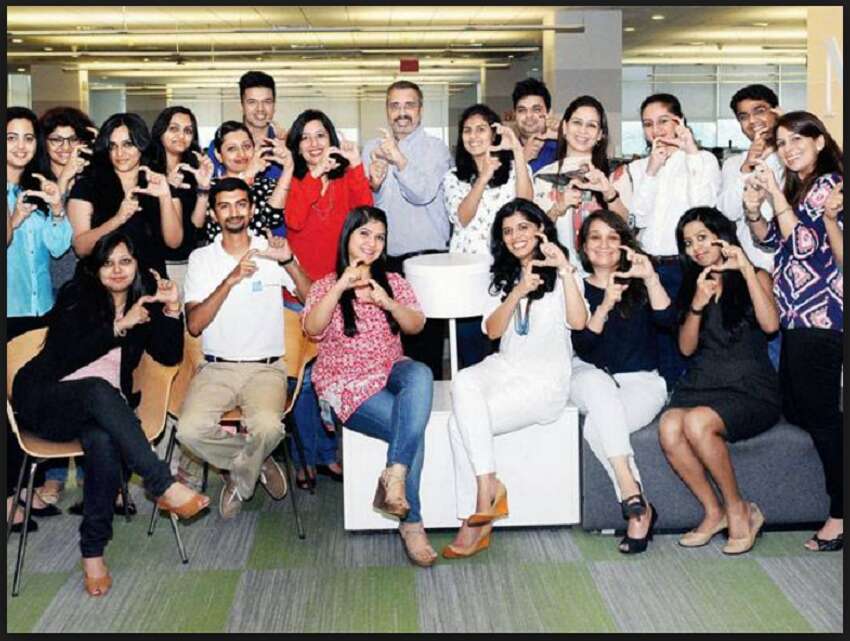 AmEx's people practices are old and established – and proven to be effective
The India office has the largest employee base outside of the US, with 11,000 employees, of which the young employees account for close to 90%. Last week, when Priyangini Rastogi, one of the AmEx employees raised an unusual ticket asking for a fitness instructor to guide her and her co-workers through some exercises right at their workstations, the management immediately responded. They sent across trainers on her floor. The fitness training was received with such enthusiasm by over 100 of her co-workers that now this has been turned into a weekly practice.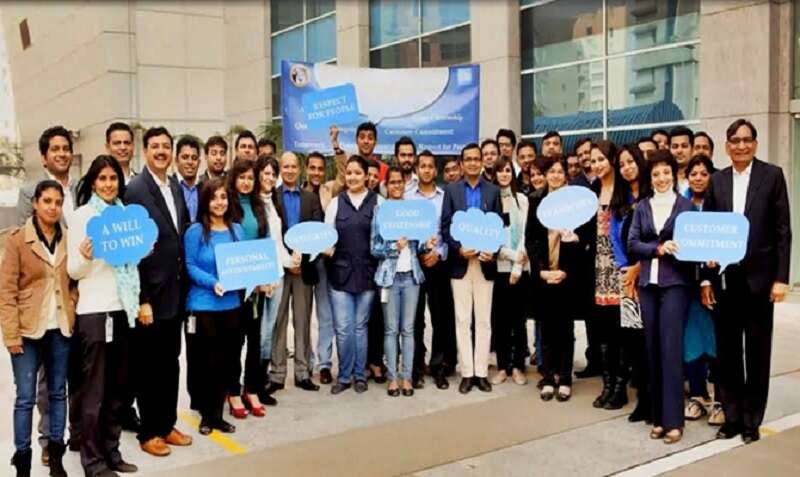 Apart from taking care of the physical health which has always been at the core for the company, AmEx is now focusing on mental health that is keeping the organisation occupied.
The company believes in promoting talent, growth and positive environment within the organization, thereby making American Express one of the top 10 companies in India to work for.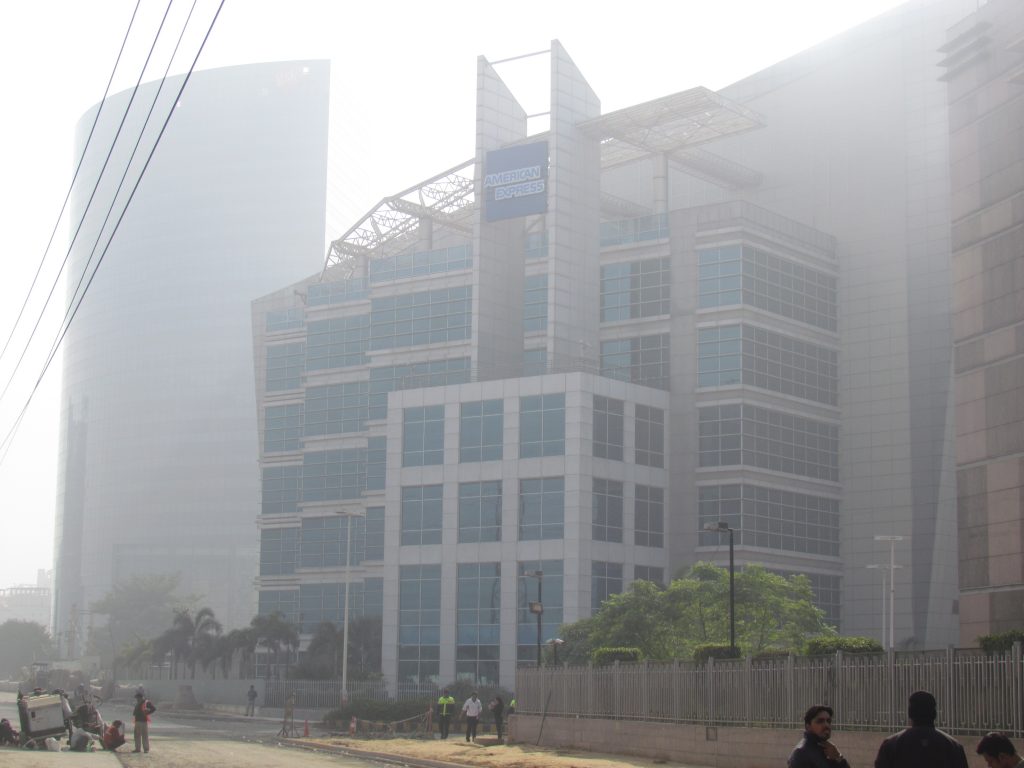 As per an employee,
"American Express takes great pride in fostering a work environment that encourages different backgrounds, talents and perspectives to thrive. Creating an inspiring workplace is a top priority for every leader at American Express."
Several fun-filled activities are carried out at their offices in order to inculcate a culture of gratitude for each other in the organization, the most recent being the Blue Bucket Challenge akin to the recently famed viral ice bucket challenge.
4. Marriott Hotels India
Total Strength – 6,500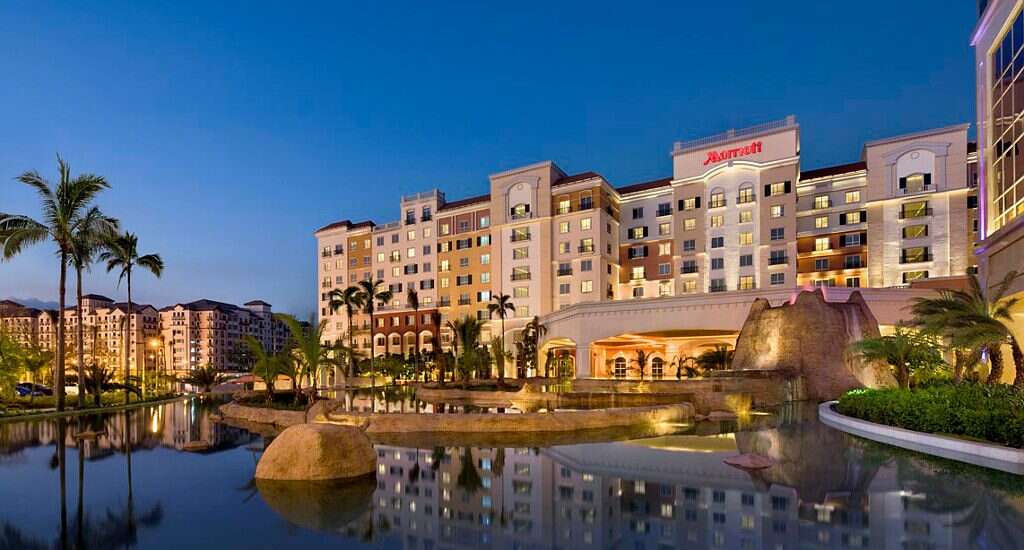 Marriott calls it employees 'associates'. As a special gesture, the company allows the staff on their birthdays to have a meal for 6 or a stay to experience their own hospitality at its best.
Here is what a senior official had this to say,
"Taking care of our associates is at the heart of Marriott's core values, which reflects the company's work-life commitment. Marriott's history of taking care of its employees dated back to its early days, when its founder, JW Marriott, counselled the company's employees individually on their personal problems at his first hotel. He valued their presence, kept them posted about the latest happenings in Marriott and gave them excellent training. JW Marriott always ensured that employees who joined the company felt themselves a part of the Marriott family. He made managers responsible for the satisfaction of their subordinates."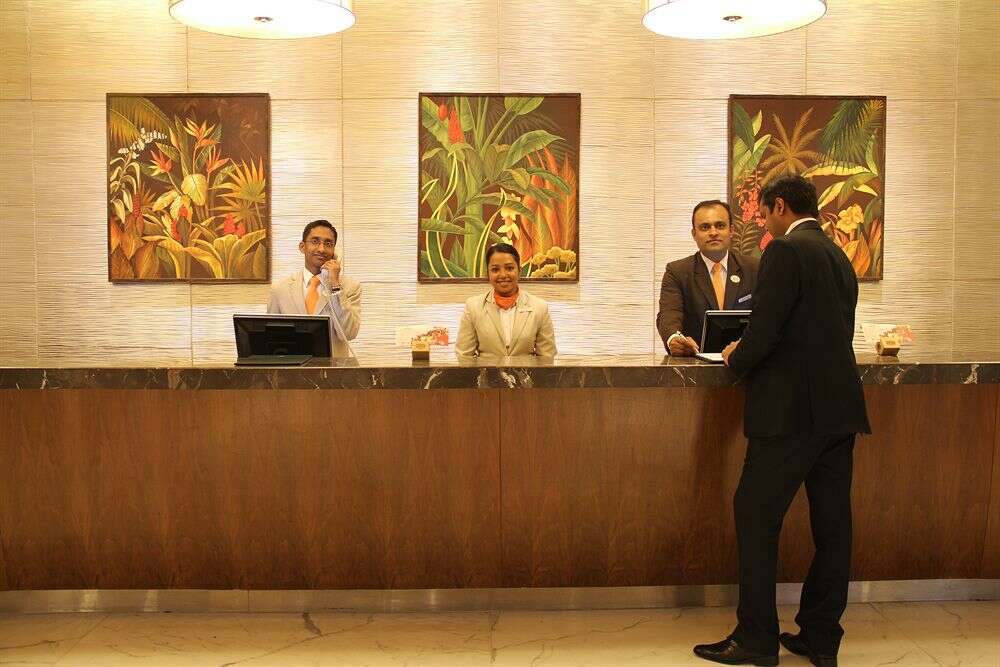 Apart from providing a competitive package, Marriott offers its employees a good work life. Open door policy, trust among working teams, and motivation towards the right way are other key aspects. Other benefits include access to the gym, recreation, discount on food and beverages, room stay, assignments locally and internationally, international placements and health insurance etc.
5. SAP Labs India
Total Strength – 4,844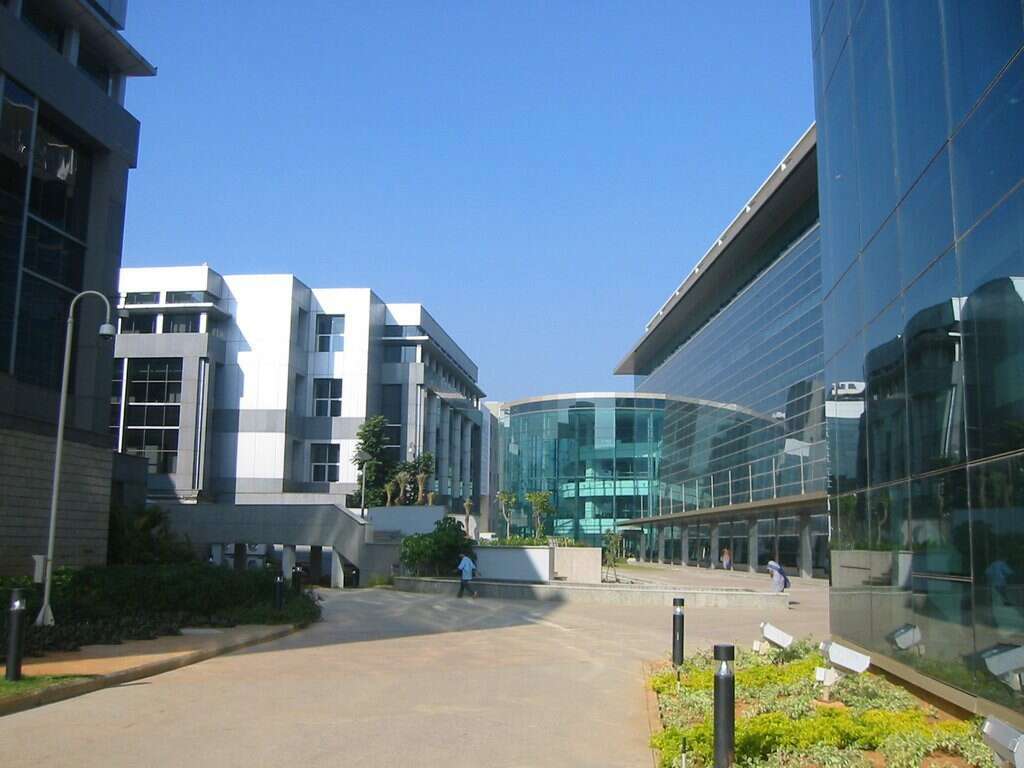 Here is another from our list of top 10 companies in India to work for. SAP Labs comes with a slew of reasons which justify why its employees are happy, right from workplace environment and flexible work options to healthcare policies and personal aids to help employees during a crisis.
When Meena Kaul, director of customer development at SAP Labs India was asked why she felt SAP Labs was the best for her, she replied with a series of factors. These factors included workplace environment that constantly challenged her, constant improvements on the existing benefits and the mentorship that helped her grow within the company.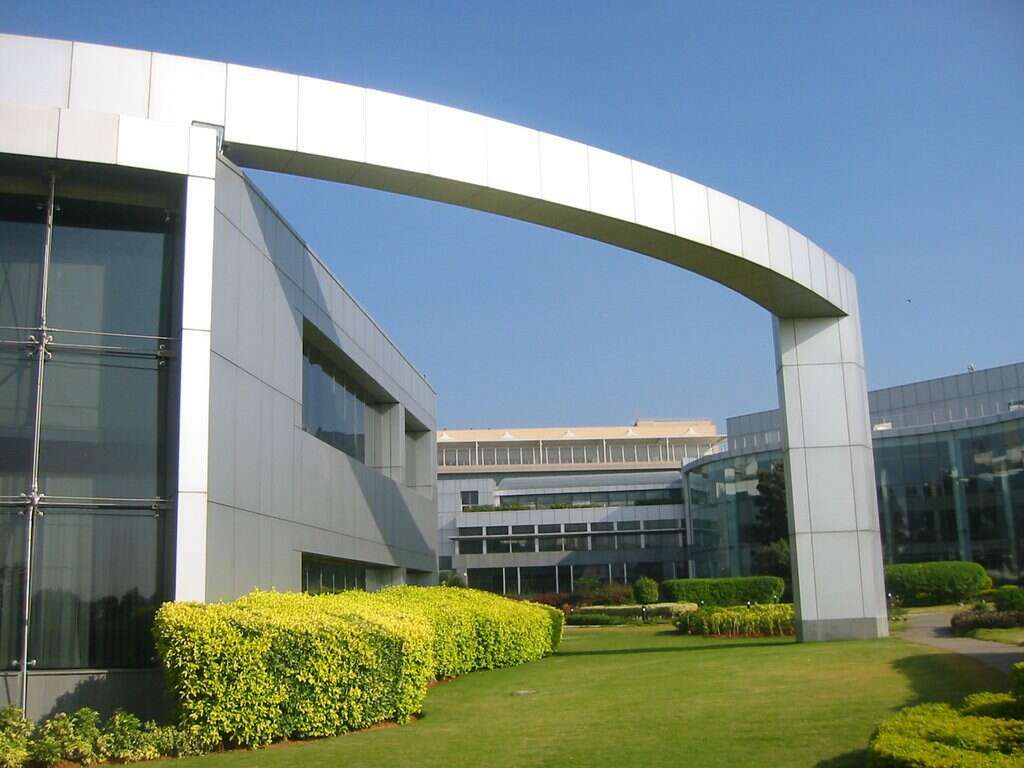 One of the best advantages of working here for any married female employee is those female employees are entitled to 20 weeks of paid maternity leave with an additional sixteen weeks of extended maternity leave with a loss of pay or a part time work option. They are also offered with cab transportation during and post pregnancy.
Employees can work from home for four days in a month or one day a week. Employees can also work part-time for a maximum period of four months. To add on, SAP has 33 interest groups, each catering to specific activities like drama, music, art, dance etc to help employees pursue an interest of their choice.
6. Godrej Consumer Products
Total strength – 2,228

This 118-year old company has certainly made it to the elite list of top 10 companies in India to work for. And there is a strong reason why this brand appeals so strongly to the young is because the quality of work is determined over hours of work put in. The company has a flexible and approachable leadership team, who expects nothing but 100% from the employees.
Vivek Gambhir, Managing Director had this to say,
"Inspiration is about making people feel charged and excited. What is core to our DNA is that we are never quite satisfied with the status quo."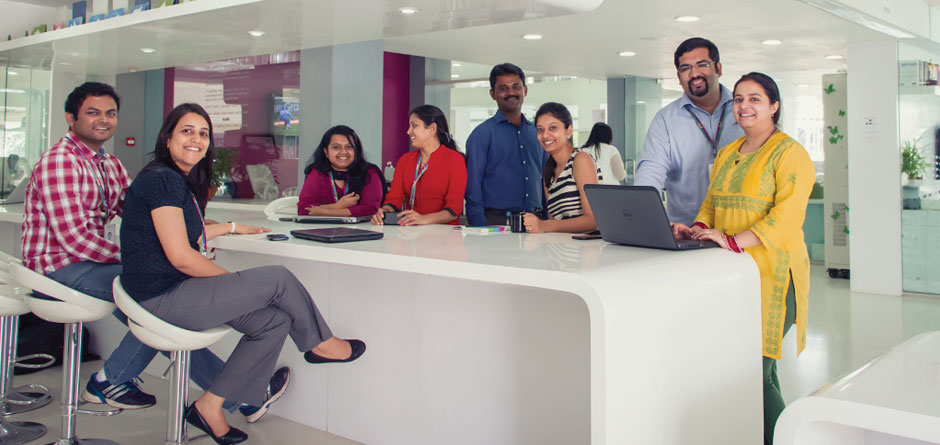 Godrej LOUD (Live Out Ur Dream) is another approach attracting talent across various business school campuses in India. Godrej also offers Pre Placement Summer Offer, a new concept on campus – a chance to sign on for Gurukul, a whole 2 months before recruitment season on campus has also started.
Tech [email protected] is a women-oriented group that volunteers time and talent towards making Intuit an awesome place for technical women.
7. Intuit Technology Services
Total Strength – 806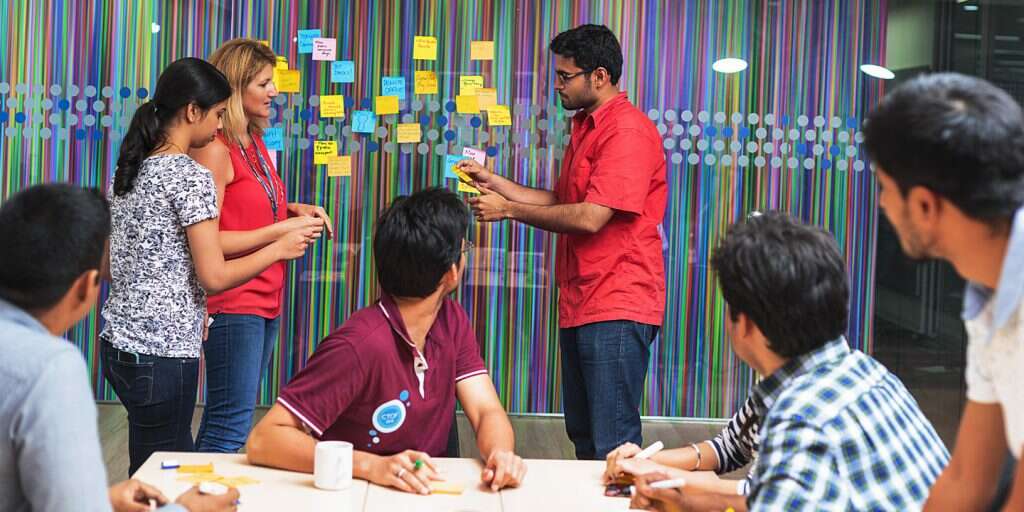 Intuit India is ranked fourth in the IT industry category and third among best companies in supporting women to remain at work category and has bagged a place in the top 10 companies in India to work for. Last year, the company had witnessed a 29% increase in its gender diversity ratio. And with such a diverse workforce, Intuit Technology promotes a workplace environment, where differences are valued and respected.
As per an employee,
"Our work culture is such that my family doesn't understand my stress, because I don't carry it back to them. The company allows for a seamless transition between roles at the office and at home. In my time here, I haven't missed a single school program or life event of my daughter's."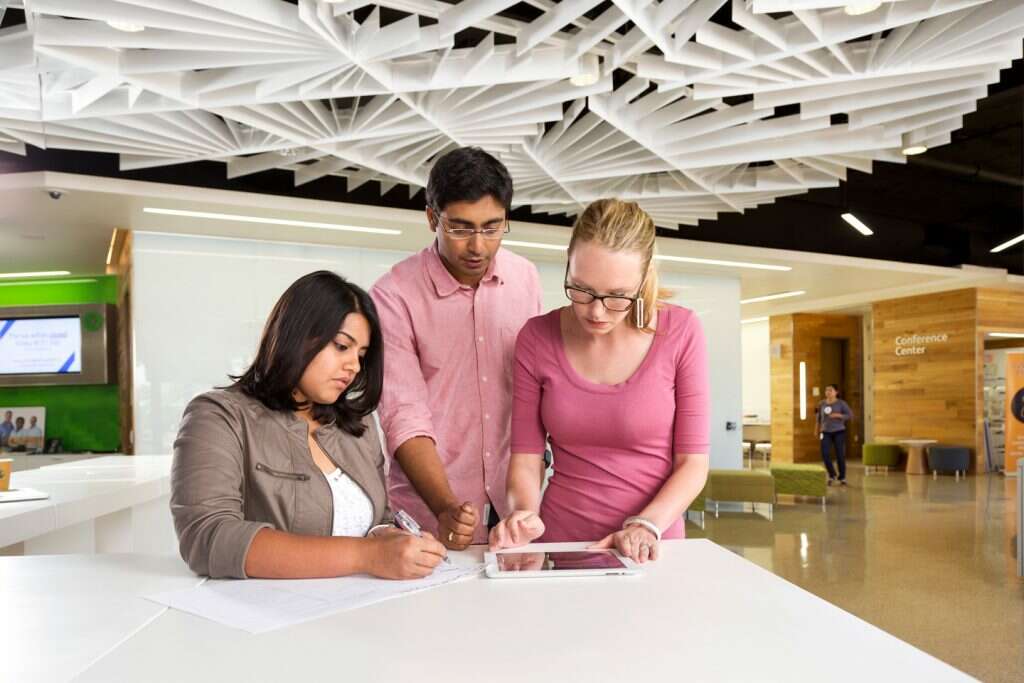 The company had launched Intuit Leap program last year, which brought together 23 high-potential players across different business units. They were put under action learning, sponsorship and coaching, enabling them to develop their talent. These employees then went on to take on real-life challenges related to retention, commutes, branding, and put their heads together to come up with solutions.
The Intuit Leap program covers almost 75% of the company's manpower across the nation. The initiative has gone beyond internal, with Intuit being instrumental in volunteering the challenges that Bengaluru holds for employees travelling to and from work.
Intuit offers Rs 50,000 and 84 days of adoption leave, thereby enabling the new parents to bond with their newly borns. Medical insurance of up to Rs 5 lakh for families of employees at no cost to the employee is provided.
Tech [email protected] is a women-oriented group that volunteers time and talent towards making Intuit an awesome place for technical women.
8. Accor Hotels India
Total strength – 3,690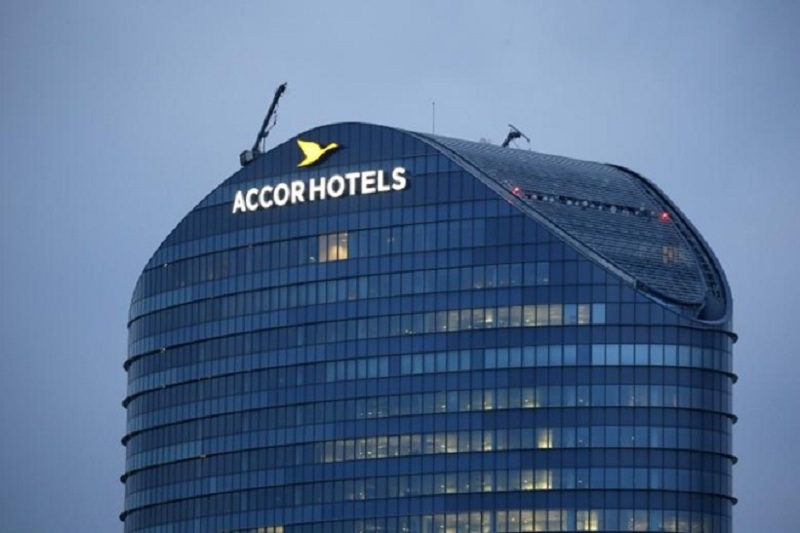 Accor Hotels India that owns and runs around 20 brands across 92 countries has earned a place in the list of top 10 companies in India to work for. Recently, the company has been on an acquisition spree, for they are aiming at touching the 80-hotels mark in India by 2020. The company, which is considered Europe's largest hotel chain, is planning to launch its two global hotel chains 25Hours and Banyan Tree into India.
AccorHotels is known for creating a caring, inspiring and respectful environment. Jean-Michel Cassé, senior Vice President had this to say,
"It is an honour to make it to the top 10 companies and is a reflection of the hard work and commitment of our 5,500 talented and inspirational employees across the country. We are passionate about creating a culture where people have the freedom to exemplify their best work practices in an environment they enjoy."
9. Ujjivan Financial Services
Total Strength – 7,853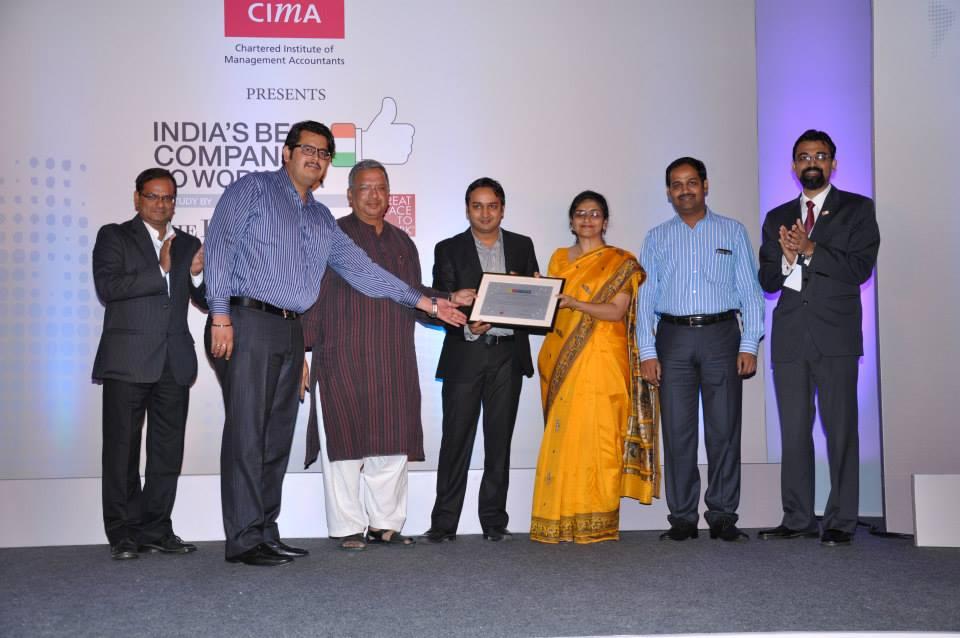 What makes Ujjivan Financial Services stand out and earn a place in the top 10 companies in India to work for is that the company does not follow a hierarchy and designations are a passe here. Employees have no job titles on their visiting cards. Samit Ghosh, CEO himself unlike other CEOs doesn't have a personal secretary. He believes in open door policy and his cabin is open to all his employees.
This microfinance company, which recently went public and is on its way to becoming a small finance bank maintains high ethic working standard and values. As per Ghosh,
"Financial performance is only one of the measures of our success. We look at employees as key stakeholders and believe our customers can only be happy if our employees are happy."
Last year, Ujjivan had managed to complete the sixth and final round of offering esops to employees. Stock options are now available to all employees across the organisation depending on performance. Ghosh admits that the company's transition from a microfinance company to a small finance bank is certainly inspiring, and employees have been all too happy to jump on board.
10. The Oberoi Group
Total Strength – 4,000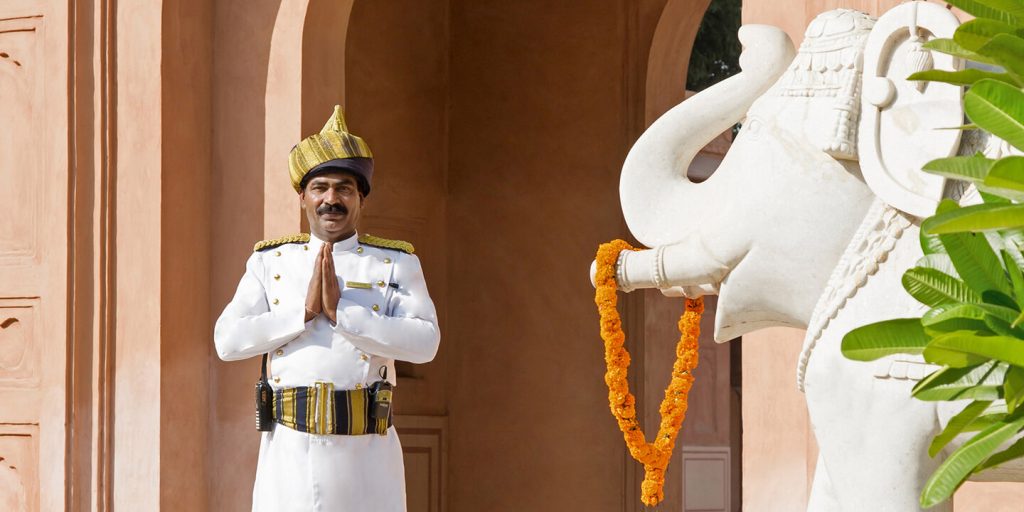 Last but not the least is The Oberoi Group that has bagged its place in the list of top 10 companies in India to work for. Seasoned staff makes for happy customers at the Oberoi chain of hotels.
The hotel has always managed to constantly match guest expectations that make luxury chain The Oberoi Group the most admired brand the world over. The Oberoi Group has been recognized as one of the best employers in the 'Aon Best Employers India – 2016' survey.
CEO, Vikram Oberoi of The Oberoi Group had this to say,
"We give people at all levels in our hotels tremendous freedom to do whatever they want to do to delight guests. No questions asked. And that creates a sense of ownership, a sense of pride. We get countless letters from guests on what people have done for them to make the experience special. That really comes from empowerment and ownership."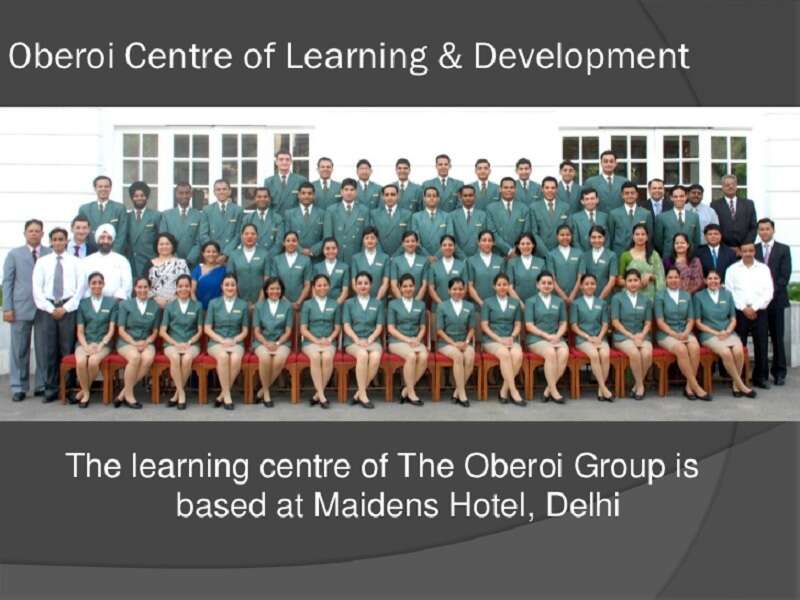 When the group decided to shut down the 51-year-old iconic Oberoi Delhi for renovation, it quietly started assessing each of its 400 employees in terms of their strengths, backgrounds, and family without letting them know about the shutdown. Instead, they deliberately slowed down on recruitment in other hotels, so to create space for these staff.
CEO had this to say on this,
"We take great pride in saying everyone was taken care of."
So those were the top 10 companies in India to work for, who not only offer high salary job, but with a human heart reach out to their employees going through any kind of crisis, supporting them and even aiding medical expenses if required any. Getting a job in companies like Google is indeed a life time opportunity.
Happy reading!
Image Courtesy:
YouTube.com
forbes.com
entrepreneur.com
myventure.in
pinterest.com
keywordsuggest.org
yummraj.com
marriott.com
panoramio.com
godrejproperties.com
careers.intuit.com
financialexpress.com
ujjivan.com
oberoihotels.com