Will you believe if I tell you there is a 3000-year old pyramid in Rome and that there is a church, whose walls are decorated with skulls and skeletal remains? From the Vatican City to the Colosseum, Rome's tourism needs no introduction. While Colosseum, Sistine Chapel, St. Peter's Basilica and Trevi Fountain to name a few are the obvious places to visit in Rome; there are unusual places which you can add to your itinerary worth exploring. In this post, I offer you 10 offbeat places in Rome that you can explore in your next trip.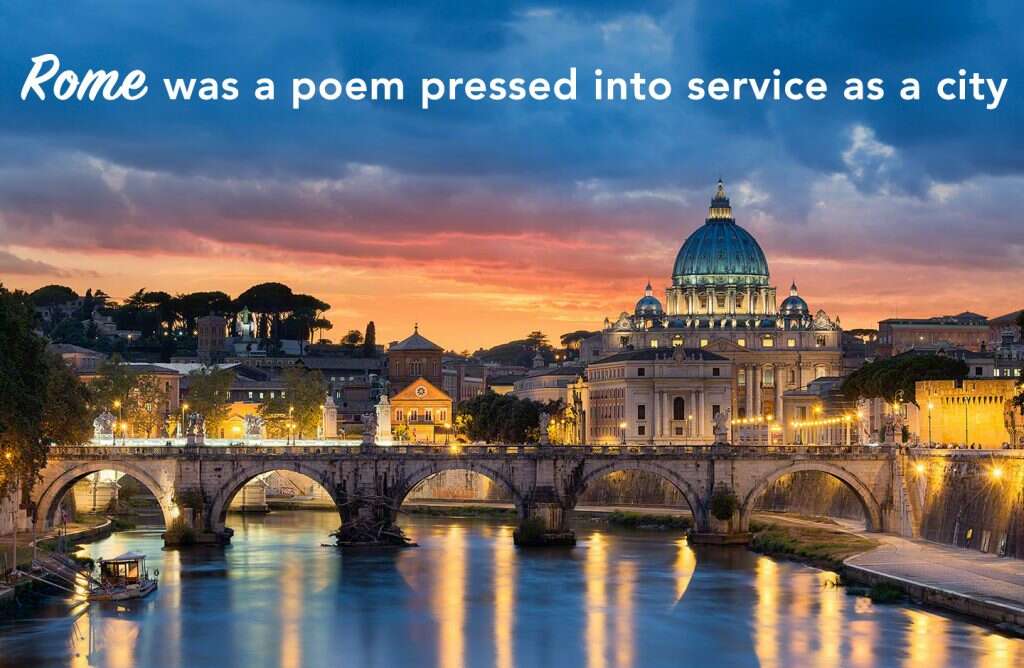 As per a survey conducted in 2016, Indian tourists have emerged as among the biggest spenders overseas and recently as per World Economic Forum, India has jumped 12 spots in global travel and tourism. The total expenditure on outbound travel in India was Rs 75,000 crore in 2013 and is believed to touch Rs 160,500 crore in 2024. Indians are more keen on exploring the European destinations than any other countries when it comes to summer vacation abroad. If you too are planning for a summer holidays say Rome then do visit these 10 offbeat places in Rome even the frequent travelers are unaware of. There are some great summer deals going on. Check out the flight deals here and save on all your travel expenses with coupons and offers.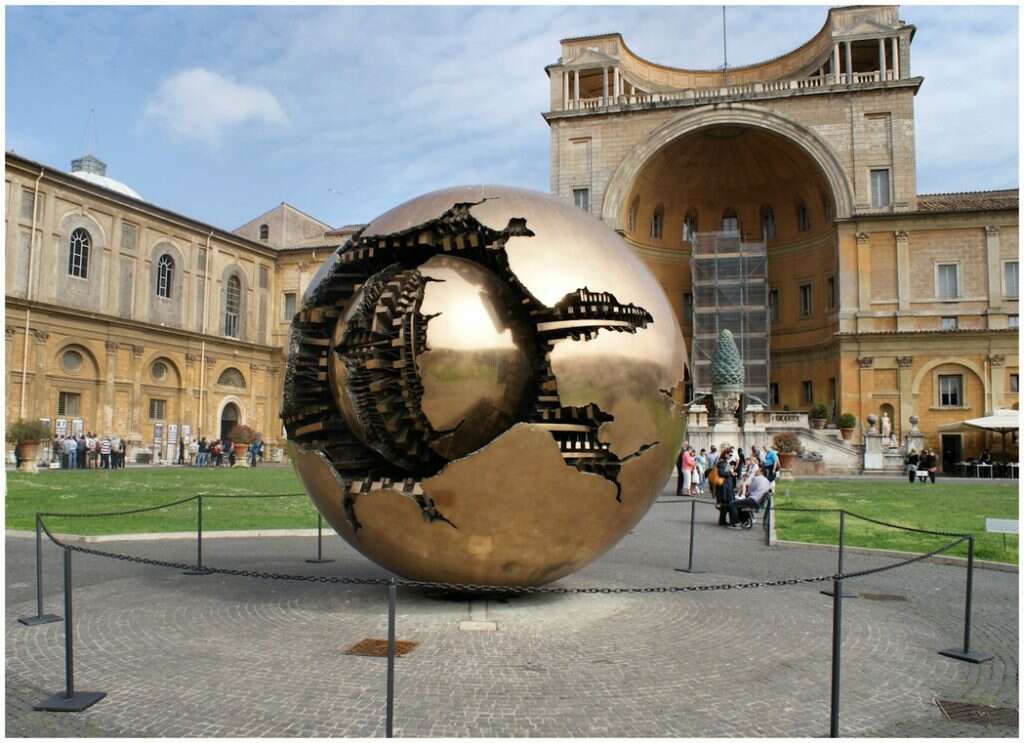 "If we could be reborn wherever we chose, how crowded Rome would be, populated by souls who had spent their previous lives longing to inhabit a villa on the Janiculum Hill" ~ Francine Prose, American Writer
Real Rome is all about the extravagant tapestry flaunting ancient history, flamboyant monuments, warm people, and world famous cuisine altogether make Rome an ideal destination for any globetrotter with a thirst for world culture.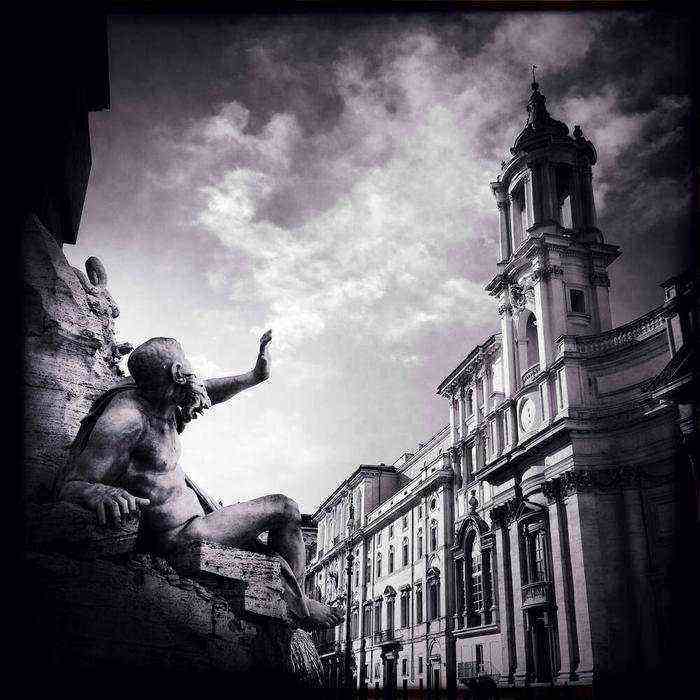 There are artifacts of Gods worshiped in ancient times such as of Jupiter, Juno and Vesta scattered across the city. And then there is the oldest cafe in Rome –  Caffè Greco, frequented by people of all ages briefly for an espresso and the latest gossip. Looking a little untouched and worn out, the place is definitely worth a visit for its history.
Rome is every convention, the world has ever heard of and actually more than that – and I have always preferred exploring its outré side. Fairly as sure-fire in Rome, are the tourist attractions that visitors want to explore, and there's also something less predictable to do.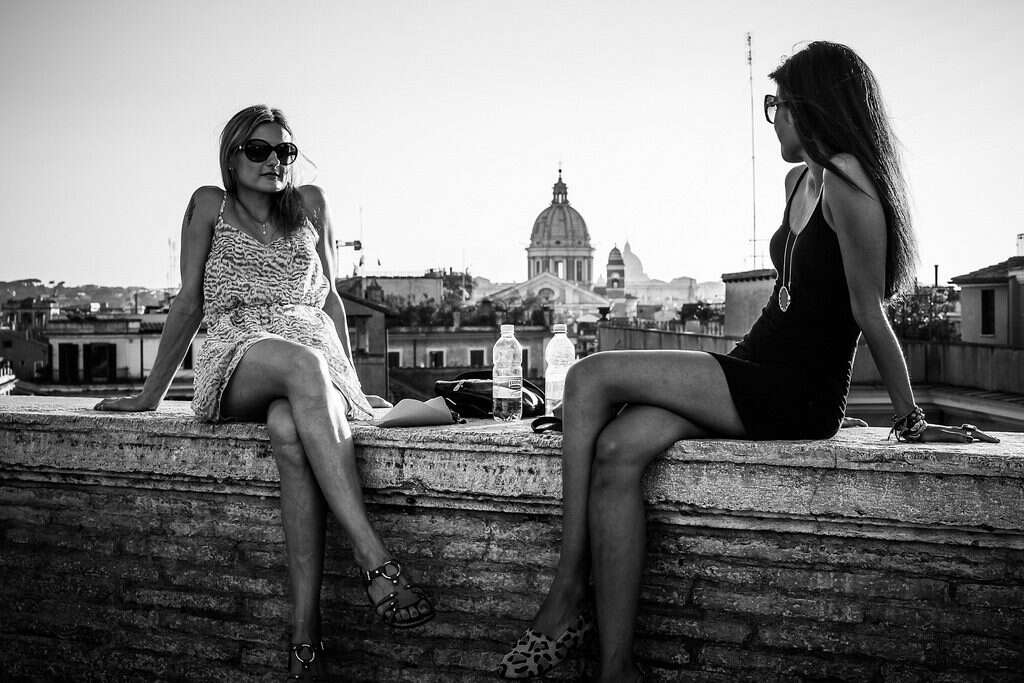 I personally love to play the oddball to debunk the  insolito (unusual in Italian), and unique things to do in every Italian city I visit. And Rome has never been any exclusion either. On my every visit to this city, I've made sure to try and explore the offbeat places and unusual things to do in Rome that may not be enthralling, but fair enough to share with you all as well.
Whilst you're preparing for your own trip to the Italian capital this summer vacation, I hope my own personal 10 offbeat places in Rome will not only occupy you, but show you the other side of the city that you've not expected. Continue reading!
So you've lingered on the Spanish steps, tossed a coin into the Trevi Fountain, and stood in awe at the grandeur of the Sistine Chapel, what do you do next? Well you can try something completely different, and visit those 10 offbeat places in Rome offering you a different aspect of the Italian Capital.
1. Santa Maria della Concezione Crypts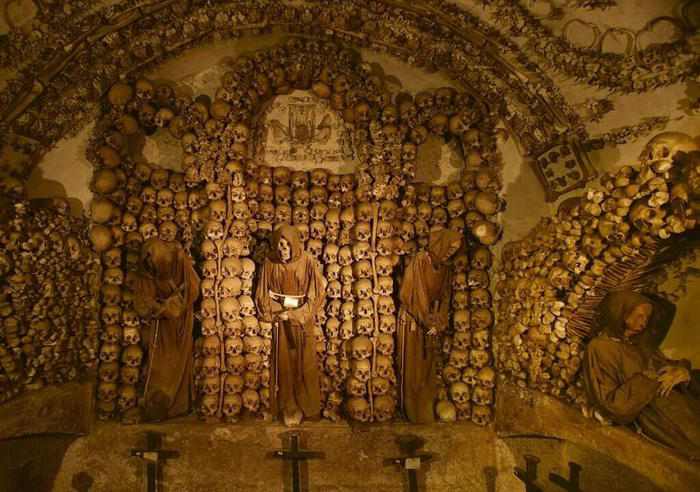 Address: Via Vittorio Veneto, 27
Opening hours: Mon-Sun 7.00-12.00 and 3.00pm-7.00pm
Tickets: 6€
Buses:44
Here is the map  –
Santa Maria della Concezione dei Cappuccini, or Our Lady of the Conception of the Capuchins, a 16th century church tops the list of 10 offbeat places in Rome. This anicent church is situated in the Via Veneto, one of the most famous and expensive streets of Rome. It was built near Palazzo Barbarini by Pope Urban in honor of his brother Antonio Barberini.
This is one of the creepiest churches in the world, being adorned by skeletal remains of people, who died between 1528 and 1870. They are rather known as the Capuchin friars because of the "capuche" or hood attached to their religious habit. (The Capuchin friars are followers of St. Francis of Assisi, and are dedicated to serving those in need. They lead a simple lifestyle as a community of brothers.)
In 1631, the Capuchin friars had come to live at the Santa Maria della Concezione. Upon the suggestion of Pope's brother, they brought along the remains of the deceased friars along with them to their new home, so that all the Capuchin friars might be in one place. Instead of simply burying the remains of their dead friars, the monks decorated the walls of the crypts with their bones as a way of reminding themselves that death could come at anytime; one must always be ready to meet God.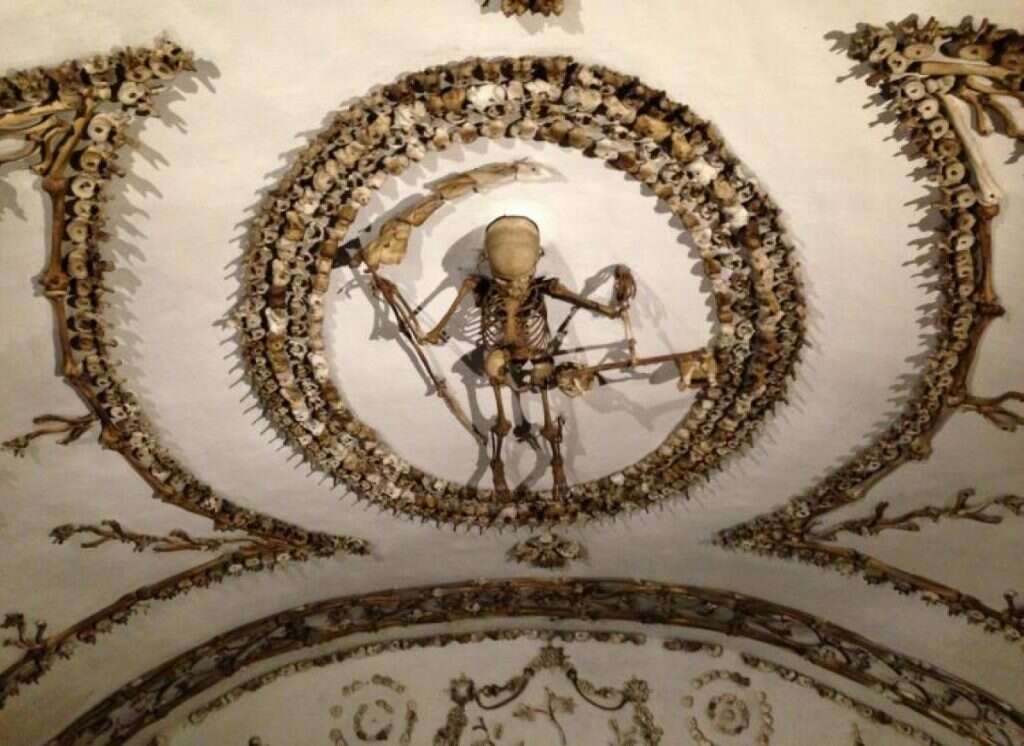 A tourist on Trip Advisor had left this review,
A spooky must see behind an otherwise plain church facade
Next time when you are in Rome, make sure you explore this "spooky" yet magnificent offbeat place in Rome.
2. The Dome Illusion of St. Ignatius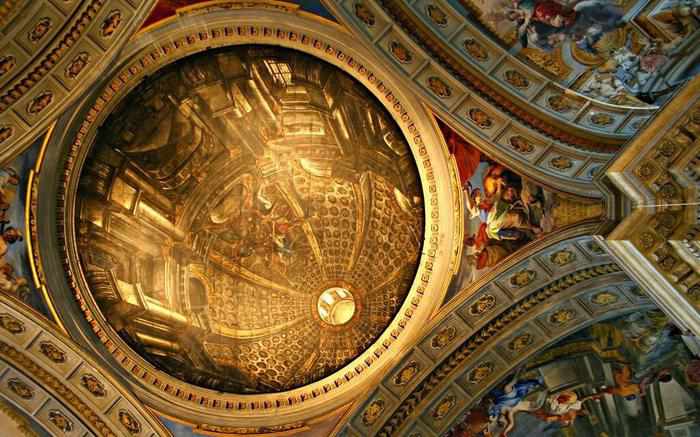 Address: Â Via del Caravita, 8a
Opening hours: Mon-Sat 7:30am-7pm, Sun 9am-7pm
Tickets: Free
Buses:492, 170, 71
A master of trompe-l'oeil creates a stunning tourist-fooling dome out of a flat ceiling.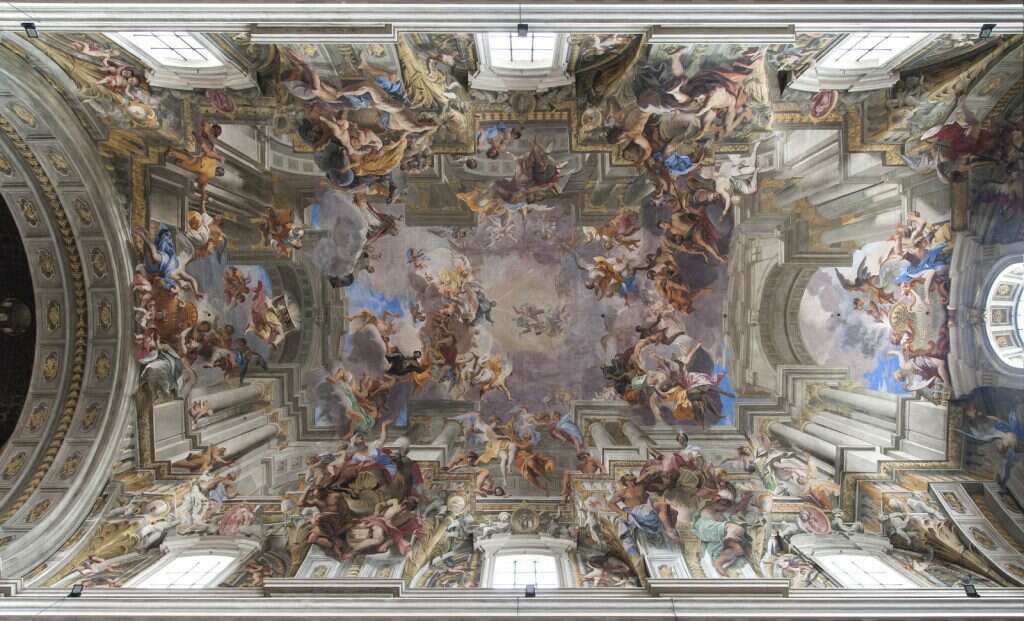 Here is another one of the beautiful offbeat places in Rome that you can go to admire without paying an Euro. This strikingly embellished and grotesque church is tucked in the heart of Rome. If you are an art lover, this dome illusion will surely amaze you. Andrea Pozzo, the great artist painted this life-sized illusion of a dome that would fool the eyes of visitors.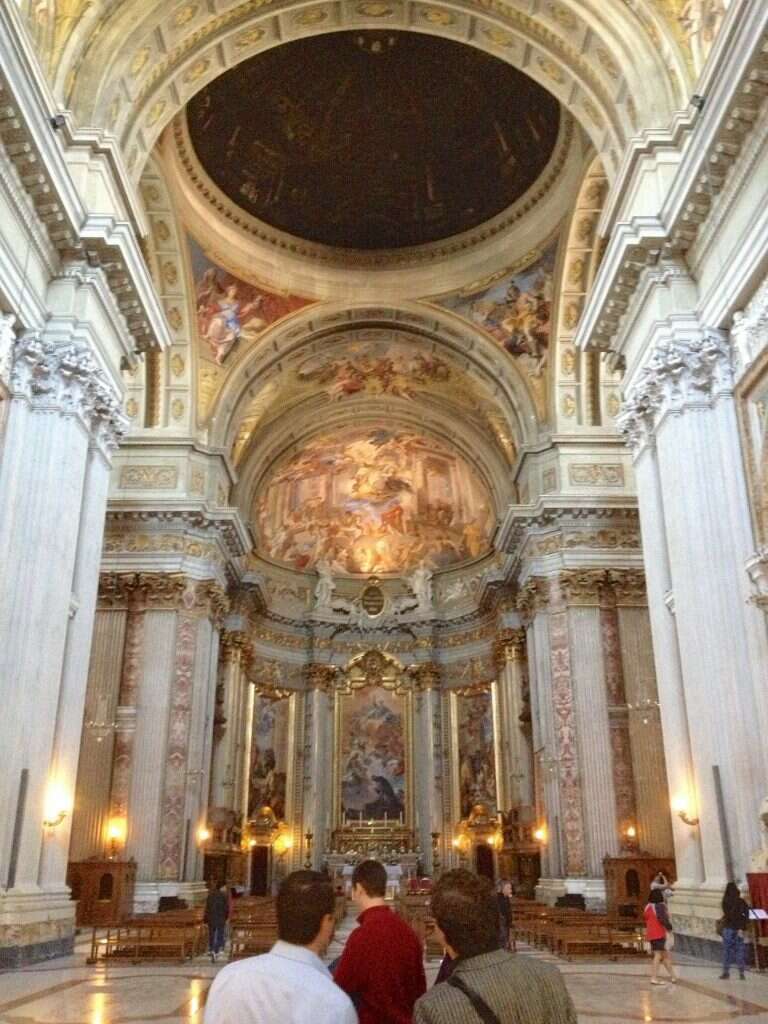 His masterpiece still fools the tourists and it was painted between 1685 and 1694. Pozzo had also painted another illusion for the barrel-vaunted ceiling of Saint Ignazio with a technique known as quadratura. (This art form is a mixture of geometrically accurate architecture created in forced perspective and elements of fantasy, like cherubs and floating saints.)
The best way to view one of these offbeat places in Rome is to enter the church, keeping your eyes low until you reach the circular marble marker that indicates the ideal vantage point for taking in the dome illusion.
3. The Aventine Keyhole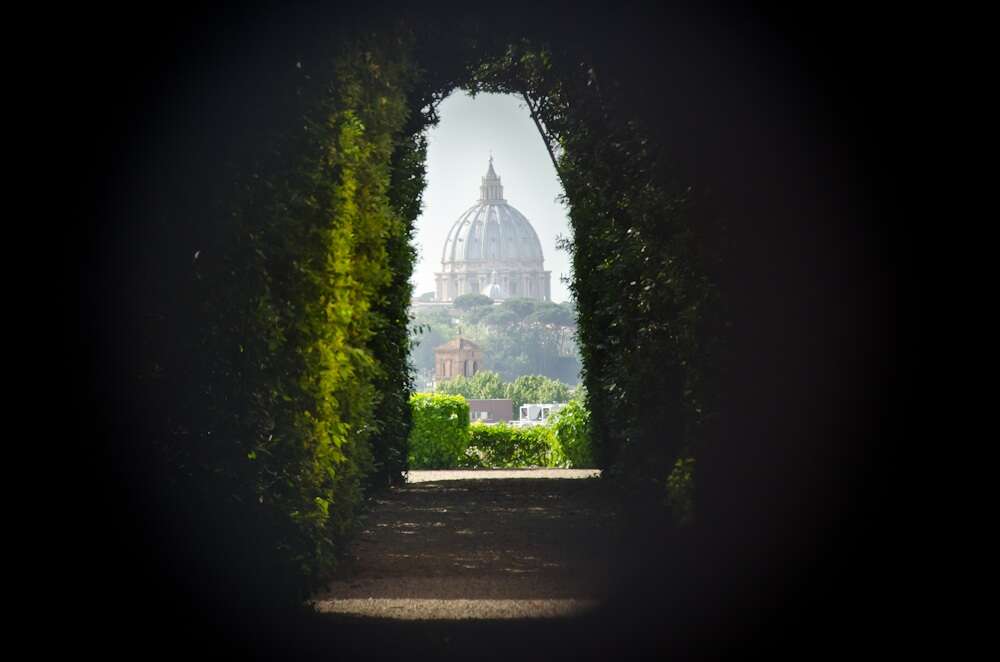 Address: Aventine Hill, 00153
Appointment: in front of the benches of the Piazza dei Cavalieri di Malta, at 9:50 hours .
Ticket: 5€
Buses:Bus no 170 goes from Lungotevere, No 3 tram runs from Via di Porta Portese
An all-encompassing sight of the Italian capital is wholly embraced in the keyhole of a vague-looking door on the Aventine Hill, nicely placing the dome of St. Peter's right in the center.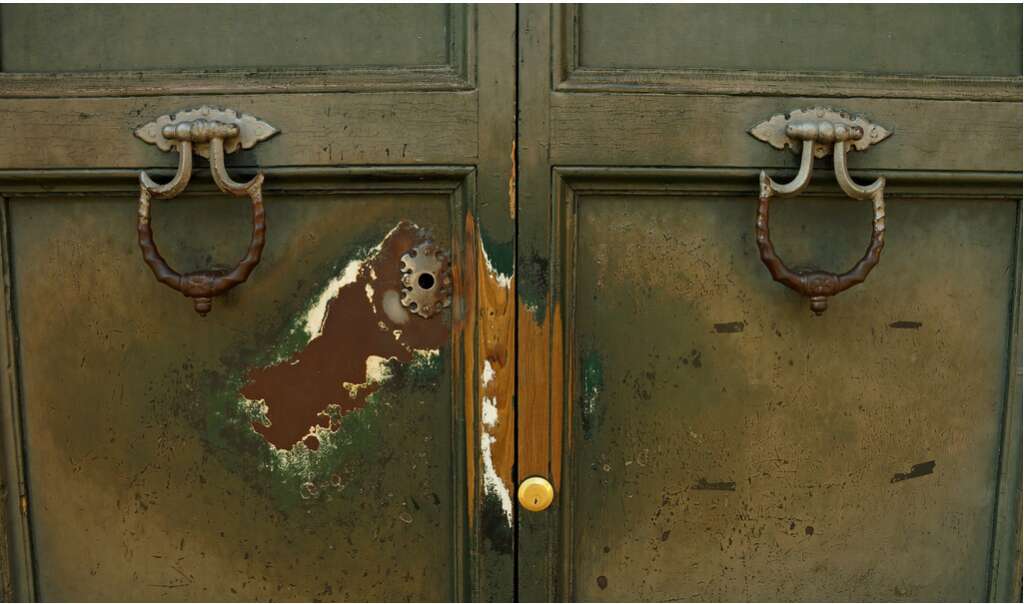 The keyhole of the Knights of Malta is one of the city's most appealing offbeat places in Rome. With its unappealing door and perfectly framed view of Saint Peter's Basilica, it has become a favorite stop for the frequent travelers, looking for off the beaten sights in Rome.
The keyhole is part of the property owned by the Priory of the Knights of Malta, a Roman Catholic religious order of crusader knights that originated in Jerusalem in the 11th century. It is the oldest surviving chivalric order in the world and is a sovereign entity under international law.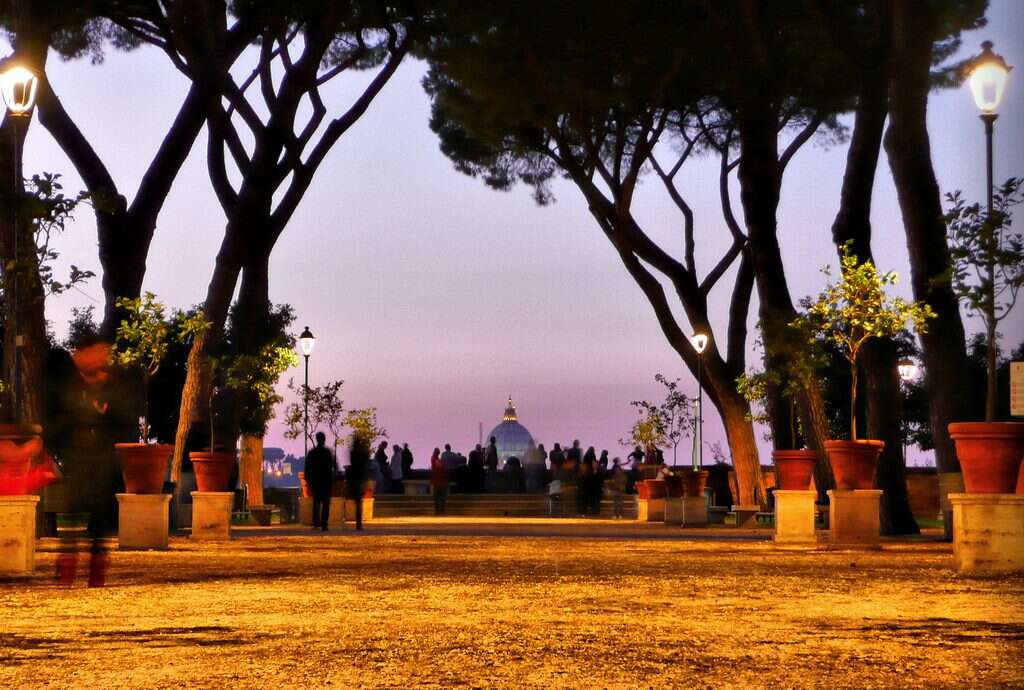 Here's a review from a Trip Advisor's user,
From Colle Aventino you have some breathtaking views over Rome and the Vatican. The place is less crowded than Palatino etc. and something of an oasis with beautiful old basilicas etc. Don´t miss the Giardini degli Oranci.
Where to go from here
You can visit the Roman site of Ostia Antica from the Roma Porto Paolo Station. From the Porto San Paolo you can take a walking tour down the Via Ostiense (the road to Ostia). Itinerary: Museo della Via Ostiense to the Basilica of St. Paul.
4. Pyramid of Cestius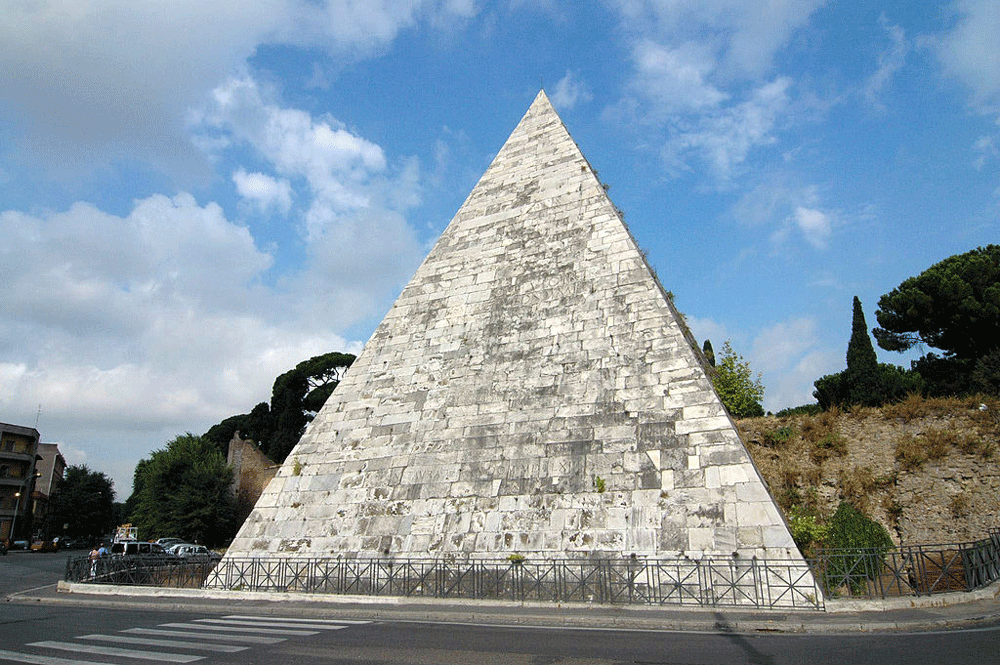 Address: Via Raffaele Persichetti, 00153
Opening hours: Monday to Friday from 9.00 am to 1.00 pm and from 2.00 pm to 5.00 pm, Saturday from 9.00 am to 2.00 pm
Ticket: 5.50€
Buses:line 23, Metro – Line B stop Piramide
Small at a distance yet colossal up close. This is how the Pyramid of Cestius was classified. You would never expect to see a pyramid as huge as those in Egypt in the city of This 36.5 meter-tall pyramid certainly bags a place in the list of top 10 offbeat places in Rome. During 30BC, the Roman era was hugely influenced by the Egyptian artifacts. And this urged the Roman architects to imitate the Egyptian object d'arts all over the city.
The Pyramid of Cestius was built between 18 and 12 BC, almost 3000 years ago. During this age of Egyptomania, several monoliths started appearing across the city; two of them located in the Piazza del Popolo and in the Piazza di Montecitorio. There is another larger pyramid in Rome, known as the "Pyramid of Romulus" near the Castel Sant'Angelo.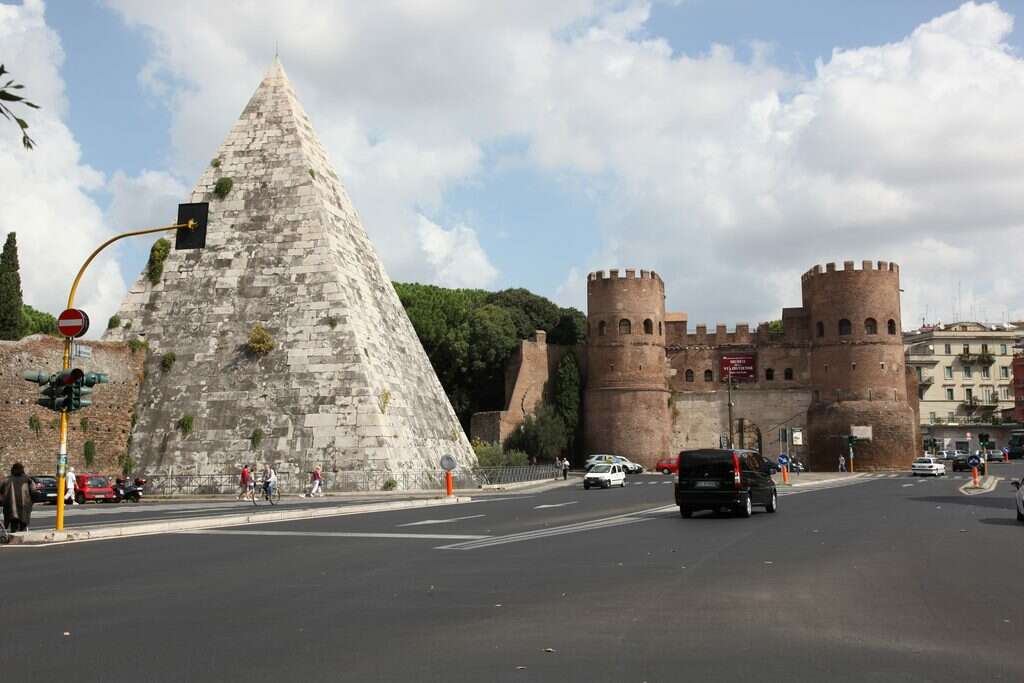 During exploration, researchers discovered epitaphs including the one that belonged to the owner of the tomb:
There is an inscription, CIL VI.1374, on this side of the monument; it is repeated on its northwestern side.
Cestius L.F. Pob. Epulo pr. tr. pl.
VII vir epulonum

Opus apsolutum ex testamento diebus CCCXXX arbitratu
Ponti P.F Cla. Melae heredis et Pothi L.
Which translates to:
Gaius Cestius Epulo, son of Lucius, of the Poblilian district, praetor, tribune of the people, official of the public banquets. According to his will, this work was completed in three hundred and thirty days; it was executed by his heirs L. Pontus Mela, son of Publius, of the Claudian district, and his freedman Pothus.
5. The Mithraeum at Circus Maximus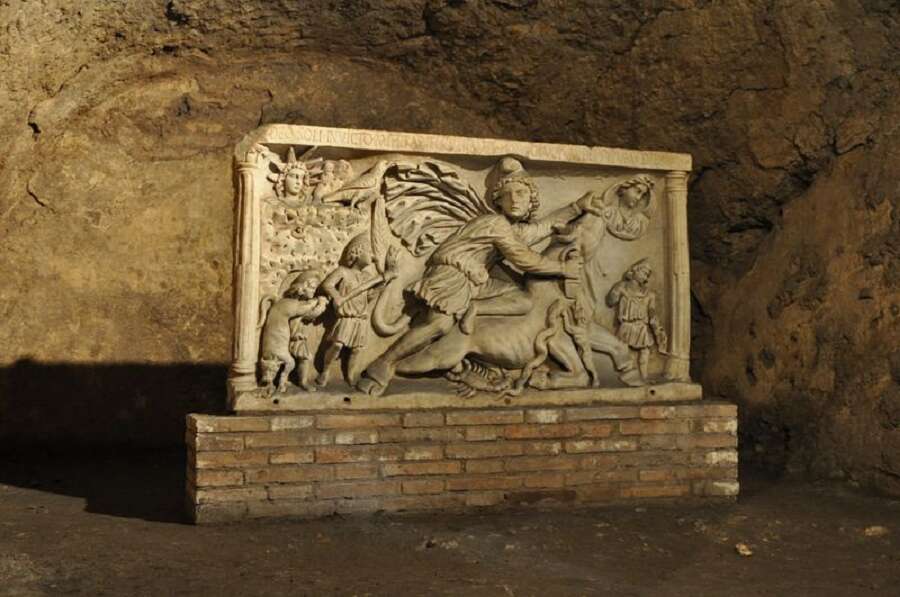 Address: Via del Circo Massimo, 00186
Opening hours: Sunday 04:00pm-07:00pm
Ticket: 3€
Buses:line 75
While the tourists to see the Colosseum's underground and Third Ring after it opened to public in 2014, here's another one of Rome's best-kept secrets – the Mithraeum (a temple of the God Mithras) at Circus Maximus.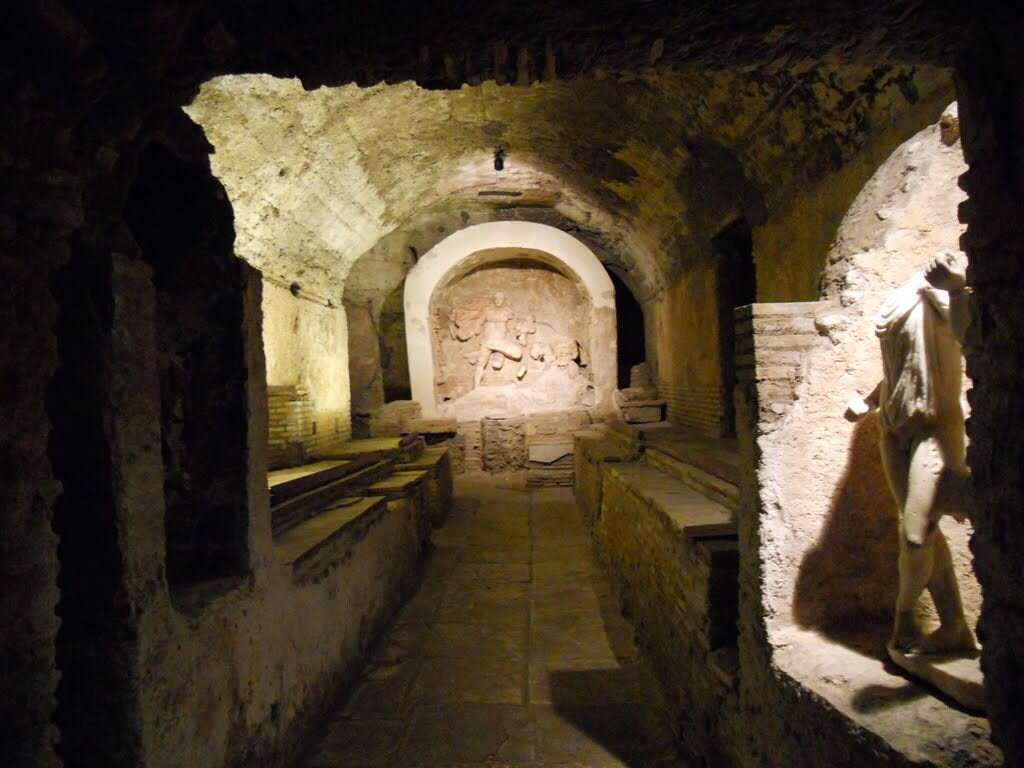 This religious sanctuary is hidden below the ground next to the famous racetrack and had remained a secret for centuries. Worshippers during 2nd and 3rd cetury used to gather secretly to pray. The Mithraeum is among the must-see offbeat places in Rome and was only discovered in 1931 45 feet below ground. Today, the mithraeum lies beneath the Foundation of Rome's Teatro dell'Opera.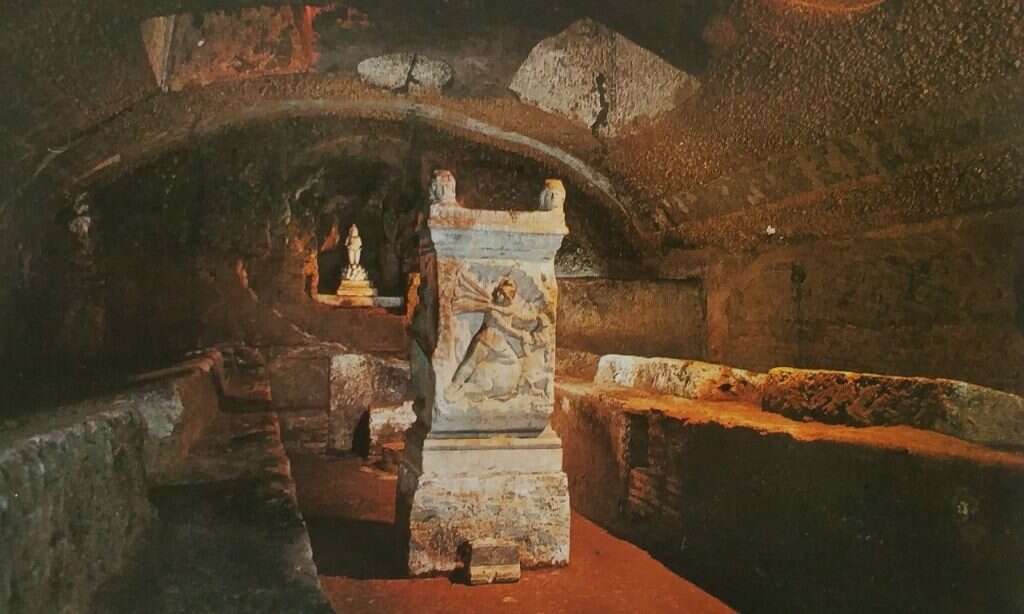 Rome encompasses lot of hidden gems. Some of these off the beaten paths are far more amazing than descending down a stairway in an ordinary building, only to find such well-preserved histrionic chambers!
You will come across various clues inside this hidden chamber such as a fantastic embellishment showing Mithras slaying a bull. The archaeologists hence concluded that the chamber was nothing other than a 2nd-century center of worship for followers of the cult of Mithras.
How to book Mithraeum of the Circus Maximus?
It's 3 Euro admission, but you can only visit it with a guided tour. Click here to know more.
6. Arciconfraternita Santa Maria dell'Orazione e Morte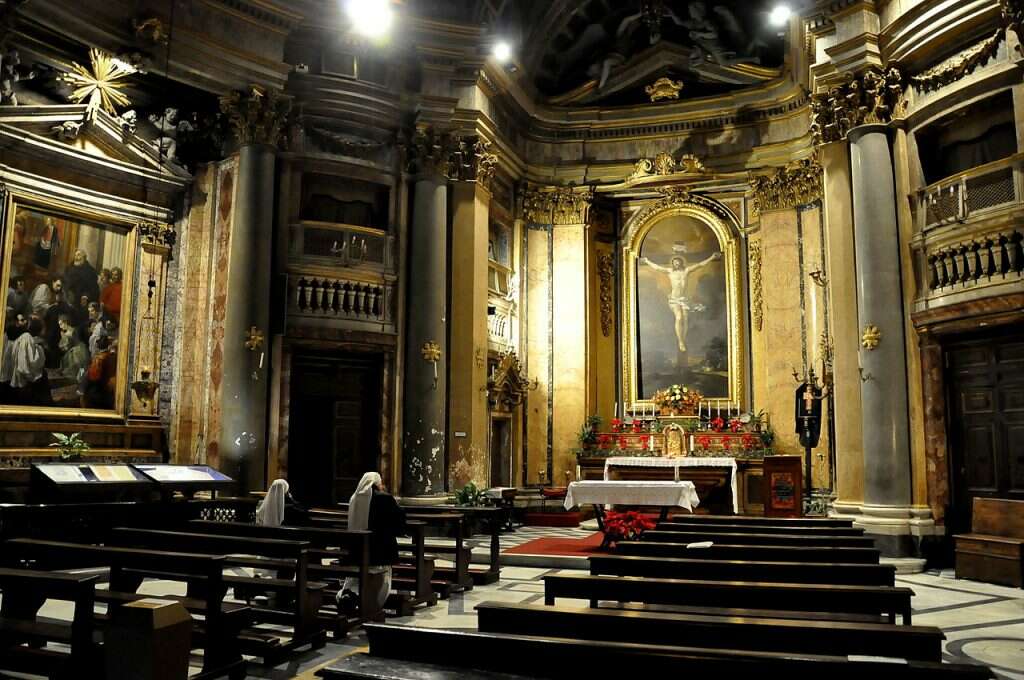 Address: Church Santa Maria dell'Orazione e Morte Via Giulia, 262
Opening hours: Sunday 04:00pm-07:00pm
Ticket: Free
Buses: Visit Palazzo dei Tribunali

At the crypt of St. Mary of Eulogies and the Dead you are left alone to ponder mortality among piles of skulls.
Here is another spooky church added to my list of 10 offbeat places in Rome that you wouldn't want to miss. Santa Maria dell'Orazione e Morte (Saint Mary of the Prayer and Death) is a 15th century church located on the via Giulia (right behind Palazzo Farnese) and is easily recognizable with its skull decorated facade.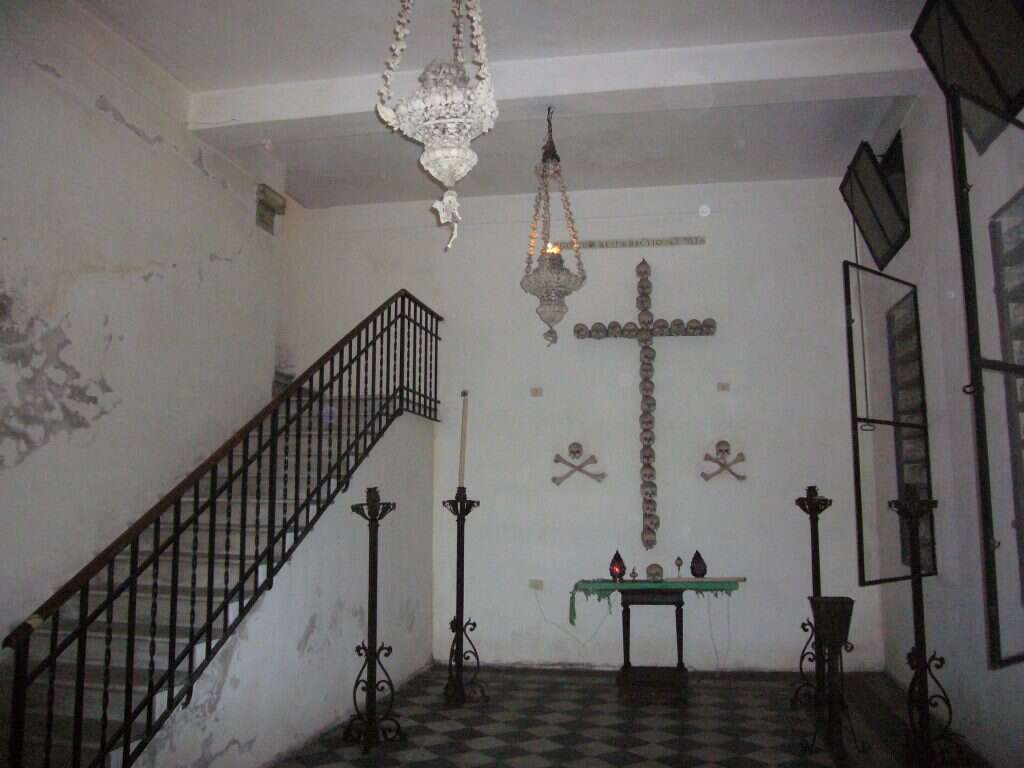 When I asked the locales why there were so much skull and skeleton in Catholic churches here in Italy, their response was this –
Death was all around these people during the times when these churches were built. Plague and famine were common and people were much more used to dealing with death than we are in this modern age.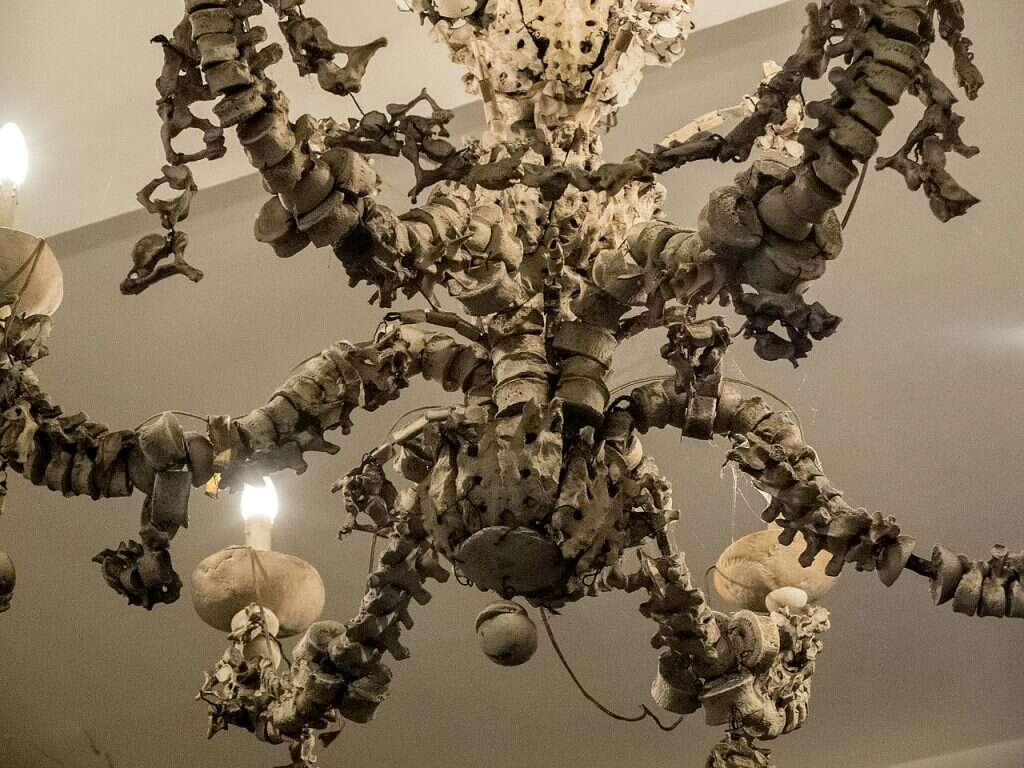 Once you are inside the church, you'll be asked to make a small donation and a nun will unlock the crypt for you. The nun will take you down a short flight of stairs and leave you alone, surrounded by skeletons. There are skeletons set in the wall, etched skulls stacked on shelves, bones piled by the altar and made into a cross. Even the chandeliers are made with human vertebrate. A scythe lurks near the altar.
7. The Criminology Museum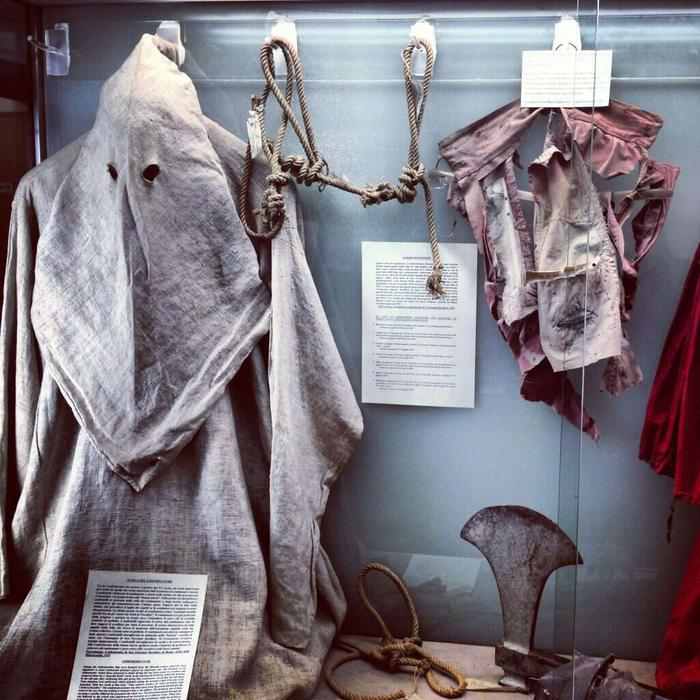 Address: Via del Gonfalone 29 00186 Roma
Opening hours: Tuesday to Saturday from 9am to 1pm
Ticket: 2€
Buses: Via the Banner 29 00186 Roma
Ever heard of Milazzo Cage?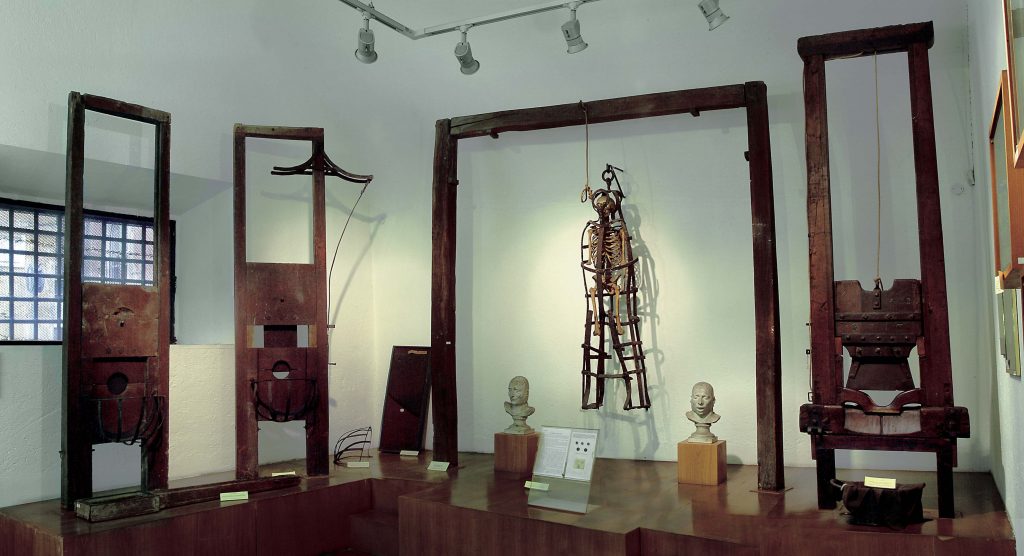 The infamous grisly cage is made of iron and stands in the shape of a human. The cage contains a human skeleton, which was found buried inside a wall at Sicily's Milazzo prison on 17 February 1928.
Operated by Italy's federal prison administration, this criminal anthropology museum was only open to the Govt. officials until 1994. The collection displays different methods of investigation and restraints used against prisoners, including some hand-made items by the prisoners.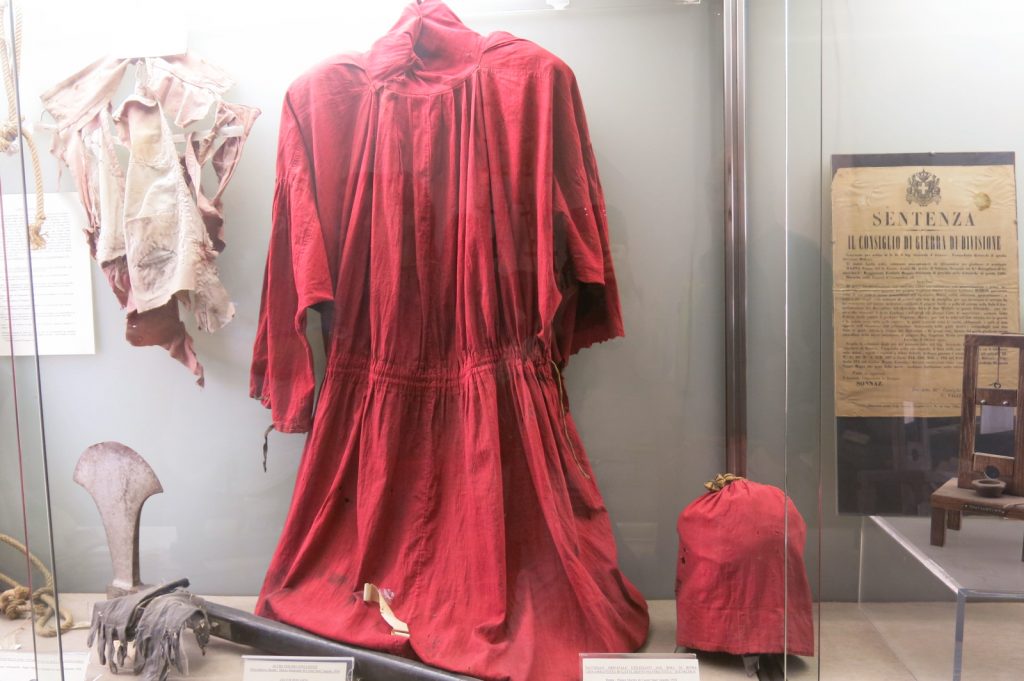 The major highlight of this offbeat museum includes the famous red robes of Giovanni Battista Bugatti, popularly known as Mastro Titta. Bugatti was the longest-serving executioner of the Papal States, and he had carried out a total of 516 executions.
8. CinecittÃ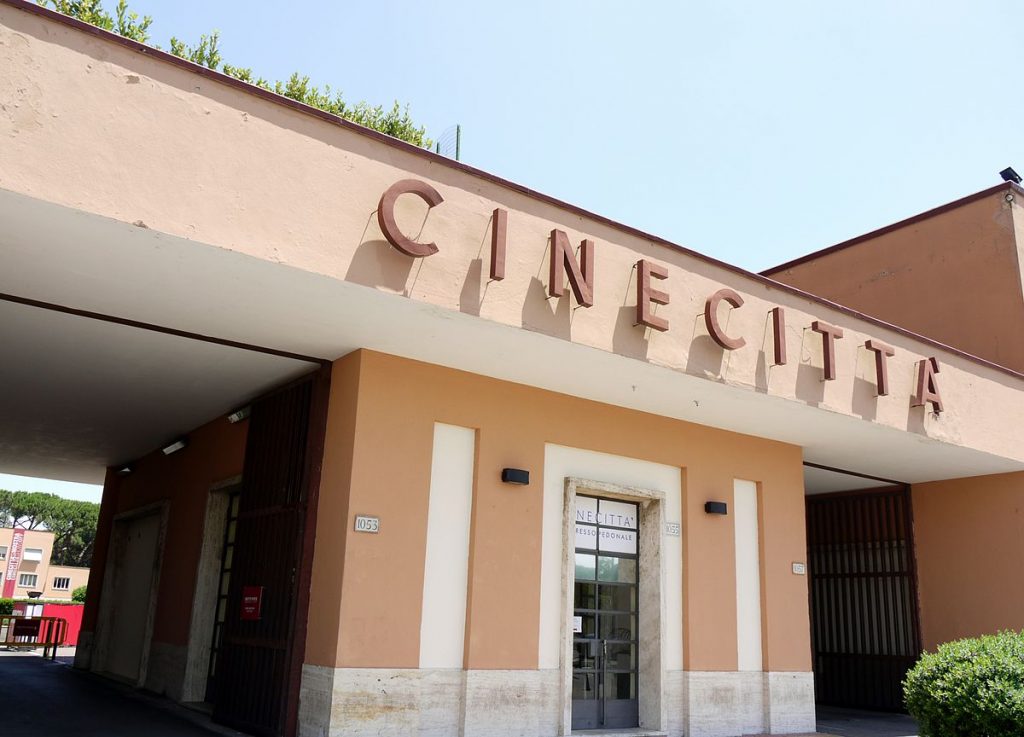 Address: Via Guido Figliolini, 41
Opening hours: Monday-Sunday from 9.30am to 6.30pm
Ticket: 10€
Buses: 502 – 503 – 552 – 654, Metro: Line A – stop for Cinecittà .
Italian Cinema once had a nerve center, and it was called Cinecittà .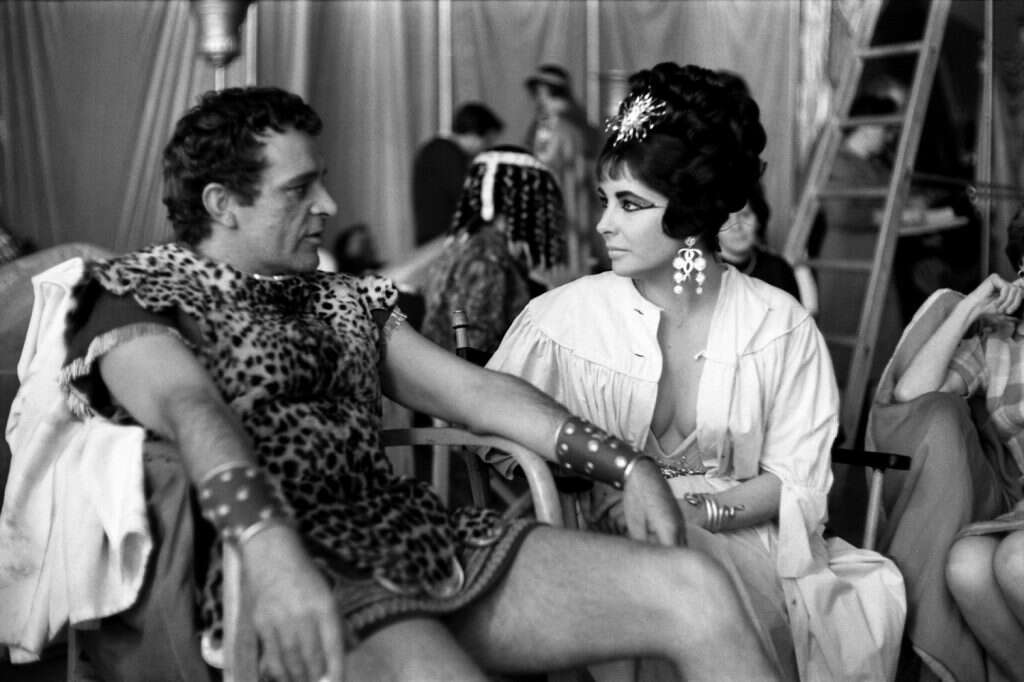 How could I have afforded to miss Rome's Cinecittà , the 20th century film studio that is steeped in movie history. You would be surprised to see how this histrionic film studio, where Liz Taylor and Richard Burton had first met on the set of Cleopatra, is among the 10 offbeat places in Rome. Not known to many, this film studio has given more than 3000 films including some of the Hollywood's biggest movies such as Ben Hur, La Dolce Vita and Martin Scorsese's Gangs of New York.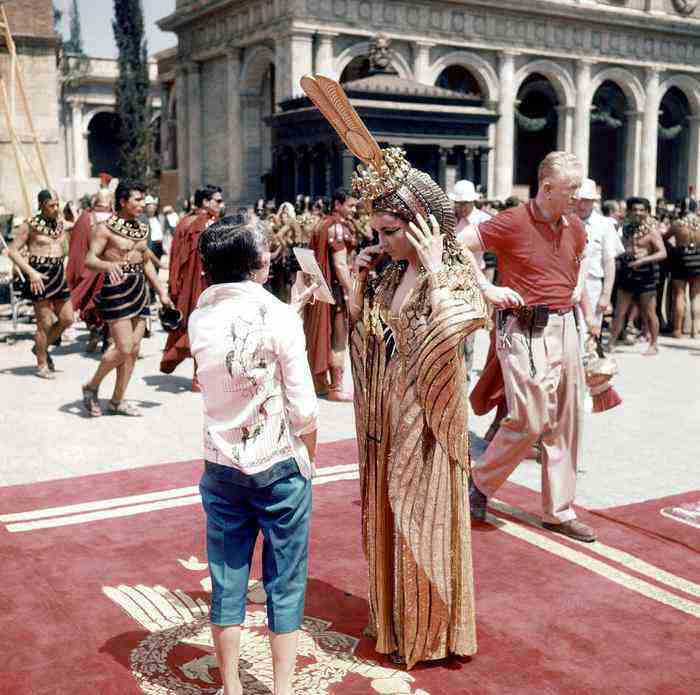 Before it became the hub of the Italian film industry, Cinecittà Studios was the once propaganda playground of Mussolini, the Italian leader. It was then when Mussolini sensed the dilemma of the failing film industry of the country, he gave away the property for the establishment of the iconic Cinecittà .
9. Cimitero Acattolico and Testaccio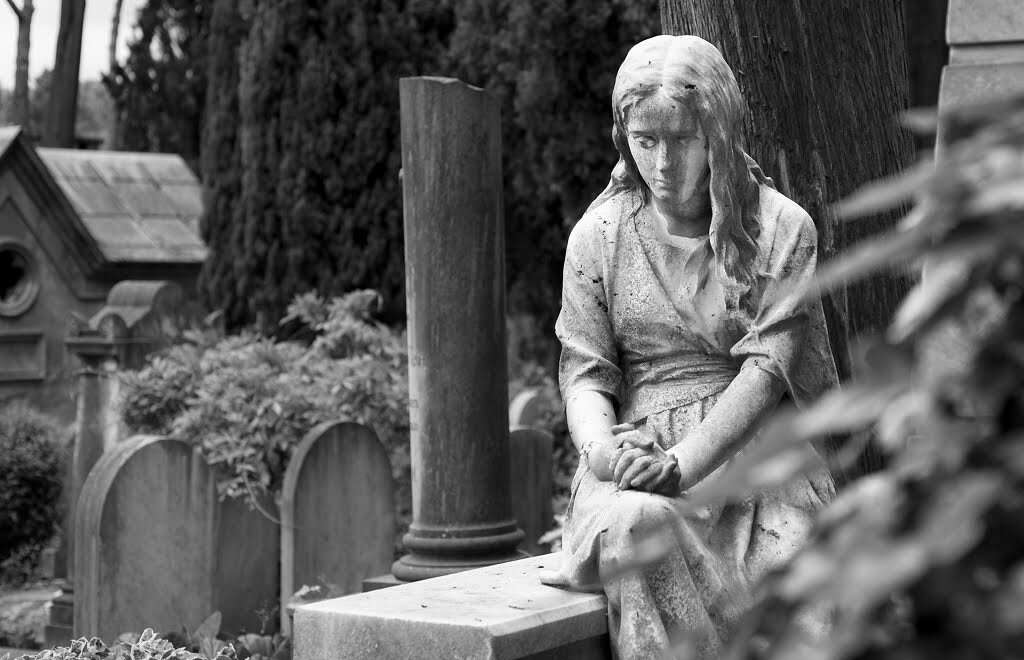 Address: Via Caio Cestio, 6
Opening hours: Monday-Saturday from 9.00 am to 5.00 pm
Ticket: Free
Buses: 3-75-23-60-83-95-280-30-175, Metro: Underground B line to Piramide station
Unnoticed by an ancient pyramid, here is another added in my list of 10 offbeat places in Rome to explore. The Cimitero Acattolico (Non-Catholic Cemetery) is a lush spot of tranquility in the bustling Testaccio district. You'll experience an air of Grand Tour hanging over the cemetery, where up to 4000 people are buried by now, including the English poets John Keats and Percy Shelley, and Italian political thinker Antonio Gramsci.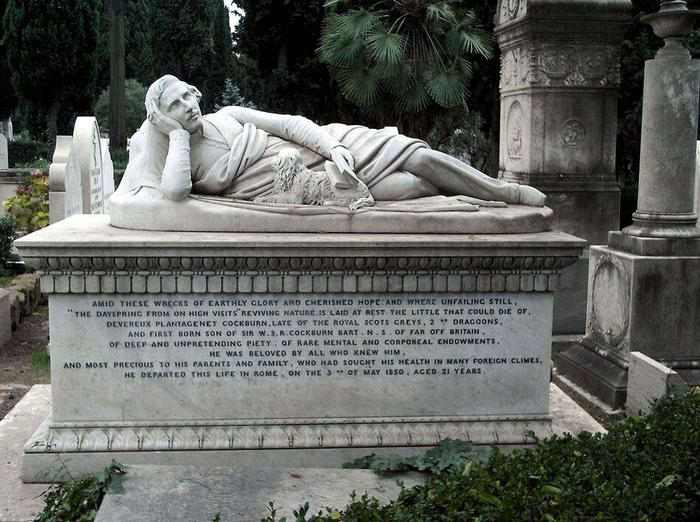 Here's something I thought of sharing from the pages of history –
Shelley was drowned in 1822 while sailing in his yacht off the Italian Riviera. When his body washed up upon the shore, he was cremated on the beach near Viareggio by his friends, the poet Lord Byron and the English adventurer Edward John Trelawny. Shelley's heart supposedly survived cremation and was snatched out of the flames by Trelawny, who subsequently gave it to Shelley's widow, Mary. When Mary Shelley died, Shelley's heart was finally buried, encased in silver, in 1889.
10. Palazzo Spada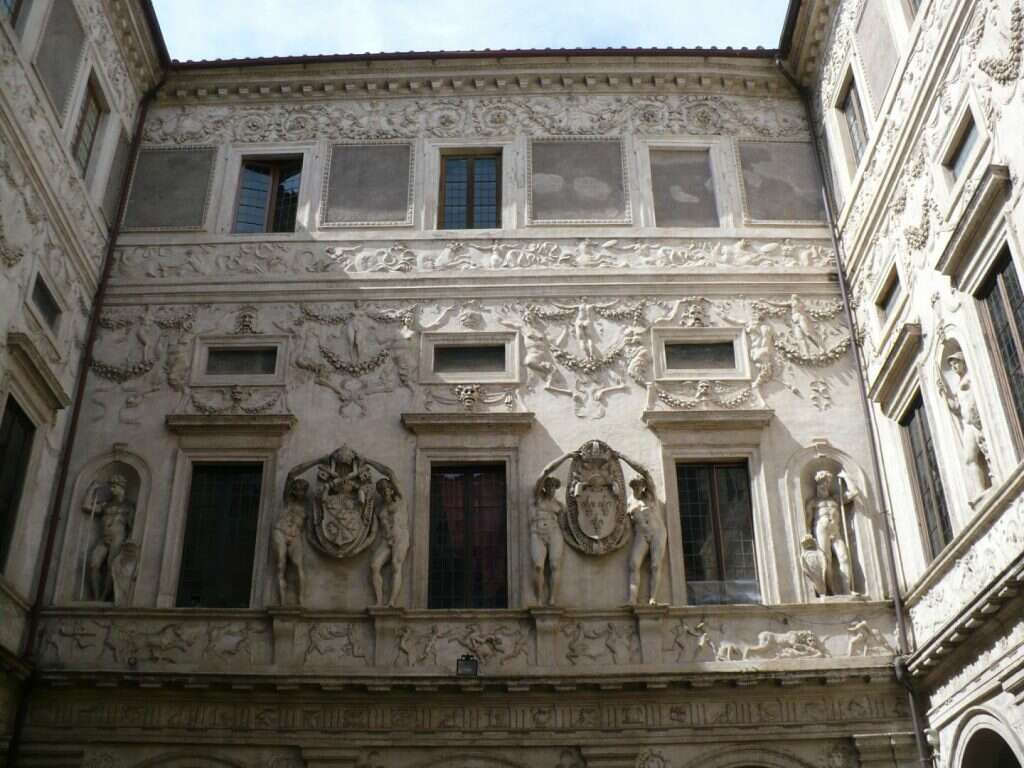 Address: Piazza Capo di Ferro, 3
Opening hours: Tuesday – Sunday: 8:30 am – 7:30 pm
Ticket: 5€
Buses: 46, 56, 62, 64, 70, 81, 87, 492 and 628
Last but not the least is Palazzo Spada from my list of 10 offbeat places in Rome that you can mind visiting. The Palazzo Spada is an ornate Mannerist palace (Mannerism is a style in European art that emerged in the later years of the Italian High Renaissance around 1520.) located near Campo de' Fiori, flaunting one of the Rome's most famous architectural dottiness.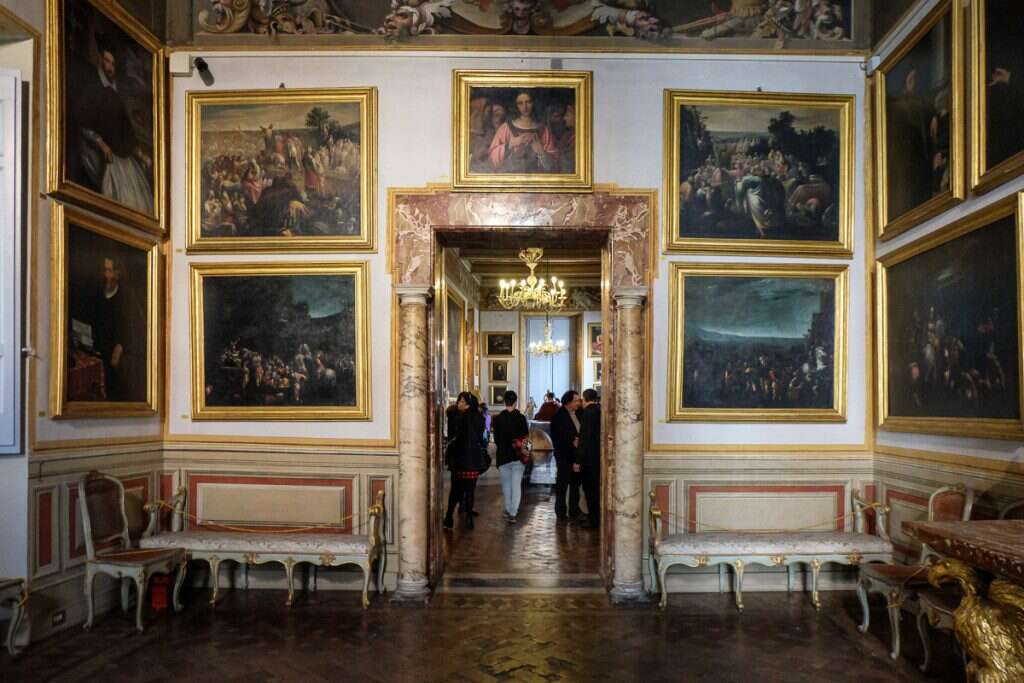 At first sight, the Prospettiva del Borromini (Galleria Spada housed in the Palazzo Sapada) looks like a long-winded gallery leading to a life-size statue of a Roman warrior. However, it's an optical illusion and the corridor is only 8 meter broad. In order to create this illusion, architect Francesco Borromini had used a rising floor and converging rows of shortening columns.
Those were the top 10 offbeat places in Rome even the frequent travelers are unaware of. I have covered another extensive itinerary from London to Rome. Click here to know more.

Image Courtesy:
blamethemonkey.com
pinterest.com
italytravelphotos.blogspot.in
nationalgeographic.com
howlsandwhispers.co.uk
europeupclose.com
flickr.com
letteraturaartistica.blogspot.in
vofoundation.org
civitavecchia.portmobility.it
famouswonders.com
commons.wikimedia.org
themuseumtimes.com
itransalpini.it
tertullian.org
archaeology-travel.com
time.com
wbur.org
visitlazio.com
anamericaninrome.com
huffingtonpost.com
deviantart.com
<div class='toc'><ul></ul></div>