An India-Pakistan match has often carried with it the craze and drama that is unseen in cricket matches between any other teams. The setting is a cricket equivalent of an El Clasico match. The fierce rivalry between the two teams has grown into a phenomenon in the past few decades and this makes for one helluva good match to spend your evening watching. Both teams know that a victory against the other will be appreciated as much as winning a cup and also understand the immense pressure upon them to win.
India vs Pakistan
As un-anticipatable as the matches against the two teams usually are, Pakistan hasn't won a match against India in a world cup match in a really long time. Long enough to have an entire ad series dedicated to it. Don't forget to update your teams in the GrabOn's Cricket Fantasy League.
As we all look forward to the match that is set today as Pakistan plays in India, we thought you might want to look at some of the greatest moments in the rivalry over the years. From Shoaib Akhtar and Sachin to Venkatesh Prasad and Aamer Sohail, here's the good, bad and the great of the India-Pakistan rivalry.
Kumble's record 10 wickets in an innings, Delhi, 1999
Back in 1999, Anil Kumble did the unthinkable and took all 10 Pakistani wickets. Kumble is still one of the only two bowlers ever to have done that.
Sachin vs Pakistan's Pace attack, Centurion, 2003
March 1, 2003 is often remembered as the day that Sachin pulverised Pakistan's feared pace attack lead by Shoaib Akhtar and scored a 75-ball 98.
Relive The Nailbiting Tension Off The Field
Shahid Afridi's electric 102 off 46, Kanpur, 2005
Shahid Afridi is often known for his explosive batting and this Kanpur match was no different. Afridi blasted a 46-ball 102 and won it for Pakistan.
Javed Miandad's Last Ball Six, Sharjah, 1986
What may have appeared as a climax to a sports film, this match saw Javed Miandad hit a six on the last ball of the match to seal the match and series for his team.
Dravid & Yuvraj's Nerves of Steel, World Cup 2003
Even after Sachin's incredible knock of 98 from 75, India still needed 100 more runs to win. And with a weak lower order, India was counting on Dravid and Yuvraj to win the match for the team. And win, they did.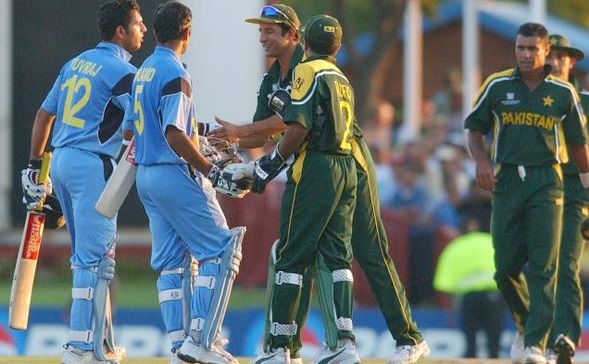 India's WT20 Cup Win, Johannesburg, 2007
It is often said that an India-Pakistan match is the real final, which made it all the more sweet when we won against the final. Talk about icing on the cake.
Bonus: This hilarious wicket of Inzamam Ul Haq
This is gold.