New in the city? Let us be your companion in the house hunt! Finding a property in India is a task in itself. Hunting for a makaan to buy or rent can be unimaginably taxing if you have to search for them physically. And more often than not, the price is not within your budget. The brokers get their own fat load of commission while there are always loopholes in the property agreements that make you visit the courts. But thanks to technology, you can now find properties online at the best property sites in India with just one click. Move into your dream home hassle-free by buying it or renting it online.
This is our list of Top 10 Real estate portals for buying properties in India. These trusted portals will help you in finding the house of your dreams and assist you in the process like a friend. Check these websites before you step out of your house to find a new home. Who knows where you'll find your dream home! And when you're done finding the house, look out for some fantastic Pepperfry coupons and deals to decorate the home like a dream! Happy Housing!
Top 10 Property Websites in India In 2022
1. 99 acres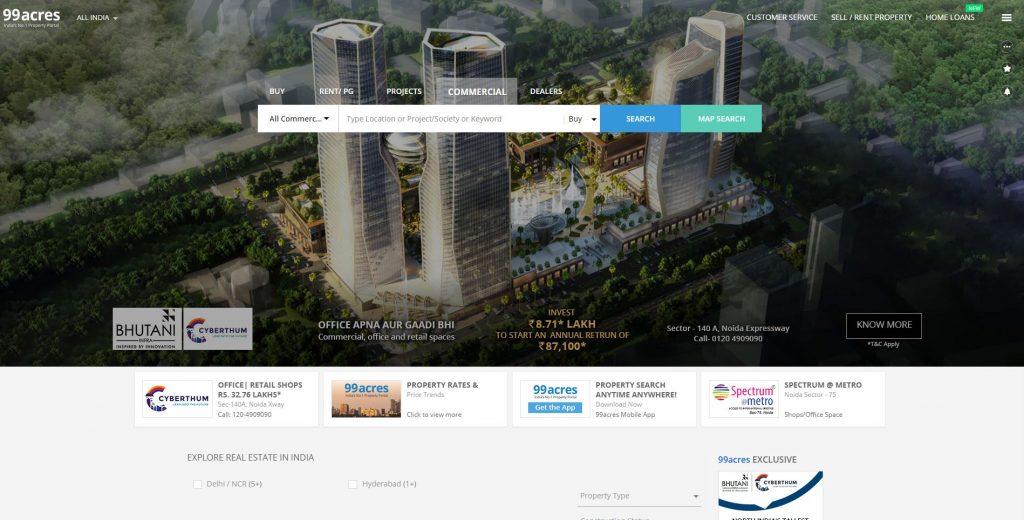 A very prominent name when it comes to buying and selling of properties in India, 99acres has established itself as the top website for property sale in India. The company is known for its factual data and is trusted by people across the country. The site and App of 99acres include properties for resale, builder projects that people can invest in, flats for rent, and future plans along with office spaces. All this under one roof, what else do you need?
99acres is known as the best and most reliable real estate website pan India. They have properties listed from most of the cities in India and are actively present in 25 cities. To make the process fuss-free for you, 99acres has also partnered with banks to help you get a home loan without difficulty.
2. Housing.com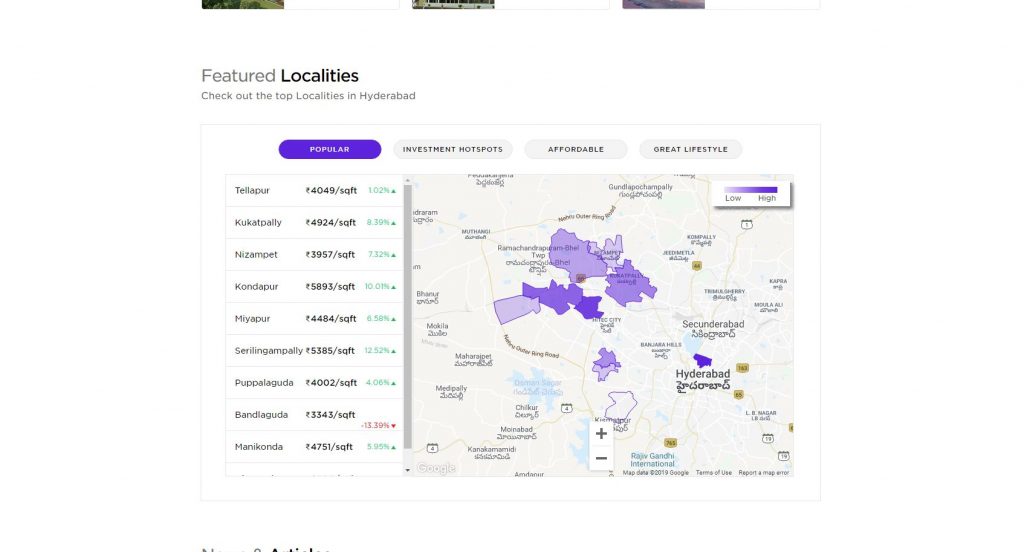 Housing.com is another website where you can buy and sell properties online. For listing your properties available for sale, there's a different link on the homepage where you can list your properties. The main website, however, has features to buy and sell listed according to the city you are checking for. Apart from this, Housing.com has also mentioned about the developers in detail.
The company has a straightforward and user-friendly website. It not only allows the users to search for exactly what they want by applying appropriate filters but also helps in smartly segregating the properties. There's a search bar on the website where you can search for properties available for sale and rent separately.
3. Commonfloor
Ever since its inception in the year 2007, Commonfloor has been relentlessly trying to satisfy their end-users with natural properties and an accurate price.
When it comes to telling the audience about the projects, the company rolls out detailed information about on-going as well as upcoming projects. From luxury homes to nature homes and budget homes, Commonfloor has made all the available and potential properties available for the customers to choose from. On selecting the cities you want to buy/sell/rent properties in, you will see options to buy/rent/sell properties in a specific area. Check out their website to know more about houses you can buy or rent, who knows you might find your abode here itself!
4. MagicBricks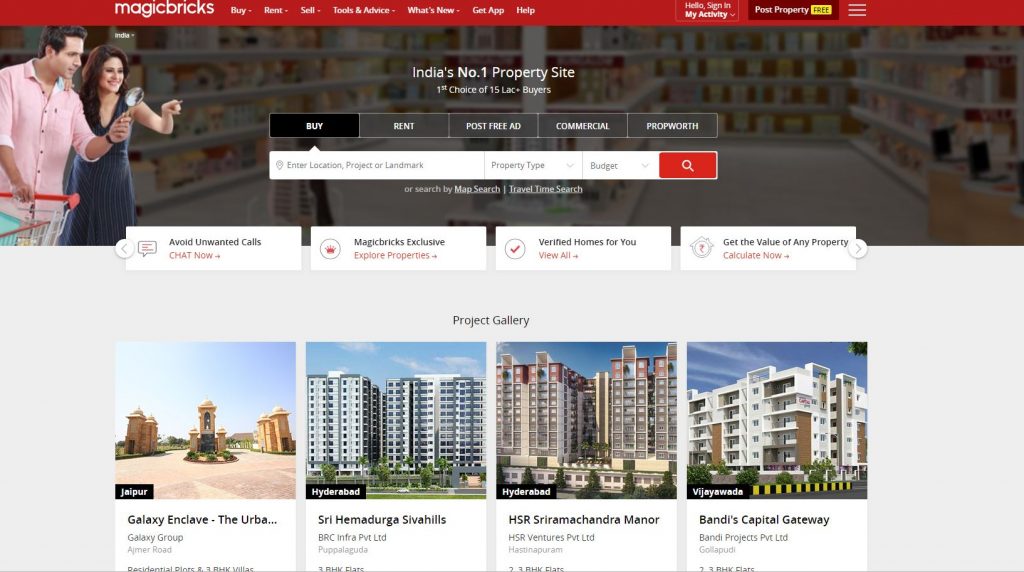 MagicBricks is another venture that has successfully helped millions of people find a home. With their proper categorization and expert guidance, it becomes easy for the buyers as well as sellers to make the most out of this platform and find the best deals. The company is well-known among the public as they list only verified properties and don't bombard users with unwanted calls.
MagicBricks has been a people's choice real estate website when it comes to renting or buying a property. People can also post free ads on the website as well as the App for better reach of their information.
5. QuikrHomes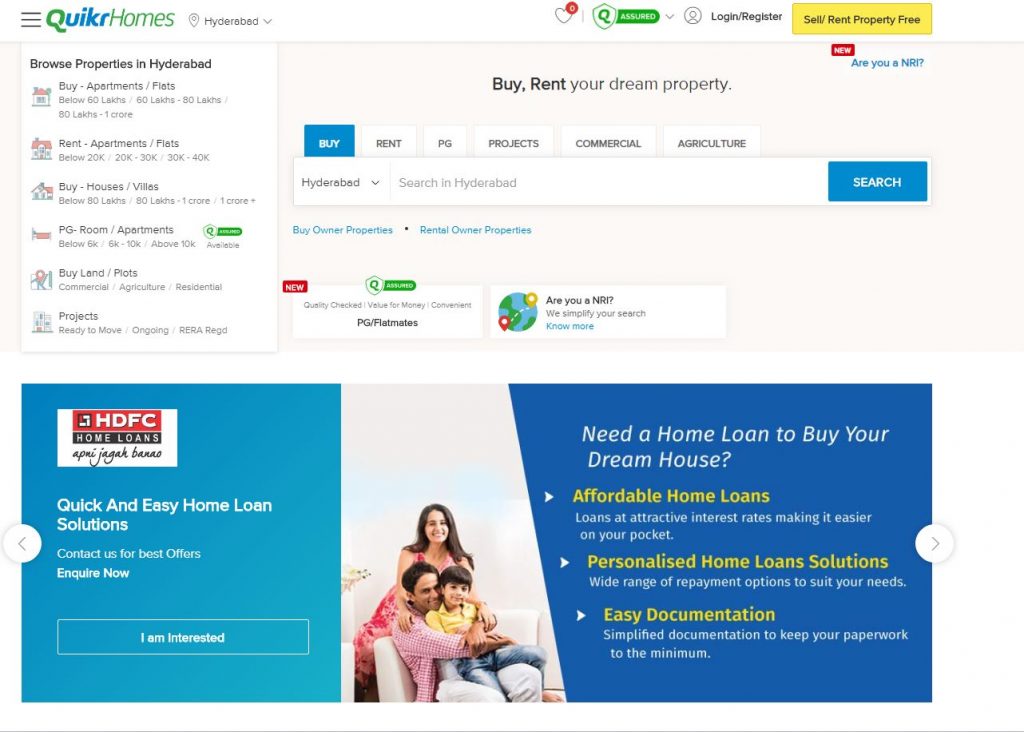 Quikr has a name in the market for its resale of products, but in this case, it's a real estate portal where you can buy/rent/sell any property you like. Recently, Quikr acquired a real estate startup called "Grabhouse" and is now operating on a large scale. The website gives freedom to choose PG accommodation as well as pick flats and apartments of your choice. Not only this, but people can also buy and sell lands on QuikrHomes.
So much can change with the help of technology! Just one tap and you have a zillion options to choose from before you settle down on one home for yourself. After all, home is a feeling, and QuikrHomes makes sure you have the best one.
6. No Broker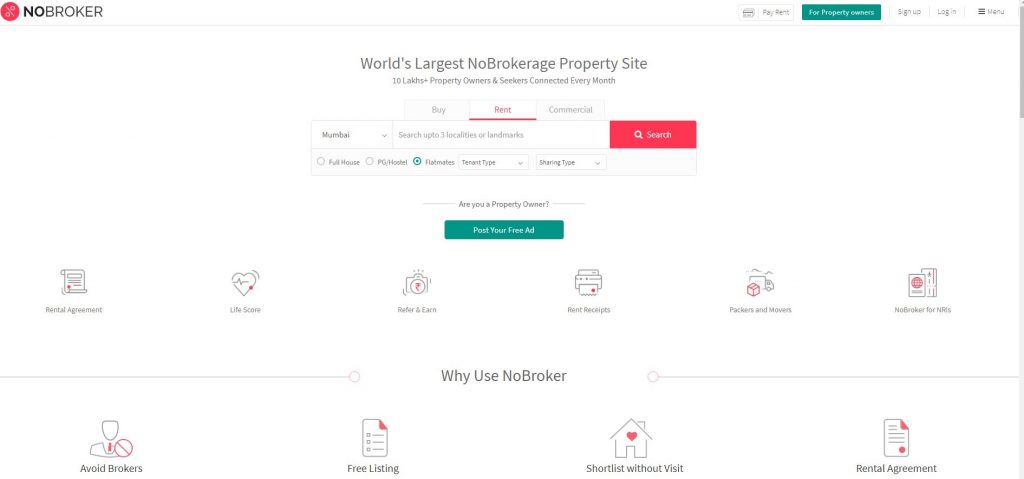 Are you tired of paying extra money to the brokers for finding a house? Not anymore! No broker is a website for property search that lists available properties for rent or sale without involving brokers. You can also look for commercial places to rent for your new business venture.
The company claims to be the World's Largest NoBrokerage Property Site where you can find flats, pgs, and even post vacancies for a flatmate on sharing and non-sharing basis. The website has options to make rental agreements, download rent receipts, get packers and movers, and a separate section for NRI users to begin the search. We are sure you know where you need to go to find your next house!
7. Makaan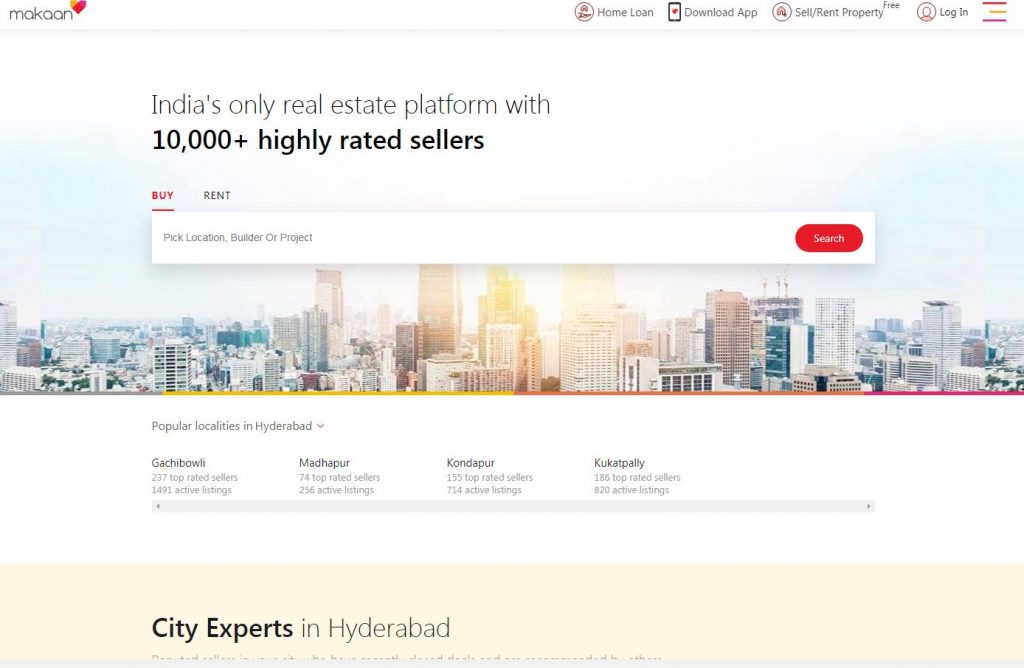 The third necessity from roti, kapda, aur makaan can now be easily found with the help of this property search website in India – Makaan. A website that claims to have 10,000+ sellers listed with them offers a smooth online house hunt without burning yourself up in the sun. Funded by companies like the REA group, Soft Bank Group, etc., Makaan is rising in the market with some beautiful flats and apartments for people to purchase/sell and rent.
Another noticeable feature of this website is that you can apply for a house loan on the website and get it approved within a blink of an eye. Download the Makaan App on iOS and Android to explore more.
8. Square Yards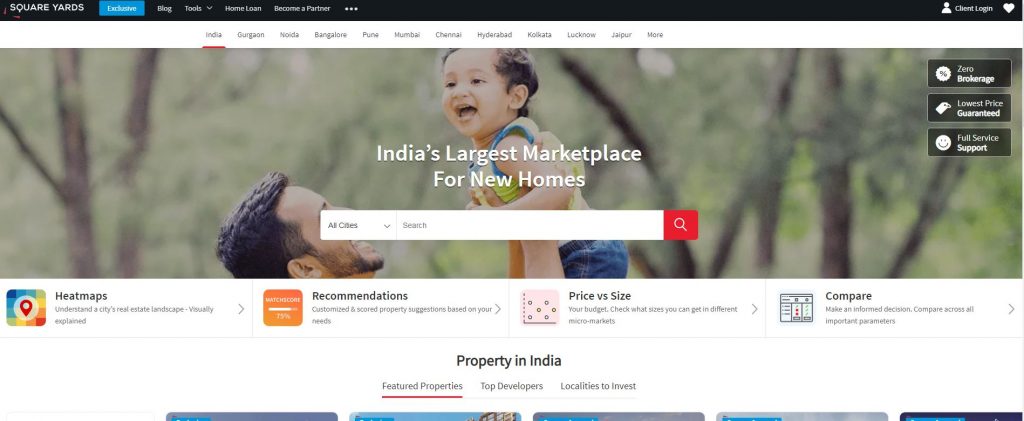 Square Yards flashes itself to be India's Largest Marketplace for New Homes. On the website, you can compare the properties before buying, find out the price of a home, concerning its size, and many more. There are recommendations available for people to look at. Square Yards offers services like identifying the property's life, offering financial help, Portfolio structuring, among others.
Square Yards' Global Real Estate is spread across Hong Kong, Australia, United Arab Emirates, and Canada. The company offers a Heatmap to understand the visual landscape of the properties listed and has a dedicated Relationship Manager for each deal. How cool is that?
9. Nestaway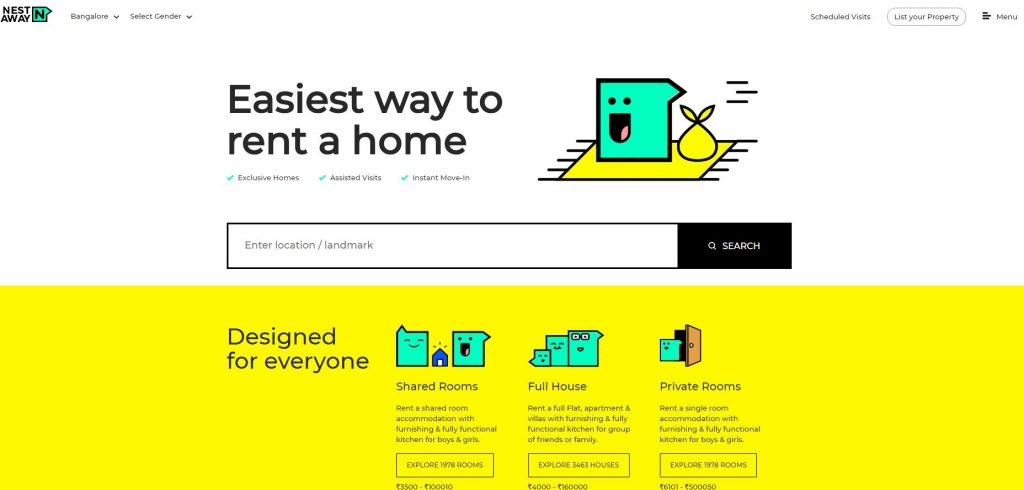 This new sensation is highly popular among the young crowd. It is known for providing a fully furnished house at economical rent, Nestaway properties are comfortable to live in and very safe. The property has shared rooms, private rooms, and independent apartments, which you can choose to rent. Nestaway is known for their prompt services and guidelines that they are usually strict about. The helpline numbers and POCs make it a point to fix the problems of the tenants as soon as they can.
You can download the Nestaway App and choose from verified tenants and owners. With different sections for owners and tenants, it becomes easy to list the properties as well as find one, with proper specifications and filters. The best part about this App is that Nestaway provides house maintenance once in a while so the owner doesn't need to worry.
10. Indiaproperty.com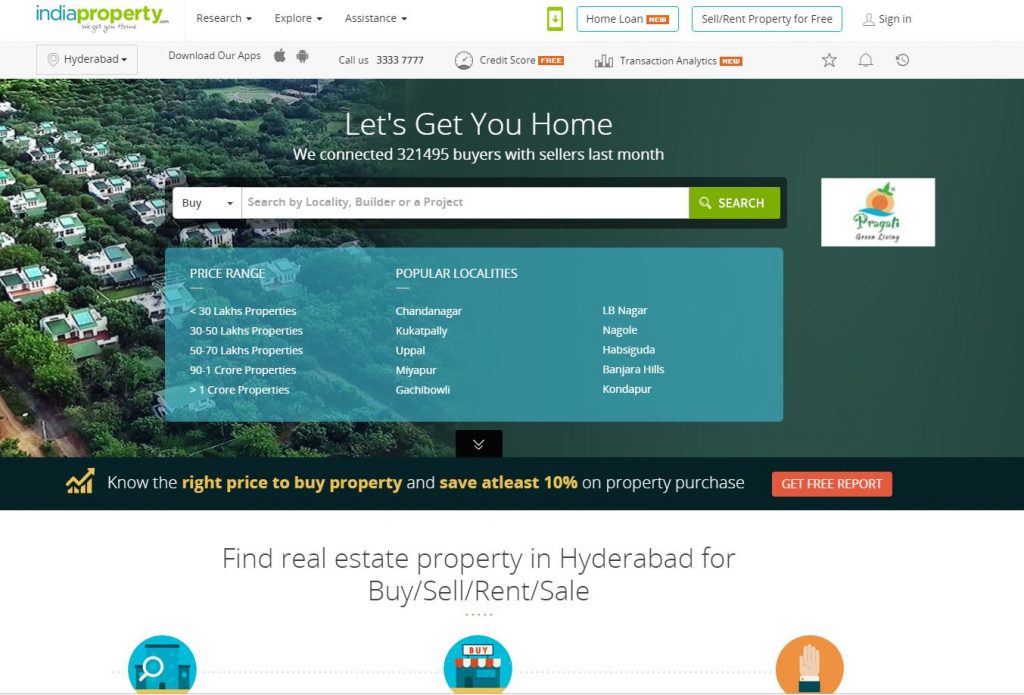 Last on our list in no particular order is IndiaProperty. The website is a one-stop solution for all your property needs. From identifying the right property for you to calculating the EMI amount, this website does everything for the users. The site allows users to explore the properties, research about them and the area, and then come to a conclusion because buying a property means getting the home of your dreams.
Before starting your hunt for a property, you can filter the price range and location as per your convenience and get better results on the portal. On the property listing portal, you also have the option to take a virtual tour of a project before buying a property in the same. You can always ask for an assisted tour.
So, these are the top property sites in India. If there are any others that you like, let us know in the comments and we will add them too.
The estate business is booming in India and the home of your dreams is no longer just a fantasy, you can easily find it inch-for-inch on one of these sites. We hope you find your dream home soon.