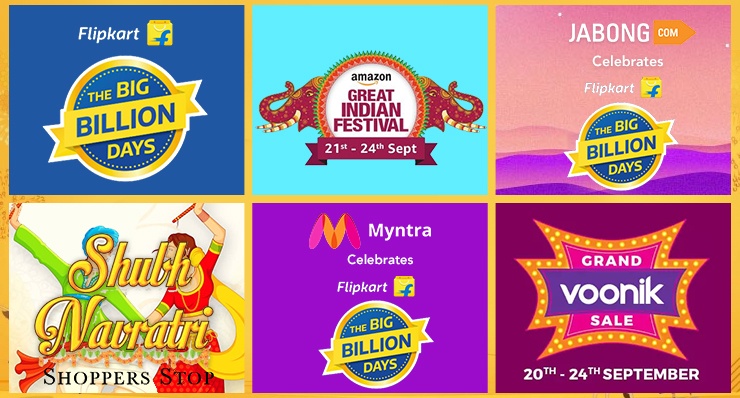 Be it Flipkart's 'Ab Mehengaai Giregi' or Amazon's 'Celebrate Home Coming This Festive Season', you must have seen all of it. And if you have not, it is high time that you know about the sales that are to come your way. Prepare well so that you can make the most of the Dussehra and Diwali sales and shop like crazy, without having to worry about hurting your finances. It is not only Flipkart or Amazon that are set to woo you with their exciting offers. Myntra and Jabong too are celebrating Big Billion Days. Wait, it doesn't end here. The Grand Voonik Sale, CLiQ Clock Sale at Tata CLiQ and Subh Navratri Sale from Shopper's Stop are going to commence soon. Paytm Mall will join the bandwagon as well, though they haven't yet revealed much details.
Sales coming your way
You are surely gonna get spoiled for choice, thanks to all the sales that are going to start soon.
Amazon Great Indian Festival
It's festival time and Amazon is here to help you. Be a part of their Dussehra and Diwali sales to save as you shop, as much as you want. The Amazon Great Indian Festival will run from 21st of September, 2017 to 24th of September, 2017. Amazon Prime account holders will enjoy greater benefits and can enter the sales zone from the 20th September. There will be:
Golden Hour deals between 9 PM to 12 AM every night during the sale
App only Exclusive Deals, so download the app beforehand
New hours will bring new deals
HDFC bank card users will get additional 10% cashback over and above the sale
Extra 10% cashback on Amazon Giftcard

This sale will be applicable on all categories. Be it electronics, mobiles, apparel or home and kitchen products, you can get everything at a discount.
Flipkart Big Billion Days
Flipkart's The Big Billion Days 2017 is back. It will run for 5 days, from the 20th of September, 2017 to the 24th of September, 2017. And this time, they are going to have:
Crazy Deals of up to 80 to 90 % off
Lucky draw contest. Activate your PhonePe wallet to win
Win big by doing simple tasks
Bid to win big
Payment via PhonePe will bring in 10% cashback
No cost EMI for Bajaj Finserv card and all other credit cards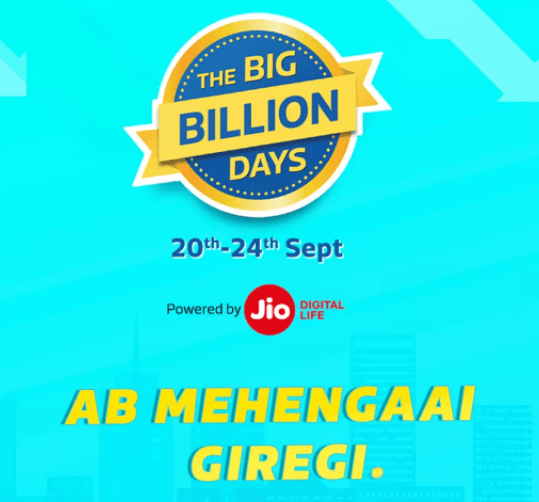 Be it the fashion category, beauty and grooming products, footwear or electronics, you can get huge discounts on each and everything at Flipkart.
Jabong Will Be Celebrating Big Billion Days
Jabong will be celebrating the Big Billion Days along with Flipkart and Myntra and it's going to run from 20th of September, 2017 midnight to 24th of September, 2017. What you should know about this sale:
The exciting deals, rather the product prices will be revealed today at 9 PM
Play exciting puzzle games to get The Big Billion Surprise coupon
Exclusive Mystery Offers for only the app users
Super special prices on mystery Deals
10% cashback for SBI card users
There are 5 fully paid couple air tickets to Singapore from Goomo
There will be 5 free Honda Activa (real big deal)
Minimum 50% off on everything
99% of the styles will be on discount
Extra 30% off on new collections!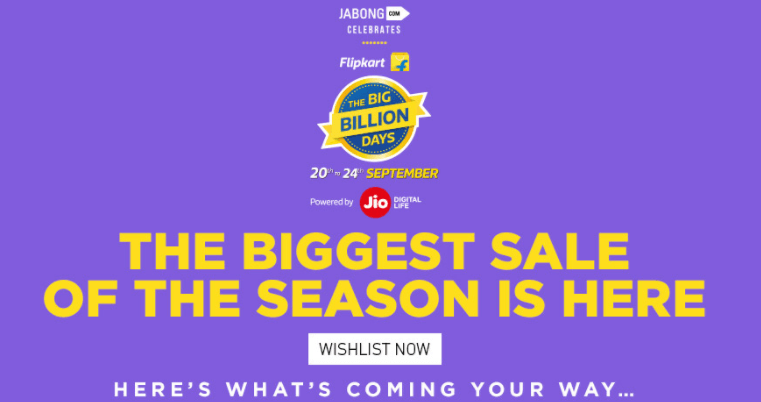 Start wishlisting now so that you do not miss out on any of the exciting deals at Jabong Celebrating Big Billion Days.
Myntra Too Is Celebrating Big Billion Days
Myntra is doing it this time as well. They are celebrating the Big Billion Days along with Flipkart and Jabong. And you are sure to be smitten with the deals coming your way. So, what are the details you should know?
The sale will run from 20th September, 2017 to 24th September, 2017
SBI card users will get 10% cashback for the first time on Myntra
Knockout Deals like Buy 1 Get 3, Flat 80 off and more will be there
From 21st September, there will be upto 60% Off on Midnight Deals (after 1PM)
Myntra is giving 1000 MYNT Coins to customers for the sale. Play to earn more!
Myntra exclusive styles will be available at 40 to 70% discount+extra 20% off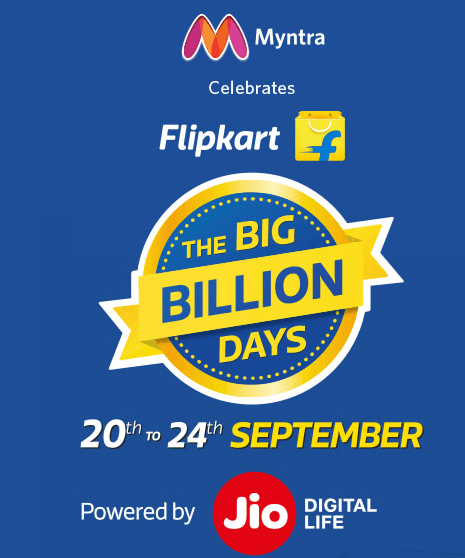 Be ready to start wishlisting from today night as the Myntra Celebrating Big Billion Day deals will be revealed tonight at 9 PM.
Tata CLiQ CLiQ Clock Sale
Tata CLiQ will be hosting their CLiQ Clock Diwali sale from 20th to 23rd September, 2017. Here is what you need to know:
Lenovo Z2 Plus will be available at Rs. 11, 462
Crocs will be available at a minimum 50% off
Mixer Grinder from Bajaj will be available at Rs. 1699
Pretty Secrets lingerie will be available at up to 55% off
Products from top brands such as Mufti, Motorola, Baggit, Redtape, Panasonic and much more will be on discount
You can grab exciting CLiQ Clock deals and discounts on appliances, smartphones, other electronic products, women's fashion, kid's wear, men's fashion and various other categories.
The Grand Voonik Sale
Voonik is raring to go with their exciting deals. Here are the details you need to know about Grand Voonik Sale:
The sale will be on from 20th to 24th September, 2017
App special offers will be there
2 Party Wear dresses will be available for Rs. 699
Festive Silk Collection will be under Rs 699
Prices of Designer Sarees will start from Rs 799
Big Discounts such as upto 50% off on Marie Claire, Tokyo Talkies
Pair of 2 denims will be available for Rs 899Shop at Voonik this festive season!
Shubh Navratri Sale at Shoppers Stop
Shoppers Stop has made it easy for you to shop for the festivities. They have separated their collections based on the days in their Subh Navratri Sale. Such as they have Shop Yellow section for 21st September, Shop Green section for 22nd September, Shop Grey for 23rd September, Shop Orange for 24th September and so on.They also have a section on Handpicked Designs Curated specially for this festive season. And to add that extra joy to the festivities, they have a section for the little ones as well. Shop all kinds of ethnic wear for your little one from Shoppers Stop's Subh Navratri Sale.