Holi, the day when the soul is dyed with colors of culture and tradition. Colors are the lively shades of life. Colors are to eyes what musical notes are to our ears. Bringing all the positive and happy vibes, Holi, the festival of colors gathers people from all walks of life to celebrate. Who would mind getting down with a splash of gulal while 'balam pickhari' plays in the background? Speaking of Holi, where best to celebrate Holi than Mathura?! Here's a look at Mathura Holi Celebration. Experience the grandeur and craziness of Mathura, Vrindavan & Braj Bhumi and the one of a kind Lath Mar Holi celebration in Barsana. 
Check out the Holi gift ideas to choose the perfect gift for your friends and family, this festival of colors!
Next time you are about to book your tickets and get your backpack ready consider,
the places of Mathura Holi Celebration and Vrindavan
Significance of Holi
The most flamboyant of Hindu festivals, Holi holds strong mythological significance apart from waving goodbye to winter. Foremost is the legend of Prahlad and Hiranyakshyap. The legend says that in order to get rid of his son, Hiranyakshyap asked his sister, Holika to enter a blazing fire with Prahlad in her lap, as she had a boon to enter fire unscathed. Legend has it that Prahlad was saved for his extreme devotion to the lord while Holika paid a price for her sinister desire. The tradition of burning Holika or the 'Holika Dahan' comes mainly from this legend.
Another major significance of celebrating is that Holi also celebrates the legend of Radha and Krishna which describes the Raas Leela, Krishna performed in applying colors on Radha and other gopis. This prank of Krishna later became a trend and a part of the Holi festivities.
In India, Holi is predominantly celebrated in the northern, western and eastern parts of the country including some parts of the south as well. But the most significant place to witness Holi celebration is the birthplace of Krishna.
MUST TRY HOLI SPECIAL RECIPES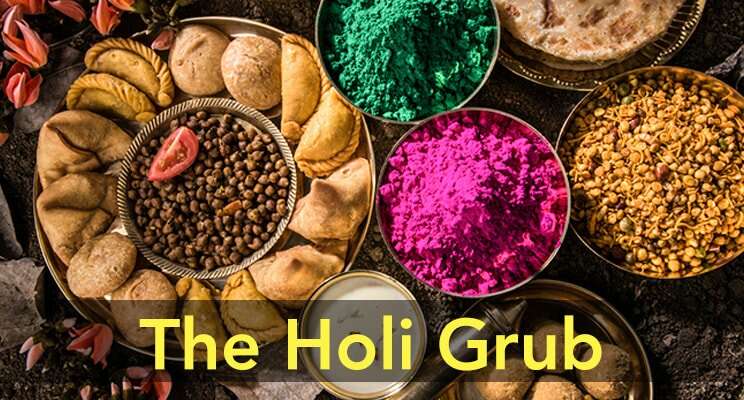 Sort Your Holi Lunch Menu With These Recipes
Some awesome places for Holi Celebration In Mathura & Vrindavan:
When it comes to Holi, the first place that strikes our mind is Mathura. What could be a better place than Lord Krishna's birthplace to celebrate Holi? Well, only mentioning Mathura or Vrindavan wouldn't be enough. Last year when I had gone to Mathura without a proper itinerary I missed out some important events. I don't want you to miss anything while celebrating Holi.
Range Bharni Ekadashi or Phoolon wali Holi (Holi with Flowers) in Vrindavan
As the name suggests, this kind of Holi is observed on Ekadashi before Holi. On this day, the Banke Bihari temple at Vrindavan celebrates Holi in a unique manner which is not celebrated with conventional dry or wet colors, but with flowers, and hence the name Phoolon wali Holi (Holi with flowers). Not many people outside of Uttar Pradesh know about this event, but it's indeed a lifetime experience. Defintely one of the softer aspects of Mathura Holi Celebration!
The gates of the temple open around 4 p.m. for the celebration. However, unlike other Holi festivities, this is a short affair of just about 15-20 minutes during which flowers are thrown at the devotees by the temple priests. If you are not on time, it's very easy to miss it. In case you're planning to capture it with your camera, reach early and be at the gate just when it opens.
Widows Holi, Vrindavan
Widows in India have always led a difficult life, thanks to the social stigma. Not long ago, the widows were forced to live in ashrams in Varanasi and Vrindavan. They were forced to wear only white clothes and were lifelong forbidden from colors. However, this age-old barrier has been broken down and a new norm was started at the Pagal Baba Widow Ashram, and widows could finally play with colors and celebrate Holi. It's one of the most virtuous Holi celebrations. If you reach early and have time, meet them and spread a little cheer 🙂 If this doesn't showcase the progressive side of Mathura Holi Celebration, what will?
HAVE A BLAST WITH AMAZING HOLI PARTY IDEAS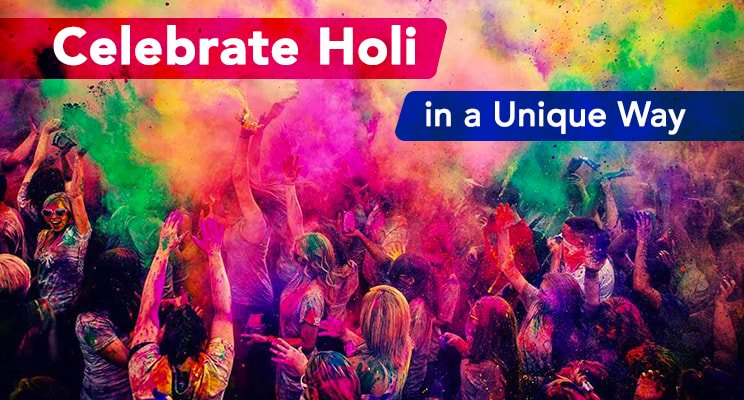 Holi Party Ideas That Are LIT As Hell!
Holi at Banke Bihari Temple, Vrindavan
Banke Bihari Temple is the hub of Holi festivities in Vrindavan – believed to be the birthplace of Lord Krishna. So, this place is a must visit during Mathura Holi Celebration. The event starts early – a day before the main Holi festival. The temple opens up its doors to all visitors to come and play Holi with the Lord himself. The priest throws colors and holy water and the crowd chants in unison. It's a lifetime experience which you can cherish rest of your life. The doors of the temple open at 9 AM and shut by 1:30 PM. Tourists are advised not to visit the temple alone especially when the bhaang effect kicks in amongst the crowd.
Holi procession in Mathura
You should first head to Vrindavan and after the Holi festivities in Vrindavan get over around 2 PM, you can then move to Mathura to participate in the colorful Holi procession. The procession starts at Vishram Ghat and ends at the Holi Gate. About ten vehicles decorated with flowers along with some kids dressed up as Radha-Krishna participate in the procession. 3 PM is a good time to go there and be a part of it. Everyone plays Holi with everyone else and it's futile to resist. Get drenched a few times and get completely colored and chances are that you will be left to enjoy (or take photographs) by yourself after that. This celebration along with Lath Mar Holi, are one of it's kind festivals that need to be visited at least once in your life time.
Holika Dahan
After the street procession during the evening you can enjoy witnessing the time for Holika Dahan i.e. burning of the effigy of Holika. The biggest such effigy is burnt at the Holi Gate, which is then followed by some cultural programs. You can also head inside the lanes towards ghats to find small intimate functions being observed, where women come and pray.
Holi in Dwarkadhish Temple in Mathura
On the main day of Holi, the biggest Holi festival is observed at the historical Dwarkadhish Temple in Mathura. Apart from Lath Mar Holi, this is something you don't want to miss out on. In order to enjoy this event, I would recommend starting the day much earlier at 7 PM. Head out to Vishram ghat and catch the process of making Bhang by the priests.You can also savor a glass yourself as well.
The gates of the temple open at 10 a.m. and you'll be amazed to find a big crowd already waiting outside the gates. The crowd gets engaged in splashing colors and gulaal on each other and people crossing by. The atmosphere inside the temple becomes auspicious. Unlike Banke Bihari in Vrindavan, the scale of Holi is smaller and the place is much friendlier. Priest plays Dhol and you can even take part in Hari Naam Sankirtan and the dancing. The best part is women are allowed inside the temple to celebrate this auspicious color festive with the Lord Himself.
Lath Mar Holi
Lath Mar Holi is one of the most fun-filled styles of celebrating Holi in the quaint towns of Barsana and Nandgaon in Uttar Pradesh. This unique way of celebrating this popular festival is quite amusing to witness, for in this event women use sticks to beat up men who wish to play Holi with them whereas the menfolk shield themselves! Legend has it that Lord Krishna visited Radha at her village and teased her friends and the enraged women chased him away with sticks. People celebrate Lath Mar Holi to commemorate this mythological significance. It is one of the highlights of Mathura Holi Celebration!
Lath Mar Holi takes place a week before the actual Holi. However, you need to confirm the dates before planning a trip, it's a different date every year like most Hindu festivals. If you are in Mathura you can hire a cab and go there. The distance is between Mathura and Barsana is about 50 km.
Huranga at Dauji Temple
The Holi celebrations go around for a week and the masses are already high on the festive spirit. However, Lord Krishna has to return to Dwarka from Mathura. So, who better than Dau to continue playing Holi with the people of Braj? While the Lath Mar Holi of Barsana and the Phoolon Wali Holi are popular, the Huranga at Dauji Temple Holi is relatively less famous. Mathura Holi Celebration is incomplete without a trip here!
As per the legend, Lord Krishna's elder brother Balram or Dauji Maharaj as he is affectionately called, used to rule this province around 12 km from Mathura. In his memory, the place is known as Baldeo or often, Dauji.
A day after the actual Holi, revelers look to Dauji Maharaj to continue the festivities as "Krishna has already left Mathura and returned to Dwarka". Dauji, in turn, obliges by becoming the center of the "Maharaas" in place of his brother Krishna. This is perhaps the only place in the world where the "raas" features someone other than Krishna.
Visitors start pouring in the Dauji temple premises around forenoon. Holi Sangeet is sung to the idol, believed to have been found at the Khir Sagar or Bala Bhadra Kund around 200 years back. This song is sung for seeking permission to continue the revelry and play Holi in Baldeo town. After the formalities are over, the celebrations resume followed by Raas songs and people get high on Bhaang.
Dauji Ka Huranga is significant as marking the end of the Holi celebrations in Braj Bhoomi. When finally done, the women raise a flag and the priest of the Dauji temple declares the festivities over.
Where to stay?
Mathura doesn't have amazing places like Delhi to stay, but there are many decent ones to go for. When looking for hotels, make sure you pick one which is close to the city center so that you can easily walk around all the time without the need for transportation. It's lovely near the river and if you can find a place somewhere near Vishram Ghat, it would be quite nice every evening.
That's all for now.
If you have anything to share about Mathura Holi Celebration,
do let us know in the comments below. From everyone at GrabOn, I wish you all a very happy Holi 🙂
Image Courtesy:
Samyakk
Jaypore
India Today
500px
Sid The Wanderer
brajdiscovery
Financial Times
DNA India
(Visited 358 times, 2 visits today)