Holi is all about colors and fun. But, can any festival be complete without shopping, food or drinks? No definitely not. Well, Holi is just round the corner and you need to plan ahead so that nothing goes wrong. Last minute preparations are stressful! Here are some simple yet, yummy Holi recipes that everybody is going to drool over. Take your pick from the list. We bet, there must be more than one dish in this list that you'd love digging into.
Before you dive into these recipes, go ahead and buy gifts for your friends and family by taking advantage of these Holi offers and be done with your festival preparations.
Holi recipes that you should try
Planning to celebrate Holi, but not sure about the meal you should plan? No worries. Try out these Holi recipes that are different than the typical lot. And that is because we have given the usual Holi delicacies a modern twist.
1. Palak Methi Dumplings
It is one of the healthiest Holi recipes that is very good for your tummy. You can substitute the deep fried pakoras with these dumplings. It's a version of Gujarati Muthiyas.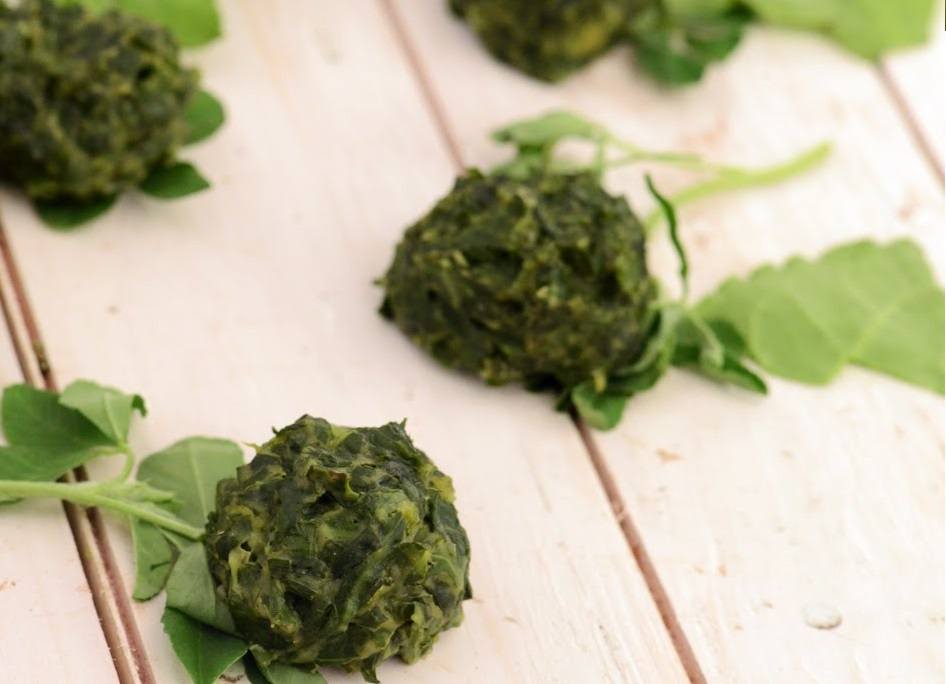 What you need:
2 cups of shredded spinach leaves (palak)
1 and 1/2 cups of chopped fenugreek leaves (methi)
1/2 cup of besan
1/4th cup of whole wheat flour
1 tbsp of ginger-green chili paste
Salt as per taste
A pinch of Asafoetida (Hing)
1 tbsp sugar
1 tbsp oil
2 pinches of soda bi-carb
Oil for the purpose of greasing
Method
Combine all the ingredients in a bowl and knead it into a soft dough. You can sprinkle water if needed to achieve the right consistency.
Make small dumplings using the mixture. You can make 14 to 15 dumplings using the same.
Grease a sieve and arrange it with the dumplings. Steam these in a steamer for around 7 to 8 minutes.
Serve immediately with green or any other kind of chutney. For green chutney, you need coriander, mint leaves and green chillis. Grind all of these together with salt as per taste. You can also add cloves of garlic before grinding. It tastes really yummy.
2. Brown Bread Dahi Vada
This is a completely different take on the dahi vada we so commonly have. Instead of having to soak and grind dal, you can use bread to make instant dahi vadas for this Holi.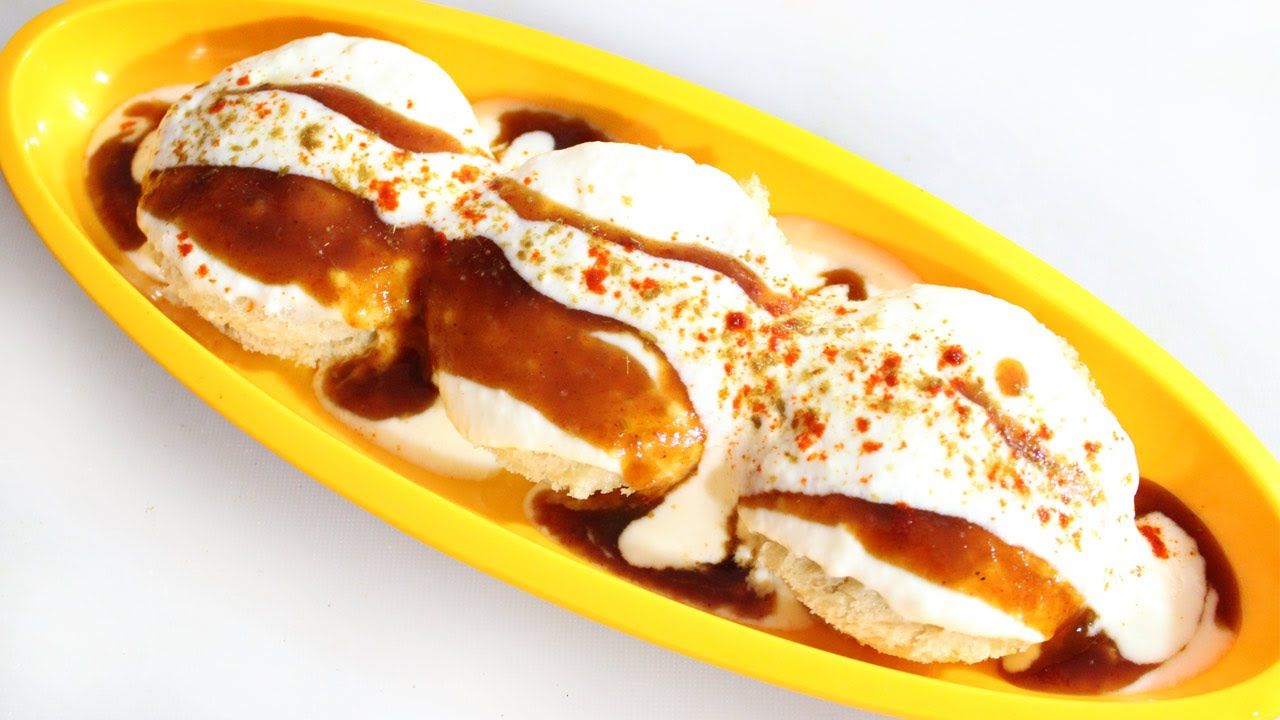 What you need:
15 whole wheat bread slices
75 grams of paneer
375 grams of dahi
Oil to fry
Salt as necessary
1 teaspoon of Chilli powder
Black pepper powder as per taste
Method
Take the bread slices and cut the sides. The crust is hard and it will not be easy to make the vadas if you do not chop off the crust.
Soak the bread slices in water for a minute, squeeze out the excess water and put them in a bowl.
Mash these using either a spoon or your fingers, add mashed paneer in this, add a pinch of salt and a pinch of black pepper powder and mix well.
Shape into flat oval shapes or small balls or else you can give it any desired shape.
Heat oil in a kadhai and deep fry the vadas till they turn light brown.
Remove these from oil with a slotted spoon and then dip these in warm water for 10 minutes. This helps soften the bhallas and remove the excess oil. Then take these out of the water and squeeze to remove excess water. Be very gentle at this moment, or else the vadas will break.
Beat the dahi, a bit of salt and chili powder together. Add the vadas to the dahi and let it sit for some time.
Serve on a plate with the beaten dahi and garnish it with green chutney (you can also use imli chutney) and chopped coriander.
3. Baked Chocolate Gujiya
Holi is synonymous with Gujiya, a sweet made of khoya, milk, and dry fruits encased in a shell made of maida! This traditional Holi delicacy has been given a makeover, thanks to chocolates and microwaves.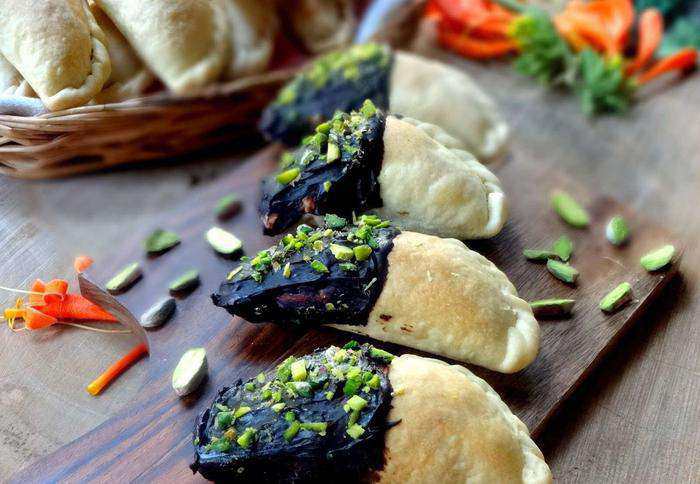 What you need
For the cover
500 gms of Maida
6 tbsp of ghee (oil if you want to avoid ghee)
For the filling
500-600 gms of khoya
1/2 tsp of cinnamon powder
25 gms of chopped almonds
25 gms of dried and grated coconut
3 cups of grated chocolate (unflavoured and dark)
350 gms of powdered brown sugar or as per taste
Method
Mix the maida with a bit of powdered sugar for taste and add 6 tablespoons of oil/ghee to it. Knead a soft and yet tight dough and let it sit. Cover it with a damp cloth so that it does not lose moisture.
Heat a pan and roast the khoya in it till it turns light brown.
Melt the chocolate by putting the bowl with chocolates on a pan full of boiling water. But make sure the chocolate bowl doesn't touch the boiling water. Stir with a spoon or ladle to melt the chocolates evenly and fast.
Toast the almonds and cinnamon powder and add these to the khoya, mix well. Add the chocolate to the mixture and mix until all the ingredients look even.
Divide the dough into small balls and roll it into small flat rounds using a rolling pin.
Put the mixture in the middle and close them, giving them a shape of a curved half moon. Use a fork to make the design on the sealed side. This will also ensure that the gujiyas are properly sealed. (Make sure that the filling is neither less nor too much)
Oil a baking tray with ghee/oil and line it with the gujiyas. Preheat the oven at 200 degree Celsius and let the gujiyas bake for 10 minutes. Take out the tray and brush some ghee/oil on both the sides and let it bake for 4 more minutes at 200 degree Celsius and you are done.
These can be stored for days in a sealed container. So, you can prepare them well ahead of the festival.
4. Lauki Ki Barfi
Lauki is healthy but did you ever think it could taste sweet? This is one of the healthiest sweet dishes ever as it is low on fat! Yes, it is yummy too. You need not compromise on taste!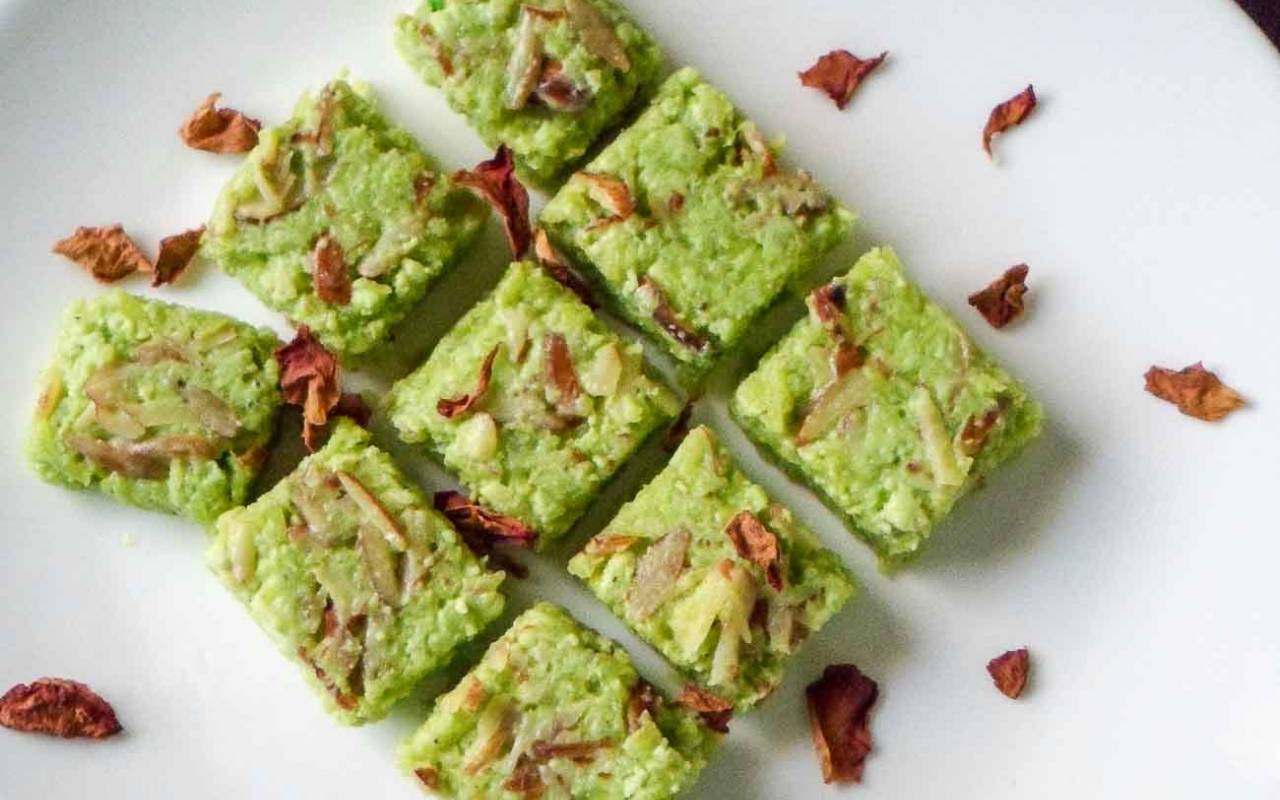 What you need:
4 cups of grated lauki (bottle gourd)
1 cup of khoya
1 cup brown sugar
2 litres of milk
1 and 1/2 tablespoon cardamom powder
2/4 teaspoon of green food color (this is optional)
Method
Boil the milk in a pan and make sure that the pan is large enough. You will have to add the lauki into the milk.
Once the milk starts boiling, add the lauki to the milk and keep stirring for some time and then, let it simmer and cook. Stir occasionally.
When the milk thickens and becomes half of its quantity, add the khoya, sugar, and color (if using) and stir well to mix everything.
With time, the froth will start disappearing. Stir it a bit more to check if it has achieved a highly thick consistency. Add the cardamom powder to it and mix again.
Transfer the whole mixture in a thali or tray. Let it cool. If you want, you can garnish it with dry fruits at this point of time.
Let it sit for an hour and a half and then cut it into the desired shape.
This dish, if made a day before, needs to be stored in the refrigerator.
5. Few more Holi recipes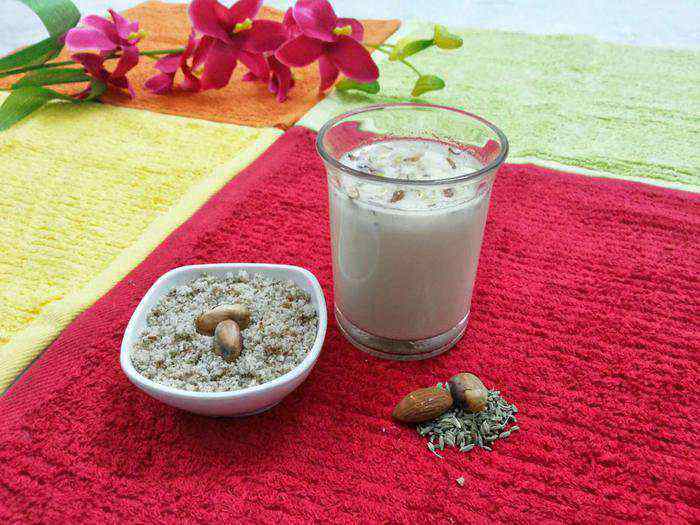 Almond halwa, thandai, bhang thandai, orange kheer, homemade pani puri are few other Holi recipes you can try. Have any other such easy, healthy and yet yummy Holi recipes in mind? Do share with us…we would love to hear from you. And here's wishing you all a happy Holi in advance!
Image Courtesy:
Youtube
Shruthiskitchen
Archanaskitchen
Zeel's Kitchen
RELATED BLOGS:
Unique Party Ideas to Have a Holi Blast
How to make this Holi a Safe and Grand One?