Remember what Richard Branson said? "If happiness is the goal and it should be, then adventures should be the top priority.
Lazing around on the beach gulping cans of beer is a convenient escapade from the humdrum of your 9 to 5 life. But there are days when you want to ditch your comfort and do something that makes your heart beat faster than the walk on the beach. If you need the real 'high' in life, what's better than experiencing thrilling adventure sports at the best adventure sports destination in India, right?
Done then! Pack your bags and get ready to feel your pulse racing with activities that are sure to give you an adrenaline rush and how! Here's a list of most enthralling adventure activities in India along with the best destinations to try them in. Grab your Thumbs Up and get set go to do something "toofani with your best pals, or maybe solo!
Here's a list of Top 10 Adventure Sports in India along with the most thrilling destinations to experience them.
Water Sports
i) Flyboarding
I am very sure Hrithik Roshan's flyboarding scene in the movie Bang Bang has already made you add the water sport to your bucket list already. In the league of extreme adventures, add Flyboarding and get ready to fly over the sea waves for as high as 15 meters.
A combination of Jetski and Jetpack, this adventure sport has a hose that flies you in the air with high water pressures. Thrilled already? Find out where you can experience it and then book your tickets right away! You can use coupons for domestic flights for MakeMyTrip to book your tickets.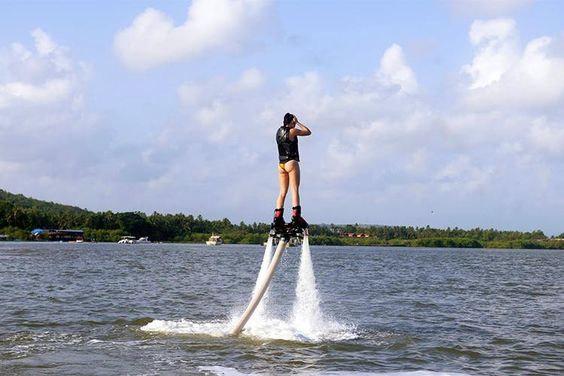 Goa
Your favorite destination just got a little more exciting. Goa gets the fame to start India's first ever Flyboarding station. The city is attracting adventure buffs across the country and beyond with Flyboarding and you cannot miss it at any cost.
Location: Baina Beach
Flyboarding Cost in India: The package starts from 2500/- and goes up to 7000/- per person
Best time to visit: October to May
ii) River Rafting
Dashing through the rapids of a chilly river is truly possible only if you are an adventurer at heart, As exciting as it looks, River Rafting is one of the most difficult and risky water sport that's really famous among the people. Have you experienced this yet? If not, here's a list of places to do River Rafting in India.
Rishikesh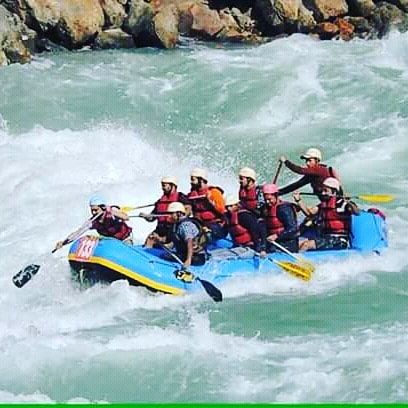 Rishikesh is synonymous to river rafting. This holy town in India is also one of the chicest places to party and live a thrilling experience.
Estimated Cost Per Person: Rs 750/- to Rs 1850/-
Best time to visit: March to mid-May, September to mid-November
Kullu Manali
The high rapids of Beas River will give you a major adrenalin rush when you sit on the rafting boat to experience the interludes of rapids.
Estimated Cost Per Person: Rs 1,000/- to Rs 1,500/-
Best time to visit: September to June
Spiti
One of the top things to do in Spiti Valley is River Rafting. This "Little Tibet of India is a package for every adventure seeker. The beautiful snow covered mountains, picturesque landscape, green valley, refreshing river, and amazing food. What more do you need?
Best time to visit: May to mid-October
iii) Scuba Diving
Explore the unveiled secrets of the underwater world with Scuba Diving in India. Dive deep into the diverse, bright colored marine world and witness the spectacular beauty of coral reefs. You can also get Certification for Scuba Diving in Andaman and Lakshadweep.
Andaman & Nicobar Island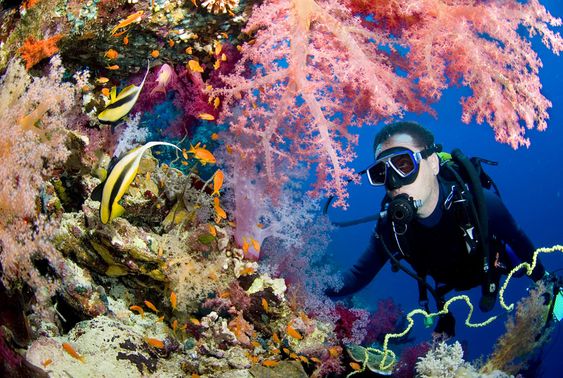 Scuba Diving at Andaman has found a place in the travel bucket list of every adventure enthusiast. The scuba diving equipment and diving quality at there is unmatched in the world and people from all parts of the globe come to experience this thrilling sport.
Estimated Cost Per Person: Rs 3500/- to Rs 38,000/- (depending on the package)
Best time to visit Andaman & Nicobar Island: November to mid-May
Netrani
A hidden gem near Gokarna, Netrani, also known as Pigeon Island is a heart-shaped isolated island that's nothing less than a hidden paradise. Netrani is a comparatively new destination for scuba diving in India but is now getting noticed by tourists for offering pocket-friendly adventure sports.
Estimated Cost Per Person: Rs 1,999/- to Rs 4,999/-
Best time to visit: December to February
Lakshadweep
Lakshadweep is the best place to experience the blue lagoons when you dive through clear azure water. This pristine piece of nature is totally breathtaking and the coral kingdom underwater promises a once in a lifetime experience.
Estimated Cost Per Person: Rs 1,200/- to Rs 28,000/-
Best time to visit Lakshadweep: Between September to May
Skiing
If your skiing dream isn't fulfilled yet, book your tickets to up north of India and traverse down the fluffy snow. The snow-capped mountains in Kashmir and Himachal Pradesh are calling you to experience Skiing and you cannot say no to this.
Gulmarg, Jammu & Kashmir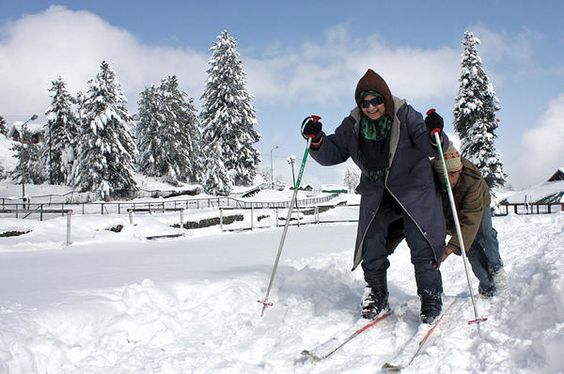 Imagine yourself speeding downhill on your skis amidst a landscape nothing short of a paradise! Skiing in Gulmarg is an experience that'll be etched in your memories till the last. Skate through the white, powdered slope and live the adventure sport you have always seen in the movies. The ski run ranges from 450m to 14kms. You can ski till almost the top of Mt Apharwat with your ski trainer. the place also makes for a wonderful honeymoon destination.
Estimated Cost Per Person: Rs 370/- to Rs 3,350/- (for Indian Nationals)
Best time to visit: December end to mid-February
Nearest Airport to Gulmarg: Srinagar Airport
Auli, Uttrakhand
The beautiful town in Uttrakhand is the next favorite destination for ski lovers in India. Auli is one of the most popular ski destinations in India and you cannot deny this. The Ski stretch in Auli ranges from 400m to 4kms.
Pro Tip – Do not skiafter 2 PM as the snow gets hard and you might find it difficult to bring back the best ski experience
Estimated Cost Per Person: Rs 300/- to Rs 500/-
Best time to visit: January to early March
Nearest Airport to Auli: Jolly Grant Airport, Dehradoon
Solang Valley, Himachal Pradesh
Solang Valley is a popular Ski destination but not very well-equipped. While the beginners will definitely have fun, the professional skiers might get a little disappointed with the lack of the types of equipment and rescue resorts.
Estimated Cost Per Person: Rs 300/- to rs 500/-
Best time to visit: December to February
Nearest Airport to Solang Valley: Bhuntar Airport
Mountain Biking
This adventure isn't for someone who's here for "just fun. Mountain Biking is a thrilling adventure sport in India that requires grit, determination, and utmost attention. If you're game for that, check out these destinations where you can do mountain biking in India.
Ladakh, Jammu & Kashmir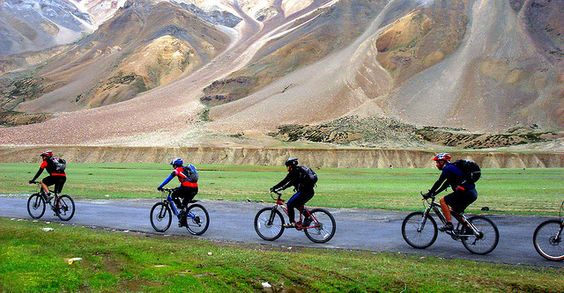 This is, by far, the most favorite destination for every biking enthusiast. A "Trip to Leh-Ladakh is literally on everyone's list and I'll tell you why you need to visit the place soon. The Leh-Zanskar stretch is especially curated for the adventure seekers who live for the thrill in life. Ride through the mountains, lakes and a mesmerizing landscape under extreme weather conditions is something meant only for people with zeal and determination. You can also consider Manali-Leh or Kargil stretch for your biking tour. This Mountain Biking tour lasts for 14 days.
Estimated Cost Per Person: You need to get in touch with local organizers for price
Best time to visit: June to September
Nearest Airport to Leh: Leh
Munnar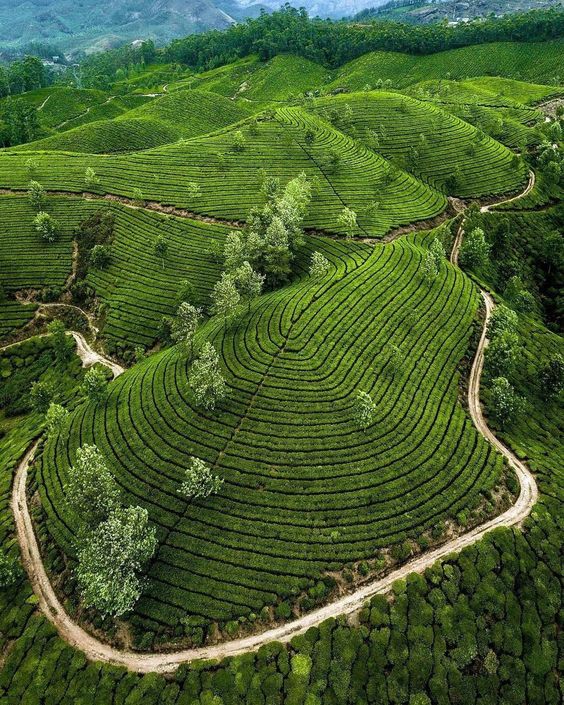 The beautiful trails down south are ready to surprise you with unimaginable beauty. Munnar, the refreshing and one of the most beautiful destinations in South India offers cycling trails through tea plantations and hills. Ride through the mesmerizing road to know the tea plantation in real and maybe stop by to have a hands-on experience yourself.
Best time to visit: December to February, March to April and June to September
Nearest Airport to Munnar: Cochin International Airport
Coorg
A green town of misty hills and coffee plantation, Coorg is home to a lot of cycling enthusiasts in India. Take your bicycle and ride through the rustic lanes of this beautiful town located 264 km away from Bangalore.
Best time to visit: June to September (actually, throughout the year :P )
Nearest Airport to Coorg: Mysore, Mangalore, and Bangalore
You can also consider traveling to Manali, Pindari, and Nainital for a cycling adventure.
Paragliding
Remember Lata ji's old song from the movie Chori Chori? "Panchi Banu Udti Phiru Mast Gagan Me
Humans have fancies flying since time immemorial. No matter how 'real' a flight is, it can never give a "real flying experience. For days when you want to inhale the fresh air, in air…consider experiencing Paragliding. It's enthralling!
Bir, Himachal Pradesh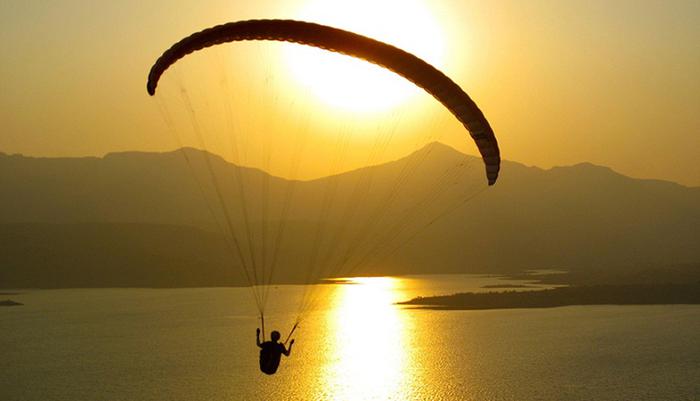 A small village in Himachal Pradesh, Bir is the first place to host the first ever World Cup of Paragliding. The village has more than 11 paragliding spots and the experience is truly unbelievable.
Best time to visit Bir: October to June
Nearest Airport to Bir: Kangra Airport, Dharamshala
Paragliding Cost in Bir: Rs 1,500/- to Rs 2,500/-
Yellagiri
A small yet beautiful place 3 hours away from Chennai, Yellagiri should be your next destination for Paragliding in India. Yellagiri offers a green and beautiful view when you sail in the air 2200 meters above the ground level, it's truly magical.
Best time to visit Yellagiri: November to February
Nearest Airport to Yellagiri: MAA Airport, Chennai
Paragliding Cost in Yellagiri: Starting cost is Rs 1,200/-
Panchgani
Unchain the bird in you and experience paragliding in Panchgani. A little ahead of Mahabaleshwar, Panchgani is a beautiful town offering a serene view from the top.
Best time to visit Panchgani: September to February
Nearest Airport to Panchgani: Mumbai and Pune
Paragliding Cost in Panchgani: Rs 2000/- onwards
You can also experience Paragliding in Kamshet, Manali, Rohtang, Nainital, Ranikhet, and Mussoorie.
Trekking
Let's talk about the most talked-about adventure each one of us wants to experience at least ones in our lives. Trekking through the magnificent mountain ranges makes you appreciate every second of your life and the experience. People across the world come and settle in India for years just to explore the snow-capped Himalayans on foot and reach the top just to witness the whole galaxy shine like diamonds through naked eyes. Yes, that's true! Let me take you through some of the most famous trek ranges in India.
Chadar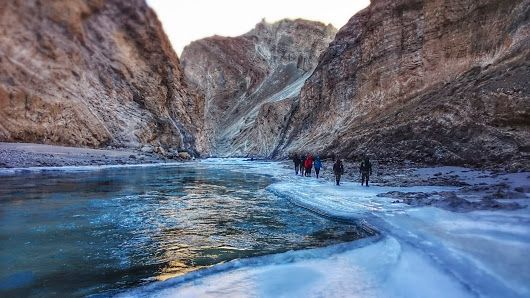 Chadar, the Frozen River Trek is not for everyone. The mother of treks, the trail starts from 10,827 ft and takes you up to 16,568 ft. the trek definitely requires a lot of experience and training. Get ready to thrill yourself by walking on a frozen river and trek through the Kargil area. Chadar is one of the best experiences for any human on earth.
Best time to go for Chadar-Zanskar Trek: Mid May to mid-October
Nearest Airport: Leh
Trek Level: Moderate to Challenging
Trek Time: 4-5 days
Gangotri Gomukh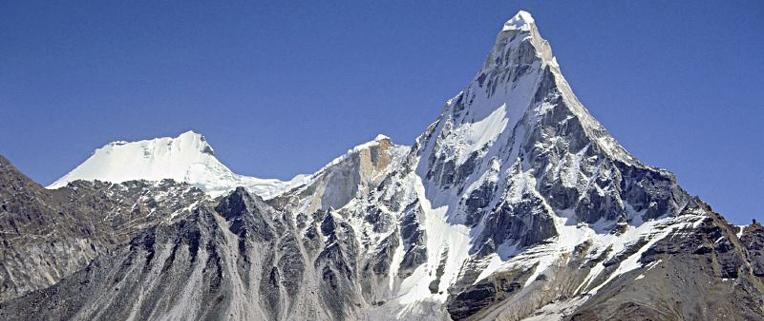 Trekker's favorite trek located right at the heart of the Himalayas, Gangotri Gomukh Trek is the most repeated trek destination in India. Though the trekking level is quite difficult, the magnificent Gangotri Glaciers and the originating point of River Ganga compels the travelers to come back, again and again. The 17 km route will treat you with landscapes straight out of heaven and you will come back with a truck full of memories. Exercise and prep well before you get ready to pack your bags and leave for Gangotri, it's not a child's game.
Best time to go for Gangotri Gomukh Trek: May to June and mid-August to October
Nearest Airport: Jolly Grant AIrport, Dehradoon
Trek Level: Challenging
Trek Time: 4-6 days
Roopkund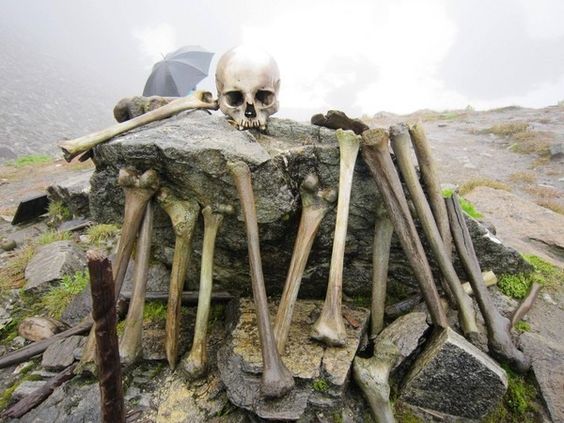 Wear your trekking shoes and leave straight away for Roopkund Trek to experience a sight that'll never leave your memory. In case you're looking for company, don't worry you'll find a lot of human skeletons on the way, accompanying you through the trek. No Kidding! Around 500 human skeletons were found around the "Mystery Lake and you can spot a few during the trek. Excited much? Well, this is also one of the most beautiful and picturesque treks you will ever take. It's worth every effort, trust me!
Best time to go for Roopkund Trek: May to September
Nearest Airport: Jolly Grant AIrport, Dehradoon
Trek Level: Moderate to Difficult
Trek Time: 8 days
Nanda Devi Trek
Nothing less than, Nanda Devi trek is synonymous to heavenly. But this trek isn't for amateurs, it's for professional and experienced trekkers only.
Best time to go for Nanda Devi Trek: April to June, September to October
Nearest Airport: Jolly Grant AIrport, Dehradoon
Trek Level: Very Difficult
Trek Time: 12-14 days
Goecha La Trek
Goecha La is nothing less than a stairway to heaven. This 90km long trek will satiate your thirst for extreme adventure and rekindle every part of your soul. Goecha La Sikkim Trek is honestly one of the most difficult treks even for the experienced adventure explorers also.
Best time to go for Goecha La Trek: April to May, October to November
Nearest Airport: Bagdogra Airport
Trek Level: Very Difficult
Trek Time: 11-12 days
6. Bungee Jumping
Are you a sucker for extreme adventures? Do you like to challenge yourself with difficulty? If yes, Bungee Jumping is just the right adventure sport for you. Dive down the air and experience chills running through your spine in the real sense of the words. Here's where you can experience Bungee Jumping in India
Rishikesh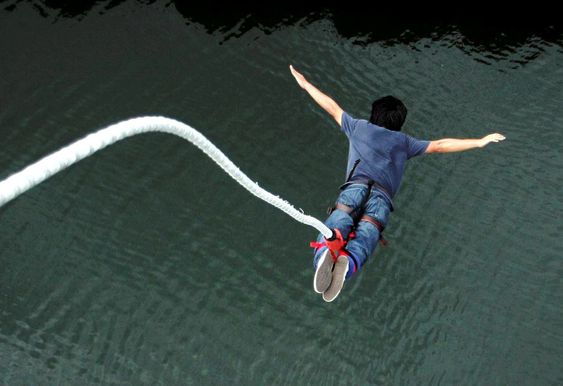 Rishikesh is one of the best and highest Bungee Jumping locations in India. The jumping space is located on a rocky cliff, adding more thrill to this already adventurous activity.
Best time to visit Rishikesh for Bungee Jumping: September to November
Nearest Airport to Rishikesh: Dehradoon
Bungee Jumping Cost in Rishikesh: Rs 3,000/- per person.
Lonavala
Della Adventures in Lonavala has multiple adventure sports to offer and one of the most thrilling ones is Bungee Jumping.
Best time to visit Lonavala for Bungee Jumping: Throughout the year
Nearest Airport to Lonavala: Pune
Bungee Jumping Cost in Lonavala: Rs 1,200/- per person.
Jagdalpur
Another amazing place to try out Bungee Jumping is Jagdalpur in Chattisgarh. If you're an amateur, the thrill of experiencing Bungee Jumping in Jagdalpur is unmatched.
Best time to visit Jagdalpur for Bungee Jumping: Throughout the year
Nearest Airport to Jagdalpur: Visakhapatnam Airport
Bungee Jumping Cost in Jagdalpur: Rs 300/- per person.
Suggested Read: Top Places For Bungee Jumping In India
If you want to experience something more, consider going for a few uncommon adventure sports in India like Caving, Rock Climbing, and Flying Fox. Fasten your seat belts, folks and get ready to sprinkle some thrill in your otherwise dull life. Ditch your foreign trip for now and make memories at these adventure sports destination in India.
Image Courtesy:
Travel ka Baap
Pinterest