With the implementation of GST or Goods and Services Tax, all indirect taxes levied on various items and services has changed drastically. This has impacted the prices of pretty much everything from food to essentials all the way to online medicines. The pharma industry including top players like Medlife were worried about GST's impact on medicine prices. And quite rightly so because close to 80% drugs were put in the 12% tax bracket under GST, going up from 9%!
However, you need not worry about any hike in price as it is already been taken care of by the National Pharmaceutical Pricing Authority (NPPA). The governing body has revised the prices of 761 drugs that fall under the Schedule 1 of the Drug Price Control Order (DPCO) 2013.
Bhupendra Singh, Chairman, NPPA mentions, 'To facilitate smooth implementation of GST for companies, we have worked out the provisional ceiling prices of 761 formulations'.
This decision would bring down the prices of drugs used to treat cancer, HIV, antibiotics along with diabetes treatment drugs.
A detailed look at GST's impact on medicine prices:
Drugs used to treat cancer like bortezomib, docetaxel and gemcitabine have been brought down from the range of Rs 476/pack to Rs 205/pack
The price for a drug injection taken by breast cancer patients, trastuzumab, has also been slashed from Rs 56,913 and will now cost Rs 54,582
There has been a price slash for anti-HIV drugs – tenofovir, lamivudine, and efavirenz, from Rs 93.52/tablet to Rs 89.69/tablet
Metformin, a drug used to treat diabetes drug has seen a price drop from Rs 3.45/tablet to Rs 3.31/tablet
The drug-eluting stent or DES, however, undergo no change in prices under the price ceiling decision from NPPA. They will continue to be priced at Rs 30,800 while metal stents are priced at Rs 7,400
Antibiotics, the likes of azithromycin, ciprofloxacin, clarithromycin, ampicillin, and amoxicillin are expected to be sold at lowered price just as ibuprofen and imatinib
The nicotine gum used by people who want to quit smoking is placed under the 18% tax slab
Popular pain reliever Paracetamol also used to treat fever will see a price reduction from 85 paise for 500mg to 82 paise under the new tax regime
A quick glance at GST's impact on medicine prices: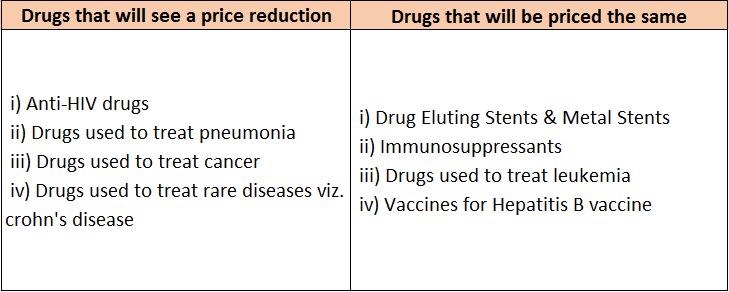 What do you think about the prices of the medicines post-GST? Leave your thoughts in the comments below. If you have any doubts or queries about the prices of medicines, feel free to ask away. You can save more while buying medicines using Medlife offers on GrabOn.