As they say wine gets better with age, Delhi's age old restaurants have also become better with time. In this post, we offer you 6 vintage restaurants in Delhi that all Delhiites swear by. Delhi, which is the world's eighth largest city in the world, boasts of a glorious past. Right from Pandavas to Tomars and Mughals to British — this histrionic city has witnessed the rise and fall of many kingdoms and dynasties.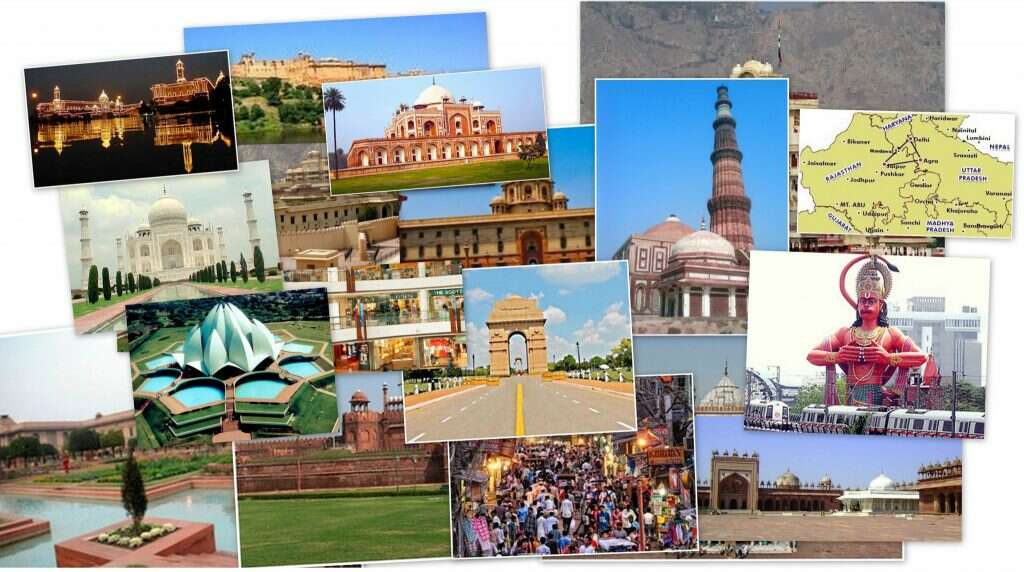 Just as there is vast diversity in its culture, Delhi is also home to some of India's oldest restaurants that entail a lot about our bygone era. These age old restaurants are as vintage as the city's historical monuments, and are a witness to Delhi's magnificent past. Everything is grand about Delhi including its penchant for food. Delhi is not just the political capital of the country but it is also the food capital of the country with tremendous legacy behind it. Legend has it – the capital was so popular back in the days for its food chains that people from across the world would travel to Delhi just to get a sense of its authentic Mughlai, Indian and Kashmiri food. And what astounds us is Delhi has still managed to retain its culinary brilliance that has been passed on to from generations. In this post, we will walk you through 6 vintage restaurants in Delhi that are a must visit for all the food lovers out there.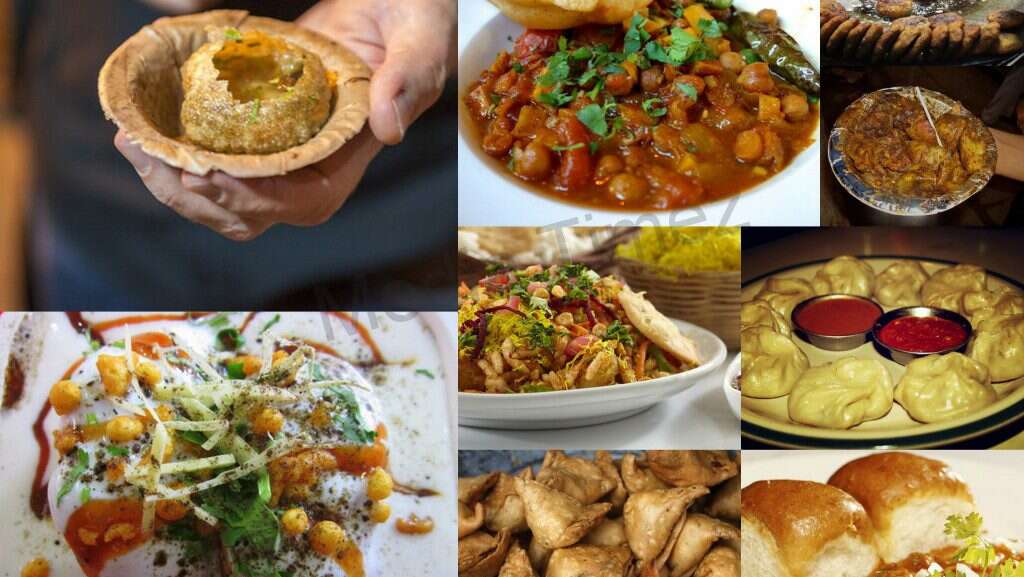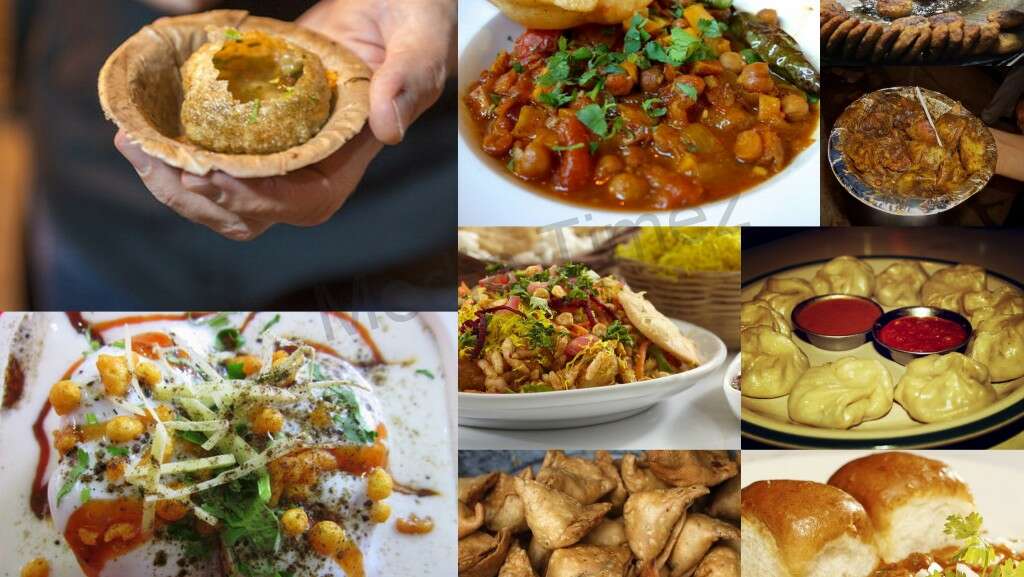 Here are the 6 vintage restaurants in Delhi that we will be discussing in length. Read on!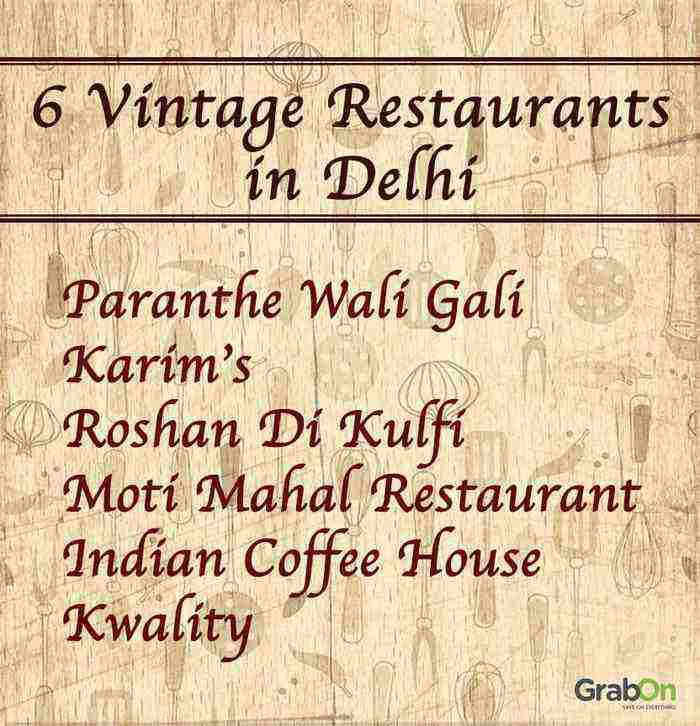 If you don't want to step outside following this scorching heat, you can still savor delicacies from any of these iconic restaurants by placing order online and to help you get better deals, you can click here and avail some great discounts on your food.
Bunking an afternoon lecture on a rainy day and gathering around D-School right across the University Street with a gang of friends – this might bring up fond memories for many Delhiites. Women would also swear by the memories of wading through the dingy traffic-heavy lanes of Chandni Chowk only to gorge on the heavenly parathas. Even many still sneak into relish pani puri and grab a bite of the kulfi loaded with pista, kesar and badam from the iconic Roshan Di Kulfi. Those age old restaurants have been silent witness to how people lingered over a cup of filter coffee at the Indian Coffee House mulling future plans and all these memories surely bring back a smile of nostalgia.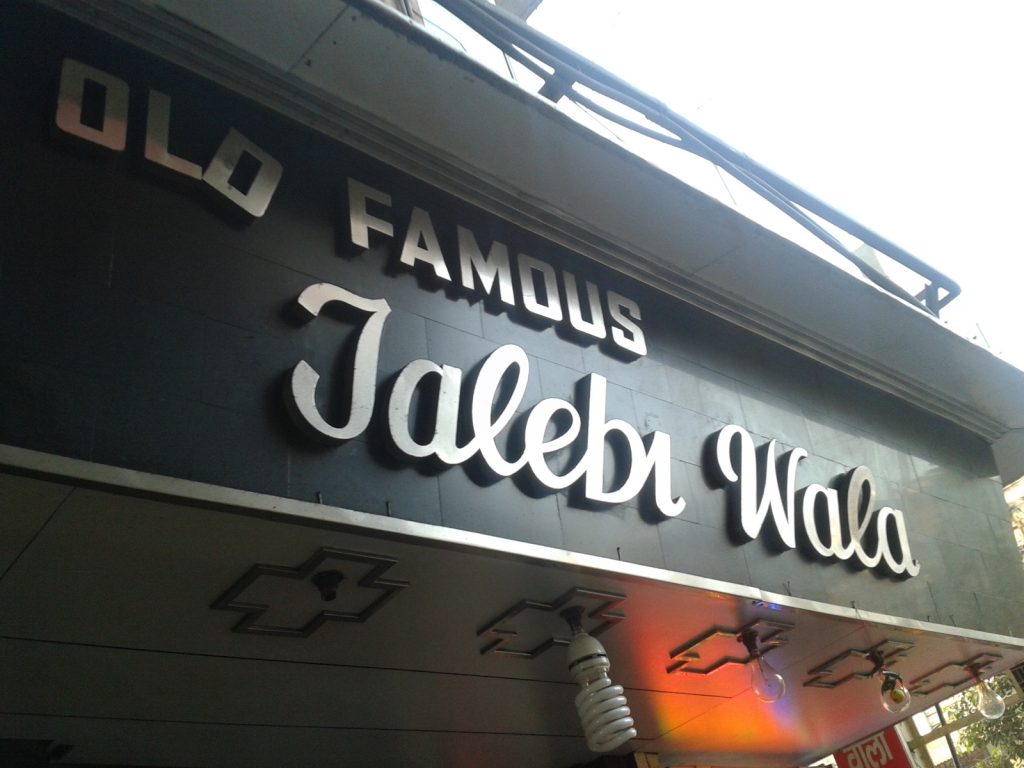 These culinary nests have now matured, but still not taken over by cobwebs of time. The architectural magnificence, culinary artists and the wall hangings ages ago indicate on the number of glorious years these iconic restaurants have lived through. Delhiites swear by the familiar corridors, food lanes and street corners and our post will surely beckon them to relive the moments they crave going back to. Let us take a trip down the food lanes and explore the 6 vintage restaurants in Delhi.
1. Paranthe Wali Gali
Gali Paranthe Wali, 34 Chandni Chowk New Delhi
Opening hours: 9 AM to 11 PM
Phone no. +91 989912747
Cost for 2 people: 150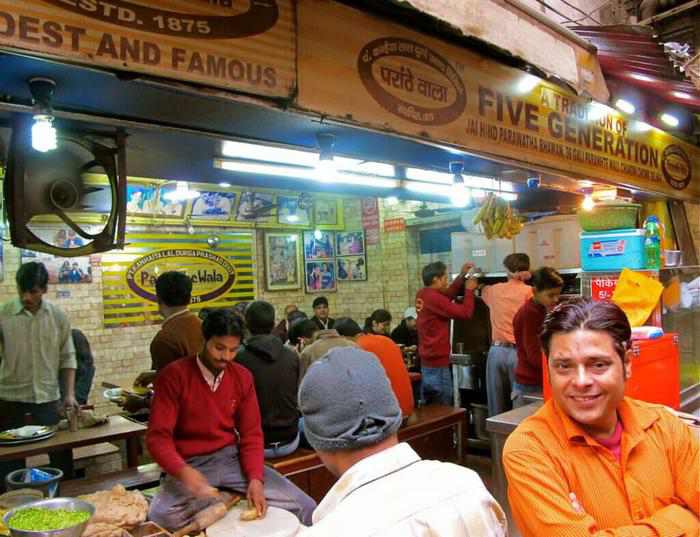 Legacy rules the old city's street food. It's not just the delicious offerings but there's a lot more associated to its iconic status. The dingy lane, originally known as the Dareeba Khurd was once barren, spotted with a few saree shops and silver shops, until when a Brahmin family from Gwalior revamped it completely. They started a legacy that has continued for generations. Back in the day, there were about 10 to 12 parantha shops – all owned by the same family. As you walk through Paranthe Wali Gali, it will be hard for you to resist the aroma of stumbling spices and desi ghee. The air is filled with high-pitched shouts of shop owners and chaos from the busy streets. You could see and smell them at every corner.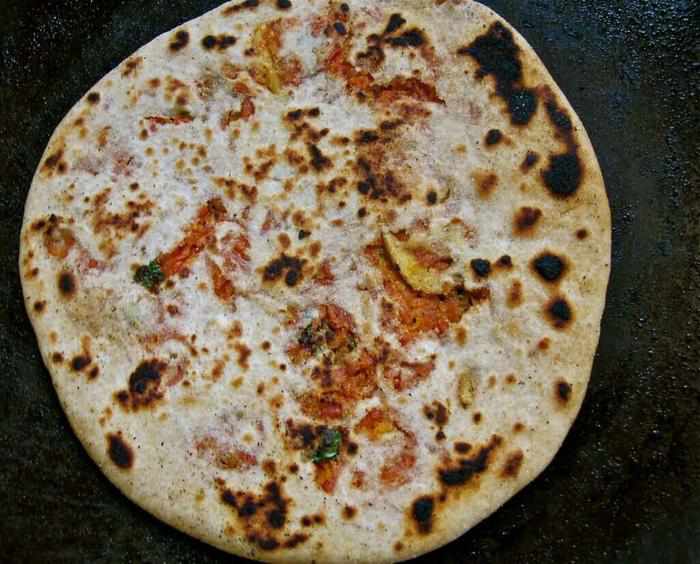 The first Paranthewala shop was established by Pandit Gaya Prasad Shiv Charan in 1872, but it was only in the late 60s that it finally earned its name. What amazes us is that the legacy is still intact, as the sixth generation has come onboard. Here paranthas are paired with three varieties of vegetables, 'kele ki saunth', and pickle, followed by a sweet lassi in kulhars – which is a tradition we hope reaches progeny. When you are in Delhi next time, make sure you visit here to discover an Independent India, which was once frequented by the then Prime Ministers Pandit Jawaharlal Nehru and Indira Gandhi for scrumptious paranthas.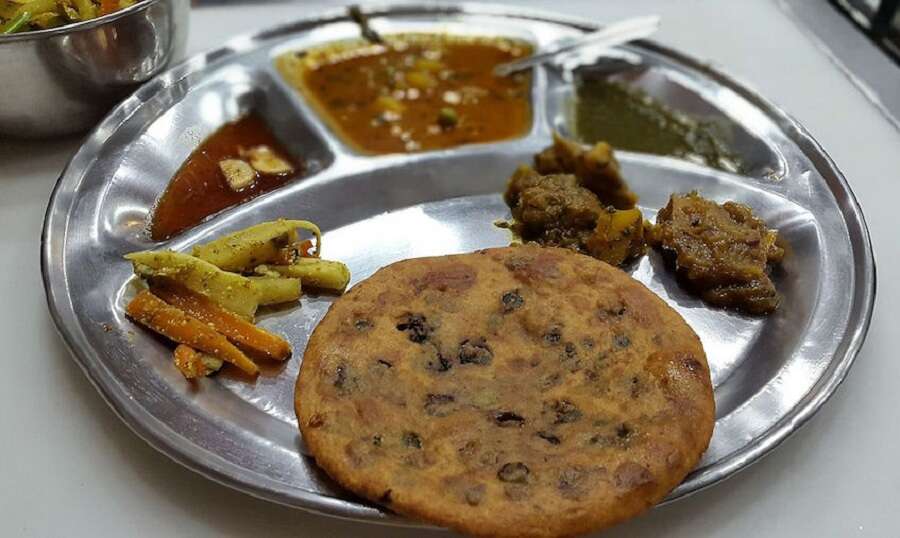 Where to get the best PARANTHAS at Paranthe Wali Gali?
Of all the 20 shops that serve food of almost the same standard, those three however stand out and are a must try –
Pt Kanhaiyalal Durgaprasad Dixit (estd 1875)

Pt Gaya Prasad Shivcharan (estd 1882) 

Pt Baburam Devidayal Paranthewale
Pt. Gaya Prasad Shiv Charan Paranthe Wale
What to eat: Gobhi Paratha, Mix-Veg Paratha and Aloo Paratha
Located in shop no 34, the Pt. Gaya Prasad Shiv Charan Paranthe Wale has been offering awesome Parathas since 1882 and their service is excellent & quick and the Paranthas are superbly awesome.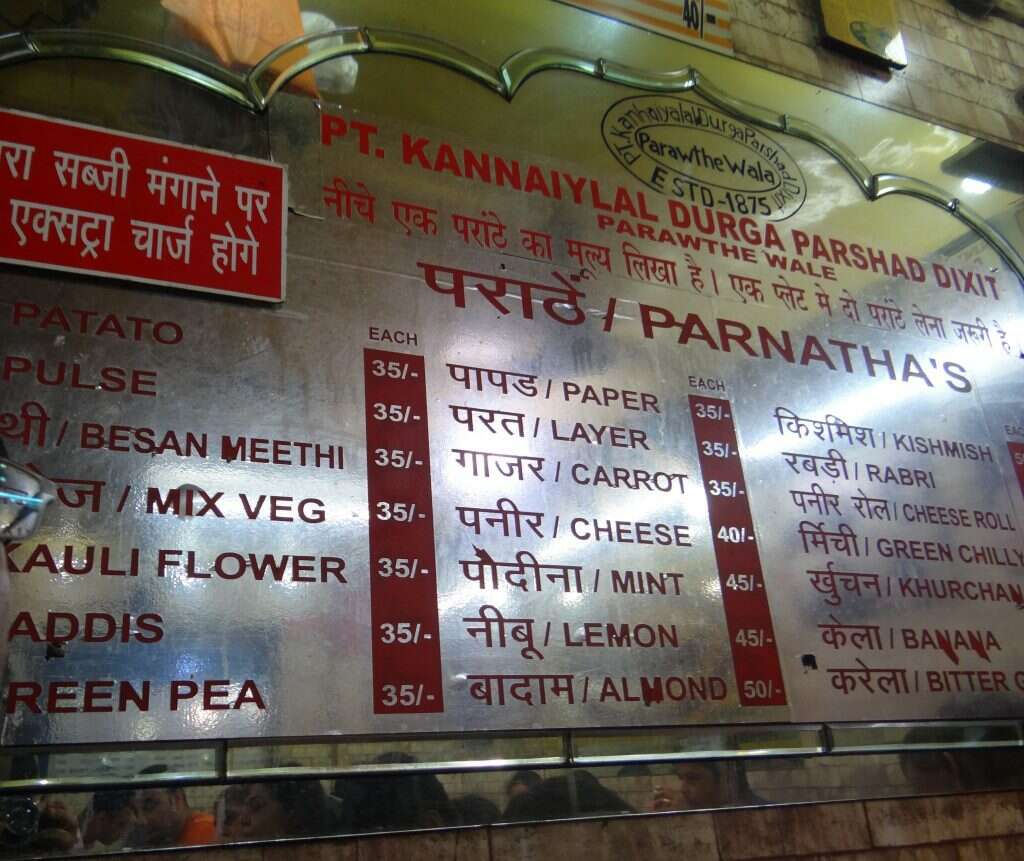 Pt. Kanhaiyalal & Durga Prasad Paranthe Wale
What to eat: Paneer Paratha, Kela Paratha, Methi Paratha and Gajar Paratha
Paneer Parantha is their major highlight. The Methi Paratha is another fabulous dish they serve. The freshness of Methi is quite evident and the taste is so flavourful. It is served with Aloo Subzi and a spicy Banana Chutney. The Gaajar Paratha and Banana Paratha, both are sweet in taste. The later one being much sweeter and fluffy, thus satisfying those having sweet tooth. If you wish to try this banana parantha then order it in the end, as you can treat this as sort of dessert.
Babu Ram Paranthe Wale
What to eat: Papad Paratha, Meva Paratha, Rabri Paratha, Daal Aloo Special Paratha
Although this shop is small, their taste has always been awesome. They are credited to serve exquisite Meva Paratha, Papad Paratha, Rabri Paratha, Daal Aloo Special Paratha. The Meva Paratha and Papad Paratha are highlights of one of these vintage restaurants in Delhi and you should taste it to know the scrumptious zest. As the name suggests, the Papad stuffed Paratha is crispy . The Meva Paratha tastes sweet just as banana parantha and has a rich flavor. Other few wonderful offerings are Rabri Paratha and Dal Aloo Special Paratha.
This is what Anil Sharma, who owns Paranthe Wali Gali, had this to say,
In MP, it's traditional to serve aloo-puri and kaddu ki sabzi at most functions and weddings. When we moved to Delhi in search of work, this seemed to be a viable business. Borrowing from the concept of puris, we created stuffed parathas which were deep fried in desi ghee and served them with the same sabzis like aloo-methi, kele-sonth ki chutney and kaddu ki sabzi. We started out with four varieties – aloo, dal,besan-methi andparathwala paratha.
2. Karim's
Jama Masjid, Gali Kababian, Old Delhi, New Delhi
Opening Hours: 9AM–12AM
Phone: 011 2326 4981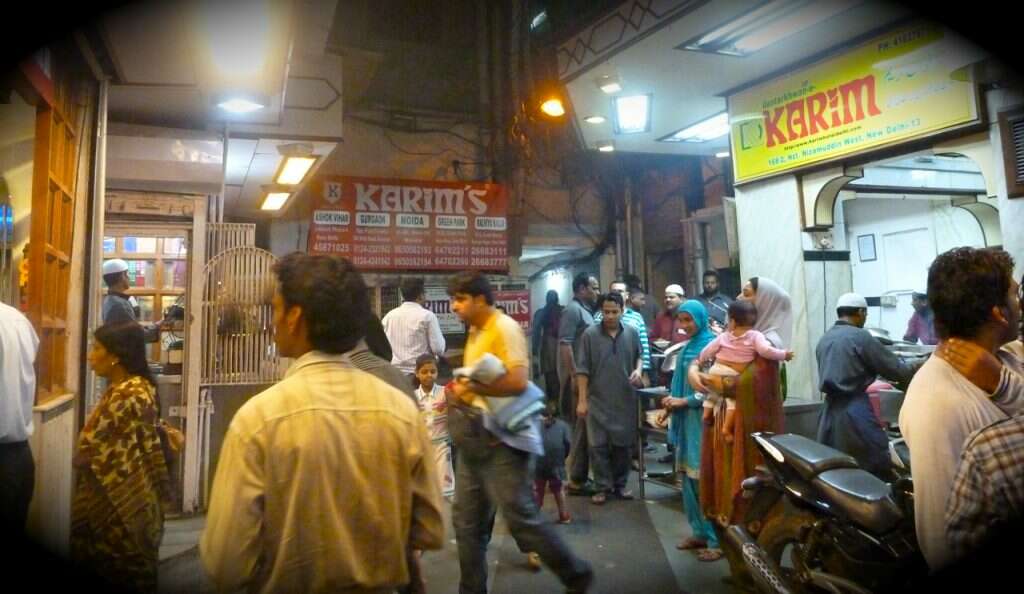 Established in the year 1913, Karim's is nothing less than a heaven for non-vegetarians and we couldn't afford to miss but include it in our list of 6 vintage restaurants in Delhi. This age old iconic restaurant was started by a royal chef of the last Mughal Emperor Bahadur Shah Zafar. Karim's has come a long way, with third generation still going strong serving mouth-watering Nihari and Naans and other mouth-watering Mughlai delicacies, which include the must haves like Makhani Murg, Tandoori Bakra, Paya, Mutton Biryani, Badam Pasanda, Sheermal Naan, Roghini Naan and not to mention the softest kebabs.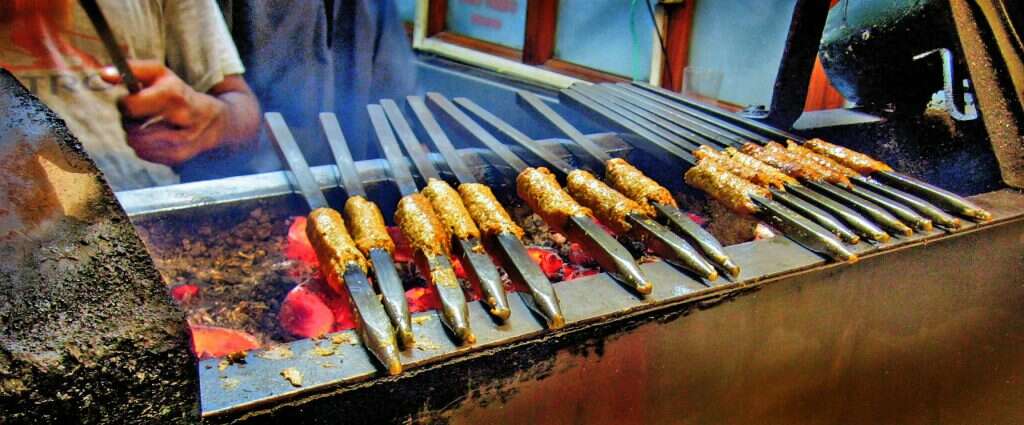 Amidst the bursting crowd of old Delhi's Gali Kebabian—Jama Masjid, Karim's has managed carved a niche for itself across the walled city. Although, this one at Jama Masjid was its first outlet, Karim has now around nine outlets in Delhi and the food at each outlet is a must try! Do try to visit the original one near Jama Masjid, which serves the best Mutton Rogan Josh, Keema Paratha, Chicken Tikka and Seekh Kebabs in the world.
 3. Roshan di Kulfi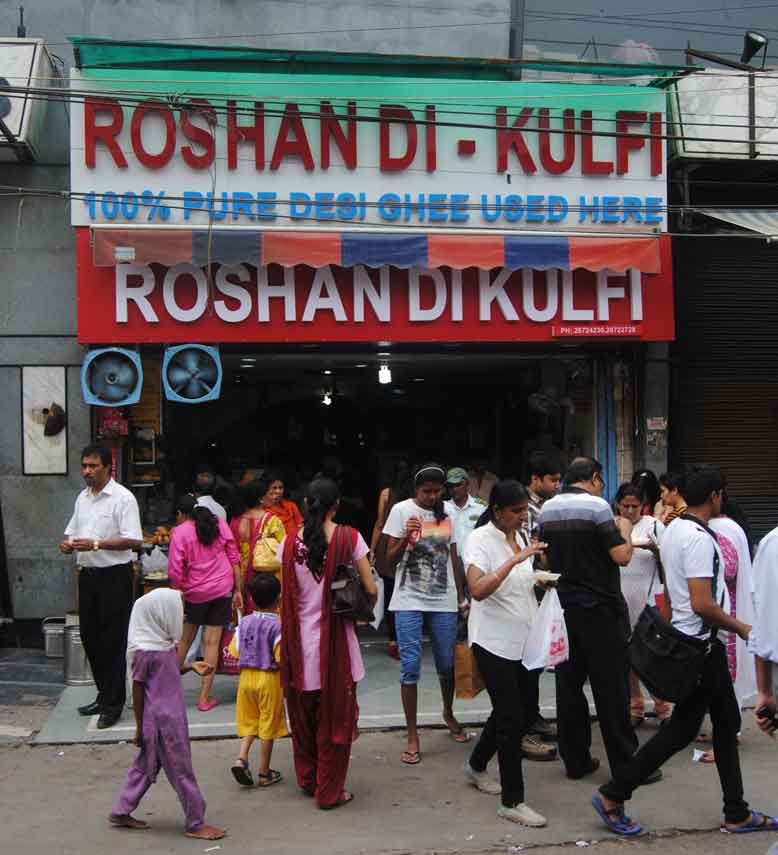 2816, Ajmal Khan Rd, Block 34P, Beadonpura, Karol Bagh, New Delhi
Phone: 011 2872 4230
Opening Hours: 8AM–10PM
Nestled in the bustling Karol Bagh is Roshan di Kulfi, famous for its kulfi and falooda and is ranked third in our list of 6 vintage restaurants in Delhi. A meal of exotic paranthas is never complete without being punctuated with a dessert with an Indian twist as we're purely focusing on Indian delicacies in this post. If you are a tourist or simply making Sunday plans to dine out then head for the Paranthe Wali Gali and finish off your Sunday brunch at this legendary Kulfi destination. The almost half-a-century old Roshan Di Kulfi could be your ideal stopover in this sweltering Delhi heat. Kesar pista kulfi topped with plain faluda has been a godsend for ages.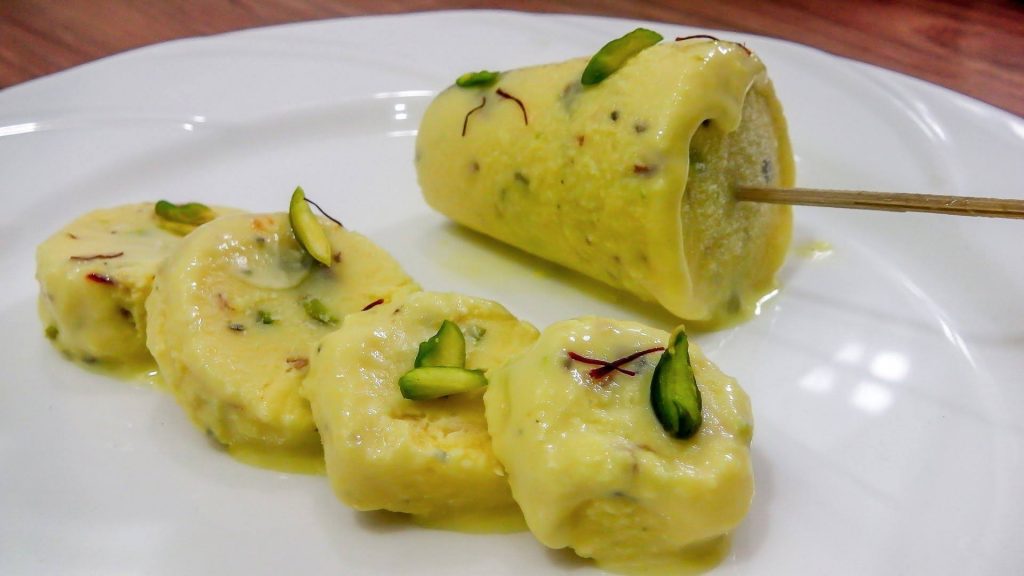 Celebrity chef and author Ritu Dalmia had this to say whilst recalling her childhood days when a kulfi could melt hearts in a jiffy,
"I still go there and grab my share of Kulfi whenever possible."
This iconic eatery was initially set up by Mr Roshan Lal in early 1950's as a kulfi (frozen milk treat) stall on the street. A brand in itself, Roshan di Kulfi has come a long way, from street stall to a stalwart. Its menu has an array of Kulfis—badam, kesar, mango, sugar free etc. and a scrumptious assortment of Indian fast food like chole bhature, kachori, pao bhaji—to satisfy your taste buds.
4. Moti Mahal Restauarant
5051/21-22, Netaji Subhash Marg, Dariya Ganj, New Delhi
Phone: 098104 41938
Opening Hours: 11AM–12AM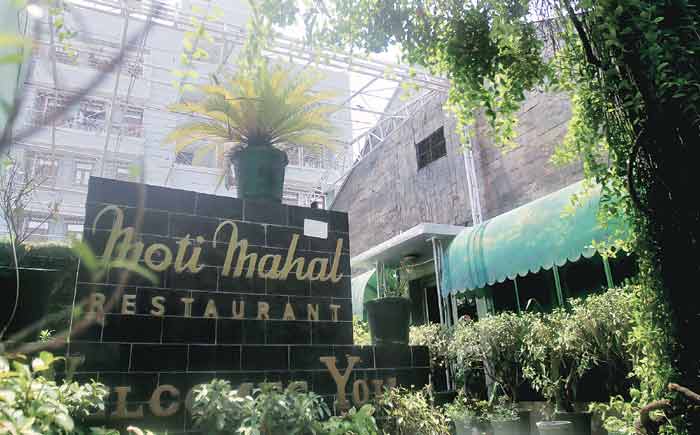 Moti Mahal of Daryaganj, is a legend, and a living one.
As old as independent India, Moti Mahal was established in 1947. Moti Mahal is the first restaurant in India to introduce tandoori cuisine – butter chicken and tandoori chicken in India. Even today, as you walk past the bundled up durbaan at the embowed gateway, time seems to cease here.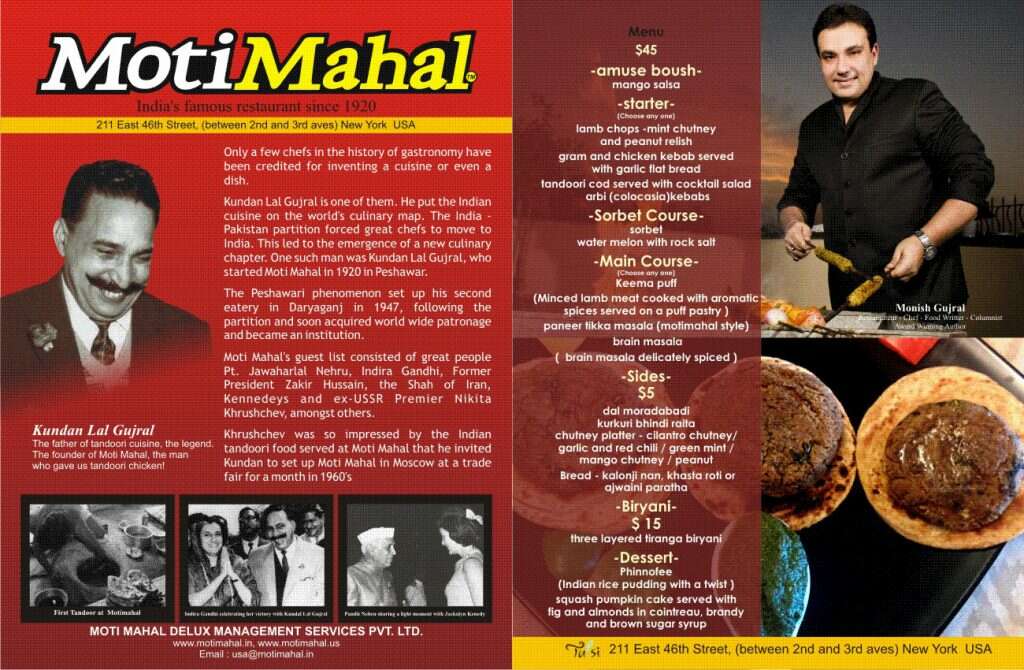 Located in possibly one of the most ancient parts of the capital, Moti Mahal restaurant boasts of having served to some of the most renowned personalities from across the country and abroad as well. It has seen patronage from none lesser than Jawaharlal Nehru, Indira Gandhi, John F Kennedy, Maulana Azad, Shah of Iran and Richard Nixon to name a few. In its more recent times, Moti Mahal was visited by none other than renowned master chef Gordon Ramsay, who also visited the kitchen of this ancient restaurant.
5. Indian Coffee House
Baba Kharak Singh Marg, New Delhi
Phone: 011 2334 2994
Opening Hours: 9AM–9PM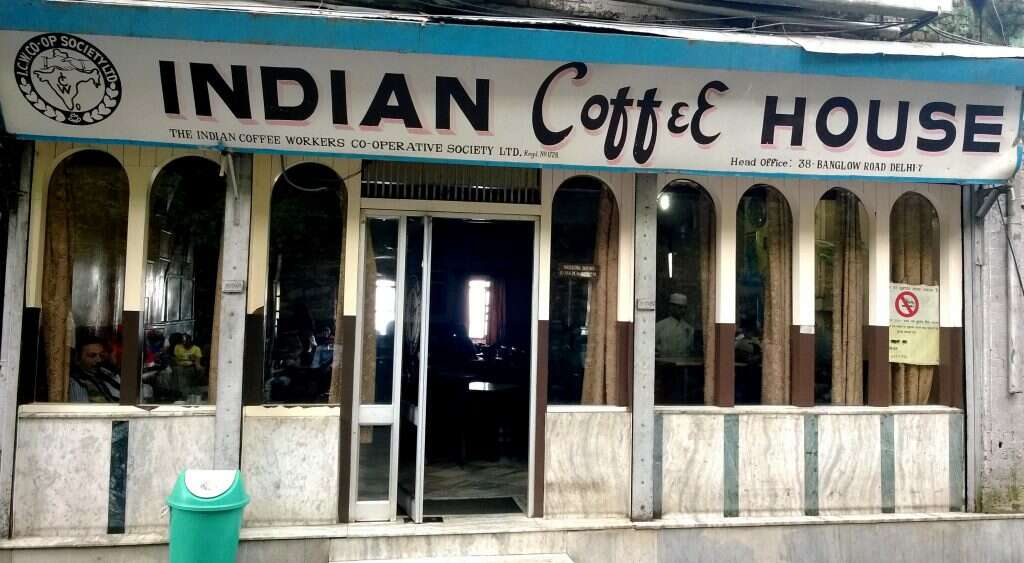 Here is another histrionic restaurant added to our list of 6 vintage restaurants in Delhi and most of these are as old as the Independent India. While the first Indian Coffee Workers Cooperative Society (ICWCS) was founded in Bangalore on August 19, 1957; the first coffee house under this cooperative society was opened in the same year in New Delhi on October 27, 1957, at the Theatre Communication Building, Connaught Place where today's Palika Bazaar is situated.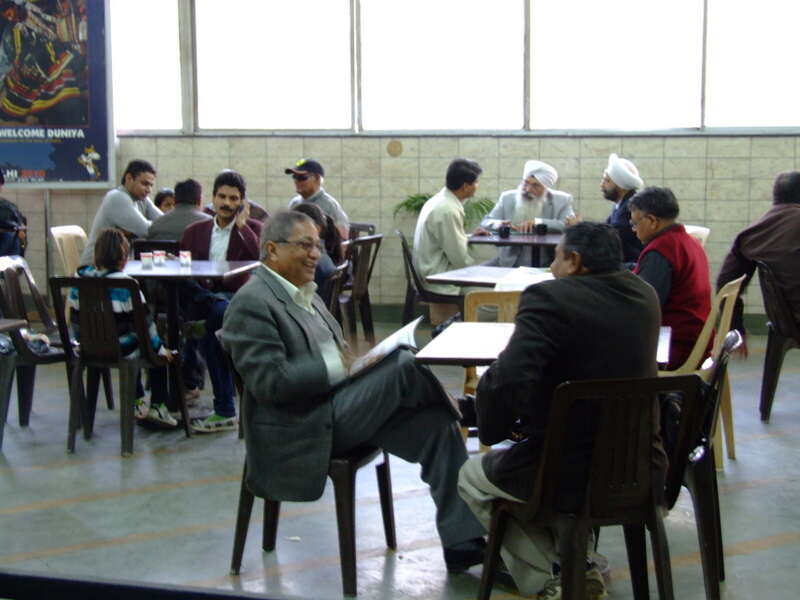 Celebrating its 55th year, Indian Coffee House has served to population that's hard to put in statistics. Celebrated journalist, Aditya Raj Kaul is a regular visitor here and just for its unparalleled ambiance. He had this to say,
"The coffee and the pakoras, the age-old furniture and white dressed staff with Nehru caps who serve even today fill me with an acute sense of nostalgia. It has a kind of intellectual or revolutionary stimulus to it that is inescapable. Who says these restaurants are rotting on the sidelines? On the contrary, their old-world charm spells magic."
6. Kwality or Embassy
No.7, Regal Building, Parliament Street, Connaught Place, New Delhi
Phone:011 2374 2310
Opening Hours: 12–11PM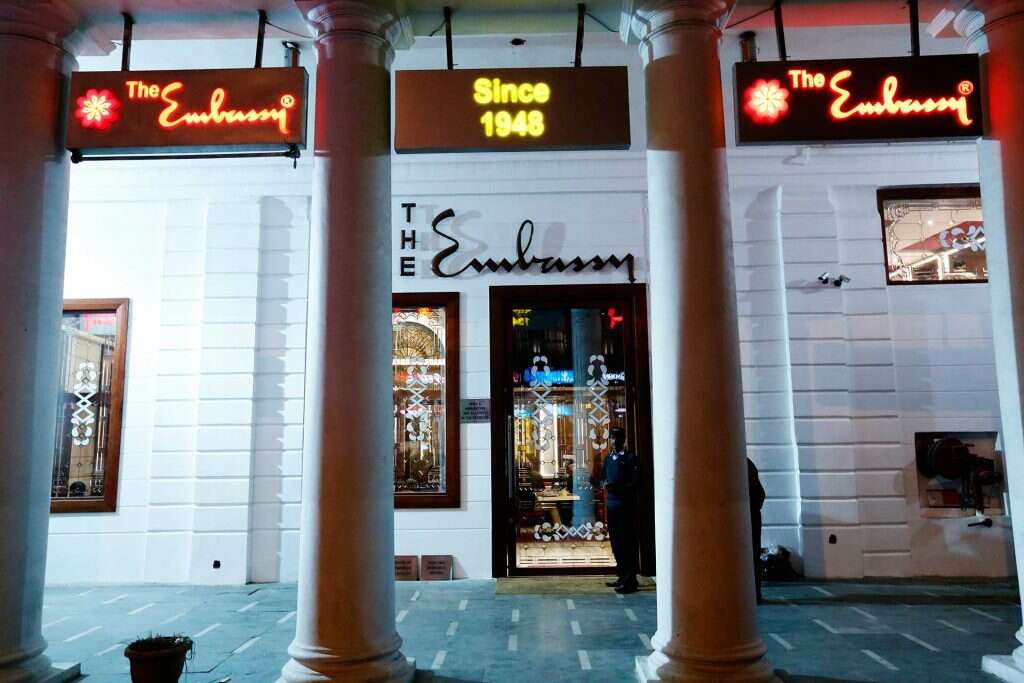 Whenever there is mention of 'Kwality', fond memories from childhood come up of the symbolic red and blue colors of the ice cream vehicle thronged by kids post afternoon hours. After leaving a thriving restaurant business in Karachi, two friends Mr Ghai and Mr. Malhotra decided to establish Kwality in the Independent India. This legendary place has stood intact through times, in the broad alleys of Connaught Place, since 1948. Justifying its name, this restaurant never fails to impress new and old alike. Generations have sworn by its Chicken Stroganoff and Dal Gosht. Food enthusiasts must visit this legendary eating house for a scrumptious treat.
Enjoy a plate of Tandoori pompfret, tar gosht or kakori kebab, whilst enjoying the old Bollywood instrumentals in the background and travel back to the 70s.
Other age old restaurants in Delhi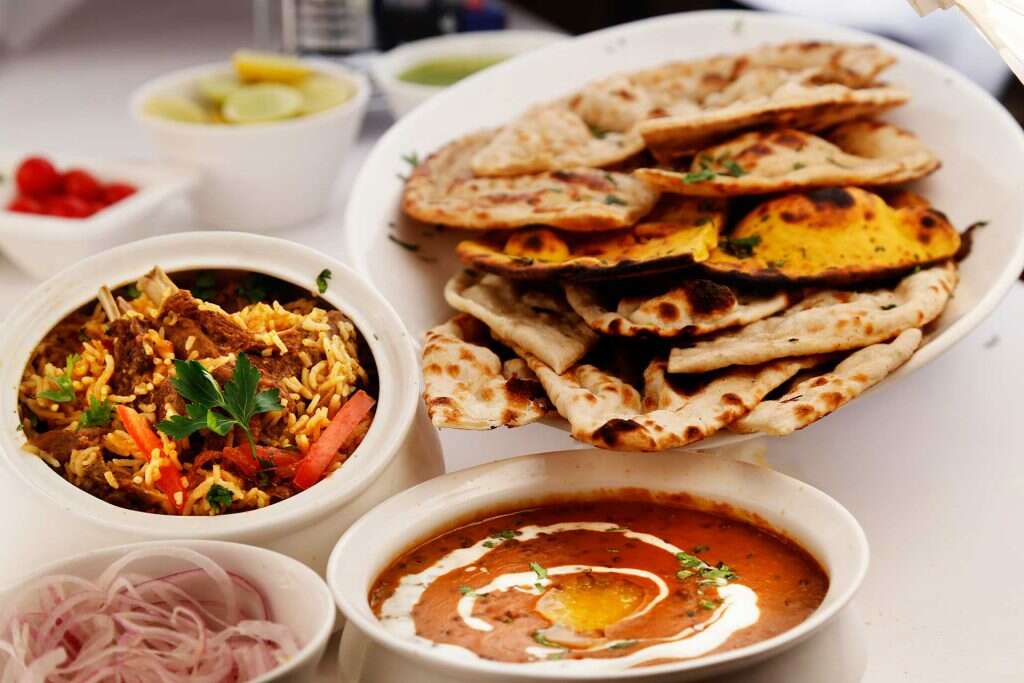 Sarvana Bhavan, Udupi, Nizams Kathi Kebab, Gymkhana Club (once called Imperial Delhi), The National, United Coffee House, Tom Uncle's Maggi Point (DU), Wengers, Kake-Da-Hotel are among the many iconic food havens in Delhi.
So those were the top 6 vintage restaurants that are as old as Independent India. What makes them iconic is that, in this modern era of eat-and-scoot counters, these legendary restaurants have still retained their values and for them food is not money. They belong to that era when conversation was as satisfactory as the dishes that they served in style. Their food is served with coupled with endearing, ensuring that these golden oldies continue to score over all the new kids on the chopping block.
Happy reading!
Image Courtesy:
bhardwajme.blogspot.in
passionforcarsblog.wordpress.com
omgdelhi.com
jodyeddy.com
deliriousdelhiphotos.wordpress.com
ohdelhi.com
foodrecipess.com
monishgujral.com
embassyrestaurant.in
wheelsonourfeet.com
eattreat.in
itswhereiscribble.wordpress.com
<div class='toc'><ul></ul></div>