A friend asked me the other day about my plans on Mother's Day. I started to answer with everything that I was expected to say.. Things like I am going to buy her flowers and chocolates.. And then I stopped. I knew I would be lying. I had actually planned nothing for Mother's Day this year. Between changing jobs and catching up with friends, books and movies, I almost forgot all about it. And the truth also is that I am not someone that believes in the customary exchange of gifts on occasions. I think special days like my mother's birthday or Mother's Day are too important to make a light-hearted event of it. So, here are a few DIY Mothers Day Gifts to express your love for your mom on her special day.
A mother plays an important role in one's life. She is our ray of light, our best friend, our mentor, and whatnot! To mark all the contributions and sacrifices made by her till now, one day cannot be enough. However, you can surely make her feel a little extra-special by putting in some extra effort and giving her something very beautiful.
Mothers Day Gifts – Ideas
With Mother's Day just around the corner, most of you must be busying yourselves, trying to pick the perfect gift for her, knowing fully that mothers would love and appreciate just about anything you give them. And that is exactly why I decided that this year, I am going to give her something handmade, something really special for her to hold on to, and not like it for just the thought of it.
You can also buy her some incredible gift at the best price using amazing Mother's Day offers and coupons.
If it seems like you have run out of ideas to surprise your mother this year, you could read on and find few simple craft ideas that are super creative. Get your art supplies at the best price and get on with it!
1. Marbled Mug
This is the simplest DIY available for lazy bums like myself. Here is a tutorial and its steps to follow.
For this, you'll need a coffee or tea mug, warm water in a bowl, and nail polish!
First, you need to slowly pour the nail polish into the bowl of warm water.
Next, with the help of a toothpick, make a design of your desire.
Dip the mug quickly into the coloured water, hold it in place for 3–4 seconds, and use a toothpick to remove any excess nail color.
Dry it for an hour and voila! You have your water marble mug ready to be gifted.
2. Photo Mason Jar
Mason jars DIYs are my absolute favorite. Just watch how easy it is to make a cute photo jar below:
All you need is a mason jar, sand paper, some acrylic paint, a hammer, drafting paper, scissors, a nail, a knob, and a beautiful picture of your mum!
First, place the printout (2×2 dimensions) of the photo. Place it on the contact sheet, trace it, and cut a sheet slightly smaller than the printout.
Hammer the centre of the lid. Stick the contact sheet on the mason jar, then paint it. After painting, keep the jar for an hour to dry and paint the lid.
Apply another coat of colour to the jar and sand it with the sandpaper. With the help of tape, stick the photo printout into the mason jar. Take the lid and fix the knob to it, then secure it with a screw. For a final touch, coat the jar with clear paint.
3. Puzzle Frames
If your mum enjoys little brainteasers once in a while, this DIY would just be perfect! Find the tutorial here:
To make this frame, all you need is some decor color paint, decor metallics, a printed photo, a craft knife, paint brushes, wooden cubes, and a wooden frame. You can also grab personalized frames with great deals this Mother's Day just from GrabOn.
Paint the blocks with the decor colors. Next, paint the frame with metallic paint.
Cut the printed photograph to the size of the blocks and keep it aside.
Now, take each block and paste a small piece of printed photo onto it.
Attach the printed photos to the blocks and then paste them on the frame.
4. Tote Bags
An absolute necessity for every mother, especially because it almost seems like she finds anything we need in her bag, at all times. Why not jazz it up a little for her! Watch how:
For this you need transfer paper, sketches, and an iron.
First you need to draw the design or pattern you want on the transfer sheet.
Next you need to place the transfer sheets facing down on the tote bag and iron it.
After ironing it for a few minutes, peel off the transfer sheet and let it cool down. Tada, there you have your own designed tote bag!
5. Confetti Glasses
This one is so simple that it is almost unbelievable! Check out the tutorial below:
To make these beautiful confetti glasses, you will need a glass, glass paint, and a nail dotting tool.
Firstly, choose the colors you want on your glass. Next, dip the nail dotting tool into the color and then tap it on the upside-down back of the glass.
Preheat the oven to 350 degrees Fahrenheit for 30 minutes.Cool it down completely for a few hours and take it out. Here you have your very own confetti glass.
Repeat the process until you reach the desired height.
6. Designer Pouch DIY
If your mom is a big fan of small pouches and wallets, watch this video and design a wonderful hand pouch for her.

For this DIY, you will need a cloth, sewing machine and a fabric glue.
Take the cloth pieces, cut them according to the measurements and keep them aside.
After cutting all the cloth pieces, sew all the cloth pieces together, one by one.
Use fabric glue if needed and attach a zip to complete the pouch and there you go, you have your Mother's Day pouch ready!
7. Pressed Flower Monograms
This one is most helpful if you stay away from your parents and would only be seeing your mother in the next week or so. You'll understand why when you see this:
For this DIY, you'll need different flowers, a frame, paper, glue, and a book.
You can either buy or make your own compressed flowers at home, so for that you'll need to collect flowers from your garden or backyard.
Cut the stem, put them into a paper fold, tuck them in the center of the book, and place that book under the stack of their books for a couple of weeks.
Pick out the frame, remove the backing, and measure it with good quality watercolor paper.
Place the petals on the paper and arrange them accordingly.
With the help of glue, paste the leaves and petals on the paper and press them.
After gluing the petals, put the paper back into the frame and leave it to dry. Your DIY frame is now ready to be wrapped and gifted.
8. Canvas Wall Art
If flowers are what you intend to give your mother, try making it a little more interesting. Follow the steps in the video below and see it for yourself:
You can now make affordable and beautiful wall art. All you need is a frame, glue, and plastic flowers for the DIY.
Take the frame, clean it and dry it. Next, take the flowers and place them on the frame, arranging them accordingly.
Glue the flowers and leave them to dry for some time.
You can either leave the canvas as it is or spray paint it if needed.
9. Jewelry Organizer
One thing that every woman has in excess is jewelry, my mother and I included. How about we make our mums something cute that she can actually use. Find the tutorial below:
For this DIY, you'll need a frame, two different colors, tape, screws, and a drill.
Tape the frame where you don't want the paint (edges or stripes).
Paint white where there's no tape. Next you will tape over the white painted area and color where there is no paint.
Leave the canvas to dry and later remove the tape.
Arrange the hardware (hooks and handles) where you want your jewelry to be placed. Tighten the hooks and handles and yay! Your DIY jewelry organizer is now ready to organize your accessories.
10. Ring Holder Display
Some more DIY ideas for organizing jewelry. We pick the rings this time. And this is how:
For this DIY, you'll need foam hair curlers (corks or felt), scissors, fabric, a cutting tool, adhesive, and a frame/box.
Step one is to paint the box according to your liking.
Measure the foam rolls against the length of the box and trim them.
You can also cover the rollers with fabric to match them with the box.
Secure the rollers within the box with adhesive tape or glue.
Place the rings between the rolls and hooray! Now you have your own ring holder that keeps your rings in place.
11. Ethnic Scarf
Every woman has a unique place in her heart for scarfs. If your mom too loves scarfs, why not make a gorgeous one for her?

For this DIY, you will need a 7–10 cm piece of cardboard, thread of your desire, beads, and glue.
Take the cardboard and roll the thread around it for 50-60 rounds.
Take the thread out and secure it by tying a knot. Place the thread roll equally away from the knot and cut it.
Hold the bunch together and secure it by tying it again.Cut the excess thread.
Sew the beads to the tassel and then sew it to the corners of the scarf, and now you are good to wrap and gift it!
12. Message in a Bottle
You could say that I had been saving the best for the last. I know I am going to give my mum one of these. Are you? Find out how:
All you need for this DIY is a glass vial, a needle and thread, a pair of scissors, and tiny messages to put inside your bottle.
Firstly, you need to decide what message you want to put in the bottle. You can either write it or get it printed from your computer.
Cut down the little notes from the printed paper.
Separate the bottle and the cork. Take a needle and thread, sew the little note and tie a knot.
Take the cork and hold the thinner side down. Let the needle go through the center of the cork and pull the little note through.
Gently put the note in the bottle and close the bottle with the cork.
Secure the thread coming out of the cork and you are now good to gift it.
Remember, being a mother is hard. Take a moment to hug your mom this Sunday and appreciate everything that she does for you because she is doing her very best. Every damn day.
13. 3D hand casting
If you are planning to give some unique mother's day gift to your moms on this Mother's Day that can last for years to come then the idea of gifting 3D hand casting should be a great option. You can now preserve your mom's hand imprint in a frame along with her sketch/photo. Cast this moment in time and remember it forever and tell everyone the story that inspired it.
For this DIY, you will need all the hand casting material.
Before you start the process make sure you clean your hands and lotion it.
Mix the given ingredients well.
Keep it aside for the given time. Let it dry and later the excess material.
Follow the step by step instructions given with the casting box. And voila, you have your long lasting hand casting of you and your mother.
14. Vanilla cupcakes with buttercream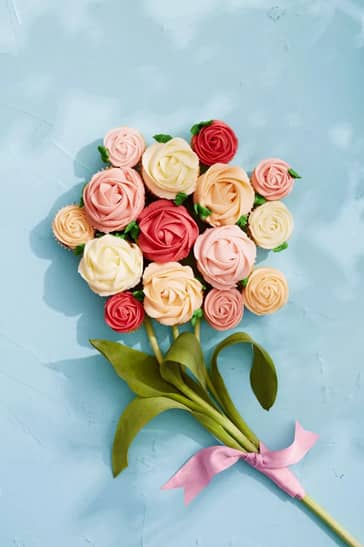 It's so much fun to bake and surprise your mother with this sugary love.Here are the steps for making traditional vanilla cupcakes:
All you need is all-purpose flour, baking powder, kosher salt, sugar, eggs, and whole buttermilk. For vanilla buttercream, you'll need unsalted butter, powdered sugar, vanilla extract, salt, and food coloring.
Preheat the oven to 305 F and place the muffin pan in it.
In a bowl, whisk together flour, baking powder, and salt. Beat the butter at a medium speed until it turns creamy. Mix the sugar into it until it's fluffy, for 1-2 mins. With a low whisking speed, add the eggs one at a time and blend them.
Add 1 tsp of vanilla, then mix alternatively with flour and buttermilk. After the batter is blended well, spoon it evenly onto the prepared pan.
Check the cupcakes at regular intervals of time. After 18 to 22 minutes, transfer them and let them cool completely.
Make the butter cream by beating butter and sugar for about 1 to 2 minutes. Add cream, vanilla, and salt. Continue beating until everything is combined.Transfer it to a dry bowl and add the desired food coloring.
Transfer buttercream to a piping bag. Secure them tight and pipe them on top of the cupcakes in the desired pattern.
15. DIY Candles with crayon
If your mom is someone who loves candles, Color block crayon candles IS one fun DIY to surprise your mother with your creativity.
For this DIY, all you need is wax, glass containers, candle wicks, crayons, paper cups and candle scents  (optional).
First attach the wick to the glass container using a super glue and secure it
Next we will melt the wax. Heat up the wax in a microwave or a stove for 3 minutes.
After the wax melts, transfer half of the wax in another container.
Cut the crayon into pieces in the wax, mix, and let it melt. Add scent to it.
Start layering the coloured wax, keep it to cool down then add another color wax. Repeat the process until you reach the top.
Voila, your Color block crayon candles are now ready
16. DIY keychain
Keychains are the simplest yet an elegant way to gift your mother. Easy DIY tha can be made in just 4 minutes.
To make this keychain, all you need is cardboard, a compass with a pencil, beads, double tape, coloured sheets, and a keychain ring.
Take the cardboard measuring 2.5 cm as a square. Make a circle with the help of a compass and cut it out.
Paste the printed paper with the help of a double tape and cut the excess sheet.
Take two 1.5 cm pieces of paper.Fold it in half, cut it into a heart shape, and glue it on the round chart board. Write the alphabet for mom and darken it.
Cut the circle outline and stick it on the circle cardboard. Put beads and glitter (optional) on the plastic sheet and trace the outline of the circle.
Stick or tie a thread to the cardboard. Color it or paste glitter paper on it for decoration.
Cover the thread with beads, attach a keychain ring to the cardboard, and voilà, you have your mother's day keychain gift.
17. Dollar tree DIY
Make your mother feel like a queen by gifting something that will stay with her forever! Super easy DIY that can be completed in a few minutes.
For this dollar tree, you'll need plastic flowers, a glass vase, twine, floral foam, wrapping paper, artificial moss, and a glue gun.
Using a glue gun, adhere the flower to the floral foam, then adhere the foam to the artificial moss.
Take the vase, flip the vase, and insert the rose attached to the foam. Make sure that the flower is inserted into the vase.
Secure the foam to the vase with a glue gun. Wrap some wrapping paper around the foam, then secure it with twine, and you've got yourself a Mother's Day vase!
18. Mother's Day photo frame
What better way to gift your mother a photo frame with you and her in it.  It is a 5 minutes DIY which is easy to make and a gift.
To make this photo frame, all you need is cardboard, rice, glue, and coloured paper.
Take the cardboard and cut it with the help of a heart stencil.
Do the same with the alphabets "M and O". Paste it with the design you want.
After pasting the alphabets together, spread the glue and put rice on it.
Let it dry. With the help of a toothbrush, paint it with the desired colors and let it dry.
Cut a sheet the size of the frame heart, and paste it behind. Here you have your Mother's Day frame in just a few minutes.
19. DIY printed candles
You have heard of painted candles, but have you heard of the printed ones?  No right? So here it is. A creative way to surprise with pictures printed on the candles.
For this DIY, you will need printer paper, white tissue paper, and glue.
Take the blank printer paper, then take the white tissue paper that should be smaller than the printer paper.
Place the tissue paper on the blank printer paper and tape it all around.
Google the picture you want to see on the candle. After printing the picture, cut it as close to the picture as possible, and don't worry about the tape. Remove the tissue paper and cut the excess sheet out.
Take a wax sheet and rip off a piece big enough to wrap around the candle.
Grab your image, place it on your candle and position it wherever you want. Place the wax sheet over your image.
Cover the whole candle with the wax sheet as tightly as you can. With the help of a hair dryer, dry it back and forth. Do it for 1 to 3 minutes. Take the wax sheet away and here you have your DIY printed candles.
20. Greeting card with a fun DIY message
A cute and fun way to express how you feel about your mom. Compliments on French fries will make your mom laugh out loud.
For this DIY, you'll need to take a square sheet. Fold it into a triangle. Then fold the ends of the triangle into the middle.
Take the open end and tuck it in the middle. Slightly press the folded sheet. When pressed, it should look like a pouch.
Take a yellow-colored sheet and fold it to look like French fries.
Write all the lovely words that you feel about your mom.
Label the pouch "Mom, you are," and here you go.
So, what DIY Mothers Day Gifts are you planning for your Mom?
This brings us to the end of the blog. We really hope you liked the above DIY ideas and used one of them. If you have any more creative ideas in mind, share them in the comment below. And, do let us know which idea you have picked from the above list for your beloved mom this Mother's Day! :)