The Holy month of Ramadan is here and we can already feel the festive vibes. Every year, Hyderabadis, wait eagerly for the month Ramadan just to taste the heavenly Ramzan special Haleem.
It's not surprising to see a kilometer long traffic jam outside restaurants like Pista House and Shah Ghouse to get a packet of freshly prepared Haleem.
But Hyderabad is not just about Haleem.
Foodies also love to hog on dishes like Nihari that's cooked to perfection, juicy Kebabs, Pathar Ka Gosht, and a lot more.
Ramzan in 2023 started on March 23 and is speculated to end on April 21. While the city gets decorated like a new bride for Eid and food stalls for Iftar snacks line up in every nook and corner, allow us to give you our suggestion on the best Ramadan Food in Hyderabad and where to have them.
Eat to your heart's content as we have discount coupons and deals for you to save your pockets from burning while you shop for Eid.
This Ramzan, get ready to taste some of the most delicious cuisines in the city of Nizams. Check out the list below and make sure you try each one of them and satisfy your taste buds.
Best Ramadan food to break your fast with
After an entire day of rigorous fasting and unwavering devotion, what to eat for Iftar matters the most. The bustling crowd on the streets to pick up lip-smacking Iftar snacks is a very common sight during Ramzan, especially in cities like Hyderabad, Delhi, Lucknow, Srinagar, etc. Deciding what to eat can be a little taxing so here's our pick of the must eat dishes during Ramzan to open your fast.  Brace yourself, you're just a few seconds away from digital foodgasm.
1. Hyderabadi Haleem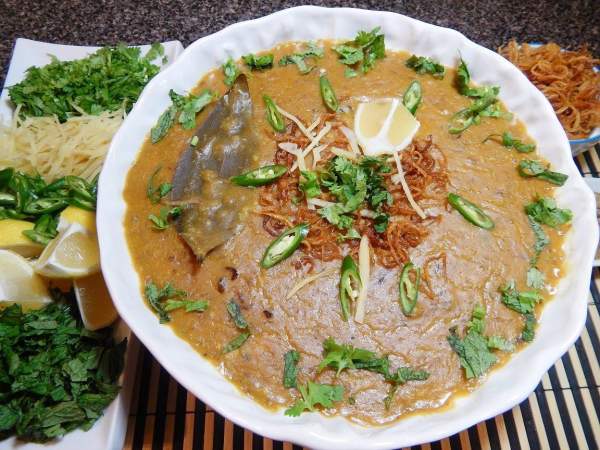 Haleem is every foodie's desire! With the start of Ramadan, you will find the streets of Hyderabad crowded with stalls selling Haleem. Even the high-end restaurants offer this amazing delicacy. Haleem is very rare to find before or after Ramadan month and demands an entire day to be cooked properly. This savory dish is prepared by mincing mutton or chicken with a wooden spoon while it is cooked on a Bhatti with different spices and ingredients that are added at specific time intervals. It is a must try dish for its great taste and unique texture. Whatever you do, don't miss this exquisite delicacy at Shah Ghouse in Charminar or near Gachibowli.
Places that should be on every Hyderabadi's Haleem checklist
Shah Ghouse Hotel & Restaurant, Charminar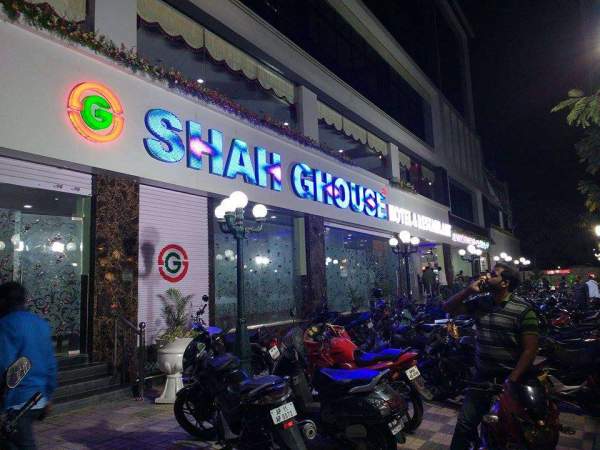 Address: Near Petrol Pump, Charminar Rd, Syed Ali Chabutra
Opening Hours: Open 24 hours
Meal for Two: Rs. 600/-
Charminar is the ultimate destination for the first timers and the locals during Ramzan. The festive mood of the city during this auspicious month can be distinctly felt in and around Charminar. The old City is beautifully decorated and the streets come to life at night when people come out to shop.
Shah Ghouse located in Charminar and Gachibowli serves mouth-watering Haleem from excellent Gosht, Kebabs and Keema Rotis. They also serve traditional Ramadan desserts like Sheer Korma, Double Ka Meetha and Kaddu Ki Kheer for a complete feast. Though the restaurant has another branch at Tolichowki, we recommend you go to the one at Charminar, in order to get the real Hyderabadi flavor.
Pista House, Charminar
Address: Shop No. 20-4-140, Charminar, Shalibanda
Opening Hours: 11 a.m. – 11:30 p.m.
Meal for Two: Rs. 250
Ask any Hyderabadi and they would definitely mention Pista House among the best places to eat in Hyderabad during Ramzan. Unlike other high-end diners, this joint does not have a fancy setup. However, their taste is rich and highly authenticated. Other than their biscuits and cakes, Pista House's spicy Mutton Haleem is also famous throughout the city. The restaurant has branches all across the city and it also delivers Haleem to major cities like Mumbai, Pune, Delhi, Jaipur, etc.
Hotel Shadab, Charminar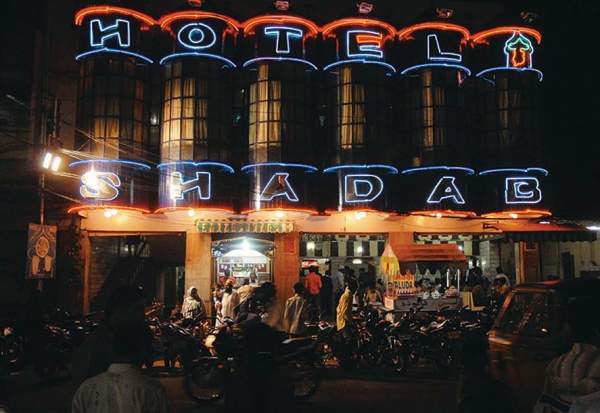 Address: 21-1-140-144, Near High Court Road, Opp Madina Circle, Charminar
Opening Hours: 6 a.m. – 2 a.m.
Meal for Two: Rs. 850
No food tour is complete in Hyderabad without tasting the world famous Hyderabadi Dum Biryani at Hotel Shadab. During Ramzan month, the hotel is jam-packed with regular as well as new customers. Apart from Haleem and Biryani, Malai Kebabs and Pahadi Kebabs are also a favorite among the locals. Hotel Shadab is definitely the ultimate destination for the best foods in Hyderabad during Ramzan.
2. Shorba
Everyone loves a good shorba, right? It is a time-honored tradition to break the fast with a hearty meal that satisfies the body and soul. This famous Ramadan dish is a delicious way to break the fast and it's perfect for a weekend feast. Rich in protein, vitamins, and minerals, it is a perfect meal to provide sustenance for people observing the fast. Do include this delicacy in your menu while breaking the fast.
Places Where You Can Find Yummy Shorba in Hyderabad
Capital Multi-Cuisine Restaurant
Address: 16-2/741/2/9, NH65, Asmangarh, Andhra Colony, New Malakpet, Hyderabad, Telangana 500036
Opening Hours: 5 a.m. to 1 a.m.
Meal for Two: 900/-
Capital Multi-Cuisine Restaurant is one of the best restaurants in Hyderabad to celebrate the special occasion of Ramzan. Relish the taste of their delicious Shorba on Ramzan days from here.
Hotel Shadab
Address: Plot 21, High Court Road, Near Madina Circle, Ghansi Bazaar, Hyderabad
Opening Hours: 6 a.m. to 2 a.m.
Meal for Two: Rs. 850/-
The most delightful part of Ramadan is when families get together to enjoy the Iftar meal and what better than a bowl of  Shorba. Find the most delicious Shorba in the city at Hotel Shadab at the most reasonable price.
3. Rice Kheer
This delectable dish that has been passed down through generations fills the streets with a waft of cardamom and milk. To break the fast with taste and satisfaction, many people like to have rice kheer, a sweet milk-based dessert made during this time of the year. This rice pudding flavoured with cardamom, cloves and saffron is usually served cold and often forms an essential part of a Ramadan meal.
Places Where You Can Find Yummy Rice Kheer In Hyderabad
Shah Ghouse Hotel & Restaurant
Address: Near Petrol Pump, Charminar Rd, Syed Ali Chabutra, Hyderabad
Opening Hours: 24 hours
Meal for Two: Rs. 600/-
Shah Ghouse Hotel & Restaurant is one of the most loved places in Hyderabad during the Ramzan season. Their delicious and rich rice kheer will add a velvety and exquisite taste to your fasting celebrations.
4. Dates
While fasting during the Ramzan month, it's important to make sure that your body is taking all the necessary nutrients, essential to meet your day's needs. Many people eat dates for sustenance. Dates are one of the best sources of fibres and minerals such as magnesium, potassium and copper. Along with helping you to break the fast, these nutrients also help in keeping you energised throughout the day. They help to reduce fluid retention and fatigue. They are a great way to break fast and are also easy to digest.
Places Where You Can Find The Best Variety Of Dates In Hyderbad
Ajfan Dates and Nuts Jubilee Hills
Address: Nakshatra building, Rd Number 36, near tipsy stories and bounce saloon spa, Jubilee Hills, Hyderabad Opening Hours: 9:30 a.m. to 10 p.m.
Minimum cost: Rs. 600/- (approx.)
Experience a blissful taste with Ajfan's premium quality dates. Delve into Medjoul Jordan premium dates, Holy Ajwa Dates, Khudri Premium Dates and many more only at this fine store. Explore the world of the most authentic dates and start your Ramadan days with great energy.
5. Fattoush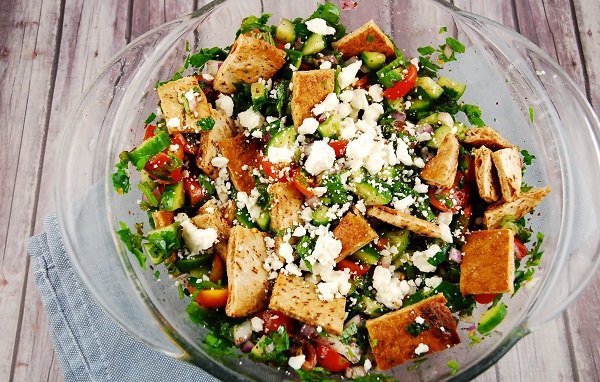 Next on our list is an important dish of Ramzan- Fattoush. It is a salad popularly eaten in the Middle Eastern region. Consisting of tomatoes, radishes, cucumber and other vegetables, this dish is not just finger-licking good but also a treat to the eyes. The toasted pita bread adds a crunchiness to the dish which makes it even more appetising.
Places where you can find yummy Fattoush in Hyderabad
ZOUQ
Address: First Floor 8-2-269/11/a a1 &a2 Imran Plaza Rd#2, Banjara Hills, Hyderabad
Opening Hours: 12 p.m. to 11:30 p.m.
Meal for Two: Rs. 1000/-
ZOUQ is one of the finest places in the city where you can find lip-smackingMiddle Eastern food and the Fattoush available at this restaurant gives the authentic taste of the dish.
Mandi@36 Arabian Kitchen
Address: First Floor 8-2-269/11/a a1 &a2 Imran Plaza Rd#2, Banjara Hills
Opening Hours: 12 p.m. to 11: 15 p.m.
Meal for Two: Rs. 1000/-
Mandi@36 Arabian Kitchen is yet another popular Middle Eastern restaurant in the city. You can jump on the most mouth-watering Fattoush and satisfy your hunger buds during the time of Ramzan. Besides Fattoush, they also serve other mind-blowing Middle Eastern starters, salads, main course and desserts.
6. Lakhnavi Galawat Kebab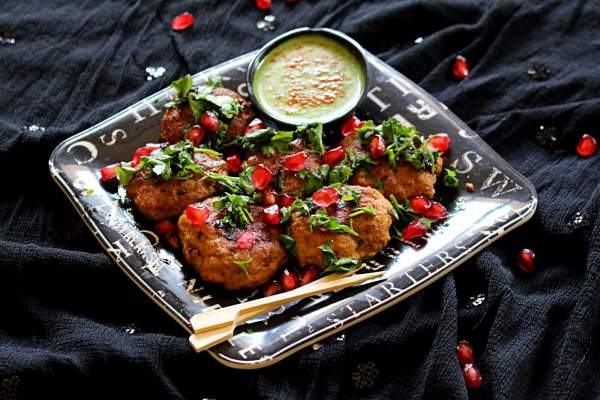 Galawat Kebab is another indulging dish that has made to our list of the best Ramadan food in Hyderabad. It is typically an Awadhi recipe which is in Lucknow. In the process, many restaurants and street food stalls in the city started preparing it. The word 'Galawat' means 'melts in the mouth', and that is exactly what happens when you put these delicious kebabs in your mouth. It's made with minced mutton and papaya paste and many traditional spices. This dish is high-in-demand during Ramadan month and is found at every Awadhi restaurant, but you'll find the best Tunday Kebabi in Aminabad.
Sarvi, Banjara Hills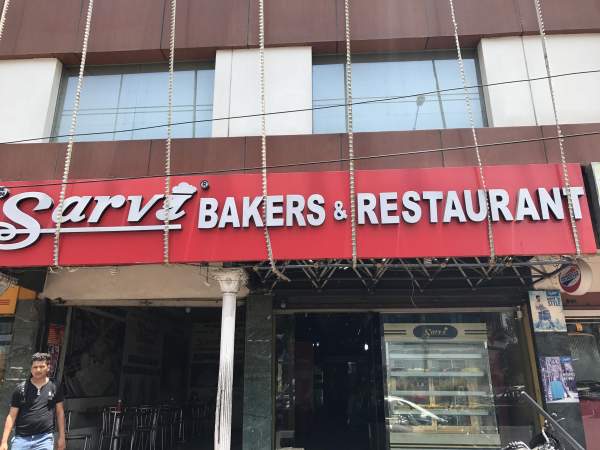 Branch 1: No. 8-2-609/1/1/A, Opposite Star Hospital, Gaffar Khan Colony, Road No. 10, Banjara Hills, Hyderabad
Opening Hours: 11:30 a.m. to 11 p.m.
Meal for Two: Rs. 1000
Branch 2: Opposite Care Hospital, Road 1& 11, – 500034, Banjara Hills, Hyderabad,
Opening hours: 12 Noon to 4:30 PM, 7 PM to 11:30 PM
Meal for Two : Rs.850/-
Hyderabad could soon be officially declared as the food capital of India. Name any Indian dish and you'll find it here. You will get awesome Lakhnavi Galawat Kebab at Sarvi located on road number 8 in Banjara Hills.
7. Delhi's Nihari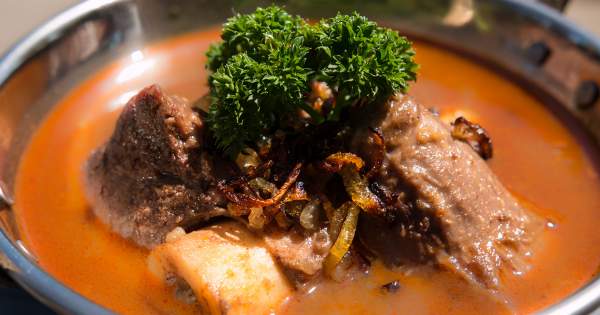 Nihari is a recipe that originated from old Delhi and is eaten a lot in the city, especially during Ramadan. It is a stew that is slowly cooked with mutton and is served with goat's bone marrow. The word Nihari originated from the word 'Nahar' meaning 'day', as it was served to kings early after their morning prayers. Nihari is often eaten with halwa puri or Rumali roti which is very similar to 'Hyderabadi Paya'. Nihari is one of the very few mughlai dishes to have originated in Delhi. Sagheer's Nahar shop in the Baradari lane of Ballimaran in Delhi and is famous for its out-of-the-world Nihari. Today, it is one of the best dishes served in Hyderabad during Ramzan.
Hotel Shadab, Charminar
Address: 21-1-140-144, Near High Court Road, Opp Madina Circle, Charminar
Opening Hours: 5 a.m. – 2 a.m.
Meal for Two: Rs. 850/-
Along with lip smacking affordable Biryani and Halem, you should also try Delhi's very own Nihari at Shadab Restaurant. Here's a review from a guest on Trip Advisor,
This could read like the old Smirnoff ads – I was a regular at Paradise Biryani till I discovered Shadab.

This is is not a fancy restaurant, but the food is divine. We sat upstairs, the downstairs being more like a mess hall in the barracks or in a school cafeteria. The biryani and nihari were superb, the sheek kebab just okay. Overall, the food quality/taste is what I would expect in a Michelin 2 star restaurant, or even 3 star if the sheek kebab didn't drag it down. Paradise would be a 1 star. I ordered biryani from their take-away location in Banjara Hills and the quality was very good too. Didn't get anything else at the take-away counter as it needed a 20 minute preparation time.
8. Kashmiri Mutton Tujji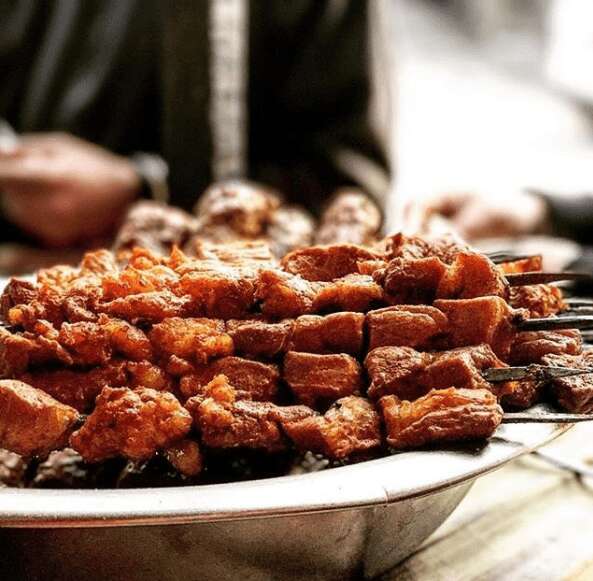 This one is not just a favourite of Kashmiri people but is also celebrated as one of the best Ramadan Foods in Hyderabad. Kashmiri Mutton Tujji is a unique type of seekh kebab where the mutton is cut into small pieces, marinated in various Kashmiri spices and then cooked on the tujj (seekh). These are served with chutney and special Kashmiri bread called Lawasa. These little heavenly bites melt in your mouth leaving flavours that make you long for more. It is a little royally priced, but worth every penny. Taj Falaknuma Palace
Address: Engine Bowli, Falaknuma, Hyderabad
Opening Hours: 12 p.m. – 1 a.m.
Meal for Two: Rs. 3500/- per person
Savor the Kashmiri Mutton Tujji grandly and royaly at the Taj Falaknuma Palace. For those who wish to indulge in a lavish dining experience this is a must-try place. It might not be an affordable option, but will be memorable!
9. Qubani Ka Meetha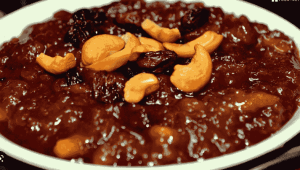 This apricot-based dessert is an authentic Hyderabadi cuisine. It is prepared by boiling dried apricots with syrup until it attains a thick consistency and then garnishing with almonds or thick creamy malai. If you are out for your iftar, then you must end your meal with this dessert.
Hotel Mehfil 
Address: Jaihind Enclave, Hitech City Main Rd, Opposite Cyber Towers, Jaihind Enclave, Madhapur, Hyderabad
Opening Hours: 12 p.m. – 1 a.m.
Meal for Two: Rs. 300/-
You may know Hotel Mehfil for its authentic Hyderabadi Biryani, but this place also has some mouth-watering desserts to serve. Do try their qubani ka meetha to end your meals with gratification.
10. Lukhmi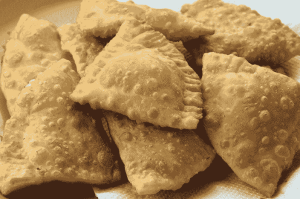 Experience a taste of cultural Ramadan tradition with the delicious and crunchy minced lamb meat samosa. This tender and spicy snack is perfect to get your palate excited. Do try this delicacy while exploring the Charminar market – it's no doubt an absolute must-try!
Hotel Alpha 
Address: Station Road, opposite Railway Station, Shivaji Nagar, Secunderabad
Opening Hours: 5:30 a.m. – 10:30 p.m.
Meal for Two: Rs. 300/-
This is one of the oldest gems within the city. Its traditional lukhmi is sure to tantalize your taste buds with its creamy, luxurious flavour – perfect for rounding out any fasting celebration.
11. Paya Soup
The Paya soup, known and cherished by so many today, has a centuries old story. It all started when Muslim cooks who left Lahore in search of a new home, eventually ended up in Hyderabad. With their hunger for connecting the old and the new, they laced together the Central Asian Soup made of goat leg, plus few tweaks of techniques and spices from the Telangana region.
This ingenious fusion soon emerged as a prestigious soup. Perfectly flavorful and highly nutritional, this hodgepodge soup beguiles users from every background.
Café Bahar
Address: SBR Gateway, Opposite Cyber Towers, HITEC City, Hyderabad
Opening Hours: 12:00 a.m. – 11:00 p.m.
Meal for Two: Rs. 350/-
Café Bahar serves the most legendary paya soup in the city. Satisfy your cravings for this dish during Ramadan with a visit to one of the city's top spots. Even their starters, mains and desserts will leave you feeling full – in both body AND soul!
At Home Delicacies
Now that we have helped you know the best places to dine out within the town, let's take you through another list of delicacies that you are likely to find in every household during Iftar. So, make some friends in Hyderabad and attend one of their iftar parties to enjoy these homemade delicacies.
12. Dahi Vada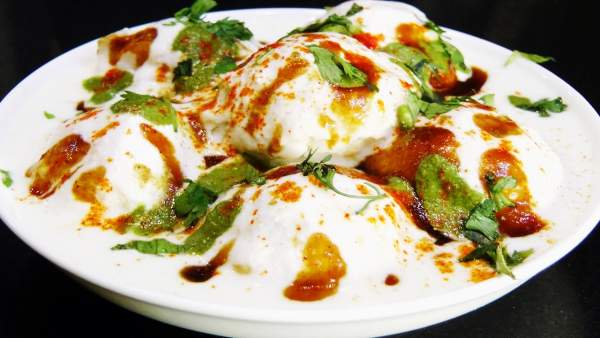 If we are going to talk about Ramadan, one iftar snack definitely comes to everyone's mind – Dahi Vada. The lentil dumplings soaked in spicy yogurt sauce is served at pretty much everyone's iftar. The variants of this are Rajasthani Dahi Bada, Delhi Dahi Bhalla, Odia Dahi Bara. It is best served cold. So next time you are hosting an iftar party or going to a potluck in general, include this on the menu. No last minute goof-ups, right? It has been the best Ramadan Food for me growing up.
13. Pakodas and Bajjis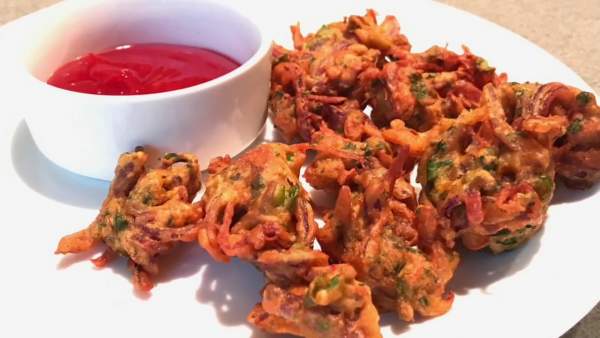 Oh, pakodas and bajjis are the absolute best. They come in all shapes and sizes. From aloo bajji to pyaaz pakodas, they are a must-have snacks that you see being served at every iftar party and every household where fasts are being observed.
14. Nombu Kanji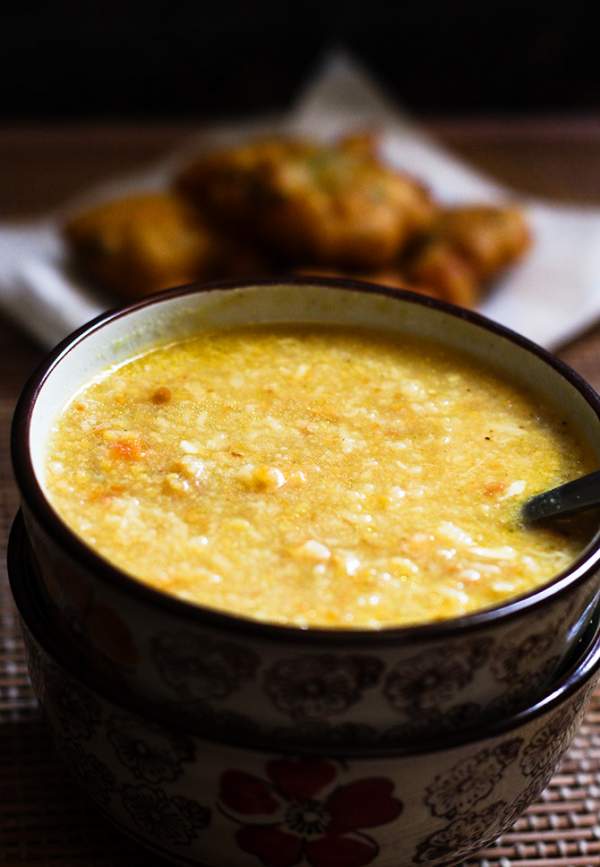 There's a good chance that a lot of people may haven't heard about this one or know it by a different name. Nombu Kanji is made with rice and lentils that is cooked till it looks like porridge. It is a nutrient-rich drink apt for Sehri feast during Ramadan. It's popular in Southern India especially in Tamil Nadu and Kerala but is also made in a lot of different households of other states during the month of Ramadan. It is mildly flavoured and is best when served with Khara boondi (salty and fried chickpea flour).
15. Kunafa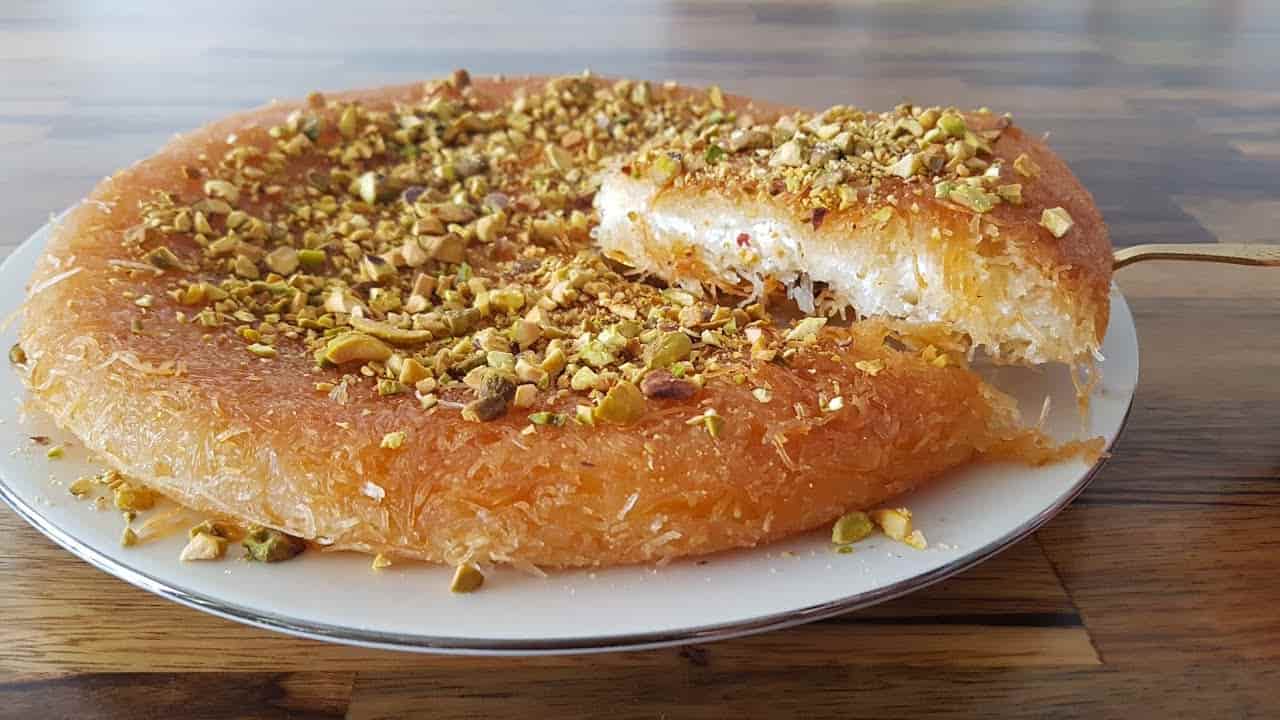 Kunafa is made using shredded filo pastry or fine semolina dough. It is dipped in sugar syrup and has a fine layering of cheese. This traditional Middle Eastern dessert is very pleasing, delicate, soft and creamy. So, if you want to fulfill your dessert cravings anytime during the month of Ramzan, don't miss out on having Kunafa.
16. Fruit Custard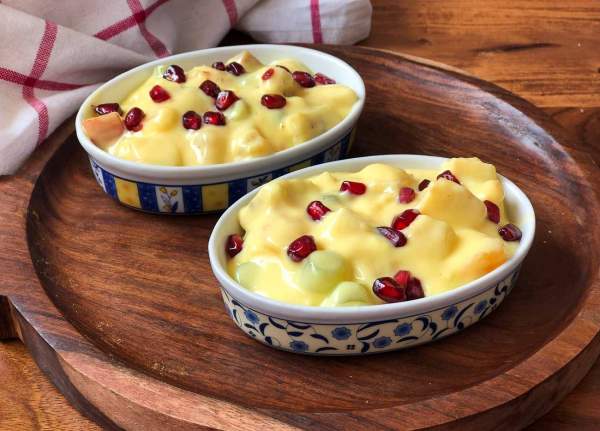 This one is on the sweet side. It is tasty and relatively easy to make when compared to a lot of other desserts. Hence, it is the best Ramadan Food to cook in your kitchen if you are running out of time. It is best served cold. Make sure to add the fruits that best pamper your taste buds. Banana is the most used add-on in this dish but it also tends to overpower in flavor. So, if you aren't a big fan of them, just skip them.
17. Shahi Tukda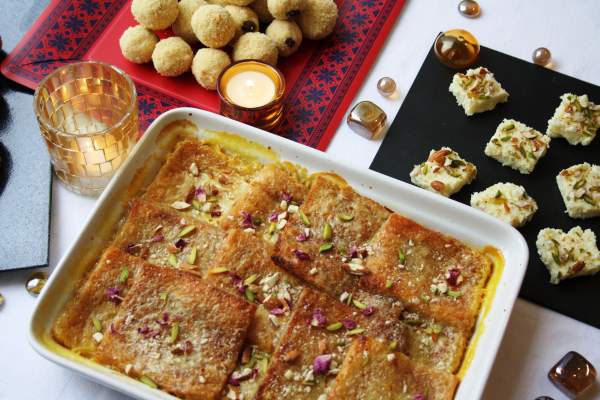 Another dessert on the best Ramadan Food list. The Hyderabadi version of this dish is known as "double ka meetha". A very popular dessert in Hyderabad and rather delicious one too. Made with bread, this one is for every person who has a sweet tooth. A popular dish at parties and weddings and not just in Ramadan. This one fly high as the best Ramadan Food out there in Hyderabad during the festive season.
18. Sheer Khorma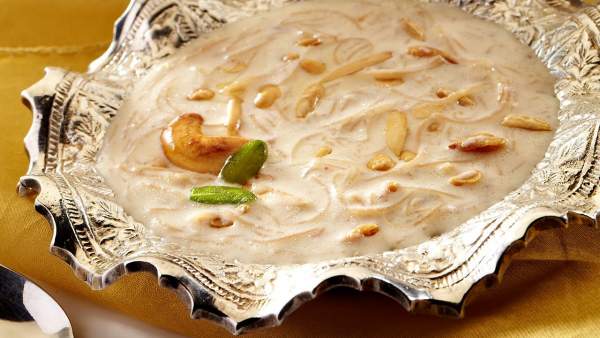 I know this one is more of an Eid special, but I couldn't resist putting it on this list of best Ramadan Food. Everyone has heard about Sevai. This super delicious dish is one thing that is common in every household. One spoonful of this creamy and milky dish feels like heaven on the palette.
The splendid food journey that commenced on the March 23 will win over those who love to indulge in rich and flavoursome food in Hyderabad during Ramzan.
The list of best Ramadan Food is endless but the ones that we mentioned here are definitely worth a try!
Despite this exhaustive list if you still plan on staying at home and cooking nothing, then do order some meaty delights online . Do not forget to use online food coupons to save a little extra on your purchase.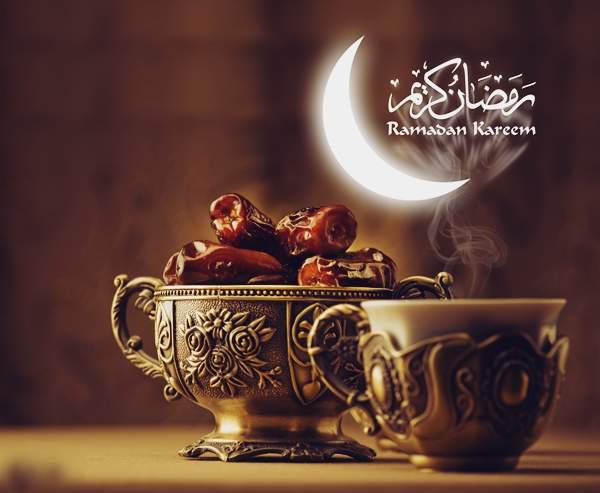 FAQs
1. Does Sahri and Iftar mean the same thing?
Sahri is the morning meal that is consumed during the morning hours before starting the fast during the Ramadan days. Whereas Iftar is the fast-breaking meal which is eaten during the evening hours during this holy month.
2. What are some of the best ways to stay hydrated during Ramadan?
All those fasting must essentially hydrate themselves. It is advised to include loads of hydrating fruits like watermelon, pineapple, peaches and drink a lot of water while breaking fast during the Ramadan days.
3. How to avoid overeating during Ramadan?
Eat to your content but avoid hogging if your stomach is full. While consuming sahri, keep a 30 to 40 minutes gap between eating food and drinking water.
4. Which food is the healthiest to consume during Ramadan?
Dates, whole grains, oats, fresh fruits and vegetables are some of the healthier food options for one to consume during the holy month of Ramadan. People working in hot weather conditions must eat strawberries, watermelon, cucumber etc., to feel hydrated throughout the day.
5. What should I avoid eating during Ramazan?
Do not try to suppress your hunger by eating chips, salty nankeen and biscuits during the iftar and then feeding on high-trans-fat foods such as microwavable frozen items.