Irrespective of our caste, creed, and belief we go crazy for Haleem, which tastes divine. It is available only during the Ramzan/Ramadan month every year, hence the popularity. But, Ramadan is certainly not simply about haleem, though it reigns supreme throughout the month! Ramadan equals to good food. No doubt, people plan their visit back to our nation during this time. Who would want to lose out on the mouth watering menu or Ramadan food including haleem, awesome juicy kebabs, nihari, biriyanis and more, right?
So, let's find out the best Ramadan food available in Hyderabad. You should never miss out on these dishes and the places, provided you are a non-vegetarian.
Best Foods in Hyderabad during Ramzan
This generosity is shown obviously in the form of food as everyone prepares specialty dishes and sweets that will be found only at this time of the year. Especially in Hyderabad, New Delhi, Lucknow, and Srinagar, you'll find people going crazy in the streets for the exquisite dishes available all-around. So here are a few best foods you should definitely try before this festive season passes by.
Hyderabadi Haleem
With the start of Ramadan, you will find the streets of Hyderabad filled with small stalls selling haleem. Even the big restaurants offer this amazing delicacy. Haleem is very rare to find before or after Ramadan month and takes the whole day to be cooked properly. This dish is prepared by mincing mutton or chicken with a wooden spoon while it is cooked on the bhatti and different spices and ingredients are added on a timely basis. It is a must try dish for its great taste and unique texture. Whatever you do, don't miss this exquisite delicacy at Shah Ghouse in Charminar or near Gachibowli.
Places that should be on every Hyderabadi's Haleem checklist –
Shah Ghouse Cafe & Restaurant, Charminar
Address: Near Petrol Pump, Charminar Rd, Syed Ali Chabutra
Opening Hours: 5 a.m. – 11 p.m.
Meal for Two: Rs. 600/
Must have: Haleem, Keema Rotis, and Double Ka Meetha
Charminar is the ultimate destination for the first timers and the locals during Ramzan. The festive mood of the city during this auspicious month can be distinctly felt in and around Charminar. The night scene is completely different, for the Old City comes lively and vibrant.
Shah Ghouse Café located in Charminar and Gachibowli serves mouth watering Haleem apart from excellent Gosht, Kebabs and Keema Rotis along with a variety of traditional Ramadan desserts like Sheer Korma, Double Ka Meetha and Kaddu Ki Kheer. They also have a branch in Tolichowki, but we would still recommend you to go to the Charminar one, so as to get the real Hyderabadi flavor.
Pista House, Charminar
Address: Shop No. 20-4-140, Charminar, Shalibanda
Opening Hours: 11 a.m. – 11:30 p.m.
Meal for Two: Rs. 250
Must have: Mutton Haleem and Tangri Kebabs
Ask any Hyderabadi and they would definitely mention Pista House among the best places for best foods in Hyderabad during Ramzan. Unlike other high-end diners, this joint does not have a fancy set up. However, their taste is rich and highly authenticated. Pista House' spicy Mutton Haleem is famous all throughout the city apart from their biscuits and cakes.
Hotel Shadab, Charminar
Address: 21-1-140-144, Near High Court Road, Opp Madina Circle, Charminar
Opening Hours: 5 a.m. – 2 a.m.
Meal for Two: Rs. 850
Must have: Haleem, Hyderabadi Biryani, and Sheer Korma
No food tour is complete in Hyderabad without tasting the world famous Hyderabadi Dum Biryani at Hotel Shadab. During Ramzan month, the hotel is jam packed with the regular as well as new customers. Apart from Haleem and Biryani, Malai Kebabs and Pahadi Kebabs are also a favorite among the locals. Hotel Shadab is definitely the ultimate destination for the best foods in Hyderabad during Ramzan.
Lakhnavi Galawat Kabab
Galawat Kabab is another in our list of the best Ramadan food in Hyderabad during this month. It is typically an Awadhi recipe very popular in Lukhnow. Earlier it was cooked during special family occasions and then the recipe became popular. In the process, many restaurants and street food stalls in the city started preparing it. The word 'Galawat' means 'melts in the mouth', and that is exactly what happens when you put this delicious kababs in your mouth. It's made with minced mutton and papaya paste, and many traditional spices. This dish is high-in-demand during Ramadan month and is found at every Lukhnow restaurant but the best one is Tunday Kababi in Aminabad.
Sarvi, Banjara Hills
Address: No. 8-2-609/1/1/A, Opposite Star Hospital, Gaffar Khan Colony, Road No. 10, Banjara Hills, Hyderabad
Opening Hours: 11:30 a.m. – 11 p.m.
Meal for Two: Rs. 1000
Where: Opposite Care Hospital, Road 1& 11, – 500034, Banjara Hills, Hyderabad,
When: 12 Noon to 4:30 PM, 7 PM to 11:30 PM
Price: INR 850 for two people (approx.)
Contact: 040 66631114
Must have: Lakhnavi Galawat Kabab, Juje Kebab
Hyderabad should be soon officially declared as the food capital of India. Name any Indian dish and you'll find it here. You will get awesome Lakhnavi Galawat Kabab at Sarvi located on road number 8 in Banjara Hills.
Delhi's Nihari
Nihari is a recipe that originated from old Delhi and is eaten a lot in the city, especially on Ramadan. It is a stew that is slowly cooked with mutton and is served with goat's bone marrow. The word Nihari originated from the word 'Nahar' meaning 'day', as it was served to kings early after their morning prayers. Nihari is often eaten with halwa puri or rumali roti is very similar to 'Hyderabadi Paya'. Nihari is one of the only few Muslim dishes to have originated from Delhi. Sagheer's Nahar shop in the Baradari lane of Ballimaran in Delhi is very famous for its out-of-the-world Nihari. Today, it is one of the best foods in Hyderabad during Ramzan.
Hotel Shadab, Charminar
Address: 21-1-140-144, Near High Court Road, Opp Madina Circle, Charminar
Opening Hours: 5 a.m. – 2 a.m.
Meal for Two: Rs. 850
Must have: Haleem, Hyderabadi Biryani, and Nihari
Apart from Haleem and Biryani, you should also try Delhi's very own Nihari at Shadab Restaurant. Here's a review from a guest on Trip Advisor,
This could read like the old Smirnoff ads – I was a regular at Paradise Biryani till I discovered Shadab.

This is is not a fancy restaurant, but the food is divine. We sat upstairs, the downstairs being more like a mess hall in the barracks or in a school cafeteria. The biryani and nihari were superb, the sheek kabab just okay. Overall, the food quality/taste is what I would expect in a Michelin 2 star restaurant, or even 3 star if the sheek kabab didn't drag it down. Paradise would be a 1 star. I ordered biryani from their take-away location in Banjara Hills and the quality was very good too. Didn't get anything else at the take-away counter as it needed a 20 minute preparation time.
Kashmiri Mutton Tujji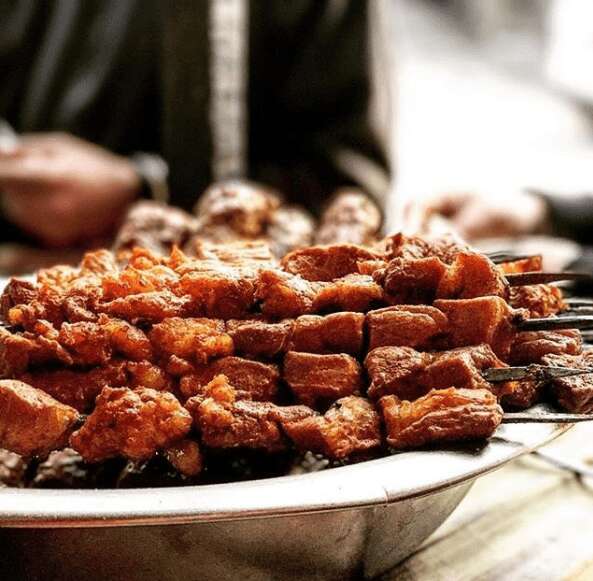 One of the favorites of Kashmiri people and is also best Ramadan food in Hyderabad during Ramzan, other than Delhi. Kashmiri Mutton Tujji is a different type of seekh kabab where the mutton is cut into small pieces and is marinated in various Kashmiri spices and then cooked on the tujj (seekh). These are served with chutney and special Kashmiri bread called lawasa. These little heavenly bites melt in your mouth and you can never have enough of them. It is a little royally priced, but worth every penny. The best place to have the Kashmiri Mutton Tujji is Imran Cafe in Srinagar.
You can either prefer to enjoy Tujji in a royal style at Taj Falaknuma Palace or can visit Hotel Taj Tristar, where every year they host a food festival that any food lover wouldn't want to miss. From Tujji chicken to garlic kheer and sheer khurma, you literally get to taste the lost flavors of Hyderabadi royal foods.
The splendid food journey that commenced on 26th May 2017 will win over those, who love to indulge in rich and flavorsome best foods in Hyderabad during Ramzan. Order some meaty delight from somewhere near your place using coupons and enjoy!
Image Courtesy:
crazymasalafood.com
youtube.com
mygola.com
hungryforever
peppergarlickitchen.com
burrp.com
magazine.foodpanda.pk
images.dawn.com
Pinterest
foodyie
Vidy'a Cooking