From looking cool amongst our friends to proposing to a girl, we have taken popular Bollywood characters and dialogue help.All the Rahuls of the world have used the punchy line "Rahul, naam toh suna hoga" at least once in their lives. All of us have followed the "Palat" philosophy of DDLJ. Besides, actors have become overnight stars with a single line in a film. That is the power of words in our Indian cinemas and can inspire people.
We dug deep and found a list of famous Bollywood dialogues that will make you popular and grab special attention among your friends.
Ready for our list of the most famous Hindi dialogues?
Here are the Best Bollywood Dialogues for you
1) The Kashmir Files (2022)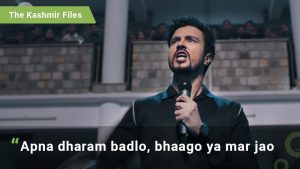 "Apna dharam badlo, bhaago ya mar jao"
Cast: Anupam Kher, Pallavi Joshi, Darshan Kumar, Bhasha Sumbli, Mithun Chakraborty, Mrinal Kulkarni, Chinmay Mandlekar, Amaan Iqbal, Puneet Issar, Prakash Belawadi, Prithviraj Sarnaik
Director: Vivek Agnihotri
Dialogue Writers: Saurabh and Vivek
Delivered By: Darshan Kumar (Krishna Pandit)
2) Gangubai Kathiawadi (2021)
Gangu Chaand thi aur Chaand rahegi (गंगू चांद थी और चांद रहेगी)
Izzat se jeene ka, kisi se darne ka nahi…(इज्जत से जीने का, किसी से डरने का नया)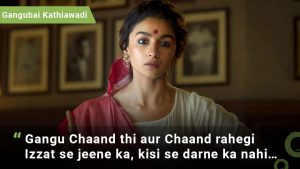 Delivered By: Alia Bhatt (Gangubai)
Cast: Alia Bhatt, Shantanu Maheshwari, Vijay Raaz, Ajay Devgan, Varun Kapoor, Huma Qureshi, Jim Sarbh
Director: Sanjay Leela Bhansali
Dialogue Writer: Prakash Kapadia
3) Sholay (1975)
Kitne aadmi the? (कितने आदमी थे?)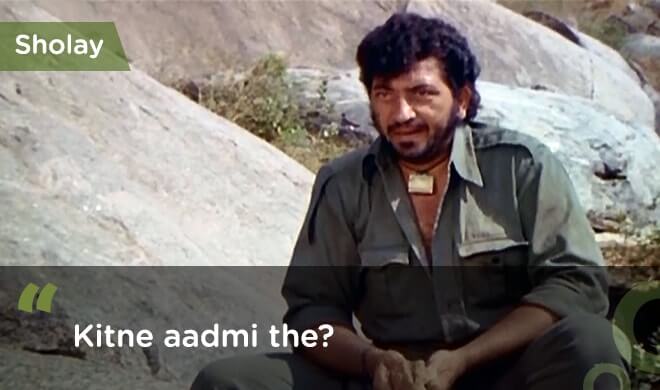 Cast: Dharmendra, Sanjeev Kumar, Hema Malini, Amitabh Bachchan, Jaya Bhaduri, Amjad Khan
Director: Ramesh Sippy
Dialogue Writer: Javed Akhtar
Delivered By: Amjad Khan (Gabbar Singh)
3. Dilwale Dulhania Le Jayenge (1995)
Bade bade deshon mein aaisi choti choti baatein … hoti rehti hai (बडे बडे देसोन मे अइसे छोटि छोटि बातिन…होति रहति है)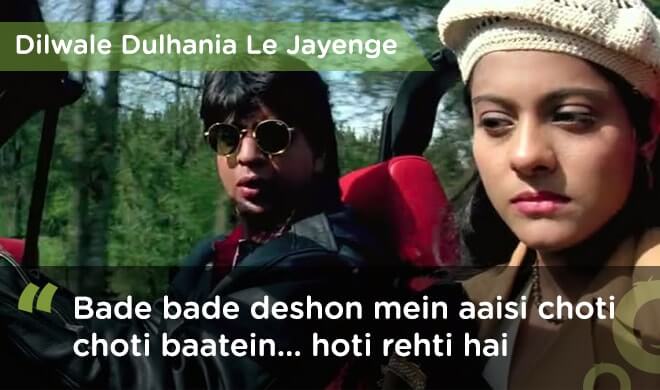 Cast: Shah Rukh Khan, Kajol, Amrish Puri, Farida Jalal, Satish Shah, Achala Sachdev, Himani Shivpuri, Pooja Ruparel, Anupam Kher, Parmeet Sethi, Mandira Bedi, Anaita Shroff Adajania, Karan Johar
Director: Aditya Chopra
Dialogue Writer: Aditya Chopra
Delivered By: Shah Rukh Khan (Raj Malhotra)
Dilwale Dulhania Le Jayenge is a treasure trove of one-liners quotable dialogues and bade bade deshon mein leads the pack!
Palat….Palat….Palat
(पलट….पलट….पलट)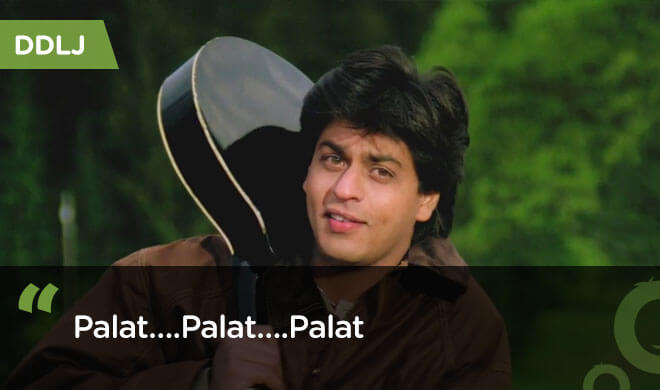 Don't lie, come on. Accept that you have tried this at least once in your life!
Jaa Simran, jaa. Jee le apni zindagi (जा सिमरन, जा। जी ले अपनी जिंदगी)
5) Kuch Kuch Hota Hai (1998)
Tussi ja rahe ho? Tussi na jao (तुस्सी जा रहे हो? तुस्सी ना जाओ)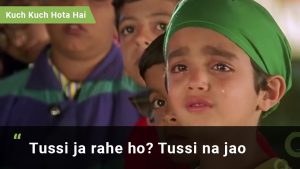 Cast: Kajol, ShahRukh Khan, Rani Mukerji, Salman Khan, Sana Saeed, Farah Khan, Anupam Kher, Archana Puran Singh, Reema Lagoo
Writer: Karan Johar
6) Dear Zindagi (2016)
Tum agar khulke ro nahi sakogi; toh khulkar has kaise sakogi? (खुल के रो नहीं सकोगी, तो खुल के क्या पाओगी?)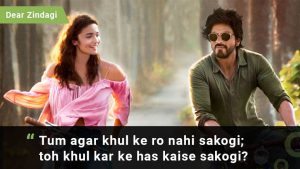 Cast: Alia Bhatt, Shah Rukh Khan, Kunal Kapoor, Ali Zafar, Aditya Roy Kapoor, Ira Dubey, Angad Bedi, Yashaswini Dayama, Rohit Suresh Saraf
Delivered By: Dr. Jehangir
Writer: Gauri Shinde
7) URI – The Surgical Strike (2019)
How's the josh? (जोश कैसा है?)
Cast: Vicky Kaushal, Yami Gautam, Paresh Rawal, Mohit Raina, Kirti Kulhari, Swaroop Sampath, Akashdeep Arora, Adarsh Gautam, Anil George, Riva Arora, Manasi Parekh, Rajit Kapoor
Delivered By: Vicky Kaushal (Major Vihan Shergill)
Director: Aditya Dhar
Dialogue Writer: Aditya Dhar
8) Damini (1993)
Tarikh par tarikh, tarikh par tarikh, tarikh par tarikh, tarikh par tarikh milti rahi hai … lekin insaaf nahi mila my lord…mili hai toh sirf yeh tarikh (तारीख पर तारीख, तारीख पर तारीख, तारीख पर तारीख, तारीख पर तारीख मिलती रही है…लेकिन इन्साफ नहीं मिला माय लार्ड…मिली है तो सिर्फ यह तारीख)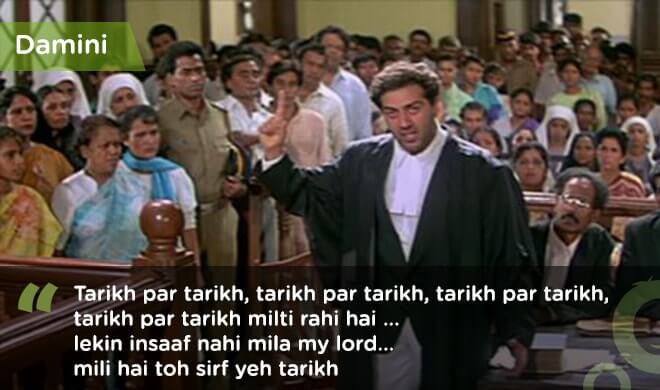 Cast: Meenakshi Sheshadri, Sunny Deol, Rishi Kapoor, Vijayendra Ghatge, Rohini Hattangadi, Kulbhushan Kharbanda, Amrish Puri, Paresh Rawal, Tinu Anand
Director: Rajkumar Santoshi
Dialogue Writer: Rajkumar Santoshi and Sutanu Gupta
Delivered By: Sunny Deol (Govind)
Sunny Paaji has given us tons of unforgettable quotes, from Damini all the way to Gadar: Ek Prem Katha.
9) Chennai Express (2013)
Don't underestimate the power of a common man.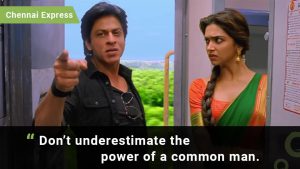 Cast: Shah Rukh Khan, Deepika Padukone, Nikitin Dheer, Manorama, Sathyaraj, Mukesh Tiwari, Yogi Babu, Besant Ravi, Rakesh Kukreti,
Director: Rohit Shetty
Writer: K. Subash
Delivered By: Shah Rukh Khan (Rahul)
10) Race 3 (2018)
Our business is our business none of your business.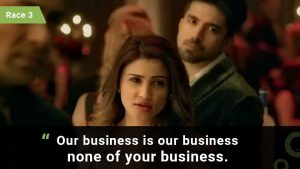 Cast: Salman Khan, Jacqueline Fernandez, Daisy Shah, Anil Kapoor, Bobby Deol, Saqib Saleem, Nishigandha Wad, Anurag Arora, Shiv Aryan
Director: Remo D'Souza
Writers: Shiraz Ahmed and Kiran Kotrial
Delivered By: Daisy Shah (Sanjana)
11) Shershaah (2021)
Tiranga lehra ke aaunga, nahi toh usmein lipat kar aaunga, lekin aaunga zaroor!
(तिरंगा लहरा कर आओगा, नहीं तो उसमें लिपट कर आओगा, लेकिन आओगा जरूर!)
Delivered By: Sidharth Malhotra (Played as dual role – Batra and Vishal)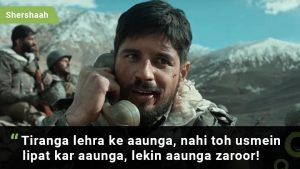 Cast: Sidharth Malhotra, Kiara Advani, Shiv Pandit, Ankita Goraya, Nikitin Dheer, Manmeet Kaur, Pranay Pachauri, Shataf Figar
Director: Vishnuvardhan
Dialogue Writer: Sandeep Shrivastava
12) Andaz Apna Apna (1994)
Aap Purush Hi Nahi, Mahapurush Hai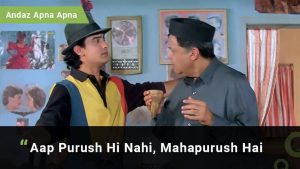 Cast: Aamir Khan, Salman Khan, Karisma Kapoor, Raveena Tandon, Paresh Rawal, Shakti Kapoor, Juhi Chawla, Mehmood, Deven Verma
Delivered By: Aamir Khan (Amar Manohar)
Director: Rajkumar Santoshi
Dialogue Writers: Rajkumar Santoshi and Dilip Shukla
13) Mr India (1987)
Mogambo khush hua (मोगाम्बो खुश हुआ)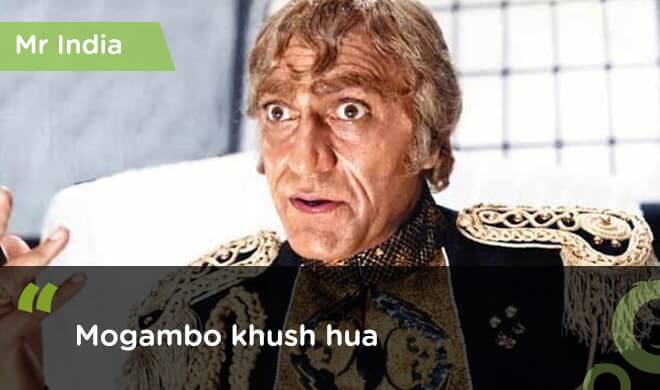 Cast: Anil Kapoor, Sridevi, Satish Kaushik, Amrish Puri, Annu Kapoor
Director: Shekhar Kapoor
Dialogue Writer: Salim–Javed
Delivered By: Amrish Puri (Mogambo)
Perhaps one of the greatest villains in Bollywood's history, Mogambo has got the best catchphrase ever.
Hollywood Dialogues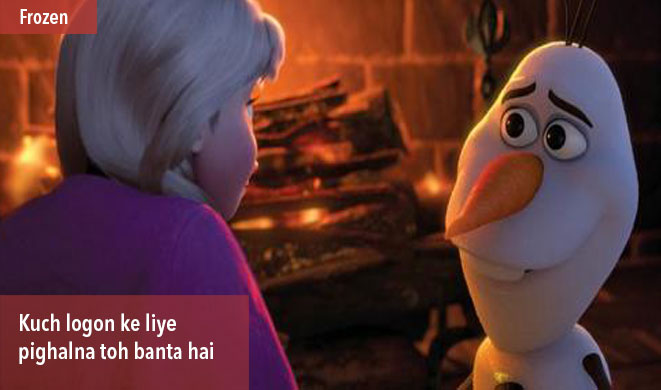 Hollywood Dialogues In Hindi That'll Make You ROFL! :P
14) Chak De! India (2007)
Har team main bas ek hi gunda ho sakta hai aur iss team ka gunda main hoon! (हर टीम मैं बस एक ही गुंडा हो सकता है और इस टीम का गुंडा मैं हूं!)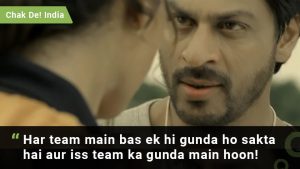 Cast: Shah Rukh Khan, Vidya Malvade, Sagarika, Chitrashi Rawat, Arya Menon, Tanya Abrol, Shubhi Mehta, Nakul Vaid, Javed Khan, Vivan Bhatena, Mohit Chauhan, Jayshree Arora
Delivered By: Shah Rukh Khan (Kabir Khan)
Director: Shimit Amin
Dialogue Writer: Jaideep Sahni
15) Wanted (2009)
Ek bar joh maine commitment kar di … uske baad toh main khud ki bhi nahi sunta
(एक बार जो मैंने कमिटमेंट कर दी…उसके बाद तो मैं खुद की भी नहीं सुनता)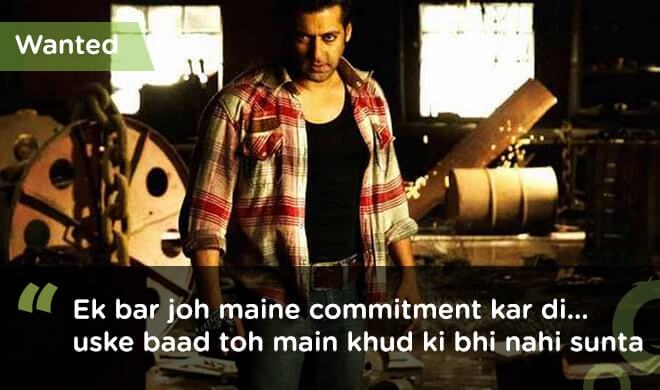 Cast: Salman Khan, Ayesha Takia, Prakash Raj, Mahesh Manjrekar, Vinod Khanna
Director: Prabhu Deva
Writer: Shiraz Ahmed
Delivered By: Salman Khan (Radhe)
Commitment ho toh aisa, warna na ho!
BOLLYWOOD MUSIC QUIZ!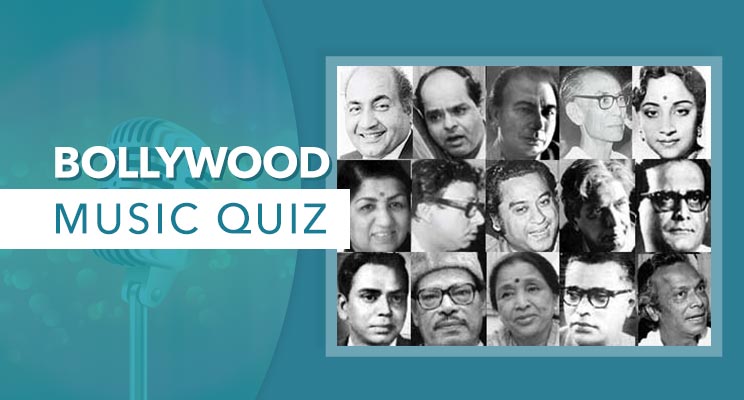 Love Bollywood Music? Take The Challenge & Find Out How Much You Know!
16) Shahenshah (1988)
Rishte mein toh hum tumhare baap lagte hai aur naam hai shehensha
(रिश्ते में तो हम तुम्हारे बाप लगते है और नाम है शहेंशा)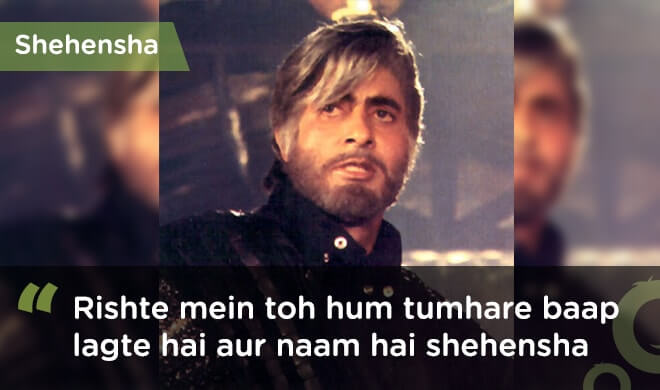 Cast: Amitabh Bachchan, Meenakshi Seshadri, Amrish Puri
Director: Tinnu Anand
Delivered By: Amitabh Bachchan (Vijay)
Chuck Norris who? Shehensha is the real deal yo!
While we are on this topic of discussing who the real deal is,
WHO'S YOUR DADDY?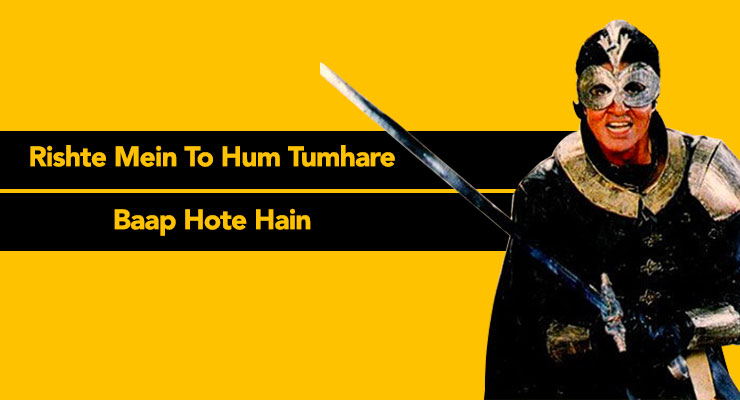 Bollywood Dads Be The Best
17) 3 Idiots (2009)
All is well
(आल इस वेल)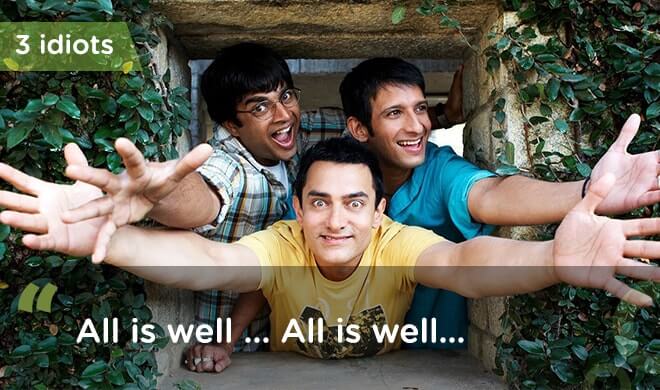 Cast: Aamir Khan, R. Madhavan, Sharman Joshi, Kareena Kapoor, Boman Irani, Omi Vaidya
Director: Rajkumar Hirani
Dialogue Writer: Abhijat Joshi and Rajkumar Hirani
Delivered By: Aamir Khan (Rancho)
Filled with witty one-liners and smartass dialogues from Rancho, this is everyone's go-to phrase when things get tough.
18) Baazigar (1993)
Kabhi kabhi kuch jeetne ke liye kuch harna bhi padta hai, aur haar kar jeetnay wale ko baazigar kehte hain
(कभी कभी कुछ जीतने के लिए कुछ हारना भी पड़ता है, और हार कर जीतने वाले को बाज़ीगर कहते हैं )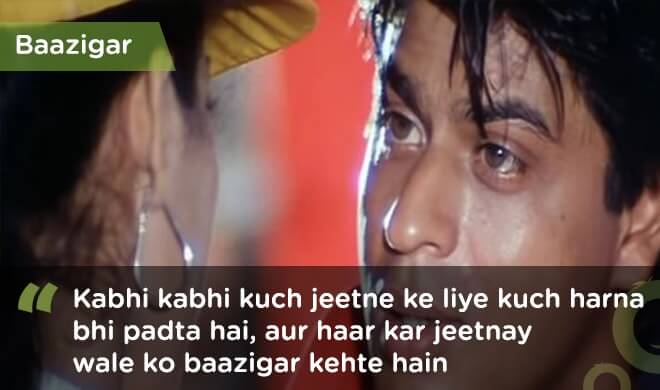 Cast: Shah Rukh Khan, Kajol, Siddharth Ray, Shilpa Shetty, Rakhee Gulzar
Director: Abbas Mustan
Dialogue Writers: Robin Bhatt, Akash Khurana, and Javed Siddiqui
Delivered By: Shah Rukh Khan (Ajay Sharma)
This is one of those portrayals which are littered with quote-worthy dialogues however this one takes the cake! It is the role that made SRK the national sweetheart that he is today.
14. Om Shanti Om (2007)
Picture abhi baaki hain mere dost
(पिक्चर अभी बाकी हैं मेरे दोस्त )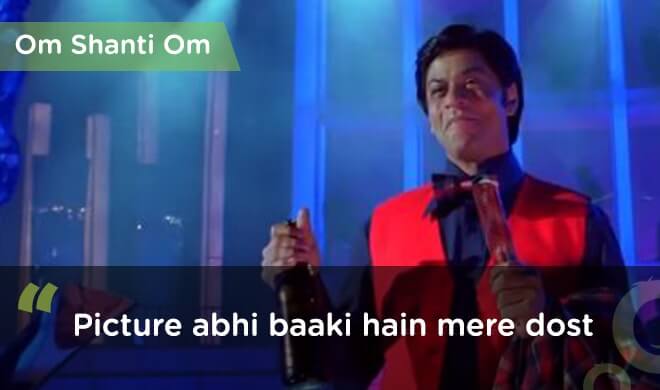 King Khan has given us innumerable epic dialogues but this one is guaranteed to give you goosebumps every single time. It aptly describes our Hindi film industry, doesn't it?
Delivered By: Shah Rukh Khan (Om Makhija)
Ek chutki sindoor ki keemat tum kya jaano Ramesh Babu
(एक चुटकी सिन्दूर की कीमत तुम क्या जानो रमेश बाबू)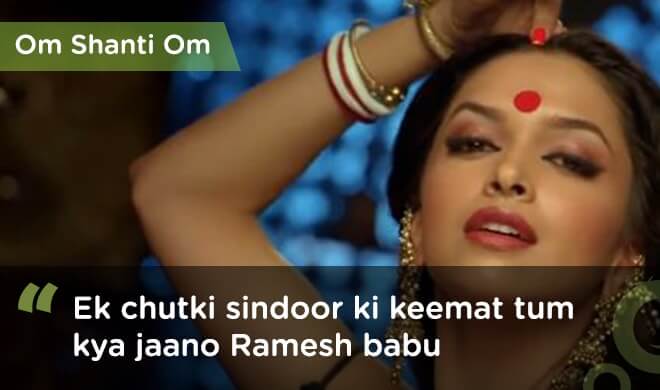 Delivered By: Deepika Padukone (Shanti)
The movie that launched Deepika Padukone's career also has dialogues that will make you laugh out loud.
Cast: Shah Rukh Khan, Deepika Padukone, Arjun Rampal, Shreyas Talpade, Kirron Kher, Yuvika Chaudhary, Kirron Kher
Director: Farah Khan
Dialogue Writer: Mayur Puri
20) A Wednesday! (2008)
I am just a stupid common man waiting to clean his house
(आई ऍम जस्ट ए कॉमन मैन वेटिंग टू क्लीन हिज हाउस)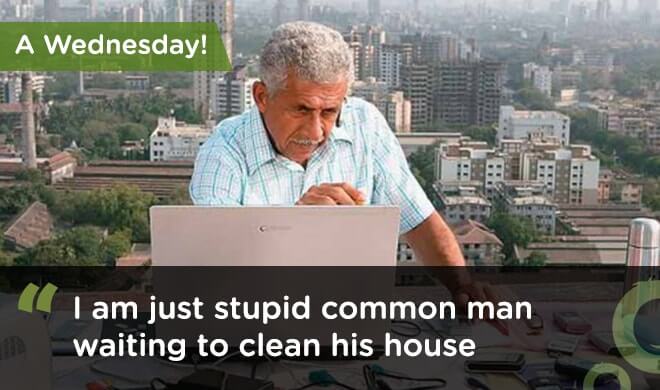 Cast: Anupam Kher, Naseeruddin Shah, Jimmy Sheirgill, Deepal Shaw, Aamir Bashir
Director: Neeraj Pandey
Dialogue Writer: Neeraj Pandey
Delivered By: Naseeruddin Shah (The Common Man – Rajesh Kumar Sharma)
This is just the tip of the iceberg in terms of dialogues from the common man of Bollywood.
Original movies apni jagah but let's take a look at some of the:
Insaan naam mein mazhab dhoond leta hai
(इंसान नाम में मज़हब ढून्ढ लेता है )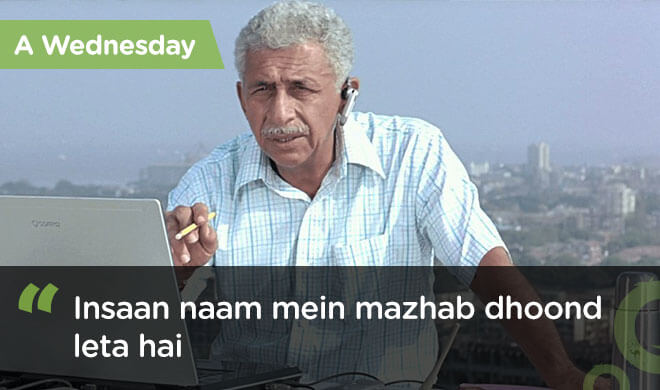 Another gold from the movie. Haven't we all done that at some point or the other? What is his last name again?
21) Maine Pyaar Kiya (1989)
Dosti ka ek usool hai madam – no sorry, no thank you.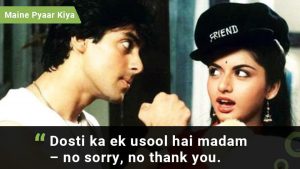 Cast: Bhagyashree, Alok Nath, Rajeev Verma, Reema Lagoo, Ajit Vachani, Mohnish Bahl, Laxmikant Berde, Harish Patel, Huma Khan, Pervin Dastur, Dilip Joshi, Deep Dhillon, Raju Shrivastava, Shreechand Makhija
Director: Sooraj Barjatya
Writers: S. M. Ahale and Sooraj Barjatya
Delivered By: Salman Khan (Prem Choudhary)
 22) Gangs Of Wasseypur(2012)

Tumse naa ho payega
(तुमसे ना हो पायेगा)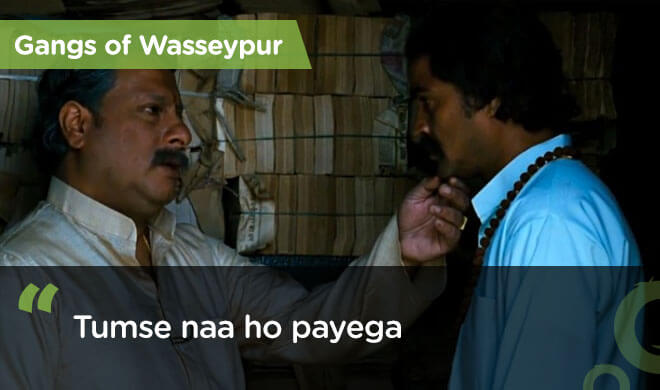 Cast: Manoj Bajpayee, Jaideep Ahlawat, Nawazuddin Siddiqui, Huma Qureshi, Tigmanshu Dhulia, Vineet Kumar Singh, Piyush Mishra, Pankaj Tripathi, Richa Chadda
Director: Anurag Kashyap
Writer: Zeishan Quadri
Delivered By: Tigmanshu Dhulia
The greatest dialogue on fatherly disappointment! Reverse Psychology FTW!
23) Kaalia (1981)
Hum jahan khade hote hain line wahi se shuru hoti hai.
(हम जहां खड़े होते हैं लाइन यही से शुरू होती है।)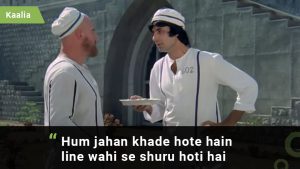 Cast: Amitabh Bachchan, Parveen Bhabi, Pran, Asha Parekh, Amjad Khan, Kushboo, Kader Khan, Bob Christo, Baby Geeta, Raza Murad, Purnima
Director: Tinnu Anand
Writers: Tinnu Anand, Inder Raj Anand, Shahjahan
Delivered By: Amitabh Bachchan (Kallu)
24) Barfi (2012)
Life me sabse bada risk hota hai kabhi koi risk nahi lena
(लाइफ में सबसे बड़ा रिस्क होता है कभी कोई रिस्क नहीं लेना )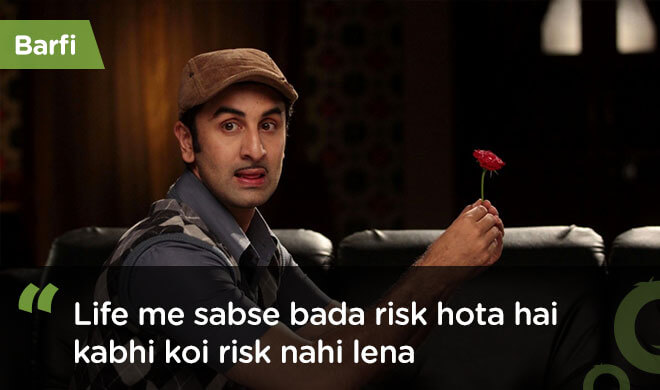 Cast: Ranbir Kapoor, Priyanka Chopra, Ileana D'Cruz, Saurabh Shukla, Akash Khurana, Ashish Vidyarthi, Roopa Ganguly
Director: Anurag Basu
Writer: Sanjeev Datta
Delivered By: Ranbir Kapoor (Barfi)
Darr ke aage jeet hai( Ahead of the fear is the victory)! Somewhere the essence is lost in the translation. But yes, take risks. You never know what might just happen.
25) Munna Bhai M.B.B.S. (2003)
Tension lene ka nahin, sirf dene ka..
(टेंशन लेने का नहीं, सिर्फ देने का)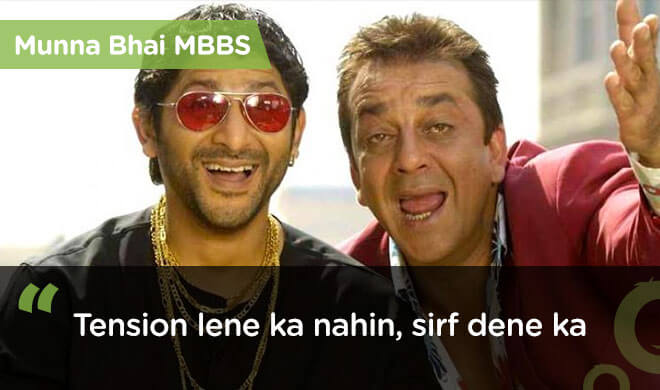 Cast: Sunil Dutt, Sanjay Dutt, Gracy Singh, Arshad Warsi, Boman Irani, Jimmy Sheirgill, Rohini Hattangadi
Director: Rajkumar Hirani
Writer: Abbas Tyrewala
Delivered By: Sanjay Dutt (Munna Bhai)
Why take tension and stress when you can give them?
Catch more epic dialogues from the upcoming movies at theaters with amazing Coupons from BookMyShow at our website. Dig deep into the gold mine of one-liners and famous Bollywood dialogues from the latest flicks at discounted prices with TicketNew offers.
22. Dabangg (2010)
Hum tum mein itne ched karenge … ki confuse ho jaoge ki saans kahan se le…
(हम तुम में इतने छेद करेंगे…की कंफ्यूज हो जाओगे की सांस कहाँ से ले…)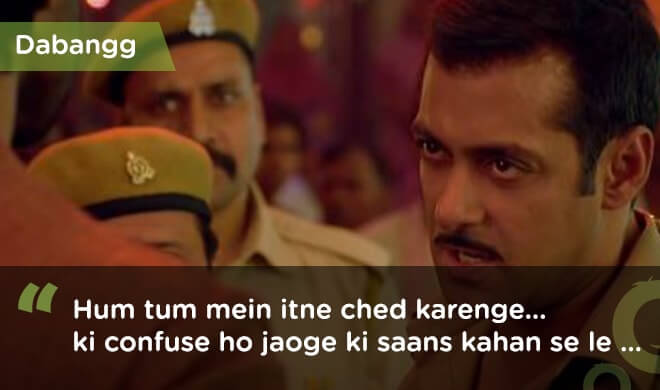 Thappad se darr nahi lagta sahab … pyar se lagta hai
(थप्पड़ से डर नहीं लगता साहब…प्यार से लगता है )
Delivered By: Salman Khan (Chulbul P. Pandey)
The face when someone offers you an old Rs 500 note after currency ban :P
Cast: Salman Khan, Arbaaz Khan, Sonakshi Sinha, Sonu Sood, Vinod Khanna, Dimple Kapadia, Anupam Kher
Director: Abhinav Kashyap
Writers: Dilip Shukla and Abhinav Singh Kashyap
Delivered By: Sonakshi Sinha (Rajjo Shreshawat)
Some dialogues are so iconic that you don't even need to finish the whole dialogue to get the feeling across. Chulbul Pandey's quotes are no different :P
27) Pusha – The Rise (2021)
Pushpa, Pushpa Raj … Main jhukega nahi, Sala (पुष्पा, पुष्पा राज … मैं झुकेगा नहीं, सालो)
Pushpa naam sunkar flower samjhi kya? fire hai mein (पुष्पा नाम सुंकर फूल संझी क्या? आग है में)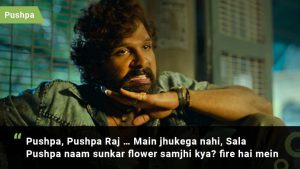 Delivered By: Allu Arjun (Pushpa Raj)
Cast: Allu Arjun, Rashmika Mandanna, Samantha Ruth Prabhu, Fahadh Fassil, Ansuya Bharadwaj, Sunil, Ajay Gosh, Kalpalatha, Ajay
Director: Sukumar
Writer: Srikanth Vissa
28) Don (2006)
Don ko pakadna mushkil hi nahin … namumkin hai (डॉन को पकड़ना मुश्किल ही नहीं…नामुमकिन है )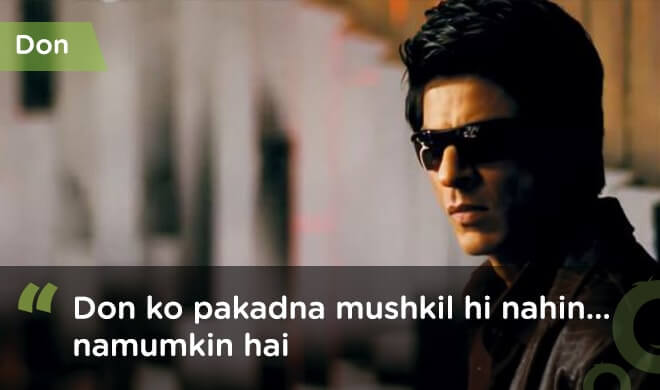 Cast: Shah Rukh Khan, Priyanka Chopra, Arjun Rampal, Boman Irani, Isha Koppikar, Om Puri, Pavan Malhotra, Rajesh Khattar, Tanay Chheda, Satyajit Sharma, Chunky Pandey, Sushma Reddy, Diwakar Pundir, Kareena Kapoor
Director: Farhan Akhtar
Delivered By: Shah Rukh Khan (Vijay/Don)
Confession Time: How many hours have you spent in front of a mirror trying this line out? From Amitabh Bachchan to SRK, this is one dialogue from Don that you'll never get tired of imitating!
Know someone who is a total movie freak? Make their day by giving movie Gift Cards, so that they never miss out on any latest movie.
29) Bahubali 2 (2017)
Mera vachan hi hai shasan (मेरा वचन ही है शासन)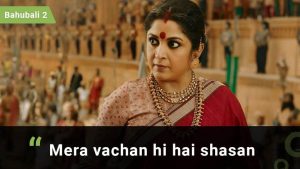 Delivered By: Ramya Krishnan (Sivagami)
Aurat par haat daalne vale ki ungliyaan nahi kaat tey, kaat tey hain toh gala (औरत पर हाट डालने वाले की उनग्लियां नहीं कात ते, कट ते हैं तो गाला)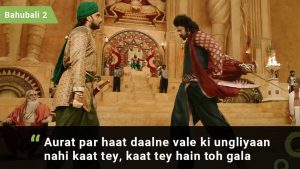 Delivered By: Prabhas (Bahubali)
Cast: Prabhas, Anushka Shetty, Rana Daggubati, Tamannah, Ramya Krishnan, Nasser, Subbaraju, Rohini, Prabhakar, Rakesh Varre, Kalpalatha, Adivi Sesh
Director: SS Rajamouli
Writer: Manoj Muntashir
30) Karthikeya 2 (2022)
Jab tak mere paas na aaye vo samasya hain, ek baar muje tak pahunchgayi tho vo samadhan hain (जब तक मेरे पास न आए वो समस्या है… एक बार मुझ तक पहुँच गयी तो वो समाधान है…)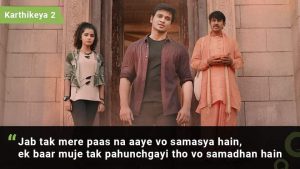 Cast: Nikhil Siddharth, Anupama Parameswaran, Anupam Kher, Adithya, Viva Harsha, Satya Srinivasa Reddy, Tulasi, Praveen
Director: Vivek Agnihotri
Writers: Saurabh and Vivek
Delivered By: Nikhil Siddharth (Dr. Karthikeya)
31) Kalicharan (1976)
Sara shehar mujhe lion ke naam se jaanta hai (सारा शहर मुझे लायन के नाम से जानता है )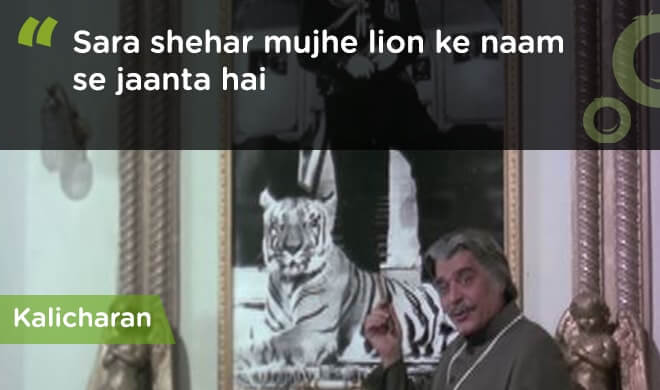 Cast: Shatrughan Sinha, Reena Roy, Ajit, Danny Denzongpa, Prem Nath
Director: Subhash Ghai
Writer: Jainendra Jain
Delivered By: Shatrughan Sinha (Played as DSP Prabhakar/Kalicharan in the movie)
Talking about alter egos, Din Dayal/LION tops the list of Bollywood baddies and quite rightly so!
BOLLYWOOD QUIZ!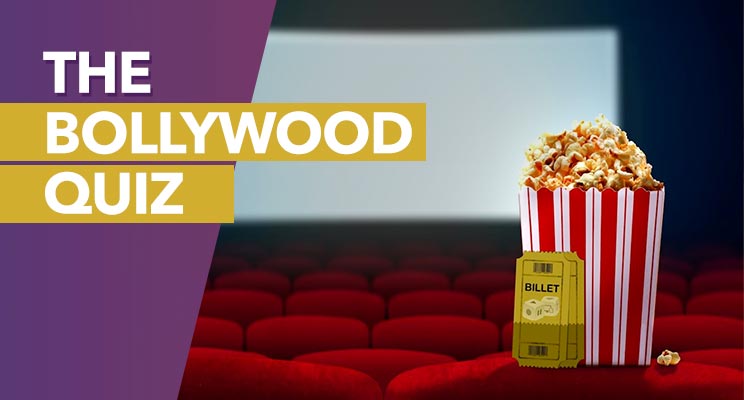 Think You Know Everything About Bollywood? Find Out!
32) Mohabbatein (2000)
Parampara. Pratishtha. Anushasan. Yeh is gurukul ke teen stambh hai.
(परम्परा। प्रतिष्ठा। अनुशासन। ये गुरुकुल के तीन स्तम्भ है।)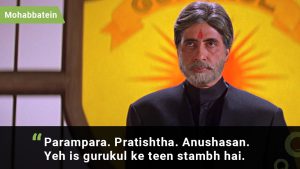 Cast: Amitabh Bachchan, Uday Chopra, Shah Rukh Khan, Kim Sharma, Jugal Hansraj, Preeti Jhangiani, Shamita Shetty, Jimmy Shergill, Aishwarya Rai, Shefali Shah, Archana Puran Singh
Director: Aditya Chopra
Writer: Aditya Chopra
Delivered By: Amitabh Bachchan (Narayan)
33) Rowdy Rathore (2012)
Joh main bolta hoon woh main karta hoon … joh main nahi bolta woh main definitely karta hoon..
(जो मैं बोलता हूं वह मैं करता हूँ…जो मैं नहीं बोलता वह मैं डेफिनेटली करता हूँ)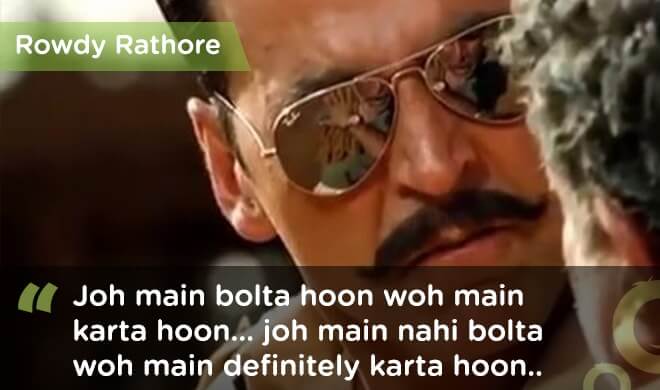 Cast: Akshay Kumar, Sonakshi Sinha, Paresh Ganatra, Gurdeep Kohli, Yashpal Sharma, Nassar
Director: Prabhu Deva
Writer: Shiraz Ahmed
Delivered By: Akshay Kumar (Vikram Singh Rathod)
Don't make him angry unless you want to get beaten up black and blue by Akshay's Vikram Rathore aka Rowdy Rathore.
34) Yaadon Ki Baraat (1973)
Kuttey kaminey, tu mujhse bachkar nahi ja sakta. Main tera khoon pee jaoonga
(कुत्ते कमीने, तू मुझसे बचकर नहीं जा सकता. मैं तेरा खून पी जाऊँगा )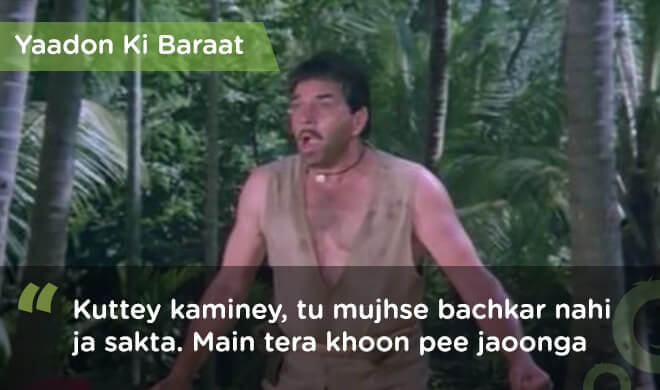 Cast: Dharmendra, Zeenat Aman, Tariq Khan, Neetu Singh , Vijay Arora, Ajit Khan, Aamir Khan
Director: Nasir Hussain
Writer: Salim–Javed and Nasir Hussain
Delivered By: Dharmendra (Shankar)
Forget Veeru's tales from Sholay, this is Dharmendra's most badass dialogue ever. Use this the next time you lose your cool :P
Dialogues this badass that even Lady Mormont approves of them!
35) Amar Prem (1972)
Pushpa, I hate tears…inhe ponch dalo
(पुष्पा, आई हेट टीयर्स…इन्हे पोंछ डालो )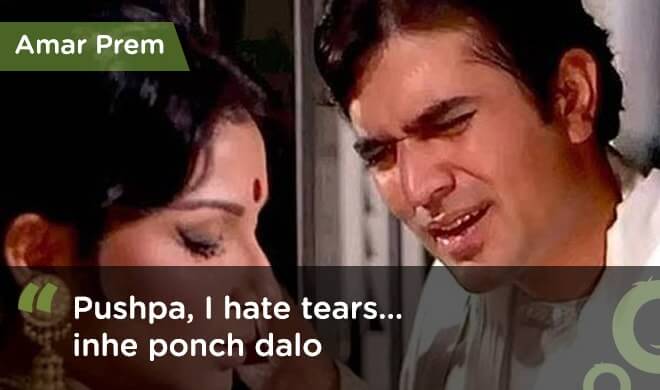 Cast: Sharmila Tagore, Rajesh Khanna, Vinod Mehra, Abhi Bhattacharya, Madan Puri, Sujit Kumar, Om Prakash, Bindu, Manmohan, Rakesh Pandey, Leela Mishra
Director: Shakti Samanta
Writers: Arabinda Mukherjee and Ramesh Pant
Delivered By: Rajesh Khanna (Anand Babu)
Admit it, Rajesh Khanna makes you tear up with every powerful performance.
36) Jab We Met (2007)
Aap convince hogaye ya main aur bolun?
(आप कन्विंस होगये या मैं और बोलूं?)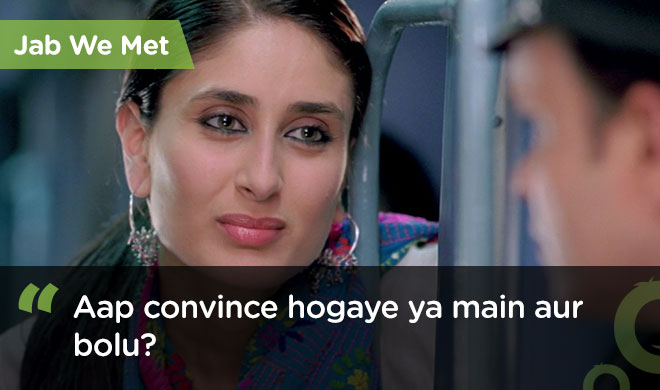 Mein apni favorite hoon!
(में अपनी फेवरेट हूँ!)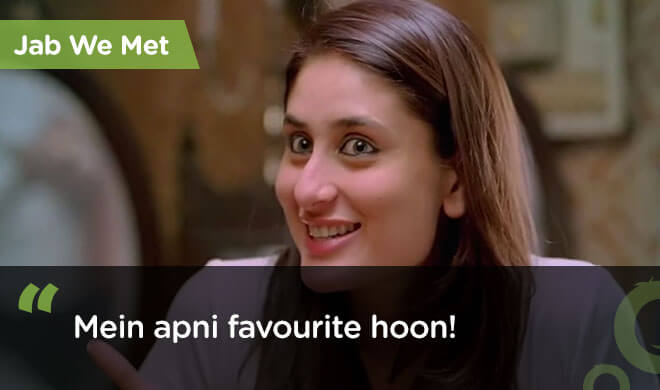 Cast: Kareena Kapoor, Shahid Kapoor, Saumya Tandon, Tarun Arora
Director: Imtiaz Ali
Writer:  Imtiaz Ali
Delivered By: Kareena Kapoor (Geet Dhillon)
37) Vishwanath (1978)
Jali ko aag kehte hain, bhuji ko raakh kehte hain … jis raakh se barood bane, usse Vishwanath kehte hain
(जली को आग कहते हैं, बुझी को राख कहते हैं. जिस राख से बारूद बने उसे विश्वनाथ कहते हैं)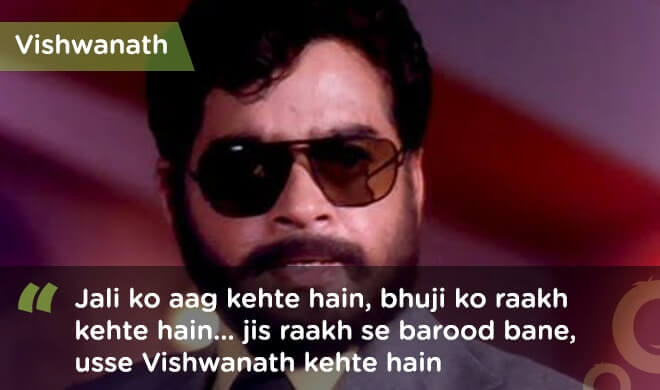 Cast: Shatrughan Sinha, Reena Roy, Rita Bhaduri, Prem Nath, Lalita Pawar, Ranjeet, Sudhir, Pran, Madan Puri, Sulochana Latkar, Parakshit Sahni
Director: Subhash Ghai
Writer: Subhash Ghai
Delivered By: Shatrughan Sinha (Vishwanath)
It's a fact that Shatrughan Sinha is synonymous with Badass. If you ever needed reassurance, here you go!
38) Anand (1971)
Babu Moshai Zindagi badi honi chahiye lambi nahi
(बाबू मोशाई ज़िन्दगी बड़ी होनी चाहिए लम्बी नहीं )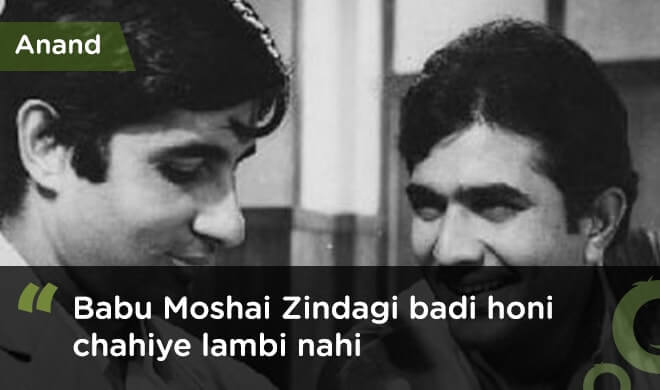 Cast: Rajesh Khanna, Amitabh Bachchan, Sumita Sanyal
Director: Hrishikesh Mukherjee
Writer: Gulzar
Delivered By: Rajesh Khanna (Anand Saigal)
One of those quotes to live by. Anand is one movie that which gets real way more than you would expect.
39) Deewaar (1975)
Aaj mere paas gaadi hai, bungla hai, paisa hai… tumhare paas kya hai?
(आज मेरे पास गाडी है, बंगला है, पैसा है…तुम्हारे पास क्या है?)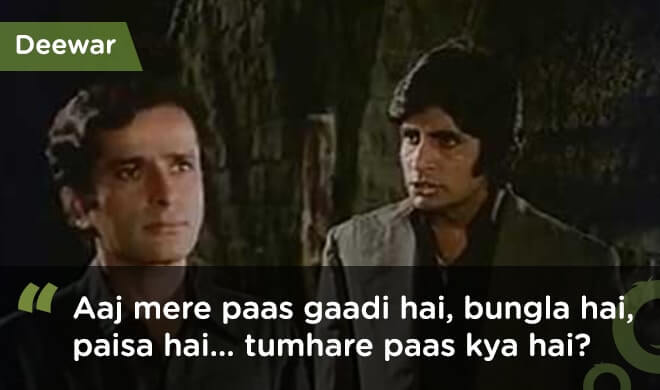 Cast: Shashi Kapoor, Amitabh Bachchan, Nirupa Roy, Parveen Babi, Neetu Singh, Satyendra Kapoor, Iftekhar, Madan Puri
Director: Yash Chopra
Writer: Salim–Javed
Delivered By: Amitabh Bachchan (Vijay Verma)
Mere paas Maa hai is Bollywood's I am your father (looking at you Luke and Lord Vader!)
40) Karan Arjun (1995)
Mere Karan Arjun Aayenge. Zameen Ki Chaati Phad Ke Aayenge, Aasman Ka Seena Cheer Ke Aayenge
(मेरे करण अर्जुन आएंगे. ज़मीन की छाती फार के आएंगे, आसमान का सीना चिर के आएंगे)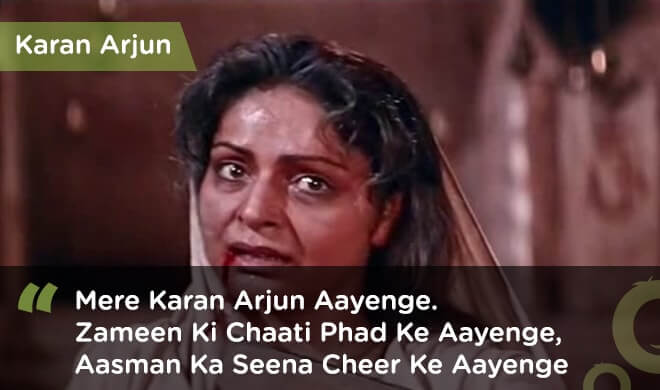 Cast: Salman Khan, Shah Rukh Khan, Rakhee, Kajol, Mamta Kulkarni, Amrish Puri, Aashif Sheikh, Arjun, Ranjeet
Director: Rakesh Roshan
Writer: Sachin Bhowmick and Anwar Khan
Delivered By: Rakhee Gulzar (Durga Singh)
Batman-Superman are the world's finest sons? Jee nahi, it's Karan-Arjun 😎
41) Dangal (2016)
Gold toh gold hota hai … chhora lave ya chhori
(गोल्ड तोह गोल्ड होता है…छोरा लावे या छोरी )
Mhari choriya chhoro se kam hai kay
(म्हारी चोरिया छोरो से कम है क्या)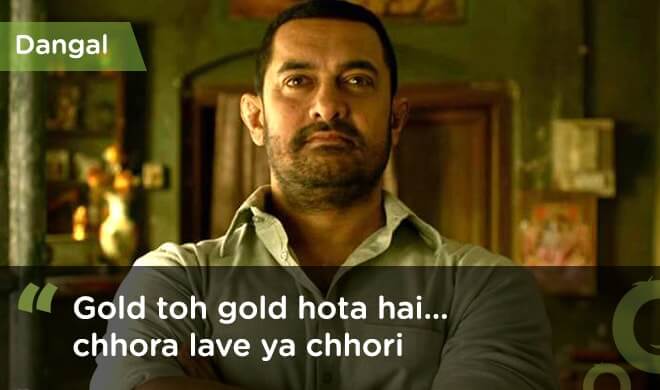 Cast: Aamir Khan, Sakshi Tanwar, Fatima Sana Shaikh, Zaira Wasim, Sanya Malhotra, Suhani Bhatnagar, Aparshakti Khurana, Girish Kulkarni
Director: Nitesh Tiwari
Writers: Nitesh Tiwari, Piyush Gupta, Shreyas Jain, and Nikhil Mehrotra
Delivered By: Aamir Khan (Mahavir Singh Phogat)
Perhaps one of the most impactful movies of the decade, Aamir Khan's Dangal broke patriarchy with its heartfelt story, amazing action, and memorable dialogues.
42) Yeshwant (1997)
Ek machhar sala aadmi ko hijda bana deta hai!
(एक मच्छर साला आदमी को हिजड़ा बना देता है!)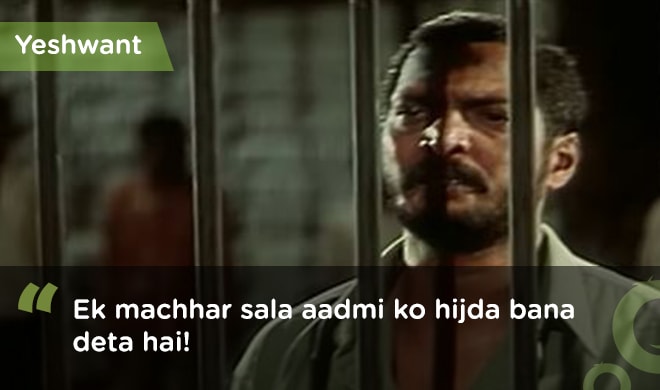 Cast: Nana Patekar, Madhoo, Atul Agnihotri, Mohan Joshi, Shafi Inamdar
Director: Anil Matto
Writer: Anil Mattoo and Hriday Lani
Delivered By: Nana Patekar (Inspector Yeshwant)
Hard-hitting dialogues galore, Yeshwant is a commentary on the social issues and how the corrupt administration eats away at the core of the country.
43) Bobby (1973)
Prem naam hain mera, Prem Chopra
(प्रेम नाम हैं मेरा, प्रेम चोपड़ा)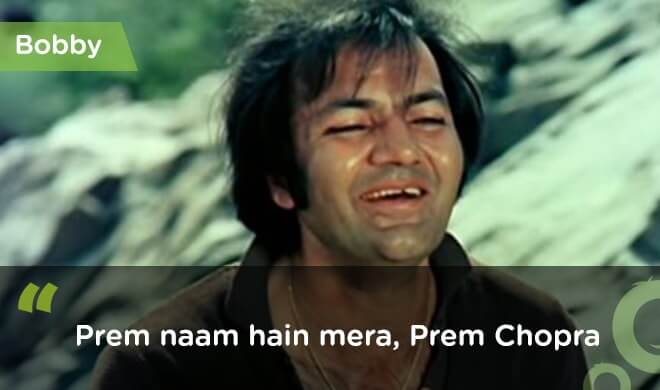 Cast: Rishi Kapoor, Dimple Kapadia, Prem Nath, Pran
Director: Raj Kapoor
Writer: Jainendra Jain
Delivered By: Rishi Kapoor (Raj Nath)
Hollywood has got James Bond and we've got Prem Chopra. In terms of introduction, I mean :P
44) Badla (1974)
Khamooooosh (खामोश )
Cast: Shatrughan Sinha, Ajit Khan, Johnny Walker, Mehmood, Moushumi Chatterjee, Nirupa Roy, Mac Mohan
Director: Vijay
Delivered By: Shatrughan Sinha
Need I say more?!
45) Raees (2017)
Koi dhanda chota nahi hota aur dhande se bada koi dharm nahi hota
(कोई धंदा छोटा नहीं होता और धंदे से बड़ा कोई धर्म नहीं होता )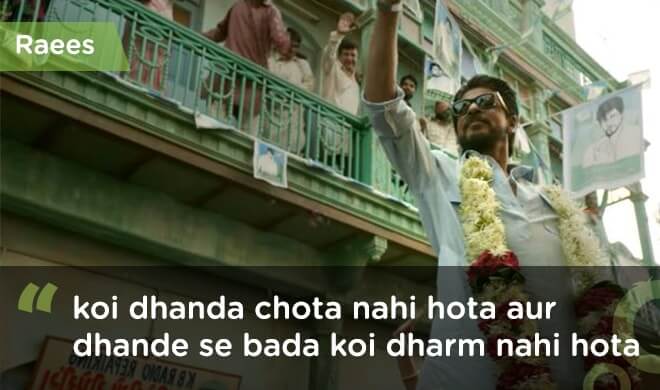 Cast: Shah Rukh Khan, Nawazuddin Siddiqui, Mahira Khan
Director: Rahul Dholakia
Writers: Harit Mehta, Niraj Shukla, and Ashish Vashi
Delivered By: Shah Rukh Khan (Raees Alam)
This has to be on the list, baniye ka dimaag and miyabhai ki daring from SRK's Raees.
46) My Name Is Khan (2010)
My name is Khan and I am not a terrorist
(माय नाम इस खान एंड आइ ऍम नॉट ा अ टेररिस्ट )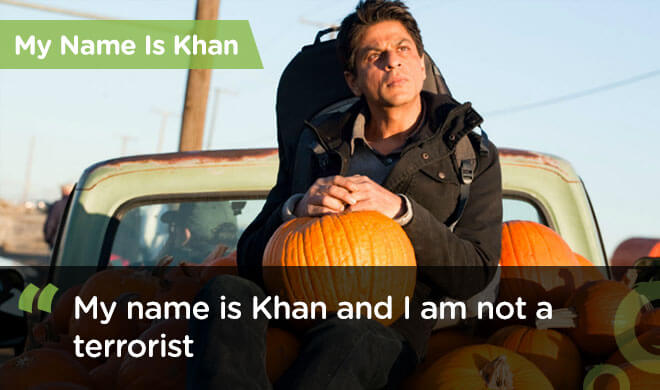 Cast: Shah Rukh Khan, Kajol, Sonya Jehan, Jimmy Sheirgill, Zarina Wahab, Arjan Aujla, Arjun Mathur
Director: Karan Johar
Writers: Shibani Bathija and Niranjan Iyengar
Delivered By: Shah Rukh Khan (Rizwan Khan)
It is Khan, from the epiglottis. Go ahead try it K…Kh…Kha….. Khan.
47) Yeh Jawaani Hai Deewani (2013)
Kahin par pahunchne ke liye kahin se nikalna zaroori hai
(कहीं पर पहुँचने के लिए कहीं से निकलना ज़रूरी है )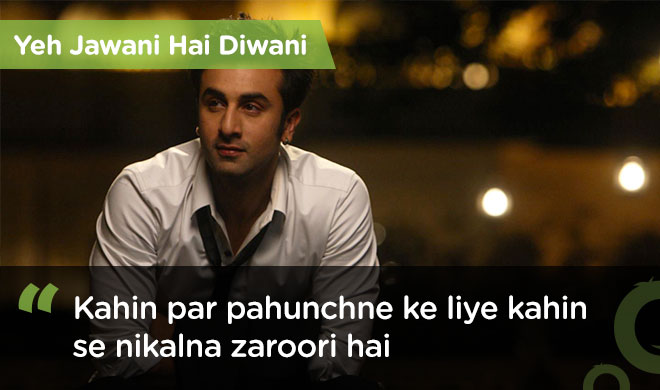 Cast: Deepika Padukone, Ranbir Kapoor, Aditya Roy Kapur, Kalki Koechlin
Director: Ayan Mukerji
Writer: Hussain Dalal
Delivered By: Ranbir Kapoor (Kabir Thapar)
Ya, I have to leave home and the comforts of my bed to get to work. What's your point?
48) Once Upon a Time in Mumbaai (2010)
Aadmi tabhi bada banta hai jab bade log usse milne ka intezaar kare
(आदमी तभी बड़ा बनता है जब बड़े लोग उससे मिलने का इंतज़ार करे )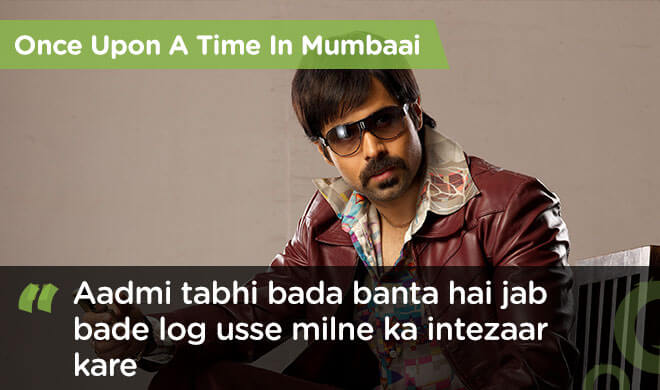 Cast: Ajay Devgn, Emraan Hashmi, Kangana Ranaut, Prachi Desai, Randeep Hooda
Director: Milan Luthria
Writer: Rajat Arora
Delivered By: Emraan Hashmi (Young Shoaib Khan)
And I thought screaming that I am a Complan boy would do the trick. *Sigh looks for plan B now!*
49) Rangeela (1995)
Uska toh na bad luck hi kharab hai
(उसका तोह न बाद लक ही ख़राब है )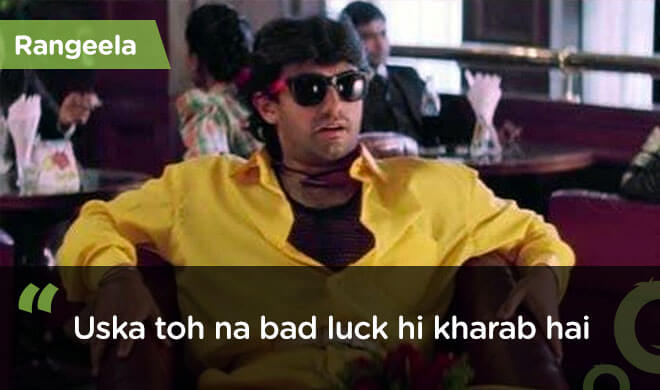 Cast: Aamir Khan, Jackie Shroff, Urmila Matondkar
Director: Ram Gopal Varma
Writers: Neeraj Vora and Sanjay Chhel
Delivered By: Aamir Khan (Munna)
Bad Luck and relationships date way back….almost back to the beginning of time.
50) Dil Toh Pagal Hai (1997)
Rahul, Naam toh suna hoga
(राहुल, नाम तोह सुना होगा )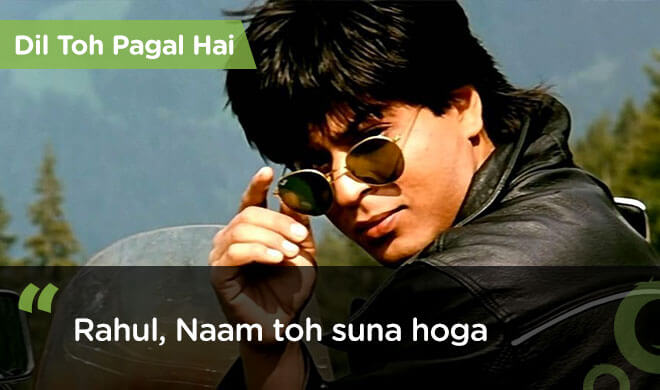 Cast: Shah Rukh Khan, Madhuri Dixit, Karisma Kapoor, Akshay Kumar
Director: Yash Chopra
Writer: Aditya Chopra
Delivered By: Shah Rukh Khan (Rahul)
The smoulder that won over a billion hearts!
51) Guru (2007)
Mere ko yeh golf khelna nahi aata..
Yeh ghode ki race bhi nahi khelta..
Lekin apne dhande ka mazbood khiladi hoon main.
मेरे को यह गोल्फ खेलना नहीं आता..
यह घोड़े की रेस भी नहीं खेलता..
लेकिन अपने धंदे का मज़बूद खिलाडी हूँ मैं.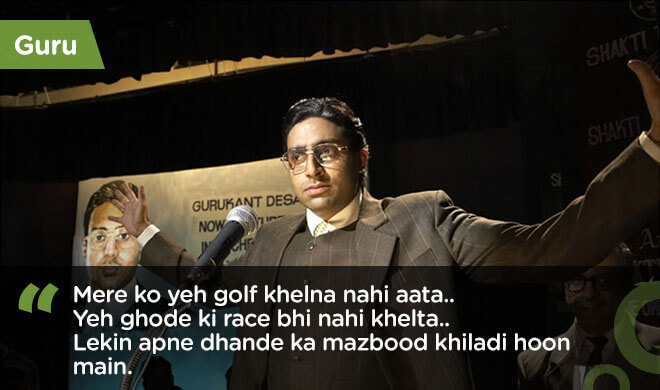 Cast: Abhishek Bachchan, Aishwarya Rai, R. Madhavan, Vidya Balan, Mithun Chakraborty, Arya Babbar
Director: Mani Ratnam
Writer: Vijay Krishna Acharya
Delivered By: Abhishek Bachchan (Gurukant Desai)
I don't believe in being a Jack of all trades. I am a master of my own trade. Bow down to me, you peasant.
52) The Dirty Picture (2011)
Filmein sirf teen cheezo ke wajah se chalti hai…entertainment, entertainment, entertainment…aur main entertainment hoon
(फिल्में सिर्फ तीन चीज़ो के वजह से चलती है…एंटरटेनमेंट, एंटरटेनमेंट, एंटरटेनमेंट…और मैं एंटरटेनमेंट हूँ )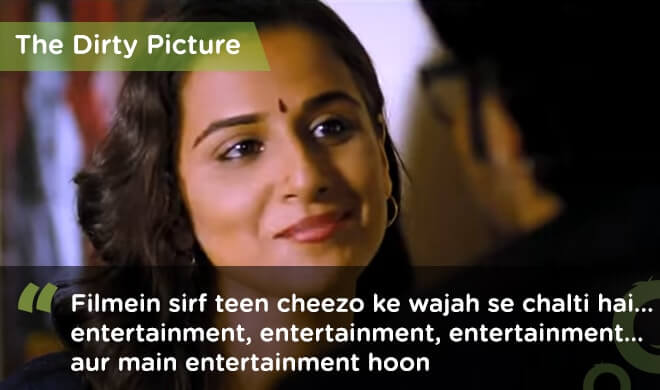 Cast: Vidya Balan, Naseeruddin Shah, Tusshar Kapoor, Emraan Hashmi
Director: Milan Luthria
Writer: Rajat Arora
Delivered By:  Vidya Balan (Silk Smitha)
It couldn't have been any truer!
Bottom Line
We hope the above-listed top trending Hindi movie dialogues help you express thoughts in a witty way with friends or even propose to your girlfriend. You can also check out the Bollywood farewell songs to say goodbye to the close ones and cherish the beautiful moments spent together.
Which Bollywood movie dialogues do you like the most? Are we missing any of the famous Hindi movie punch lines? We would love to hear from you in the comments.