From starting conversations to pick up lines, Famous Bollywood dialogues were the bomb! There was no 'yaar this is a Hollywood rip-off' or 'This song and dance routine sucks'.
We dug deep and found a list of famous Bollywood dialogues that will make you popular among your friends. Scratch that, make you an instant hit!
Ready for our list of 40 most famous Bollywood dialogues?
Here are the Best Bollywood Dialogues for you:
40. Don ko pakadna mushkil hi nahin … namumkin hai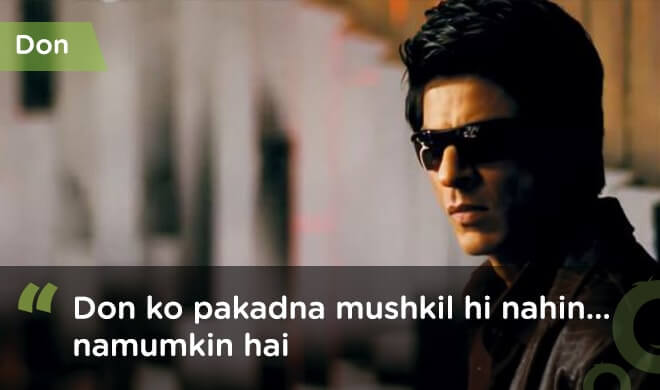 Confession Time: How many hours have you spent in front of a mirror trying this line out? From Amitabh Bachan to SRK, this is one dialogue from Don that you'll never get tired of imitating!
Know someone who is a total movie freak? Make their day by giving movie Gift Cards, so that they never miss out on any latest movie.
39. Kitne aadmi the?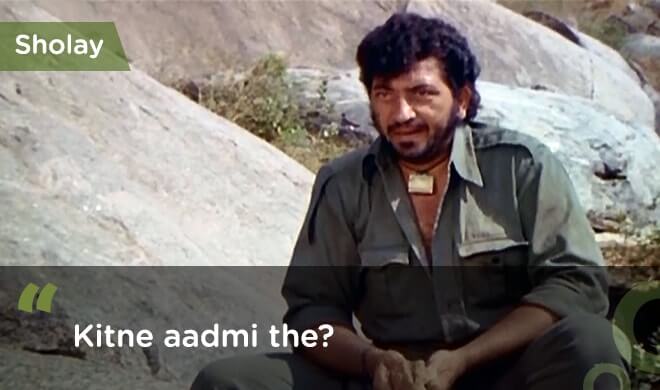 Amjad Khan's Gabbar not only puts babies to sleep pachas pachas kos door but is one character who has gives us memorable quotes all along.
Mentioning memorable movies/quotes, it would be unfair to not talk about the
EVERGREEN B-TOWN CLASSICS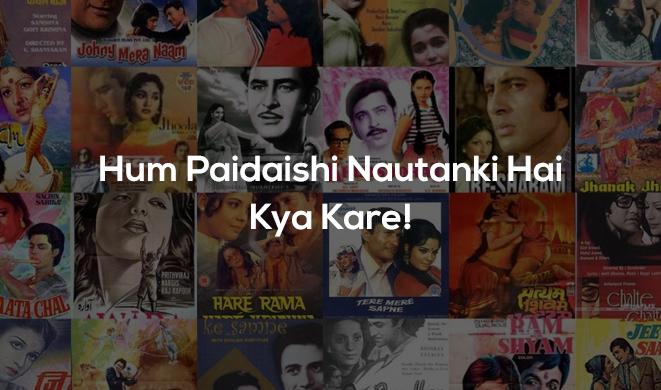 Classic Bollywood Movies You Should Never Miss
38. Bade bade deshon mein aaisi choti choti baatein … hoti rehti hai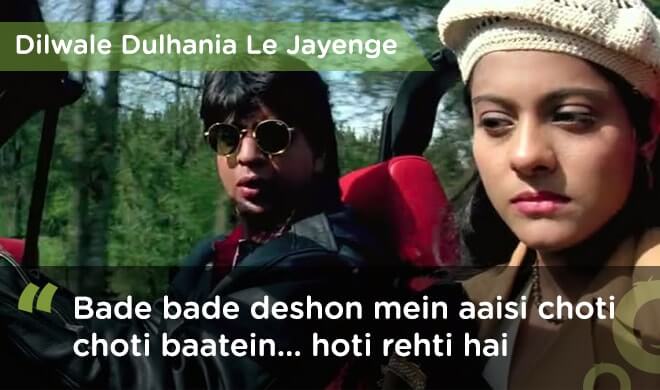 Dilwale Dulhania Le Jayenge is a treasure trove of one-liners and quotable dialogues and bade bade deshon mein leads the pack!
37. Tarikh par tarikh, tarikh par tarikh, tarikh par tarikh, tarikh par tarikh milti rahi hai … lekin insaaf nahi mila my lord…mili hai toh sirf yeh tarikh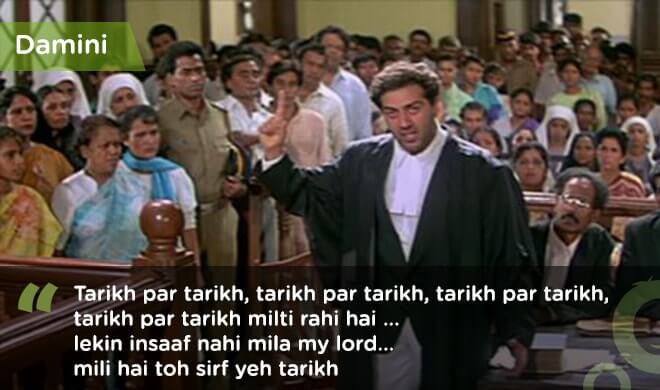 Sunny Paaji has given us tons of unforgettable quotes, from Damini all the way to Gadar: Ek Prem Katha.
36. Sara shehar mujhe lion ke naam se jaanta hai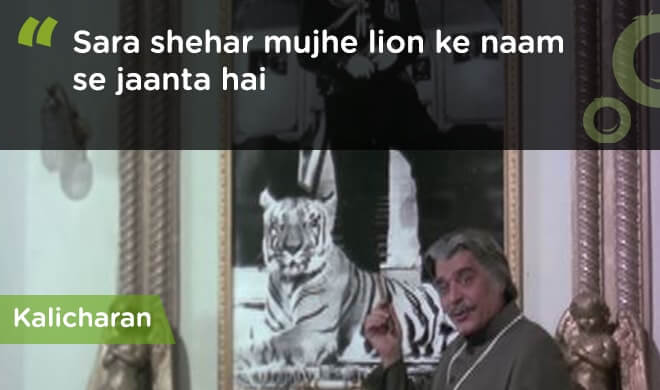 Talking about alter egos, Din Dayal/LION tops the list of Bollywood baddies and quite rightly so!
35. Mogambo khush hua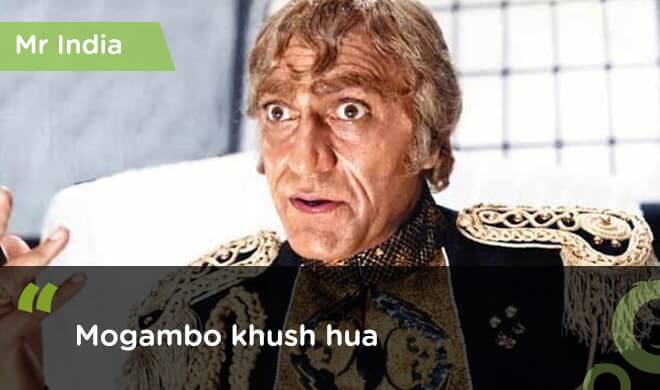 Perhaps one of the greatest villains in Bollywood's history Mogambo has got the best catch phrase ever.
Hollywood Dialogues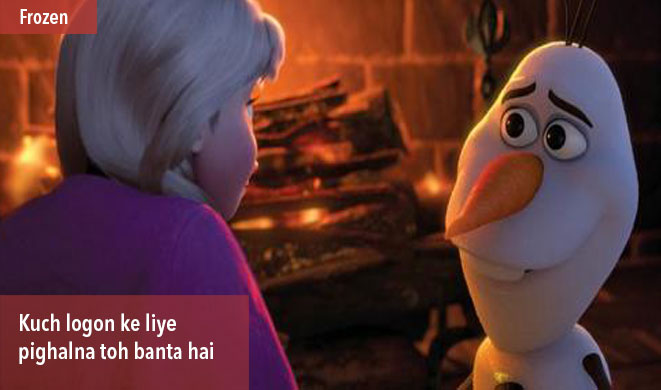 Hollywood Dialogues In Hindi That'll Make You ROFL! 😛
34. Joh main bolta hoon woh main karta hoon … joh main nahi bolta woh main definitely karta hoon..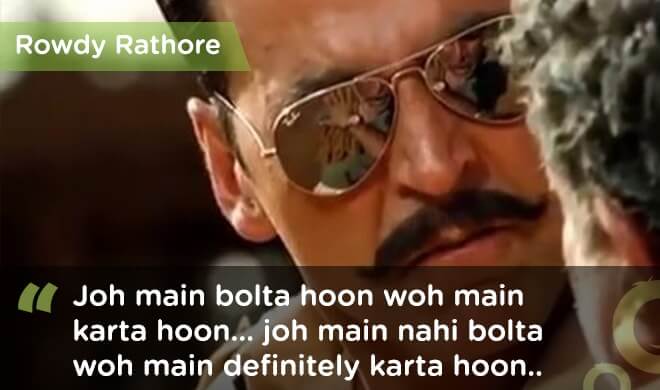 Don't Angry Him, unless you want to get beaten up black and blue by Akshay's Vikram Rathore aka Rowdy Rathore.
33. Kuttey kaminey, tu mujhse bachkar nahi ja sakta. Main tera khoon pee jaoonga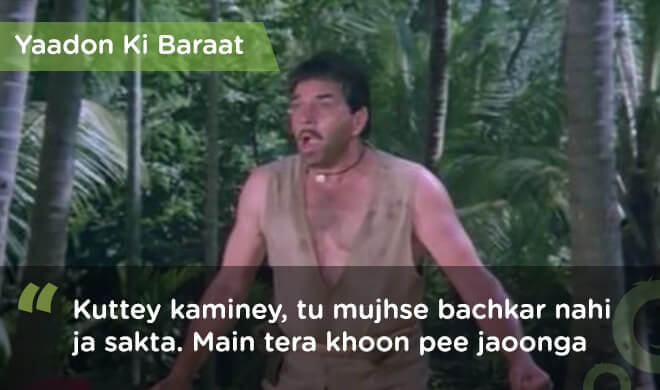 Forget Veeru's tales from Sholay, this is Dharmendra's most badass dialogue ever. Use this the next time you loose your cool 😛
Dialogues these badass that even Lady Mormont approves of them! Ever wonder what would happen
WHEN WESTEROS MEETS BOLLYWOOD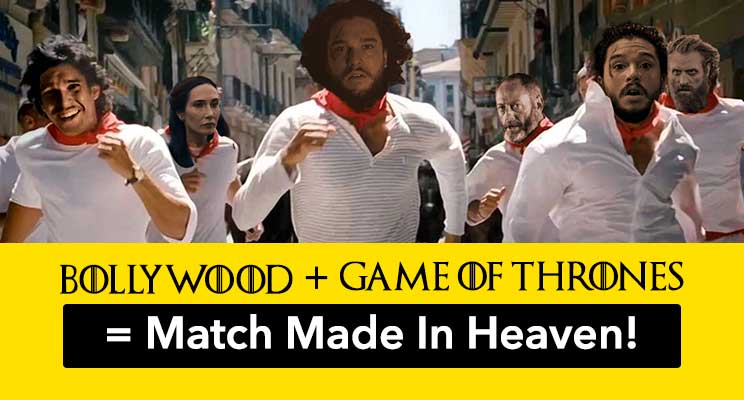 Bollywood Tadka In Westeros
32. Ek bar joh maine commitment kar di … uske baad toh main khud ki bhi nahi sunta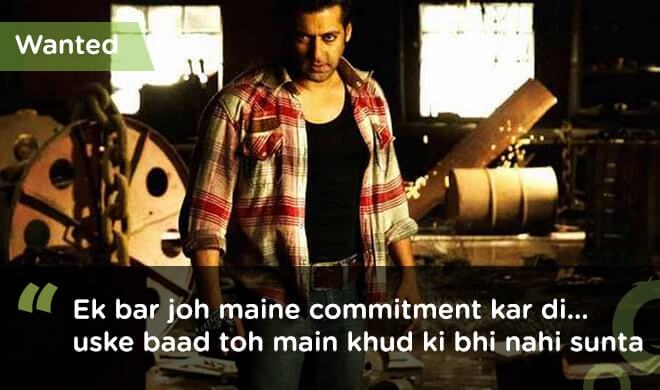 Commitment ho toh aisa, warna na ho!
31. I am just stupid common man waiting to clean his house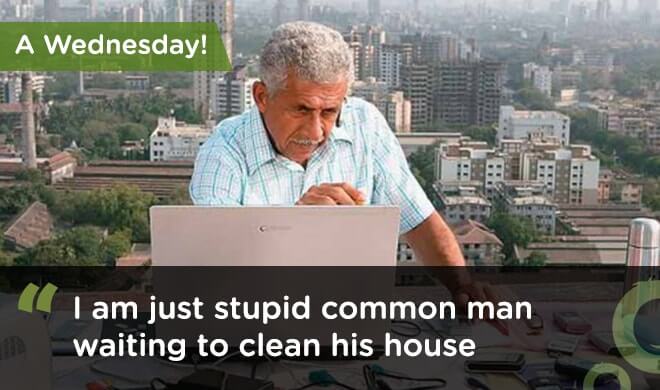 This is just the tip of the iceberg in terms of dialogues from the common man of Bollywood.
Original movies aapni jagah but let's take a look at some of the:
'INSPIRED' BOLLYWOOD MOVIES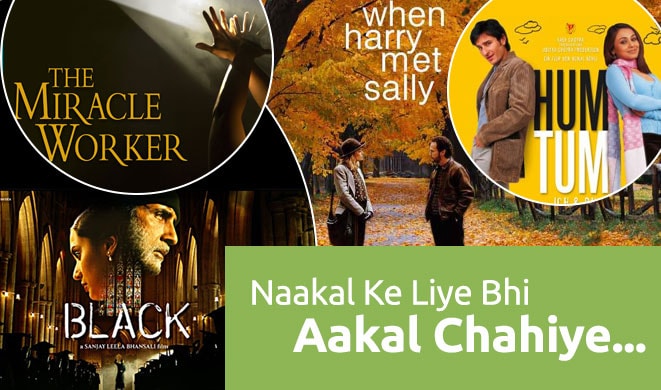 Bollywood Movies Taking Inspiration From Hollywood
30. Rishte mein toh hum tumhare baap lagte hai aur naam hai shehensha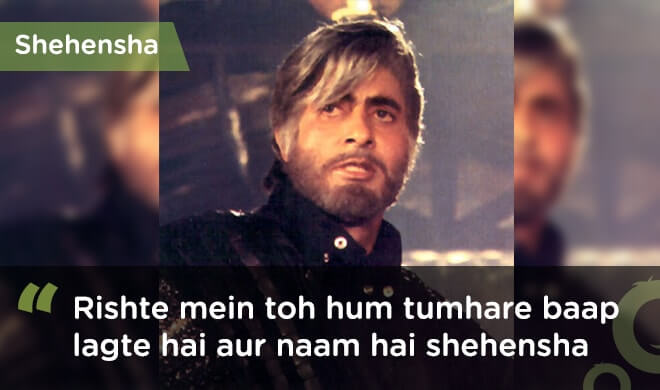 Chuck Norris who? Shehensha is the real deal yo!
While we are on this topic of discussing who the real deal,
WHO'S YOUR DADDY?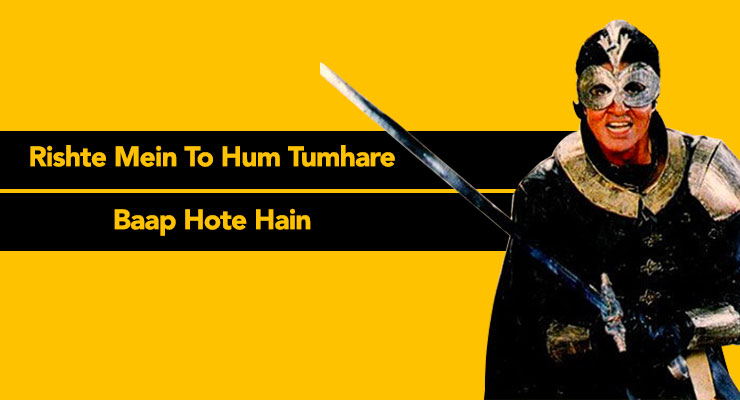 Bollywood Dads Be The Best
29. All is well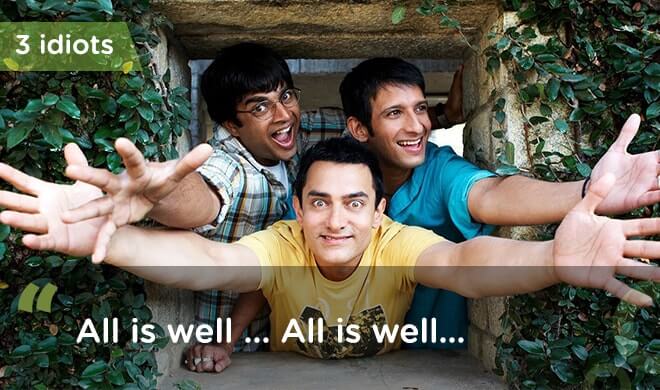 Filled with witty one-liners and smartass dialogues from Rancho, this is everyone's go-to phrase when things get tough.
Now, for blast from the past, let's review the year
28. Kabhi kabhi kuch jeetne ke liye kuch harna bhi padta hai, aur haar kar jeetnay wale ko baazigar kehte hain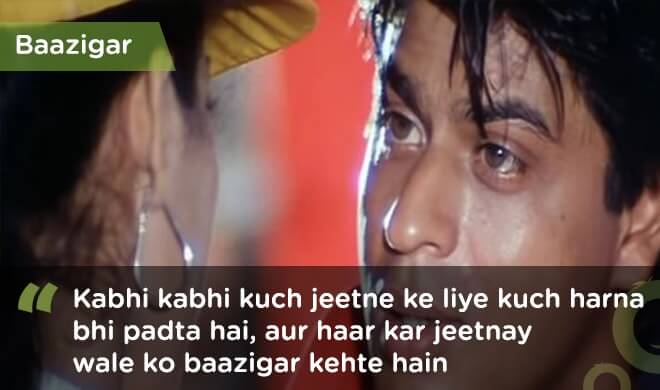 This is one of those portrayals which are littered with quote-worthy dialogues however this one takes the cake!
Let's not forget the one man who had the cake and ate it too
VINOD KHANNA THE SUPERSTAR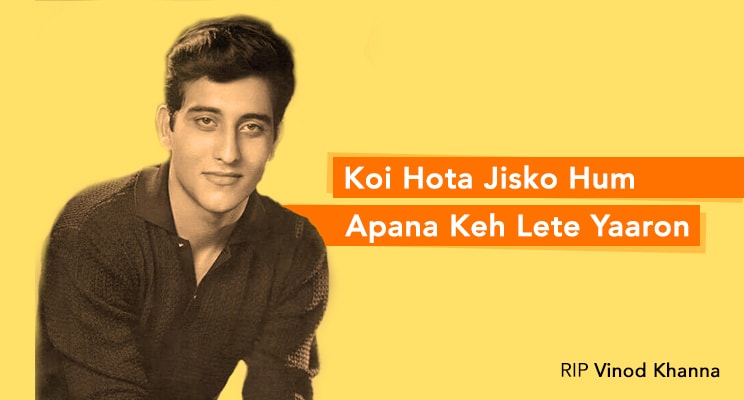 Evergreen Dialogues Of Vinod Khanna
27. Picture abhi baaki hain mere dost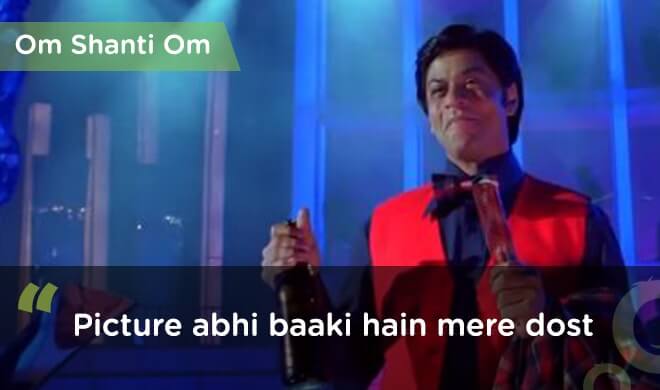 King Khan has given us innumerable epic dialogues but this one is guaranteed to give you goosebumps every single time.
26. Pushpa, I hate tears… inhe ponch dalo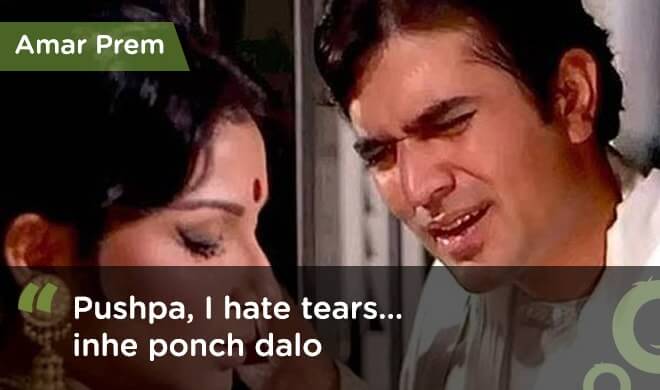 Admit it, Rajesh Khanna makes you tear up with every powerful performance.
25. Jali ko aag kehte hain, bhuji ko raakh kehte hain … jis raakh se barood bane, usse Vishwanath kehte hain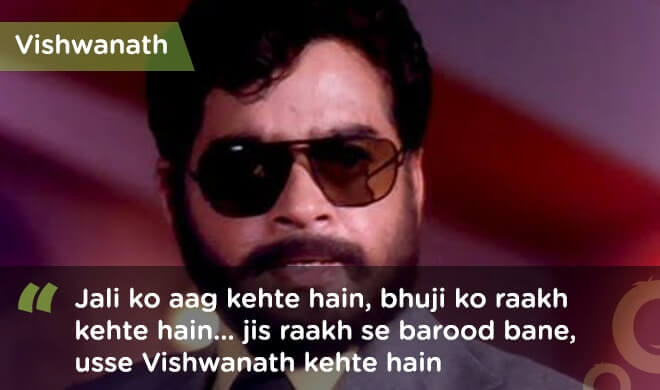 It's a fact that Shatrughan Sinha is synonymous with Badass. If you ever needed reassurance, here you go!
24. Babu Moshai Zindagi badi honi chahiye lambi nahi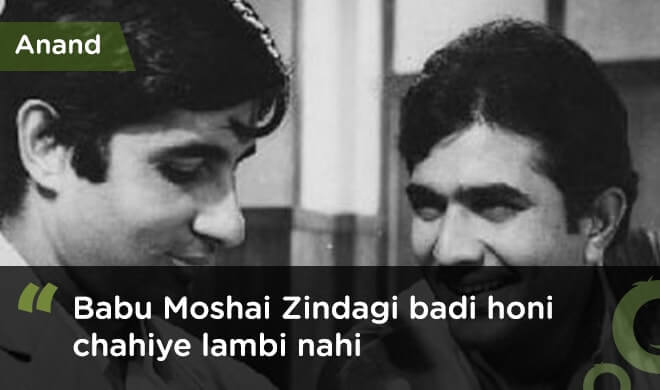 One of those quotes to live by. Anand is one movie which gets real way more than you would expect.
23. Aaj mere paas gaadi hai, bungla hai, paisa hai… tumhare paas kya hai?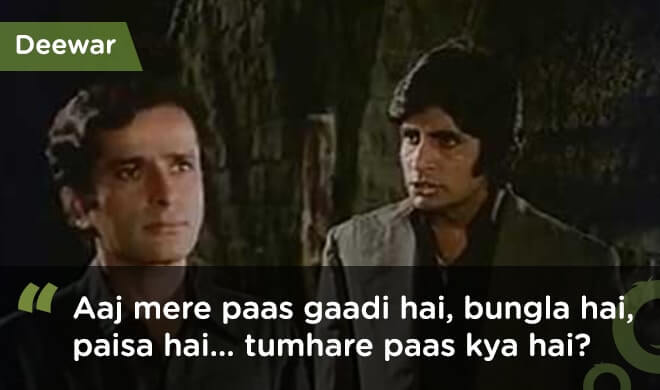 Mere pass Maa hai is Bollywood's I am your father (looking at you Luke and Lord Vader!)
22. Mere Karan Arjun Aayenge. Zameen Ki Chaati Phad Ke Aayenge, Aasman Ka Seena Cheer Ke Aayenge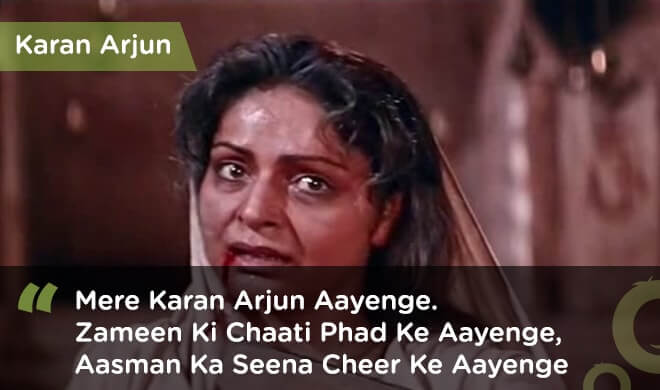 Batman-Superman are world's finest? Jee nahi, it's Karan-Arjun 😎
21. Gold toh gold hota hai … chhora lave ya chhori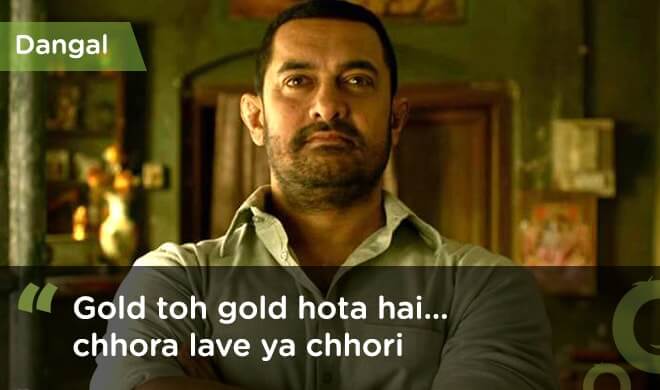 Perhaps one of the most impactful movies of the decade, Aamir Khan's Dangal broke patriarchy with its heartfelt story, amazing action, and memorable dialogues.
20. Ek machhar sala aadmi ko hijda bana deta hai!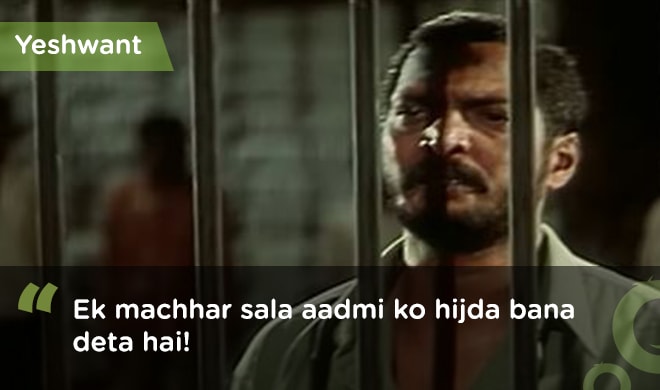 Hard hitting dialogues galore, Yeshwant is a commentary on the social issues and how the corrupt administration eats away at the core of the country.
19. Hum tum mein itne ched karenge … ki confuse ho jaoge ki saans kahan se le…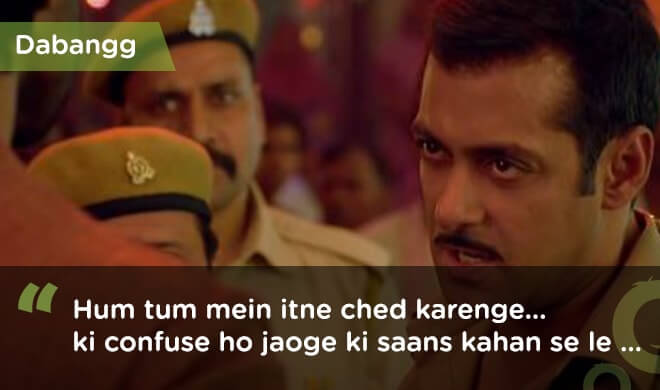 Some dialogues are so iconic that you don't even need to finish the whole dialogue to get the feeling across. Chulbul Pandey's quotes are no different 😛
18. Prem naam hain mera, Prem Chopra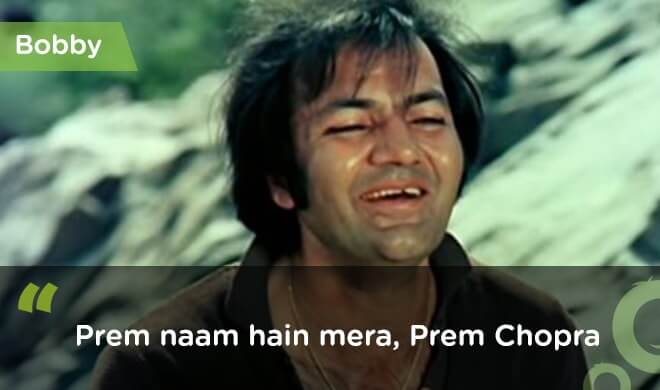 Hollywood has got James Bond and we've got Prem Chopra. In terms of introduction, I mean 😛
17. Ek chutki sindoor ki keemat tum kya jaano Ramesh babu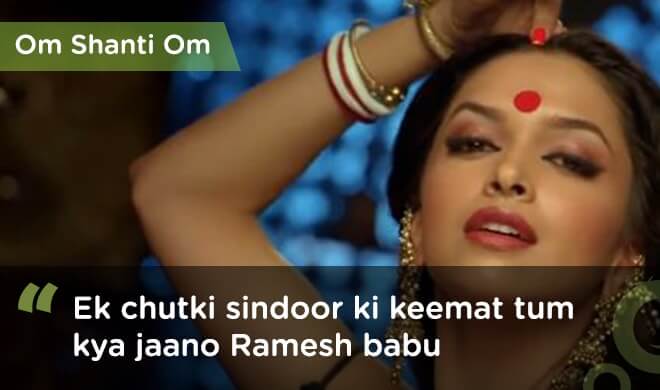 The movie that launched Deepika Padukone's career also has dialogues that will make you laugh out loud.
16. Thappad se darr nahi lagta sahab … pyar se lagta hai
The face when someone offers you an old Rs 500 note after currency ban 😛
15. Khamooooosh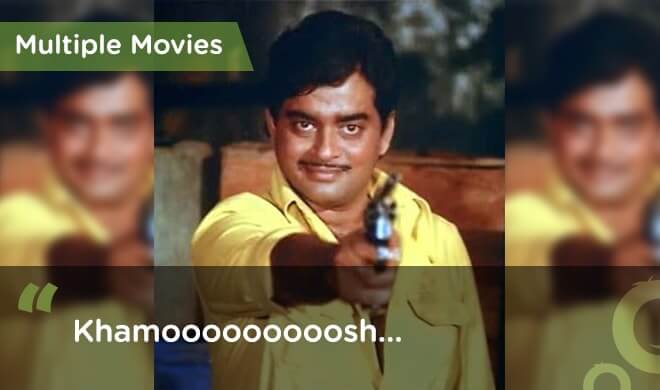 Need I say more?!
14. Koi dhanda chota nahi hota aur dhande se bada koi dharm nahi hota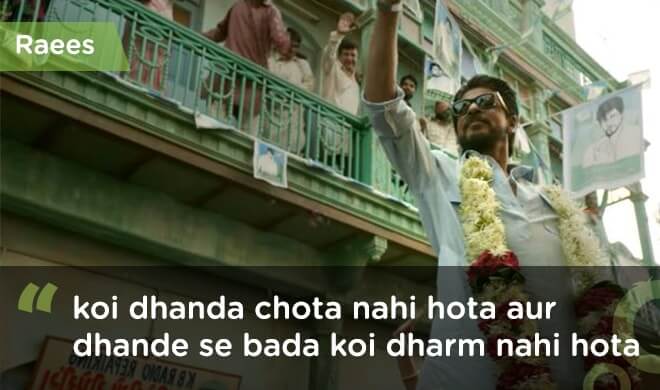 This has to be on the list, baniye ka dimaag and miyabhai ki daring from SRK's Raees.
13. Insaan naam mein mazhab dhoond leta hai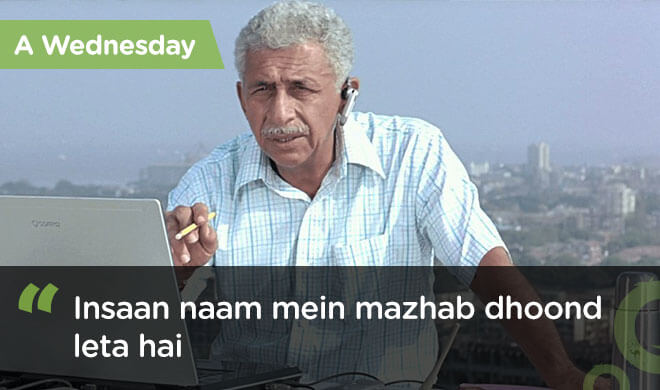 Another gold from the movie. Haven't we all done that at some point or the other? What is his last name again?
12. My name is Khan and I am not a terrorist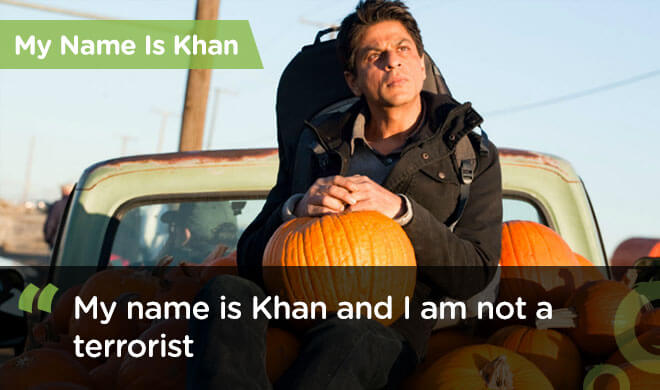 It is Khan from the epiglottis. Go ahead try it K…Kh…Kha….. Khan.
11. Kahin par pahunchne ke liye kahin se nikalna zaroori hai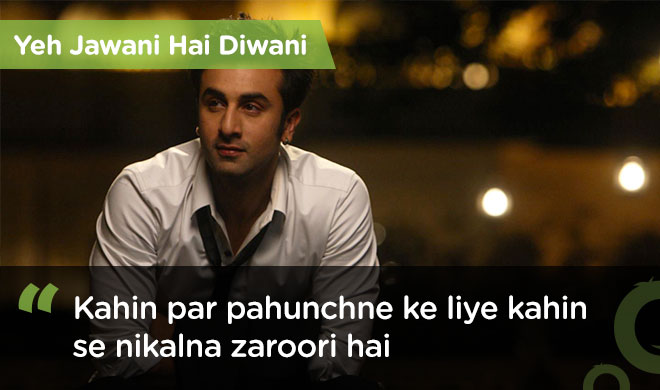 Ya, I have to leave home and the comforts of my bed to get to work. What's your point?
10. Aadmi tabhi bada banta hai jab bade log usse milne ka intezaar kare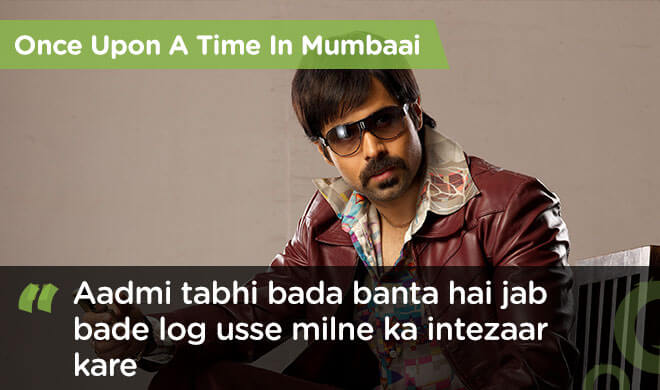 And I thought screaming I am a Complan girl would do the trick. Sigh looks for plan B now!
9. Uska toh na bad luck hi kharab hai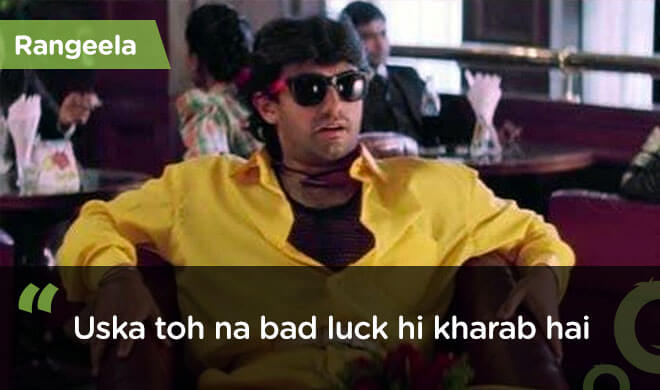 Bad Luck and my relationship dates way back….. almost back to the beginning of time.
8. Rahul, Naam toh suna hoga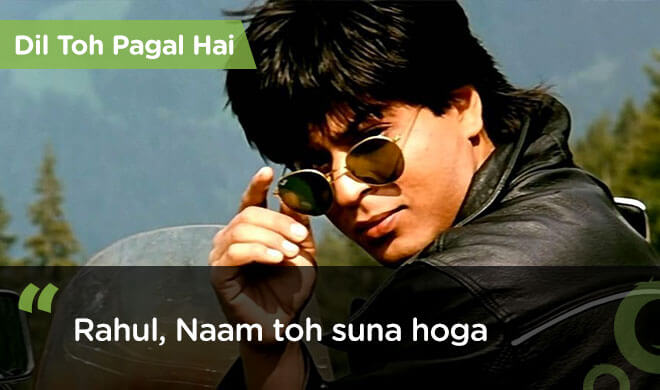 That look. That smile. *Butterflies in the stomach*
7. Mere ko yeh golf khelna nahi aata..
       Yeh ghode ki race bhi nahi khelta..
       Lekin apne dhande ka mazbood khiladi hoon main.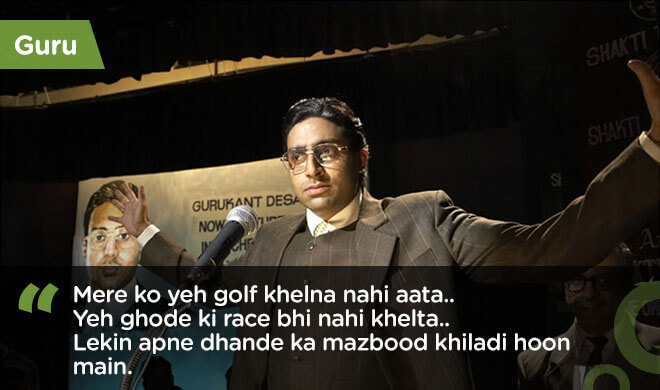 I don't believe in being a Jack of all trades. I am a master of my own trade. Bow down to me, you peasant.
6. Aap convince hogaye ya main aur bolun?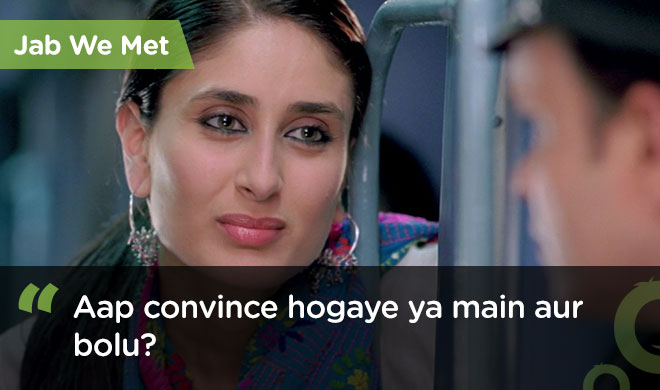 Any reason to talk. Just tell me to talk and I'll talk about anything and everything.
5. Palat….Palat….Palat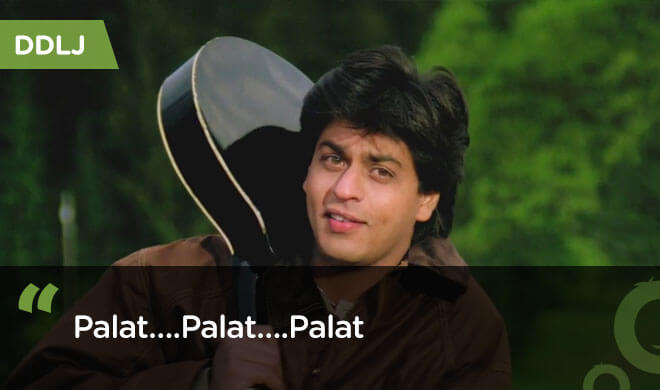 I have done that with every crush I had in school and later on too…..
4. Tumse naa ho payega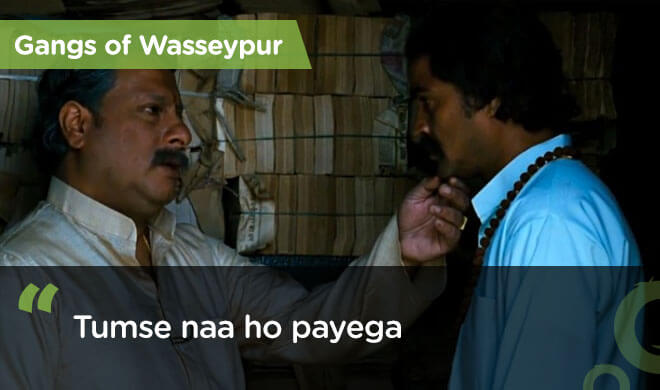 Reverse Psychology FTW!
3. Mein apni favorite hoon!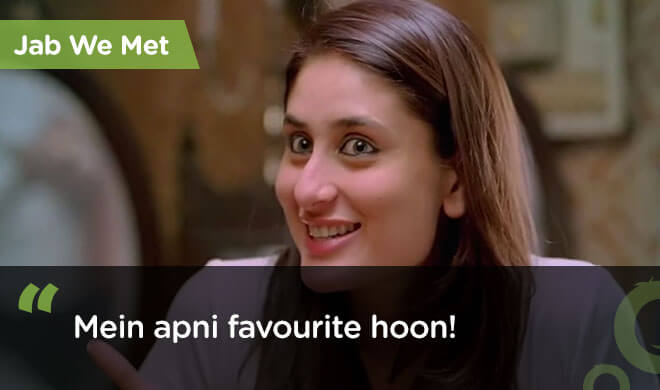 Self-obsession at its best or probably not! Whatever!
2. Life me sabse bada risk hota hai kabhi koi risk nahi lena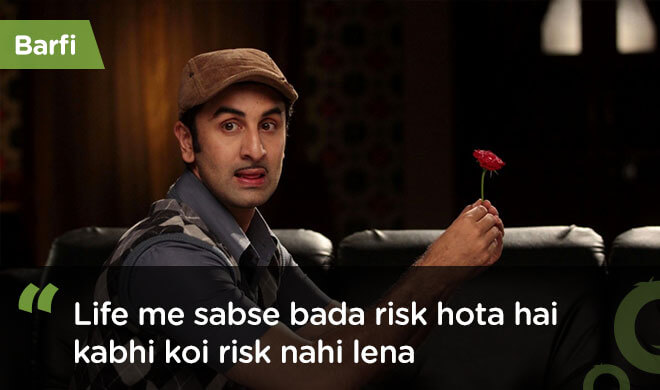 Darr ke aage jeet hai( Fear is the victory)! Somewhere the essence is lost in the translation. But yes, take risks. You never know what might just happen.
1. Tension lene ka nahin, sirf dene ka..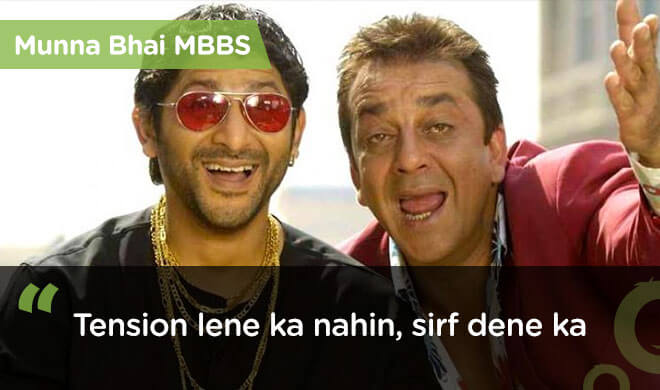 Why take tension and stress when you can give them?
Catch more epic dialogues from all the upcoming movies at theaters near you with amazing coupons and offers from BookMyShow. Dig deep into the gold mine of one-liners and famous Bollywood dialogues from the latest flicks at discounted prices with TicketNew offers.
Bonus: Filmein sirf teen cheezo ke wajah se chalti hai … entertainment, entertainment, entertainment … aur main entertainment hoon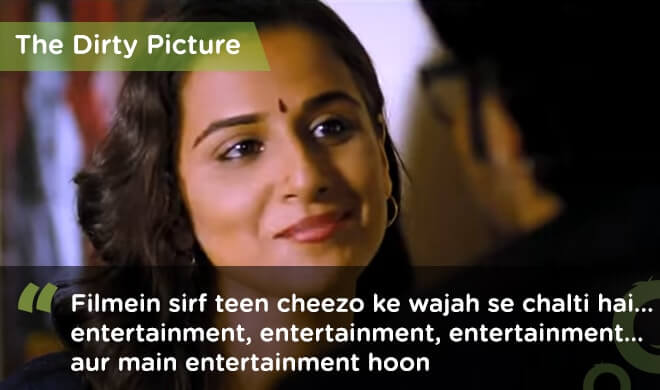 Couldn't have been any truer!
Did your favorites appear on our list of our famous Bollywood dialogues?
Let us know in the comments below. Have a great time at the movie theaters and keep saving with GrabOn 🙂
(Visited 81,908 times, 43 visits today)